UN Security Council discusses Kashmir- China urges India and Pakistan to ease tensions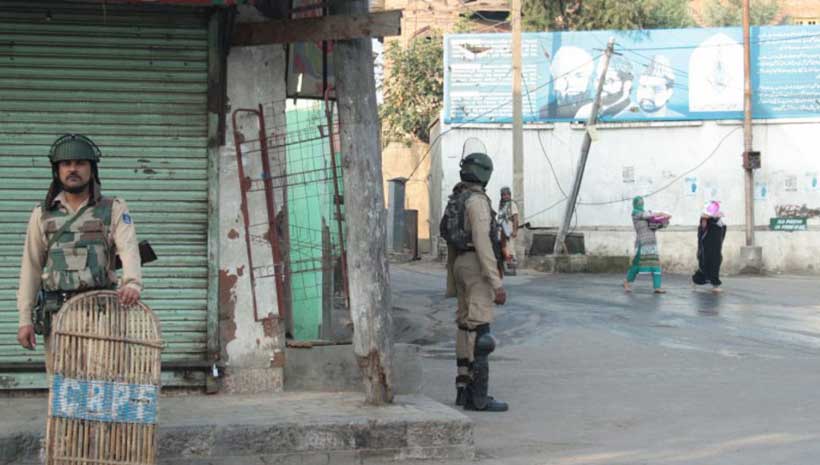 The Security Council considered the volatile situation surrounding Kashmir on Friday, addressing the issue in a meeting focused solely on the dispute, within the UN body dedicated to resolving matters of international peace and security, for the first time since 1965.
Although the meeting took place behind closed doors in New York, the Chinese Ambassador, Zhang Jun, spoke to reporters outside the chamber following deliberations, urging both India and Pakistan to "refrain from taking any unilateral action which might further aggravate" what was an already "tense and very dangerous" situation.
The Indian-administered part of the majority-Muslim region, known as Jammu and Kashmir had its special status within the constitution revoked by the Indian Government on 5 August, placing it under tighter central control. Pakistan has argued that the move violates international law.
The UN has long maintained an institutional presence in the contested area, which both countries claim in its entirety, with the areas under separate administration, divided by a so-called Line of Control. The UN Military Observer Group in Indian and Pakistan (UNMOGIP) observes and reports on any ceasefire violations.
In a statement issued on 8 August, UN Secretary-General António Guterres said he had been following the situation in Jammu and Kashmir "with concern", making an appeal for "maximum restraint".
"The position of the United Nations on this region is governed by the Charter…and applicable Security Council resolutions", said the statement. "The Secretary-General also recalls the 1972 Agreement on bilateral relations between India and Pakistan also known as the Simla Agreement, which states that the final status of Jammu and Kashmir is to be settled by peaceful means", in accordance with the UN Charter.
Ambassador Zhang said Council members had "expressed their serious concern" concerning the current situation in Jammu and Kashmir…The Kashmir issue should be resolved properly through peaceful means, in accordance with the UN Charter, the relevant Security Council resolutions and bilateral agreements."
Pakistan requested the Security Council meeting on 13 August, and it was subsequently called for by Permament Member, China.
Speaking to reporters outside the chamber, Pakistan's Ambassador, Maleeha Lodhi said the meeting had allowed "the voice of the people of the occupied Kashmir" to be heard "in the highest diplomatic forum of the world." She argued that "the fact that this meeting took place, is testimony to the fact that this is an international dispute."
She said that "as far as my country is concerned, we stand ready for a peaceful settlement of the state of Jammu and Kashmir. I think today's meeting nullifies India's claim that Jammu and Kashmir is an internal matter for India. Today the whole world is discussing the occupied state and the situation there."
Speaking a few minutes later, India's Ambassador, Syed Akbaruddin, said that "our national position was, and remains, that matters related to Article 370 of the Indian Constitution, are entirely an internal matter of India…The recent decisions taken by the Government of India and our legislative bodies are intended to ensure that good governance is promoted, socio-economic development is enhanced for our people in Jammu and Kashmir and Ladakh."
He said that the Chief Secretary of Jammu and Kashmir had announced measures which would return the region towards a state of "normalcy"
"India remains committed to ensure that the situation there remains calm and peaceful. We are committed to all the agreements that we have signed on this issue."
But without naming names, he stated that "of particular concern is that one state is using terminology of jihad against and promoting violence in India, including by their leaders", adding that India was committed to the principle "that all issues between India and Pakistan, as well as India and any other country, will be resolved bilaterally, peacefully, and in a manner that behooves normal inter-state relations between countries."
In Jamaica, farmers struggle to contend with a changing climate
It's 9 am and the rural district of Mount Airy in central Jamaica is already sweltering. As cars trundle along the region's unpaved roads, chocolate-brown dust clouds burst from behind their back wheels.
It is here, 50km west of Kingston and 500 meters above sea level, that the Mount Airy Farmers group are having a morning meeting. There are around two dozen people and they all say the same thing; they're struggling to keep their plots productive amid dwindling rainfall, a byproduct of climate change.
"The weather here's a lot drier for longer these days," says Althea Spencer, the treasurer of the Mount Airy Farmers group, which is based in Northern Clarendon. "If you don't have water, it makes no sense to plant seeds because they will just die."
The farmers though, have recently gotten some help in their search for water.
Just meters from where they are gathered stands a two-storey shed with a drainpipe on the roof that funnels rainwater into a tall, black tank. It's one of more than two dozen reservoirs dotted across these mountains. They are part of a project backed by six United Nations (UN) bodies to help Mount Airy's farmers adapt to climate change.
"This partnership among the UN and with communities is exactly the type of activity needed to address the day-to-day and practical impacts of climate change," says Vincent Sweeney, Head of the Caribbean Sub-Regional Office at the United Nations Environment Programme (UNEP). "As we look beyond the Glasgow Climate Change Conference, it is vital that we… adapt to the new realities of a warmer planet in order to protect lives and livelihoods in Jamaica and the Caribbean."
The challenge is not unique to the region. Droughts, floods, and the spread of pests, the byproducts of climate change, are threatening agricultural production around the globe, says the Food and Agriculture Organization. That is potentially disastrous in a world where almost 700 million people go hungry each year.
Small-hold farmers, who work more than 80 per cent of the world's farms, in particular, will need support to remain resilient in the face of climate change, say experts.
A country at risk
Farmers in Jamaica, an island nation of 3 million, are especially vulnerable. In 2020, Jamaica became the first Caribbean country to submit a tougher climate action plan to the UN because the country was at risk from rising sea levels, drought and more intense hurricanes, its government said.
In 2018, the Mount Airy farmers enrolled in the United Nations-backed programme that helps build the resilience of communities to threats such as climate change, poverty and water insecurity. It is regarded as the first joint programme of the United Nations in Jamaica, combining the resources of six agencies, including UNEP.
In Mount Airy, the UN programme has invested in 30 new water harvesting systems. The large, black tanks, which appear across the hilltops like turrets, catch and store rainfall, allowing the farmers to use it evenly via a drip irrigation system. This reduces the emerging threat of longer and more intense dry spells.
The new irrigation system also frees farmers from watering their crops by hand. "Before we got the new system, you had to predict rainfall to put seedlings in," says Spencer, a rollerball pen tucked neatly into her hair and her feet shifting on the sunbaked earth. "It feels pretty good. It allows me more time to do housework, keep up with my farm records, and I have time to go down to the market."
Alongside the tanks sit drums which mix fertilizer with water and spread it evenly among the crops, saving the farmers valuable time. The dissolvable fertilizer is also cheaper than standard fertilizers.
On top of that, the irrigation system improves yields. Spencer now grows and sells more sweet potatoes, peppers and tomatoes than ever before.
Coupled with the water tanks, the programme has also prioritized education. Seminars are run by the Rural Agricultural Development Authority, a government agency, which aims to broaden the farmer's knowledge and skills.
Although it is not unusual for women to farm these lands, Spencer speaks about how the trainings have helped to empower the female members of the group by coming together. "To me, the learnings and the trainings bond us ladies together," she says.
A life in the mountains
Back at the gathering of the Mount Airy farmers, the assembled say some prayers and repeat their mantra aloud two times: "We are the Mount Airy Farmers Group our motto is: All grow in fear and failure bearing fruits of confidence and success."
Spencer, who is in her 40s, is a vocal participant at the meeting and obviously well-liked. She was born in Mount Airy and has been farming these fields most of her life. She has vivid memories of working on her father's farm as a child. Unable to afford to pay anyone else, he often pulled her out of school to sow and reap the fields.
That's a common refrain among many who grew up in Mount Airy – and one the new UN programme is aiming to change.
"If my father had this harvesting system, would I have gone to school more?" Spencer asks herself. "Yes, probably. But even then, he was always working us. So I'm sure he'd find something for us to do," she says laughing.
Spencer welcomes the introduction of the water tanks. However, she says current rainfall patterns mean water sometimes still runs out. "If you don't manage your water properly, one will run out before you get anywhere," she says ominously.
Her story may be one of success today, but it shows that living with climate change will require adaptation and continued investment for years to come. UNEP's 2021 Adaptation Gap Report called for an urgent increase in financing for climate adaptation. It found that adaptation costs in developing countries are five to ten times greater than current public adaptation finance flows, and the adaptation finance gap is widening.
FAO launches $138 million plan to avert hunger crisis in Horn of Africa
More than $138 million is needed to assist rural communities affected by extended drought in the Horn of Africa, the UN Food and Agriculture Organization (FAO) said on Monday, launching a comprehensive response plan for the region.
A third consecutive year of poor rains is posing a major threat to food security in countries already facing natural resource limitations and conflict, the COVID-19 pandemic, and locust invasions during 2020-21.
FAO fears that a large-scale hunger crisis could break out if food-producing rural communities do not receive adequate assistance timed to the needs of the upcoming agricultural seasons. 
Millions at risk
The bulk of the funding under the FAO Horn of Africa Drought Response Plan, $130 million, is urgently needed by the end of February, to provide critical assistance to highly-vulnerable communities in the three most impacted countries: Ethiopia, Kenya and Somalia
Projections indicate that some 25.3 million people will face "high acute food insecurity" by the middle of the year.
Should the scenario materialize, FAO said it would place the Horn of Africa among the world's largest-scale food crises.
Now is the time
"We know from experience that supporting agriculture at moments like this is hugely impactful – that when we act fast and at the right moment to get water, seeds, animal feed, veterinary care, and much needed cash to at-risk rural families, then hunger catastrophes can be averted," said Rein Paulsen, the agency's Director of Emergencies and Resilience. 
"Well, the right moment is now. We urgently need to support pastoralists and farms in the Horn, immediately, because the cycle of the seasons waits for no one."  
Mr. Paulsen warned that the clock is already ticking as the lean season, which just started, has been marked by limited grazing opportunities for pastoralist families whose livestock will need nutritional and veterinary support.
Meanwhile, families who rely on producing crops will need seeds and other supplies in time for the Gu planting season that begins in March.
Water and seeds
The FAO plan targets 1.5 million of the most at-risk rural populations in Ethiopia, Kenya and Somalia.
For pastoralist families, support will include providing animal feed and nutritional supplements, as well as mobile veterinary health clinics, to keep their livestock healthy and producing milk; transporting water to 10,000 litre collapsible water reservoirs set up in remote areas, and upgrading existing wells to run on solar power.
Crop-reliant families will receive seeds of drought-tolerant early-maturing varieties of sorghum, maize, cowpea and mung bean, and nutrient-dense vegetables. The UN agency also aims to arrange for pre-planting land-ploughing services and access to irrigation, as well as training on good agricultural practices.
Extra income
Cash for work programmes would allow able-bodied households to earn extra income by helping to rehabilitate irrigation canals, boreholes or other agricultural infrastructure.
Those not able to work due to health or other reasons will receive "unconditional infusions of cash". FAO said that providing rural families with extra disposable income gives them the means to buy food at market while they wait for their harvests to come in.
In Somalia, the FAO plan calls for the provision of boats, equipment and training to help coastal communities who do not typically fish, to secure a new and much-needed source of nutrition, building on existing programmes to promote the diversification of livelihoods in the country. 
FAO said if fully funded, the plan would allow for the production of up to 90 million litres of milk and up to 40,000 tonnes of staple food crops in the first part of 2022, putting over one million highly food insecure people on a safe footing, for at least six months.
Naftali Bennett Highlights Tech and Trade, Bridge-Building and Climate Change
Prime Minister Naftali Bennett of Israel used his address to the Davos Agenda 2022 to highlight the role of digital technologies in confronting the Omicron variant and climate change. He also highlighted how regional bridge-building with the United Arab Emirates and neighbouring Arab states has accelerated trade volumes.
Israel was the first country in the Omicron wave to shut its skies for a few weeks to buy time and formulate the best policy response based on analysis of data from its national database and the actions of other countries. "The pandemic is all about data information and gleaning insights from that data", Bennett said. Israel has developed a "variant radar" of data scientists dedicated to gathering intelligence on emerging variants around the world. "That's why," he added, "we reacted to Omicron before it even got its name."
The pandemic has changed the ways we work, with the world more dependent than ever on remote working. Bennett pointed out that nearly half the global investment in cyber defence in recent years has come from Israel.
Turning to regional bridge-building, he said the Abraham Accords – cooperation agreements signed between Israel, UAE and Bahrain in 2020 – have the potential to greatly accelerate regional trade. Already trade between Israel and UAE has "skyrocketed", while trade with Egypt remains "tiny". Bennett views UAE as "a gate to the East" and regards "Africa as a big potential partner for Israel". He recently met President Sisi of Egypt and King Abdullah of Jordan and said: "I want to inject more content into these relationships."
His wider strategic aim is to firm up agreement among regional partners who are coming to see Israel as "an anchor of stability in a very tumultuous region."
The prime minister highlighted how his move to open Israel's borders to Palestinians is helping tens of thousands from Gaza and the West Bank to make a better living. In his speech, Bennett spoke about joint Israeli-Palestinian industrial zones to allow Palestinians to work in very high-tech sectors. "I believe that through business, through economy, through jobs is the most sustainable way to bring stability," he said.
Israel has committed to reach net zero on carbon emissions by 2050. Bennett pointed to Israel's "small carbon footprint", adding that the country's unique contribution to fighting climate change is through its high-tech innovation sector. He called on Israel's cohort of young entrepreneurs to start developing the "technologies that do not yet exist", which the world needs to deliver net zero by 2050. Israel is already a world leader in climate-relevant technologies such as generating, conserving and recycling freshwater, he said, while noting that the climate crisis gives it the opportunity to grow its capacity in renewable energy and alternative meat products.