U.S.-North Korea Nuclear War: Assessing Plausible Risks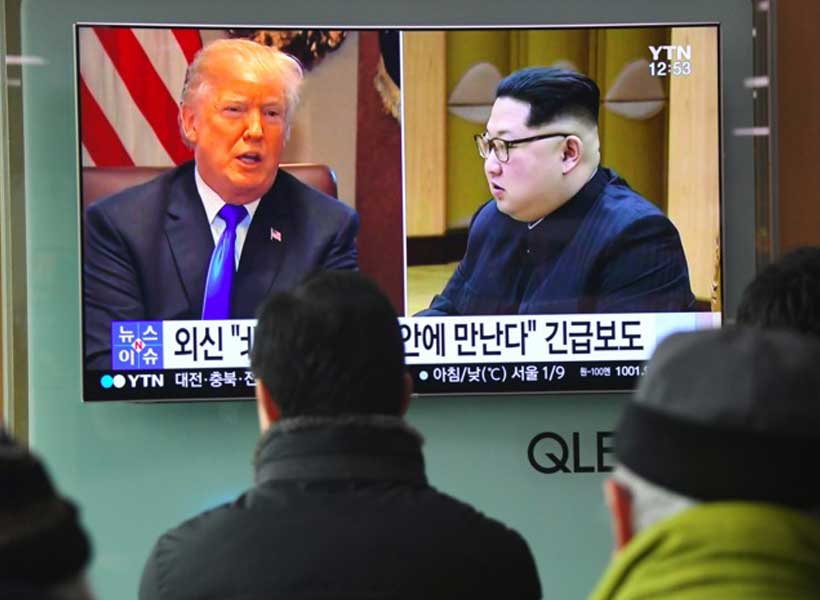 "Military strategy, whether we like it or not, has become the diplomacy of violence."-Thomas C. Schelling, Arms and Influence (1966)
US President Donald Trump says he doesn't know if North Korea is building additional nuclear weapons, but he adds: "We'll see, I hope not." This is hardly a logical, thoughtful or prudential stance, especially because time in such military-diplomacy matters is always of urgent importance. While Mr. Trump continues to believe that the North Korean dictator is most apt to be motivated by American promises of enhanced economic assistance, this incentive is a distinctly secondary one.
In Pyongyang, for Kim Jung Un, it pales beside the more viscerally felt benefits of compelling personal power.
Accordingly, to best serve US national security interests rather than his own purely personal preferences, Trump must begin to change his North Korea strategy. In particular, this means a strategy that is more expressly analytic and history-based. Still more precisely, he should begin to think more systematically and realistically along the lines of achieving long-term nuclear deterrence with North Korea.[1]
Such thinking is needed even with an adversary so openly "beloved." There are, after all, no conceivable circumstances wherein it could make sense for North Korea to surrender any portion of its nuclear weapons or of its corresponding strategic ambitions. These reassuringly tangible assets remain that Asian country's most conspicuous foundation of global influence and power.
There is more. During any still-upcoming negotiations, Trump must take scrupulous care not to exaggerate or overstate America's military risk-taking calculus. Any such recommended diplomatic caution would derive in large measure from the absence of comparable crises. In essence, because there has never been a nuclear war,[2] there could be no reliable way for this president (or anyone else) to ascertain the mathematical probability of a US-North Korea nuclear conflict.
None at all.
For Donald Trump, who is routinely accustomed to making unwarranted extrapolations from commercial real estate bargaining to high-stakes nuclear diplomacy, this observation could seem overly stark. But it is nonetheless true, and truth is always incontestable and "exculpatory." Specifically, in any truly scientific assessment, meaningful probabilities must be drawn from one quantifiable calculus only; that is the determinable frequency of pertinent past events.
This does not mean that Trump's senior strategists and counselors should consciously steer away from clear-eyed assessments regarding nuclear costs and risks, but only that such assessments must inevitably be drawn from constantly shifting and hard to decipher geopolitical trends.
And certain attendant problems are even more complicated. For one, world security processes must be approached as a totality; that is, as a more-or-less coherent system. What is happening now in such far-flung places as India-Kashmir, China, Russia, Iran and perhaps even Hong Kong could have significant "spillover effects" somewhere in the northeast Asian theatre. Rather than ignore such complex effects altogether – largely because they would appear too intellectually demanding – this American president will have to accord them a more appropriate position of policy-making primacy.
Mr. Trump's utterly disjointed statements about "love letters" with Kim Jung Un notwithstanding, the military threats from an already- nuclear North Korea remain genuine, substantive and fully "robust."
There is more. President Trump needs to bear in mind that many or all of northeast Asia's continuously transforming developments will be impacted by "Cold War II,"[3] an oppositional stance with Russia and (more or less derivatively) China. Similarly important will be this US leader's willingness to acknowledge and factor-in certain consequential limits of "expert" military advice. These generally unseen limits are based not upon any presumed intellectual inadequacies of America's generals, but rather on the knowledge that no person has fought in a nuclear war.
This bit of knowledge is indisputable.
By definition – and going forward with all inherently time-urgent considerations of US – North Korea policy formation – relevant US strategic calculations will be fraught with variously daunting uncertainties. Still, it will be necessary that Donald Trump and his counselors remain able to offer best determinable war-related estimations. Among prospectively causal factors – some of them overlapping, interdependent or even "synergistic"[4] – the presumptive risks of a nuclear war between Washington and Pyongyang will depend upon whether such a conflict would be intentional, unintentional or accidental.
In principle, at least, this tripartite distinction could prove vitally important to any hoped for success in US nuclear war prediction and prevention processes.
In facing future North Korean negotiations, it will be necessary that competent US policy analysts systematically examine and measure all foreseeableconfigurations of pertinent nuclear risk. Expressed in the game-theoretic parlance of formal military planning, these shifting configurations could present themselves singly or one-at-a-time (the expectedly best case for Washington), but they might also arise suddenly, unexpectedly, with apparent "diffusiveness" or in multiple and overlapping "cascades" of strategic complexity.
What is to be done? To properly understand such bewildering cascades will require carefully-honed, well-developed and formidable analytic skills. This will likely not be a suitable task for the presidential political appointee or the otherwise intellectually faint-hearted. On the contrary, it will require sharply refined combinations of historical acquaintance, traditional erudition and a demonstrated capacity for advanced dialectical thinking.
There is more. This challenging task will require American strategic thinkers who are as comfortable with classical prescriptions of Plato and Descartes as with the more narrowly technical elements of modern military theory and military hardware.
It is conceivable that neither Washington nor Pyongyang is currently paying sufficient attention to the specific and residual risks of an unintentional nuclear war. To this point in their prospectively ongoing summitry, each president would seem to assume the other's complete decisional rationality. If, after all, there were no such mutual assumption, it could make no determinable sense for either side to negotiate any further security accommodations with the other.
None at all.
Viable nuclear deterrence (not denuclearization) must become the overriding US strategic goal with North Korea. But this complex objective is contingent upon certain basic assumptions concerning enemy rationality. Are such assumptions realistically valid in the particular case of a potential war between two already-nuclear powers? If President Donald Trump, despite "falling in love" with Kim Jung-Un, should sometime begin to fear enemy irrationalityin Pyongyang, issuing new threats of US retaliation might make diminishing diplomatic sense.
At that unprecedented stage, American national security could come to depend upon some residually optimal combinations of ballistic missile defense and defensive first strikes. Again by definition, determining such bewildering combinations would necessarily lack any decisional input or counsel from concrete and/or quantifiable historical data.
In the conceivably worst case, the offensive military element could entail a situational or comprehensive preemption – a defensive first strike – but at that manifestly late stage all previous hopes for bilateral reconciliation would already have become moot. There could then obtain no "ordinary" circumstances wherein a preemptive strike against a nuclear adversary such as North Korea would still be rational.
None of these difficult strategic decisions could be reached casually or easily. With the steadily expanding development of "hypersonic" nuclear weapons, figuring out optimal US policy combinations from one crisis to another could very quickly become overwhelming. Also, though counterintuitive amid such complications, the evident fact that one "player" (the US) is recognizably "more powerful" than the other (North Korea) could quickly prove irrelevant.
In all such foreseeable circumstances, there would be certain overlapping issues of law and strategy. Under international law, which remains an integral part of US law,[5] the option of a selective or comprehensive defensive first-strike might sometime be correctly characterized as "anticipatory self-defense." But this would be the case only if the American side could argue coherently and persuasively that the "danger posed" by North Korea was "imminent in point of time."
Such discernible "imminence" is specifically required by the authoritative standards of international law; that is, by the formal criteria established after an 1837 naval incident famously called "The Caroline."[6]
Now, moreover, in the nuclear age, offering aptly precise characterizations of "imminence" could prove sorely abstract and densely problematic.
For the moment, it seems reasonable that Kim Jung Un would value his own personal life and that of his nation above literally every other imaginable preference or combination of preferences. In any corresponding scenario, Kim is visibly and technically rational, and must remain subject to US nuclear deterrence.[7] Nonetheless, it could still become important for a negotiating American president to distinguish between authentic instances of enemy irrationality and pretended irrationality.[8]
Is US President Donald Trump – a self-declared "very stable genius" – actually up to such a challenging task?
This is not a silly question.
In the past, Trump has praised pretended irrationality as a potentially useful US national security strategy. Apropos of this revealing praise, his earlier "fire and fury" warnings (issued before he "fell in love" with Kim Jung Un) might have reflected a prospective "rationality of pretended irrationality" posture for the United States. Ultimately, such a posture could be adopted by either one or both sides.
This particular prospect adds yet another layer of complexity to the subject at hand, one that could sometime include certain force-multiplying synergies. These would be interactive outcomes where the "whole" was effectively greater than the mere sum of its apparent "parts."
Although neither side would likely seek a shooting war, either or both heads of state could still commit assorted errors in the course of their strategic calculations. Such potentially grievous errors would represent an unintended consequence of jointly competitive searches for "escalation dominance." Arguably, these errors are more apt to occur in those particular circumstances where one or both presidents had first chosen to reignite hyperbolic verbal rhetoric.
Even when the two leaders are reportedly "in love."
Portentously, even in reassuringly calm periods of polite and congenial diplomatic discourse, major miscalculations, accidents or "cyber-confusions" could rapidly accumulate.
What then?
In certain expectedly worst case scenarios, negotiations gone wrong could result in a nuclear war.[9]
There is more. An inadvertent nuclear war between Washington and Pyongyang could take place not only as the result of various misunderstandings or miscalculations between rational national leaders, but also as the unintended consequence (singly or synergistically) of mechanical, electrical, computer malfunctions, or of certain "hacking"-type interventions. Going forward, these interventions could include the clandestine intrusions of "cyber-mercenaries."
In any still-impending crisis between Washington and Pyongyang, each side will strive to maximize two critical goals simultaneously. These goals are (1) to dominate the dynamic and largely unpredictable process of nuclear crisis escalation; and (2) to achieve desired "escalation dominance" without sacrificing any vital national security obligations. In the final analysis, this second objective means preventing one's own state and society from ever suffering any catastrophic or existential harms.
This brings up a prior point concerning all obligatory assessments of relative military power. When President Trump, in an earlier verbal competition with Kim Jung Un, stated that the North Korean president may have his own nuclear "button," but that his American "button" was impressively "bigger," the US leader revealed a major military misunderstanding. It is that today, in the still advancing nuclear age, atomic superiority is potentially per se insignificant and could sometime lead the presumptively stronger nuclear adversary toward lethal expressions of overconfidence.
As Donald Trump should now more fully understand, even an enemy with a smaller "nuclear button" could inflict unimaginably grave harms upon the "stronger" United States and/or its close allies in Japan, South Korea or elsewhere. It follows that to take comfort from the fact that North Korea has been testing "only" shorter-range ballistic missiles is to miss the point. Entirely.
North Korea's 2017 nuclear test had a yield 16X larger than the Hiroshima bomb. That 14KT WW II bomb produced almost 100,000 immediate fatalities.
Such vital understanding about nuclear "button size" must obtain as long as Kim Jung Un's "inferior" nuclear arms are seemingly invulnerable to any American preemptions and also seemingly capable of penetrating ballistic missile defenses deployed in the United States, Japan or South Korea. Because of the extraordinary harms generated by even low-yield nuclear weapons, a small percentage or tiny fraction of Kim's "inferior" nuclear arsenal could and should appear unacceptably destructive in Washington, Tokyo or Seoul. Worth noting, too, is that in all of these critical dimensions of strategic judgment, the only reality that would figure in ongoing adversarial calculations would be perceived reality.
The bottom line of all such informed assessments concerning a still-possible US – North Korea nuclear war is that the underlying issues of contention and calculation are enormously complicated. Faced with such staggering measures of complexity, both operational and legal, each side must proceed warily, in a fashion that is both purposeful and risk-averse. Although such prudent counsel may first seem to run counter to assorted inter-linking obligations of achieving "escalation dominance," any still-upcoming Trump-Kim negotiations would involve very deep and uncharted "waters."
Looking ahead, aggressive over-confidence by President Trump or President Kim will have to be avoided. Although everything at an upcoming summit could at first appear simple and calculable, history strongly supports Prussian strategist Carl von Clausewitz's oft-cited observations about "friction." This quality represents "the difference between war on paper, and war as it actually is."
In certain cases, this crucial difference could amount to total war.
To avoid any such intolerable outcome between the United States and North Korea, a necessary "diplomacy of violence" must be practiced less with clichés and empty witticisms than with intellect and cultivated erudition. Much earlier, the ancient Greeks and Macedonians had already understood that war planning must be a disciplined matter of "mind over mind," rather than just "mind over matter."[10] Today, in more specific regard to US-North Korea nuclear negotiations and rivalry, a similar understanding should obtain immediately in Washington.
Far better for the United States to suitably cultivate the "diplomacy of violence" than to stumble into a nuclear war with North Korea.

---
[1] One should be reminded of a warning speech by Pericles (432 BCE), as noted by Thucydides: "What I fear more than the strategies of our enemies, is our own mistakes." See: Thucydides: The Speeches of Pericles, H.G. Edinger, tr., New York: Frederick Ungar Publishing Company, 1979, p. 17.
[2] The atomic bombings of Japan in August 1945 do not properly constitute a nuclear war, but "only" the use of nuclear weapons in an otherwise conventional conflict. Significantly, too, following Hiroshima and Nagasaki, there were no other atomic bombs still available anywhere on earth.
[3] In essence, hypothesizing the emergence of "Cold War II" means expecting that the world system is becoming increasingly bipolar. For early writings, by this author, on the global security implications of any such expanding bipolarity, see: Louis René Beres, "Bipolarity, Multipolarity, and the Reliability of Alliance Commitments," Western Political Quarterly, Vol. 25, No.4., December 1972, pp. 702-710; Louis René Beres, "Bipolarity, Multipolarity, and the Tragedy of the Commons," Western Political Quarterly, Vol. 26, No.4., December 1973, pp, 649-658; and Louis René Beres, "Guerillas, Terrorists, and Polarity: New Structural Models of World Politics," Western Political Quarterly, Vol. 27, No.4., December 1974, pp. 624-636.
[4] See, by this writer, at Harvard Law School: Louis René Beres, https://harvardnsj.org/2015/06/core-synergies-in-israels-strategic-planning-when-the-adversarial-whole-is-greater-than-the-sum-of-its-parts/ See also, by this writer, at West Point: Louis René Beres https://mwi.usma.edu/threat-convergence-adversarial-whole-greater-sum-parts/
[5] See especially art. 6 of the US Constitution ("The Supremacy Clause") and the Pacquete Habana (1900). In the words used by the U.S. Supreme Court in The Paquete Habana, "International law is part of our law, and must be ascertained by the courts of justice of appropriate jurisdiction, as often as questions of right depending upon it are duly presented for their determination. For this purpose, where there is no treaty, and no controlling executive or legislative act or judicial decision, resort must be had to the customs and usages of civilized nations." See The Paquete Habana, 175 U.S. 677, 678-79 (1900). See also: The Lola, 175 U.S. 677 (1900); Tel-Oren v. Libyan Arab Republic, 726 F. 2d 774, 781, 788 (D.C. Cir. 1984)(per curiam)(Edwards, J. concurring)(dismissing the action, but making several references to domestic jurisdiction over extraterritorial offenses), cert. denied, 470 U.S. 1003 (1985)("concept of extraordinary judicial jurisdiction over acts in violation of significant international standards…embodied in the principle of `universal violations of international law.'").
[6] See Beth Polebau, National Self-Defense in International Law: An Emerging Standard for a Nuclear Age, 59 N.Y.U. L. REV. 187, 190-191 (noting that the Caroline case transformed the right to Even before the nuclear age, ancient Chinese military theorist, Sun-Tzu, counseled, inThe Art of War:"Subjugating the enemy's army without fighting is the true pinnacle of excellence." (See: Chapter 3, "Planning Offensives").self-defense from an excuse for armed intervention into a customary legal doctrine).
[7] Even before the nuclear age, ancient Chinese military theorist, Sun-Tzu, counseled, inThe Art of War:"Subjugating the enemy's army without fighting is the true pinnacle of excellence." (See: Chapter 3, "Planning Offensives").
[8] Expressions of decisional irrationality in US dealings with North Korea could take different and overlapping forms. These include a disorderly or inconsistent value system; computational errors in calculation; an incapacity to communicate efficiently; random or haphazard influences in the making or transmittal of particular decisions; and the internal dissonance generated by any structure of collective decision-making (i.e., assemblies of pertinent individuals who lack identical value systems and/or whose organizational arrangements impact their willing capacity to act as a single or unitary national decision maker).
[9] There is now a substantial literature that deals with the expected consequences of a nuclear war. For earlier works by this author, see, for example: APOCALYPSE: NUCLEAR CATASTROPHE IN WORLD POLITICS (Chicago: The University of Chicago Press, 1980); MIMICKING SISYPHUS: AMERICA'S COUNTERVAILING NUCLEAR STRATEGY (Lexington Books, 1983); REASON AND REALPOLITIK: U.S. FOREIGN POLICY AND WORLD ORDER (Lexington, MA: Lexington Books, 1984); and SECURITY OR ARMAGEDDON: ISRAEL'S NUCLEAR STRATEGY (Lexington, MA: Lexington Books, 1986).
[10] See: F.E. Adcock, The Greek and Macedonian Art of War(Berkeley and Los Angeles: University of California Press, 1962), p. 63.
Poll Shows Trump's Israel Policy Is Opposed Even by Republicans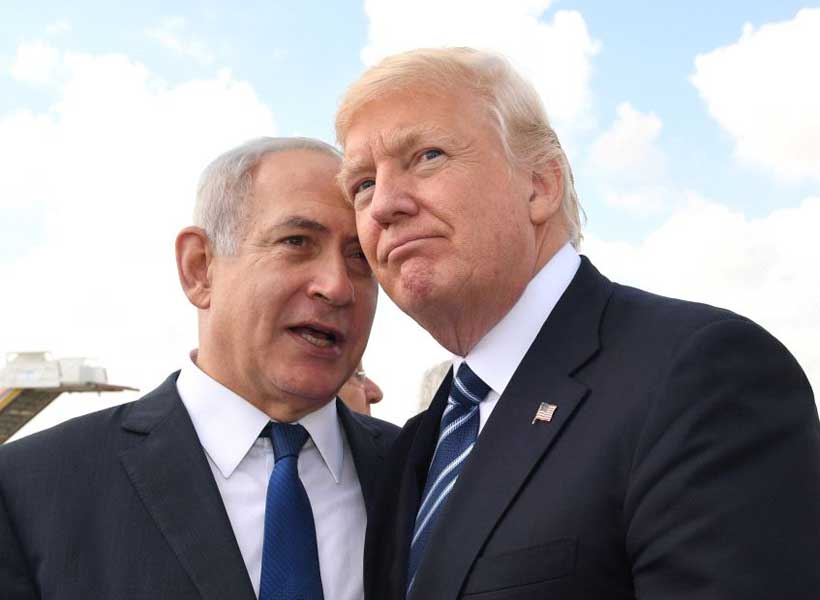 On Monday, November 18th, Reuters headlined "U.S. backs Israel on settlements, angering Palestinians and clouding peace process" and reported that, "The United States on Monday effectively backed Israel's right to build Jewish settlements in the occupied West Bank by abandoning its four-decade-old position that they were 'inconsistent with international law,' a stance that may make Israeli-Palestinian peace even more elusive." This article made clear that, of all entities Reuters could contact about the matter, only U.S. Secretary of State Mike Pompeo thought that these illegal settlements are legal, and even Pompeo was offering no other reason than that "'The establishment of Israeli civilian settlements is not, per se, inconsistent with international law,' Pompeo told reporters at the State Department, reversing a formal legal position taken by the United States under Carter in 1978." It was merely his dictat, as authority for this major U.S. policy-change.
One poll was recently taken of Americans on the matter. It was done by Scarborough Research, a joint venture by The Nielsen Company and Arbitron, and its sample size was unusually large for such a poll and employed rigorous sampling techniques. Thus, its findings should be considered to be close to the reality. Here is a summary of that poll's methodology and findings. [I add my explanations in brackets].
The survey was carried out September 12 – October 9, 2018 online from a nationally representative sample of Nielsen Scarborough's probability-based panel, originally recruited by mail and telephone using a random sample of adults provided by Survey Sampling International. The national sample was 2,352.
Q57. As you may know, the United States has been acting as a mediator between the Israeli government and the Palestinian Authority, with the aim of reaching an agreement in the IsraeliPalestinian conflict. Whether or not these efforts succeed, there is a question about what kind of future for Israel and the Palestinians the U.S. should be supporting over the long term, and many analysts feel that time is running out for some options. Here are four possible approaches that are frequently discussed. Please select the one you think the U.S. should support.
Rep Dem Ind Total
1. A two-state solution: Israel and a Palestinian state side by side. The Palestinian state would be established on the territories that Israel has occupied since 1967. 24% 48% 31% 36% [That's 24% "Rep"; 48% "Dem"; 31% "Ind"; 36% "Total."]
2. A one-state solution: A single democratic state in which both Jews and Arabs are full and equal citizens, covering all of what is now Israel and the Palestinian Territories. 33% 36% 38% 35%
3. Annexation without equal citizenship: Israel would annex the Palestinian territories, but keep a majority-Jewish state in the expanded territories by restricting citizenship rights of Palestinians. 14% 3% 4% 8%
4. Maintain the occupation of both the territories Israel has captured in 1967 and the Palestinians inhabiting them indefinitely. 18% 5% 13% 11%
Refused 11% 8% 14% 10%
[71% support either a two-state or a one-state solution (a sort of democratic solution). 19% support either "Annexation without equal citizenship" or Israel's permanent militarily imposed "occupation of both the territories (West Bank and Gaza)." On this question, only 19% support Trump's Israel policy, but 25% of Republicans do. However, 67% of Republicans don't.]
One of the issues of tension between the United States and Israel has been its construction of Israeli settlements in the territories occupied by Israel in the 1967 war. These settlements are considered illegal by most of the international community and have been opposed by every U.S. administration, both Republican and Democratic. The Israeli government has continued to build settlements. … How do you believe the U.S. should react to new settlements?
1. Do nothing: 38% 17% 33% 28%
2. Verbally criticize: 30% 22% 27% 26%
3. Economic sanctions: 17% 41% 22% 17%
4. More serious action: 9% 15% 11% 12%
[Trump's "Do nothing" is supported by 28% of American voters. That even includes only 38% of Republicans. 56% of Republicans want some type of at least criticism against Israel.]
Consequently: Trump has now gone far out onto a far-right limb here in his policies toward the state of Israel and its dictatorship over Palestinians (the people who are the descendants of what were the vast majority of Israel's population until the ethnic cleansing that slaughtered and displaced them).
The Intellectual Doomsday Clock: 30 Seconds to Midnight?
As someone who has dedicated his entire professional career to higher education, to engaging young minds and striving to advance new thinking across a whole host of critically important global issues, it is with great sadness that I write this article. Not only do all of the scientific surveys point to a coming calamity, my own career provides extensive anecdotal confirmation of the sad reality that we are, as a human society, pushing ourselves down into an intellectual abyss from which we might not be able to emerge. Perhaps most disturbing of all, this pushing momentum is not done by accident. Rather, most of society today seems hell-bent on orgiastically rejoicing in our diminishing skills and our dismissal of 'smartness.' Refined thinking, nuanced analysis, and subtle reasoning are now the supposed domain of out-of-touch elite, of people who do not know about reality and are therefore happily removed from the debate/discussion stage. This is not the same kind of anti-elitism we have seen in decades past. This is not simply a fight between the benefits of 'book learning' versus 'experiential wisdom.' This is more about total war being waged against the intellectual process itself with adjacent side-battles against research, open-mindedness, and scientific thinking. It is not about the quality of the journey of intellectual engagement. It is about the attempt to annihilate discussion in total, surrounding ourselves with our own anti-intellectual camps of sycophantic chatter amounting to nothing. It is not about inquiry leading to epiphany. It is about the biased construction of self-affirmation. We are a society of self-delusional dullards. May this be a not-so-subtle early warning to stop our own dumb and dumber destruction.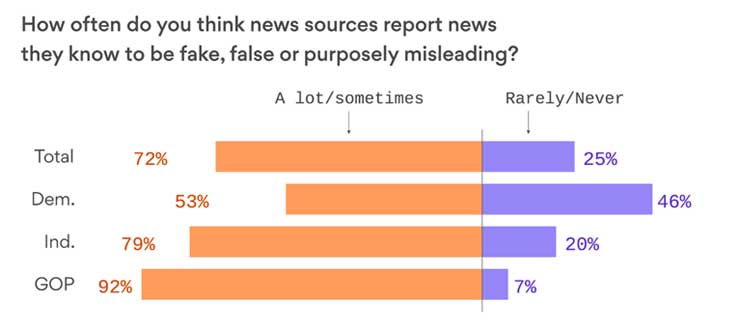 The above chart is fairly self-explanatory. The chief aspect to focus on is how most Democrats will actually use this as supposed 'proof' of their open-mindedness and ability to think more independently, far more so than the other two representative groups covering most of society in America. While I can grant it is horrifically appalling to see percentages amongst Republicans to go all the way to 92% and even "independents" proving they are not so independent at all by going up to 4/5 of their numbers, the surveys still show one out of every 2 democrats, slightly more than that actually, are in the exact same boat as the other members of society. Why does this matter? It matters because on one very crucial aspect this chart explains the secret ingredient that currently powers the base rationalization and self-justification most people use to fuel their purposeful refusal to seek out alternative arguments, embrace people with differing viewpoints, and understand the crucial humility needed in the world of politics and social order, that being there are very few, if any, questions that have one single undebatable answer that should rationally end all further debate. When you can reject all of these things, it allows you to be content with rejecting even the search for multiple sources, the comparative analysis crucial to any real truth-finding, and the rational thinking that creates true deep thought and nuanced intellectualism. The rejection of the impartiality of news sources as an entity de facto turns into behavior that rejects the need to be discerning about sources overall. If the sources are all tainted, then why do we need them at all? All we need is our own thinking, backed of course by the resident echo chambers we create by surrounding ourselves only with like-minded people. As long as the people I spend most of my time with (and that is increasingly becoming a measure based on 'virtual exposure' rather than 'face-to-face living engagement') agree with me, why do I need to care about other fools with different opinions?
The above chart clusters Republican (red) and Democrat (blue) representatives on a spectrum of ideology (defined by how often they vote with the rest of their party) then links opposite party members according to their votes together. The links grow larger and darker the more often representatives vote across party lines. In this case, that symbolizes the positive representation of independent thinking and the ability to make decisions NOT according to knee-jerk party lines or blind ideological allegiance. The graphs' evolution over time is simply remarkable in that not only does the prevalence of cross-party line votes diminish radically over the decades, the behavior by 2011 de facto evaporates while adhering staunchly to party ideology. Exclusionary thinking becomes intensely concentrated and exclusive. It is also disappointing to note that this fascinating study ended in 2011: one year before the second term of President Barack Obama and fully five years before the controversial first term of President Donald Trump. It is not scientifically radical to say the ideological tendencies in American partisanship have only worsened since that 2011 end-of-study date. In fact, heading into 2020, most political discussions in America no longer even include the possibility of any cross-party thinking, let alone behavior. The idea itself is dismissed as being symbolic NOT of independent thinking but of social betrayal that should be shunned and punished.
This final chart is the cherry on top of the stupid sundae. It shows the clear and inevitable path that global IQ is taking from 1950 all the way to 2110. Some may say that a decline from an average of 92 to a new average of 84 is not much given it is covering 160 years. Some might even be motivated to invoke the old "Malthusian Dilemma" to criticize the data, pointing out that such long-term extrapolations are only based on current trends remaining immutable and cannot, therefore, take into account what future counter-measures might be taken by society to right the wrong indicators. I would like to be a member of the Malthusian camp, quite honestly. In its own way, this article is an effort to kick-start those supposed Malthusian strategies, bringing future resolutions to our 'stupid problem' sooner to the forefront rather than later. But all of this is wishful thinking. It is not hard science. My hopes, in fact, are based on the opposite of what the data shows, what society currently rejoices in, and what so many individual people profess as being an advancement in 'popular intelligence.' As long as our global society, led most decidedly by the most powerful and influential country on earth, continues to revel in anti-intellectualism as proof of its own grassroots intelligence, as long as people rationalize away critical reasoning and analytical thinking as just so much elite ivory tower snobbery, then the only path we craft for ourselves as a society is one of blissful ignorance, confrontational delusion, and self-righteous obliviousness. The only society to emerge from this path is a dead society. A society of stagnation and regression. The intellectual doomsday clock is at 30 seconds to midnight. The ability to shift the ticking second hand backwards, back to enlightenment and dynamic knowledge engagement, may already be gone. May the Malthusian Army appear soon.
U.S.-Turkey relations: From close friendship to conflict of interests
Relations between the U.S. Turkey have strained since the failed July 2016 coup in Turkey. Now, the most important reasons for the tension is Washington's strong opposition to Turkey's plan to buy S-400 missile system from Russia and Turkish military invasion into northern Syria.
Although Turkish President Recep Tayyip Erdogan's visit to the U.S. on November 13 was intended to resolve the two countries' disputes and open a new horizon in economic and trade relations, differences still remain.
Though after the meeting at the White House, Trump made some pledges, including increasing trade ties to $100 billion, it takes a long time to fulfill these promises.
Contrary to such pledges, the Pentagon announced that it had replaced all F-35 fighter parts made by Turkey.
While the Turkish and U.S. leaders were meeting, F-35 production program executive Lt. Gen. Eric Fick said at a congressional hearing that Turkey would be completely phased out until March.
At the moment the U.S. has narrowed the number of parts down from 1,000 to 12.
Undersecretary of Defense for Acquisition and Sustainment Ellen Lord affirmed to Rep. Donald Norcross, D-N.J., that as of Wednesday, Turkey's exit from the program was not expected to cause any F-35 production delays.
The U.S. government believes Ankara's move to buy S-400 missile system from Russia is not in line with NATO policies. Washington also sees Turkey's decision as a threat to U.S. F-35 fighters. However, Ankara has announced that it will go ahead with its decision to buy the missile system.
Erdogan said it is not a right policy to ask Ankara to deprive itself of the Russian S-400 missile defense system.
Erdogan's remarks came in response to some reports that Trump had requested Turkey to cancel the purchase of S-400 system, a defense system that has been deployed in some parts of Turkey since July 2019.
But after Trump and Erdogan's meeting, the Turkish president claimed that the U.S. president had a positive view on buying the missile system.
Though Trump may seek to strike a deal with Erdogan on the S-400 missile system and F-35 fighter aircraft, based on his own businessmen approach, Ankara's military intervention in northern Syria and its insistence on buying the S-400 system are at odds with Washington. For this reason, the House of Representatives has passed two resolutions against Turkey.
On October 30, the House approved a resolution against Turkey recognizing the Ottoman massacre of Armenians in 1915. 305 representatives voted in favor of the resolution, with only three opposing it. It also passed another resolution calling on Trump to impose sanctions on Turkey over military operations in northern Syria. The resolution was also adopted by 403 votes in favor and 16 against, a move that rose Turkey's anger.
After Erdogan's meeting with Trump, attended by some Congress representatives, senior Republican Senator Lindsey Graham and chairman of the Senate Judiciary Committee vetoed the resolution recognizing the massacre of Armenians by the Ottoman Empire.
Earlier, Senate Majority Leader Robert Menendez had called for the resolution to be approved. Lindsey Graham noted that he had listened to Erdogan's speech at the White House and criticized a House resolution that recognized the Armenian genocide.
Menendez argued that "U.S. policy must be unanimous and honest in the face of human rights violations, crimes against humanity, ethnic cleansing, and genocide" and sent it to the Senate for approval.
There is a difference between the White House and Congress in how to deal with Turkey. Also, there is a difference between Republicans and Democrats despite Trump's promises to Erdogan.
From our partner Tehran Times