U.S.-North Korea Nuclear War: Assessing Plausible Risks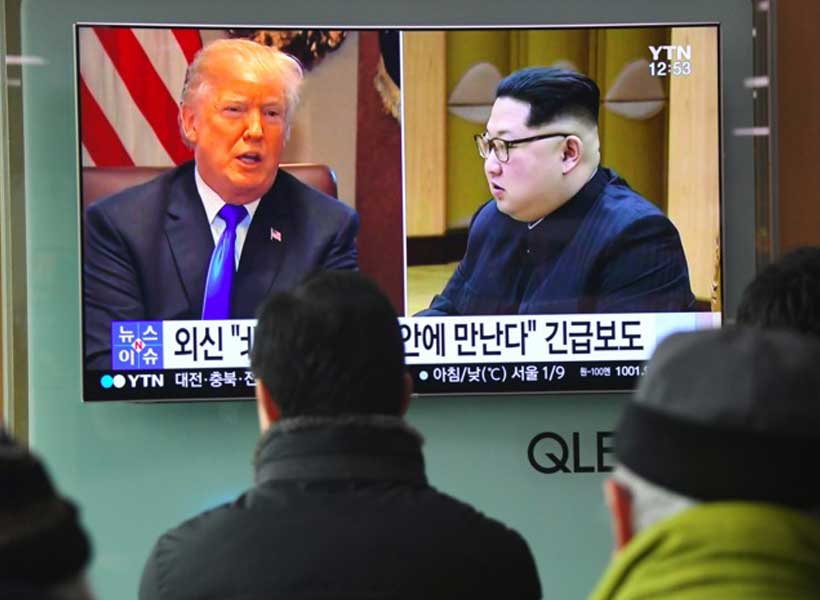 "Military strategy, whether we like it or not, has become the diplomacy of violence."-Thomas C. Schelling, Arms and Influence (1966)
US President Donald Trump says he doesn't know if North Korea is building additional nuclear weapons, but he adds: "We'll see, I hope not." This is hardly a logical, thoughtful or prudential stance, especially because time in such military-diplomacy matters is always of urgent importance. While Mr. Trump continues to believe that the North Korean dictator is most apt to be motivated by American promises of enhanced economic assistance, this incentive is a distinctly secondary one.
In Pyongyang, for Kim Jung Un, it pales beside the more viscerally felt benefits of compelling personal power.
Accordingly, to best serve US national security interests rather than his own purely personal preferences, Trump must begin to change his North Korea strategy. In particular, this means a strategy that is more expressly analytic and history-based. Still more precisely, he should begin to think more systematically and realistically along the lines of achieving long-term nuclear deterrence with North Korea.[1]
Such thinking is needed even with an adversary so openly "beloved." There are, after all, no conceivable circumstances wherein it could make sense for North Korea to surrender any portion of its nuclear weapons or of its corresponding strategic ambitions. These reassuringly tangible assets remain that Asian country's most conspicuous foundation of global influence and power.
There is more. During any still-upcoming negotiations, Trump must take scrupulous care not to exaggerate or overstate America's military risk-taking calculus. Any such recommended diplomatic caution would derive in large measure from the absence of comparable crises. In essence, because there has never been a nuclear war,[2] there could be no reliable way for this president (or anyone else) to ascertain the mathematical probability of a US-North Korea nuclear conflict.
None at all.
For Donald Trump, who is routinely accustomed to making unwarranted extrapolations from commercial real estate bargaining to high-stakes nuclear diplomacy, this observation could seem overly stark. But it is nonetheless true, and truth is always incontestable and "exculpatory." Specifically, in any truly scientific assessment, meaningful probabilities must be drawn from one quantifiable calculus only; that is the determinable frequency of pertinent past events.
This does not mean that Trump's senior strategists and counselors should consciously steer away from clear-eyed assessments regarding nuclear costs and risks, but only that such assessments must inevitably be drawn from constantly shifting and hard to decipher geopolitical trends.
And certain attendant problems are even more complicated. For one, world security processes must be approached as a totality; that is, as a more-or-less coherent system. What is happening now in such far-flung places as India-Kashmir, China, Russia, Iran and perhaps even Hong Kong could have significant "spillover effects" somewhere in the northeast Asian theatre. Rather than ignore such complex effects altogether – largely because they would appear too intellectually demanding – this American president will have to accord them a more appropriate position of policy-making primacy.
Mr. Trump's utterly disjointed statements about "love letters" with Kim Jung Un notwithstanding, the military threats from an already- nuclear North Korea remain genuine, substantive and fully "robust."
There is more. President Trump needs to bear in mind that many or all of northeast Asia's continuously transforming developments will be impacted by "Cold War II,"[3] an oppositional stance with Russia and (more or less derivatively) China. Similarly important will be this US leader's willingness to acknowledge and factor-in certain consequential limits of "expert" military advice. These generally unseen limits are based not upon any presumed intellectual inadequacies of America's generals, but rather on the knowledge that no person has fought in a nuclear war.
This bit of knowledge is indisputable.
By definition – and going forward with all inherently time-urgent considerations of US – North Korea policy formation – relevant US strategic calculations will be fraught with variously daunting uncertainties. Still, it will be necessary that Donald Trump and his counselors remain able to offer best determinable war-related estimations. Among prospectively causal factors – some of them overlapping, interdependent or even "synergistic"[4] – the presumptive risks of a nuclear war between Washington and Pyongyang will depend upon whether such a conflict would be intentional, unintentional or accidental.
In principle, at least, this tripartite distinction could prove vitally important to any hoped for success in US nuclear war prediction and prevention processes.
In facing future North Korean negotiations, it will be necessary that competent US policy analysts systematically examine and measure all foreseeableconfigurations of pertinent nuclear risk. Expressed in the game-theoretic parlance of formal military planning, these shifting configurations could present themselves singly or one-at-a-time (the expectedly best case for Washington), but they might also arise suddenly, unexpectedly, with apparent "diffusiveness" or in multiple and overlapping "cascades" of strategic complexity.
What is to be done? To properly understand such bewildering cascades will require carefully-honed, well-developed and formidable analytic skills. This will likely not be a suitable task for the presidential political appointee or the otherwise intellectually faint-hearted. On the contrary, it will require sharply refined combinations of historical acquaintance, traditional erudition and a demonstrated capacity for advanced dialectical thinking.
There is more. This challenging task will require American strategic thinkers who are as comfortable with classical prescriptions of Plato and Descartes as with the more narrowly technical elements of modern military theory and military hardware.
It is conceivable that neither Washington nor Pyongyang is currently paying sufficient attention to the specific and residual risks of an unintentional nuclear war. To this point in their prospectively ongoing summitry, each president would seem to assume the other's complete decisional rationality. If, after all, there were no such mutual assumption, it could make no determinable sense for either side to negotiate any further security accommodations with the other.
None at all.
Viable nuclear deterrence (not denuclearization) must become the overriding US strategic goal with North Korea. But this complex objective is contingent upon certain basic assumptions concerning enemy rationality. Are such assumptions realistically valid in the particular case of a potential war between two already-nuclear powers? If President Donald Trump, despite "falling in love" with Kim Jung-Un, should sometime begin to fear enemy irrationalityin Pyongyang, issuing new threats of US retaliation might make diminishing diplomatic sense.
At that unprecedented stage, American national security could come to depend upon some residually optimal combinations of ballistic missile defense and defensive first strikes. Again by definition, determining such bewildering combinations would necessarily lack any decisional input or counsel from concrete and/or quantifiable historical data.
In the conceivably worst case, the offensive military element could entail a situational or comprehensive preemption – a defensive first strike – but at that manifestly late stage all previous hopes for bilateral reconciliation would already have become moot. There could then obtain no "ordinary" circumstances wherein a preemptive strike against a nuclear adversary such as North Korea would still be rational.
None of these difficult strategic decisions could be reached casually or easily. With the steadily expanding development of "hypersonic" nuclear weapons, figuring out optimal US policy combinations from one crisis to another could very quickly become overwhelming. Also, though counterintuitive amid such complications, the evident fact that one "player" (the US) is recognizably "more powerful" than the other (North Korea) could quickly prove irrelevant.
In all such foreseeable circumstances, there would be certain overlapping issues of law and strategy. Under international law, which remains an integral part of US law,[5] the option of a selective or comprehensive defensive first-strike might sometime be correctly characterized as "anticipatory self-defense." But this would be the case only if the American side could argue coherently and persuasively that the "danger posed" by North Korea was "imminent in point of time."
Such discernible "imminence" is specifically required by the authoritative standards of international law; that is, by the formal criteria established after an 1837 naval incident famously called "The Caroline."[6]
Now, moreover, in the nuclear age, offering aptly precise characterizations of "imminence" could prove sorely abstract and densely problematic.
For the moment, it seems reasonable that Kim Jung Un would value his own personal life and that of his nation above literally every other imaginable preference or combination of preferences. In any corresponding scenario, Kim is visibly and technically rational, and must remain subject to US nuclear deterrence.[7] Nonetheless, it could still become important for a negotiating American president to distinguish between authentic instances of enemy irrationality and pretended irrationality.[8]
Is US President Donald Trump – a self-declared "very stable genius" – actually up to such a challenging task?
This is not a silly question.
In the past, Trump has praised pretended irrationality as a potentially useful US national security strategy. Apropos of this revealing praise, his earlier "fire and fury" warnings (issued before he "fell in love" with Kim Jung Un) might have reflected a prospective "rationality of pretended irrationality" posture for the United States. Ultimately, such a posture could be adopted by either one or both sides.
This particular prospect adds yet another layer of complexity to the subject at hand, one that could sometime include certain force-multiplying synergies. These would be interactive outcomes where the "whole" was effectively greater than the mere sum of its apparent "parts."
Although neither side would likely seek a shooting war, either or both heads of state could still commit assorted errors in the course of their strategic calculations. Such potentially grievous errors would represent an unintended consequence of jointly competitive searches for "escalation dominance." Arguably, these errors are more apt to occur in those particular circumstances where one or both presidents had first chosen to reignite hyperbolic verbal rhetoric.
Even when the two leaders are reportedly "in love."
Portentously, even in reassuringly calm periods of polite and congenial diplomatic discourse, major miscalculations, accidents or "cyber-confusions" could rapidly accumulate.
What then?
In certain expectedly worst case scenarios, negotiations gone wrong could result in a nuclear war.[9]
There is more. An inadvertent nuclear war between Washington and Pyongyang could take place not only as the result of various misunderstandings or miscalculations between rational national leaders, but also as the unintended consequence (singly or synergistically) of mechanical, electrical, computer malfunctions, or of certain "hacking"-type interventions. Going forward, these interventions could include the clandestine intrusions of "cyber-mercenaries."
In any still-impending crisis between Washington and Pyongyang, each side will strive to maximize two critical goals simultaneously. These goals are (1) to dominate the dynamic and largely unpredictable process of nuclear crisis escalation; and (2) to achieve desired "escalation dominance" without sacrificing any vital national security obligations. In the final analysis, this second objective means preventing one's own state and society from ever suffering any catastrophic or existential harms.
This brings up a prior point concerning all obligatory assessments of relative military power. When President Trump, in an earlier verbal competition with Kim Jung Un, stated that the North Korean president may have his own nuclear "button," but that his American "button" was impressively "bigger," the US leader revealed a major military misunderstanding. It is that today, in the still advancing nuclear age, atomic superiority is potentially per se insignificant and could sometime lead the presumptively stronger nuclear adversary toward lethal expressions of overconfidence.
As Donald Trump should now more fully understand, even an enemy with a smaller "nuclear button" could inflict unimaginably grave harms upon the "stronger" United States and/or its close allies in Japan, South Korea or elsewhere. It follows that to take comfort from the fact that North Korea has been testing "only" shorter-range ballistic missiles is to miss the point. Entirely.
North Korea's 2017 nuclear test had a yield 16X larger than the Hiroshima bomb. That 14KT WW II bomb produced almost 100,000 immediate fatalities.
Such vital understanding about nuclear "button size" must obtain as long as Kim Jung Un's "inferior" nuclear arms are seemingly invulnerable to any American preemptions and also seemingly capable of penetrating ballistic missile defenses deployed in the United States, Japan or South Korea. Because of the extraordinary harms generated by even low-yield nuclear weapons, a small percentage or tiny fraction of Kim's "inferior" nuclear arsenal could and should appear unacceptably destructive in Washington, Tokyo or Seoul. Worth noting, too, is that in all of these critical dimensions of strategic judgment, the only reality that would figure in ongoing adversarial calculations would be perceived reality.
The bottom line of all such informed assessments concerning a still-possible US – North Korea nuclear war is that the underlying issues of contention and calculation are enormously complicated. Faced with such staggering measures of complexity, both operational and legal, each side must proceed warily, in a fashion that is both purposeful and risk-averse. Although such prudent counsel may first seem to run counter to assorted inter-linking obligations of achieving "escalation dominance," any still-upcoming Trump-Kim negotiations would involve very deep and uncharted "waters."
Looking ahead, aggressive over-confidence by President Trump or President Kim will have to be avoided. Although everything at an upcoming summit could at first appear simple and calculable, history strongly supports Prussian strategist Carl von Clausewitz's oft-cited observations about "friction." This quality represents "the difference between war on paper, and war as it actually is."
In certain cases, this crucial difference could amount to total war.
To avoid any such intolerable outcome between the United States and North Korea, a necessary "diplomacy of violence" must be practiced less with clichés and empty witticisms than with intellect and cultivated erudition. Much earlier, the ancient Greeks and Macedonians had already understood that war planning must be a disciplined matter of "mind over mind," rather than just "mind over matter."[10] Today, in more specific regard to US-North Korea nuclear negotiations and rivalry, a similar understanding should obtain immediately in Washington.
Far better for the United States to suitably cultivate the "diplomacy of violence" than to stumble into a nuclear war with North Korea.

---
[1] One should be reminded of a warning speech by Pericles (432 BCE), as noted by Thucydides: "What I fear more than the strategies of our enemies, is our own mistakes." See: Thucydides: The Speeches of Pericles, H.G. Edinger, tr., New York: Frederick Ungar Publishing Company, 1979, p. 17.
[2] The atomic bombings of Japan in August 1945 do not properly constitute a nuclear war, but "only" the use of nuclear weapons in an otherwise conventional conflict. Significantly, too, following Hiroshima and Nagasaki, there were no other atomic bombs still available anywhere on earth.
[3] In essence, hypothesizing the emergence of "Cold War II" means expecting that the world system is becoming increasingly bipolar. For early writings, by this author, on the global security implications of any such expanding bipolarity, see: Louis René Beres, "Bipolarity, Multipolarity, and the Reliability of Alliance Commitments," Western Political Quarterly, Vol. 25, No.4., December 1972, pp. 702-710; Louis René Beres, "Bipolarity, Multipolarity, and the Tragedy of the Commons," Western Political Quarterly, Vol. 26, No.4., December 1973, pp, 649-658; and Louis René Beres, "Guerillas, Terrorists, and Polarity: New Structural Models of World Politics," Western Political Quarterly, Vol. 27, No.4., December 1974, pp. 624-636.
[4] See, by this writer, at Harvard Law School: Louis René Beres, https://harvardnsj.org/2015/06/core-synergies-in-israels-strategic-planning-when-the-adversarial-whole-is-greater-than-the-sum-of-its-parts/ See also, by this writer, at West Point: Louis René Beres https://mwi.usma.edu/threat-convergence-adversarial-whole-greater-sum-parts/
[5] See especially art. 6 of the US Constitution ("The Supremacy Clause") and the Pacquete Habana (1900). In the words used by the U.S. Supreme Court in The Paquete Habana, "International law is part of our law, and must be ascertained by the courts of justice of appropriate jurisdiction, as often as questions of right depending upon it are duly presented for their determination. For this purpose, where there is no treaty, and no controlling executive or legislative act or judicial decision, resort must be had to the customs and usages of civilized nations." See The Paquete Habana, 175 U.S. 677, 678-79 (1900). See also: The Lola, 175 U.S. 677 (1900); Tel-Oren v. Libyan Arab Republic, 726 F. 2d 774, 781, 788 (D.C. Cir. 1984)(per curiam)(Edwards, J. concurring)(dismissing the action, but making several references to domestic jurisdiction over extraterritorial offenses), cert. denied, 470 U.S. 1003 (1985)("concept of extraordinary judicial jurisdiction over acts in violation of significant international standards…embodied in the principle of `universal violations of international law.'").
[6] See Beth Polebau, National Self-Defense in International Law: An Emerging Standard for a Nuclear Age, 59 N.Y.U. L. REV. 187, 190-191 (noting that the Caroline case transformed the right to Even before the nuclear age, ancient Chinese military theorist, Sun-Tzu, counseled, inThe Art of War:"Subjugating the enemy's army without fighting is the true pinnacle of excellence." (See: Chapter 3, "Planning Offensives").self-defense from an excuse for armed intervention into a customary legal doctrine).
[7] Even before the nuclear age, ancient Chinese military theorist, Sun-Tzu, counseled, inThe Art of War:"Subjugating the enemy's army without fighting is the true pinnacle of excellence." (See: Chapter 3, "Planning Offensives").
[8] Expressions of decisional irrationality in US dealings with North Korea could take different and overlapping forms. These include a disorderly or inconsistent value system; computational errors in calculation; an incapacity to communicate efficiently; random or haphazard influences in the making or transmittal of particular decisions; and the internal dissonance generated by any structure of collective decision-making (i.e., assemblies of pertinent individuals who lack identical value systems and/or whose organizational arrangements impact their willing capacity to act as a single or unitary national decision maker).
[9] There is now a substantial literature that deals with the expected consequences of a nuclear war. For earlier works by this author, see, for example: APOCALYPSE: NUCLEAR CATASTROPHE IN WORLD POLITICS (Chicago: The University of Chicago Press, 1980); MIMICKING SISYPHUS: AMERICA'S COUNTERVAILING NUCLEAR STRATEGY (Lexington Books, 1983); REASON AND REALPOLITIK: U.S. FOREIGN POLICY AND WORLD ORDER (Lexington, MA: Lexington Books, 1984); and SECURITY OR ARMAGEDDON: ISRAEL'S NUCLEAR STRATEGY (Lexington, MA: Lexington Books, 1986).
[10] See: F.E. Adcock, The Greek and Macedonian Art of War(Berkeley and Los Angeles: University of California Press, 1962), p. 63.
The Forgotten Analogy: World War II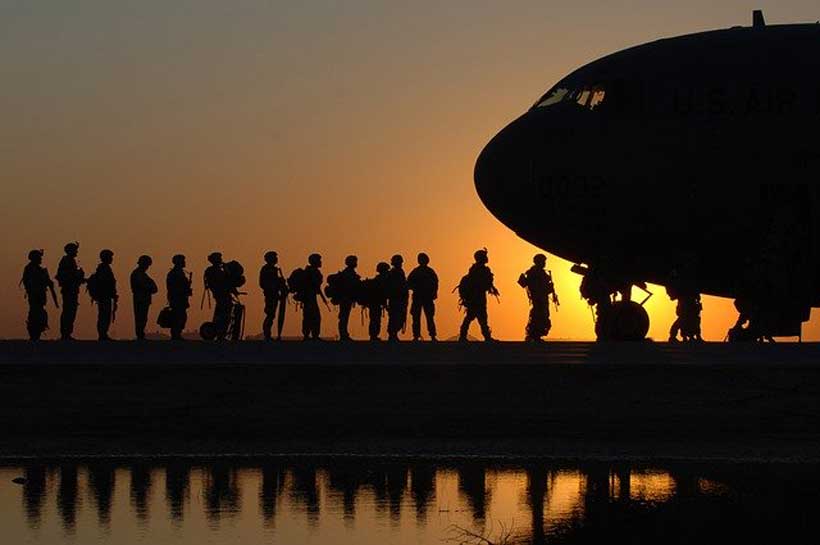 Pundits are searching for adequate analogies to explain the growing China-U.S. rivalry and predict its future direction. Two main ones appear: the pre-World War I era and the Cold War. Both have their merits. The early twentieth century pitted Germany, a rising power, against status quo Britain and France. The Cold War also shares similarities to the current situation. The United States engaged in a prolonged struggle to contain a nuclear-armed great power. However, neither the Cold War nor the First World War offers an entirely appropriate analogy to make sense of the current world order.
Wilhelmine Germany was a formidable power but it largely stood alone, cornered in the center of Europe. London, Paris, and Saint Petersburg had an easy time concentrating their forces to balance against Berlin. Although it had Asia as secondary and the rest of the globe as tertiary theaters, the heart of the Cold War was also Central Europe. There were only two great powers, the Soviet Union and the United States, wholly occupied checkmating each other. 
Today's international politics differs by the number and locations of the main protagonists. Although China legitimately attracts most of the attention, Russia remains a great power. Both China and Russia are the sole great powers of their respective regions — Asia and Europe. Both are bent on correcting the balance of power to their advantage and pushing the United States out of their neighborhood. On its side, Washington has a deep-seated interest in making sure that no great power competitor dominates Asia or Europe because both regions concentrate a big share of the world's wealth and advanced industries. Indeed, a regional hegemon in possession of such resources would be strong enough to potentially overpower the United States. 
Washington found itself in the same position during the late 1930s and early 1940s. Nazi Germany had become the strongest power on the European continent and seemed bound to dominate all of it. Imperial Japan's bid for Asian hegemony was unfolding unabated. The Americans had a vested interest in ensuring that neither Berlin nor Tokyo would seize control of their neighborhood because local powers were unlikely to get the job done on their own. It is now Beijing and Moscow occupying these roles.
Asia and China
China is the strongest state in Asia by a wide margin. No regional state can counterbalance Beijing on its own. Even a coalition of current U.S. partners — say Australia, Japan, the Philippines, Taiwan, and South Korea — would likely be too weak to seriously deter China without America's support and strength. If Washington wants to prevent a Chinese bid for regional hegemony, it needs to throw its weight behind the balancing effort.
During the World War II era, America had to work alongside allies with widely divergent interests (notably Britain, Free France, and the Soviet Union) against the would-be German and Japanese hegemons. In a similar vein, the United States needs to help repair the relations between Japan and South Korea and accommodate those who have had rocky relations with Washington (India, Vietnam) or that are non-democracies (Singapore). The sheer power of China and the challenge of putting together a working balancing coalition imposes to the United States an "Asia First" strategy in the same way that the Third Reich's superior military and industrial capabilities forced "Europe First" during World War II.
Another similarity with the World War II era is that power dynamics are rapidly changing. In Europe, the primary focus of American planners, Germany was with little doubt the strongest power on the continent. But the balance of power was evolving and the Soviet Union, still reeling from its civil war and Stalin's purges, appeared to the Germans as a rising threat. Today, Beijing is growingly wary of India, a state as populous as (and very soon, probably more than) China and enjoying economic growth rates superior to China's.
Europe and Russia
While most Asian states are directly exposed to Chinese military power, the states of Western and Southern Europe are separated from Russia by several other states in-between. Therefore, many European states feel less threatened by Russia and have been slow to balance against Moscow. Although France has been increasing its military spending and Britain vowed to redeploy heavy forces to Germany, these small incremental changes do little to correct the overwhelming military superiority of Moscow. No Western European state is ready or willing to confront Russian power head-on. Europe needs American leadership for that. It is not unlike the late 1930s, when the Soviet Union, separated from Germany by Poland, readily passed the buck of containing Berlin to London and Paris, with disastrous results.
On paper, European states — most notably Britain, France, and Germany — have enough latent capabilities to counterbalance Russian power. But geography and the collective action problem stand in the way. Indeed, Russia is not an immediate threat to Western Europe like the Soviet Union was. Today's Russian army is unable to threaten the survival of France or Germany due to the East-Central European states acting as a buffer. Even if the Western Europeans acknowledge the resurgence of Russian power and are slowly rearming, they just do not feel the same sense of urgency as in Eastern Europe.
Collective action is difficult when many actors have to provide for a common good. An instinct is to do as little balancing as possible and wait for others to take the mantle of deterring Russia. Also, with no clear leader, effective decision-making is unlikely. Berlin, London, Paris, and others will push for their own preferences, thus resulting in lowest-common-denominator policies and under-balancing. Russia would then be free to cherry-pick its small neighbors and subjugate opposition. Eventually, Western Europeans would balance more effectively; but by the time they do so, Russia will have grown its power base and will already dominate Eastern Europe, thus representing a far more formidable challenge.
NATO is a powerful but imperfect tool to contain a Russian aspirant hegemon. The misaligned interest between many western and southern states and those closest to Russia stands in the way of effective balancing. A potential cure would be to form an additional smaller and more focused alliance system of Poland as the main bulwark, the Czech Republic, Romania, the three Baltic states, and maybe Sweden. In any case, to overcome buck-passing tendencies and problems of coordination, American political leadership is inescapable.
No Easy Fix
Historical analogies are always risky and no situation ever recurs in the exact same way. Yet, if we are to compare the current international situation with a past example, the World War II analogy appears more powerful than the World War I and Cold War ones.
Indeed, the United States faces the same conundrum of having to deal with two formidable rivals on two different continents. World War II had Germany as the most powerful opponent and Europe as the theater concentrating the most resources. Now, both the strongest competitor and the main loot are in Asia. During World War II, U.S. policymakers wanted to focus their forces on taking down Germany but they also had to cope with Japan out of fear that Tokyo would successfully absorb much of East and Southeast Asia and become a far greater threat than it already was. Today, although Russia lacks the power potential of China and Asia has now more wealth than Europe, with potential hegemons in both Asia and Europe, Washington is forced into a gigantic act of dual containment. Therefore, the same dilemma that plagued the United States eight decades ago plagues the Americans of today.
There is no roadblock in the way of improving Sino-US ties
According to my long-term observations, the challenge that the US strategic circle has been confronted with in assessing Sino-US ties is: How to comprehend China? What is the best strategy for dealing with China? What is the proper topic for researching Sino-American relations? If they have a more objective perspective of China and a more reasonable understanding of China's growth, there will be less friction between China and the US, and bilateral ties will develop more smoothly. Otherwise, there will be additional difficulties and twists and turns.
Of course, the United States has no shortage of discerning and young people. Nixon and Kissinger, for example, ventured to question American society, "Should the United States open the door to China?" "Should US-China relations be broken?" They had the "Ice-Melting Theory" because the questions they presented were valid. Despite the fact that diplomatic ties have not yet been established, Nixon has decided to visit China as President of the United States.
Such an accomplishment is still remarkable and admirable. Because the topic they propose is appropriate, their efforts will live on in the annals of history and will be remembered in perpetuity. In truth, the Chinese did not have the present degree of awareness of the United States at the time, and the "Cultural Revolution" had not yet finished. Even if the sign on the edge of the Beijing airport welcoming President Nixon remained "Down with US imperialism."
Despite the removal of the Beijing Airport tagline, Nixon's successors have always had a swinging perception of China, whether clear or muddy, straight or crooked, and floating. As a result, Sino-American ties have been bumpy along the road. Because some Americans misunderstood the subject of China studies, the ensuing misconceptions appear to be a black cloud in the sky of Sino-US relations; when the dark cloud appears, the US and China will lose ground in their interactions with China.
The current challenges in Sino-US relations are likewise similar: there are both black clouds of the so-called "China threat theory" and aggressive actions continually unleashed by the US administration, which throws a shadow on US policy toward China while also casting a shade on the US itself. There are several impediments to growth. In truth, the different "evidences" of the so-called "China Threat Theory" are not difficult to understand and do not need profound knowledge or secrets that cannot be made public.
Viewing China's peaceful development trend honestly and logically is not an insurmountable challenge for Americans. Nixon and Kissinger of the United States strove hard 50 years ago not to "hide from the clouds." Today, the US likewise has no need to invent a slew of fictitious "reasons for China threats" in order to keep Sino-US ties from improving!
Otherwise, I'm not sure whether future Americans will be able to answer the question, "Who lost China?" However, as the adage goes, "the house leaks and rains," referring to the ongoing epidemic of the new crown epidemic, which prevents direct face-to-face connection. The hurdles, which include psychological and emotional barriers, have exacerbated the difficulty of removing these black clouds.
Expressions like "I am in you, and you are in me," "Everything is thriving, and everything is lost," and "Global Village" are also taught from American scholars, and they reflect true developments in Sino-US ties. As far as I am aware, virtually few researchers over the age of 40 in American academic circles have not been inspired by the thesis of "interdependence." As a result, they recognize the importance of interdependence and will not turn a blind eye to the breadth and depth of dependency between China and the United States today.
The United States and China's interdependence today is extensive, multi-layered, and multi-faceted. It is a network structure system that is vertically and horizontally interwoven and coexists peacefully. What exactly is "hehe"? It is designed to meet the demands of both China and the United States. If the difficulties of matching and matching between the two nations via peace and collaboration is unique in history, then the matching and matching accomplished between the two countries after a half-century of hard effort is also exceptional. There are few countries in the world that can be compared to it, and none that can replace it.
To put it another way, the compatibility that China and the US require may be achieved through hard work. Even though China and the United States do not share the same destiny or synergy for the time being, the American people's everyday lives are nearly inextricably linked to China. Based on this, I've understood the truth: the mutual relationship's ability to shift from danger to safety is due to their interdependence, and no one can abandon others. This is the heart and soul of Sino-American ties. There is no justification for anybody to overlook this basic due to the disagreement between them, let alone dig out the roots and harm the truth!
There is no obstacle that cannot be overcome in order for Sino-US relations to develop, because there are always more solutions than challenges. The author has firsthand knowledge of the development process that occurred after the "hard ice" of Sino-US ties was cracked. I've witnessed both the flowering spring and the dismal winter that appears to be on its way. Even if "apes on both sides of the strait couldn't cry," they can nonetheless show up. Situation in which "the light boat has crossed ten thousand huge mountains." Following the upheaval of the late 1980s, Sino-US relations were practically intolerable, and they persisted until the end of 1991, with little indications of improvement.
There is no obstacle that cannot be overcome in order for Sino-US relations to develop, because there are always more solutions than challenges. Following the upheaval of the late 1980s, Sino-US relations were practically intolerable, and they persisted until the end of 1991, with little indications of improvement. On January 24, 1992, excellent news came out of Chinese diplomacy in the midst of such a "severe winter": Following a brief conversation with Israel, they agreed to formally establish diplomatic ties without any impediments, based on the strong affinity forged in the history of the Chinese and Jewish peoples. The two countries' long-awaited wish. The positive news of the creation of diplomatic relations between China and Israel has taken the Jewish world by surprise and has had a significant impact on the inclination of the American media to report on China issues.
There are many Chinese in the United States, and most Chinese expect Sino-US ties to strengthen. Only until Sino-American ties improve will Chinese people have a place and be appreciated in the United States. Foreigners will also consider a person's "birth background," which is natural and nothing strange; if the "birth background" is favorable, they will be "admired." China is also the "birthplace" of Chinese people in the United States. Chinese in the United States have put in a lot of effort and made significant contributions to the establishment of stable and seamless Sino-US ties. This tradition is not only alive and well, but also thriving.
There are a considerable number of Americans who rely on China-related employment, business, and investment, whether in China or the United States. Only until Sino-US ties improve will they be able to focus only on China-related professions, business, and investment, and they despise "McCarthyism." As a result, they anticipate that Sino-US ties will improve, which is unavoidable.
For example, in July 1990, at the invitation of the "National Committee on U.S.-China Relations," then-Shanghai Mayor Zhu Rongji led a delegation of Chinese mayors to the United States, aiming to dispel U.S. government and opposition to China's reform and opening up through the development of Pudong.
The Sino-US relationship, which was harmed by the late 1980s instability, also sought an agreement from the US Congress to prolong China's most-favored-nation status. According to Zhu Rongji's suggestion, Shanghai organized a delegation of scholars led by Ding Xinghao from the Shanghai Institute of International Studies, Hong Wenda from the Department of Economics at Fudan University, Yao Tinggang from the Shanghai Academy of Social Sciences, and Yao Tinggang from the Department of International Politics at Fudan University. Shanghai Institute of Foreign Trade's Zhou Dunren and Zhou Hanmin are made up of five persons.
These five people's round-trip travel expenditures were not covered at the time. When the National Committee on US-China Relations learned about the situation, they quickly said that they would offer it in its entirety. American friends are very ruthless! At the time, Sino-US ties were exceedingly tense, but China had made many American friends via bilateral exchanges with the US, as well as diplomatic assets for the growth of Sino-US relations. Trusted friends will provide genuine assistance in times of need.
As a result, the Chinese mayor delegation led by Zhu Rongji's tour to the United States outperformed expectations. Friends such as the "National Committee on US-China Relations" are not only there, but numerous. This decision should be practical and in line with objective reality. Furthermore, the US still has a vast number of international challenges that cannot be managed by one country alone and necessitate China's assistance. There are still many shared interests between China and the United States that must be pursued in order for individual interests to be realized. There are several elements that benefit both China and the United States. The challenge is how to make the most of these advantageous circumstances. The overarching theme is how to persuade Americans to view China's peaceful growth trend objectively and rationally.
In sum, their concept of the character of the United States has been constantly painted and has not been in place for a long time. The examination of the character of the United States, on the other hand, differs from the policy of international affairs in the United States. The primary purpose of US strategy is to enable the US to comprehend China objectively and logically. There is still a lot of opportunity for improvement.
The impact of Biden's policies on China
The main Indications of US policy towards China have begun to become clear, and this policy reflects an American approach based on dialogue, without abandoning the militancy adopted by the administration of former President "Donald Trump". In this context, the Egyptian researcher will analyze what (the shift in the language of China's political discourse towards the policy of the new US administration and its impact on the Middle East, and the corresponding Chinese policy determinants). On the other hand, the scholar will shed light on the position of the Middle East countries, especially in the Gulf region, with the intensification of competition between the two major powers.
The moves of US President Joe Biden's administration, since he formally took office on January 2021, have focused on building a policy toward China based on alliances. This policy includes:
Trying to coordinate with Washington's allies to confront China's foreign policies.
Re-enhancing the influence of the United States in international organizations.
This trend also shows that the determinants of the US administration's policy towards China are not exclusively related to Washington's management of bilateral relations with Beijing, as much as they are affected by the management of its relations with other countries as well.
The "Biden administration" stems from a position of weakness in the East Asian region following the isolationist policies of the previous "Trump's administration", and the impact of the Corona pandemic.
Chinese officials and analysts have pointed to a crisis (the failure of the Trump administration's pressure on Japan and South Korea to increase their defense spending).
On the other hand, China's success in persuading most countries in the region to join the (Regional Comprehensive Economic Agreement) was the biggest blow to American influence.
In mid-March 2021, a "Quad Summit" was held, which brought together the leaders of (the United States, Japan, India, and Australia), and focused on China. The summit showed that "Biden" wanted to expand the scope of cooperation among the group's members, to include elements of "soft power", in addition to its military dimension.
We also note the tours of the US Secretary of State, "Anthony Blinken" and the US Defense Minister "Lloyd Austin" to Japan and South Korea as well to coordinate US efforts against China.
Washington has announced the holding of a high-level meeting in Alaska between Secretary of State "Anthony Blinken" and National Security Adviser "Jack Sullivan" on the one hand, and Chairman of the Foreign Relations Committee of the Communist Party of China "Yang Jiechi" and Foreign Minister "Wang Yi" on the other hand.
On the bilateral level with China, we note that (the Biden administration has adopted a parallel dimension based on a balance between diplomacy in issues on which the two parties agree, and deterrence in controversial files). The US strategic objective of this approach is to adopt dialogue, but to a lesser degree than the administration of former President "Barack Obama", in conjunction with maintaining the policy of confrontation, but to a lesser degree than the Trum's administration.
One of the most important contentious issues that is expected to occupy the agenda of the two countries, and which is witnessing the intensification of competition between them, is "technological competition". Chinese Professor (Wang Da), Deputy Director of the American Institute at Jilin University in China, analyzes the course of this technological competition between Washington and Beijing, saying:
The United States will continue to adopt a hard policy towards China in certain areas, such as 5G networks, quantum computing and artificial intelligence, but it will reduce the policy of "aggressive detachment in other less sensitive areas".
We note here the Biden campaign pledge during the US election battle to allocate $300 billion for innovation, and this will be the main driver behind US policy, in parallel with (Washington's endeavor to undermine China's capabilities in the field of science and technology).
On the (political level), the Biden administration seems to have no options but to be tough on China. One of the most important strategic goals of President Biden is to end the internal political division. It is understood from this that adopting a different approach from the Trump administration towards China may deepen the division further, and this complex position for the American administration means that at a time when "the files that might produce consensus between Democrats and Republicans are almost absent". Here, we can see that the "Chinese threat" appears to be the most important consensual issue on the American political scene at the moment.
American analyzes indicate that between a quarter to a third of men in the United States may lose their jobs by the middle of this century. In addition, the expansion of globalization and the accelerating digitization process caused great pressure on the working class in some crucial states, which are called (Rust Belt states), in which Biden achieved a hard or hard victory in the last presidential elections in the face of his opponent, "Trump". These are the states of (Pennsylvania, Michigan, and Wisconsin), which means that this class will determine the outcome of the US presidential election again in 2024.
Based on this complex political equation towards the US tightening policy against China, the Biden administration announced its intention to tighten trade policy with China, with the "Joe Biden administration", stressing the need to "reconsider the agreement of the first phase of trade negotiations with China and not to rush to lift trade sanctions against it".
On the (security level), the White House issued guidelines for all US agencies in the month of March 2021, we note that it "mentioned China's security risk more than 20 times".
President "Biden" pledged the importance of (strengthening the US military presence in the Indo-Pacific region), and obtaining the support of Japan, South Korea, Taiwan and Australia in the face of "China's hostile practices in the Northeast Asia and the South China Sea", in addition to the support of NATO, As essential components of the American alliance against Chinese policies in that region, according to the new American vision.
The US security document also pledged the importance of "strengthening the US partnership with India, Singapore, the Philippines, Vietnam and the rest of ASEAN countries" to undermine and besiege China.
In order to undermine and besiege Chinese influence, Washington announced in March 2021 several plans to build (a network of guided and high-precision missiles along the so-called "first island chain", which constitutes the first strategic defense line for China), and includes mainly "Taiwan and the Philippines", and as well as several islands disputed between Japan and China.
The Biden's administration's tendency to double (media and diplomatic pressures on China in connection with the human rights file in Hong Kong, Xinjiang and Tibet, and with regard to the international investigation of the source of the spread of the Corona virus, as well as the file of freedom of navigation in the South China Sea) was also clearly shown.
On the other hand, there are files around which the views of China and the United States of America converge together, according to the same American vision, and among the files of: (controlling nuclear arms, climate change, and combating epidemics), which are the foundations for points of cooperation between the two sides, as it focused Biden made his first call with Chinese President "Xi Jinping" in February 2021.
But the main dilemma that will face the "Biden administration" lies in (the different visions of most Southeast Asian countries for the security approach to confront China from the American vision itself), and the inability of the Asian countries allied to Washington to withstand Washington's strategic pressures to confront Chinese influence, which is mainly supported by policy interactions. interior in the United States. These mainly Asian countries share a common destiny with China politically, economically, geographically and historically. Moreover, most do not view US-China relations as a "zero-sum" as in Washington.
Here, we note from the foregoing, the contradiction of the policies and vision of the American administration with its allies regarding China, and therefore, the United States will have to (invent new formulations in its dealings with each country separately according to its interests), and this is the most important obstacle in Washington's relations with its allies in dealing with China.