Deeper meanings of the Hong Kong protests: Is China a gamechanger or yet another winner?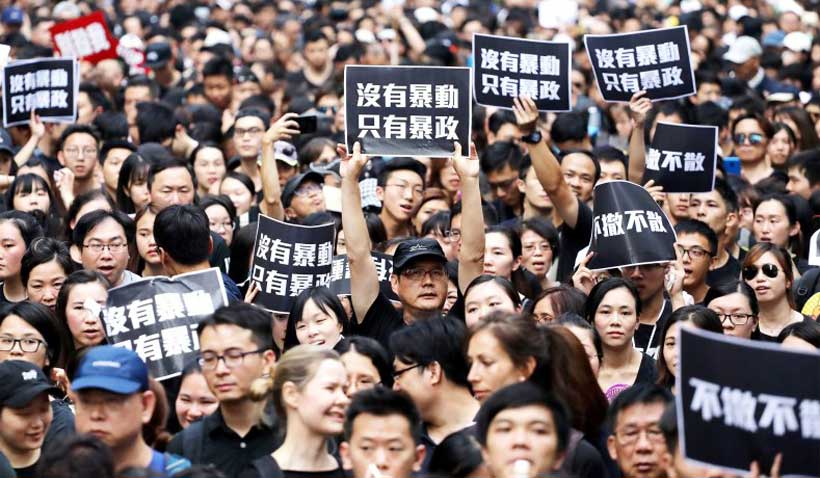 Does our history only appear overheated, while it is essentially calmly predetermined? Is it directional or conceivable, dialectic and eclectic or cyclical, and therefore cynical? Surely, our history warns. Does it also provide for a hope? Hence, what is in front of us: destiny or future?
Theory loves to teach us that extensive debates on what kind of economic system is most conductive to human wellbeing is what consumed most of our civilizational vertical. However, our history has a different say: It seems that the manipulation of the global political economy – far more than the introduction of ideologies – is the dominant and arguably more durable way that human elites usually conspired to build or break civilizations, as planned projects. Somewhere down the process, it deceived us, becoming the self-entrapment. How?
One of the biggest (nearly schizophrenic) dilemmas of liberalism, ever since David Hume and Adam Smith, was an insight into reality: Whether the world is essentially Hobbesian or Kantian. As postulated, the main task of any liberal state is to enable and maintain wealth of its nation, which of course rests upon wealthy individuals inhabiting the particular state. That imperative brought about another dilemma: if wealthy individual, the state will rob you, but in absence of it, the pauperized masses will mob you.
The invisible hand of Smith's followers have found the satisfactory answer – sovereign debt. That 'invention' meant: relatively strong central government of the state. Instead of popular control through the democratic checks-&-balance mechanism, such a state should be rather heavily indebted. Debt – firstly to local merchants, than to foreigners – is a far more powerful deterrent, as it resides outside the popular check domain.
With such a mixed blessing, no empire can easily demonetize its legitimacy, and abandon its hierarchical but invisible and unconstitutional controls. This is how a debtor empire was born. A blessing or totalitarian curse? Let us briefly examine it.
The Soviet Union – much as (the pre-Deng's) China itself – was far more of a classic continental military empire (overtly brutal; rigid, authoritative, anti-individual, apparent, secretive), while the US was more a financial-trading empire (covertly coercive; hierarchical, yet asocial, exploitive, pervasive, polarizing). On opposite sides of the globe and cognition, to each other they remained enigmatic, mysterious and incalculable: Bear of permafrost vs. Fish of the warm seas. Sparta vs. Athens. Rome vs. Phoenicia… However, common for the both was a super-appetite for omnipresence. Along with the price to pay for it.
Consequently, the Soviets went bankrupt by mid 1980s – they cracked under its own weight, imperially overstretched. So did the Americans – the 'white man burden' fractured them already by the Vietnam war, with the Nixon shock only officializing it. However, the US imperium managed to survive and to outlive the Soviets. How?
The United States, with its financial capital (or an outfoxing illusion of it), evolved into a debtor empire through the Wall Street guaranties. Titanium-made Sputnik vs. gold mine of printed-paper… Nothing epitomizes this better than the words of the longest serving US Federal Reserve's boss, Alan Greenspan, who famously quoted J.B. Connally to then French President Jacques Chirac: "True, the dollar is our currency, but your problem". Hegemony vs. hegemoney.
House of Cards
Conventional economic theory teaches us that money is a universal equivalent to all goods. Historically, currencies were a space and time-related, to say locality-dependent. However, like no currency ever before, the US dollar became – past the WWII – the universal equivalent to all other moneys of the world. According to history of currencies, the core component of the non-precious metals' money is a so-called promissory note – intangible belief that,by any given point in future, a particular shiny paper (self-styled as money) will be smoothly exchanged for real goods.
Thus, roughly speaking, money is nothing else but a civilizational construct about imagined/projected tomorrow – that the next day (which nobody has ever seen in the history of humankind, but everybody operates with) definitely comes (i), and that this tomorrow will certainly be a better day then our yesterday or even our today (ii).
This and similar types of collective constructs (horizontal and vertical) over our social contracts hold society together as much as its economy keeps it alive and evolving. Hence, it is money that powers economy, but our blind faith in constructed (imagined) tomorrows and its alleged certainty is what empowers money.
Clearly, the universal equivalent of all equivalents – the US dollar – follows the same pattern: Bold and widely accepted promise. What does the US dollar promise when there is no gold cover attached to it ever since the time of Nixon shock of 1971?
Pentagon promises that the oceanic sea-lanes will remain opened (read: controlled by the US Navy), pathways unhindered, and that the most traded world's commodity – oil, will be delivered. So, it is not a crude or its delivery what is a cover to the US dollar – it is a promise that oil of tomorrow will be deliverable. That is a real might of the US dollar, which in return finances Pentagon's massive expenditures and shoulders its supremacy.
Admired and feared, Pentagon further fans our planetary belief in tomorrow's deliverability – if we only keep our faith in dollar (and hydrocarbons' energized economy), and so on and on in perpetuated circle of mutual reinforcements.
These two pillars of the US might from the East coast (the US Treasury/Wall Street and Pentagon) together with the two pillars of the West coast – both financed and amplified by the US dollar, and spread through the open sea-routs (Silicone Valley and Hollywood), are an essence of the US posture.
This very nature of power explains why the Americans have missed to take the mankind into completely other direction; towards the non-confrontational, decarbonized, de-monetized/de-financialized and de-psychologized, the self-realizing and green humankind. In short, to turn history into a moral success story. They had such a chance when, past the Gorbachev's unconditional surrender of the Soviet bloc, and the Deng's Copernicus-shift of China, the US – unconstrained as a lonely superpower – solely dictated terms of reference; our common destiny and direction/s to our future/s.
Winner is rarely a game-changer
Sadly enough, that was not the first missed opportunity for the US to soften and delay its forthcoming, imminent multidimensional imperial retreat. The very epilogue of the WWII meant a full security guaranty for the US: Geo-economically – 54% of anything manufactured in the world was carrying the Made in USA label, and geostrategically – the US had uninterruptedly enjoyed nearly a decade of the 'nuclear monopoly'. Up to this very day, the US scores the biggest number of N-tests conducted, the largest stockpile of nuclear weaponry, and it represents the only power ever deploying this 'ultimate weapon' on other nation. To complete the irony, Americans enjoy geographic advantage like no other empire before. Save the US, as Ikenberry notes: "…every major power in the world lives in a crowded geopolitical neighborhood where shifts in power routinely provoke counterbalancing". Look the map, at Russia or China and their packed surroundings. The US is blessed with its insular position, by neighboring oceans. All that should harbor tranquility, peace and prosperity, foresightedness.
Why the lonely might, an empire by invitation did not evolve into empire of relaxation, a generator of harmony? Why does it hold (extra-judicially) captive more political prisoners on Cuban soil than the badmouthed Cuban regime has ever had? Why does it remain obsessed with armament for at home and abroad? Why existential anxieties for at home and security challenges for abroad ? (Eg. 78% of all weaponry at disposal in the wider MENA theater is manufactured in the US, while domestically Americans – only for their civilian purpose – have 1,2 small arms pieces per capita.)
Why the fall of Berlin Wall 30 years ago marked a beginning of decades of stagnant or failing incomes in the US (and elsewhere in the OECD world) coupled with alarming inequalities. What are we talking about here; the inadequate intensity of our tireless confrontational push or about the false course of our civilizational direction?
Indeed, no successful and enduring empire does merely rely on coercion, be it abroad or at home. The grand design of every empire in past rested on a skillful calibration between obedience and initiative – at home, and between bandwagoning and engagement – abroad. In XXI century, one wins when one convinces not when one coerces. Hence, if unable to escape its inner logics and deeply-rooted appeal of confrontational nostalgia, the prevailing archrival is only a winner, rarely a game-changer.
To sum up; After the collapse of the Soviet Union, Americans accelerated expansion while waiting for (real or imagined) adversaries to further decline, 'liberalize' and bandwagon behind the US. Expansion is the path to security dictatum only exacerbated the problems afflicting the Pax Americana. That is how the capability of the US to maintain its order started to erode faster than the capacity of its opponents to challenge it. A classical imperial self-entrapment!!
The repeated failure to notice and recalibrate its imperial retreat brought the painful hangovers to Washington by the last presidential elections. Inability to manage the rising costs of sustaining the imperial order only increased the domestic popular revolt and political pressure to abandon its 'mission' altogether. Perfectly hitting the target to miss everything else …
Hence, Americans are not fixing the world any more. They are only managing its decline. Look at their (winner) footprint in former Yugoslavia, Afghanistan, Iraq, Libya and Syria – to mention but a few.
When the Soviets lost their own indigenous ideological matrix and maverick confrontational stance, and when the US dominated West missed to triumph although winning the Cold War, how to expect from the imitator to score the lasting moral or even amomentary economic victory?
Neither more confrontation and more carbons nor more weaponized trade and traded weapons will save our day. It failed in past, it will fail again any given day.
Interestingly, China opposed the I World, left the II in rift, and ever since Bandung of 1955 it neither won over nor (truly) joined the III Way. Today, many see it as a main contestant. But, where is a lasting success?
(The Belt and Road Initiative (BRI) is what the most attribute as an instrument of the Chinese planetary posture. Chinese leaders promised massive infrastructure projects all around by burning trillions of dollars. Still, numbers are more moderate. As the recent The II BRI Summit has shown, so far, Chinese companies had invested $90 worldwide. Seems, neither People's Republic is as rich as many (wish to) think nor it will be able to finance its promised projects without seeking for a global private capital. Such a capital –if ever – will not flow without conditionalities. The Asian Infrastructure Investment Bank (AIIB) and the BRICS or 'New Development' – Bank have some $150 billion at hand, and the Silk Road Infrastructure Fund (SRIF) has up to $40 billion. Chinese state and semi-private companies can access – according to the OECD estimates – just another $600 billion (much of it tight) from the home, state-controlled financial sector. That means that China runs short on the BRI deliveries worldwide. Ergo, either bad news to the (BRI) world or the conditionalities' constrained China.)
Greening international relations along with a greening of economy – geopolitical and environmental understanding, de-acidification and relaxation is the only way out.
That necessitates both at once: less confrontation over the art-of-day technology and their monopolies' redistribution (as preached by the Sino-American high priests of globalization) as well as the resolute work on the so-called Tesla-ian implosive/fusion-holistic systems(including free-energy technologies; carbon-sequestration; antigravity and self-navigational solutions; bioinformatics and nanorobotics). More of initiative than of obedience (including more public control over data hoovering). More effort to excellence (creation) than struggle for preeminence (partition).
Finally, no global leader has ever in history emerged from a shaky and distrustful neighborhood, or by offering a little bit more of the same in lieu of an innovative technological advancement. (Eg. many see the Chinese 5G as an illiberal innovation, which may end up servicing authoritarianism, anywhere. And indeed, the AI deep learning inspired by biological neurons (neural science) including its three methods: supervised, unsupervised and reinforced learning can end up used for the digital authoritarianism, predictive policing and manufactured social governance based on the bonus-malus behavioral social credits.)
Ergo, it all starts from within, from at home. Without support from a home base (including that of Hong Kong, Xinjiang and Tibet), there is no game changer. China's home is Asia. Its size and its centrality along with its impressive output is constraining it enough.
Hence, it is not only a new, non-imitative, turn of technology what is needed. Without truly and sincerely embracing mechanisms such as the NaM, ASEAN and SAARC (eventually even the OSCE) and the main champions of multilateralism in Asia, those being India Indonesia and Japan first of all, China has no future of what is planetary awaited – the third force, a game-changer, lasting visionary and trusted global leader.
Post Scriptum:
To varying degrees, but all throughout a premodern and modern history, nearly every world's major foreign policy originator was dependent (and still depends) on what happens in, and to, Russia. It is not only a size, but also centrality of Russia that matters. It is as much (if not even more), as it is an omnipresence of the US and as it is a hyper production of the PR China.
Ergo, it is an uninterrupted flow of manufactured goods to the whole world, it is balancing of the oversized and centrally positioned one, and it is the ability to controllably destruct the way in and insert itself of the peripheral one. The oscillatory interplay of these three is what characterizes our days.
Mongolia To Strengthen Transparency Through Constitutional Reforms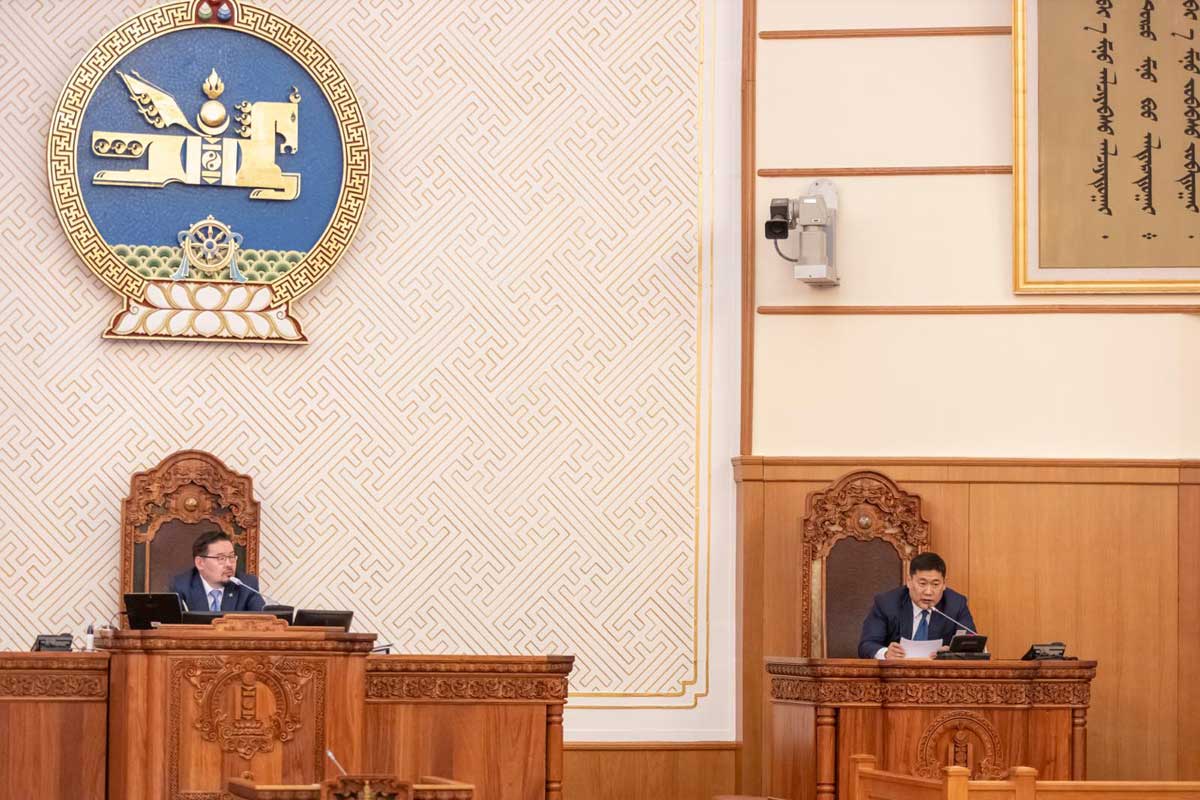 The Government of Mongolia has this week made efforts to strengthen the governance of its legislature and increase transparency by passing into law a number of changes to the country's constitution. The country hopes to create more opportunities for civil society representation by moving to a mixed electoral system.
Representatives in the country's parliament, the State Great Khural, debated and approved reforms that will increase the number of members in the parliament from 76 to 126, with nearly 40% of the MPs now being elected through proportional representation. The Government is also shortly due to introduce separate proposals that will increase the representation of women in the parliament. All these changes are set to be in place in time for the next set of general elections in 2024.
Mongolia's political system is centred on the sharing of executive power between the Prime Minister as the head of government, and an elected President. The country's Constitution was adopted in 1992, with amendments made in 1999, 2000, 2019, and 2022. Recent changes have focused on securing political stability in the country, through for example limiting the maximum term of the presidency from two four-year terms to one six-year term, and amending the number of parliamentarians who can hold ministerial positions.
The increase in the size of the State Great Khural will address the rise in the number of voters represented by each parliamentarian, which has increased from 27,000 in 1992 to 44,000 today. Alongside the move towards a more proportional electoral system, the reforms are designed to bring parliamentarians closer to the people they are elected to serve by enhancing the scrutiny given to new laws.
A separate amendment to the country's constitution creates a role for Mongolia's Constitutional Court in reaching a final decision on citizen petitions alleging breaches of civil rights and freedoms, including equal rights between men and women, freedom of thought, speech, and peaceful assembly.
Commenting on the proposed changes to the constitution, Mongolia's Prime Minister, L. Oyun-Erdene, said:
"I strongly support these proposed changes to Mongolia's Constitution. They represent a further step for our country in the direction of a more inclusive and democratic future. Through increasing the representation in our parliament and broadening input into the law-making process, we will be better placed to meet current challenges and ensure that we continue to make progress towards our Vision 2050 goals, improving the livelihoods of people across Mongolia."
Taiwan's International Status: "A Country Within a Country"
In California, a recent meeting was held between the President of Taiwan, Tsai Ing-wen, and the U.S. House Speaker, Mr. Kevin McCarthy, which holds political significance. This aforementioned meeting facilitated a negative shift in the bilateral relations between China and Taiwan. The latent hostilities between China and Taiwan possess the potential to escalate into full-scale armed conflict at any given juncture.
The proposal
The incongruent dynamic existing between China and Taiwan has persisted since 1949, when Taiwan made the conscious decision to separate from mainland China.
From 1949 onwards, China and Taiwan have been embroiled in a geopolitical imbroglio pertaining to their respective territorial integrity and claims of sovereignty. The Chinese government asserts that Taiwan is an integral component of its sovereign geography. On the contrary, Taiwan is assertive of its autonomy as a distinct, self-governing entity that operates independently and is no longer subject to Chinese jurisdiction.
The discordant relationship between the two sides which has escalated over the preceding biennium, potentially heightening the likelihood of military confrontation.
Over the course of the past two years, there have been several instances in which China has deployed the Chinese People's Liberation Army (PLA) to conduct military maneuvers in close proximity to Taiwan. The aforementioned initiative was aimed at preventing any activities fueled by Taiwan that could have been construed as provocative and potentially encroach on China's claims of rightful control over Taiwan's sovereignty and territorial boundaries
The persistent geopolitical tensions between China and Taiwan since 1949 can be attributed to diverging opinions regarding the formal recognition of Taiwan, in particular, the contentious matter of Taiwan's sovereignty. Tensions will continue Between China and Taiwan until Taiwan becomes independent or recognizes its self-identification as a constituent part of China.
Since 1949, the China has exerted persistent pressure upon Taiwan to acquiesce to the notion of reunification or the incorporation of Taiwan into the mainland territory of China. Nevertheless, it appears that Taiwan's internal political circumstance and dynamics persist in maintaining its political choices and ideology as a democratic and self-governing entity.
The prolonged inability of both parties to develop a more extensive and adaptable resolution or methodology to address the matter implies that the aspiration to "normalize" relations between China and Taiwan continues to exist solely within the realm of rhetoric.
In order to achieve the objective of unification under the the idea of the "One China Principle" or One China Policy and to surmount the political divergence concerning Taiwan's official position, has engendered several propositions by China aimed at resolving this issue. A proposed approach adopt the implementation of a "one country, two systems" protocol akin to that employed in Hong Kong and Macau.
The Chinese government has expressed that the policy is exceedingly permissive and capable of surmounting the distinct system variances that exist between the mainland region of China and Taiwan.
The proposal of "special administrative region" attributed to Taiwan enables the continued preservation of its economic, social, and security system that they have built so far, while attenuating or obviating any undue influence or interference by China. Nonetheless, the aforementioned proposal appears to be insufficient in instigating political transformation in Taiwan, given the persistent refusal of Taiwanese individuals and governmental officials to endorse unification and uphold their desire for independence.
In view of China, safeguarding Taiwan and accomplishing the complete unification of the country is not solely a matter of fulfilling its constitutional obligations, but also serves the purpose of preserving its stature as a dominant and revered nation on the global stage.
In contrast, Taiwan persistently endeavors to establish diplomatic and cross-strait relations through a range of diverse strategies and approaches with multiple nations across the globe. The clear objective is to secure the hearts and compassion of the global populace. Taiwan undertook this action with the aim of restoring its position in the global arena and paving the way for its eventual recognition as a self-governing entity with full political autonomy.
"Country within a country"
Again, the China-Taiwan issue is rooted in a territorial and sovereignty perspectives. In the global arena, China maintains a comparatively advantageous position. China, is a prominent participant in the United Nations, the most extensive intergovernmental organization encompassing numerous states worldwide, Positioning itself as a powerful participant in the direction and reflection of global politics. Furthermore, China belongs to "the distinguished" member of UN Security Council's five permanent members, which has so far strong and great influence on world politics.
On the other hand, the international position held by Taiwan is considerably intricate. The question regarding the statehood of Taiwan remains a matter of unsettled dispute, given the absence of any universally recognized body empowered to render definitive judgments regarding the status of a nation-state.
Since the adoption of Resolution A/RES/2758 by the UN General Assembly on October 25, 1971, Taiwan has lost its international "stage". This is because the resolution affirms China as the sole legitimate representative of China to the United Nations and consequentially nullifies Taiwan's membership from the organization.
It is a well-documented reality that numerous nations have forged informal diplomatic ties with Taiwan, particularly in the realm of trade and investment. The United States, for instance, has solidified such relations through the Taiwan Relations Act. To the present day, a limited number of 22 nations have formally acknowledged and established official diplomatic intercourse with Taiwan. A notable aspect is that the majority of these nations lack any substantial sway or significant leverage on the international political sphere. Specifically, countries of comparatively small size in the African and Latin American regions, namely Haiti, Belize, and Tuvalu.
Taiwan has indeed met the three constitutive elements or absolute requisites deemed necessary for a country as exemplified by the 1933 Montevideo Convention. These components include the presence of a defined territorial boundary, a functioning populace, and a duly constituted government. However, Taiwan lacks a crucial element in its diplomatic status, namely the recognition from the international community through a declarative act.
The restricted global acknowledgement of Taiwan undoubtedly carries considerable political and legal ramifications. Recognition is widely regarded as the key component in modern international politics that has the potential to enhance the legitimacy and sovereignty of a given state.
Taiwan faces formidable challenges in achieving recognition. In order to attain successful governance, Taiwan must display adeptness in efficiently managing both internal and external political dynamics. Otherwise, the current state of affairs will persist, leading to Taiwan's classification as a "subnational entity" Or "A country within a country".
Ultimately, the resolution of the China and Taiwan conflict proves to be a formidable challenge. In order to mitigate potential future crises and uphold regional and international stability, it is necessary for China and Taiwan to refrain from engaging in provocative actions. It is imperative to adopt a cooperative approach through negotiations and concessions that are all-encompassing and pertinent, in order to attain a sustainable resolution that caters to the interests of both China and Taiwan's populace of 23 million, while acknowledging and adapting to their respective challenges and circumstances.
The Sino-Russian-led World Order: A Better Choice for the Globe?
International forums, which were once established to promote cooperation and dialogue among the world's states, are now increasingly being used as platforms for confrontation and accusation. The recent example of G20 and G7 summits, where China and Russia faced criticism and isolation from Western countries over the Indo-pacific and their actions in Ukraine, plus India's accusation of Pakistan as a terrorist sponsor state in the SCO summit, illustrate these trends. Instead of working towards finding a solution to pressing global problems, these meetings have devolved into platforms for airing grievances and pointing fingers – this shift in focus has undermined the effectiveness of these forums in addressing the very issues they were created to solve.
At their recent summit in Hiroshima, Japan, the G7 leaders issued their strongest-ever condemnation of Russia and China. They accused them of using economic coercion and militarizing the South China Sea and urged them to push Russia to withdraw its troops from Ukraine. Furthermore, at the G7 summit, leaders of the significant democracies pledged additional measures targeting Russia and spoke with a united voice on their growing concern over China.
Similarly, in Feb 2023, at the G20 finance minister's summit held in Bengaluru, Russia and China declined to sign a joint statement condemning Russia's invasion of Ukraine, and of course, as a sovereign state, Russia has the right to defend its territory and combat threats that pose a danger to its survival. These are just a few instances that illustrate how the Western world reacts to the actions and policies of China and Russia on the global stage.
Consequently, this recent condemnation and blaming at the Hiroshima summit demonstrate that international forums can no longer address serious global issues; instead, they have become arenas for blaming and accusing one another. This shift in the nature of international forums has significant implications for global governance and cooperation – It highlights the need for the failure of the current global system dominated by the Western bloc.
Besides, accusing states such as China and Russia at international forums is not a solution to global problems; instead, it can exacerbate regional tension and promote anti-sentiment against influential states. Furthermore, instead of promoting cooperation and dialogue, such accusations can foster an environment of mistrust and hostility, making it more challenging to find common ground and work towards resolving global issues.
In one of my previous papers, I argued that "the contemporary geopolitical landscape is characterized by escalating tension between the United States and its allies and China and Russia. This can be attributed to the absence of transparent and inclusive unipolar world order that effectively addresses the interests and concerns of all nations."
I further elaborated that the US and its allies are not inclined to recognize the emergence of a Sino-Russian-led world order, as evidenced by the recent summit development. The West has frequently chastised China and Russia for their autocratic governments, breaches of human rights, and expansionist ambitions. Such claims, however, are based on a skewed and obsolete understanding of the global system that ignores the two countries' legitimate interests and aspirations. Instead of making allegations, the Western world should be grateful for the Sino-Russian-led international system, which provides a more democratic, multipolar, and peaceful alternative to the US-dominated regional hegemony.
To begin with, the Sino-Russian-led international order is more democratic than the Western one since it recognizes the globe's diversity of political systems and cultures. China and Russia do not push their ideals or ideologies on other countries but instead encourage them to exercise their sovereignty and self-determination. They also reject any influence or intervention in the domestic affairs of other countries, particularly by the United States and its allies. In contrast, the Western world has frequently employed economic and military force to compel or remove governments that do not share its interests or tastes. Iraq, Libya, Syria, Venezuela, and Iran are a few examples. Such operations have breached international law and generated insecurity and misery in several places.
Second, the Sino-Russian-led international order is more multipolar than the Western one because it balances the strength and influence of many global players. With expanding economic, military, and diplomatic capacities, China and Russia have emerged as crucial powers in the twenty-first century. They have also formed strategic alliances with other growing nations, including India, Brazil, South Africa, Turkey, and Iran. They have joined forces to oppose the US-led unipolar system and call for more egalitarian and inclusive global governance. On the other hand, the Western world has attempted to preserve its domination and hegemony over other countries, particularly in regions such as Europe, Asia-Pacific, the Middle East, and Africa. Many countries seeking greater autonomy have expressed displeasure and hostility to such a system.
Third, the Sino-Russian world order is more peaceful than the Western one because it values discussion and collaboration above confrontation and war. China and Russia have settled their historical differences and formed a comprehensive strategic alliance based on mutual trust and respect. They have also collaborated on several regional and global concerns, including counter-terrorism, non-proliferation, climate change, energy security, and pandemic response. They have also backed international institutions and procedures such as the United Nations (UN), Shanghai Cooperation Organization (SCO), BRICS (Brazil-Russia-India-China-South Africa), Eurasian Economic Union (EAEU), Belt and Road Initiative (BRI), and others. In contrast, the Western world has frequently instigated or intensified tensions and disagreements with other countries, particularly China and Russia. A few examples are NATO expansion, missile defense deployment, sanctions system, and commerce.
Finally, international forums have the potential to promote cooperation and dialogue among nations; however, their effectiveness is hindered when they become platforms for confrontation and accusation. In contrast, the Sino-Russian-led world order is a superior choice for the globe to the Western one. It is more democratic because it values diversity; multipolar because it balances power; and more peaceful because it promotes dialogue – thus, rather than criticizing, the Western world should commend the international order led by Sino-Russian cooperation.
In conclusion, while international forums have the potential to promote cooperation among nations, they are increasingly being used for confrontation. In this context, the Sino-Russian-led world order offers a more democratic and peaceful alternative to the US-dominated hegemony and may be a better choice for promoting global cooperation.