Article 370 Revoked in Jammu & Kashmir rattles some Countries: Should India be Concerned?
The peaceful celebration of Eid although at reduced scale, demolishes the propaganda fueled by countries/media houses/politicians, who stand disappointed as they were waiting for violence to break out in Kashmir, post abrogation of Article 370. The historic moment revoking Article 370 in Jammu and Kashmir (J&K), happened on 06 August 2019, when the bill was passed by more than two third majorities in both houses of parliament, through the laid down democratic process in consultation with Sadr-e Riyasat vested in Governor of the erstwhile state. The bill reorganizes the erstwhile state of J&K into two separate Union Territories (UTs), J&K being one and Ladakh being another UT. Prime Minister Modi has clarified in his address to the nation that once there is peace, statehood will be returned to J&K. Ladakh, however, will remain a UT. This reorganization is purely an internal matter of India; however few countries seemed to be extremely rattled over this development, while most of them chose to treat it as a bilateral/internal matter. While the discomfort of Pakistan and to some extent China was unwarranted, but expected, it was regrettable that some segments of global media chose to carry propaganda stories, based on fake news propagated by interested parties. While India has no reason to be concerned about their desperation, for ill conceived reasons, some of the facts to mitigate some common international misperceptions need to be highlighted.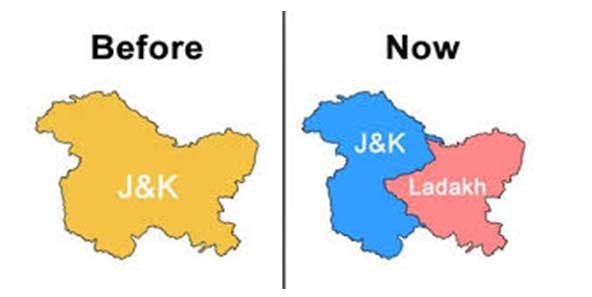 Facts versus Propaganda
After partition of India and Pakistan in 1947, the state of J&K was an independent state under Maharaja Hari Singh, which was attacked by Pakistani razakars to capture it by force. Maharaja signed the Instrument of Accession to India for the entire state (including Pakistan occupied Kashmir, Gilgit- Baltistan, Shaksgham Valley and Aksai Chin) and Indian Forces were flown in which saved the remaining state of J&K. One of the global daily in its article quoted "Article 370 had been considered a cornerstone of Kashmir's inclusion in India during the 1947 partition that separated India and Pakistan following the end of British colonial rule". The fact is that there was no Article 370 in 1947, as part of Instrument of Accession. It was introduced later, drafted on 05 Mar 1948 and amended on November 15, 1952. The same daily quotes "Parts of Kashmir are controlled by India and Pakistan, both of which claim the strategic region in its entirety". The instrument of Accession signed on 27 October 1947, does not give any claim to Pakistan. Some global news channels chose to air fake videos of atrocities to people of J&K, in last few days, whereas the reality is that the Kashmir valley has been quite peaceful, after India strengthened the security force level in the terrorist threat prone area, to ensure safety of citizens and not a single bullet was fired. Pakistan & terrorists are rattled because it was done with such a speed that it caught them by surprise and made their efforts to disrupt peace unviable Incident free Eid celebrations, although on low key, are enough to demolish the claim of propaganda oriented fake media coverage indicating heavy violence.
Why was Article 370 Revoked Now?
Indian resolve to revoke temporary Article 370 and 35a in J&K was a national call, in the national interest and the ruling party was voted with thumping majority (including people of J&K) with this cause in their manifesto. These provisions were made by decision makers in 1952 purely under Indian Constitution. Article 370 was drafted in Amendment of the Constitution section, in Part XXI, under Temporary and Transitional Provisions. In last few decades it was seen that these provisions have been hurting India and common people of Jammu and Kashmir since many decades. Kashmiri Pandits, who are natives of Kashmir were forcibly pushed out by a motivated groups, which was the biggest abuse of power, which left India helpless in mitigating their grievances, due to such provisions. They were being misused by few local politicians, separatists, elite businessmen aligned to them, terrorists and their supporters, at the cost of brewing inequality, depriving of legal benefits and welfare related laws for common people, thus proving to be a hindrance in inclusive growth of the country. It was well realized that these provision had not given anything except separatism, corruption and family rule to the erstwhile State, with Pakistan using it as a tool to spread terrorism, which claimed over 42000 innocent lives. It's abrogation was desired by many governments, but could not be executed due to inadequate political will/ democratic mandate or bogey of grave repercussions thrown up by ruling families of erstwhile state and separatists/terrorists. Revoking of Article 370 and 35a will allow all J&K citizens to vote for J&K Assembly and Panchayat elections, a democratic right denied to many residents in the state. It will restore rights of daughters to parental property, rights of safai karmacharis and their children to government jobs, education and make them eligible for many social benefit schemes of India.
Why is Pakistan Rattled?
Pakistan, despite being an aggressor in 1947, seems rattled with abrogation of Article 370 and 35a in J&K to an extent that it took certain reckless actions. Lowering of diplomatic relations with India, scrapping trade ties, stopping rail communication and blocking few air routes are some examples. The main reason of Pakistan's frustration is that its terrorists fuelling proxy war in Kashmir will be devoid of political patronage, the separatists will be exposed to central security forces and laws, and its terror industry/infrastructure built in Kashmir over decades will start weakening. Pakistan's effort of approaching UNSC has no future, as is evident from the factual analysis above. If they still approach UNSC, then as per United Nations Security Council Resolution 47, adopted on 21 April 1948, there is no case for motion in UNSC, because Pakistan and China will have to be reminded to vacate PoK, Gilgit-Baltistan and Shaksgham as first step of UNSC Resolution47, which may not suit either of them. In any case the President of UNSC made no comments and the secretary General indicated bilateral settlement under Simla Agreement, with an advice to exercise restraints. While Pakistan may keep advertising China's anticipated help in seeking justice for Pakistan, but there is no legally viable case with Pakistan and China. India is well aware of fake news and propaganda attempts by Pakistan on the issue, glimpses of some of them are visible in this article. The recent survey reveals that more than 70% of Kashmir has welcomed new administrative arrangement bringing them at par with rest of the country in terms of legal and administrative rights/benefits, denied to them by local governments under the shield of Articles 370 & 35a. In any case being an internal matter of India, no foreign interference will be accepted.
Other International Responses
Pakistan's efforts to garner support of other nations have not been that successful except China, which has its own interest to protect, in terms of CPEC, which passes through the territory acceded to India by Maharaja of J&K. China reacted to Ladakh being made a UT, indicating that it undermined China's sovereignty, soon after Home Minister's statement in the Rajya Sabha. Later China indicated to Pakistan that "It should be properly and peacefully resolved based on the UN Charter, relevant UN Security Council resolutions and bilateral agreement." MEA had given a befitting reply to China highlighting that India does not interfere in internal affairs of any other country and expects the same from other countries. The same has also been reiterated by Indian Foreign Minister in Beijing, who happens to be there for a bilateral meet.
US State Department spokesperson Morgan Ortagus said there was no change in the country's policy on Kashmir, and called for restraint. The restraint is applicable to Pakistan establishment as they have threatened Pulwama like episode and DG, ISPR has indicated to adopt every possible measure to assist in freedom struggle of Kashmir (which can well be interpreted as refueling proxy war). Taliban when approached by Pakistan chose to stay away from this issue, as they know the terror game of Pakistan better than others, having been a beneficiary sometimes.
What Next for India?
Abrogation of Article 370 and 35a was a big leap forward for inclusive growth of India, but the implementation of promised reforms and a positive environment in the valley will still take some time. The first priority will continue to be the safety and security of all Indian citizens in J&K and Ladakh, for which the methodology seems to have been well thought through. India should continue with tight restrictions on potential problem creators and flash spots at least till 15 August, even at the cost of some inconvenience to people and relax it in graduated manner. In democracy, the criticism against restrictions by opposition parties and activists is natural, but if it can save lives of innocent people then it is worth it. To enable the promises of inclusive growth to be implemented, the people of both the newly formed UTs have to come forward to find genuine representation amongst themselves and work towards reaping benefits from newly found freedom from archaic laws. The countrymen have to invest in these regions for mutual prosperity. Regarding Pakistan, all actions taken by them were well anticipated and thought through. Whatever it does to interfere in Kashmir, it is going to harm itself. J&K remains integral part of India and the country is well poised to handle any awkward situation.
The Foreign Policy of Pakistan under Imran Khan
This essay aims to analytically explain the foreign policy of Pakistan (PFOP) under Imran Khan Government. Here the question is that does PFOP in Change position? If it is, then at what extent minor or major? To answer the question, we argue that POFP is in a change position at a minor level. We found that the diplomacy which we dubbed "Speech diplomacy" is not enough to achieve the desired foreign policy objective. There is a need for a clear policy that should focus on strategic partnerships and flexible consensus.
No State foreign policy is immune to change where Pakistan's foreign policy under Imran Khan has no exception. Since Imran Khan became the Prime Minister of Pakistan in 2018, the foreign policy of Pakistan seems to have been in a position of change. The policy change will be explained by using Hermann's three methods, which are: program change, second, adjustment change, and last problem or goad change. Program change means that the method of achieving foreign policy objectives has been changed. For instance, Imran khan is focusing on the diplomatic initiative, instead of to use the military to resolve the issues with India over the Kashmir issue. Second, the adjustment change means that change in efforts and/or scope of foreign policy. In the case of Pakistan, Imran is working to normalize Iran-Saudi, Tehran-Washington and Taliban-US relations. Third, Problem/Goal Changes: the initial problem or goal that the policy addresses is replaced or simply forfeited. In this foreign policy change, the purposes of themselves are replaced. In this case, we will explain the "Kartarpur Corridor" which is using as soft power. Compare to previous governments especially during the post-9/11 decades there are no such changes have occurred in the foreign policy of Pakistan (PFOP) as it occurring under Imran Khan Government.
Program Change
Imran Khan is trying to resolve the Kashmir issue by diplomatic negotiation rather than use of military force, this function as a program change. The idea of Imran khan is very clear regarding the use of the military as he remarked that "Prime Minister Imran said the Kashmir issue could be resolved through dialogue as the war could not be a solution to any problem and those looking for that option were fools." Imran said that "We will never start the war. Both Pakistan and India are nuclear powers and if tension escalates the world will face danger. I want to tell India that war is not a solution to any problem. The winner in war is also a loser. War gives birth to host of other issues". Imran khan is pacifist and anti-war because his thinking is that wars can never solve the problems. We have never seen such kind of changes in Pakistan's foreign policy in the contemporary political history if we compare it with previous governments where no much focus has given to diplomatic negotiation as Imran giving; for instance, he became the ambassador of Kashmir. We do not mean that previous governments have not attached importance to diplomatic negotiation but we mean that at such level there are no efforts where they entirely denied the use of the military. Currently, the approach of Imran Khan to highlight the issue of Kashmir at the multilateral and bilateral forum is what dubbed "Speech Diplomacy". By speech diplomacy, we mean that Imran Khan is doing speech in multiple forums such as the United Nations and others. Imran Khan is trying to pressurize the Indian government for the purpose to achieve the foreign policy objective without using military forces.
Adjustment change: it means that changes in efforts and/or scope of foreign policy. In the case of Pakistan, Imran Khan is doing effort to normalize the relations of Iran-Saudi, Tehran-Washington, and Taliban-US. Currently, during the US-Iran tension he did the effort to normalize both state relations as he mentioned that the implication of the tensions will be disasters for the whole Gulf region, and tried to deliver his message to President Trump that "war is not the solution." He asked the "FM Qureshi to visit Iran, KSA & USA to meet with respective foreign ministers, Secretary of State; & COAS Gen Bajwa to contact relevant military leaders to convey a clear message: Pakistan is ready to play its role for peace but it can never again be part of any war". Further, if we look to Afghanistan's issue Imran khan is trying to normalize US-Taliban relations as Trump mentioned that "Pakistan has the power to do so". These efforts show the minor changes in Pakistan's foreign policy under the Imran khan government.
Problem/Goal Changes: the initial problem or goal that the policy addresses is replaced or simply forfeited. In this foreign policy change, the purposes of themselves are replaced. In case the policy over "Kartarpur Corridor" has been changed that is a tool of soft power for Pakistan. In November 2019, Imran Khan inaugurated the Kartarpur corridor to facilitate visa-free entry of Indian Sikh pilgrims. To achieve foreign policy objectives Imran khan tried to socialize and educate the Indian Sikh citizen as he remind to them that "I am always so happy to see the Sikh community who have come here. God lives in the hearts of all of us. All the messengers who have come and gone only ever brought two messages, that of peace and justice." In Pakistan's political history there is no such kind of changes has occurred as it is occurring under Imran Khan Government.
Suggestions for Pakistan
We here suggest that over Kashmir issue only "speech diplomacy" is not enough Islamabad should focus on two things, first, strategic partnership and second flexible consensus. These factors are very important to achieve the foreign policy objective and make long-term relations with other states. To do so Pakistan will not go into foreign policy dilemma especially on core national interest that is Kashmir issue.
Conclusion
Our argument here yielded a powerful result that's Pakistan foreign policy under Imran khan has been changed at the minor level. We explained that at three levels Pakistan FP has been changed which are: program change, second, adjustment change, and last problem or goad change. If we critically analyze the political history of Pakistan we do not see such kind of Changes that have been occurred under the Imran khan government.
Guterres lauds Pakistan's commitment to climate change
The residents and expats rejoiced as news channels bombarded with joy. Happy days in Pakistan. The four-day jaunt was a welcomed one as it exemplified the country's continued march to improve its image in the world. Indeed, remarkably news for everyone attached to the heartland of over 200 million.
UN Chief Antonio Guterres' scheduled trip to Pakistan was from Sunday, 15th February 2020 to Wednesday,18th February 2020.He arrived to the country of hospitality and warmth to pay gratitude for its efforts to maintain peace and establishing goals to sustain climatic change.
His four days started with his addressed to International Conference on 40 Years of Hosting Afghan Refugees in Pakistan: A New Partnership for Solidarity. He delivered a speech that won every Pakistani's heart as he orated a story of success. The UN Chief excellently put into words the efforts by Islamabad for its dwindling environment.
Pakistan's once good deed, when the nation whole heartedly accepted the refugees of Afghanistan and provided them with all necessary aid to establish their new lives in the new country, while they themselves struggled with their own demons. Afghani people were abandoned by their own country due to lack of resources and proper structure to provide the standard of living after soviets left the country in destitution.
Words backed up by the actions are seldom found true but this country plagued by domestic and international issues is managing it despite dwindling economic fortunes. The deeds done with compassion and empathy were praised by the hearts full of fondness.
After approximately 40 years the endeavor was acknowledged by Antonio Guterres' historic words. They were aimed at boosting the morale of Pakistani people and it hit the nerve it was supposed to.
"For forty years, the people of Afghanistan have faced successive crises. For forty years, the people of Pakistan have responded with solidarity. That generosity now spans across decades and generations. This is the world's largest protracted refugee situation in recorded history. And this is also a story close to my heart. Pakistan is still the second largest country refugees hosting country."
Guterres expressed admiration for Pakistan's efforts towards Sustainable development goals (SDG) and climatic changes awareness. And these actions have not taken place in isolation. Successive governments have considered SGD's integral in their roadmap for future although they have adopted differing point of views for the march ahead on other objectives.
The current government has made resolution of issues like unemployment through, and poverty as a priority. Kamyab Jawan Program and Ehsaas Program, respectively, were launched to tackle them on an urgent basis.
With dwindling water resources and increasing impact of smog during the winters, climate change has also found itself as a priority subject for Prime Minister Imran Khan. The use of biodegradable bags, and the ten billion trees tsunami campaign are active to achieve climatic sustainability in region.
These steps taken by federal government have been lauded in the international arena and Guterres was no different. This portrayal of Pakistan as he put in his experience was an added star on the chest of the country.
The UN Chief shared that health, poverty, employment especially job creation, skills development and education and environment degradation issues are faced by almost every country on the globe. And believes Islamabad is going in the right direction with such initiatives that will help address the situation and aid in improving them.
During his visit, the UN Chief met with President ArifAlvi, Prime Minister Imran Khan, Foreign Minister Shah Mahmood Qureshi and Chief of Army Staff (COAS) General Qamar Javed Bajwa amongst others. He discussed Pakistan's efforts in keeping peace and their role in war against terrorism. The tensions rising on the line of control were touched upon and the way forward deliberated. Guterres echoed Islamabad's sentiments as he remarked that the matter should be solved according to UN resolutions.
HIV and Polio remain endemics in Pakistan and the UN chief addressed the health issues faced by the country. He was brought to speed on the steps taken to wholly eradicate these from the face of country, and also took part in administering polio vaccination drops at a local kindergarten school.
The students of a private university had the honor of hosting the Secretary General in the final leg of his tour, which also included tripsto historical landmarks, exhibiting the rich culture.
His visits took him to Gurdwara Kartarpur Sahibm, a holy site for Sikhs. He acknowledged it as the monument of compassion and respect that Pakistan holds for other religions. Guterres was informed on the Kartarpur initiative, which he declared a "symbol of interfaith harmony, a unique experiment in cross-border ties", and "Pakistan's commitment to peace".
UN Chief tweeted, "I concluded my visit to Pakistan after enjoying the rich history and vibrant culture of Lahore — from the Lahore Fort, a UNESCO World Heritage Site, to the majestic Badshahi mosque," A tour that ended on such cheerful note.
For a country devoid of acclaim despite its staunch fight against terrorism, the Portuguese's visit and words were much needed. Euphoric response from the people outpoured after the refreshing encounter. In the times of continued struggle, it felt like a bliss. And it highlighted their efforts aimed at safeguarding a better world for future generations.
Australia burned for over three months while the damage to Earth's ecosystem from Amazon fires have yet to be calculated. Increase in temperature and melting of ice caps are not mere theories but matter of facts. Nether are the drying water reserves in regions where these natural resources were plentiful. Californian droughts come to mind.
It is the need of the time to work on the global climatic crisis. It not only effects the quality of the atmosphere we breath and live in as everything is at risk. Like Pakistan, the sustainable development goals should be part of forthcoming plans across the world. As we need to inflict the need of caring for the environment.
Climatic change has grown into one of the major problems for every country regardless of their economic conditions. Improvised and immediate measures need to be taken to control this problem, or else we might find a new map of earth. Countries in developing regions are at likelihood to be affected by the climatic change. In these regions the local government is either not present or fails to understand the amount of risk their country faces if not taken care of. Pakistan has shown the roadmap. If a country battling on all front can prioritize and focus on it, so can the rest of the world.
Pakistan have lost ten thousand citizens due to it and the loss has not been swept out of public perception. The government has taken steps towards climatic stability but more drastic measures need to be taken if the state of affairs is not stemmed. The Secretary General's trip should not be remembered for the praise and gratitude he showered but for the reasons he came.
With its decreasing water resources and an ever-increasing population, stagnant agricultural output and a developing economy, the country will be hard pressed but should soldier on. Islamabad has taken steps in the right direction but it is not the end of the road but the start of a journey.
Kartarpur Corridor: Sikh Soft Power
Ever since the inauguration of the Kartarpur Corridor, three months ago, in November 2019, it has drawn the attention of media and strategic analysts in South Asia, and outside the region, for different reasons. The Corridor, a long standing demand of the Sikh community, connects Dera Baba Nanak (Punjab, India) with Gurudwara Darbar Sahib, (Narowal Kartarpur in Pakistan) (which are barely 5 kilometres apart). Individuals wanting to pay obeisance at Darbar Sahib, can cross over through the Corridor, without a visa.
The founder of the Sikh faith, Guru Nanak Sahib spent a crucial phase of his life — the last 18 years — at the town of Kartarpur, which he founded (in 2019, along with members of the community, many governmental and non-governmental organisations, in different capacities commemorated the 550th birth anniversary of Guru Nanak Sahib).
While it is true, that in recent years, there has been an increase in the number of Sikh pilgrims visiting Pakistan on important religious occasions, and the Pakistan government had taken steps to encourage more Sikh pilgrims, the opening of the Kartarpur Corridor is significant, given that pilgrims can travel without a visa.
Darbar Sahib, Kartarpur is especially relevant, not just from a symbolic point of view, because Guru Nanak Sahib spent a significant part of his life –18 years. But because it was at Kartarpur, that Guru Nanak Sahib who came up with an alternative paradigm, and sought to challenge the status quo in South Asia, along with some of his close followers from different faiths, propagated the Sikh philosophy (Meditation and remembrance of God, honest and truthful labour, and sharing one's earning with the needy are often referred to as the three important pillars of the Sikh philosophy, which were enunciated, by Guru Nanak Sahib)
Kartarpur Corridor: Current context
If one were to look at the current situation, Kartarpur Corridor and the response so far, while it is true, that there are a number of logistical issues, which have resulted in the number of pilgrims crossing over, being far lesser than estimates. According to official estimates, from the Indian side, the number of individuals who have crossed over through the corridor is a little less than 45,000 ever since the opening of the Corridor.
One of the major causes identified for the Corridor, not receiving the sort of response, which was expected, is the requirement of a Passport for travel to Kartarpur. The Sikh community had been demanding an arrangement where by any ID would suffice.
Yet, there have been a number of positive outcomes. It has resulted in interactions between Sikh Community and locals. Pilgrims have returned with positive stories not just with regard to the Darbar Sahib, but the warmth of the local population.
The opening of the Corridor hasalso opened up vistas in the area of religious tourism not just for Sikhs, but for the Hindu community as well. Pakistan has stated, that not only will it renovate Hindu Temples, but will also permit pilgrims from India access to Gurudwaras and Hindu Temples they were not permitted to visit earlier.
Pakistan itself is likely to benefit not just economically, through religious tourism, but in terms of it's international image.
Impact on South Asia's geopolitics
One aspect, which can not be ignored is the Corridor's impact in the context of South Asia's geopolitics. A number of observers of South Asia, were surprised, that the Religious Corridor actually went ahead in spite of tensions between India and Pakistan (which have consistently deteriorated in 2019) . Similarly, a number of naysayers, in the media as well as strategic community, have been critical of the Corridor, arguing that Pakistan could use it to foment militancy in Punjab (this is a rather simplistic argument, which fails to take into account the sensitivities of Sikh pilgrims, who have no real interest in the politics of deep-states, and looks at the issue from a rather narrow lens)
What is especially interesting is, how the Corridor has drawn global attention. US, China and a number of other countries have welcomed the opening of the corridor, saying that it will pave the way for peace and harmony in South Asia. A number of Sikh activists and commentators have been speaking about the need for 'Sikh Soft Power' which can be effective in blunting narratives of bigotry and narrow mindedness which have gained currency globally in the past few years.
The opening of the Corridor, and its potential role in reducing conflict could be an important component of this Sikh Soft Power. In 2019, a number of other important events have helped in enhancing the stature of Sikhs globally. First, Sikhs in different walks of life have taken an unequivocal stance, against hate both in India and outside. Two prominent Sikh politicians – Tanmanjeet Singh a Labour MP in UK and Gurratan Singh, a New Democratic Party (NDP) legislator from Ontario in Canada were hailed for taking a firm stand against Islamophobia. Second, Khalsa Aid (founded by a British Sikh, Ravi Singh) an international charity while following the Sikh principles of compassion and Nishkam (selfless service)has provided humanitarian aid in conflict zones, and regions struck by calamities like floods and earthquakes. The stellar work of Khalsa Aid, is now recognized not just in South Asia, but globally.
It would be pertinent to point out, that The UN head, Antonio Guterres, also visited the Corridor during his recent visit to Pakistan. He had welcomed the opening of the Corridor in November 2019. "paving way for interfaith harmony and understanding by facilitating visa-free cross border visits by pilgrims to holy shrines."
This visit is important, because it brings to the fore the relevance of the Kartarpur Corridor in a global context. The UN Chief while commenting on his visit to Kartarpur, dubbed it as a symbol of Inter faith harmony. A prominent US based Sikh activist, Harinder Singh in a tweet stated, that the UN Chief's visit was significant. Said Singh:
'Guru Nanak Sahib started langar at Kartarpur Sahib, free & open distribution of Wisdom & Food. United Nation's Secretary-General & Pakistan's Minister for Religious Affairs Dr. Noor Ul Haq Qadri partook rice & lentil. Hope 1-Ness wisdom prevails to realize peace via the Panjab'
Conclusion
In conclusion, Kartarpur Corridor has religious significance for the Sikh community, but it has the potential for reducing tensions in South Asia (by possibly making a beginning, by propelling greater bonhomie and economic integration between both Panjab's) and could pave the way for greater people to people initiatives as well as trade between India and Pakistan. The Corridor will also help in highlighting the role, which the Sikh faith has, not merely as a 'bridge-builder', but an active facilitator of peace in South Asia at a time when the hopes are dim. The Corridor thus is important, as it is an important component of 'Sikh Soft Power' and also reiterates the relevance of what has been dubbed as Faith Based Diplomacy.