Article 370 Revoked in Jammu & Kashmir rattles some Countries: Should India be Concerned?
The peaceful celebration of Eid although at reduced scale, demolishes the propaganda fueled by countries/media houses/politicians, who stand disappointed as they were waiting for violence to break out in Kashmir, post abrogation of Article 370. The historic moment revoking Article 370 in Jammu and Kashmir (J&K), happened on 06 August 2019, when the bill was passed by more than two third majorities in both houses of parliament, through the laid down democratic process in consultation with Sadr-e Riyasat vested in Governor of the erstwhile state. The bill reorganizes the erstwhile state of J&K into two separate Union Territories (UTs), J&K being one and Ladakh being another UT. Prime Minister Modi has clarified in his address to the nation that once there is peace, statehood will be returned to J&K. Ladakh, however, will remain a UT. This reorganization is purely an internal matter of India; however few countries seemed to be extremely rattled over this development, while most of them chose to treat it as a bilateral/internal matter. While the discomfort of Pakistan and to some extent China was unwarranted, but expected, it was regrettable that some segments of global media chose to carry propaganda stories, based on fake news propagated by interested parties. While India has no reason to be concerned about their desperation, for ill conceived reasons, some of the facts to mitigate some common international misperceptions need to be highlighted.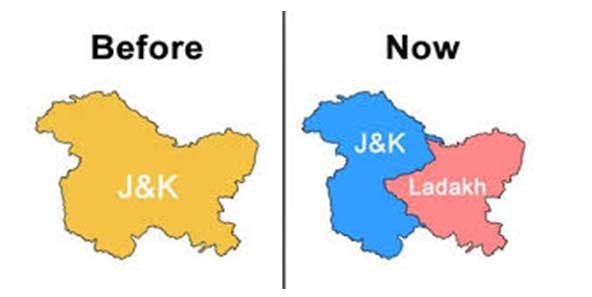 Facts versus Propaganda
After partition of India and Pakistan in 1947, the state of J&K was an independent state under Maharaja Hari Singh, which was attacked by Pakistani razakars to capture it by force. Maharaja signed the Instrument of Accession to India for the entire state (including Pakistan occupied Kashmir, Gilgit- Baltistan, Shaksgham Valley and Aksai Chin) and Indian Forces were flown in which saved the remaining state of J&K. One of the global daily in its article quoted "Article 370 had been considered a cornerstone of Kashmir's inclusion in India during the 1947 partition that separated India and Pakistan following the end of British colonial rule". The fact is that there was no Article 370 in 1947, as part of Instrument of Accession. It was introduced later, drafted on 05 Mar 1948 and amended on November 15, 1952. The same daily quotes "Parts of Kashmir are controlled by India and Pakistan, both of which claim the strategic region in its entirety". The instrument of Accession signed on 27 October 1947, does not give any claim to Pakistan. Some global news channels chose to air fake videos of atrocities to people of J&K, in last few days, whereas the reality is that the Kashmir valley has been quite peaceful, after India strengthened the security force level in the terrorist threat prone area, to ensure safety of citizens and not a single bullet was fired. Pakistan & terrorists are rattled because it was done with such a speed that it caught them by surprise and made their efforts to disrupt peace unviable Incident free Eid celebrations, although on low key, are enough to demolish the claim of propaganda oriented fake media coverage indicating heavy violence.
Why was Article 370 Revoked Now?
Indian resolve to revoke temporary Article 370 and 35a in J&K was a national call, in the national interest and the ruling party was voted with thumping majority (including people of J&K) with this cause in their manifesto. These provisions were made by decision makers in 1952 purely under Indian Constitution. Article 370 was drafted in Amendment of the Constitution section, in Part XXI, under Temporary and Transitional Provisions. In last few decades it was seen that these provisions have been hurting India and common people of Jammu and Kashmir since many decades. Kashmiri Pandits, who are natives of Kashmir were forcibly pushed out by a motivated groups, which was the biggest abuse of power, which left India helpless in mitigating their grievances, due to such provisions. They were being misused by few local politicians, separatists, elite businessmen aligned to them, terrorists and their supporters, at the cost of brewing inequality, depriving of legal benefits and welfare related laws for common people, thus proving to be a hindrance in inclusive growth of the country. It was well realized that these provision had not given anything except separatism, corruption and family rule to the erstwhile State, with Pakistan using it as a tool to spread terrorism, which claimed over 42000 innocent lives. It's abrogation was desired by many governments, but could not be executed due to inadequate political will/ democratic mandate or bogey of grave repercussions thrown up by ruling families of erstwhile state and separatists/terrorists. Revoking of Article 370 and 35a will allow all J&K citizens to vote for J&K Assembly and Panchayat elections, a democratic right denied to many residents in the state. It will restore rights of daughters to parental property, rights of safai karmacharis and their children to government jobs, education and make them eligible for many social benefit schemes of India.
Why is Pakistan Rattled?
Pakistan, despite being an aggressor in 1947, seems rattled with abrogation of Article 370 and 35a in J&K to an extent that it took certain reckless actions. Lowering of diplomatic relations with India, scrapping trade ties, stopping rail communication and blocking few air routes are some examples. The main reason of Pakistan's frustration is that its terrorists fuelling proxy war in Kashmir will be devoid of political patronage, the separatists will be exposed to central security forces and laws, and its terror industry/infrastructure built in Kashmir over decades will start weakening. Pakistan's effort of approaching UNSC has no future, as is evident from the factual analysis above. If they still approach UNSC, then as per United Nations Security Council Resolution 47, adopted on 21 April 1948, there is no case for motion in UNSC, because Pakistan and China will have to be reminded to vacate PoK, Gilgit-Baltistan and Shaksgham as first step of UNSC Resolution47, which may not suit either of them. In any case the President of UNSC made no comments and the secretary General indicated bilateral settlement under Simla Agreement, with an advice to exercise restraints. While Pakistan may keep advertising China's anticipated help in seeking justice for Pakistan, but there is no legally viable case with Pakistan and China. India is well aware of fake news and propaganda attempts by Pakistan on the issue, glimpses of some of them are visible in this article. The recent survey reveals that more than 70% of Kashmir has welcomed new administrative arrangement bringing them at par with rest of the country in terms of legal and administrative rights/benefits, denied to them by local governments under the shield of Articles 370 & 35a. In any case being an internal matter of India, no foreign interference will be accepted.
Other International Responses
Pakistan's efforts to garner support of other nations have not been that successful except China, which has its own interest to protect, in terms of CPEC, which passes through the territory acceded to India by Maharaja of J&K. China reacted to Ladakh being made a UT, indicating that it undermined China's sovereignty, soon after Home Minister's statement in the Rajya Sabha. Later China indicated to Pakistan that "It should be properly and peacefully resolved based on the UN Charter, relevant UN Security Council resolutions and bilateral agreement." MEA had given a befitting reply to China highlighting that India does not interfere in internal affairs of any other country and expects the same from other countries. The same has also been reiterated by Indian Foreign Minister in Beijing, who happens to be there for a bilateral meet.
US State Department spokesperson Morgan Ortagus said there was no change in the country's policy on Kashmir, and called for restraint. The restraint is applicable to Pakistan establishment as they have threatened Pulwama like episode and DG, ISPR has indicated to adopt every possible measure to assist in freedom struggle of Kashmir (which can well be interpreted as refueling proxy war). Taliban when approached by Pakistan chose to stay away from this issue, as they know the terror game of Pakistan better than others, having been a beneficiary sometimes.
What Next for India?
Abrogation of Article 370 and 35a was a big leap forward for inclusive growth of India, but the implementation of promised reforms and a positive environment in the valley will still take some time. The first priority will continue to be the safety and security of all Indian citizens in J&K and Ladakh, for which the methodology seems to have been well thought through. India should continue with tight restrictions on potential problem creators and flash spots at least till 15 August, even at the cost of some inconvenience to people and relax it in graduated manner. In democracy, the criticism against restrictions by opposition parties and activists is natural, but if it can save lives of innocent people then it is worth it. To enable the promises of inclusive growth to be implemented, the people of both the newly formed UTs have to come forward to find genuine representation amongst themselves and work towards reaping benefits from newly found freedom from archaic laws. The countrymen have to invest in these regions for mutual prosperity. Regarding Pakistan, all actions taken by them were well anticipated and thought through. Whatever it does to interfere in Kashmir, it is going to harm itself. J&K remains integral part of India and the country is well poised to handle any awkward situation.
SAARC against COVID-19: Is everybody in?
On 15th March, under the initiative led by Indian Prime Minister Narendra Modi, distinguished dignitaries of SAARC nations came together through a video conference and joined their hands to chalk out a common strategy to fight against the deadly COVID-19 in the region. They raised their concerns about the disease and shared possible preventive measures among themselves. This initiative received a huge appreciation both from member states and other parts of the world. Notably, SAARC leaders did not meet on a regional platform since after attending the 18th SAARC Summit. In 2016, the 19th SAARC Summit was scheduled to be held in Islamabad was later got canceled.
In the video conference, the Indian Prime Minister expressed his faith in regional cooperation. He proposed the establishment of an emergency COVID-19 Fund that can be utilized by any member states for meeting up their cost of immediate actions. India has made an initial offer of USD 10 million for this fund. Simultaneously, all SAARC members have made a significant contribution to this fund including Afghanistan (USD 1 million), Bangladesh (USD 1.5 million), Bhutan (USD 100,000), Maldives (USD 200,000), Nepal (USD 831,393.45), and Sri Lanka (USD 5 million). Pakistan is the only SAARC member that has yet not made any contribution to the fund (data is collected on 25th March 2020 from the website of SAARC Disaster Management Centre.
During the video conference, Pakistan Prime Minister's Special Assistant on Health Dr. Zafar Mirza made a remark on Kashmir that was howsoever unrelated to the mandate of the video conference. Article II of the SAARC Charter specifically mentions that "Cooperation within the framework of the Association shall be based on respect for the principles of sovereign equality, territorial integrity, political independence, non-interference in the internal affairs of other States and mutual benefit." Pakistan is an essential part of the SAARC region. It is a home for around 12% of the South Asian population. As of 25th March, it has the highest number of people affected by a coronavirus, that is, 887 in the region. This makes it more important for Pakistan to actively engage with the joint measures for the welfare and prosperity of the region.
There is a difference between politics and pandemic. Both of them should not be mixed at this juncture. Our development has been halted. Our movement has been restricted. Recently, UN Secretary-General António Guterres has also called for an immediate global ceasefire. We are not living a similar life, as we were a few months ago. This is a crucial time when countries should keep aside their differences and come together facilitating each other in the common fight against such global concern.
SAARC is aptly being utilized in these challenging times when the COVID-19 virus has already infected 1647 people and causing the death of 20 people from the region. The initiative aimed to discuss measures to contain the spread of COVID-19 in the region. SAARC is founded upon historical and cultural ties among its member states and advocates for a co-operation for the development of the region. Preambular paragraph of SAARC Charter specifically recognizes the commonalities within the region and provides for cooperation to:
"Aware of the common problems, interests, and aspirations of the peoples of South Asia and the need for joint action and enhanced cooperation within their respective political and economic systems and cultural traditions;"
It further provides, "Convinced that regional cooperation among the countries of South Asia is mutually beneficial, desirable and necessary for promoting the welfare and improving the quality of life of the peoples of the region; Recognising that increased cooperation, contacts and exchanges among the countries of the region will contribute to the promotion of friendship and understanding among their peoples;"
Similarly, Article I of the SAARC Charter provides the objectives of this Association that includes: "to promote the welfare of the peoples of South Asia and to improve their quality of life; to contribute to mutual trust, understanding and appreciation of one another's problems; to promote active collaboration and mutual assistance in the economic, social, cultural, technical and scientific fields". Indeed, SAARC can bring all members together and collectively overcome this pandemic. Also, the effective co-operation among its members can play a significant role in the success of this initiative.
On 26th March, SAARC Health professionals shall meet again to share their experiences and build up joint actions for the prevention and cure of the disease. It will be pertinent to observe the role of SAARC members in their collective fight against COVID-19. What advancements will be brought to its status after the eradication of this disease? How SAARC members will proceed jointly before the international community? These are a few questions that can be answered over time. Meanwhile, this initiative has provided a good opportunity for the region to strengthen its loose ties while fighting against COVID-19. The SAARC initiative on COVID-19 is making good progress. Member parties are significantly willing to cooperate. If everything goes well, SAARC could re-emerge as a significant voice in the global east.
SAARC Video Conference: Reclaiming the Humanness
The opportunity provided by crisis in the backdrop of worldwide emergency due to lethal Corona pandemic (Covid 19) has re-set the button to once again appreciate the values of human connectivity and to co-exist on March 15, 2020 in South Asia as well. A call by the Prime Minister of India, Narendra Modi in a bid to foster collective thinking amongst the SAARC countries after a hiatus of four years, was a welcome step responded enthusiastically by all the member states. Reclaiming the space essential for a multilateral or even a bilateral dialogue, particularly between Pakistan and India, scuttled by the protracted and historically generated acrimony, this nature's intervention has a lesson to learn from, as humans. It is a lesson needed much more than ever, against merciless encroachment allowed to the politics of might through arms race, nuclear supremacy and economic concentration. Already, the arrogance of nationhood has significantly destroyed the peace of the stressed habitat belonging to the South Asian region occupied by 3% of the world's landmass and 21% of world's population. The SAARC countries have even agreed to set up COVID-19 fund with India contributing an initial corpus of $10 million. All the leaders shared country situations and experiences in the aftermath of the outbreak of COVID-19, as well as measures taken by them to control the spread of the virus. They also recognized the need to analyze and address the long-term economic consequences of the COVID-19 pandemic in the region and continue with the consultation process through meetings at the ministerial and experts' level; identifying the Nodal Experts to take further action on the proposals discussed during the Conference; and formulating a comprehensive regional strategy against COVID-19 through the SAARC process and other appropriate steps.
South Asia has managed to resist the COVID-19 assault so far, given the vast region it covers but the unpredictability continues to loom. How long will this sense of cooperation and coordination prevail and help the nations of the region transition the defunct SAARC? It is direly essential to improve the immunity required to counter unprecedented challenges? How sustainable will these measures be in the absence of building confidence ruined so brutally over the years?
The Advisor to the Prime Minister of Pakistan, Dr.Zafar Mirza, in his address to the video conference of South Asian Association Regional Cooperation (SAARC),very pertinently pinpointed the member states; India, Pakistan, Nepal, Bhuttan, Sri Lanka, Maldives, Bangladesh and Afghanistan, and urged them to gear up its resources as a region to fight against the deadly virus collectively. However, while highlighting the core human issue, realizing the freedom of Kashmiris living in Indian Occupied Kashmir forcefully quarantined for more than 200 days is could be the first step of not only towards the humanness, but also would encourage the importance of unanimity. India itself was the first one to have taken the Kashmir issue to the world's international forum, UN, way back in 1958 while respecting the collective solution of the outstanding issues. The issue has taken an ugly curve due to India's non-compliance with the UN decision of holding plebiscite. Instead Kashmiris are suffering from worst denial of human rights by using the brutal mechanism of state terrorism. They are being constitutionally ripped off their demand for self-determination. More so, the exponential rise in communal progrom seen in the recent past has further exasperated the fear of non-secular behavior. The contradiction in the primary role itself along with the fancied or may be masquerated in a perpetual hypocritical policy already fractures the collective mechanism proposed by India itself. India needs to do more to initiate a human gesture.
Already, founded in 1985, the cooperative outcomes denied by the pain of non-socialisation of the member states particularly after the Uri attack, mainly initiated by India during the 19th SAARC Summit, which was to be held in Islamabad in November 2016; undermined the vitality of regional integration. In March 2018, during his visit to Kathmandu, Pakistan Prime Minister Shahid Khaqan Abbasi once again sought the help of Nepal, the chair of SAARC, to revive the organisation by convening the pending Summit in Islamabad. Pakistan has also solicited the support of Sri Lanka. Aimed at achieving peace, freedom, social justice, and economic prosperity by promoting a shared understanding, good neighbourly relations, and meaningful cooperation, improving the quality of life in the member countries by fostering self-reliance, promoting mutual assistance, and strengthening the relations has been a baseline objective. However, the mismatch between SAARC's ambitions and achievements has been unfortunately profound. Unlike the other regional forums like European Union (EU), The South East Asian Association of ASEAN etc,no tangible economic or political benefits have been realised by SAARC so far. It is mostly termed as a case of 'retarded regionalism'. Regrettably, the regional behavior of India has also not been very encouraging, since no initiatives have been portrayed by India to transcend the parochial politics with Pakistan as a co-member of Shanghai Cooperation Organization (SCO) unlike the other smaller states of the organization. In fact, the behavior had been on the contrary with continuing strategic offense. The resonance of surgical strikes, the pronounced offensive nuclear doctrines, the politics of diplomatic and economic isolation desired for Pakistan, all add more weight to the disrespect of peaceful co-existence rather than the cooperative and coordinated step. The re-buttoning of SAARC is a welcome opportunity and holds silver line, yet the journey holds massive ifs and buts for its structure to sway the temporariness in the call. The mechanism of this Regional Association has to be strengthened with more permanent sincerity.
Trends on Afghan Peace Agreement
The long awaited and much deliberated Afghan Peace Agreement has finally been concluded. However, amid the celebrations and new found hope, naysayers rightly point out the fragility of the painstakingly negotiated agreement between USA and the Taliban. Skeptics rightly bring to forth the unhappiness of the Afghan government, which was not given any weight during the "two-sided" agreement. The intra-Afghan talks have been scheduled between Taliban and the Government as the next phase of the peace process; however, a question arises that which government should the Taliban talk to? The comical situation of two individuals taking up their oath as the president of the country certainly does not do any favors.
The basic aim of the enduring Afghan Peace Agreement between the two conflicting parties that were first held in Doha was to standstill the longest and superfluous war of the history of mankind. The global actors however possess special geopolitical interests in Afghanistan which directly or indirectly effects the Afghan peace process. There exists a reality related to the peace accord that remained unobserved not only at regional level but globally as well. President Ashraf Ghani defined the success of the agreement as "disruption the status quo" but what is this status quo Ghani was referring to? The never-ending eighteen years long war between the Afghan Taliban's/forces and the United States of America and the improvised rule of the Karzai and later Ashraf Ghani on the Afghanistan under western influence is the status quo if given a reality check – nothing beyond that.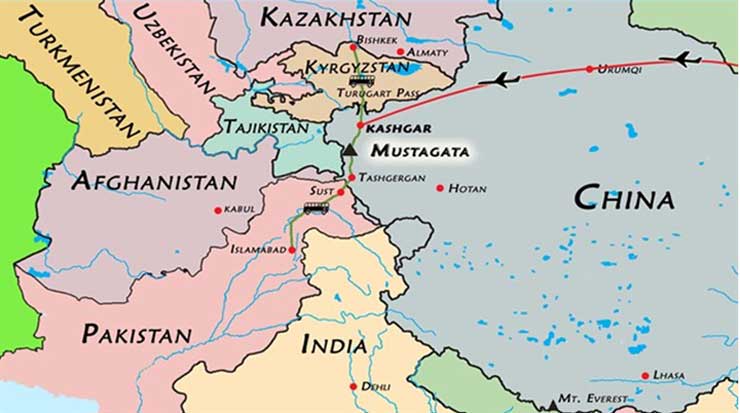 President Trump of the U.S. had made his reservations on the U.S. led Afghan war time to time and has been seen keen to deescalate the prolonged war. Even before his selection as a President, he was critical of the unending Afghan war and made a commitment – when in power, he'll withdraw U.S. forces from Afghanistan. The reality persists that the Afghan war has been badly hurting U.S. economy and U.S. forces. In other words, the occupation of an unruly and tribal Afghanistan has once again proved to be another misadventure by yet another superpower. Clearly, the U.S. had decided long ago to withdraw its forces from Afghanistan but was in search of a face-saving exit which came in the form of this agreement. The U.S, however, will not lose its interest in the region and the clout it enjoys over the Afghan Government. Keeping in perspective the unpredictable personality of President Trump; one can not rule out the reversal of the peace agreement, as it may be a mean of winning the next term.
Russia and China have actively supported the Afghan peace process and have facilitated the resumptions of talks. With the peace agreement and eventual withdrawal of US forces from Afghanistan, Russia will definitely term it as a sweet revenge for the humiliating defeat dealt to her by the USA after its invasion of the country in late twentieth century. China will surely like to have a sigh of relief with the superpower not breathing down its neck and pose a constant threat to its trade initiatives through proxies. Both countries will then try to exert their influence on the country through various proxies as part of their expansionist strategies.
There is no doubt that an enduring peace on the western border of Pakistan would directly benefit Pakistan in every conceivable way. Instability in Afghanistan precisely damages Pakistan in a full spectrum – thus, tranquility in Afghanistan will help Pakistan not only with the tribal apprehensions on the western border but also expand the economic ties, primarily in the shape of CPEC into Afghanistan which indeed is a territory with huge geographical and economical potential. The expansion of CPEC from just north-south to east-west will bring along its own perks to the entire CPEC project which will benefit not only Pakistan and China but the people of Afghanistan as well. Pakistan also looks forward towards a friendly and cooperative regime in Afghanistan as a result of the peace talks; which has a reduced Indian influence over its foreign policy.
Talking about the Indian role in Afghanistan which previously was active and dominating for quite some time has been clearly marginalized during the Afghan Peace Agreement. Despite investment of huge capital with a goal to find a strong strategic partner in South Asia primarily to counter Pakistan – India dooms to a partial failure as Pakistan played a vital and active role in the Afghan peace accord. Though, India will not easily give up on their geopolitical motives in Afghanistan, they might act as spoilers with opportunities to sustain and instigate conflict in the region.
The real stakeholders in the peace process are the Afghan people. It is unfortunate that despite being played in the hands of other powers; the country is still strife with conflict and does not show a united front. Tribalism and parochial approach by different Afghan factions has only brought them short term benefits and a sense of false security. Everyone is happy with whatever little clout they enjoy and no one thinks of the benefit of the Afghan nation as a whole. Perhaps, this is the "status quo" that the President of Afghanistan was referring to while showing his discontent with the peace pact. The never-ending eighteen years long war between the Afghan Taliban's/forces and the United States of America, the improvised rule of the Karzai and later Ashraf Ghani on the Afghanistan under western influence – this is the status quo to be exact. How the various factions approach the intra-Afghan peace talks yet remains to be seen.
In view of the domestic conflicts in Afghanistan between various factions, peace in Afghanistan would remain a dream even after the withdrawal of U.S. and NATO forces until and unless good sense prevails in the region. It certainly requires the will of the facilitating nations like U.S, Russia, China and Pakistan to ensure that the process goes towards an amicable end. The only spoilers to the peace process are the Indians and the Afghans themselves.