Article 370 Revoked in Jammu & Kashmir rattles some Countries: Should India be Concerned?
The peaceful celebration of Eid although at reduced scale, demolishes the propaganda fueled by countries/media houses/politicians, who stand disappointed as they were waiting for violence to break out in Kashmir, post abrogation of Article 370. The historic moment revoking Article 370 in Jammu and Kashmir (J&K), happened on 06 August 2019, when the bill was passed by more than two third majorities in both houses of parliament, through the laid down democratic process in consultation with Sadr-e Riyasat vested in Governor of the erstwhile state. The bill reorganizes the erstwhile state of J&K into two separate Union Territories (UTs), J&K being one and Ladakh being another UT. Prime Minister Modi has clarified in his address to the nation that once there is peace, statehood will be returned to J&K. Ladakh, however, will remain a UT. This reorganization is purely an internal matter of India; however few countries seemed to be extremely rattled over this development, while most of them chose to treat it as a bilateral/internal matter. While the discomfort of Pakistan and to some extent China was unwarranted, but expected, it was regrettable that some segments of global media chose to carry propaganda stories, based on fake news propagated by interested parties. While India has no reason to be concerned about their desperation, for ill conceived reasons, some of the facts to mitigate some common international misperceptions need to be highlighted.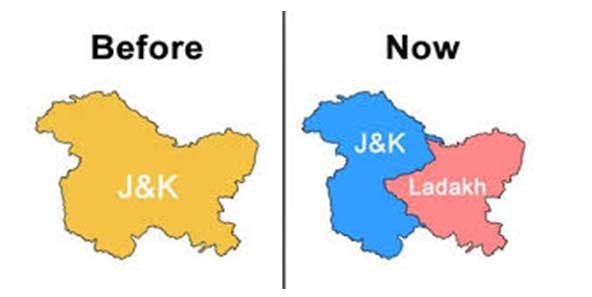 Facts versus Propaganda
After partition of India and Pakistan in 1947, the state of J&K was an independent state under Maharaja Hari Singh, which was attacked by Pakistani razakars to capture it by force. Maharaja signed the Instrument of Accession to India for the entire state (including Pakistan occupied Kashmir, Gilgit- Baltistan, Shaksgham Valley and Aksai Chin) and Indian Forces were flown in which saved the remaining state of J&K. One of the global daily in its article quoted "Article 370 had been considered a cornerstone of Kashmir's inclusion in India during the 1947 partition that separated India and Pakistan following the end of British colonial rule". The fact is that there was no Article 370 in 1947, as part of Instrument of Accession. It was introduced later, drafted on 05 Mar 1948 and amended on November 15, 1952. The same daily quotes "Parts of Kashmir are controlled by India and Pakistan, both of which claim the strategic region in its entirety". The instrument of Accession signed on 27 October 1947, does not give any claim to Pakistan. Some global news channels chose to air fake videos of atrocities to people of J&K, in last few days, whereas the reality is that the Kashmir valley has been quite peaceful, after India strengthened the security force level in the terrorist threat prone area, to ensure safety of citizens and not a single bullet was fired. Pakistan & terrorists are rattled because it was done with such a speed that it caught them by surprise and made their efforts to disrupt peace unviable Incident free Eid celebrations, although on low key, are enough to demolish the claim of propaganda oriented fake media coverage indicating heavy violence.
Why was Article 370 Revoked Now?
Indian resolve to revoke temporary Article 370 and 35a in J&K was a national call, in the national interest and the ruling party was voted with thumping majority (including people of J&K) with this cause in their manifesto. These provisions were made by decision makers in 1952 purely under Indian Constitution. Article 370 was drafted in Amendment of the Constitution section, in Part XXI, under Temporary and Transitional Provisions. In last few decades it was seen that these provisions have been hurting India and common people of Jammu and Kashmir since many decades. Kashmiri Pandits, who are natives of Kashmir were forcibly pushed out by a motivated groups, which was the biggest abuse of power, which left India helpless in mitigating their grievances, due to such provisions. They were being misused by few local politicians, separatists, elite businessmen aligned to them, terrorists and their supporters, at the cost of brewing inequality, depriving of legal benefits and welfare related laws for common people, thus proving to be a hindrance in inclusive growth of the country. It was well realized that these provision had not given anything except separatism, corruption and family rule to the erstwhile State, with Pakistan using it as a tool to spread terrorism, which claimed over 42000 innocent lives. It's abrogation was desired by many governments, but could not be executed due to inadequate political will/ democratic mandate or bogey of grave repercussions thrown up by ruling families of erstwhile state and separatists/terrorists. Revoking of Article 370 and 35a will allow all J&K citizens to vote for J&K Assembly and Panchayat elections, a democratic right denied to many residents in the state. It will restore rights of daughters to parental property, rights of safai karmacharis and their children to government jobs, education and make them eligible for many social benefit schemes of India.
Why is Pakistan Rattled?
Pakistan, despite being an aggressor in 1947, seems rattled with abrogation of Article 370 and 35a in J&K to an extent that it took certain reckless actions. Lowering of diplomatic relations with India, scrapping trade ties, stopping rail communication and blocking few air routes are some examples. The main reason of Pakistan's frustration is that its terrorists fuelling proxy war in Kashmir will be devoid of political patronage, the separatists will be exposed to central security forces and laws, and its terror industry/infrastructure built in Kashmir over decades will start weakening. Pakistan's effort of approaching UNSC has no future, as is evident from the factual analysis above. If they still approach UNSC, then as per United Nations Security Council Resolution 47, adopted on 21 April 1948, there is no case for motion in UNSC, because Pakistan and China will have to be reminded to vacate PoK, Gilgit-Baltistan and Shaksgham as first step of UNSC Resolution47, which may not suit either of them. In any case the President of UNSC made no comments and the secretary General indicated bilateral settlement under Simla Agreement, with an advice to exercise restraints. While Pakistan may keep advertising China's anticipated help in seeking justice for Pakistan, but there is no legally viable case with Pakistan and China. India is well aware of fake news and propaganda attempts by Pakistan on the issue, glimpses of some of them are visible in this article. The recent survey reveals that more than 70% of Kashmir has welcomed new administrative arrangement bringing them at par with rest of the country in terms of legal and administrative rights/benefits, denied to them by local governments under the shield of Articles 370 & 35a. In any case being an internal matter of India, no foreign interference will be accepted.
Other International Responses
Pakistan's efforts to garner support of other nations have not been that successful except China, which has its own interest to protect, in terms of CPEC, which passes through the territory acceded to India by Maharaja of J&K. China reacted to Ladakh being made a UT, indicating that it undermined China's sovereignty, soon after Home Minister's statement in the Rajya Sabha. Later China indicated to Pakistan that "It should be properly and peacefully resolved based on the UN Charter, relevant UN Security Council resolutions and bilateral agreement." MEA had given a befitting reply to China highlighting that India does not interfere in internal affairs of any other country and expects the same from other countries. The same has also been reiterated by Indian Foreign Minister in Beijing, who happens to be there for a bilateral meet.
US State Department spokesperson Morgan Ortagus said there was no change in the country's policy on Kashmir, and called for restraint. The restraint is applicable to Pakistan establishment as they have threatened Pulwama like episode and DG, ISPR has indicated to adopt every possible measure to assist in freedom struggle of Kashmir (which can well be interpreted as refueling proxy war). Taliban when approached by Pakistan chose to stay away from this issue, as they know the terror game of Pakistan better than others, having been a beneficiary sometimes.
What Next for India?
Abrogation of Article 370 and 35a was a big leap forward for inclusive growth of India, but the implementation of promised reforms and a positive environment in the valley will still take some time. The first priority will continue to be the safety and security of all Indian citizens in J&K and Ladakh, for which the methodology seems to have been well thought through. India should continue with tight restrictions on potential problem creators and flash spots at least till 15 August, even at the cost of some inconvenience to people and relax it in graduated manner. In democracy, the criticism against restrictions by opposition parties and activists is natural, but if it can save lives of innocent people then it is worth it. To enable the promises of inclusive growth to be implemented, the people of both the newly formed UTs have to come forward to find genuine representation amongst themselves and work towards reaping benefits from newly found freedom from archaic laws. The countrymen have to invest in these regions for mutual prosperity. Regarding Pakistan, all actions taken by them were well anticipated and thought through. Whatever it does to interfere in Kashmir, it is going to harm itself. J&K remains integral part of India and the country is well poised to handle any awkward situation.
The Relevance of Religion in India's Act East Policy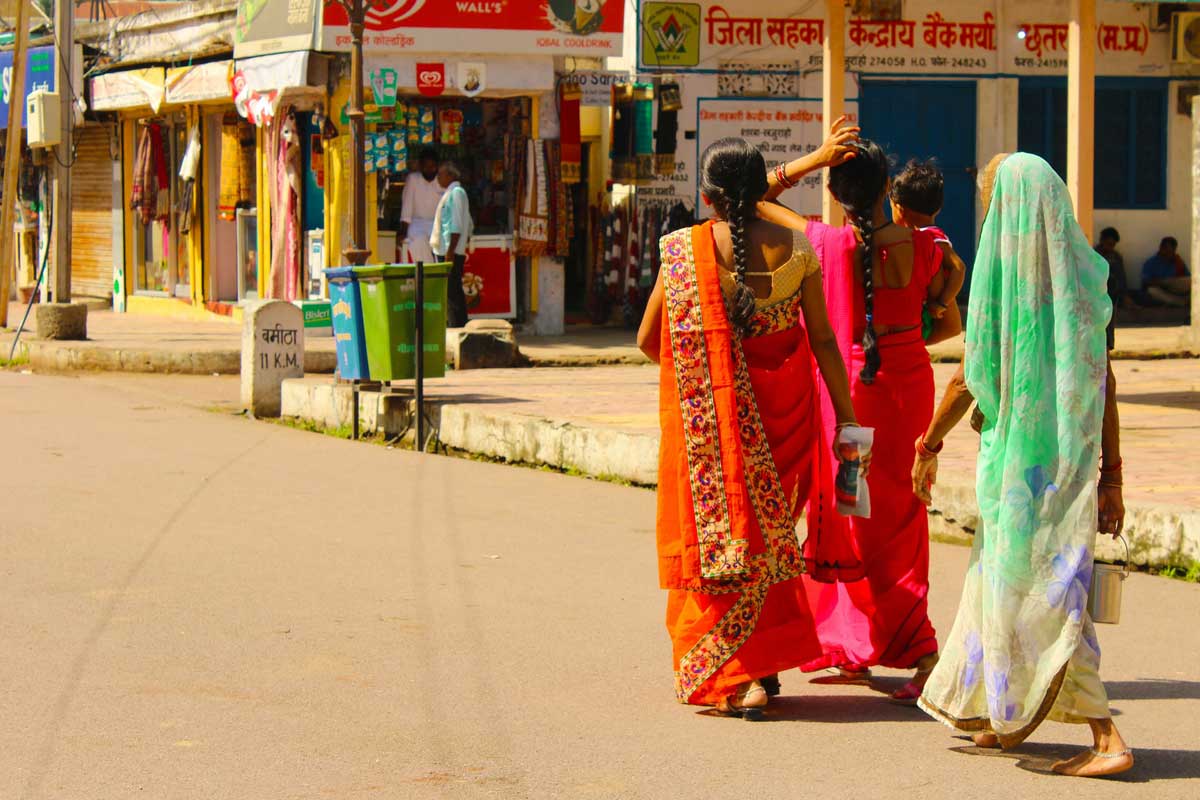 A key pillar of India's Act East Policy, India's latest foreign policy doctrine is culture. It is in this sector, that India is able to build upon the legacy of the Indus Valley Civilisation in tangible terms. Added to this, India's core characteristic of being a secular nation which guarantees every individual the right to preserve his/her cultural heritage, has allowed the country a renowned reputation of secular rising power with a multicultural historical legacy. Indian soil is considered holy ground from where Hinduism, Sikhism, Jainism and Buddhism originated and spread. The country also boasts of a number of sacred Christian, Islamic and Zoroastrian sacred sites. Thus, India's rich and diverse cultural heritage safeguarded by the Indian Constitution became the foundation for its soft power and diplomatic initiatives.
Geopolitical circumstances made India orient its foreign policy to pay attention to the west and Russia during the Cold War era. With the Look East Policy's introduction to India's foreign policy, India began reviving its obstructed ties with East Asia. This became increasingly important to deal with the challenges that came with its economic growth. The increasing population of India desperately needed foreign investment to boost the employment rate, this was facilitated post the 1991 liberalisation reforms. India also provided foreign firms and investors with a large customer base, with only ever grew with India's growing numbers. Thus, now, a number of foreign firms seek to establish business in India, and India too, looks for opportunities to diversify and grow its economy. As a result of the policy advocating to look to the east to cater to India's developmental needs, East Asian firms such as Panasonic, Hyundai, LG, Toyota etc, made a huge impact on the Indian economy, providing not only goods and services but also employment. The decision to deepen ties with East Asia has also been motivated by a desire to counter China's rising influence especially in the Indo-Pacific. While the Look East and subsequent Act East Policy focus on deepening ties with the East, it does not ignore its relations with the West. Thus, rather than a complete reinvention of India's foreign policy, India's Act East Policy merely expands on India's foreign policy, giving it a truly global approach while looking after its self interests. What sets India apart from China in its diplomatic endeavours, is that initiatives and projects involving are not in the sole interest of the country, both parties have something to gain from these deals, making it mutually beneficial.
Speeches by government representatives on international platforms in Asia from 2014 onwards, when the Act East Policy was first flagged off, have a pattern of commencing with highlighting shared cultural links between the partner country and India, to build a sense of solidarity, influencing foreign investment into India. Through the medium of this paper I argue that India's Look East Policy which later evolved into the Look East policy rests heavily on its cultural pillar of which religion and its associated culture is a part. These are an indispensible part of India's soft power as they are not only instruments of coercion, but also bring in tangible monetary returns and create foreign investment in the country.
Similarities
East Asia has been greatly influenced by Buddhism and Sanatana Dharma, which have profound roots in the region's history. India's earliest civilisational network with Southeast Asia, facilitated maritime trade between the eastern Roman Empire, the Han dynasty in China with stopovers on the sea routes in Thai peninsula, Mekong Delta and Indonesian islands thus, allowing for some common elements of culture, religion and society to emerge. In early South East Asia, states and societies were shaped by the fusion of the two religions. Buddhism remains widely practiced in Myanmar, Thailand, Laos, Cambodia, Thailand, and Vietnam, while countries such as Indonesia, Cambodia, and Malaysia have a well established Hindu legacy.
Integration of Hindu and Buddhist traditions into East Asian cultures are not isolated additions to replace traditions or fill in cultural voids, instead these new cultures assimilate into local society. Such an effect is often described as "Hinduization," "Indianization," or "Greater India" in reference to India's cultural impact. Vladimir Braginsky describes India's influence as so widely pervasive in these regions, that it left a mark not only in the cultural but also in the political and social realms. This is reflected in the legacy of the Mons of modern Burma and Thailand, the Malays, the Khmers of Cambodia, and Javanese of Malaysia and Indonesia. Early forms of written script in East Asia are owed to India. In the early centuries CE, written inscriptions were brought from India to adorn the Grand Temples of Borobudur and Prambanan in Java, Angkor-Wat in Cambodia, among others. The official emblems of India and Thailand represent two thriving and tolerant cultures with a majority-Hindu population. Ashoka the Great established the "Lion Capital" in India, and the Buddhist majority in Thailand adopted the bird-like creature "Garuda," which is associated with Hinduism. The association between India and Vietnam extends back over 2,000 years, and the 60,000 Balamon Cham Hindu population in the Southeast Asian country retains their customs of their elders. The 9th-century Prambanan Compound, a 240-temple compound devoted to Lord Shiva and host to images depicting the Ramayana, dominates the panorama of the Yogyakarta-Central Java boundary region in Indonesia.
The line separating Buddhism and Hinduism is unambiguous from Angkor Wat in Cambodia to Taipei in Taiwan, and from Ayutthaya in Thailand to Quang Nam in Vietnam. There exists a popular perception of Lord Buddha and Lord Rama as being incarnations of Lord Vishnu. Similarly, a pantheon of Hindu deities are revered, and epics are recited in Buddhist dominant mainland Southeast Asia, as well as in Shinto-majority Japan and Muslim-majority Indonesia.
The earliest tangible evidence of the presence of Hinduism in South East Asia was discovered in Borneo ,dated to the 4th century was written in Sanskrit, which describes Brahmans performing Vedic sacrifices at the command of local chiefs. Ayodhya, Lavapuri, Kanchanaburi, Chandrapuri, and Vishnulok, named in line with Hindu tradition are names of South East Asian cities. Other examples include Bandar Seri Bagawan "Bandar Shri Bhagwan", the capital of Brunei, Singapore, the city of lions, "Jayakarta" or Jakarta, the city of victory, and Laos, which is named after Lav, the son of Ram.
The earliest ambassadors of Buddhism were dispatched to Myanmar and further eastwards by King Ashoka of the Magadh empire in the India subcontinent , which led to the rapid diffusion of Buddhist culture into local traditions . The viability of using Buddhism as a tool for diplomacy today can be accredited to its reach across the globe. Today there are three types of countries who can be beneficiaries and target countries of "Buddhist Diplomacy"- traditionally Buddhist majority countries (Vietnam, Sri Lanka, etc), countries which do not majorly practice Buddhism but share Buddhist heritage (Afghanistan, Pakistan, etc) and states where Buddhism is gaining traction (such as USA, Italy, Austria and Russia).
Religion in foreign policy
Cultural diplomacy as an instrument of foreign policy entails the mobilisation of physical or abstract cultural assets between two or more countries, which act as the foundation for any country's foreign policy objectives, including political, economic, and strategic goals. It aims at promoting national goals via collaboration by facilitating cultural activities such as cultural festivals, art exhibitions, and other international cultural exchanges. The cultural pillar of the Act East policy prioritises Buddhism, as a locus of India-Southeast Asian ties. Bodh Gaya, the birthplace of Gautam Buddha, is a hallowed site for Southeast Asian Buddhist pilgrims. In 2014, Nalanda University, the ancient seat of Buddhist learning where Buddha himself visited several times, was revived as a result of collaborative efforts between India and Southeast Asian countries, including Brunei, Cambodia, Lao PDR, Myanmar, New Zealand, and Singapore. However, there remain a few impediments blocking India from effectively using Buddhism to exert influence to a greater extent. Though Buddhism originated in India, 97 percent of the those who practise Buddhism are in East and Southeast Asia. Countries such as Indonesia and Thailand attract more Buddhist pilgrims than India. As a result, under the Look East and Act East Policy, efforts have been undertaken to connect to people from East and Southeast Asia. This is where the importance of the Northeast region as a pivot to India's Act East Policy comes into play, as it is the interface between Northeastern India and the South East Asia.
Northeast India offers a lot of avenues for religious tourism, especially for attracting Buddhist pilgrims from East and South East Asia. The Tawang Monastery , the world's second-largest monastery after the Lhasa Monastery in Tibet and the birthplace of the Sixth Dalai Lama, Sangyang Gyatso, is located in Arunachal Pradesh. Increased footfall at the monastery would also be beneficial to India's security interests. Tawang was the first region in Arunachal Pradesh to be attacked by China in 1962, and subsequently remained under Chinese control temporarily. Ever since, China has also been staking claim on the territory , declaring Arunachal Pradesh to belong to South Tibet and not a part of India. Thus, in this case, culture not only ensures economic returns and people to people connectivity through religious tourism, but it is also a way to secure India's security interests and bolster the country's territorial sovereignty.
The Archaeological Survey of India has been actively operating in Vietnam, excavating a monolithic Shiva Linga on the grounds of the My So'n temple complex in 2020. It has taken up similar excavation and preservation projects across Southeast Asia, as it has manpower with the specialised technical knowhow which the host countries lack. Thus, in this way, India's use of its religion has also resulted in strengthening bonds of technical knowledge overseas.
Recent endeavours to boost foreign interest in India's religions and spirituality include the tourism ministry of India's 'Swadesh Darshan Scheme'. In 2019, the Indian Railways ran its first train covering the Buddhist Circuit over a span of eight days of the city of Lord Buddha's birth (Lumbini in Nepal), to over a dozen sites of importance including the place where he achieved enlightenment (Bodh Gaya), gave his first sermon (Sarnath, near Varanasi), and attained Nirvana (Kushinagar). The Indian government has incurred an expenditure of roughly USD 1.5 billion in infrastructure building. This also provides increasing opportunities to local hospitality firms as well as titans such as the Oberoi Group. The project has also seen investment from Japan and the World Bank.
The Ramayana circuit begins in Ayodhya, the birthplace of Lord Rama and traverses through 15 significant sites spread over nine states, and concluding at Rameshwaram, from from where the Ramsetu Bridge extends to Sri Lanka. Infrastructural projects that enhance connectivity have been central to this idea taking off.
Conclusion
India should leverage its shared cultural links, emerging out of religion, on a larger scale in its foreign policy. This would aid foreign investment, which would help the country move towards a robust economy with more participation and better infrastructure. In some cases, religious tourism also helps to strengthen territorial sovereignty by portraying strength in numbers, against the aggressor. The subsequent infrastructural development and connectivity helps to strengthen border security measures. However, much needs to be done to fully realise its potential.
Regional social and income inequality reflects itself in development efforts. While some states such as Uttar Pradesh and Gujarat are the most visible beneficiaries of infrastructure development efforts, the North East states of India lag behind, due to a number of reasons- red tape-ism, challenging terrain, geographical disconnect from the rest of the country, etc. Additionally, India's strained relations with its immediate neighbours also dampen the effectiveness of endeavours for enhanced connectivity and trade based on religious foundations. Not all hope is lost though, with the Kaladan Multimodal Transit Transport Project finally being operationalized from May 9th 2023, more than two decades after it was first approved by the Government of India.
Measurement of Performance Indices or Misrepresentation of India?
According to the recently published (May 24, 2023) Global Slavery Index 2023 (GSI), compiled by the Australian human rights organisation Walk Free, six members of the Group of 20 nations have the largest number of people in modern slavery – either in forced labour or forced marriage. India tops the list with 11 million followed by China with 5.8 million, Russia with 1.9 million, Indonesia with 1.8 million, Turkey with 1.3 million and the United States with 1.1 million.
From the appearance of the first sovereign credit ratings in the 1930s, there is now a plethora of rankings for various performance indicators. Rankings of states, for qualities (ex. transparency), activities (ex. press freedom), policies (ex.corruption), are being used to measure everything from 'happiness' to 'democracy.' Such 'performance' indicators have lately proliferated and strive to act as a pervasive sort of social pressure, almost exclusively for developing countries. These rankings tend to simplify a complex reality while attempting to appear objective.
The Walk Free foundation has been coming up with its Global Slavery Index (GSI) for more than a decade now. But its findings are not free of controversy. According to an article in Social Inclusion 'The GSI aims to, among other objectives, recognize the forms, size, and scope of slavery worldwide as well as the strengths and weaknesses of individual countries. An analysis of the GSI's methods exposes significant and critical weaknesses and raises questions into its replicability and validity.' But what's more troublesome is that the publicity given to the Index is leading to the 'use of this poor data not only by popular culture and reputable magazines and news organisations […], but also by academic journals and high level policy makers […], which can lead to inaccurate policy formulation.'
Earlier, the 2023 'World Happiness Report' was released and India was ranked at 126th position out of 137 countries. Published by the Sustainable Development Solutions Network to the United Nations (UN) these rankings are based on data from the Gallup World Poll, which measures how happy citizens perceive themselves to be. Webster dictionary defines happiness as a state of well being and contentment so an obvious problem with measuring happiness is that it means something different to different people. Yet Finland, almost always, remains the happiest country in the world, followed by Denmark, Iceland, Netherlands Sweden, Norway, Switzerland, Luxembourg and Israel. Apparently crisis ridden Sri Lanka and inflation hit Pakistan are happier than India. As is China despite the evidence of rare protests breaking out in multiple cities against the government's zero-covid policy. And oddly 'happiness' even for countries at war, Russia and Ukraine, has been ranked higher than India in the World Happiness Report, with Russia ranked 70th and Ukraine ranked 92nd. During an event in Bengaluru, External Affairs Minister Dr S Jaishankar dismissed the report and said that he "does not understand the method" to find these indexes which are clearly "mind games."
A similar gloomy picture is painted by other international think tanks. Sweden-based Varieties of Democracy Institute (V-Dem) had said that India has joined the ranks of Afghanistan, Brazil and Myanmar in "witnessing the most dramatic increases" in political polarisation. V-Dem categorises India as one of the "worst autocratisers" of the last decade. The annual report by Freedom House, the Washington-based pro-democracy think tank and watchdog rated India 'partially free' its report for a third straight year, with a cumulative score of 66 out of 100, on parameters such as political rights and civil liberties. The Economist Intelligence Unit (EIU), a division of UK's Economist Group categorised India as a "flawed democracy" in its 'Democracy Index.' Is there robust evidence that democracy is in decline in India? What is the measure of democracy?
Sociologist Dr Salvatore Babones of the University of Sydney believes that India is an 'extraordinarily successful democracy.' At the India Today Conclave in Mumbai in November 2022, he said that, "India is the world's biggest democratic success story. It is the only postcolonial well-institutionalised democracy." He has argued that in a statistical sense, India being the world's 'largest' democracy is irrelevant because democracy is unrelated to country size. The relevant factor for India is that it is the world's 'poorest' democracy. If we take peaceful transfer of power with free and transparent elections, as the most basic measures of democracy then India can be categorised as a well institutionalised democracy. It is the only democracy in the world with a GDP for capital of less than about $10000 per head. Other democracies at these levels of income exist in eastern Europe which became independent only about three decades ago, and had to become democratic in order to join the European union. Truly, unambiguously indigenously developed democracies then exist in the West. India is also the world's only post colonial state to remain a democracy throughout its entire 75 years of independence.
Indices have gained favour in the past two decades as indicators of regional and national growth of a country, and have become widely popular symbols of multidimensional welfare. These indices are built on a set of indicators using the most recent published articles. Data is then usually submitted for an handpicked 'expert' consultation to validate the ascribed rankings, but not necessarily alter them. Scandinavian countries Denmark, Iceland, Netherlands Sweden, Norway invariably top the indices. That poor, developing countries tend to be at the bottom of these rankings is no longer surprising. It becomes pertinent to ask whether these indices reflect generalisations based on a small number of widely published but non representative media articles?
Rankings have significant limitations when it comes to recognising the achievements of countries beyond the Anglosphere. For instance, the Global Hunger Index 2022 released by Concern Worldwide and Welt Hunger Hilfe, Non-Government Organisations from Ireland and Germany respectively, has ranked India at 107 among 121 countries. The report chooses to deliberately ignore efforts made by the Government to ensure food Security for the population especially during the Covid Pandemic. Three out of the four indicators used for calculation of the index are related to the health of Children and cannot be representative of the entire population. The fourth indicator estimate of proportion of undernourished population is based on an opinion poll conducted on a very small sample size of 3000, in which respondents were asked questions like 'During the last 12 months, was there a time when, because of lack of money or other resources: You were worried you would not have enough food to eat? You ate less than you thought you should?'
Another example is the Climate Change Performance Index (CCPI) 2023 which has ranked India in 8th place. India is the only G20 country in the top ten climate change performers in this index the first three ranks were purposely kept left out as no country performed well enough to be placed as first, second or third, Denmark And Sweden were placed on fourth and fifth place respectively. Compare this to the Environment performance index 2022, measured by Yale and Columbia University which has ranked India at the very bottom of the list at 180, after Vietnam (178), Bangladesh (177), and Pakistan (176). The dichotomy in the ratings indicates a clear unscientific bias in the methodology.
Human Development Index for 2021-22 released by the UN developed program UNDP, India was ranked 132nd out of 191 countries. World Press Freedom Index, 2022 released by Reporters Without Borders ranked India at 150th out of 180 countries. Even Hong Kong, where Beijing has led a brutal crackdown to punish critics and silence dissenters, fundamentally altering the life for Hong Kongers, ranks above India at 148.
Organisations that build indexes are reluctant to share the data through which they arrive at their conclusions. The Union government tried to engage with the Economist Intelligence Unit (EIU) which has ranked India on the 53rd spot and as a 'flawed democracy' seeking details on the parameters used in the rankings. However, according to a report in the media, the EIU did not share the methodology adopted to deduce the rankings. Most of these rankings can be criticised on methodological ground with the need to improve indicators and the underlying calculative operations. There is a possibility that growth systematically mis-measured or measured less reliability for developing countries. For instance, growth is more volatile in countries where agriculture constitutes a large part of the economy. Numerous index designs have been put forward, yet little is understood about their reliability. Ideally an index construction involves decisions related to indice selection, scale of analysis, measurement errors, data transformation and weighting – each of which is imbued with uncertainty due to decisions made by the index developer.
Rankings hold interest for multiple audiences, and whether we think they should, or not it seems there is an appetite for them. Factors like culture, language and resources strongly influence the rankings and buttress the dominance of the global north. The only remarkable thing about these global rankings is that they are so unremarkable, reinforcing our intuitive expectation that European, especially Scandinavian countries rank high, and countries from the global south figure lower. Suffice to say that they are neither scientific nor multilaterally validated.
Rashmi Mishra on the UK- India relationship and the role women are playing to strengthen international ties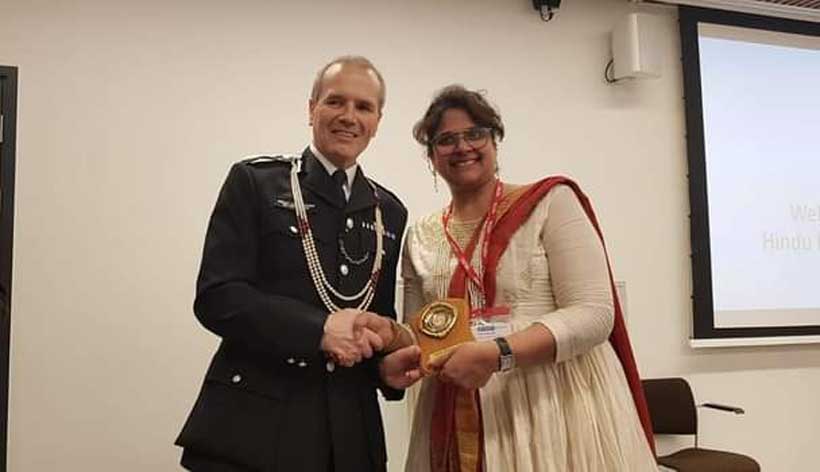 Rashmi Mishra is the founder of Inspiring Indian Women, an NGO focusing on women empowerment globally. She has won several awards including Indian Achievers Award, HERA Goodwill Award, Global Goodwill Ambassadors, National Diversity Awards United Kingdom, FOX story India and various others. In this article, we have a conversation with Rashmi Mishra to understand more about the non-profit sector, women empowerment and the UK-India relationship.
What inspired you to start Inspiring Indian Women (IIW)?
IIW initially started as a platform to connect women, inspire, and support each other. The difficulties of finding a job according to qualifications and the impracticality of having domestic help at home make life in London frustrating and sometimes affect mental well-being. We thought that women needed to explore various possibilities and outlets to look for other options to satisfy their artistic or professional desires and break free from the monotony of life. The long and depressing winters add to their woes.
How can Indian women play a role in strengthening the UK-India relationship?
Indian women today are more career-conscious than ever before. As I write this, several Indian women have already made their mark in strengthening the Indo-UK relationship. Prominent among them are Smt. Nirmala Sitharaman, former Indian High Commissioners Smt. Ruchi Ghanshyam, Smt. Gaitrii Issar, and Smt. Poonam Gupta, the founder of PG Paper Company, whom I personally met at Pravasi Bharatiya Sammelan Indore. CA Bina Mehta, a partner at KPMG, Smt. Vishakha Mulye, ED ICICI Bank, Neelima Jain, CEO of EESL EnergyPro Assets Limited (EPAL), Energy Efficiency Service Limited's (EESL) UK-based subsidiary. She is the force behind establishing EESL's UK operations from the ground up and led the first-ever acquisition of an overseas company, Edina, by a state entity administered under the Indian government's Ministry of Power. Nidhi Dua from Marks and Spencer is a committee member of the British Business Group and Confederation of British Industry. Laxmi Kaul, former head of CII UK, Ms. Nina Amin MBE, bringing investments into startups in both India and the UK, Mrs. Mira Misra Kaushik OBE by strengthening cultural ties, Ms. Prerna Bhardwaj, with experience in media, connecting the dots between both countries… The list is endless.
Your NGO deals with many women who have rebuilt themselves after their husbands' deaths. What have you learned about resilience? How can the world be more resilient in the current Russia-Ukraine situation?
It requires great strength to be resilient. Easier said than done. I know just one thing: life doesn't come to a standstill with a tragedy. Picking up the thread and walking on with the head held high is life. Struggles will be there, but 'giving up' is cowardice. Just look for that small twig to sail back. No looking back is the key. Visiting the past never helps. In the current Russia-Ukraine situation, the world must start reframing the education system by incorporating more life skills and life lessons of empathy, equality, togetherness, and brotherhood. The youth today are becoming more mechanical and money-minded. They are more focused on reaching their targets through shortcuts. The emphasis on human values in the education system has been lost.
What are some ways in which women can be empowered globally? Specifically when it comes to representation on international platforms like global parliaments or the UN?
Equal pay is first and foremost. Gender equality is a human right. More and more women must join politics as they need to be in policy making positions. The theme for International Women's Day 2023 said it all very aptly – "DigitAll Innovation and Technology for Gender by embracing equity." So much needs to be done, and at least society has started saying that only equal opportunities are not enough. A change in attitude at the workplace is pertinent. Unpaid caregiving jobs are not normal – women work all the time, but only some are salaried, sadly. Domestic abuse has risen since the pandemic; it is time to stand up for oneself. The silent revolution has begun.
How is IIW inspiring Indian women on a global scale?
There's a lot to be done. A beginning has been made. We have already been connecting women from different countries. We need to organize events in collaboration with international organizations. We are in touch. Social media has shrunk the world, but we need to go beyond with exchange programs and international exhibitions and conferences.
How can India be more empowering towards women in the country?
By bringing up both sons and daughters in the same way. When parents start saving for both their son and daughter's education and not just for the daughter's marriage and the son's education. Sons too need to learn cooking and cleaning the house, just as daughters are encouraged to learn. The notion of "papa going to the office and mama cooking" needs to be eradicated from young minds.
Your organization is also recognizing trans women and awarding them for their work. What can India do for trans rights to make the country more gender equal?
Firstly, they need to be considered equal. The law needs to include them in society. Awareness is the key; schools must include the third gender in books. As most have to drop out of education in the early days of growing up due to the stigma attached, they end up in low-class jobs, begging, and being looked down upon.
Any plans for IIW's expansion?
Definitely, we have already started IIW Sweden. We have IIW Netherlands, though it is a little dormant at the moment. Suggestions are coming to start IIW Poland. IIW intends to do lots of groundwork in India and hence is registered under a section 8 company in India. We already have different chapters in India: IIW Delhi, IIW Chennai, IIW Mumbai, IIW Bihar, and IIW Guwahati. We aim to connect women globally and support them in whatever way possible. We have also started an e-commerce platform, Eutsav.org, to strengthen women entrepreneurs and help them reach a bigger clientele. The purpose is to make more and more women, especially from rural India, self-reliant.