Hyatt Regency Shenzhen Yantian Opens in East Shenzhen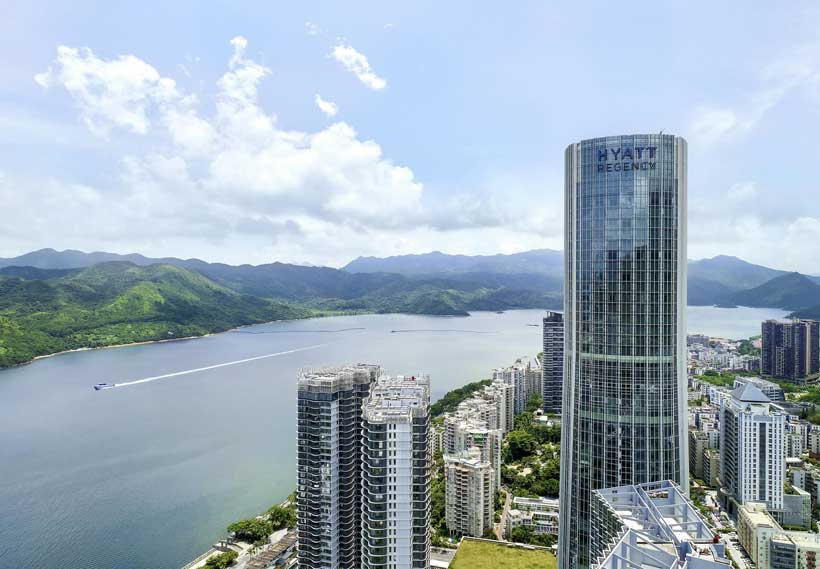 "We sincerely appreciate the support from our owner Shenzhen Vanke Binhai Real Estate Ltd. and are excited to see the Hyatt Regency brand footprint grow in the Guangdong-Hong Kong-Macao Greater Bay Area (GBA)," said Stephen Ho, president, Greater China, global operations at Hyatt. "We look forward to welcoming our guests to Hyatt Regency Shenzhen Yantian with confidence for a world-class hospitality experience."
Guestrooms
Hyatt Regency Shenzhen Yantian was designed by the renowned HEITZ PARSONS SADEK and features 298 contemporary guest rooms with varied dimensions ranging from 462 square feet to more than 2,300 square feet (43 square meters to 215 square meters). There are 20 suites, four Regency Executive Suites and one Presidential Suite, all of which are spacious and located on the 41st to the 50th floor. Select rooms offer gorgeous ocean views and all rooms feature high-quality amenities and panoramic French windows. Guests staying in Club Access Rooms and Suites can enjoy the exclusive Regency Club benefits on the 49th floor.
Dining and Drinking
The hotel offers several fine dining restaurants that cater to varying tastes and group sizes, including:
XIANGYUE, a Chinese Restaurant on the 6th floor providing authentic Cantonese flavors as well as cuisines of neighboring areas. A comfortable experience that feels like dining in a country village, the restaurant's layout includes a "Dai Pai Don" style open kitchen offering guests a high-touch taste of Cantonese life.
Market Café is a stylish all-day dining restaurant where guests can enjoy a collection of global delicacies. Whether buffet breakfast and dinner, or all-day a la carte service, Market Café will satisfy any taste with a flavorful option. The Lounge is the ideal place to gather friends or family and enjoy themed afternoon tea and various hand-crafted cocktails. Guests can also visit the Sky Lobby, ideal for connecting with colleagues over a vibrant scenery. For a stress-free meal, the hotel offers 24-hour in-room dining services with a range of selections available anytime.
Meetings and Events
To build a dynamic experience for groups that feels connected, motivated and inspired, the hotel events team will be at hand to support customers during conferences, special events and weddings. The hotel offers nearly 25,000 square feet (2,321 square meters) of meeting and event space in total, including a 12,916 square foot (1,200-square meter) pillar-free grand ballroom and five salons equipped with high-tech audio and video systems. Additionally, the ballroom foyer provides more than 6,500 square feet (612 square meters) of flexible pre-functional space to perfectly showcase the creativity of any event.
The scenic surroundings at Hyatt Regency Shenzhen Yantian create the perfect backdrop for weddings of all sizes. A bridal suite with separate fitting room and living room is situated right beside the grand ballroom to deliver a brilliant wedding experience.
Wellbeing
Guests can relax in the hotel's refreshing outdoor pool or work out anytime at the hotel's fully equipped fitness center featuring state-of-the-art equipment.
"Inspired by the hotel's surroundings, the hotel was built with the concept of bringing the forest into the city, offering guests a place to take a deep breath of fresh air and bask in the beautiful scenery," said Mary Liu, general manager of Hyatt Regency Shenzhen Yantian. "As a bridge between GBA and the Pearl River Delta area, Shenzhen is at the core of this booming region. We are delighted to deliver Hyatt's well-known expertise in food and beverage and full range of services and amenities for a productive stay.
Special Offer
To provide World of Hyatt members even more ways to be rewarded, World of Hyatt is offering members the opportunity to earn 500 Bonus Points for qualifying nights at Hyatt Regency Shenzhen Yantian, from September 1 to November 30, 2019, as part of World of Hyatt's new hotel member offer.
Additional participating hotels and their offer stay periods can be found at worldofhyatt.com/newhotelbonus. No registration is required and members can earn on top of other offers.
The Luxury Collection Unveils Debut Property in the Seychelles
The Luxury Collection today announced the arrival of North Island, Seychelles into their portfolio of world-renowned hotels and resorts. With just 11 villas, Africa's most exclusive private island is located 30 kilometres from the mainland and is accessible by a scenic helicopter flight or an hour boat ride, giving guests an immediate sense of escapism.
Following its history as a coconut plantation, the granitic island is now a sanctuary for endangered species; luminous beaches and clear blue seas welcome nesting sea turtles, and the Palm forests are home to giant Aldabra tortoises and rare Seychelles white-eye birds. The island has been expertly designed and with pioneering conservation programs, offers the highest standards of hospitality, earning them status as an award-winning sustainable travel destination. With a mission to demonstrate that luxury with a conscience can co-exist, sustainability lies at the heart of North Island's philosophy and will be further embraced and supported with The Luxury Collection. The operational responsibility of the resort will remain with ASMALLWORLD, the world's leading travel & lifestyle community.
"North Island has always skilfully combined a sustainable and environmentally conscious management philosophy with the ambition to provide a truly immersive, barefoot-luxury experience. Whilst maintaining our identity and ethos, our work with The Luxury Collection will allow us to maximise our awareness in our continued efforts in pioneering sustainable luxury travel." – Jan Luescher, CEO of ASMALLWORLD
Eleven private guest and family villas line the island; each villa has been created using local materials harvested during the island's rehabilitation process, expertly balancing luxury and simplicity. An haute-couture Robinson Crusoe aesthetic has been applied through interiors celebrating the sheer indulgence of volume and space.
"North Island is one of the most rare and luxurious destinations in the world, making it a natural fit for The Luxury Collection and our global explorers who seek authentic experiences and connections to both pristine nature and elevated personalization," said Anthony Ingham, Global Brand Leader, The Luxury Collection. "This is the first private island within The Luxury Collection portfolio, and we're delighted to be expanding our footprint of captivating destinations with storied pasts and protected futures."
The island not only offers a calming refuge from the modern world, but also an invigorating, refreshing getaway connected to the island's natural beauty. Aquatic explorers can take part in snorkeling, diving, fishing, sunset cruises, kayaking, paddle boarding and surfing. Bespoke guided excursions for those looking to explore the granite peaks or coral reefs are also available. Whilst on land, forest trails can be explored by foot, bicycle or private buggy, or guests can simply relax on one of the island's four pristine beaches located at each end of the compass. The island is also the ultimate playground for families and children, with a Beach Buddy program tailormade to interests and hobbies. Parents are invited to take part, or can find their own relaxation whilst children remain supervised.
As part of a new culinary concept, Michelin-Star Chef Akira Back, brings his fine dining concept to the Piazza at North Island. The various dining venues lend themselves to a range of outstanding epicurean experiences with menus changing daily according to the latest island harvest. The Piazza is situated on the ocean front and offers candlelit, private dining utilizing the freshest ingredients from both land and sea. The more relaxed Sunset Beach Bar offers tapas and cocktails during sunset. In-villa dining centers on a comfort food menu featuring local Creole curries or classic dishes, complemented by a generously stocked villa pantry.
The North Island Spa is dwarfed by giant granite peaks, enjoys an open sea breeze and overlooks turquoise waters. Guests are invited to the spa on arrival where they are immediately immersed in 'island life' with each tailor-made treatment starting with a 'barefoot ritual'. A private consultation to create a bespoke spa experience is then formulated as part of a holistic journey of visual and textural contrasts, arousing the senses and rejuvenating mind, body and soul.
With2020 rates from US$6000 per night, North Island offers an inimitable experience that seeks to offer a contrasted way of life; rough and smooth, old and new, wet and dry, casual and refined, where footprints are the only evidence on the island's vast, untouched beaches.
The Park Hyatt Brand Celebrates the Debut of Park Hyatt Doha
Hyatt Hotels Corporation today announced the opening of Park Hyatt Doha in Qatar. The hotel occupies a prime location within the heart of Doha's new commercial and residential downtown district, Msheireb, and integrates the best elements of Doha's heritage with refined accommodations that provide a luxurious oasis amidst the pulsating capital.
"We are delighted to bring the Park Hyatt brand to the culturally and creatively rich city of Doha," said Kurt Straub, Hyatt's vice president of operations for the Middle East, Africa, and South West Asia. "The Park Hyatt brand is dedicated to creating exceptional and memorable experiences, and we are thrilled to welcome guests from around the world to this very unique location. The introduction of Park Hyatt Doha in Qatar strengthens Hyatt's vision of being the preferred brand for global travelers and enhances the brand footprint of Hyatt's luxury portfolio in the Middle East."
Located in Msheireb Downtown Doha, the hotel is less than 10 miles (16 km) from Hamad International Airport, and a stone's throw away from a Light Rail stop that runs through the development, as well as a short walk from the city's points of interest, including the Museum of Islamic Art and the National Museum of Qatar, Souk Waqif.
"We are thrilled to be part of the Msheireb development, Doha's first sustainable regeneration project," said Stefan Gaessler, the hotel's general manager. "Sustainability runs throughout the design of the project and all its buildings to reduce the project's carbon footprint and generate less waste, aligning with Hyatt's sustainability efforts to use resources thoughtfully, build smart, and innovate and inspire for a more sustainable future."
Guestrooms
The hotel features 187 elegant guest rooms, including 28 Park Suites, three Park Executive Suites, one Diplomat Suite, and one Presidential Suite. All rooms artfully combine a residential quality and understated luxury with the mystique of Qatari-inspired details; featuring floor to ceiling windows, luxury window seats, and a designer marble bathroom with deep soaking tub, rain shower and double vanity sink. The Presidential Suite, an extraordinary 4,305-square-foot (400-square-meter) two-bedroom space, and the Diplomat Suite, a capacious 2,690-square-foot (250-square-meter) one-bedroom space, both offer guests a private terrace with magnificent views over the Doha Corniche.
Dining
Home to rare and immersive culinary experiences, Park Hyatt Doha offers a world-class culinary journey. Sora, a stylish Japanese restaurant and lounge, offers magical views of Doha's skyline and boasts an ultra-modern space where guests can share small plates and enjoy the distinctive art of Robata. In Japanese cuisine, Robata refers to a method of cooking, similar to barbecue in which food items are cooked at varying speeds over hot charcoal.
The open-kitchen concept of Opus offers the freshest in local ingredients and a mix of Qatari and French cuisines with menus curated by Qatari celebrity chef, Shams Al Qassabi, and Park Hyatt Paris-Vendôme's Michelin-starred chef, Jean-François Rouquette.
With meals that please the eye and the soul, Anis is an all-day eatery serving as a social hub for health-conscious locals, passers-by and in-house guests to enjoy healthy to-go options, a variety of coffee, fresh juices and smoothies.
Events
A premier location to host inspiring and sophisticated corporate and social events, Park Hyatt Doha boasts a range of elegantly presented spaces, from a 376-square-foot (35-square-meter) intimate study lounge to a luxurious 3,196-square-foot (297-square-meter) pillarless ballroom.
For wedding celebrations, the hotel's in-house events manager offers expert consultation to make guests' dream weddings come true with meticulous attention to detail. Event and meeting spaces include a private entrance where guests are welcomed into a luxurious and intimate, apartment-style reception. Menus are also curated to satisfy every taste with the eloquent matching of culinary delights and the finest of drinks.
Wellness
Park Hyatt Doha's luxurious spa covers two floors, with one floor dedicated to women and another for men. Here, guests are greeted to a tranquil space, thoughtfully curated mood-inducing treatments, and a luxurious wet area featuring mood showers, a whirlpool, sauna, a steam room and an ice room. The spa also offers a post-treatment virtual reality headset which will leave guests with a carefully designed experience to complete their wellness journey.
The fitness center provides separate facilities for ladies and gentlemen with ample space and panoramic views over the Doha Corniche, coupled with the latest in weight training and cardiovascular equipment.
The year-round, semi-covered pool offers magical views over the city from the sixth floor, and is perfect for both business and leisure guests to catch up on work or unwind with a book, while enjoying hand-crafted healthy beverages.
Kenzo Takada to Design Mandarin Oriental Jumeira, Dubai's first Christmas Tree
Mandarin Oriental Jumeira, Dubai will celebrate its first festive season in style with an unconventional Christmas tree designed by fashion legend and one of Mandarin Oriental's celebrity fans, Kenzo Takada.
The city's most desirable beachfront resort has teamed up with Kenzo Takada to bring an artistic flair to Dubai's festive celebrations, taking inspiration from the city's multifaceted character. Commenting on the collaboration, Kenzo Takada said: "I am thrilled to be invited by Mandarin Oriental Jumeira, Dubai to design its very first Christmas tree in a reinterpretation that combines tradition and modernity."
Werner Anzinger, General Manager of Mandarin Oriental Jumeira, Dubai, said: "It is an honour to have our first Christmas tree designed by fashion icon and long-time Mandarin Oriental fan, Kenzo Takada, and we can't wait to unveil this unique centrepiece that radiates the spirit of the holidays."
Kenzo Takada's seven-metre high creative Christmas tree will be located in the outdoor area of the resort, with an unparalleled beachfront view. The official unveiling will take place on 10th December for both guests and residents to enjoy.
Mandarin Oriental's award-winning advertising campaign, He's a Fan/She's a Fan, which launched in 2000, simply and elegantly connects the Group's well recognised symbol – the fan – with international celebrities who regularly stay at the hotels and are true fans of Mandarin Oriental. Kenzo was photographed for the campaign in the Japanese garden of his apartment in Paris. When travelling, he loves staying with Mandarin Oriental, as the "quality and excellent service" never fails to impress him.
Kenzo has been decorated with numerous accolades for his services to the fashion industry, including an Ordre National de la Légion d'Honneur and a lifetime achievement award from the Fashion Editors' Club of Japan.