Hyatt Regency Shenzhen Yantian Opens in East Shenzhen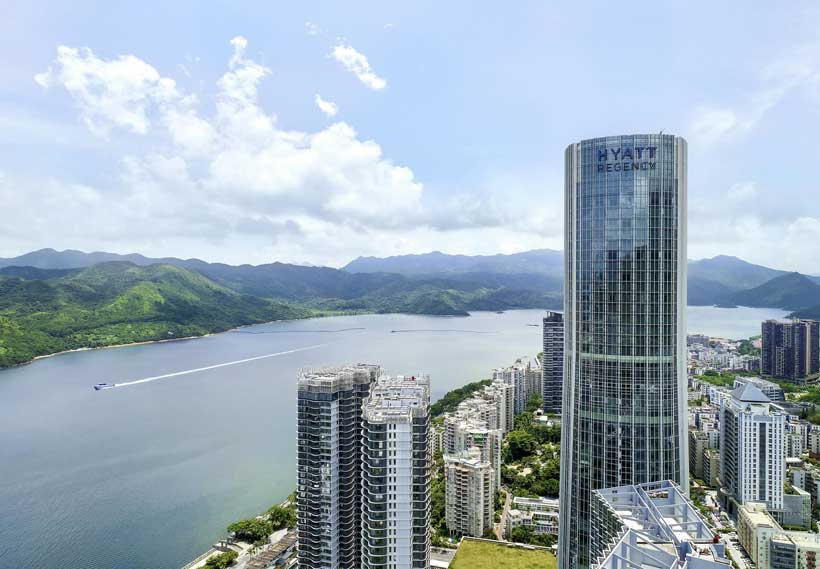 "We sincerely appreciate the support from our owner Shenzhen Vanke Binhai Real Estate Ltd. and are excited to see the Hyatt Regency brand footprint grow in the Guangdong-Hong Kong-Macao Greater Bay Area (GBA)," said Stephen Ho, president, Greater China, global operations at Hyatt. "We look forward to welcoming our guests to Hyatt Regency Shenzhen Yantian with confidence for a world-class hospitality experience."
Guestrooms
Hyatt Regency Shenzhen Yantian was designed by the renowned HEITZ PARSONS SADEK and features 298 contemporary guest rooms with varied dimensions ranging from 462 square feet to more than 2,300 square feet (43 square meters to 215 square meters). There are 20 suites, four Regency Executive Suites and one Presidential Suite, all of which are spacious and located on the 41st to the 50th floor. Select rooms offer gorgeous ocean views and all rooms feature high-quality amenities and panoramic French windows. Guests staying in Club Access Rooms and Suites can enjoy the exclusive Regency Club benefits on the 49th floor.
Dining and Drinking
The hotel offers several fine dining restaurants that cater to varying tastes and group sizes, including:
XIANGYUE, a Chinese Restaurant on the 6th floor providing authentic Cantonese flavors as well as cuisines of neighboring areas. A comfortable experience that feels like dining in a country village, the restaurant's layout includes a "Dai Pai Don" style open kitchen offering guests a high-touch taste of Cantonese life.
Market Café is a stylish all-day dining restaurant where guests can enjoy a collection of global delicacies. Whether buffet breakfast and dinner, or all-day a la carte service, Market Café will satisfy any taste with a flavorful option. The Lounge is the ideal place to gather friends or family and enjoy themed afternoon tea and various hand-crafted cocktails. Guests can also visit the Sky Lobby, ideal for connecting with colleagues over a vibrant scenery. For a stress-free meal, the hotel offers 24-hour in-room dining services with a range of selections available anytime.
Meetings and Events
To build a dynamic experience for groups that feels connected, motivated and inspired, the hotel events team will be at hand to support customers during conferences, special events and weddings. The hotel offers nearly 25,000 square feet (2,321 square meters) of meeting and event space in total, including a 12,916 square foot (1,200-square meter) pillar-free grand ballroom and five salons equipped with high-tech audio and video systems. Additionally, the ballroom foyer provides more than 6,500 square feet (612 square meters) of flexible pre-functional space to perfectly showcase the creativity of any event.
The scenic surroundings at Hyatt Regency Shenzhen Yantian create the perfect backdrop for weddings of all sizes. A bridal suite with separate fitting room and living room is situated right beside the grand ballroom to deliver a brilliant wedding experience.
Wellbeing
Guests can relax in the hotel's refreshing outdoor pool or work out anytime at the hotel's fully equipped fitness center featuring state-of-the-art equipment.
"Inspired by the hotel's surroundings, the hotel was built with the concept of bringing the forest into the city, offering guests a place to take a deep breath of fresh air and bask in the beautiful scenery," said Mary Liu, general manager of Hyatt Regency Shenzhen Yantian. "As a bridge between GBA and the Pearl River Delta area, Shenzhen is at the core of this booming region. We are delighted to deliver Hyatt's well-known expertise in food and beverage and full range of services and amenities for a productive stay.
Special Offer
To provide World of Hyatt members even more ways to be rewarded, World of Hyatt is offering members the opportunity to earn 500 Bonus Points for qualifying nights at Hyatt Regency Shenzhen Yantian, from September 1 to November 30, 2019, as part of World of Hyatt's new hotel member offer.
Additional participating hotels and their offer stay periods can be found at worldofhyatt.com/newhotelbonus. No registration is required and members can earn on top of other offers.
Hilton Expands Presence in Mexico with the Debut of Hilton Monterrey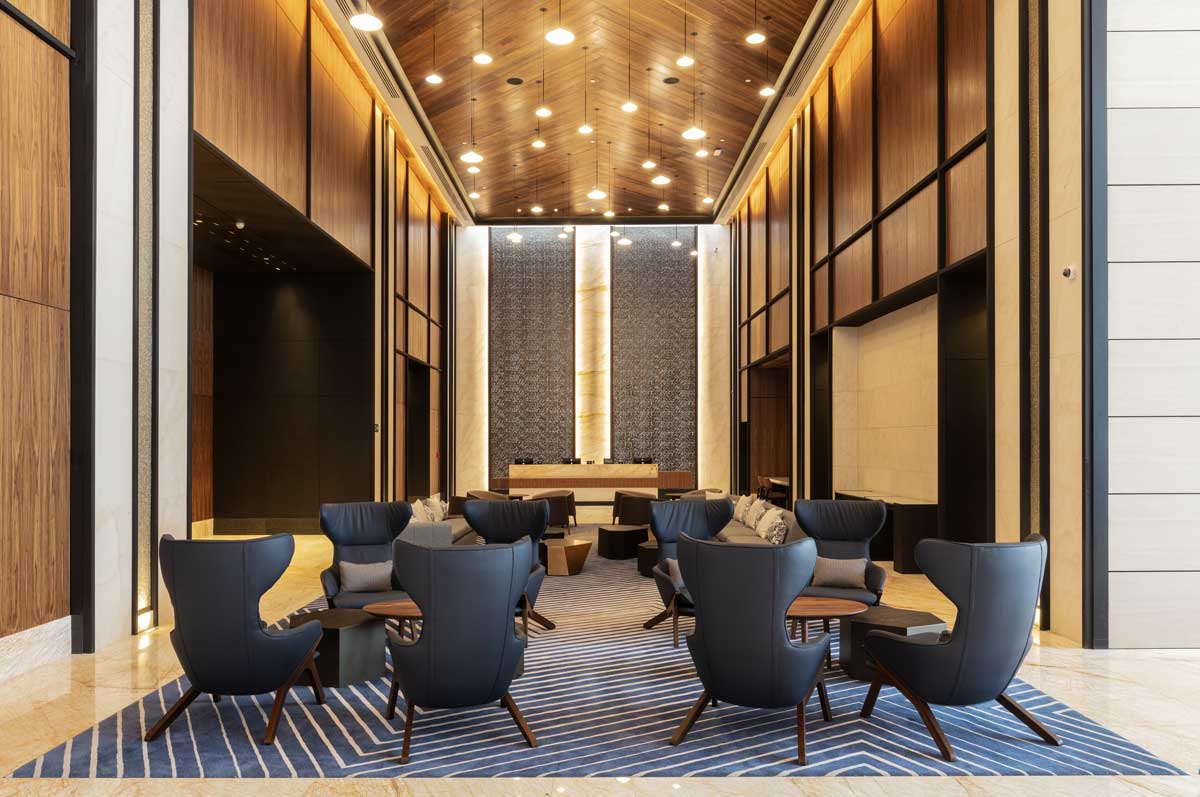 Hilton today announced the opening of Hilton Monterrey, located in the business and financial district of the capital city of Nuevo León, Mexico. With an emphasis on efficient design and conscious travel, from its farm-to-table restaurant and energy-conserving technology, the 225-room property provides a modern urban oasis with the intuitive service and world-class amenities of Hilton Hotels & Resorts to deliver an exceptional stay for mindful business and leisure travelers.
"As our ninth Hilton property in this thriving metropolis and industrial hub, we are delighted to debut Hilton Monterrey as part of our growing portfolio in Mexico," said Jorge Giannattasio, senior vice president and head of operations, Caribbean and Latin America, Hilton. "We look forward to welcoming guests and locals alike to this stylish hotel where they can experience our elevated accommodations and enjoy a cocktail at the rooftop bar, served with our signature hospitality for which Hilton is known."
Hilton Monterrey is conveniently located just 23 miles from Mariano Escobedo International Airport in the heart of the commercial district and connected to Galerías Valle Oriente Mall. The modern city of Monterrey lies north of the Sierra Madre Oriental Mountain range. Although historically known as an industrial city, Monterrey is rich in history and art, with the hotel located five miles away from the Mexican History Museum, Paseo Santa Lucía, the Museum of Contemporary Art and Fundidora Park.
"We're thrilled to bring Hilton Hotels & Resorts to Monterrey, growing our flagship brand's ever-expanding presence and best-in-class hospitality offerings in Mexico," said Leonard Gooz, global brand head, Hilton Hotels & Resorts. "Hilton Monterrey offers thoughtful service, energizing, inviting spaces beautifully designed to reflect the destination, locally influenced dining options and memorable meetings and events, delivering an exceptional stay for business and leisure travelers alike."
Accommodations with Inspired Design
Under the creation of world-renowned hospitality design firm Hirsch Bedner Associates (HBA), Hilton Monterrey's design concept highlights the city's contrast of urban architecture and its surrounding natural beauty. A neutral palette offset by dark contrasting tones and elements of misty blue reflects the area's beautiful landscape. Elements of stone, wood and metals combine to create a tranquil ambiance for relaxation or work.
Hilton Monterrey's 225 rooms offer guests a choice of unobstructed city skyline views or sweeping mountain views paired with amenities that deliver the comfort and convenience for which Hilton is known, including complimentary high-speed Wi-Fi, 55-inch flat-panel HDTVs, a dedicated work desk, rainfall shower, ample closet space and more. The design places high importance on energy efficiency, from heat recovery systems to save natural gas, to water-saving toilet tanks and showers, and an automation system that maintains the rooms at a certain temperature when guests are out exploring the city.
The elegantly appointed presidential suite represents the height of sophistication at Hilton Monterrey with its floor-to-ceiling windows, spacious living area, kitchenette, well-appointed king bed, desk for a quiet work area, access to the Executive Lounge, and oversized, modern bathroom with a free-standing soaking tub.
Dining to Inspire the Senses
Hilton Monterrey is home to three onsite dining experiences for guests and locals alike. Chef Alejandro González leads Hilton Monterrey's culinary vision using innovative techniques and creating experiences that go beyond the senses with dishes inspired by the traditional cuisine of Mexico and grounded on sustainable practices and respect of the seasonality of the local ingredients.
Farm-to-table seasonal restaurant Härth is open for breakfast, lunch and dinner, serving local and international cuisine with sustainable ingredients from local and regional vendors. Dishes that will tantalize the taste buds include shrimp ravioli with spicy tuna tartar in a Huancaína sauce and Tetela, a triangular corn tortilla filled with duck confit, breaded egg yolk and pea sprouts, served over homemade mole. The hotel's signature Härth Bar, located adjacent to Härth, serves all-day fresh cocktails with seating available on its terrace. On the rooftop, guests can discover Wander, the hotel's rooftop bar and lounge serving up the best views in the city along with cocktails and a special selection of international street food.
Flexible Meetings and Events Space
With eight meeting spaces spanning over 12,000 square feet, Hilton Monterrey's flexible event space can accommodate a variety of settings from small social gatherings to large business conferences. Venues include an exquisite pre-function foyer and outdoor terrace, the triple-height, 24-foot ceiling Magnolia ballroom that can host up to 600 attendees, a boardroom and individual meeting rooms named after native trees of Nuevo León, all with onsite catering support available.
Hilton Monterrey participates in Hilton Honors, the award-winning guest loyalty program for Hilton's 19 world-class brands. Hilton Honors members have access to instant benefits, including a flexible payment slider that allows members to choose nearly any combination of Points and money to book a stay, an exclusive member discount and free standard Wi-Fi, and access to the Hilton Honors mobile app.
Hilton Monterrey is the latest addition to Hilton's rapidly expanding portfolio in Mexico, where guests are currently welcomed at approximately 90 hotels and resorts, with approximately 25 additional properties in development.
IMARAT signs Agreement to Construct its Fourth Hotel in Collaboration with Marriott International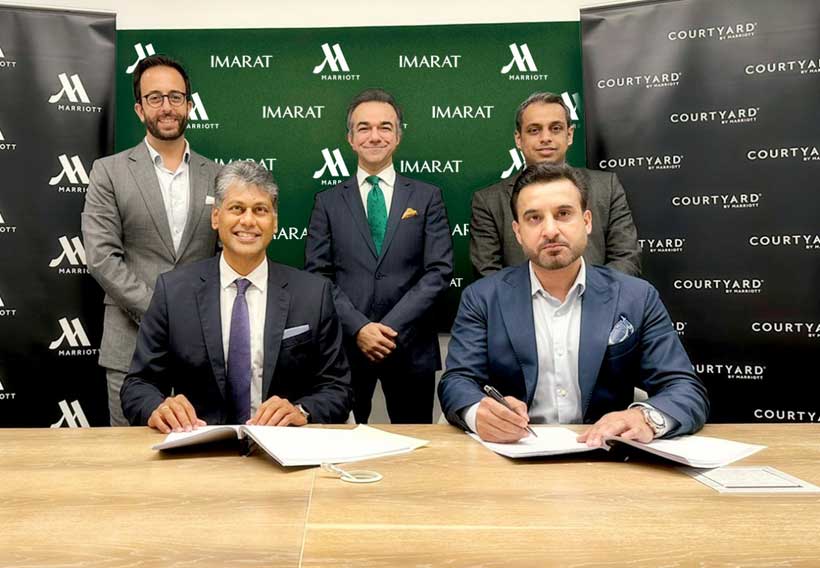 IMARAT Group has signed a franchise agreement with Marriott International to develop a Courtyard by Marriott project in DHA Multan. The signing ceremony took place at Marriott International's Office in Dubai.
Marriott International was represented in the ceremony by Satya Anand, President, Europe Middle East & Africa, Phil Andreopoulos, Chief Operating Officer, Owner and Franchise Services, Europe, Middle East & Africa, Chadi Hauch, Regional Vice President – Development, Middle East and Ziad Abi Raad, Director Lodging Development.
The event was attended by Chairman IMARAT Group, Mr. Shafiq Akbar, Director IMARAT Hospitality, Mr. Farhan Javed, IMARAT's Chief Commercial Officer, Mr. Saad Ahmed Awan.
Chairman IMARAT Group, Mr. Shafiq Akbar, while speaking on the occasion, said, "On this day, we are elated to witness the culmination of years of effort; a collaboration with Marriott International to construct Courtyard by Marriott in DHA Multan. I see this project as the 'Jewel of South Punjab', a state of the art hospitality initiative that will give Pakistan's, particularly South Punjab's hotel and tourism sectors a much-needed economic boost".
Satya Anand, President, Europe, Middle East & Africa, Marriott International commented, "We are delighted to strengthen our relationship with the IMARAT Group and expand our portfolio of in Pakistan. There is an unmet demand for hotel accommodation in South Punjab and with the Courtyard by Marriott Multan we look forward to supporting the expansion of the hospitality landscape in the market."
Expressing his views at the signing ceremony, Group Director IMARAT Hospitality, Farhan Javed said, "IMARAT envisions and executes projects to take the hospitality sector of Pakistan to a level where we are at par with the international standards. By offering the best services in the hospitality business, Courtyard by Marriott is unquestionably on the verge of creating a benchmark in the sector."
Since it first opened its doors more than 35 years ago, Courtyard by Marriott has been dedicated to creating an environment where great things can happen. Today, Courtyard is the hotel brand of choice for ambitious and enterprising guests who see business travel as a driver of personal fulfillment and professional growth.
Courtyard by Marriott is expected to be an ideal fit South Punjab and Multan. Multan, being the fifth-most densely populated city in Pakistan, serves as South Punjab's economic and cultural hub. The new collaboration between Imarat and Marriott International aims to meet the demand for quality hospitality accommodation in the market.
IMARAT Group, one of Pakistan's top real estate player, continues to construct and develop major projects that are coherent with the concept of transforming the real estate dynamics in the country. IMARAT's top notch construction and property management seeks to assist Pakistan in making a name in the international hospitality sector.
Hilton Signs Six New Luxury Hotels in Asia Pacific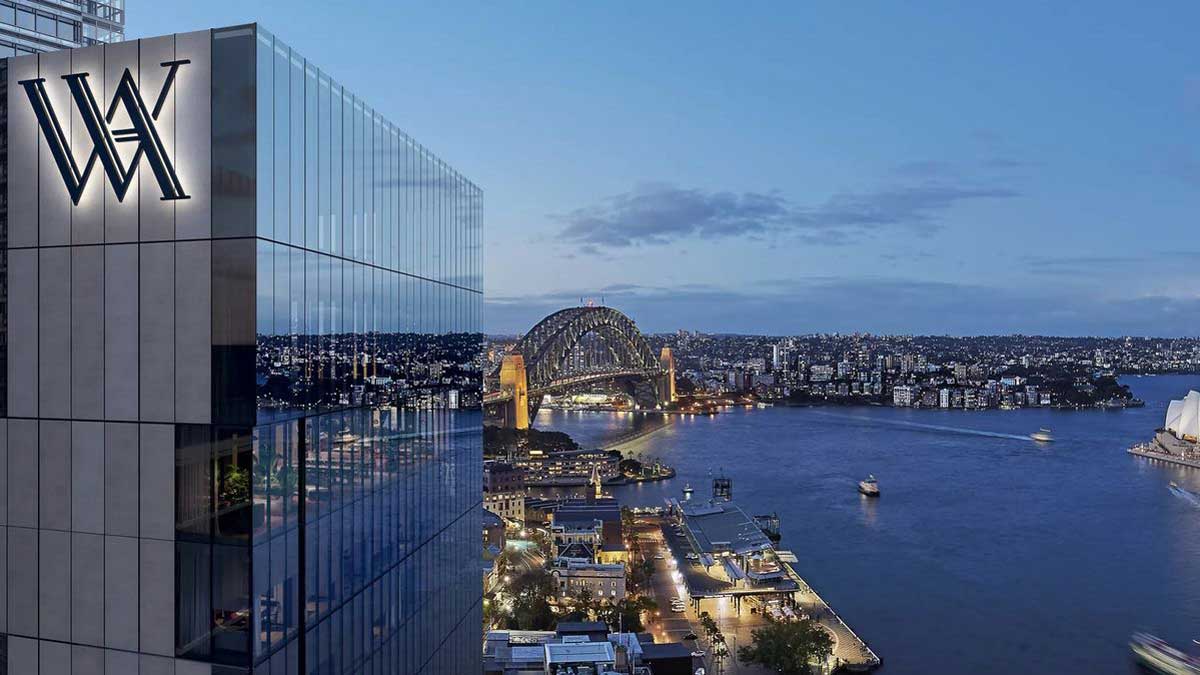 Leading global hospitality company Hilton (NYSE: HLT) has announced six landmark signings in Asia Pacific (APAC) across its portfolio of luxury brands – Waldorf Astoria Hotels & Resorts, Conrad Hotels & Resorts and LXR Hotels & Resorts – in the year to date, a mark of growing optimism in luxury travel across the region.
With the signing of Waldorf Astoria Xi'an, Waldorf Astoria Shanghai Qiantan, Waldorf Astoria Kuala Lumpur, Waldorf Astoria Sydney, Conrad Nagoya and an LXR Hotels & Resorts property in Bali, Hilton's pipeline of luxury hotels in the region increases to 20. When these hotels open in the coming years, travellers will enjoy an exquisite portfolio of more than 50 luxury hotels across Asia Pacific.
With a growing middle class, increased consumer spending and an underserved lodging market, Asia Pacific presents a US$10 trillion consumption growth opportunity over the next decade.
Alan Watts, president, Asia Pacific, Hilton said, "Hilton is Asia Pacific's fastest growing hospitality company, and that signals the confidence that owners and developers have in our ability to capture growing demand and deliver strong returns in APAC's most sought-after destinations. We share the optimism that owners and developers have about the future of luxury travel and appreciate the importance they place on partners and brands that will optimize their yield. As we continue to pursue quality organic growth and enhance our network effect, we too stay focused on prioritizing the right partnerships to deploy the right brands in the right locations."
Post-pandemic recovery has prompted increasing owner and developer interest in hospitality real estate, as the APAC hotel investment volume in 2021 grew 46% year-on-year to exceed US$12 billion, and investors focused on acquiring luxury or resort assets. The luxury travel segment is also expected to burgeon as 42% of APAC consumers who intend to take an international trip seek out luxury experiences.
"These signings mark an incredible moment for our luxury brand portfolio as we expand Waldorf Astoria, Conrad, and LXR throughout five countries in the region, offering even more opportunities for travelers to immerse in our authentic approach," said Dino Michael, senior vice president & global category head, Luxury Brands, Hilton. "From Waldorf Astoria's intuitive service, to Conrad's bold design and LXR's culturally immersive experiences, the hotels continue to showcase innovation and deliver on what guests are looking for in their stay. This expansion reinforces the appeal of the brands globally, and is a true testament to the team members who bring luxury to life."
Hilton's latest signings mark a further closing of key city gaps as its award-winning luxury brands debut or expand in key travel destinations such as Japan, Australia, Malaysia, Indonesia and China.
China in particular holds great potential in shaping the future of luxury travel as it is home to the world's largest consumer economy and is set to become the largest luxury goods market by 2025. Travel demand is also shifting as the country's new generation of young and discerning travelers seeks higher levels of personalization, wellbeing, sustainability and quality in their luxury travel experience.
The signings of Waldorf Astoria in Xi'an and Shanghai Qiantan put the brand on track to double its portfolio in China and offer its unrivalled luxury in eight world-class hotels. When open, Waldorf Astoria Xi'an will be one of the tallest buildings in this ancient capital of the 13 Dynasties. Designed by the famed design firm, Yabu Pushelberg, the hotel will draw inspiration from the city's rich millennia-old culture and integrate oriental elegance into modern design. Waldorf Astoria Shanghai Qiantan will mark the city's second Waldorf Astoria hotel. Located in Shanghai's brand-new CBD – the New Bund area – the hotel will boast panoramic views of the Huangpu River and immerse guests in the tranquility and glamour of China's commercial capital.
Today, there are more than a dozen Conrad hotels operating in China. When the other nine hotels in the country's pipeline open – including Conrad Shenzhen and Conrad Chongqing next year – guests will be able to enjoy the discreet yet sophisticated luxury that the brand is known for in more than 20 destinations.