World Reaction to situation in Kashmir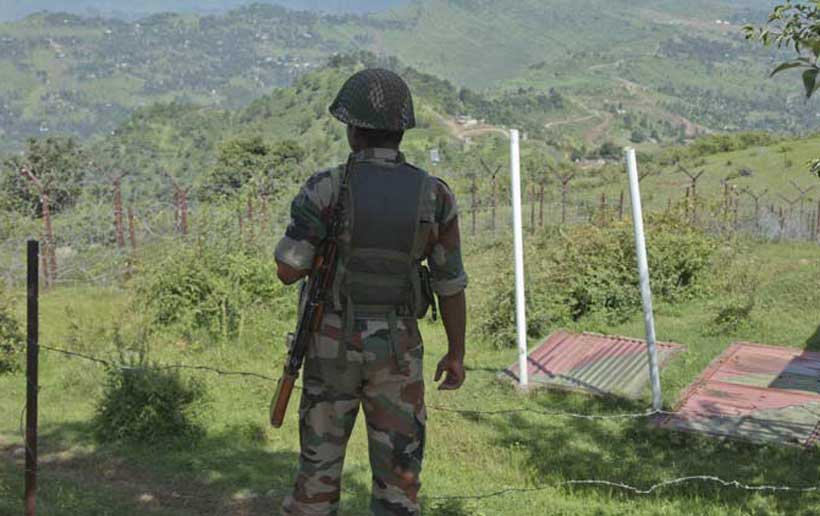 The world has shown solidarity with People of Kashmir and condemned the unilateral accusation of Kashmir. Kashmir is a disputed territory among Pakistan, India, and China. It is on the agenda of the UN and resolution on Kashmir is pending since 1948. India has been denying to implement UN resolution, as well as the "Shimla Agreement" to resolve this dispute with Pakistan bilaterally. Intellectuals and some of leading politicians in India has also shown their deep concerns. And worried about the future of whole India not only limited to Kashmir only.
At the time of partition at the end of British rule in 1947. The formula agreed upon was all areas with Hindu Majority will be part of India and all areas with Muslim Majority will be part of Pakistan. Principally, Kashmir is part of Pakistan as its population was Muslim majority. But, the Indian Army entered into Kashmir and occupied part of Kashmir. While Pakistani forces offered resistance to the Indian Army in Kashmir, the Indian government approached the UN and a resolution was passed by the UN to resolve the Kashmir issue amicably by plebiscite.
India used all dirty trick and use of excessive force to control the Kashmir but failed during the last 7 decades. Deployment of troops, social workers, government officials, teachers, intelligence agents, preachers, and all possible means to suppress the freedom of Kashmiri People was in vain. People of Kashmir were struggling for their freedom peacefully. Pakistan, UN and civilized nations of the world were showing solidarity with the people of Kashmir and extending all possible moral and diplomatic support throughout 7 decades of Indian oppression. India crossed all limits of violations of human rights.
For the last few days, India sends fresh troops into Kashmir, evacuated the Kashmir by advising all foreigners and visitors to leave Kashmir, media was closed, mobile phone service was suspended, and all schools, holes and important builds were closed and controlled by Army. Kashmir was completely balked out and cut off from the outside world.
By presidential orders, the status of Kashmir was changed and was given under federal government control directly. Which is against the India constitution itself and totally illegal. Violation of UN and international laws. While it is disputed territory among China, India and Pakistan, cannot change its status unilaterally. As per the Geneva Convention, it is termed as war-crime. Its impact in Kashmir, all over India, in the whole region and globally, will be adverse.
World capitals have witnessed protests and condemnations. Americans were surprised by this move. British, European parliaments, China, Russia, Saudi Arabia, Turkey, Malaysia, OIC and many human right organization throughout the world has shown concerns and showed solidarity with the people of Kashmir.
It is worth mentioning that India, Pakistan, and China have fought a few wars in history. And recent extremist leadership in India seems war-craze. All the three countries are nuclear states, and if escalation started, it may not be in any one's control and may enter into nuclear war. All three nations have sufficient weapons to destroy each other completely. This region is an inhabitant of almost 3 billion people. One can imagine, the volume destruction and magnitude of causalities, beyond ant precedence in human history.
Pakistan is being the neighbor, can watch what is happening on the ground, the firsthand information. We are trying to educate the whole world that the situation is very serious and world-attention must be focused on this important issue.
I appeal to the UN, International Community, World Powers and all individuals with human conscious, and peace-loving people, to understand the seriousness of the situation. It is Indian war-crime and must pressurize India for reversal and just solution of Kashmir in consultation with Kashmir people. We must extend our moral support and diplomatic support to Kashmir. India may suffer isolation, the boycott of the international community, sanction by the UN, and the International court of justice mat take Sui-Moto action and exert pressure till the Kashmir issue is resolved perfectly.
Pakistan is a responsible state, and may observe patience. But, India should not test our patience and challenge us. Pakistan do not want any escalation and we proved in February that, we can avert the disaster. Although, we have capability to defend our country, but would not opt for war as first option. If, imposed, we may respond in much more surprisingly.
Sri Lanka's election results and their implications
Authors: Tridivesh Singh Maini & Mahitha Lingala*
The Sri Lankan election result, was closely observed, not just for its likely impact on domestic politics in Sri Lanka, but it's impact on geopolitical dynamics in South Asia. Gotabaya Rajapaksa, Former Defence Secretary, and brother of former President, Mahinda Rajapaksa, won by a massive margin, defeating his opponent Sajith Premadasa (son of a former President who was assassinated in 1993). He was sworn in on Monday, November 18, 2019 as President.
While Rajapaksa, the candidate of the Sri Lanka Podujana Peramuna (SLPP or People's Party) polled over52% of the vote, the runner up Sajith Premadasa of the United National Party (UNP)polled 42% of the votes. It is pertinent to note, that the UNP did much better in North Eastern districts of the South Asian country, which are dominated by Muslims and Tamils.
Analysts believe, that the triumph of the former Defense Secretary, is likely to result in Sri Lankamoving closer to China – as was the case during Mahindra Rajapaksa's term (which ended in 2015, Rajapaksa lost to Maithripali Sirisena, the latter had served in Rajapaksa's government but in 2014 he decided to part ways and was the Presidential candidate of the opposition).There is a belief however, that Gotabaya Rajapaksa, may not veer as much towards China, as his brother given the changing ground realities.
Sri Lanka's tilt towards China during Mahindra Rajapaksa's tenure
During Mahindra Rajakapsa's tenure, Sri Lanka took a turn towards China, much to the chagrin of India. While one of the reasons cited for the same, was China's economic prowess, and ability to deliver fast on key infrastructure politics. It would be pertinent to point out, that there was an equally, if not more important reasons for the Former President warming upto China –Beijing turned a blind eye to the Human Rights violations (an estimated 40,000 Tamils – which included journalists and opponents) were killed in operations against Tamil separatists)
New Delhi-Colombo ties also took a hit, during Rajapaksa's tenure, due to the opposition of regional parties – AIADMK (All India Anna Dravida Munnetra Kazhagam) and DMK (Dravida Munnetra Kazhagam) — from the Southern Indian state of Tamil Nadu. Political parties from Tamil Nadu have been constantly alleging Sri Lankan govt failed to follow their 13th amendment (which sought to provide devolution to the Tamil Community and reduce the harmony with the community) and also allege, that many innocent civilians were killed during the war for which Mahinda Rajapaksa must be held accountable. The previous Congress led UPA (United Progressive Alliance) government voted against Sri Lanka in 2009, 2012 and 2013, supporting a US passed resolution against Sri Lanka at the UN. In 2014, India made a slight change to it's approach and rather than voting directly against Sri Lanka, New Delhi abstained from voting against Sri Lanka. In 2013, Indian PM Dr. Manmohan Singh due to pressure from Tamil Nadu's regional parties did not attend the Common Wealth Head of Government Meeting (CHOGM) meeting in Colombo.
In 2015, when Mahinda Rajapaksa lost elections, Tamilian parties including the BJP TN unit in India termed it as a victory of the Sri Lankan Tamils. Indian PM, Narendra Modi had invited Mahindra Rajapaksa for his swearing in as PM in 2014 and also congratulated Gotabaya Rajapaksa. Modi also invited the newly elected President to visit India. The new President is likely to visit India on November 29, 2019.
Economic tilt towards China under Mahindra Rajapaksa
Colombo's economic tilt to Beijing, was strongly reiterated by the Hambantota Port project, which was handed over to China, and given on lease for 99 years. The port was built with 85% of the funds coming from Exim Bank in China. After money shortage in 2017 in regard to this loan, Sri Lankan government handed over the port and 15,000 acres of associated land to China Merchants Port Holdings for 99 years. This was cited, as one of the strong instances of China's 'Debt Trap' Diplomacy. US drew attention to this, and so did a report by the Centre for Global Development (CGD)but Sri Lanka has rejected this fear while admitting that the debt pressure is huge.
China remains one of Sri Lanka's largest creditors accounting for an estimated 10% of its total foreign debt. China is investing in large infrastructural projects through its flagship programme the Belt and Road Initiative(BRI) in Sri Lanka, some of the major ones include; Mattala Rajapaksa International Airport, Mahinda Rajapaksa International Cricket Stadium, and the Magampura Mahinda Rajapaksa Port in southern Sri Lanka. Another project which has proven to be controversial is the Lotus Tower. The 17 story structure – South Asia's tallest self supporting structure – has been criticised not just for the fact that it represented a wrong utilisation of resources, but the company which had the contract for building the tower was accused of misappropriating funds (a whopping 11 Million USD) by former President Maithrapali Sirisena.
Mahindra Rajapaksa's close ties to China were also evident in the strategic sphere (two Chinese submarines docked in the South Asian Island nation in 2014)
Balancing of relationships
Rajapaksa's successor, Maithripali Sirisena did try to balance out relationships, and reduce the South Asian country's dependence upon China, but was unable to do so. President Sirisena said that he would treat major Asian countries equally. India and Sri Lanka in February 2015 signed a nuclear pact to improve relationships and agreed to improve defence ties.
A number of important projects were taken over by Japan, and there have also been some strong instances of India-Japan working together in Sri Lanka. India, Japan and Sri Lanka have signed an agreement to develop the East Container Terminal (ECT) of Colombo Port. While India and Japan will retain 49% stake in this project, while Sri Lanka will have 51% (work on the project will begin in March 2020).
This investment has been seen as a joint effort by India- Japan to counterbalance China's growing influence in the Indian Ocean region. Apart from this project, both India and Japan have also been working on an LNG project terminal near Colombo. India's Petronet LNG (one of the country's energy giants) will have a 47.5% stake in the project, while Japan's Mitsubishi and Sojitzcorp will have a 37.5% stake)
US has also been trying to make Sri Lanka part of the Indo-Pacific narrative.
The US has also begun to pay more attention to Sri Lanka, especially in the context of being an important stakeholder in the US vision for a 'Free and Open Indo Pacific'.
US Secretary of State for Political Affairs David Hale, and Sri Lankan Foreign Affairs Minister Tilak Marapana held the third US-Sri Lanka Partnership Dialogue in Washington DC in May 2019. Both sides, according to a joint statement issued after the dialogue, resolved to work together for a"a safe maritime domain in the Indian and Pacific oceans through a rules-based order that ensures respect for international laws and norms" . Furthermore, after the defeat of Mahinda Rajapaksa, Sri Lanka also became a Logistics hub for the US Navy in the Indian Ocean
Domestic Politics
It is not just geo-politics, even in the context of Sri Lankan politics, it remains to be seen what approach he takes towards Muslims and Tamils. The electoral verdict is polarized. On his part, the newly elected President, did state that
"I am conscious that I am also the president of those who used the vote against me…. "It is my duty to serve all Sri Lankans without race or religious discrimination. I promise to discharge my duties in a fair manner'
Conclusion
In conclusion, it remains to be seen whether there will be a drastic change in both domestic policies, as well as Sri Lanka's foreign policy orientation. While, Sri Lanka is dependent upon China, in the economic sphere, it is important to acknowledge the fact, that there have been a number of economic and geo-political changes in recent years. First, China's economy has witnessed a slowdown, and Beijing will be unable to assist Sri Lanka to the degree it did earlier – though it's overall economic influence could grow. Second, US has been paying attention to Sri Lanka, due to it's strategic importance especially in the context of Indo-Pacific, as was mentioned earlier. In this context, it is likely that US, Japan and India could work jointly in Sri Lanka (Japan and India have already initiated some projects) .The new Sri Lankan President would do well to pay attention to the fact, that South Asian countries like Bangladesh have been able to balance ties and not remained solely dependent upon China.
Finally, the US reaction to the election, and the warning with regard to Human Rights is significant. The outside world, is likely to keep a close watch on Sri Lanka, and it is likely, that the new President while upgrading economic ties with China will do a balancing act, so that Colombo is not totally dependent upon China.
*Mahitha Lingala is a student at the OP Jindal Global University
The era emerged from "RuwanWeliSaya": Aftermath of Presidential Election in Sri Lanka
Authors: Punsara Amarasinghe & Eshan Jayawardane
Civilizational influence in shaping national political consciousness is an indispensable factor that one cannot deny or completely abandon albeit how rationalized or tries to be radical he is. The Oath ceremony of the president of the US is traditionally culminated by pledging alliance to the US constitution and God and the people in Britain chant "God save the Queen "as their aged long belief in Christianity is imbued with Anglo Saxon political consciousness. This given examples are the ideal instances proving the gravity of nationalism still prevailing in nation states system and this examples pave the path to ascertain the civilizational message symbolized by the newly elected president of Sri Lanka by choosing the ancient Buddhist stupa Ruwan Weli Saya in its ancient monastic city Anuradhapaura as the location to take oaths.
First and foremost, the recently concluded presidential election in Sri Lanka became a battle between emotions and many appealing dazzled in Sri Lankan society due number of reasons. Mainly majority of Sri Lankans felt anxious about the rule of former president Maithripala Sirisena who came into power in 2015 as a leader committed to restore the good governance and the international image of Sri Lanka. Even though his emphasis on good governance and reconciliation seemed to be appealing at outset, his inefficiency in implanting the promises jeopardized his rule gradually. In particular, people were heavily gutted after an Islamic militant group supported by ISIS carried out a deadly attack on Easter Day this year in Sri Lanka. All this circumstances set the cause in Sri Lanka to revive its aged long romanticism on Sinhalese Buddhist nationalism as it has always played the last resort for the majority of the Sinhalese community in island throughout its history.
The arrival of Gotabaya Rajapaksa as a one of main presidential candidates for this year election marked a new revival in Sinhalese Buddhist community and which was further bolstered by the echoing voice of Buddhist monks and so many other social factors. On the other hand, his dynamism as former defense secretary during his brother president Mahinda Rajapaksa's era in defeating 30 year long civil war in Sri Lanka against Tamil separatist movement and the contribution he made in urban development kept lingering in the minds of the people when they suffered from inefficient bunch of rulers for past five years. However, in comparing the decisive factors that intensified the victory of Mr. Gotabaya Rajapaksa, it becomes evident his main opponent Mr. Sajith Premadasa's manifesto and his political stances became less appealing for the majority of Sinhalese in Sri Lanka as his political campaign was consisted of many dubious characters hated by common people.
In analyzing the election results, it is evident that Gotabaya Rajapaksa's victory in Sri Lankan presidential elections was manly attributed to the votes of Sinhalese Buddhists and this simply reminds of the victory of Modi in India from Hindu majority votes and Orban's victory in Hungary from the votes of the Catholic Magyars. The recent growth of nationalism around the globe has again created a serious concern on returning the Hobbesian idea of strong sovereignties with strong nationalist sentiments. The outcome in Sri Lankan presidential election denotes the continuation of strong global tendency towards nationalism, yet, in the case in Sri Lanka the election results has given a clear sign that Tamil and Muslim minorities are displeased with Gotabaya to be their president as many Tamil and Muslim electorates were mainly won by Sajith Premadasa. The situation arising from this ethic division should be healed by newly elected president as it appears to be the most important task he needs to accomplish.
Perhaps, it may be an interesting analysis to look at his choice for taking oaths as the 7th executive president of Sri Lanka, because the place he chose for this ceremony RuwanWaliSaya in ancient city of Anuradha Pura is a powerful icon for Sinhalese Buddhists as how Varanasi becomes important for Hindus and Jerusalem inspires Jews. The ancient pagoda called "RuwanWaliSaya" was built by King DutuGamunu after defeating Tamil Chola ruler Ellalan who ruled Anuradhapura for 40 years. The saga of king Dutugamunu was glorified in the Sinhalese psyche as a civilizational hero who appeared in the most awaited hour in their history to defeat the enemy and restore Buddhism. Also, the Buddhist pagoda he built called " RuwanWaliSaya" has always been an inspirational point for the idea of Sinhalese Buddhist nationalism. The pictured depicted in Sinhalese Buddhist society in Sri Lanka regarding Anuradhapura and RuwanWaliSaya is a such a venerated one mixed with nostalgia and a yearning to restore its glory.In modern history of Sri Lanka after independence, no leader chose this ancient symbolic place as the venue to take oaths till Mr. Gotabaya Rajapaksa did so. The given idea simply proves that Sinhalese Buddhist majority finally reached their awaited moment of choosing a leader who understands their national aspirations. Moreover, it shows the unbreakable role of religion, race and cultural identities in South Asian politics. We do not criticize the emotional symbolism erupted from Gotabaya Rajapaksa's choice of Buddhist pagoda as a place for taking oath, because history has proven sometimes nationalist leaders have been great leaders who protected every community in the society and in his inaugural speech president Gotabaya mentioned the importance for leading Sri Lanka from its political and economic chaos to a greater future with the support of all the communities. In that context, the man who appeared from the strong communal based nationalist background might be the best leader Sri Lankans have been waiting so far if he addresses the ethnic minorities Tamils and Muslims in the island without isolating them. Furthermore, neutralizing the foreign policy in Sri Lanka would be another crucial factor newly elected president needs to envisage.
*Eshan Jayawardane is an independent researcher currently lives in New Zealand and he holds a master's degree in international relations from Jawaharlal Nehru University in New Delhi, India. He can be reached at Eshan.Jayawardane[at]gmail.com
India's Continuing Arrogance in Kashmir
On October 31, 2019, India formally split up the Muslim-majority region of Jammu and Kashmir into two federal (union) territories. By doing so India violated the UNSC resolutions on the matter and officially issued a new political map indicating Ladakh and Jammu as Indian Union Territories. According to this formal split,both the Jammu and Kashmir and Ladakh union territories will be administered by two lieutenant governors, Girish Chandra Murmu and Radha Krishna Mathur respectively. They are supposed to report to the Indian home secretary based in New Delhi. This clearly defines the motives of the Hindu nationalist government of BJP led by Prime Minister Narendra Modi which revoked Article 370 on August 5.Unfortunately, the prevalent security environment in Kashmir is dominated by the BJP, which has led India's arrogance to determine the fate of the disputed region.
In the same vein, right before the formal enforcement of the constitutional split, a local body electoral exercise was carried out in the region. The maiden Block Development Council (BDC) Election was held on October 24 under much hype due to the evolved dynamics of the region. However, the region's main parties such as the National Conference, Peoples Democratic Party, and Peoples Conference and other small parties had boycotted the local elections terming them as an 'undemocratic' exercise. These parties which have remained the major stakeholders in the politics of the region had turned out against the abrogation of Article 370 that granted the region special rights. It was also observed that the political parties had perceived this election as instead a "forced election" primarily because the region was still then under severe restrictions. Contrary to this general perception, the Indian government still carried out the post-revocation electoral exercise. This arrogant policy adopted by the Indian government seems to forcefully instill this notion of 'our plan our vision' by the BJP to decide the fate of the Kashmir region.
In addition to this notion, the Hindu-supremacist government of India, headed by Prime Minister Narendra Modi has been shamelessly flaunting the narrative that Kashmir has been 'put in its place'. This means that contrary to the previous position of the Kashmir region as an autonomous entity under the Indian Union, it has been demoted to now being a 'union territory' like other union territories under the federal (Union) government of India. By doing so it seems that India is following a dangerous trajectory of dealing with Kashmir vis-à-vis Pakistan and the international community. In pursuit of its fascist vision inspired by its RSS ideology, the BJP led Indian state has blatantly ignored the global implications which its moves could have regarding the disputed region. Moreover, the ongoing crisis also provides an insight into Kashmir being a victim of the so-called rules based international order that has repeatedly failed to shield the Kashmiri people from the human rights violations of the Indian forces and protect their sovereign will.
It is worth mentioning here that Kashmir is one of the oldest issues pending at the UNSC table. The international community acknowledges Pakistan's significance as the most important stakeholder vis-à-vis any development on the Kashmir issue. Contrary to Indian moves and suppression of Kashmiris, Pakistan has always insisted on the peaceful settlement of the Kashmir dispute under the UN mandate. Moreover, Pakistan has always encouraged international mediation offers from influential countries especially by the U.S. This was evident during Prime Minister Imran Khan's first-ever visit to the US on July 23, 2019, when President Trump had offered to mediate between India and Pakistan. The offer was greatly appreciated by Pakistan as it was aimed at some prospect of seeking a settlement given the evolved security dynamics of the South Asian region for the last few months. Whereas, India has often rejected such offers claiming Kashmir as its internal matter.
As evident from the above-mentioned developments, it seems that India aspires to increasingly project itself as a regional hegemon and as a potential superpower that can do whatever it pleases with a complete disregard for basic human rights. Under this notion, the BJP government led by Prime Minister Modi and inspired by Hindutva ideology is taking offensive measures to forcefully make Kashmir an integral part of India via its brutal political and military actions. The most considerable aspect of such belligerence is that India wrongfully perceives that Pakistan is unlikely to or perhaps unwilling respond to any Indian move based on certain political, economic and strategic restraints vis-à-vis India. This however is once again a grave underestimation of Pakistan's resolve and the sensitivity with which such moves are being taken by the Pakistani leadership.
Hence at the present, the rash and irresponsible actions of the BJP led Indian government has once again put at stake the peace and stability of the entire South Asian region, bringing it once again to the brink of conflict. Despite all the criticism worldwide, with its politico-military offensive in Kashmir, it seems that India has already decided to determine the fate of the disputed region through sheer arrogance and brutality. India is mistakenly perceiving that such moves would likely tighten its grip over the restive region that is at the heart of more than 70 years of hostility with Pakistan. India's policy to forcefully make Kashmir a part of the Indian Union by annexing it through political and military means would serve as a dangerous precedent. This poses a serious detriment towards the long-desired peaceful settlement of the Kashmir dispute and even with more disastrous consequences for the whole region.