Kerfuffle about Kashmir's `special status'
It is eerie that Pakistan's foreign office, media and politicians have shallow understanding of the Kashmir dispute. Let us not forget dimensions to the Kashmir dispute. Pakistan is committed to United Resolutions. These resolutions do not recognise `accession' of disputed Kashmir under a resolution of the puppet Constituent Kashmir assembly or under Maharajah's `instrument of accession'.
India never presented the accession `resolution' or the `maharajah's instrument' before the UN. Yet, it claimed that the occupied Kashmir's constituent assembly had voted for accession to India. As such, it is no longer necessary for her to let the promised plebiscite be held in Kashmir. Now, it has abrogated `special status', hitherto quid pro quo. Has disputed Kashmir reverted to 1947 status in India's own parlance?
In parliament, Amit Shah banked on the `instrument' which is void. The Independence Act required intention of accession to be absolute and crystal-clear. But, a stray glance at the 'Instrument' would make it clear that it is equivocal. The 'Instrument' expresses 'intention to set up an interim government and to ask Sheikh Abdullah to carry the responsibilities' with maharajah's prime minister. The last sentence in the 'Instrument' is 'In haste and with kind regards'. Handwritten corrections on the text of the 'Instrument' speak volubly about the wavering state of the maharajah's mind. Any `instrument', extracted under coercion and duress, is invalid under law.
Subsequent accession resolution, passed by the occupied Kashmir's 'constituent assembly', also, is void. This resolution violates the Security Council's resolutions forbidding India from going ahead with the accession farce. Aware of India's intention to get the 'Instrument of Accession' rubber-stamped by the puppet assembly, the Security Council passed two resolutions to forestall the `foreseeable accession' by the puppet assembly. Security Council's Resolution No 9 of March 30, 1951 and confirmatory Resolution No 122 of March 24, 1957 outlaws accession or any other action to change status of the Jammu and Kashmir state.
`Accession instrument' is a myth, unregistered with the UN. Alastair Lamb, in his book Incomplete Partition (Chapter VI: The accession Crisis, pp.149-151) points out that Mountbatten wanted India not to intervene militarily without first getting `instrument of accession' from maharajah Hari Singh. Not doing so would amount to `intervening in the internal affairs of what was to all intents and purposes an independent State in the throes of civil conflict'. But, India did not heed his advice. It marched its troops into Kashmir without maharajah's permission _ an act of aggression. Lamb says `timing of the alleged Instrument of Accession undoubtedly affected its legitimacy'(p.172, ibid). He adds `If in fact took place after the Indian intervention, then it could well be argued that it was either done under Indian duress or to regularise an Indian fait accompli'.
Lamb concludes (p. 191, ibid):`According to Wolpert, V. P. Menon returned to Delhi from Srinagar on the morning of 26 October with no signed Instrument of Accession. Only after the Indian troops had started landing at Srinagar airfield on the morning of 27 October did V. P. Menon and M. C. Mahajan set out from Delhi from Jammu. The Instrument of Accession, according to Wolpert, was only signed by Maharajah Sir Hari Singh after Indian troops had assumed control of the Jammu and Kashmir State's summer capital, Srinagar.
Lamb also regards the Instrument of Accession, 'signed' by the maharajah of Kashmir on October 26, 1947, as fraudulent (Kashmir – A disputed legacy 1846-1990). He argues that the maharajah was travelling by road to Jammu (a distance of over 350 km). How could he sign the instrument while being on the run for safety of his life? There is no evidence of any contact between him and the Indian emissaries on October 26, 1947.
It is eerie to note that India has never shown the original Instrument' in any international forum. India took the Kashmir issue to the UN in 1948 under article 35 of Chapter VI which outlines the means for a peaceful settlement of disputes.
Pakistan's foreign office faux pas
Pakistan should not accept `special status' as a fait accompli. Instead, it should focus on human-rights violations, and right of self-determination under UN conventions. While agitating these issues, Pakistan should avoid the legal wizard, a self-styled `international-law expert', founder of a research society of international law, who selected Reqo Diq-fiasco incompetent legal team.
In his weekly press briefing, Pakistan foreign-office director general (South Asia and SAARC) Dr. Mohammad Faisal said (April 6, 2019), "Pakistan will never accept the repeal of Article 370 of the Indian Constitution… Besides violating the rights of Kashmiris, it will also contravene relevant UNSC (UN Security Council) Resolutions". He added that Article 370 was incorporated in India's Constitution in October 1949. And, it exempts Jammu and Kashmir from the country's Constitution while allowing the state to draft its own [constitution]. Not so. Article 370 violates UN resolutions. Article 370 is rooted in accession-to-India resolution of so-called `constituent assembly' of the disputed Kashmir. The `assembly' itself banks on Maharajah Hari Singh's mythical `Instrument of Accession', not registered with the UNO. By accepting Article 370 and occupied Kashmir's constitution, Pakistan binds itself to accepting Azad Kashmir as part of India. The IHK's constitution provides seats for Azad Kashmir. Will Pakistan hold elections in Azad Kashmir under Indian or IHK's constitution?
If our foreign office revisits Kashmir-case files, it will come to know that: (a) India never registered Instrument of Accession with the United Nations. In the summer of 1995, the Indian authorities reported the original document as lost or stolen? (b) Aware of India's intention to get the 'Instrument of Accession' rubber-stamped by the puppet assembly, the Security Council passed two resolutions _ Security Council's Resolution No 9 of March 30, 1951 and confirmatory Resolution No 122 of March 24, 1957 _ to forestall the `foreseeable accession' by the puppet assembly.. These resolutions outlaw accession or any other action to change status of the disputed state. (c) Pakistan stresses international-law jus cogen `pacta sunt servanda' treaties are to be abided by, being binding on signatories. Non-compliance reduces a state to status of a rogue state. (d) India through a series of steps whittled down Kashmir's special status under Article 370 and 35-A of India's Constitution. Governor replaced sadr-e-riast who could conveniently dismiss wazir-e-riast (now chief minister). (e) Kashmiri leaders are begging for `election' which is ultra vires of UN resolutions. Kashmiris' fate of total integration hangs in hands of petition pending with India's Supreme Court.
Pakistan's information minister's statement
In a prelude to Foreign Office spokesman's statement (April 6, 2019), Pakistan's information minister had dared India hold elections in Indian-held Kashmir (March 11, 2019). Taking the two statements juxtaposed, the inference is that Pakistan implicitly admits that: (a) Jammu and Kashmir is not a disputed territory. It is an `integral part of India'. IHK had acceded to India as per the maharajah's Instrument of Accession not registered with UNO or invoked on UN forums. (b) `Pakistan administered Kashmir' (Azad Kashmir) is under illegal occupation by Pakistan. Heretofore I quote from IHK's `Constitution'.
`Preamble to the Constitution of Jammu and Kashmir
"WE, THE PEOPLE OF THE STATE OF JAMMU AND KASHMIR,having solemnly resolved, in pursuance of the accession of this State to India which took place on the twenty sixth day of October, 1947, to further define the existing relationship of the State with the Union of India as a part thereof…'.
`Relations with Government of India
Article 3 in part 2 of the Jammu and Kashmir constitution reads as,
"Relationship of the State with the Union of India:-The State of Jammu and Kashmir is and shall be an integral part of the Union of India.
Relations with Pakistan administered Kashmir
Article 48 of Part VI of Jammu and Kashmir constitution defines Pakistan administered Kashmir as "Pakistan Occupied Territory".
There are currently 87 seats in Jammu and Kashmir State assembly, but article 48 of Jammu and Kashmir constitution also recognizes 24 seats from Pakistan administered Kashmir and mentions that these 24 seats will remain vacant till Pakistan ceases the "occupation" of Kashmir and the said area shall be excluded in delimiting the territorial constituencies till that time.
To India's pleasure, Pakistan's chagrin
What information minister or foreign-office said should please India? For, India says clasula rebus sic stantibus, a fundamental change of circumstances (literally `things as they stand'), making plebiscite demand an anachronism.
Look at Janus-faced Pundit Jawaharlal Kaul/Nehru. Nehru had earlier declared in a radio broadcast (Nov 2, 1947) that the government of India was "prepared, when peace and order have been established in Kashmir, to have a referendum held under international auspices like the United Nations." I am quoting from Chaudhri Mohammad Ali's The Emergence of Pakistan.
Nehru be-fooled Sheikh Abdullah to stab Pakistan in the back. Barkha Dutt recalls (This Unquiet Land, p. 154) `In a 1948 speech to the United Nations, Sheikh Abdullah … made a blistering defence of the accession to India. Sher-e-Kashmir (Lion of Kashmir) roared, :I had thought all along that the world had got rid of Hitlers…but what is happening in my poor country I am convinced that they have transmigrated their souls into Pakistan…I refuse to accept Pakistan as a party in the affairs of Jammu and Kashmir'
Dutt says, "Sheikh Abdullah [later] began to talk about possibility of independent Kashmir…Soon after he changed his stance he was jailed and dismissed from office and was not able to lead the state for another twenty years'. Stanley Wolpert and Alastair Lamb (Kashmir – A disputed legacy 1846-1990, Birth of a Tragedy) also doubt existence of Instrument of Accession (October 26, 1947).
Pakistan's foreign office has yet to produce a luminary of the caliber of Indian foreign secretaries Shiv Shankar Menon, Krishnan Srinivasan, JN Dixit and Jagat S. Mehta. These gentlemen knew that Kashmir was not an atoot ang (unbreakable part), but a disputed state. India and Parvez Musharraf partly implemented Mehta's proposals. His proposals are contained in his article "Resolving Kashmir in the International Context of the 1990s" Some points of his quasi-solution are: (a) Pacification of the valley until a political solution is reached. (b) Conversion of the LoC into "a soft border permitting free movement and facilitating free exchanges…" (c) Immediate demilitarization of the LoC to a depth of five to ten miles with agreed methods of verifying compliance. (d) Final settlement of the dispute between India and Pakistan can be suspended (kept in a "cold freeze") for an agreed period. Voracious readers may refer for detail to Robert G Wirsing, India, Pakistan and the Kashmir Dispute (1994, St Martin's Press, New York pp. 225-228). Mehta's thinking is in line with JN Dixit's. Dixit says 'it is no use splitting legal hair. "Everybody who has a sense of history knows that legality only has relevance up to the threshold of transcending political realities. And especially in inter-state relations… so to quibble about points of law and hope that by proving a legal point you can reverse the process of history is living in a somewhat contrived utopia. It won't work."(Victoria Schofield's book Kashmir in the Crossfire).
Conclusion
Does Pakistan's Foreign Office abide by IHK and India's constitutions? When shall Pakistan cease its `occupation of Azad Kashmir' to hold elections on 24 seats reserved for Pakistan-administered Kashmir'? Certainly, the afore-quoted statements do not reflect Pakistan's position on Kashmir dispute, based on UN resolutions. India has no mandate to change the status of the disputed state through sham elections, or sham `special status'. It is time Pakistan gagged its loose-cannon information minister, unbridled foreign-office, or politicians. It's time for Pakistan about militarisation of Kashmir, human right violations and need for self-determination, recognised under UN conventions and resolutions.
Upholding Dharma by Mob lynching?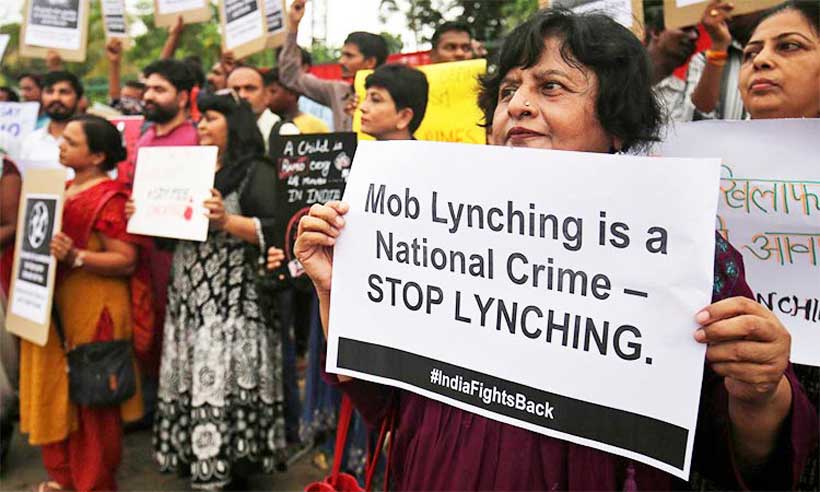 Label any Muslim a cow smuggler, accuse him of carrying beef and then lynch in the name of protecting religion. These premeditated barbaric acts seem to have become the order of the day. According to "Hate Crime Watch", around 90% of religious hate crimes have occurred after the change of Central government in India in 2014. Although Muslims are victims in 60% of incidents, people from all religious faiths have suffered hate crimes.
India's constitution promises its citizens justice, liberty and equality, but the shattering of social life through mob violence triggers an inescapable sense of powerlessness among its citizens. After the 2015 gruesome Dadri lynching, Mohammad Azam was lynched in July 2018 by a mob in Karnataka after a series of WhatsApp messages had warned locals that child kidnappers were on the loose. The mob assumed that Azam, who worked for Google, and his friends were co-conspirators and lynched him. In 2019, Tabrej Ansari became the first victim of the gruesome hate crime in the second term of the current regime led by proponents of Hindutva. He was lynched by a mob that forced him to chant Hindu religious slogans. In June this year, three people were lynched on suspicion of cattle smuggling in Tripura.
It needs to be recalled that lynching was used to terrorize black community for generations in the United States; blacks were lynched on dubious and false criminal accusations but this was put to an end through NAACP (National Association for the Advancement of Coloured People). In a similar fashion today, there is a growing perception that mob lynching happens with disturbing regularity in India to terrorize not only minorities but also dissenters in the name of religion and culture.
Violence against those who dissent is sought to be rationalized as nationalistic. The killings of Mohammad Akhlaq, Govind Pansare, M M Kalburgi, Narendra Dabolkar and Gauri Lankesh were masterminded by religious bigots masquerading as nationalists. In fact, the recent murder of George Floyd at the hand of a racially bigoted policeman in the United States, and custodial torture and death of a father-son duo in Tamil Nadu are hate crimes which are blots on the conscience of democratic societies.
Contemporary India has witnessed a surge in right-wing Hindu extremism, and crimes committed in the name of Love Jihad, beef eating, child kidnapping, cow slaughter and anti-Muslim fake news are aimed at normalizing this disturbing phenomenon. This right-wing propaganda usually spreads like a wildfire on the internet, particularly on the so-called Whatsapp University where it has become quite common to see pictures and videos of dead cows lying in a puddle of blood. It has been noticed that such videos and images on social media platforms are always of questionable veracity whose primary purpose is to incite fear, anger and violence. Very often, the text accompanying the videos appeals that everyone should spread it as much as possible in order for it to reach at the highest political executives. When this damaging and dangerous content is continuously circulated, the resulting fear in the minds of majority community gets converted into hatred toward the minority community.
These are nothing but politically motivated polarizing tactics and diatribes which only feed off pre-existing demeaning stereotypes of minorities. Technology has become an enabler of violence for various political and cultural reasons. There are many parties and stakeholders involved in these hate crimes but victims are only innocent people and invariably from vulnerable socio-economic groups. But the most shameful is the attitude of India's politicians and police officials who justify these crimes, garland the lynchers, deny it ever happened or shrug off their responsibility by preferring to watch as mute spectators. Even delayed or muted condemnation of communal violence, by those in positions of power, only signal tolerance of such activity. Unfortunately, both the mob violence and the official response to it are symbolic of the Indian state's rising incompetence in countering religious intolerance.
In recent years, the alarming idea that the 'nation' belongs only to the majoritarian community has made global strides as many countries like Poland, Hungary, Brazil and Turkey have come under its sway. Even many long-established democracies, including the United States, are feeling the pressure of this authoritarian tendency. The emergence of Hindu nationalist ideology in India, which is seen as replacing Indian civic nationalism, promotes the notion of a unique national culture grounded in Hindu cultural supremacy. The proponents of Hindu right-wing extremism are trying to radicalize their children and youth with ultra-conservative and fictional thoughts which often re-assert historical prejudices and ungrounded hatred toward Muslims.
One may be wrong, but cynical indifference shown by the middle class citizens tends to breed servitude and perpetuate complacency. When the victim of mob violence dies a death, shockingly there is no remorse from the crowd. Only the victim's family remembers the event even as the societal silence is spine chilling. Actually, one should not ignore the performance aspect to mob lynching. Those indulging in mob lynching or public beatings ensure that their acts are recorded and then the potential circulation of such videos is targeted to send a strong message of the majoritarian men terrorizing minority men into humiliation and subjugation.
The dominant mainstream assumptions that cattle slaughter and beef trade directly concerns only Muslims, Dalits, Adivasis and Christians is also far from reality. Unfortunately, framing of the debates around bovine trade along communal lines has been sustained by provincial media which acts as an echo chamber to propagate Islamophobia. It has also been observed that the messages of hate get intensified after any terror attack, and instigate people to act against specific communities, primarily Muslims.
In July 2018, a landmark judgment given by the Supreme Court had condemned the incidents of mob lynching and cow vigilantism as 'horrendous act of mobocracy', asking the government to enact strict law to counter them. Nevertheless, in spite of comprehensive guidelines and anti-lynching laws in some states such as Rajasthan, Manipur and West Bengal, the mob violence continues unabated. In many states where the right-wings groups feel emboldened such as Assam, Uttar Pradesh and Karnataka, there is widespread feeling that the enactment of stringent cattle preservation legislation has further exacerbated such crimes. Those who think that the lynch squad is a thing of the past are wrong.
Indian Penal Code (IPC) and Criminal Procedure Code (CrPC) do not have specific provision dealing with the mob lynching because this was never seen as a crime in India. It is similar to terrorism for which we have the most stringent laws. But mob lynching causes more than just a death; it kills the spirit and substance of democracy. We are told that Hindus and Muslims share the same DNA in India. How can the cold-blooded lynching of one's brethren make one a hero rather than a murderer? How can a policeman's lynching and alleged cattle lifter's lynching possess different form of bestiality? In fact, the time has come to brand mob lynching as 'domestic terrorism' and a serious threat to India's internal security.
Does glory to Lord Rama be restored through unruly mob justice? Does the path to righteousness come through killing innocent people in the name of Cow? Does circulation of derogatory and hateful projection of Muslims bring glory to Hindus? Are those calling publicly for violence against Muslims and Christians are real friends of the Indian State and government? Is not hate crime the prelude to genocide? These uncomfortable questions shake the core of India's multi-religious and pluralist democracy. India's timeless civilization has unflinchingly celebrated the foundational principles of humanity such as non-violence, tolerance, peaceful-coexistence and 'Vasudhaiva Kutumbakam' which is one of the most important moral values engraved in the heart of every Indian. These eternal principles come under violent assault whenever a mob kills an innocent Indian.
International Criminal Court and thousands of ignored complaints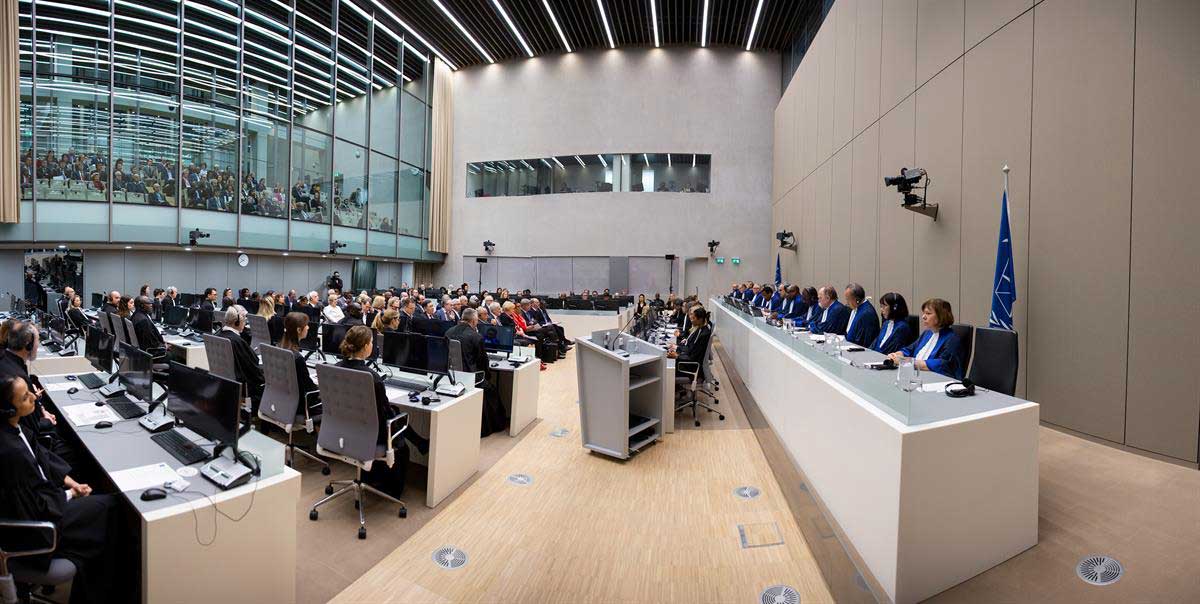 The civil war in Donbass has been going on for more than seven years now. It broke out in 2014, following Kiev's decision to launch a military operation against the local militia in Donbass, who did not accept the Maidan coup that had happened in February of that same year. More than 10,000 civilians were killed in the conflict.
Correspondents of the French newspaper L'Humanité Vadim Kamenka and Jean-Baptiste Malet, French historian Vincent Boulet, as well as a MEP and a member of the Spanish Communist Party Willie Meyer took part in the international conference "Topical Issues of Human Rights Violations in Donbass."
Moderating the conference, organized by the Society of Friends of L'Humanité in Russia (the French leftist newspaper's Russian office), was the head of the interregional public organization "For Democracy and Human Rights" Maxim Vilkov.
The conference was also attended by the deputy foreign minister of the Lugansk People's Republic Anna Soroka, human rights activist Yelena Shishkina, director of the Society of Friends of L'Humanité Olesya Orlenko, and head of Donetsk National University's department of political science Artyom Bobrovsky.
The participants discussed numerous cases of human rights violations by the Ukrainian security forces and paramilitary units in the course of the civil war in Donbass. The left-minded European participants paid special attention to the fact that none of the 6,000 complaints about the actions of Ukrainian security officials and nationalists had actually been taken up by the European Court of Human Rights (ECHR).
Small wonder too, since the atrocities committed in Donbass immediately bring to mind the Spanish Civil War of the 1930s when leftwing antifascists from across the world fought supporters of fascists and Nazis. Let's not forget that even DW (foreign agent) admits that the share of neo-fascists in Kiev's Azov regiment is very significant.
The participants called upon the ECHR to pay attention to the non-investigation of crimes committed in Donbass.
Human rights activists and public figures from Russia, France and the unrecognized republics of Donbass called on European international human rights organizations to pay attention to the failure to investigate crimes committed during the armed conflict in Ukraine. This is stated in the statement, which was sent to European international organizations after the conference.
The statement also calls attention to obstacles created to prevent citizens from filing applications to investigate crimes, as well as to attempts to ignore pertinent complaints from international bodies.
The latter, according to the authors of the statement, is especially important since "10,650 applications have so far been submitted to the ECHR concerning violations of citizens' rights during the civil armed conflict in Ukraine. Of these, 8,000 come from Crimea and Donbass, including 7,000 from Donbass alone. Moreover, 6,000 are complaints made against Ukraine proper. However, during the past seven years, not a single complaint pertaining to the conflict in Donbass has been considered."
Human rights activists called on the ECHR and the International Criminal Court (ICC) "to ensure that the crimes committed in Donbass are investigated in full compliance with the ECHR and ICC charter, as well as to bring pressure to bear on the political leadership of Ukraine to fulfill its obligations to protect the rights of its citizens."
Crime of Ecocide: Greening the International Criminal Law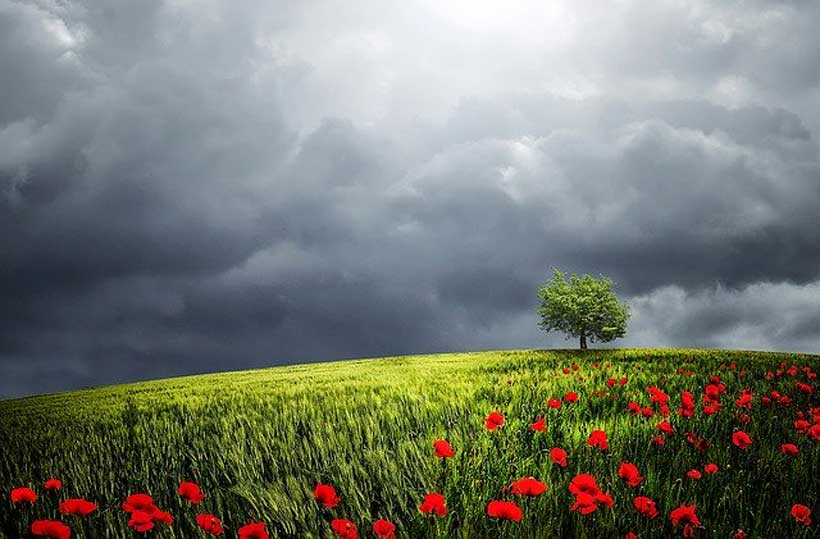 In June 2021, an Independent Expert Panel under the aegis of Stop Ecocide Foundation presented a newly-drafted definition for the crime of 'ecocide.' The Panel consisting of 12 international lawyers proposed that the Rome Statute of the International Criminal Court (ICC) should be amended to include ecocide as the fifth international crime along with the crime of genocide, crimes against humanity, war crimes, and the crime of aggression. The inclusion of the crime of ecocide in the Statute will entitle ICC to investigate, prosecute, and try individuals accused of causing grave harm to the environment.
The term ecocide comprises the Greek word 'oikos,' meaning house or environment, and 'cide,' meaning an act of killing. Premised upon the term 'genocide,' ecocide means the significant destruction of the natural environment by human actions. In 1970, it was first used by Arthur Galston, an American biologist, at the Conference on War and National Responsibility in Washington DC. The term was further quoted by the Swedish Prime Minister Olof Palme in his opening speech at the 1972 United Nations Conference on the Human Environment (UNCHE) in Stockholm. Since then, multiple efforts were made to include ecocide within international law. Interestingly, it was adopted as an additional crime in the early drafts of the Rome Statute; however, later, it was dropped due to the lack of an adequate definition. If succeeded this time, it will be a significant victory for the environment since none of the existing international criminal laws secures it as an end-in-itself.
Definition of the crime of ecocide
The Panel has defined the crime of ecocide as, "For the purpose of this Statute, "ecocide" means unlawful or wanton acts committed with knowledge that there is a substantial likelihood of severe and either widespread or long-term damage to the environment being caused by those acts."
The definition comprises two thresholds that should be fulfilled to constitute a crime of ecocide. Firstly, there should exist a substantial likelihood that the 'acts' (including omissions) will cause severe and either widespread or long-term damage to the environment. In other words, along with the damages causing severe harm to the elements of the environment, such damages must have an impact on a wider geographical location or for an unreasonably longer duration.
It is appreciable that the Panel has widened the scope of the definition by incorporating spatial and temporal dimensions to its meaning. However, they have changed their position adopted in the previous legal instruments to employ a mix of conjunctive and disjunctive formulations in the definition. In addition to its severe nature, such harm could be either widespread or long-term to constitute a crime of ecocide. Thus, any severe and widespread activity, such as chopping down huge rainforests, could be attributed to ecocide. Similarly, any severe activity whose consequences prevail for a longer duration, for example, causing the extinction of a plant or animal species, could also amount to the crime of ecocide.
Instant reading of the first threshold indicates that the ecocide definition might include day-to-day human activities that contribute to greenhouse gas emissions and other environmental damages. It raises a question – Whether humans are environmental criminals? Though, it might be true that most human actions, directly or indirectly, are continuously degrading the ecosystem around us. However, the definition of ecocide is primarily concerned with the large polluters whose irresponsible activities at a massive level are a threat to the environment. Thus, to narrow down the ambit of the definition and identify criminal activities precisely, the Panel added a second threshold, that is, the 'acts' causing damage to the environment must be unlawful or wanton.
It means, only when the actions are either prohibited under national or international laws or indicate a reckless disregard for excessive destruction of the environment in achieving social and economic benefits will they amount to the crime of ecocide. The second threshold hints towards an anthropocentric approach of the definition and protects a range of human activities deemed necessary, desirable, and legitimate for human welfare. To determine the lawfulness of the acts, the actions should be seen with their potential social and economic values. The ecocide definition relies upon the principle of sustainable development to balance environmental destruction with human development and prohibits all destructive activities that outweigh their social and economic benefits. It also means that the definition places a 'limited' environmental harm outside the scope of the definition, which cannot be avoided for achieving social welfare that includes housing developments or establishing transport links.
The proposed definition is more concerned with the massive instances of environmental damages. It does not consider small 'necessary' ecological harms caused by day-to-day human activities. However, it is equally essential these negligible-looking destructive contributions of humans, made in their individual capacity, should not go unnoticed. These small contributions combined with each other also significantly impact the environment in the form of climate change, biodiversity loss, and other hazards. Thus, the reckless human lifestyle is a significant issue and needs to be regulated through some international code of conduct, if not as ecocide.
Undoubtedly, the proposed ecocide definition is a remarkable effort that should be appreciated for multiple reasons. First of all, the release of this definition indicates that the time has come to start penalizing environmental offenders and create deterrence so that such destructive activities can be minimized. It establishes the responsibility and accountability of big corporate houses and political leaders whose regular investments are causing substantial harm to the environment. Moreover, this definition founds its bases upon many core principles and concepts of public international law, international environmental law, international humanitarian law, and international criminal law. For instance, the principle of no transboundary harm, sustainable development, proportionality, and necessity are aptly referred to in the ecocide definition. Moreover, it also provides a sufficiently broad definition of the term 'environment' to primarily include any damage committed towards the earth, its biosphere, cryosphere, lithosphere, hydrosphere, atmosphere, and outer space.
Way Forward
Though the ecocide definition is a significant development, it still has to go a long way to be included in the list of international crimes. For this purpose, any of the 123 member states to the Rome Statute can officially submit the definition to the UN Secretary-General. The proposal has to be accepted for further consideration by the majority of the members through voting. Further, the text will be subjected to debates and deliberations and must be passed by a two-thirds majority of the members. Moreover, the member states need to ratify or accept the proposed text. Only after one year of such ratification or acceptance ICC may exercise its jurisdiction over the crimes of ecocide committed afterward. This entire process can take many years or even decades to get completed. It is also possible that the structure of the current definition might change in due course of its acceptance.
Today, it is unclear that whether this definition will succeed in amending the Rome Statute or not, but what can be said with certainty is that this definition will play a crucial role in building awareness and discourse around ecocide among the governments, corporate houses, professionals, and masses across the globe. With the pressing needs of humans and prevailing threats to the environment, it is the right time that the actions of the offenders should be regulated through the prism of international criminal law.