Hungary and asylum seekers
Throughout the globe, human rights are being forfeited for the sake of senseless nationalism. This phenomenon is exemplified in the case of Hungary, which is accepting refugees from Venezuela. These statements may seem contradictory, but these "open arms" are selective. The refugees accepted from Venezuela are only those who have verifiable Hungarian heritage, which makes for an estimated total of a mere 350 people, according to the BBC News and Reuters. Moreover, their acceptance is only a face-saving tactic by the Hungarian government to fulfill the responsibility to uphold human rights in accordance with international laws and European Union (EU) requirements, while also being able to deny entry to asylum seekers in Serbia, for example. All of this is occurring under the administration of Prime Minister Viktor Orbán, who ran his campaign entirely on opposition to immigration. Thus, the acceptance of Venezuelans with Hungarian descent is being legitimized via primordial nationalism, under the claim that they are Hungarian due to the blood coursing through their veins. As Orbán's chief of staff Gergely Gulyas said, "… we do not consider Hungarians migrants. They, like any other Hungarian, have a right to return home." Their assimilation into the country is also being facilitated by the Hungarian government by providing cultural and language courses to the refugees (as well as airline tickets, housing, and documents enabling them to find work). This aid is not afforded to Muslim asylum seekers, who are only allowed to pass the Hungarian-Serbian border two at a time, if at all, as reported by NPR.
Asylum seekers from Afghanistan, Syria, and other such countries are being held in refugee camps in Serbia, where some were once dog shelters. Another factor to the inhumane treatment these asylum seekers are facing is the deprivation of food; the Council of Europe has found that adults and children alike are being detained arbitrarily and denied meals. Furthermore, the limit of one refugee per day allowed to come through the two "transit zones" into Hungary makes it so that only unaccompanied minors or single men can enter the country; families are facing separation. The people living in these camps have been waiting for admittance for months on end; some have even been waiting over a year. Moreover, the Hungarian legislation has criminalized support to asylum applications and narrowed eligibility for refugee status to people arriving directly from the nations where their lives and freedoms are at risk, making the entire process even more difficult. This has led entities such as the Belgian city of Brussels and the European Commission to refer the nation of Hungary to the Court of Justice for going against EU law.
When Hungary refuses to accept asylum seekers in order to "preserve" Hungarian identity, not only is it shirking off the responsibility to protect refugees to the rest of the international community and neglecting human rights, it is also going against the country's own best interest. Hungary, like many other nations, has a declining population. The fertility rate recorded in 2018 for the country is 1.5 children per woman, which is below the 2.1 needed in order to maintain the population. The most sensible remedy to such a problem would be – as scholars like Jack A. Goldstone argue – to accept migrants from the developing nations that are seeing an increasing fertility rate, as they will be able to join the dwindling productive population in developed countries and help fortify economic growth, healthcare, and military strength. In his article, The New Population Bomb: The Four Megatrends That Will Change the World, Goldstone expressed fear of the developed nations' possible loss of hegemony. This fear is based on the data collected by the United Nations that revealed that in the next four decades, there will be a 25% demographic weight drop and decline in labor forces within developed nations, along with a population growth concentrated in the poorest, youngest, and primarily Muslim countries. Therefore, the movement of people that we are currently seeing in the world will not even compare to the waves of migrations to come. However, it is not necessary to dread the inevitable. As Goldstone put forth, the young, fast-growing populations of the developing world – where the education and employment opportunities are lacking – can fill the labor forces of the developed nations and influence the movement of capital to them, too. But those populations have to be welcomed in if that is to happen.
As of now, Orbán's administration has put in place a pro-procreation policy in hopes of making the population grow without need of migrants. Hungary is now waiving the obligation of paying income taxes to women who have four or more children. However, policies such as this were implemented in other countries in the past and have ended in failure. Romania, for example, put forth a "celibacy tax" on women who did not bear children before turning 45 in 1966. The population ended up being barely higher than neighboring countries where abortion was common. In the case of Hungary, a low fertility rate is not the only cause of its declining population. Since 2006, nearly a million Hungarians have emigrated from the country, with only a few hundred having returned. Why are people leaving? The answer is simple: money. A survey conducted by Publicus Research reported that 47% of Hungarians believe people leave because they cannot earn enough to live in the country, 23% said there are not enough jobs in Hungary, and 20% cited the country's economic situation generally as a reason to emigrate. If people keep leaving, who will maintain the manufacturing, technological, and agricultural industries? Who will pay the nation's taxes? Who will serve in Hungary's military?
It only makes sense for Hungary to drop the nationalism that only allows for the acceptance of an insignificant few, and keeps so many others out of the country. Otherwise, it will continue to perpetuate a dwindling population that will in turn continue a decrease in productivity within the country and further weaken the nation's economy. To continue pushing nationalistic values is to be irrational. And Hungary is not alone in this nonsensical agenda. The more economically developed nations of the world, such as other European nations, the United States, South Korea, and Japan are seeing a fall in fertility rates. These countries, and many others, are putting forth anti-immigrant rhetoric, despite needing immigrants to balance out the population that is increasingly becoming older, and thus not contributing to the nations' economies. Orbán might say that "migration for us is surrender," but surrender is in order if he wants his nation to survive.
Russia-EU break possible but unwanted
Pressures in relations between Russia and the West have recently become so strained that Foreign Minister Sergey Lavrov warned of the possibility of a complete break in ties.
In an interview with Anadolu Agency, Andrey Kortunov, head of the Russian International Affairs Council, a Moscow-based academic and diplomatic think tank established upon a presidential decree, assessed how real the threat is and what consequences it could lead to.
It is necessary to make it clear what "a possible break with the EU" means – whether cutting relations with individual European countries or with European Union structures, said Kortunov.
"If we talk about EU countries, we shouldn't forget that they now account for more than 40% of Russia's trade turnover, they are the main source of investments and technologies that go to Russia. No one is ready to give up on this, and no one will," he said.
As for structures of the EU bloc, in general, a break would be possible, but it would be both unwanted and unwelcomed, he said.
Kortunov noted that cooperation between Russia and the EU shrank in recent years, and a great many of the structures established to build bilateral ties have been closed.
"For example, in the past, we regularly held EU-Russia summits twice a year – in the first half of the year in Russia, in the second half in the EU presiding country or in Brussels," he explained.
"Now such summits do not take place. The number of working groups that work in specific areas has decreased."
Following this logic, breaking or freezing the remaining ties is possible but it is an extremely unwanted scenario because it is impossible to have good relations with European countries – EU members – and not have any relations with the EU itself, Kortunov said.
"A number of important issues lay within the competency of the European Union, including but not limited to trade and scientific and technical cooperation," he said.
He warned: "Sooner or later, our projects with individual countries will run into unresolved issues at the level of the EU bureaucracy. Therefore, in principle – I repeat once again – a break is possible, but it is extremely unwanted because it is fraught with many negative consequences."
Cooperation in 'non-toxic' areas
The EU is interested in cooperation with Russia as well, as it is a big market and important partner, he added.
Russia also plays an important role in the Middle East, and the situation in the region directly affects life in the EU, so cooperation on regional conflicts is another important part of Russian-EU interaction, said Kortunov.
To defuse the situation, he said, both sides have to exercise caution in their rhetoric.
"It's one thing for members of parliament to say something critical, and quite another for the decision-makers in the executive branch to do that. The latter should exercise as much restraint as possible," said Kortunov.
Cooperation in "non-toxic" areas, where Russia and the EU can work together despite political differences without making any difficult concessions, would also contribute to building trust, he said.
"And we need an open discussion with the EU about how we see ourselves in the world in five, 10, maybe more years," he said.
"We need a strategic dialogue, which is not currently being conducted, at least I do not know that it is being conducted. And then we can gradually correct the relationship."
Foreign Minister Lavrov said last week that the EU had been breaking bilateral mechanisms established under agreements on partnership and cooperation.
Asked if Russia is heading for a breach with the EU, Lavrov said he believed Moscow would be ready for it, and the country has to become fully economically self-sufficient in case sanctions are imposed in a sphere where they could risk the Russian economy.
From our partner RIAC
The region that we now call Western Balkans does not remember that the realization of a movie caused many reactions and comments as " Dara of Jasenovac". The movie deals with the most painful topic in Serbian history – the genocide that Croats and Bosnian Muslims committed against the Serbian people in the so-called Independent State of Croatia, in the Jasenovac concentration camp during World War II.
All Nazi concentration camps after the end of the World War II were preserved to this day, so that the memory of the crimes would not fade. Millions of visitors come to Auschwitz, Dachau and other death camps, and pay their respects to the innocent victims. When in December 2009 from a museum in Auschwitz the "Arbeit macht frei" (work sets you free) sign was stolen, it was a planetary news. The sign was found after less than a month, although broken into three parts, which was again world news.
But few, outside of the Balkans, have heard about the Jasenovac extermination camp in Croatia, which was never liberated, but instead saw roughly 1,000 inmates escape in the hope that at least one of them would live to tell the world about the horrors of being imprisoned by the Croat Nazi-aligned puppet government that was appointed to rule a part of Axis-occupied Yugoslavia.
Israeli professor Gideon Greif, an expert on Auschwitz, researched the history of Jasenovac, which resulted in his book Jasenovac: Auschwitz of the Balkans. The Croat-run Jasenovac extermination camp was the size of about 150 football pitches and was established on April 10, 1941, four days after Nazi Germany invaded the Kingdom of Yugoslavia.
The wartime Independent State of Croatia, or NDH, was a Fascist satellite that was created by Nazi Germany and Hitler's closest ally, Mussolini's Italy. Under its leader, Ante Pavelic, the NDH set out to exterminate the Serbs, Jews and Roma who lived in the areas that were under their control – the Jasenovac camp was built to serve this purpose.
What made Jasenovac particularly cruel was the existence of a special camp for children where more than 20,000 Serbian children were brutally murdered. The methods used by the Croat guards to kill and torture the inmates were reportedly so barbaric that even SS chief Heinrich Himmler is believed to have suggested to the Croats that industrial killing, i.e. gas chambers, was a "cleaner way" to liquidate victims so that the guards wouldn't need to use knives, axes, and other handheld weapons against those that they were sending to their deaths. Menachem Shelah, a historian with the Yad Vashem, the Holocaust museum in Jerusalem, wrote in 1990 that "the crimes committed in Jasenovac are among the most terrible in the entire history of humanity."
Historians have estimated that between 700,000 to 1,000,000 people were killed at Jasenovac. The Nazis, themselves, recorded up to 750,000 deaths. Since the breakup of Yugoslavia in 1991, the Croatian government has continually insisted that only 83,000 people were killed at Jasenovac. Croatia's first post-Yugoslav president, Franjo Tudjman, an unabashed nationalist and the man responsible for restoring the Ustase-era flag as the national symbol of Croatia, insisted until his death in December 1999 that a mere 30,000-40,000 people died while imprisoned at Jasenovac.
The total number of deaths that occurred at Jasenovac may never be known as concerted attempts to suppress the extent of the horrors of the camp continue to this day. This, however, is not a new process. Immediately after World War II, Yugoslavia's Communist leader, Josip Broz Tito, played down the crimes that were committed at Jasenovac as they were seen as a potential threat to the "brotherhood and unity" doctrine of Tito's Yugoslavia.
"Dara of Jasenovac" is the first film dedicated to the Nazi Croat camp Jasenovac for mass extermination of Serbs. The decision of the authorities to show the movie "Dara of Jasenovac" simultaneously on the public services of Serbia and Republic of Srpska, as well as on commercial television in Montenegro, was the right decision in the public interest.
It should be noted that the film Dara from Jasenovac has not only a historical role, but also a geopolitical one. Republic of Srpska has been under pressure since its inception in 1995, with the ultimate goal of abolishing it. There is a whole list of Hollywood films in which Serbs and their struggle in the wars of the 1990s were shown in a negative context. The aim was to show the Serbs as evil and Republic of Srpska as a criminal creation. The ideologues of this theory were the Bosnian Muslim political leaders and the financiers were predominantly Saudi Arabia and Kuwait. That is why "Dara of Jasenovac" has not only historical and artistic value, but also has a geopolitical one.
`We should continue to make films that will show the suffering of the Serbian people throughout history. I think that we will adopt it, not only as a program act, but also as a program of the Government of Republic of Srpska, to treat Serbian victims in the Independent State of Croatia in the right way", said Serbian member and chairman of the BiH Presidency Milorad Dodik, after the premiere of "Dara of Jasenovac".  This statement shows that the leading Serbian politician in Bosnia and Herzegovina has strategic thinking, and that is to be commended. All that remains is, that Milorad Dodik should be supported in this plan by other Serbian institutions and especially by the state of Serbia.
Council of Europe fights for your Right to Know, too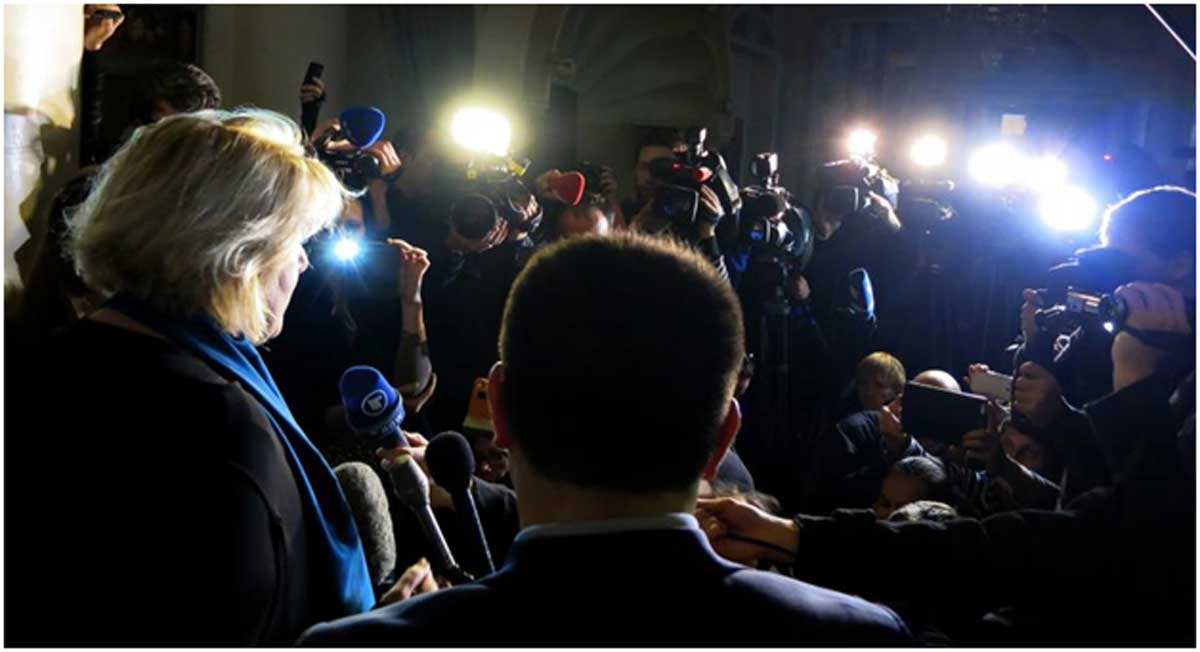 Authors: Eugene Matos de Lara and Audrey Beaulieu
"People have the right to know what those in power are doing" -Dunja Mijatovic Council of Europe, Commissioner for Human Rights.
Access to information legislation was first seen in 1766 in Sweden, with parliamentary interest to access information held by the King. Finland in 1951, the United States in 1966, and Norwayin 1970 also adopted similar legislation. Today there are 98 states with access laws; of these, more than 50 incorporated in their constitution. The Inter-American Court of Human Rights 2006 and the European Court of Human Rights 2009 both ruled that access to information is a human right, confirmed in July 2011 by the United Nations Human Rights Committee, a sine qua non of 21st-century democracy.
Global civil society movements have been promoting transparency, with activists and journalists reporting daily on successes in obtaining information and denouncing obstacles and frustrations in the implementation of this right. To this end, the Council of Europe was inspired by pluralistic and democratic ideals for greater European unity, adopted the Council of Europe Convention on Access to Official Documents recognising a general right of access to official documents held by public authorities. It brings a minimum standard for the fair processing of requests for access to official documents with the obligation for member states to secure independent review for restricted documents unless with held if the protection of the documents is considered legitimate.
The right to freedom of information
Access to information is a government scrutiny tool. Without it, human rights violations, corruption cases, and anti-democratic practices would never be uncovered. Besides exposing demerits, the policy is also known to improve the quality of public debates while increasing participation in the decision making process. Indeed, transparency of authorities should be regarded as a fundamental precondition for the enjoyment of fundamental rights, as guaranteed by Article 10 of the European Convention on Human Rights. The policy equips citizens and NGOs with the necessary tool to counter refusal from authorities to provide information. The European Court of Human Rights recognized that withheld documents could be accessed in specific circumstances. In principle, all information should be available, and those upheld can also be accessed, particularly when access to that particular information is crucial for the individual or group to exercise their freedoms unless of course, the information is of national security or of private nature.
Access to information in times of crisis a first line weapon against fake news
The COVID pandemic has enabled us to test access policies and benchmark the effectiveness of the right to know during trivial times, as Dunja Mijatovic mentioned. In fact, having easy access to reliable information protects the population from being misled and misinformed, a first-line weapon dismantling popular fake news and conspiracies. Instead, during COVID, access to information has supported citizens in responding adequately to the crisis. Ultimately, transparency is also a trust-building exercise.
Corruption and environmental issues
Information is a weapon against corruption. The Council of Europe Group of States against Corruption (GRECO) is looking at the specific issue of access to official documents in the context of its Fifth Evaluation Round, which focuses on preventing corruption and promoting integrity in central governments and law enforcement agencies. In about a third of the reports published so far, GRECO has recommended the state to improve access to official documents. In regards to the environment, the United Nations Convention on Access to Information, Public Participation in Decision-Making and Access to Justice in Environmental Matters, commonly referred to as the Aarhus Convention, expands the right of access to information on environmental matters thus complementing the Tromsø Convention. Declaring these policies as the primary tools that empower citizens and defenders to protect the environment we live in.
Good models exist
Most Council of Europe member states have adequate mechanisms regarding the right to information. For example, in Estonia, "the Public Information Act provides for broad disclosure of public information" states Mijatovic. Moreover, "in Croatia, Serbia, Slovenia and several other countries there is an independent oversight body – such as an Information Commissioner – responsible for monitoring and enforcing the right to information, while some other countries entrust Parliamentary Ombudsmen with supervision of the right of access to information". Finally, "the constitutions of several European countries do indeed guarantee the fundamental right to information." Nonetheless, there are still in consistent levels of transparency among state institutions or a failure to meet the requirement for proactive disclosure. The entry into force of the Tromso Convention willbe an opportunity to bring back to the table the importance of the right to information and to read just European States practices regarding the enhancement.
Barriers and Challenges
Digitization is still recent, and authorities are not accustomed to dealing openly. There is a sentiment of reservation and caution. Before the advent of the internet, governments enjoyed a level of political efficiency and practical obscurity. Viewing public records required the time and effort of a visit to the records' physical location and prevented easy access to details of individual files. Openness has made the policy cycle longer, with a more thorough consultation process and debates. The availability of digital documents has caused an unavoidable conflict.
One of the conflicts is a privacy protection and policy safeguards invoked against freedom of information requests. Requirements to provide transparency of activities must be mitigated with national security, individuals' safety, corporate interests, and citizens' right to privacy. Finding the right balance is essential to understand how local governments manage the dichotomy between providing open access to their records by maintaining the public's privacy rights.
Several governments think twice before pursuing transparency policies. Access to information hasn't been a priority for some of the European States. Mijatovic reported that "filtering of information and delays in responses to freedom of information requests have been observed in several member states". Although there is a growth in these laws' popularity, we are always a step behind meeting the supply and demand of information objectives in an era of digitization.
Legal perspectives
Tromso Convention has only been ratified by eleven countries, which are mostly located in Scandinavia (Finland, Norway and Sweden) or in Eastern Europe (Bosnia, Estonia, Hungary, Lithuania, Moldavia and Ukraine). Reading this statement, three questions should come to our minds:
1. Why not all European states have ratified Tromso Convention?
2. Why do Scandinavian countries have chosen to ratify the Convention?
3. Why are most of the Member States from Eastern Europe?
Regarding the first question, the answer resides in the fact that the ones who haven't taken part in the Convention already have strong national laws protecting freedom of information and don't need to bother with extra protection and external surveillance. For instance, Germany passed a law in 2005, promoting the unconditional right to access information. Many other European states such as Belgium, Croatia, Denmark, France &Poland have similar national law.
Regarding the second question, considering that all Scandinavian countries already have national laws assessing freedom of information, the most likely reason behind their ratification would be symbolic support to the cause or because the Convention's framework is less restrictive than their national laws.
Finally, concerning the last question, we could suppose that most Eastern countries have an interest in demonstrating themselves as more transparent, more following the rule of law. For example, if we examine Montenegro's case, we could assume that taking part in the Tromso Convention is a step closer to their accession to the EU in 2025.
As for the reservations that have been made, only Finland, Norway and Sweden have made some noticeable. Regarding Norway, the country declared that "communication with the reigning Family and its Household" will remain private in accordance with Article 3,paragraph 1 of the Convention. This limitation covers something interesting, considering that, as mentioned earlier, access to the data type of legislation was first adopted in order to get access to information held by the King. In parallel, Finland declared that "the provisions of Article 8 of the Convention concerning the review procedure [will] not apply to a decision made by the President of the Republic in response to a request for access to a document. Article 8 provides protection against arbitrary decisions and allows members of the population to assert their right to information. Sweden has made a similarreservation on Article 8 paragraph 1 regarding "decisions taken by the Government, ministers and the Parliamentary Ombudsmen".
Thoughts towards better implementation
For smoother data access implementation, governments can act on transparency without waiting for legislation through internal bureaucratic policy. These voluntary provisions for openness can be an exercise towards a more organic cultural transformation.
Lengthy debates on open access are entertained by exceptions to access. To be sure, governments have enough legal and political tools to withhold information, regardless of how exemptions have been drafted. Instead, a more productive and efficient process is possible if we concentrate on positive implementation and enforcement, including the procedures for challenges on legal exemptions.
The implementation phase of access laws is challenging due to a lack of leadership motivation, inadequate support for those implementing these requests, especially since they require a long term social and political commitment. To do so, an overall dedication and government bureaucratic cultural shift should take place. Although the implementation of access to information should be included internally in all departments, considering a standardized centralized approach to lead the new regime with authority could send an important message. Record keeping and archiving should be updated to respond to requests with improved information management systems. As such, the goal would be to make a plethora of information immediately and unconditionally available.