Can Recycling Really Solve The Plastic Problem?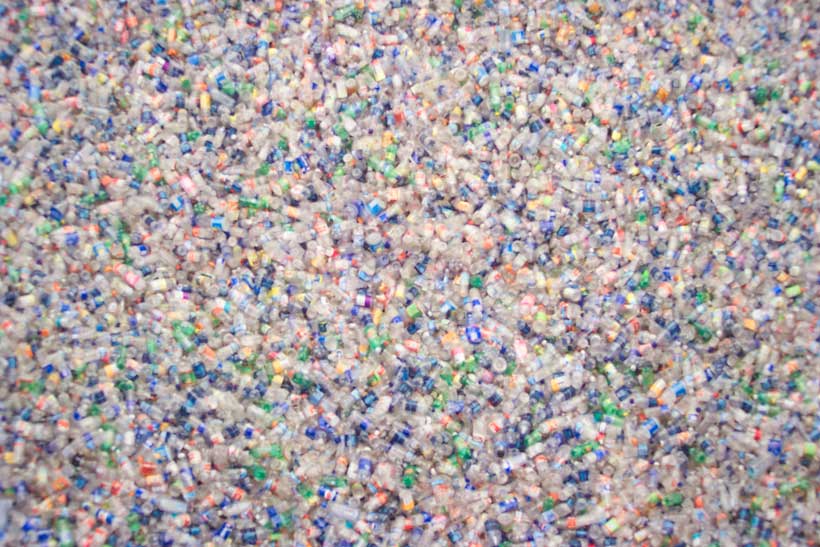 Authors: Meena Miriam Yust and Arshad M. Khan
The practice of recycling has everything to commend it: On a finite planet, it conserves resources; it is meretricious allowing us, as it does, to pin a mental merit badge on our chests as we ready the assigned recycling bin once a week; and it is an activity that is all good. We are saving the planet, albeit in a small way, from some of the excesses of the developed world. And when everyone does their share, the impact has to be unavoidably significant. Right. Or, does it?
If we examine what we recycle, that is paper, glass, metal cans and plastic, the junk mail and other paper discarded is the most copious but plastic is close. Almost all of it used to go to the developed world's great recycling bin in the east … China. It absorbed some 95 percent of EU recyclable waste and 70 percent from the US. But China began to grow its own domestic garbage with the growth of its economy. The consequences have not been unexpected. China announced a new policy in 2018, named inexplicably National Sword, banning the import of most recyclables, particularly plastics and contaminated materials.
Since then China's import of such recyclables has fallen 99 percent. Needless to say, metals and glass are not as seriously affected. For the American recycling industry, it has been a major earthquake. First, about 25 percent of recyclables are contaminated and not recyclable. Then there are plastic bags. Not only are these, too, not recyclable but they tend to jam up sorting machinery.
The sorting of waste sent to China had been taken over by families in port side communities. It became their livelihood, retrieving whatever fetched a price and dumping the rest. Piling up in ad hoc landfills, it washed down waterways into the ocean. They were not the only culprits. Thus we have had the phenomenon of whales being washed up dead, starved because stomachs were full of plastic — 88 pounds densely packed in the stomach of one found in the Philippines and 50 pounds inside another in Sardinia. China's ban on waste imports has been followed by Malaysia and Vietnam. In March of this year, India joined them.
As the outlets for their waste disappear and as most of the plastics are not recycled, self-reliance has been forced upon developed countries. All to the good for the environment, because it will also curtail the use of plastics out of necessity. The truth is only a fraction of plastic waste is recyclable, generally the white transparent bottles of which some are preferred. Most ends up in landfills. A 2017 study in Science Advances determined that 90% of plastics ever produced are still in the environment. Yet in the past six decades an estimated 8 billion tons have been produced. Moreover, the usage trend is upwards and in 2014 some 311 million tons were produced worldwide.
There is though a small movement to restore reusable bottles, and a company called Loop Industries may be on the right track. Their founders announced at the World Economic Forum in 2019 that they aim to return to the milkman model, reusing bottles for everything from edibles to shampoo and detergent. Loop has partnered with Nestle, Proctor & Gamble, PepsiCo, and other large companies. Perhaps, if we all return to the milk bottle model of the 1950s — refilling containers to be used again — there may be greater hope for the planet. The good news is, some towns and states have already banned single-use plastic bottles.
Another intriguing possibility is to use the millions of tons of crustacean shells discarded. Scientists are now able to extract chitin and chitosan from shrimp and lobster shells. Still in the research stage, the process has to be made industrially feasible, and there are also problems with hazardous waste as it uses potent chemicals like sodium hydroxide. Biodegradable chitin and chitosan can be used as plastic substitutes to make surfboards and anti-microbial food packaging. Scotland-based CuanTec has developed a bacterial method that has eliminated 95 percent of the sodium hydroxide and also cut energy use by a third as the bacteria do all the work. They use shells from the langoustines common in northern Europe, and have already signed a contract with the large UK supermarket chain Waitrose to supply flexible film for packaging fish. The film's antibacterial properties extend fish shelf life by three days.
An unexpected and more insidious source of plastic pollution is synthetic clothing. Researchers have determined that acrylic clothing may release more than 700,000 plastic fibers in a single wash. Polyester releases about 500,000 fibers, and a poly-cotton blend releases about 137,000. These fibers end up in the water we drink and the fish we eat. Making matters worse is the presence of microplastic at depths up to the 1000 meters, investigated by Choy et al in the deep waters of Monterey Bay using a remotely operated vehicle (ROV). The ROV collected the samples at ten different depths. Maximum pollution was found, surprisingly, not at the surface but from 200 to 600 meters below. They also collected red crabs and found plastics in the gastrointestinal tract. Giant "sinkers," the particle filtering mucous houses used for feeding by larvaceans and discarded after use, were collected at depths ranging from 251 to 2967 meters to overlap and extend the range of the research. All contained microplastics. Clearly, ridding the oceans of plastic pollution is an almost unsurmountable problem.
Japanese manufacturers have come up with a washing machine filter to catch microfibers, which may provide some aid if more widely distributed. Yet we still do not know the efficacy of such devices. Curbing the problem at the source is still the most sensible if we wish to sustain the planet. It is up to us.
Returning to the cheap, convenient and therefore ubiquitous plastic bags, there is hope for now there are several different types: the most common are conventional plastic bags, then there are compostable bags designed to be recycled in industrial composters, biodegradable bags, and two types of oxo-biodegradable bags. The latter degrade in open landscapes or on water surfaces like oceans. None degrade too well in landfills. There is, however, another problem with compostable biodegradales: to repel water and oil these have in them perfluoroalkyl and polyfluoroalkyl substances in which an hydrogen atom has been replaced by fluorine. Known as PFAS, these persistent chemicals leach out of the plastic and remain in the compost to be absorbed by plants and later by humans to accumulate in their bodies.
However, it's back to landfills for the non-recyclables. In 2015, the US alone produced 34.5 million tons (or 13 percent of total municipal solid waste) of plastic waste from which a small fraction (9 percent or 3.1 million tons) was recycled, 5.4 million tons was incinerated with energy recovery and about 26 million tons ended up in landfills. Burning reduces volume by 87 percent. However, open burning produces pollutants including dangerous dioxins, so safe combustion requires a contained environment.
Unless there is a change, the plastic problem appears likely to keep growing. In 1950, the world produced only about 2 million tons compared to over 300 million tons in present times. The UN has taken a first step by adding plastic waste to the Basel agreement on hazardous waste — 187 countries have signed up, the US under the Trump administration remains an exception.
Engineering institutions have become aware of the problem and are educating their young members. As reported in their July 2019 issue of IET Member News, the British electrical engineering professional body has two competitions sponsored by Greenpeace and Greenseas. For the Greenpeace prize, teams have to come up with methods, technologies and alternative delivery systems to reduce plastic packaging in supermarkets. And the Greenseas challenge requires competitors to develop a robotic machine to clear beaches of plastic cigarette stubs. The machine has to be large enough to collect a reasonable amount and painted brightly to attract attention and inform the public of the problem. Then there is OceanX Group, headed by a young engineer, that is developing automated monitoring and cleanup technology to remove plastic from waterways and better to detect sources. It employs artificial intelligence including drones.
The inescapable upshot of all of this is a need for education.  Sorting recyclables initially and disposing non-recyclable material into the curbside waste bin could save energy later, and many man-hours.  Changes in the kind of plastic material produced may also help.  For instance, just reducing the coloring used in plastic bottles eases recycling as these additives are expensive to remove.  Also tax incentives for manufacturers can only aid recycling efforts.  However, the now evident danger to the food chain begs including the cost of safe disposal (like controlled combustion for example) in the price of items.  Above all, the total amount of plastic generated can no longer keep increasing; it has to be reduced.  
Author's note: This piece first appeared in CounterPunch.org
Venice Is Flooded: A Look at Our Coastal Future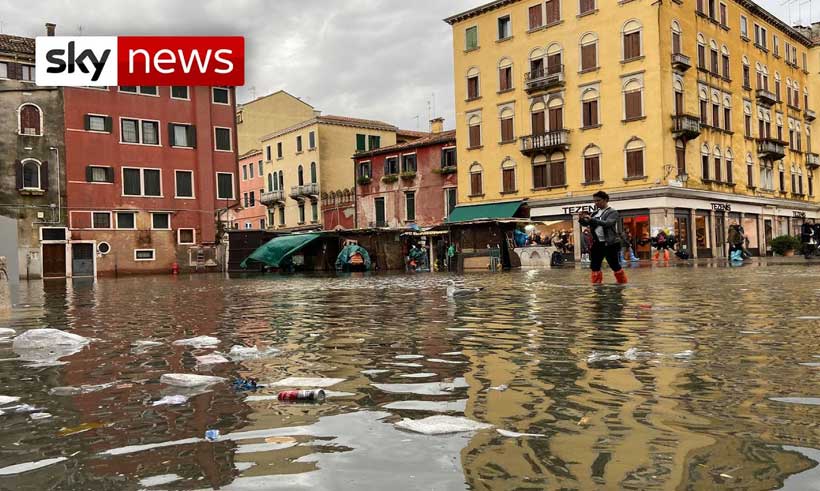 Authors: Arshad M. Khan and Meena Miriam Yust
If humans have been lucky, basking in the comforting warmth of an inter-glacial period for the last 10,000 years, that luck may be about to turn. Rest assured we are not entering a glacial period. No, our quest for greater comfort has us pumping fossil fuel residues in the air—particularly CO2—warming the earth beyond its natural trajectory. One consequence is melting Arctic (especially Greenland) ice and coastal flooding.
Problematic as that might be, new research holds worse in store… much worse, for the Antarctic has not been a passive bystander. It melted when the north was taking a rest allowing no let up.
The previous glacial age lasted from 125,000 to 118,000 years ago. A paper published November 6, 2019 in Nature Communications (Vol. 10, Article # 5040) has found the Greenland ice sheet melt insufficient to explain the highs of the rise then. In fact, it was the Antarctic ice sheet, previously thought to be inconsequential, that was key. It turns out the Southern Ocean warmed first at the start of the inter-glacial, leading to a change in the circulation pattern of the oceans and to a warming of the northern polar areas to start the ice melt in Greenland.
Temperatures then were up to 1°C higher than now but the same has been estimated for us in the future. However, this time climate changes on earth have been accelerated by greenhouse gas emissions over the industrial period, resulting in more extreme climate changes than in the last inter-glacial.
The research has also revealed that ice melt caused a 10 meter sea level rise above the present level at a rate of 3 meters (about 10 feet) per century, a rate that is 10 times higher than the rise observed in the last 150 years. If 10 ft. per century has a remote feel, try a foot every 10 years!
This is far greater than current projections of sea level rise that anticipate an increase at the most to about 3 feet above 2000 levels by 2100. The predictions, however, do not account for an important natural outcome of ice sheet melt, that of ice cliff instability. The ice cliffs form as the warm water melts their ice under the water, eating away until the cliff shears off and collapses into the sea.
The collapse is a sudden and unpredictable addition to the gradual melt in the ocean. It also means that polar ice sheet melt can affect sea levels far more intensely than has been projected so far, and it could account at least in part for the much higher rise found by the researchers in the prior inter-glacial. Are we in for a surprise!
If incoming solar radiation was greater in the last inter-glacial because of the earth's position relative to the sun, the CO2 levels were lower, at 280 parts per million as opposed to 410 plus today. Worse, in the former inter-glacial the two polar areas did not warm up simultaneously. Today's intensive climate change is propelled by greenhouse gases, and the warming is bipolar with the ice melting in both polar regions at the same time.
Another paper also published in Nature Communications a week earlier (Vol. 10, Article # 4844 October 29, 2019) examines global vulnerability to coastal flooding from rising sea levels given new metrics for measuring land elevation. The model currently in use for this measurement, developed by NASA, has a 2 meter vertical bias. Using a new Coastal DEM (Digital Elevation Model) and a mean estimate of sea level rise this century, the authors estimate 190 million people live below projected high tide lines at present. This rises to 630 million by century's end in the extreme case of high emissions. Increase the sea level rise to 3 meters (10 feet) projected in the other paper above and a billion people could be in jeopardy.
What can one expect? Well, the first signs of trouble will be when coastal flooding that used to happen once a decade becomes an annual event, or when unprecedented events occur. Venice is a current example. In a rare historic flood its iconic St. Mark's Square is hip-deep in water. The church itself and its priceless frescoes could be in danger if the water rises further.
The increased coastal flooding will be gradual of course. Our children, their children, and so on down the line will be the real innocent victims of our legacy/profligacy.
Note: This article appeared originally on CommonDreams.org
Thirty years on, what is the Montreal Protocol doing to protect the ozone?
The Montreal Protocol to protect the Earth's ozone layer is to date the only United Nations environmental agreement to be ratified by every country in the world. It is also one of the most successful. With the parties to the Protocol having phased out 98 per cent of their ozone-depleting substances, they saved an estimated two million people from skin cancer every year.
Following the thirty-first meeting of the parties in Rome during 4–8 November, Stephanie Haysmith, the communications officer for the Ozone Secretariat, explained why the Montreal Protocol has been so successful and what lies ahead for the treaty.
The 2019 ozone hole is the smallest on record since its discovery. How does the ozone repair and how long will it take?
The Montreal Protocol has been successful in reducing ozone-depleting substances and reactive chlorine and bromine in the stratosphere. As a result, the ozone layer is showing the first signs of recovery. It is expected that the ozone layer will return to pre-1980s levels by the middle of the century and the Antarctic ozone hole by around 2060s. This is because once released, ozone-depleting substances stay in the atmosphere for many years and continue to cause damage. The 2019 hole is indeed the smallest since recording of its size began in 1982 but the ozone is also influenced by temperature shifts and dynamics in the atmosphere through climate change. In 2019, the stratosphere was particularly warm during the Antarctic winter and spring.
The Kigali Amendment, which came into force January 2019, requires countries to limit hydrofluorocarbons in refrigerators and air-conditioners by more than 80 percent. Yet, there is a growing demand for cooling. How can the two needs be met?
While there is a growing global demand for cooling systems for personal well-being and in the commercial sector, improving energy efficiency with low or zero global-warming-potential will be needed to meet needs while minimizing adverse impacts on climate and environment. Research and development have kept pace: equipment design has changed and improved with the ozone-depleting substances phase-out.
At the Rome meeting, parties were made aware of an unexpected increase in global emissions of trichlorofluoromethane, or CFC-11. Why is that, and what is being planned to address it?
The issue of unexpected emissions of CFC-11 was brought to the attention of the parties in 2018. Global emissions of CFC-11 had increased in the period after 2012. This unexpected trend suggests that there is illegal production and consumption of CFC-11. The exact sources of these emissions have yet to be found. The parties take this very seriously and a decision was made at the MOP30 [30th Meeting of the Parties to the Montreal Protocol] to cooperate in further scientific research. In addition, the parties will assess the mechanisms of monitoring for the Montreal Protocol and the Multilateral Fund.
What is meant by "a sustainable cold chain" and how does it reduce food loss?
A cold chain is a connected set of temperature-controlled facilities (pack houses, cold stores, refrigerated transportation, etc.) that ensures perishable foods maintain their freshness and quality while in transit. Access to cold chain allows local producers to link with high-value markets locally, nationally and internationally. By enabling perishable food commodities to be stored and transported in a temperature-controlled environment not only ensures quality and safety, but reduces overall food loss, while improving economic gains and increasing sustainability.
From an environmental perspective, it is important that increasing demand for cold chain is sustainable with increased use of green fuels, energy efficiency and low or zero global warming potential technologies.
What do you hope the Montreal Protocol will inspire?
The Montreal Protocol is one of the world's most successful environmental treaties and since its adoption, it has encouraged countries to commit to phasing out the production and consumption of ozone-depleting substances. The parties to the Protocol, on realizing that the alternatives, known as hydrofluorocarbons, are potent greenhouse gases contributing to global warming, agreed to address this. After protracted discussions, in 2016 the parties adopted the Kigali Amendment. The global partnership, stakeholder involvement and overall commitment of the countries lent to the success of the ozone protection regime. A successful hydrofluorocarbon phasedown is expected to avoid up to 0.4°C of global temperature rise by 2100, while continuing to protect the ozone layer.
Consequences of U.S. formal exit from Paris climate pact: More isolation globally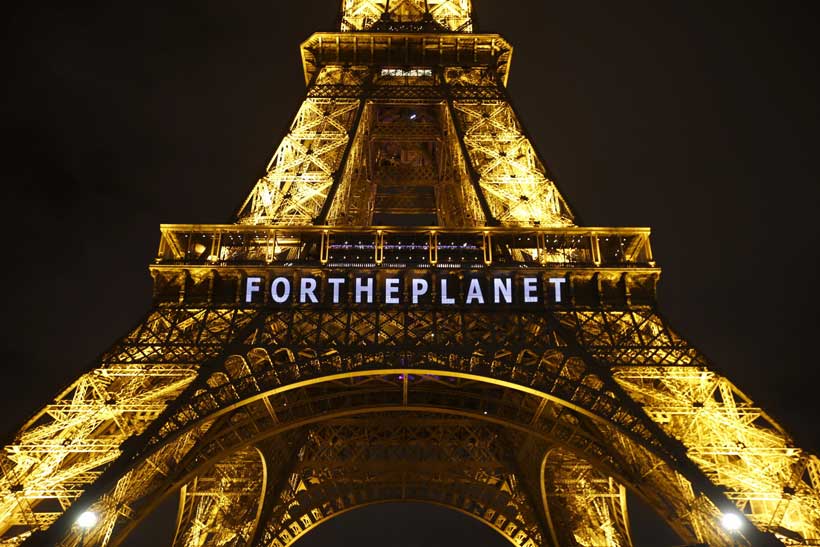 The U.S. has formally begun to exit the Paris climate agreement. Regardless of whether or not the Paris Agreement is legally binding, the U.S. has committed to cut 26-28% of its greenhouse gas emissions by 2025 from 2005 levels, and donate three billion dollars to poor countries by 2020.
The U.S. is now the world's second-largest emitter of greenhouse gases after China. In other words, U.S. greenhouse gas emissions in 2015 were about 7000 million metric tones, which is more than total emissions of the entire EU countries. However, the U.S. president claimed that he has decided to pull his country out of the Paris climate pact because his job is to "protect America and its citizens".
Commenting on the reason for withdrawing from the agreement, the U.S. president said that the pact is favorable for other countries not the United States, because it puts the country at a very big economic disadvantage. Trump also presented statistics showing that implementation of the agreement for the U.S. will result in losing 2.7 million job opportunities by 2025 as well as 440,000 industrial opportunities inside the country. The president added that this is not what the U.S. needed. This issue is not acceptable to Trump that China can continue to emit greenhouse gas for another 13 years, and India is able to continue its greenhouse gas emissions till 2020, while receiving billions of dollars.
The U.S. president also complains that his country has already donated about one billion dollar to Green Climate Fund, which is founded to help developing countries, while no other country has spent such a large sum in this field.
Trump, despite his decision to exit the Paris Agreement, has announced that he is ready to "begin negotiations to reenter either the Paris Accord or a really entirely new transaction on terms that are fair to the United States, its businesses, its workers, its people, its taxpayers". He also said that if they reach an accord, that will be great and if they do not, that will be fine.
Consequences of U.S. withdrawal
It should be noted that the withdrawal from the Paris climate accord by the U.S. is not its first unconventional action toward valid international documents. After coming to the White House, in one of his first moves, Trump ordered to pull the country out of the Trans-Pacific Partnership (TPP) that was signed in 2016. The TPP is the greatest trade agreement in the world, which was signed between 12 countries around the Pacific Ocean with the exception of China, and aimed to remove trade barriers to the countries that signed the agreement.
However, the Paris Agreement is of particular importance for the current generation and the world's future in terms of environmental and international rights. Obviously, legal and political consequences of the Paris accord is more serious than those of the TPP. The following is the summary of the effects of the U.S. withdrawal from the Paris climate pact:
1. U.S. political and legal isolation: the U.S. will be seriously isolated if it withdraws from the Paris accord, because besides Europeans, countries like Canada, Russia, and Asian countries such as China and Japan have signed the agreement. German Chancellor Angela Merkel and the Chinese president reaffirmed that they will be committed to the pact even after the U.S. withdrawal.
Jean-Claude Juncker, the president of the European Commission, at a meeting in Berlin, described the U.S. withdrawal as a completely wrong move. Juncker said that the U.S. cannot exit the agreement just like that. He added that Trump says he will exit the Paris climate pact because he is not well aware of this pact. This is while, he said, in 2015, about 200 countries signed an accord in 2015 in Paris, based on which they were committed to keep the increase in global average temperature to well below 2 °C to prevent global warming.
2. Lack of states' trust on the U.S. to reach an agreement on other issues: this move by Trump shows the U.S. non-compliance with international agreements that could disturb its prestige and position in the world. The move also will cause other Western partners, especially Europeans, lose their trust of the United States. Following the U.S. withdrawal from the agreement, other countries will hesitate to cooperate and sign contract with the White House on other issues.
3. Distrust of environmental rights: one of the important issues in legal subjects is environmental right, which is being taken into account at national and international level. The U.S. withdrawal from the pact means disregard to international documents related to environmental rights. This approach can be a serious threat to plans to control global warming. Furthermore, the approach indicates that the world's second largest polluter does not pay much attention to environmental protection, which has been one of most important challenges for environmental rights in recent decades.
From our partner Tehran Times