Three priorities for energy technology innovation partnerships
Authors: Jean-Baptiste Le Marois and Claire Hilton*
Governments around the world are setting increasingly ambitious climate targets while at the same time pursuing challenging national policy goals such as affordable and sustainable energy for all. In many cases, achieving these goals will require technologies that either do not yet exist, or are not yet ready for market, meaning innovation will be critical. Technology innovation can be a game changer across all sectors, including power generation, industry, buildings and transport.
Yet it is unlikely that any single country will be able to solve all of its energy and climate problems alone. International collaboration can help countries accelerate innovation processes by identifying common priorities and challenges, tackling pressing innovation gaps, sharing best practices to improve performance, reducing costs and reaching broad deployment of clean energy technologies. Given this massive potential, the fundamental question is not if countries should collaborate, but rather who should collaborate and how they can do so efficiently.
As part of the IEA's efforts to support global energy transitions, we are working to help governments identify relevant collaborative partnership opportunities, engage with international partners and optimise possible synergies among existing initiatives. Our recent Energy Technology Innovation Partnerships report is a key step along this path, providing an overview of the global landscape of multilateral efforts relevant to energy technology innovation, and examining four selected collaborative partnerships. There are three key takeaways that highlight the challenges and potential of these efforts.
Enhancing collaboration among existing multilateral initiatives
International collaboration in the field of energy technology innovation is not new – many countries already participate in numerous multilateral initiatives, some of which have been active for decades, such as The Technology Collaboration Programme by IEA (TCP) which was established in 1974. Today, 38 independent Technology Collaborations operate under the TCP, made up of over 6,000 experts from nearly 300 public and private organisations based in 55 countries, who work together on topics ranging from renewable energy and smart grids to hydrogen and nuclear fusion.
Governments have launched several new partnerships over the last decade, such as the Clean Energy Ministerial (CEM) in 2009 and Mission Innovation (MI) in 2015, which both aim to accelerate international efforts to address climate change. The 27 members of CEM collaborate to promote the deployment of clean energy technologies through over 20 initiatives and campaigns. Similarly, MI counts 25 members who have pledged to double clean energy RD&D spending and co-lead activities under eight key innovation challenges, such as clean energy materials and affordable heating and cooling in buildings. Participation in Technology Collaborations, MI and CEM present a great degree of overlap, as countries tend to join the full suite of collaborative partnerships. In fact, 13 countries and the European Commission participate each in more than 20 Technology Collaborations, CEM and MI: the United States, Japan, Korea, Canada, China, Germany, Australia, France, Sweden, Finland, Italy, Norway and the United Kingdom. This "core" group of decision makers is in a strong position to pursue further synergies across partnerships.
There are also many relevant regional partnerships that are making valuable contributions to energy technology innovation, such as the European Technology and Innovation Platforms (EU-ETIPs), which bring together EU governments and companies to identify research priorities and relevant energy innovation strategies.
Other examples of regional partnerships include mechanisms under the African Union and other African regional partnerships; the Asia-Pacific Economic Cooperation and the Association of Southeast Asian Nations; various partnerships in the Middle East; and the Latin American Energy Organisation and the Organisation of American States. Many other partnerships focus on specific themes of interest, such as the Biofuture Platform, a group of 20 countries seeking to advance sustainable bioenergy and facilitated by the IEA.
As the global landscape of multilateral activities relevant to energy technology innovation becomes increasingly diverse and complex, it can be challenging for policy makers to identify which partnerships to engage with. In fact, despite the central role of innovation in energy transitions and the potential of international collaboration, there is limited information available on the full landscape of multilateral initiatives and how they interact.
Examining a selection of collaborative partnerships reveals that numerous initiatives focus on the same technology areas. Our own examination shows that in eight technology areas, at least three of the four selected partnerships have active initiatives: heating and cooling; carbon capture, utilisation and storage (CCUS); nuclear; bioenergy and biofuels; wind; solar; smart grids; and hydrogen. The overlap becomes even more apparent when including other global, regional and thematic partnerships: for example, Technology Collaborations, MI, EU-ETIPs, the Biofuture Platform and the Global Bioenergy Partnership all focus on bioenergy. More generally, recent trends suggest that partnerships are increasingly centring on low-carbon energy sources and cross-cutting themes including systems integration.
Focusing on the same technologies across different partnerships may induce risks of duplication, thereby diluting policy maker attention and creating fundraising or political support challenges. That said, in some instances, activities may well address different aspects of the same technology area, justifying the overlap. Yet even in those cases, stakeholders have acknowledged that the perception of duplication may be enough to trigger a degree of competition between multilateral efforts. Policy makers would therefore benefit from identifying possible synergies between mechanisms to avoid replication of efforts while at the same time maximising complementarity.
Enhanced cross-mechanism collaboration may increase the impact of ongoing activities. For instance, co-locating stakeholder dialogue, events and roundtables may mobilise more actors and bring varied and valuable perspectives, attract attention from policy makers and enhance networking opportunities. Co-branding technology policy and market analyses may reveal new findings thanks to the combined experience, knowledge and networks of the initiatives involved. Collaboration between early-stage activities executing RD&D and initiatives providing competitive funding or grant opportunities may facilitate the development of energy technologies and their demonstration in real-life conditions or in strategic markets.
However, innovation stakeholders have also reported challenges in engaging with other collaborative mechanisms, in part because of a lack of systematic co-ordination processes. As a result, the number of interactions between existing partnerships, whether at the political or working level, remains low relative to the number of ongoing activities.
Despite these challenges, there are some initiatives that are already effectively collaborating across partnerships. For example, last year the co-leads of collaborative activities on smart grids under the International Smart Grid Action Network (ISGAN) (both a TCP and a CEM Initiative), identified a strategic opportunity to work more closely with the relevant Innovation Challenge under MI and formalised this co-operation.
Focus on emerging markets
Participation in collaborative partnerships continues to grow and diversify every year. IEA Members and Association countries currently account for the broadest participation in Technology Collaborations, CEM and MI, as illustrated by the "core" group of top-collaborators mentioned above.
While a strong central core of support is invaluable, an important trend for global innovation ecosystems is the increasing participation of emerging economies, such as China (currently a member of 23 Technology Collaborations), India (11), Mexico (10), South Africa (8) and Brazil (5).
Emerging market countries also tend to participate in regional partnerships, which allow governments that are not necessarily members of global efforts to benefit from international co-operation. The transition from regional to global collaboration is an encouraging trend for key emerging market countries, with which the IEA seeks to deepen engagement as part of the Clean Energy Transitions Programme (CETP).
Partnerships have made it clear that emerging economies are a top priority. As part of a survey conducted in 2019 by the IEA Secretariat, India was identified as a key prospective partner by 14 Technology Collaborations; Brazil by 12; Chile and China by 8; Mexico and Indonesia by 7. If prospective membership materialised, China would consolidate its high participation by holding membership in over 30 Technology Collaborations; India would join the "core" group of top-collaborative countries; and both Mexico and Brazil would be involved in over 15 Technology Collaborations.
Strengthening public-private cooperation
In addition to public agencies, private-sector actors play a critical role in RD&D and in ensuring key technologies reach markets. Examining both public and private contributions can help governments better understand the broader innovation ecosystem, engage with companies to leverage corporate expertise, influence and capital; and strategically allocate public funds in those energy sectors that remain underfunded or face financing access challenges.
While there is substantial interest from collaborative partnerships to deepen engagement with private-sector actors, this engagement is, at least for now, relatively uncommon. Among the four partnerships analysed in the report, only EU-ETIPs are co-led by industry stakeholders while some 80% of participants in Technology Collaborations are public bodies. For now, membership in MI and CEM is restricted to national governments, although engagement of private sector is actively sought and governments may designate in-country private sector experts to represent national interests in certain initiatives.
Different factors may be preventing companies from seeking engagement with government-led multilateral initiatives, including a lack of awareness of such programmes, differing working cultures between public and private actors, diverging priorities and little incentive to share information, and burdensome administrative procedures. On the other side, some stakeholders within collaborative partnerships remain reluctant to engage with industry, fearing the influence of corporate interests on their strategic decisions, work programmes or outputs. These reasonable concerns need to be overcome for effective public-private co-operation to take place.
Thankfully, we are seeing some positive developments. For instance, over 100 private-sector companies are now participating in the technical work of CEM activities, resulting from both CEM stakeholders reaching out to companies, and vice versa. In collaboration with the IEA, CEM also leads an Investment and Finance Initiative (CEM-IF) to help policy makers mobilise investments and financing, particularly from private sources, for clean energy deployment. Policy makers, collaborative partnerships and energy innovation stakeholders may benefit from further research on private-sector participation, building on these encouraging cases, to find ways to best leverage corporate capabilities.
Ways forward
As we continue to enhance our efforts related to technology innovation to support global energy transitions, the IEA encourages broad international collaboration to tackle pressing innovation gaps, share best practices and accelerate the deployment of clean energy technologies. Enhancing collaboration between existing initiatives, engaging with emerging markets and leveraging corporate capabilities, are three areas of promising focus for policy makers looking forward.
*Claire Hilton, Energy Partnerships Analyst.
Energy Production is Moving Upwards
The United Nations (UN) Environment Programme, and numerous research organizations working in consortium found in a recent report "the world's nations are on track to produce more than twice as much coal, oil, and gas as can be burned in 2030."The British Petroleum (BP) Statistical Review of World Energy 2019 has:
"Total global proved reserves of oil – that is the volumes that can be recovered from known reservoirs under existing economic and operating condition – stood at 1.730 trillion barrels at the end of 2018."
The world has plenty of oil, and we are not close to reaching peak oil, and consumption is growing according to the International Energy Agency's latest projections. This on top of U.S., CO2 emissions rose in 2018, 2.7 percent for the first time since 2014 according to the Energy Information Administration (EIA) – the uptick came from "higher natural gas-related emissions, but coal emissions fell by 4 percent."
Economic growth coupled with hotter summers, and colder winters contributed to U.S. emission increases. Increased renewable usage from sun and wind farms also aided emission growth since solar panels and wind turbines are intermittent energy to electricity sources that need continual fossil fuel backup from coal and natural gas-powered, power plants.
Fossil fuel production will outpace Paris Climate Agreement (PCA) reductions that target to keep temperature increases under 1.5degrees Celsius, or at 2 degree Celsius, pre-Industrial levels. Growing prosperity in China, India, Africa, and the U.S. will fuel production gains, and override PCA agreement accords.
This analysis is based on energy policy from eight of the largest fossil fuel, and deep earth mineral producers in the world: "Australia, Canada, Russia, U.S., China, India, Indonesia, and Norway." These eight countries constitute 60 percent of domestic-based, and global fossil fuel production. Middle Eastern countries such as Saudi Arabia and Iran do not release production numbers.
PCA signatories are upset over increased global fossil fuel exploration and production (E&P). China, India and the booming Asian hemisphere (what is now called the "Asian Century") are using more oil, coal, and natural gas today and into the projected future. Whereas, new clean energy investments "fell by more than a fifth, coal-fired power generation jumped to a new high last year." This means renewables such as solar, wind, and biomass used for energy to electricity are not overtaking fossil fuels anytime soon.
Evidenced by coal-fired power generation excavated and used increased the past two years, and "coal accounted for 47% of all power generation across 104 countries." India's over one billion people and growing population has confirmed coal is their energy to electrical mainstay for the next thirty years.
The only carbon-free, zero-carbon energy to electricity source is nuclear energy. It is France's number one energy to electricity generation resource. Not even natural gas-fired power plants meet this criterion. If fossil fuels are growing then nuclear energy to combat rising emissions is the best electrical option available under current, emission-restraining, technological constraints.
International Energy Agency (IEA) chief, Fatih Birol expects the U.S. shale sector to continue explosive growth. Birol also said, "that the U.S. will make up most of global oil supply growth." This will fill the gap for Asian countries needing additional oil and natural gas. Additionally, this boom in U.S. shale E&P that began during the Obama administration continues upending and changing global, geopolitics in unexpected ways that doesn't involve traditional militaries or large-scale global conflicts. This is positive for global economic prosperity.
The world is awash in oil, natural gas, and coal whether we like it or not according to the BP Statistical Review of World Energy, 2019, but global policymakers are causing more problems than solutions by embracing renewables and banning fossil fuel E&P. Europe's Green New Deal is based on unrealized scientific evidence that causes environmental leaders like Michael Shellenberger to dispute the hyperbolic climate rhetoric.
Embracing global warming energy policies produce results that damages the environment from "millions of toxic wind turbine blades sent to landfills," to electrical grid blackouts in Australia, Great Britain and New York City (and a $6 billion ratepayer, wind subsidy, cost overcharge) to a Texas city needlessly enduring surging electricity costs from going 100 percent renewable. We are now witnessing wind power disasters in Canada, Europe (especially, Germany), Ireland, and the environmental cleanup costs are higher than fossil fuels compared to the taxpayer and ratepayer subsidies renewables receive.
Leading U.S. Democratic Presidential candidates want to eliminate fossil fuels by replacing them with renewables according to environmentalist Paul Driessen without understanding the consequences of how fossil fuels affect every part of all of our lives.
Hydraulic fracturing (fracking) is "under fire in California," (the 5thlargest economy in the world) without explaining how does this economically robust state replace the over 6,000 products that originate from a barrel of crude oil? These anti-fossil fuel decisions cause companies like international, financial giant Charles Schwab to leave the state, and hurt American economic interests and national security. This ultimately affects NATO, EU, and America's geopolitical, global security interests that are the cornerstone of the post World War II, U.S.-led, liberal order.
America is attempting to electrify their economy and decarbonize without understanding electricity is not a stand-alone energy source the way fossil fuels, nuclear, and renewables are – but common renewables, the sun and wind for energy to electricity – run into problems over being chaotically intermittent, and mathematically unstable. Again, the only way to "reduce greenhouse gas emissions," and produce zero-carbon energy to electricity is from nuclear power plants.
From Berkeley, California to Brookline, Massachusetts that recently voted to ban natural gas, and only use electricity for heat, air conditioning, and appliance-use this is a vote to economically depress these cities. Massachusetts' electrification needs are approximately 50 percent met by natural gas, and the state has a shortfall over banning new pipelines. To meet their natural gas needs, Massachusetts's imports12 percent of their natural gas from Russia.
What we are seeing is a fossil fuel dilemma, and climate change, anthropogenic (man-made) global warming, and energy policies based on these premises to rid the world of carbon and greenhouse-gases are "a first-world problem." The U.S., European capitals, and the United Nations (UN) seemed more concerned about the environment than the 2 billion people globally without electricity.
Shockingly, the U.S. could literally turn off the entire country from any source of energy and global emissions would still grow according to U.S. Congressional testimony in 2017. The entire U.S. economy, military and government could disappear, and global pollution, and respiratory illness would still rise. The reason why is "one of the biggest sources of carbon dioxide emissions is developing countries." Think China, India, and Africa.
What if it's time to start asking serious questions about the validity of man-made climate change, and how "scientific breakthrough" such as carbon capture technology coming from the Massachusetts Institute of Technology (M.I.T.) can save us instead of renewables and warning the earth will die off in 10-12 years? It's difficult to trust these warnings when every apocalyptic prediction from the last 50 years has never come true that the earth is dying, because of global warming.
When teen climate activist, Greta Thunberg, made her impassioned speech to the UN this fall, another group of 500 atmospheric scientists, engineers and related professional called Friends of Science sent a registered letter to the UN Secretary-General "stating that there is no climate emergency and climate policies should be designed to benefit the lives of people."
If fossil fuels are growing, but the west, led by the U.S. and Europe believe CO2 is killing the planet then this dilemma of fossil fuels versus renewables powering the planet worsens. The frightening scenario of environmental sustainability doesn't seem to coincide with economic growth laid out in the book The Green Reich. This end-game of ridding the world of 6,000 products, affordable electricity, economic growth for Third World countries – even entire continents – is on the line without any answers for how you replace fossil fuels with solar panels, wind turbines, and electric vehicles.
Ideology says renewables will work, damn the consequences, the facts say otherwise. Abundant, affordable, reliable, scalable, flexible oil, coal, natural gas and nuclear energy are why the planet is alive. Rid the world of this, and jobs disappear, economies wither, and modern, prosperous, peace-loving, sustainable nations collapse into anarchy. Upend the growth of fossil fuels globally, and watch China, India, Russia, Africa and other growing nations undo the liberal-led order. Do this and lifestyles and "living standards spiral downward" for the remainder of this century.
The power of Siberia heralds a landmark of Sino-Russian solidarity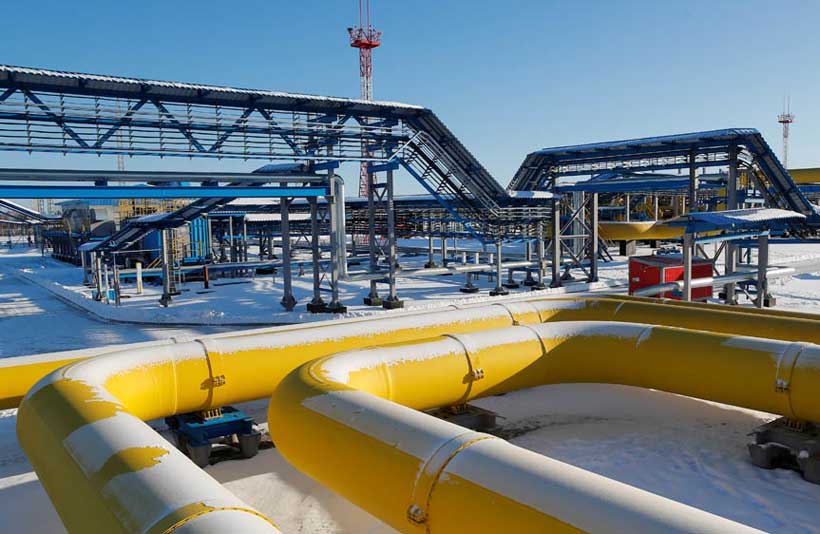 Authors: Zhou Dongchen, Paul Wang
Although China and Russia have forged their comprehensive strategic partnership into a de facto alliance, it is still opined in the way of the classical geopolitics. Yet, the east-route of China-Russia natural gas pipeline which was functional on December 2 has since heralded a new milestone for deepened energy cooperation between these two Eurasian powers. The project that was signed in 2014 is a $400-billion-gas supply deal and connects the world's largest natural gas supplier (with a total length of more than 5,000 km) and the most potential natural gas consumer market. It is the first natural gas pipeline between the two largest land powers and also the first cross-border gas pipeline in northeast China. Technically, it is scheduled to be completed in 2020.
China and Russia lost no time to show a video call on December 2 as the two heads of state, Xi and Putin, jointly witnessed the launching ceremony of the China-Russia east-route natural gas pipeline. Xi, in Beijing, hailed the pipeline as a historical deal of Sino-Russian energy cooperation, describing it as a win-win model of major powers' cooperation. He requested to ensure the project's safety and reliability and to promote sustainable economic and social development in areas along the pipeline.
For sure, the east-route pipeline is not only supplied to China, but also to the local consumers in Russia's Far East. In addition, the project would insure to create jobs and bring in more income for the local Russians, further promoting the economic and social development in Russia. Due to this, Putin announced in Russia's Sochi that inauguration of the pipeline is of historic significance and would bring bilateral strategic relations to new heights. The event itself can be perceived both historical and unprecedented because a gas route has been laid underneath the Eurasian gas space and now moving towards one of the largest geoeconomic formation. With this large-scale gas project started, a new page will open in bilateral relations not only in the energy field, but also there is enormous potential for further development and further cooperation.
Considering that China and Russia have cooperated in the fields of natural and oil projects for decades, why is the east-route gas so significant to the two sides? Firstly, trans-regional gas projects, also named as "the power of Siberia", contribute to the development of many regions inside and outside the two countries, which subsequently invest additional infrastructure and jobs. As the Chinese market is constantly growing, and in recent years has been growing at double-digit rates, Beijing's energy needs will continue to grow steadily. Secondly, while coal remains the main source of energy for Chinese economic leap, a further industrialization has led to increasing environmental backlash. Be aware of the plights of its dependence on coal, China has been driven by the urgent needs over the past years to have accelerated the use of clean and newer environmental standards backed up by its significant efforts to combat air pollution.
Accordingly, it is not surprising that China is keen in reducing greenhouse gas emissions, striving to reduce the use of coal and strictly implementing the Paris Accords, including China's large investments in its research and development of large-scale energy efficiency programs, and the rapid expansion of the renewable energy and nuclear energy. Therefore, the Power of Siberia gas pipeline will not only contribute to the socio-economic development of the Far East, but will also create conditions for gas supply and gasification of the Russian regions alongside the development of modern gas processing and gas-chemical industries in Russia. Taking into account a new map of the global energy being formed, it is fair to argue that "the Power of Siberia" would create a new pipeline system in the existing transport corridor of the Siberia to the borders of the two countries and beyond in the near future.
For sure, it is necessary to note the great merit of two leaders-Chinese President Xi and his Russian counterpart Putin-under the strategic leadership of which Sino-Russian relations of comprehensive coordination and strategic partnership have entered a new era. This is characterized by the highest degree of mutual trust, the highest level of interaction and strategic consensus. In light of the current international reality where the United States has always used the difference in political systems and diplomatic philosophies to attack China Russia with a cold war mentality, the further strengthening of the strategic interaction between the two Eurasian powers is of special meaning and the impacts on the world peace and security. In the coming decades, China will have become more dependent on the energy supply and agricultural goods from its northern neighbor, while the Russian economy in the vast Siberia will be benefited by substantial FDI from China. As a result, the current discrepancy between their strong political relations and the weak economic ties would be effectively addressed, together, the pipeline could revive the prosperity of China's north eastern provinces and Russia's Far East region, not mention of their current close cooperation in the field of information technology and space.
Accordingly, it is fair to argue that China and Russia play a decisive role in the formation of a new energy map of the world with the launch of the "Power of Siberia" gas pipeline project which sets a prime example of how the natural gas market is becoming mobile and cross-regional. Equally in terms of the public disagreements between the United States and its European allies, China and Russia working together have moved towards more dynamic relations with European countries and in particular the member states of the European Economic Union—Russia, Belarus, Kazakhstan, Tajikistan and Armenia.
All in all, China and Russia's foreign policy, based on the pursuit of mutual benefits, made the materialization of the power of Siberia energy deal feasible. The operationalization of the pipeline is proof that the world doesn't just function based on a single system. Americans may believe that theirs functions well, but that doesn't disqualify other systems from being equally functional or even superior in making and executing long-term goals that benefit the public. The pipeline has elevated the bilateral relationship to a new level and will benefit future generations. With this new linkage, Sino-Russian common interests would be more intertwined, making mutual benefits even more important going forward. This is what President Xi has reiterated as our true relationship will be of utmost importance in China's foreign policy.
Clash of titans: Is OPEC+ deal nearing its end?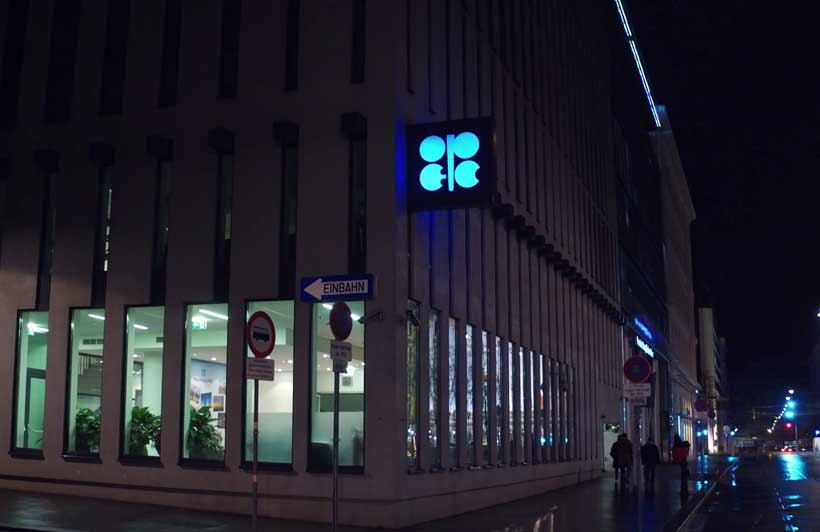 Only a few days is left before the unveiling of a big decision which will mostly determine the future of oil market in the upcoming year.
Organization of the Petroleum Exporting Countries and its allies including Russia (known as OPEC+) are going to gather in Vienna during December 5-6 for the 177th Meeting of the OPEC Conference and the 7th OPEC and non-OPEC Ministerial Meeting, to discuss the oil market and reach a decision regarding the next step for the OPEC+ cuts deal.
Many experts and analysts expect OPEC+ to decide on extending the current pact rather than deepening the cuts, however contrasting signals from the groups' two major policy-makers indicate that the situation doesn't seem to be unwinding toward such a decision.
Saudi Arabia and Aramco IPO
After two years of postponing and speculation, Saudi Arabia has finally announced that the kingdom is going to officially offer 1.5 percent of its oil-giant's stakes on December 5, allowing institutional investors to submit their initial offers. Interestingly, Aramco's initial public offering (IPO) is concurrent with the 177th gathering of OPEC.
For years, the Saudis have been announcing that they will sell about five percent of Aramco's stock in foreign and domestic stock exchanges; and since they valued the company at $2 trillion, it was estimated that Saudi Arabia would make $100 billion on its initial offering, and will use the proceeds to build on the foundations of the crown prince's 2030 vision for an oil-free economy.
However, in spite of the many years of advertising and effort, Aramco's IPO didn't receive the attention and praise that the kingdom expected. Therefore, they reduced the IPO to 1.5 percent and it seems that they have even abandoned their dreams of attracting large-cap funds from foreign exchanges, at least for the time being.
So, Aramco's initial offering is going to be only in their domestic stock exchange, and the IPO is likely to only generate over $25 billion in revenue for Saudi Arabia.
So far, Kuwait and the United Arab Emirates are the only foreign countries that are ready to participate in Aramco's IPO, and there are no major investors from Europe or the United States.
With all that said, and considering the fact that after holding the IPO Saudis would not need high oil prices in the short-run, it seems that the kingdom is no longer eager for shouldering other OPEC+ members' delinquencies regarding the oil production cuts.
Preparing for the IPO in the past year, Saudi Arabia turned a blind eye to the OPEC+ group members' violations from the agreed production levels by major producers like Russia and Iraq and shouldered the burden by cutting its own output more than agreed to offset the over-production.
However, new signals are emerging which indicate that the kingdom is no longer willing to undermine its production for the sake of higher oil prices.
Last week, Bloomberg reported that Prince Abdulaziz bin Salman, Saudi's new oil minister who replaced Khalid Al-Falih in September, is not going to follow his predecessor's footsteps and is expected to voice the kingdom's intolerance regarding the violation of the cuts deal.
Russia and the OPEC+
It has been more or less three years since Russia and some other oil producers joined hands with the 14-member OPEC to balance the oversupplied oil market and prevent the oil prices from further fall which was costing their economies a great deal.
Russia, as one of the world's top oil producers and exporters, has been consistently voicing its support for a deal reached between OPEC and non-OPEC allies for volunteer production cuts to support the oil prices, however statistics show that the country itself hasn't been doing much in this regard.
According to Bloomberg, Russia's shipping data for 2019 indicates that the second pillar of the OPEC+ deal has conformed to the agreed production levels only for three months, namely May, June and July and even the production cuts in those three months doesn't seem to be voluntarily since it was during the disruption of the key Druzhba oil pipeline.
Other signatories of the deal haven't been much helpful in this regard, Iraq, for example, was supposed to pump about 4.51 million barrels per day (bpd), but has produced on average about 4.8 million bpd. Kazakhstan accepted a 1.86-million-bpd limit, however it has produced close to 1.95 million barrels of oil and finally Nigeria agreed to a quota of 1.68 million bpd, but has regularly pumped more than 1.8 million.
These constant violations have clearly pushed the Saudis to their limit, and now with the Aramco IPO going to be no longer a motive for Saudi to offset the excess production by OPEC+ members, Russia seems to be rethinking the worth of remaining in the OPEC+ pact.
Russian officials have been recently showing some vague signals, indicating a possible abandoning of the OPEC+ deal.
Tass news agency recently quoted Russia's oil minister as saying that his country favors postponing any decision-making regarding the new supply caps until April, which is the pact's due.
The discrepancy between the views of OPEC+ titans has prompted some experts to speculate on the possibility of a breakup of the cuts deal; a speculation which seriously affected the oil market in the end of this month trades.
On Friday, which was the last day of November trades, U.S. crude oil fell by nearly $3, or 5 percent, to about $55 a barrel. Brent crude also experienced a $2.8 or 4.4 percent drop and returned to the $50 range.
Considering the oil markets current status, it seems that we are going to witness a very tense OPEC+ gathering in Vienna this week. One can only wait to see how the situation is going to unwind.
However, the most expected outcome would be that Russia and Saudi Arabia will agree to extend the pact for another few months to buy time in order to assess the market's situation in the New Year and then decide how to proceed.
From our partner Tehran Times