Saudi Iranian rivalry polarises Nigerian Muslims
A recent ban on a militant, Iranian-backed Shiite group raised the spectre of the Saudi Iranian rivalry spilling onto Nigerian streets as security forces launched a manhunt to find the alleged Boko Haram operatives who killed 65 people attending a funeral.
Nigeria, Africa's foremost oil producer, banned the Iranian-backed Islamic Movement of Nigeria (IMN) this weekend after demonstrations in the capital Abuja to free its leader, Ibrahim El-Zakzaky turned violent. At least six people were killed.
"The Saudis watching the Iranians trying to break into northern Nigeria is almost like watching someone else try to befriend your best friend," said Ini Dele-Adedeji, a Nigerian academic at the University of London's School of Oriental and African Studies, referring to the region's religious elites that have aligned themselves with the kingdom.
Saudi cables released in 2015 by WikiLeaks reveal concern about Iranian-funded Shiite expansion in West African and Sahel nations including Mali, Mauritania, Burkina Faso and Nigeria.
Mr. Dele-Adedji said Saudi and Iranian funding was "on the surface…about these countries helping out with 'charitable work' activities. But beyond that it's also a way for those countries to almost create extensions of themselves."
Mr. El-Zakzaky, a Sunni Muslim student activist inspired by the 1979 Iranian revolution, initially agitated for a repeat in his native Nigeria. When that didn't work, Mr. El-Zakzaky went to Iran, converted to Shiism, and started wearing the white turban of a Shiite cleric.
Returning home in the 1990s, he became the leader of the Islamic Movement and turned it into a vehicle for proselytizing and gaining followers.
Things got out of hand when Nigerian troops killed hundreds of Shiites in the ancient university town of Zaria in December 2015 and arrested Mr. El-Zakzaky and hundreds of his followers. The army accused the Shiite group of attempting to kill Nigeria's army chief-of-staff, a charge the movement denies.
Iran has been funding Mr. El-Zakzaky for years and the area of Zaria he worked in became the "mecca for the dispossessed in Nigeria," according to Matthew Page, a former U.S. State Department specialist on Nigeria. The Islamic Movement has been receiving about $10,000 a month from Iran, he estimated.
Mr. El-Zakzaky used the money to fund soup kitchens and homeless shelters, Mr. Page said. "This was a very inexpensive way for Iran to have a toehold in Nigeria," he said.
Ghanem Nuseibeh, founder of London-based consultants Cornerstone Global Associates estimated that Mr. El-Zakzaky's organization operates more than 300 schools, Islamic centres, a newspaper, guards and a "martyrs' foundation." The network is similar to welfare systems established elsewhere by Lebanese Shiite militia Hezbollah and other Iranian-backed groups.
The Nigerian government first declared the Islamic Movement a security threat in 2017, comparing it with the Boko Haram insurgency, according to Nigerian diplomats.
Peregrino Brimah, a trained medical doctor who teaches biology, anatomy and physiology at colleges in New York never gave much thought while growing up in Nigeria to the fact that clerics increasingly were developing links to Saudi Arabia.
"You could see the money, the big ones were leading the good life, they ran scholarship programs. In fact, I was offered a scholarship to study at King Fahd University in Riyadh. I never thought about it until December 2015 when up to a 1,000 Shiites were killed by the military in northern Nigeria. Since I started looking at it, I've realized how successful, how extraordinarily successful the Wahhabis have been." Mr. Brimah said.
He decided to stand up for Shiite rights after the incident in which the military arrested Mr. El-Zakzaky.
The Nigerian military said that it had attacked sites in Zaria after hundreds of Shia demonstrators had blocked a convoy of Nigeria's army chief General Tukur Yusuf Buratai in an effort to kill him.
Military police said Shiites had crawled through tall grass towards General Buratai's convoy "with the intent to attack the vehicle with [a] petrol bomb" while others "suddenly resorted to firing gunshots from the direction of the mosque."
A phone call to Nigerian President Mohammed Buhari in which King Salman expressed his support for the government's fight against terrorist groups was widely seen as Saudi endorsement of the military's crackdown on the country's Shiite minority.
The state-owned Saudi Press Agency quoted King Salman as saying that Islam condemned such "criminal acts" and that the kingdom in a reference to Iran opposed foreign interference in Nigeria.
Mr. Brimah's defense of the Shiites has cost him dearly, illustrating the degree to which Saudi-funded ultra-conservatism and Iranian agitation has altered Nigerian society.
"I lost everything I had built on social media the minute I stood up for the Shiites. I had thousands of fans. Suddenly, I was losing 2-300 followers a day. My brother hasn't spoken to me since. The last thing he said to me is: 'how can you adopt Shiite ideology?' I raised the issue in a Sunni chat forum. It became quickly clear that these attitudes were not accidental. They are the product of Saudi-sponsored teachings of serious hatred. People don't understand what they are being taught. They rejoice when a thousand Shiites are killed. Even worse is the fact that they hate people like me who stand up for the Shiites even more than they hate the Shiite themselves," Mr. Brimah said.
In response to Mr. Brimah's writing about the clash, General Buratai invited him for a chat. Mr. Brimah politely declined. When Mr. Brimah reiterated his accusation, General Buratai's spokesman, Colonel SK Usman, adopting the Saudi line of Shiites being Iranian stooges, accused the scientist of being on the Islamic republic's payroll.
"Several of us hold you in high esteem based on perceived honesty, intellectual prowess and ability to speak your mind. That was before, but the recent incident…and subsequent events and actions by some groups and individuals such as you made one to have a rethink. I was quite aware of your concerted effort to smear the good name and reputation of the Chief of Army Staff to the extent of calling for his resignation," Colonel Usman said in an email to Mr. Brimah that the activist shared with this writer.
General Buratai "went out of his way to write to you and even invited you for constructive engagement. But because you have dubious intents, you cleverly refused…. God indeed is very merciful for exposing you. Let me make it abundantly clear to you that your acts are not directed to the person of the Chief of Army Staff, they have far reaching implication on our national security. Please think about it and mend your ways and refund whatever funds you coveted for the campaign of calumny," Colonel Usman said.
Mr. Brimah's inbox has since then been inundated with anti-Shiite, anti-Iranian writings in what he believes is a military-inspired campaign.
Mr. Brimah's predicament reflects the fallout of the Saudi Iranian rivalry in West Africa as a result of Saudi and Iranian funding that has let the genie of intolerance, discrimination and bigotry out of the bottle.
Issoufou Yahaya, in the Sahel state of Niger, recalls his student days in the 1980s when there wasn't a single mosque on his campus. "Today, we have more mosques here than we have lecture rooms. So much has changed in such a short time," he said.
Walking On A Tightrope Of Rights And COVID
At the outset let me say this: It is an inherent human right to protest and express one's views and political belief without being subjected to suppression or harassment. However, with freedom comes responsibility. In this time of the deadly pandemic, common sense dictates that public gatherings of protest must be COVID-compliant.
As a human rights activist and someone who worked in Somalia in recent years and has been in constant communication with health care workers and members of the civil societies there, I can affirm that the Somali people are struggling to manage the resurgence of the deadly second wave of COVID-19. This, unfortunately, came at an election year and at the peak of Somalia political dispute between the Central government and two of the federal states on one hand, and the Central government and the opposition on the other hand. It is the season when resources of the government and the opposition are routinely and exclusively allocated for political contention instead of putting the pandemic on top priority.
Sadly, the deadly COVID-19 is becoming a political football between people who see it as an opportunity for one end or another. Other than issuing artificial statements of concern, none of these political contenders has forged a serious strategy to fight this deadly disease. In a country where an estimate of 70 percent of the population is jobless and over one million people are internally displaced people (IDPs), poverty is a glaring reality, and drought and famine are looming in some regions, the situation is very desperate, to say the least.
The Federal government, regional states, and the opposition groups must collectively and urgently prioritize the protection of civilians who are desperately struggling to survive the second wave of this pandemic. This deadly virus coupled with an already crippled health care system, paves the way for a fatal consequence not only upon the Somali citizen but also on the Somali nation.
Going back to the core contentious, we have two competing issues: the first and most immediate contentious issue is whether or not a peaceful demonstration against the current government could take place in Mogadishu. As I expressed in the opening lines, the answer is yes. But that yes must be handled responsibly.
The second and the long-standing issue is the deadlock over the election process. This protracted deadlock is related to who wheels the power of the selection process. More specifically, the competing sides quarrel over who manages the processes of the election in the Gedo region and the Somaliland future parliamentarians and, more critically, the legitimacy of the electoral model and members of the electoral commission. Despite the September 17, 2020 election agreement signed by all sides, the Jubaland and Puntland leadership have consistently refused its implementation. On their part, the Federal government which considered the said agreement favored the federal states, has been giving it lip service, at best.
With the foregoing and as someone dedicated to fairness and the cause of saving Somalia and her citizens, I strongly encourage the contending parties to exercise restraint and give wisdom and the love of the country the chance to prevail. Further, I appeal to the Central government, federal states, and the members of the opposition to consider the following:
With regard to the demonstrations in the wake of the COVID-19 pandemic
1. There has to be a mechanism in place to safeguard the safety and security of the protesters
2. Spoilers, both domestic and foreign actors, must not be allowed to take advantage of the prevailing disagreement and exploit the demonstrations as a venue and as a platform to implement evil destructive intentions
3. The government's security forces must not intervene, in any way, in a peaceful demonstration. If any such intervention is warranted, it has to be only to stop violent groups from taking advantage of this civic engagement
4. To pursue the above, it is important to form a committee comprising relevant government institutions, opposition, civil society, AMISOM to oversee peaceful demonstrations to happen
5. In addition, protesters have to be educated on the precautionary measures to prevent the spread of the COVID-19. FM radios, TVs & social media can be used to inform and encourage protesters to practice safety measures and to encourage anyone with signs of infection to stay home.
6. Arrangements must be made to provide masks, hand sanitizers to the protesters and to encourage social distancing.
With regard to resolving the existing dispute and conducting free and fair elections:
There is a need for a political continuity to avoid political vacuum and safeguard stability. Constitutional bodies
(the executive and the legislative) need to remain until elections take place and new leadership is elected.
To break the deadlock and as a compromise, an inclusive and independent body may be instituted to guide the process around the elections, including validation of the electoral commission and setting an election timetable and resolving other outstanding disagreements. The formation and composition of this body have to be done consultatively.
Last but not the least, individuals seeking presidential election including the incumbent and other candidates, will have to stay away from direct involvement in decisions affecting the outcome of the elections.
The critical situation at hand tests the leadership capacity of all sides. At the end of the day what would matter is not who won or who lost, but how many lives were saved by their compromise.
South Sudan's transition from conflict to recovery 'inching forward'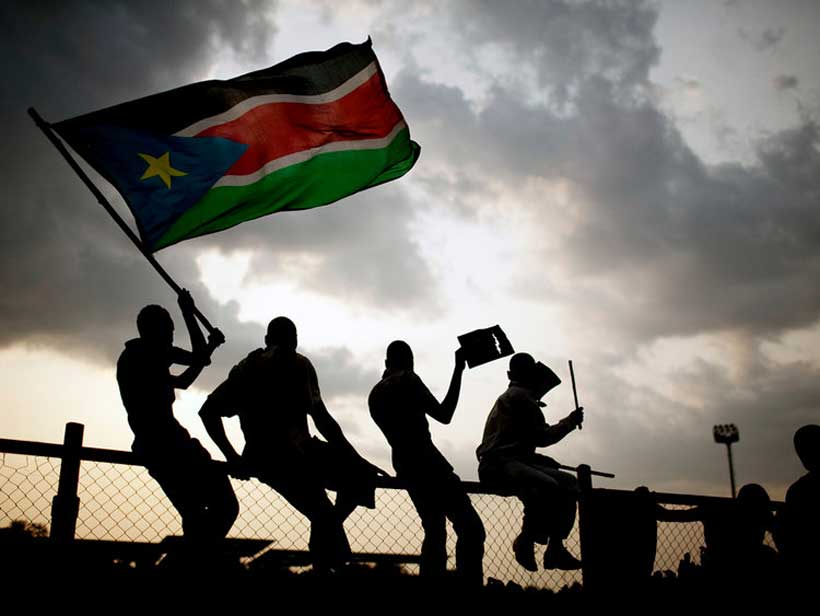 South Sudan's transformation from conflict to recovery is underway, but much needs to be done before securing "a peaceful and prosperous future", the UN Special Representative to the country told the Security Council on Tuesday.
"Because of the collective efforts of so many…South Sudan is in a better state", the head of the UN Mission in South Sudan (UNMISS), David Shearer, said in his last briefing, after serving as Special Representative for four years.
However, he stated that "it is inching forward – frustratingly slowly – with still so much to do".
Despite recently marking the one-year anniversary of the transitional government, progress is lagging – including in reconstituting a Transitional National Legislature, constitution-making, transitional justice, and economic reform, according to Mr. Shearer, who also pointed out that troops that have yet to be unified.
"Slow implementation comes at a cost. The power vacuum at a local level has opened opportunities for spoilers and national actors who have exploited local tensions and fueled violence", he said.
The UNMISS head also noted "a worrying surge in violence" between various heavily armed community militia in Warrap, in the Bahr el Ghazal region, while highlighting that despite the deaths of nine aid workers last year, humanitarian agencies continue to provide "critical assistance".
Four years later
Reflecting on how far the nascent State has come since 2018, Mr. Shearer spotlighted a ceasefire, a peace deal, improved political security, a transitional government, a presidency, council of ministers, governors and local leadership, which is "slowly being installed".
Moreover, political violence had reduced "by a power of 10" compared to those who were dying or displaced from widespread conflict in 2016, he informed the Ambassadors.
UNMISS: 'Stabilizing force'
"A caveat is our concern about the upsurge in armed community militia seemingly in open defiance of state forces", said the UN official, adding that UNMISS is making "a real difference in lowering the level of this kind of violence and bringing diverse communities together".
He called the mission "a stabilizing force that extends well beyond our physical presence – and which is welcomed by nearly 80 percent of South Sudanese who we have independently surveyed".
Mr. Shearer updated the Council that UNMISS continues to push the peace process forward by working closely with all political parties, in coordination with regional and international partners.
'Extremely fragile' peace
However, he underscored that "the peace process remains extremely fragile", noting that many citizens question the political will and fear the collapse of progress.
"It is for those people that we, the international community, must remain united and committed to pushing the peace process forward", said the Special Representative.
"We can't sit on the sidelines as spectators…That's what failure looks like", he spelled out.
Challenges ahead
The UNMISS head highlighted the need for a financial system that works for the South Sudanese.
"The wealth of this country – from oil and elsewhere – bypasses its people, siphoned off in secrecy with no public accountability for how it is spent", he said, posing the "obvious question: Why would key decision-makers benefiting from their current positions hold an election that could put their access to power and resources at risk?".
Struck by the "immense pride" of the South Sudanese in their country, Mr. Shearer explained that "true sovereignty" means being responsible and genuinely caring for the nation's 12 million citizens.
"It also means independence", he said.
Yet the UN envoy referred to the country as "perhaps one of the most dependent nations in history", drawing attention to education and health systems, roads and infrastructure "provided by outsiders".
"We have too eagerly stepped in…[and] added to their dependency – and, in doing so, undermined their dignity", he said.
Mr. Shearer maintained that the Government must also step up, saying, "State-building is a finely tuned endeavour that constantly needs to be re-evaluated and questioned".
Fond farewell
The Special Representative praised the South Sudanese as "without doubt, the toughest, most resilient people I've ever met".
Despite hardship, he said "they can sit, discuss, and…laugh in the face of huge adversity".
Mr. Shearer expressed admiration for their "seemingly endless patience and hope as they fight against huge odds to achieve the much brighter future they deserve".
"I will miss this young country and I wish it well from the bottom of my heart", concluded the outgoing UN envoy.
China's vaccine diplomacy in Africa
China appears moving steadily to deliver on its pledge by offering manufactured vaccines aim at eradicating the coronavirus in Africa. Simultaneously, China is strengthening its health diplomacy with Africa, and experts describe it as an additional step to reassert further its geopolitical influence in the continent.
Undoubtedly, the Chinese Sinopharm vaccines are increasingly becoming popular among African countries. Deliveries have already been made in Egypt, Equatorial Guinea, Namibia, Senegal, Sierra Leone, Mozambique and Zimbabwe.
Chinese Foreign Ministry has indicated that China would help 19 African countries as part of its commitment to making vaccines global public goods. Foreign Ministry spokesperson, Wang Wenbin, said on February 22 that China would also support enterprises to export Covid-19 vaccines to African nations that urgently need, recognize, and have authorized the emergency use of Chinese vaccines.
The aid is a clear manifestation of the China-Africa traditional friendship, Wang Wenbin said, adding assertively "China will continue to provide support and assistance within its capacity and in accordance with the needs of Africa." Further to that, China welcomes and supports France and other European and American nations in providing vaccines to help Africa fight the pandemic.
In West African region, Sierra Leone became the latest African country to receive 200,000 coronavirus vaccine donation, and 201,600 pieces of disposable needles and syringes from the Chinese government. According to reports, the consignment arrived at the Lungi Airport on February 25, and was received by a high-powered government delegation.
Down in Southern Africa, Zimbabwe will buy an additional 1.2 million vaccine doses from China at a preferential price, President Emmerson Mnangagwa's spokesman said, after Beijing agreed to give more free doses to the southern African country. Zimbabwe has already begun vaccinations after receiving a donation of 200,000 doses from the China National Pharmaceutical Group (Sinopharm).
Chinese Ambassador Guo Shaochun said in a statement that his country had decided to double its donation of vaccines to 400,000 as part of its "solidarity and action" with Zimbabwe.

Mnangagwa's spokesman George Charamba said the government, which had already bought 600,000 doses from Sinopharm and would increase its purchases from China. "Zimbabwe is also procuring more vaccines from China at a preferential price. Zimbabwe is set to purchase another 1.2 million doses from China," Charamba wrote on Twitter.
It targets 10 million vaccinations as the country has been hit with increasing infections. More than two thirds of Zimbabwe's 35,910 coronavirus infections and 1,448 deaths have been recorded this year, according to a Reuters tally.

Separately, on February 24, neighboring Mozambique also received 200,000 doses of Sinopharm vaccine donated by China. The delivery of the first consignment, ferried to Mozambique by an aircraft of the Chinese People's Liberation Army, was witnessed by Prime Minister, Carlos Agostinho do Rosário, Minister of Health, Armindo Tiago, Chinese Ambassador Wang Hejun and other senior government officials.
Speaking at the delivery ceremony, held at the Maputo Air Base, Agostinho do Rosario thanked the government and the people of China for the donation of the first batch consists of 200,000 doses and the same number of syringes. "The swift delivery of the vaccine mirrors the determination and commitment of the leaders of both countries to ensure the well-being of the Mozambican people," the Prime Minister said, stressing that the government has adopted a vaccination strategy that attaches priority to high risk groups particularly health professionals on the front-line of the fight against Covid-19.
Chinese Ambassador Wang Hejun, however pledged to strengthen the cooperation between the two countries in the health field and reaffirmed his country's openness to assist Mozambique in acquiring more vaccines.
He said the Mozambican health system is currently under increasing pressure, but believed the first batch of the vaccine will certainly make an enormous difference. Mozambique is among the first African countries to receive the Chinese vaccines. Vaccines are currently available from two Chinese companies, Sinopharm and Sinovac Biotech.
The vaccine that arrived in Maputo was from Sinopharm. A major advantage of the Sinopharm vaccine is that it does not need to be stored at ultra-low temperatures. It can be kept at normal refrigeration temperatures of two to eight degrees Celsius.
Indeed, Indians are also speeding with donations to the African continent. The Indian government has promised to send Mozambique 100,000 doses of the vaccine developed by the Indian pharmaceutical industry. Still in the southern Africa, Namibian officials said Beijing would donate 100,000 doses vaccine while India promised a donation of 30,000 shots to Windhoek.
In order to sustain relations and as part of a "bilateral cooperation" efforts, Portugal plans to donate 5% its excess to a group of Portuguese-speaking African countries. With a population of just over 10 million people, Portugal is entitled to 35 million vaccine doses this year under an EU-coordinated purchasing scheme, mostly for double-dose inoculation, leaving it with millions of extra shots.
The 5% share would make up 1.75 million doses. The group of countries is comprised of Portugal's former African colonies of Angola, Mozambique, Cape Verde, Guinea Bissau, Equatorial Guinea, and Sao Tome and Principe.
Besides getting vaccines through the African Union, a number of African countries by bilateral agreements will purchase vaccines directly from China, Russia and India. For example, five (5) African countries (Algeria, Gabon, Ghana, Guinea and Tunisia) have registered the Sputnik V, which was developed by Russia's Gamaleya National Research Center for Epidemiology and Microbiology.
The African Union and Africa CDC for its ongoing vaccine readiness work through the African Vaccine Acquisition Task Team. The AU has secured vaccines through the COVAX facility for Africa. WHO has listed three (3) vaccines for emergency use, giving the green light for these vaccines to be rolled out through COVAX. The Group of Seven (7) leaders have committed US$4.3 billion to fund the equitable distribution of vaccines, diagnostics and treatments. European Union has also contributed an additional 500 million euros to COVAX.
The COVAX vaccine facility – which pools financial resources and spreads its bets across vaccine candidates – has handed over the first of 337 million doses it has allocated to around 130 countries for the first half of the year. COVAX receives around 90 percent of its funds from G-7 countries and the EU, but none from China, India or Russia.
By March 2, as reported by the GhanaWeb, the number of African countries to have received vaccine doses are the following:
South Africa – Johnson and Johnson (J&J)
Rwanda – Pfizer and Moderna (reportedly)
Egypt – Sinopharm
Morocco – AstraZeneca/Sinopharm
Seychelles – AstraZeneca/Sinopharm
Mauritius – AstraZeneca
Algeria – Sputnik V
Zimbabwe – Sinopharm
Sierra Leone – Sinopharm
Equatorial Guinea – Sinopharm
Senegal – Sinopharm
Ghana – AstraZeneca/Serum Institute of India (COVAX)
Ivory Coast – AstraZeneca (COVAX)
Guinea – Sputnik V (Experimental basis)
Mozambique – Sinopharm.
Dr. Tedros Adhanom Ghebreyesus, Director-General of the World Health Organization has acknowledged that the pandemic has struck at a time of rapid transformation for Africa. "We cannot and must not see health as a cost to be contained. Quite the opposite: health is an investment to be nurtured – an investment in productive population, and in sustainable and inclusive development," he explained.
According to Adhanom Ghebreyesus, it takes a whole-of-government, whole-of-society approach, and added that "many African countries have low levels of coverage of health services, and when health is at risk, everything is at risk."
Since April last year, World Health Organization and its partners have been working through the Access to COVID-19 Tools Accelerator for the equitable distribution of vaccines as global public goods. As already known, so far around 200 million doses of vaccine have been administered, but unfortunately most of them in the world's richest countries.
WHO declared the coronavirus outbreak a pandemic in March 2020. Since then, more than 110 million cases have now been reported to this organization, and almost 2.5 million people have lost their lives. The overall number of Covid-19 cases in Africa currently stands more than 3.8 million late February, according to the World Health Organization's (WHO) Regional Office for Africa.