Three new modules to enhance quality of industrial policy
The United Nations Industrial Development Organization (UNIDO) has piloted three new learning modules as part of the project, EQuIP – Enhancing the Quality of Industrial Policies. Fifteen participants working in the Ministry of Economy and Sustainable Development, Ministry of Environment and the academic sector have taken part in hands-on exercises concerning the situation of Georgia in relation to climate change and the manufacturing sector, gender in manufacturing, and industry 4.0.
EQuIP helps policymakers in developing countries to formulate and design evidence-based strategies for inclusive and sustainable industrial development. The philosophy of the project, which was established in 2014 by UNIDO and the German development agency, GIZ, is that to formulate appropriate industrial strategies and policies policymakers need to acquire full ownership of the concepts, indicators and interpretation methods for the analysis of key topics related to economic, environmental and social aspects of industrialization.
The climate change EQuIP module proposes indicators and data sets to analyze the contribution of industry in total country emissions for the reconciliation of economic and environment protection goals. The tool also proposes basic analytical concepts for the understanding of the relation between industrialization and adaptation.
The gender module helps in the analysis of the relation between structural change and gender inequality. Whereas structural transformation towards industrialization brings economic growth and prosperity, this phenomenon is not always accompanied by higher wages and labour participation for woman.
The industry 4.0 module provides first mover and frontier indicators to start detecting the capacity of developing countries to import technologies and acquire new capabilities through trade relations.
AIIB Donates USD1M to Help China Fight COVID-19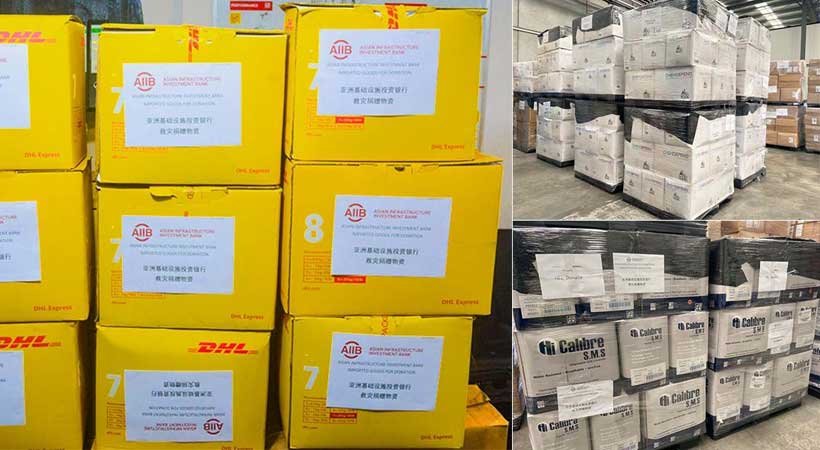 The Asian Infrastructure Investment Bank (AIIB) is contributing USD1 million to help China control the spread of COVID-19. The amount comprises donations from AIIB staff and matching funds from the Bank.
The contribution was used to purchase medical equipment to help frontline health care professionals battling the coronavirus outbreak in Wuhan and Beijing. AIIB has been sourcing medical supplies from around the world, including 51,000 medical masks, 46,000 protective clothing, 17,000 surgery aprons, 21,000 boxes of surgery gloves and other medical and epidemic prevention supplies with a total weight of 40 tons. The first batch of materials is delivered to Wuhan and Beijing on Feb. 24, 2020, with other batches to follow.
"AIIB's management and staff stand by the Chinese people," said AIIB President and Chair of the Board Jin Liqun. "We are ready to offer our help to the best of our ability. We want to do our part as residents of China to help stop the epidemic's spread."
AIIB also announced on Feb. 10, 2020 that it has been in active discussions with the Government of China to strengthen the country's emergency public health infrastructure and help meet its immediate and longer-term public health needs.
APEC Needs to Look Beyond Numbers, Bring Concrete Benefits to People
The current volatility and uncertainty of the international trade environment requires APEC to be dynamic, said Dato' Sri Norazman Ayob, Deputy Secretary General of Industry of Malaysia's Ministry of International Trade and Industry.
"Integration of the global supply chain carries inherent systemic risk of disruption to domestic economies in the event of a major breakdown along the value chain," he said during his remarks at a dialogue with stakeholders focused on APEC's post-2020 vision in Putrajaya on Wednesday. "Businesses would need to constantly reassess their business models to ensure business continuity."
Notwithstanding, the ever-changing environment requires constant rebalancing measures from regulators and industry players to encourage domestic industrial development to ensure economic growth remains sustainable.
Norazman argued that as the premier economic forum in the region, APEC needs to realign its priorities to look at economic growth beyond creating equal opportunities and prosperity through trade and investment, "but also tangible benefits to the people."
He noted that APEC's goal of free and open trade in the region, otherwise known as the Bogor Goals, has brought integration to the region by reducing trade barriers and addressing regulatory issues.
Average tariffs within APEC have fallen from 17 percent in 1989 to 5.3 percent in 2018. During the same period, APEC's share of world's trade increased from 41 percent to 48 percent. APEC economies account for more than 80 percent of Malaysia's total trade.
"Despite these achievements, we are very much living in a world where uncertainty is the new normal and economies have to be prepared to constantly embrace change in order to survive in the current global environment," Norazman explained.
One of the key deliverables for Malaysia as the host of APEC this year is to lead the development of the new APEC vision that will guide the forum's work in the next decades.
Guided by the overarching concept of "Shared Prosperity", Malaysia plans to introduce initiatives to enable trade and investments to generate concrete outcomes for the people in the region.
According to Norazman, Malaysia will promote the development of the digital economy and encourage effective use of advanced technologies to improve living standards, create equal employment opportunities and achieve a more balanced growth across the region.
"The Post-2020 Vision has to ensure that people are put at the core of the discussion," he concluded. "A more holistic approach that includes inclusivity, equality and sustainability can be explored in ensuring that no one is left behind."
Senior Officials from APEC economies will gather in Putrajaya on 21-22 February 2020 to discuss the initiatives and work plans for the year.
Afghanistan: Civilian casualties exceed 10,000 for sixth straight year
More than 10,000 civilians in Afghanistan were killed and injured last year, according to a new United Nations report that details record-high levels of civilian harm in the ongoing conflict.
"Almost no civilian in Afghanistan has escaped being personally affected in some way by the ongoing violence," Tadamichi Yamamoto, the UN Special Representative for Afghanistan and head of the UN Assistance Mission in Afghanistan (UNAMA), said on Saturday.
The report, entitled Afghanistan Annual Report on Protection of Civilians in Armed Conflict: 2019, documents 3,403 civilians killed and 6,989 injured – with the majority of the civilian casualties inflicted by anti-Government elements.
It is the sixth year in a row that the number of civilian casualties has exceeded 10,000.
Grim milestone
After more than a decade of systematically documenting the impact of the war on civilians, the UN found that in 2019 the number of civilian casualties had surpassed 100,000.
"It is absolutely imperative for all parties to seize the moment to stop the fighting, as peace is long overdue; civilian lives must be protected and efforts for peace are underway", stressed Mr. Yamamoto.
The figures outlined in the report, released jointly by UNAMA and the UN Human Rights Office, represent a five per cent decrease over the previous year, mainly due to a drop in civilian casualties caused by the terrorist group ISIL.
However, civilian casualties caused by the other parties rose, including a 21 per cent increase by the Taliban and an 18 per cent surge by the international military forces, mainly due to an increase in improvised explosive device attacks and airstrikes.
Protect civilians
"All parties to the conflict must comply with the key principles of distinction, proportionality and precaution to prevent civilian casualties," said Michelle Bachelet, the UN High Commissioner for Human Rights.
To ensure accountability, the report calls on all conflict parties to conduct prompt, effective and transparent investigations into all allegations of violations of international human rights law and international humanitarian law.
"Belligerents must take the necessary measures to prevent women, men, boys and girls from being killed by bombs, shells, rockets and improvised mines; to do otherwise is unacceptable", concluded the High Commissioner.