Iran and Venezuela: One story of two Revolutions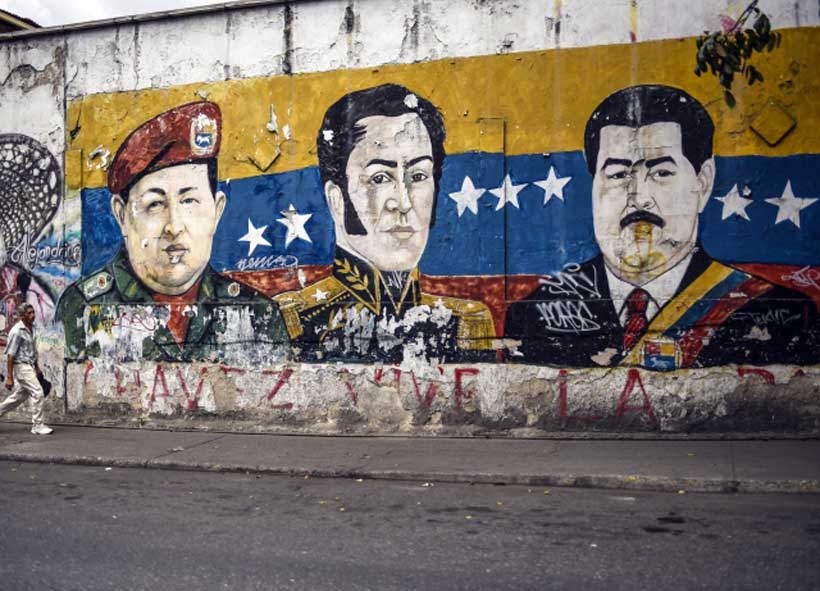 Authors: Irina Tsukerman & Hos Loftus*
The presence of Islamist militant groups in Latin America has a long and dark history. The brutal terrorist attacks on the Israeli embassy in Argentina in 1992, and the bombing of the Asociación Mutual Israelita Argentina (AMIA) in 1994, collectively left hundreds dead and injured. Argentina, as a country, is still dealing with the aftermath. The AMIA incident was the deadliest attack against a Jewish community anywhere in the world since WWII.
The Twin Revolutions: "Islamic" and "Bolivarian"
In the 1990s Islamist militants in Latin America lacked a base of operations. That began to change when democracy in Venezuela was replaced, first, by a strong man-led system, and subsequently, all-out dictatorship. That was the gift of the former socialist president Hugo Chavez for the country, one that he sold as his "Bolivarian Revolution". In order to see how this played into the hands of unlikely beneficiaries—Islamic radicals from half a world away—we have to trace the story to its earliest preludes.
The sad story of the closing chapters of the democratic era in Venezuela's history was chronicled shortly after Chavez came to power by Mario Vargas Llosa, the Peruvian author and future Nobel Laureate in literature. In a scathing piece, published in Spain's El País in August 1998, Vargas Llosa used harsh, but prescient words to warn of dark days ahead. The title, "the Suicide of a Nation", in itself, spoke volumes.
Vargas Llosa offered a perspective of what was a repeating pattern in much of Latin America: as democracy fails to live up to expectations and often leads to a decline in living standards, public opinion shifts in favor of "strong men", who would then take advantage of their popularity to cement authoritarianism. (It has to be emphasized, though, that the new authoritarian need not have come to power through elections; leading a revolution against a despised tyrant would work just as well.) This had been tried successfully before Chavez by such luminaries as Alberto Fujimori in Peru, Juan Perón in Argentina, Rafael Trujillo in the Dominican Republic, and, not least, Chavez's own mentor, Fidel Castro in Cuba. Chavez came as a populist response to democratic claims, not as a violent usurper—at least, once he had learned his lesson.
In this sordid tale, the roots of dictatorship in Venezuela went back to the 1970s and 80s.
The early days of skyrocketing oil prices came during and after the Arab-Israeli Yom Kippur War of 1973. An unheard of influx of petrol-dollars inevitably led to massive corruption. "Inevitably", according to Vargas Llosa, due to the economic policies that ruled Venezuela, long before Chavez. In Vargas Llosa's view: the Venezuelan state was gigantic and interventionist. Economic success passed not through the market and winning over consumers, but nepotism, privileges, and monopolies handed out by the biggest player in the nation's economic life: the politician in power. In other words, Venezuela was always a socialist-style, government-run command and control economy, never dynamic, property rights-based and free-market oriented.
What was left in the public coffers was spent on subsidizing everything, down to air and water. Gas was subsidized to the point that its cost didn't even cover its transport to fueling stations! Few nations in the world epitomize the phrase "nanny state" so literally.
In this environment, an attempted coup in 1992 by a little-known Lieutenant Colonel named Hugo Chavez generated little enthusiasm, and was put down without much drama, its leader put in jail. Less than 2 years later, however, he was pardoned by the government. While this was supposed to be a conciliatory gesture, it was dismissed by Vargas Llosa in that piece as not only "suicidally irresponsible", but also a betrayal to the nation, at that time still supportive of democracy (not to mention the majority of the military, who refused to side with the coup plotters, some losing their lives in the process). But the oil market collapse of the late 1990s lead to just as much anguish as the euphoria the price rallies had brought, and that ultimately paved the way for Chavez to successfully grab the power in the end—this time, at the ballot box. Not just that, but it gave him sufficient majorities in elected bodies to introduce and ratify a new constitution—all in the name of rooting out corruption—that conveniently also guaranteed his own permanence in power.
Which brings us to the events on the other side of the globe: Iran's Islamist Revolution lead by Ayatollah Khomeini nearly two decades earlier. Iran and Venezuela are distant nations geographically with different languages and cultures. Still, there are important similarities between the two: oil exporting nations relying on petroleum almost exclusively as the source of hard currency. To be sure, revolutions in Iran and Venezuela were not exact replicas. Iran's Islamist Revolution came with a violent uprising, unlike Venezuela. Nonetheless, there were numerous similarities. Both were explicitly ideological ("Islamic" in Iran and "Bolivarian" in Venezuela), rather than simply intending to establish democratic rule. They both prioritized short-sighted economic gains for the masses: the Ayatollah claimed explicitly that there would be free water and electricity for Iranians, while at the same time also promising, like Chavez, to root out the corruption that had been allowed to grow out of control in the system he wanted to overthrow. The inherent contradiction between these two goals, just discussed, apparently was missed on everyone.
As time would prove, there were yet more similarities to surface between the two revolutions. Enmity against US "imperialism" was among the founding principles of both. And they would go on trying to bolster governments and non-government players in neighboring countries that would help them put this hostility into action. As Iran founded Hezbollah in 1980s Lebanon and sought to colonize the country, Venezuela in the 2000s openly backed politicians it considered ideological allies in Bolivia, Peru, Ecuador, and elsewhere to create a socialist bloc. Somehow the irony of such empire-building in the name of anti-"imperialism" was missed.
In time the shared goals and shared rhetoric would bring the two revolutionary governments closer together, which might seem counterintuitive. At first glance, the Shia-based Islamist revolutionary ideology had little in common with the Soviet-backed atheist revolution that had settled in Cuba and made its way through Latin America. In reality, the "red" left has made a comfortable alliance with the "green" revolutionaries on a number of political, security, and ideological levels. Khomeini, for instance, popularized Sunni Muslim Brotherhood texts, which themselves borrowed heavily from the Bolshevik ouevre from the 1920s and their historic predecessors, the Jacobins. The zenith of ties between the two regimes, without a doubt, came during the "presidency" of the Holocaust denier Mahmoud Ahmadinejad in Iran, who found a brother in Chavez.
When They Failed to Deliver…
Of course none of the Ayatollah's economic promises ever materialized. Mass arrests and summary executions that followed the establishment of the Islamist regime, the compulsory dress codes, and anti-Western xenophobia that culminated in "conquering" (to use the official language) the American embassy and hostage taking of US diplomats scared foreign and domestic investors, to say nothing of destroying diplomatic relations. Flight of capital, combined with a ruinous war with Iraq, transformed what was once one of the richest countries into a pauper nation. Undaunted, the Ayatollah shrugged off any mention of his forgotten promises in later years: "ask not what the revolution has done for you, ask what you have done for the revolution". That this, too, was a paraphrase from an assassinated leader of the country he condemned as "the Great Satan" also passed with no sense of irony, and neither was he ever called out for his plagiarism.
Economic realities were no kinder to the revolutionary leaders in Venezuela than their counterparts in Iran. Venezuela has more crude oil than any other country in the world and it heavily depends on the commodity to power its economy. Crude oil makes up about 95% of Venezuela's exports. Yet the government-owned oil company, PDVSA, has pumped less and less oil for the last few years because of corruption, crumbling infrastructure, and a massive debt crisis. According to its report to OPEC, Venezuela's production was 1.62 million barrels per day (b/d) in December 2017, a decline of 649 thousand b/d (or 29%) in just one year, and more than 1.1 million b/d in five years. The current troubles of the oil industry are rooted in the oil policies implemented by Hugo Chavez (deceased in 2013, only to be replaced by the even more thuggish Nicolas Maduro). He fired about half of the workforce of the PDVSA during an oil strike in 2003, including the vast majority of top executives and technical staff, as retaliation for their participation in industrial action against him.
He forcefully renegotiated joint-ventures and operational contracts with foreign companies and partially nationalized them in 2007; on his watch, ExxonMobil and ConocoPhillips withdrew from the country as a result. Investment in oil development and production declined, even during the oil price boom. The nationalization backfired on Venezuela even more in April 2018 when the World Bank's International Center for Settlement of Investment Disputes ruled in a lawsuit filed by ConocoPhillips that this company was owed over $2 billion by Venezuela's state-run PDVSA because of the 2007 nationalization. ConocoPhillips then moved to seize PDVSA's assets in the Caribbean, considered logistically key to Venezuela's ability to export oil, further disrupting the country's oil sales.
This ruling set the stage for similar suits not just against PDVSA, but also its American subsidiary, CITGO. The future of these claims is not known as of this writing, but they could not have come at a worse time for Venezuela's already devastated economy. The regime blames this all on US sanctions, but the timeline of events clearly shows that the decline in Venezuela's oil production preceded US sanctions on the country's oil sector by many years. Iran's economy would similarly be a basket-case without sanctions due to the regime's decades of prioritizing revolution over its people. As Ayatollah Khomeini said, the neaver-ending revolution's death and destruction was not for "cheap melons." Venezuela also followed the Islamic Republic's lead in political hostage taking, by abducting Texas and Louisiana CITGO employees, who remain in Maduro's custody after fourteen months.
The once wealthiest economy in South America, after decades of socialist rule, is now dominating the headlines as a paragon of tyranny, rampant crime, chaos, misery, and starvation. Millions of Venezuelans have fled to Colombia, Panama, and elsewhere in South America, threatening to destabilize the continent. But opening its doors to Islamic militancy means that Venezuela could be a destabilizing threat in more ways than one.
They Collaborated in the Use of Violence
Faced with mass popular discontent, the twin revolutions turned to violence against their people as the only way to guarantee their survival. In Iran, the Revolutionary Guard was established as a counterweight to the official army, which in the beginning was seen as still having elements loyal to the last regime. This military body subsequently gave birth to branches, one of which was Quds (Arabic for Jerusalem) Force, an expeditionary force acting beyond the country's borders. The other was the Basij, or volunteer army, which played an important part during the Iran-Iraq War, and later turned against dissidents and protesters, showing its highest level of cruelty following the fraudulent presidential elections of 2009, when street protests followed the confirmation of Ahmadinejad.
Crackdowns on public discontent in Venezuela have followed a similar pattern. Cuba helped establish the loyalist groups called "colectivos" that act similar to the Basij militias in Iran, intimidating protesters and journalists, and at times acting no different than street gangs. Iran has also pitched-in. The Quds Force has worked with the Cuban intelligence (which had previously trained Chavez) to help Maduro consolidate power; and Hezbollah enjoys a comfortable presence in Venezuela at the highest levels.
Human rights violations in both states have made them largely unwelcome on the world stage; however, dependency on cheap, if poorly processed or poor quality, oil retained clientele for both states. Later, other autocratic states, such as China and Russia, took advantage of their outcast status to expand their own base of influence, strengthen economic partnerships, make cheap investments, and to create local problems for the United States.
These ties actually go back more than a decade. They include joint training between Iranian and Venezuelan operatives. Finding safe haven in Venezuela, Hezbollah's presence across Latin America has increased. Both Iran and Hezbollah are known to have provided the Chavez and Maduro regimes with "strategic advice". The person in Venezuela's Bolivarian ruling class with the most personal ties to terror groups is Tareck El Aissami, a Venezuelan of Syrian/Lebanese ancestry, who was indicted in the US earlier this year. A 2015 report by the Obama Administration's United States Department of State stated "[t]here were credible reports that Venezuela maintained a permissive environment that allowed for support of activities that benefited known terrorist groups". New York County District Attorney Robert M. Morgenthau stated that while El Aissami was head of ONIDEX, Venezuela's passport and naturalization agency, he provided official documents to Hamas and Hezbollah members. He also stated that it was possible that El Aissami was recruiting Arab Venezuelans to train under Hezbollah in southern Lebanon. In February 2017, CNN reported ("Venezuelan Passports, in the Wrong Hands?") on the sale of Venezuelan passports to individuals in the Middle East, specifically Syrians, Palestinians, Iraqis, and Pakistanis.
According to Misael López Soto, a former employee at the Venezuelan embassy in Iraq who was also a lawyer and CICPC officer, the Bolivarian government would sell authentic passports to individuals from the Middle East, with the Venezuelan passport (at the time) able to access 130 countries throughout the world without a visa requirement. López provided CNN documents showing how his superiors attempted to cover up the sale of passports, which were being sold for from $5,000 to $15,000 per passport. A confidential intelligence report obtained by CNN linked El Aissami to 173 passports and ID's given between 2008 and 2015 to individuals from the Middle East, some of whom were purportedly associated with Hezbollah. The Venezuelan government did not investigate the allegations made by López and instead initiated an investigation against him for his act of leaking confidential documents and stated that he had abandoned his duty. Following the release of the CNN report, President Maduro demanded that CNN leave Venezuela, stating that the network had sought to "manipulate" Venezuelans.
AMIA: The Venezuelan connection
Argentina has had no closure as the actual plotters behind the AMIA bombing have never been brought to justice. Worse, the investigation itself has been plagued by accusations of incompetence, corruption, and nepotism. And that has been, in no small part, due to family relations and geopolitical interests of Argentinian presidents.
A Brazilian publication, Veja, first broke the story, in 2015, of Mahmoud Ahmadinejad sending a message to Argentinian President Nestor Kirchner via a shared friend, Chavez of Venezuela. According to the publication, in 2007, Ahmadinejad proposed to Kirchner that in exchange for funding the presidential campaign of his wife, Cristina Frenandez de Kirchner, Kirchner's Argentina would (among other things) drop its arrest warrant through the Interpol against Iranians implicated in the AMIA attack. This came about the time that arrest warrants were issued against 6 Iranian citizens for their involvement in the attack.
Kirchner would not, in the beginning, concede to the demands made through Chavez. Nonetheless, there was a debt to pay: since 2003, a lot of Argentinian sovereign debt had been underwritten by Venezuela, and by the end of 2008, Venezuela was in possession of 6 billion dollars of Argentinian bonds. Back in those days, the free flow of Venezuelan oil and prices of above $100 per barrel afforded Venezuela such extravagances. On top of this, for both Nestor Kirchner and his wife Cristina, who succeeded him as president, being among Chavez's inner circle of friends was a high priority. To them, it would mean membership in the Leftist heads of state club chaired by none other than Fidel Castro. Which came with perks: they would be shielded against accusations of corruption, which would be dismissed, by club members in unison, as "slander by American imperialism and their local lackeys". Other club members included Bolivia, Nicaragua, Ecuador, and even Brazil as it was led by president Lula da Silva (who would later be convicted of corruption). Chavez operated as a middleman between Ahmadinejad and much of Latin America.
Iran entered commercial agreements with many of these countries. For a country facing international isolation due to its human rights record, its denial of the Holocaust, and its nuclear weapons development activities, this was nothing short of a coup. Chavez traveled 9 times to Iran while Ahmadinejad traveled 5 times to Venezuela. When Chavez died, Ahmadinejad caused a mini-scandal among his country's fundamentalist hardliners by stating Chavez would rise from the dead together with the divine prophet—which would be heretical according to Islamic orthodoxy—and by hugging his mother (those same hardliners would consider any physical contact between two unrelated individuals of opposite sex forbidden). None of this, of course, spoke of Ahmadinejad's presumed "moderation", but of deep, personal grief that came to dominate his own beliefs. There was no greater reward for Ahmadinejad in this friendship than getting Argentina to abandon the pursuit of justice for AMIA.
In January 2013, on the watch of Presidents Cristina Fernandez de Kirchner and Mahmoud Ahmadinejad, respectively, Argentina and Iran signed a Memorandum of Understanding. Rather than extradition of AMIA suspects, the Memorandum would arrange for joint hearings in which the suspects would give evidence-facing no penalty regardless of what they said. Argentina's Jewish community condemned the Memorandum and sued to stop it.
In May of that year, Argentine prosecutor Alberto Nisman accused the regime of Iran of plotting the AMIA attack. In January 2015, Nisman accused President Fernandez de Kirchner of "organizing impunity" for the suspects with the goal of whitewashing the Islamic Republic's involvement in the attack. One day before Nisman was to officially present his findings to parliament, he died, having been shot by a handgun. The mystery of his death was never solved, further complicating Argentina's unhealed 30 year old wound. Before his death, Nisman had put together an arrest warrant against President Fernandez de Kirchner. Despite lack of proof, Fernandez de Kirchner was never able to clear suspicions that she was behind Nisman's death, given that, obviously, no one had a stronger motive to see Nisman dead. And all of this is part of Chavez's legacy for Argentina. Fernandez de Kirchner was eventually put on trial for her attempted cover-up of the bombing.
While these charges against her were dismissed, she was later retried for treason. In her defense, Fernandez de Kirchner claimed that a former Obama officialhad asked her to supply Iran with nuclear fuel. Gary Samone visited Argentina in his capacity as White House Coordinator for Arms Control and Weapons of Mass destruction. Argentina had provided Iran with fuel for its "Teheran" reactor in 1987. However, this collaboration was over by the time the nuclear negotiations that would lead to the Joint Comprehensive Plan of Action began between Iran, the United States, and others. The Iranian nuclear negotiators would not move forward without getting fuel for the reactor.
The United States then turned to Argentina for help. Fernandez de Kirchner asked Samone to put his request in writing, but he was not heard from again. But by implicating the Obama administration in this scenario, de Kirchner was sending a message that the Obama administration was fully aware of historical ties between Argentina and Iran, and would not press Argentina on the cover-up of the bombing to ensure the smooth transition of the nuclear deal. The same pattern of letting bad actors off the hook was later admitted by Ben Rhodes with regards to the lack of follow through on the "Red Line in Syria", and Obama's tacit support for the Morsi regime in Egypt despite its open ties with the Iranian regime. The Obama administration needed Argentina's help for the nuclear fuel issue, and thus stayed mum. Iranian terrorists also tried to assassinate the Saudi Ambassador to the United States at the time, while backing an attempted coup in Bahrain the same year, and likewise benefiting from the turmoil of the Arab Spring all over the Sunni Muslim world. Iran's role in all of these calamities was ignored by the Obama administration in favor of proceeding with the deal.
But the Kirchners were not the only Argentinian presidents to be accused of sabotaging the investigation. The sitting president at the time of the attack, Carlos Menem, who was of Syrian descent, was accused of covering-up involvement by regime of Syria (the ayatollahs' partner in sponsoring Hezbollah) in the attack, for the purpose of protecting his family connections. Allegedly, Menem's family friend and fellow Syrian-Argentinian, Alberto Kanoore Edul, had been in contact before the attack with the person who lent the truck used in the AMIA attack to the Hezbollah-related suicide bomber, Ibrahim Hussein Berro (named by Nisman in 2005).
Iran and terrorism in Latin America
Edul was also a suspect because he owned an address book that included the phone number of Moshen Rabbani, at the time the cultural attaché at the Iranian Embassy in Buenos Aires; Rabbani was the accused mastermind of the attack and one of the indicted Iranians. This would not be the first nor the last time Iran would use diplomatic cover for planning terrorist attacks. In 2018, Morocco severed diplomatic relations with Iran over its use of its Algiers embassy to facilitate Hezbullah supply of the formerly Soviet-backed and Cuban-trained Polisario separatists with weapons and additional training. The same year, Iranian dissidents uncovered that the Vienna embassy was the center for pollting terrorist activity, which included a planned attack on the Iranian opposition in Paris. Other prospective attacks involving Iranian intelligence resulted in a foiled assassination against Ahwazi Arab opposition leaders in Denmark. Other "diplomats", who were later expelled, planned attacks against the PMOI leaders in Albania. In 2019, a German intelligence report noted that the Berlin embassy was at the heart of a planned attack against the PMOI/MEK in Germany.
But the investigation of Edul had been halted on the orders of Menem due to their family ties, according to the charges. Carlos Menem would stand trial for the cover-up over 30 years after his alleged crime and ultimately be cleared of the charge, much to the dismay of victims' families. By this time, of course, Edul was long dead. Would the outcome be different if there had not been so much delay in putting him to trial, before the main witness died? We likely will never know.
The attacker Hussein Berro slipped into Argentina through the "triple border" area between Argentina, Paraguay and Brazil, where Hezbollah sympathies are heavy among the Lebanese immigrant community. The main city in the area, Ciudad del Este (Paraguay's second largest city after the capital Asunción), has long been (allegedly) a financing center for Hezbollah. While Ciudad del Este is home to criminals specializing in all the branches of the "profession" (from drug and human trafficking to money laundering and bootlegging of copyright material), the only activity in the area that has been disputed, unsurprisingly by Aljazeera, is funding Islamic terrorism, which it calls "hysteria against Muslims". But there have been convictions for channeling of proceeds from illegal activities to Hezbollah.
And according to the US Drug Enforcement Administration, Hezbollah smuggles hundreds of tons of cocaine from the Andean Region of South America into Venezuela and from there onto ships destined for European markets via West and North Africa. The DEA had long planned a crackdown on this activity, code named Operation Cassandra, which was ultimately scuttled by the Obama Administration as part of the effort to keep nuclear negotiations with Iran on track. Aljazeera might point to the absence of Hezbollah training camps in Ciudad del Este, but it is hard to imagine such vast criminal activity in South America without having a local network of sympathizers.
Hence to say that the crime infested Ciudad del Este, also having the largest Lebanese population anywhere in South America, does not play an important part in Hezbollah's illicit financing, is quite a stretch. The area was used as a base by Hezbollah to smuggle the AMIA attacker Hussein Berro into Argentina-what this act took was having a network of sympathizers in a lawless area. Absence of Hezbollah training camps or their paramilitary parades did nothing to hinder the plan. Belatedly in July 2019, Argentina would recognize Hezbollah as a terrorist organization. But the damage may have already been done. Realistically it is quite unlikely that victims families, or Argentina as a whole, will ever see justice served, and the wound will never heal.
Moreover, Iran-backed Hezbollah remains active in Venezuela, backing the Maduro regime and enriching itself through illegal gold mining. US Secretary of State Pompeo pointed to intelligence reports concerning the presence of active Hezbollah cells within Venezuela as additional evidence substantiating the allegations of the close links of the Maduro regime with the terrorist organization. There are concerns that with the help from Iran, Russia, and Cuba, Venezuela is not only a tacit supporter for Iranian terrorism, but is itself turning into a hub of international terrorism. Many of the terrorists benefited from the frozen funds released in cash pallets to Tehran by the Obama administration as part of the JCPOA. The gold mining is but a tip of the iceberg. Other evidence traces the roots of illegal gold smuggling from Venezuela through Morocco to Russia and Iran. Hezbollah's gold smuggling activities in Africa are also well established; close collaboration between various corrupt regimes and Venezuela, on drug as well as gold trafficking should attract greater scrutiny.
Is the Opposition Any Better?
Meanwhile, back in Venezuela, the only opposition to Maduro's brutal socialist autocracy has been another socialist, Juan Guiado, who has thus far failed to recruit away enough support from the military to provide a viable alternative to the regime. Guiado is being lauded as a savior of Venezuela, simply because he is not Maduro and is promising to respect the popular will and the democratic process. But would he be able to withstand scrutiny on his own merits?
The Venezuelan opposition to the Chavez and Maduro regimes and the country's striking economic downturn after accelerating its progress on the socialist path has been leftist. In other words, oppositionists complain about personalities and policy, not necessarily ideology. Guiado's promise lay largely in a return to the rule of law, a break with Iran, Russia, and Cuba, and restoration of positive relations with the United States as well as European Union and Organization of American States members. By backing somewhat more moderate leftist opposition to the current regime, Venezuelans are signaling that they have lost their trust in dictators, but not in the system that breeds them. Will the economic situation in Venezuela improve if a less corrupt and autocratic version of Maduro comes to power?
It remains to be seen, but as we saw, long before Chavez, Venezuela's economy had been constrained by the trappings of socialism—and this ironically helped Chavez come to power. In the meantime, ordinary Venezuelans are living through a nightmare of starvation, corruption, and violent crime, which is forcing them to flee in their millions—the largest population displacement not related to war in decades. Inflation has reached the point that even criminal gangs do not see their activities as profitable due to high price of firearms on the black market (!). Maduro, of course, blames everything on the US, and now, he has allies inside the US government parroting his talking points.
Anti-Americanism Inside the American Government
That is because the Venezuelan calamity has become a golden opportunity for politicians and pundits to make political hay. The best example is Congresswoman Ilhan Omar (D-Minnesota), who, echoing Maduro, claimed: "A lot of the policies that we have put in place has kind of helped lead the devastation in Venezuela, and we've sort of set the stage for where we're arriving today". When dismissed as "not knowing what she is talking about" by Vice President Pence, Omar responded: "Women of color have heard this before."
But those following the crisis in Venezuela for some time remember clearly that it did not start as a racial issue; in fact, some of the earliest and most clear-headed warnings about where Venezuela was headed came from the so called "people of color," such as world-renowned author Mario Vargas Llosa.
Omar in fact "doesn't know what she is talking about" (charitably speaking), and hiding behind her gender and ethnicity doesn't change that.
The so-called democratic socialist presidential candidate Bernie Sanders recently tried to distance himself from an editorial on his senatorial website praising the "American dream" in Chaez's Venezuela. However, he still opposes all efforts to help liberate Venezuela from the Maduro regime, and more recently claimed that Soviet Union and Venezuela don't count as examples of "failed socialism".
Many of the same members of Congress and former Obama administration officials, who have now joined the foreign policy commentators for various publications, who have opposed intervention in Venezuela also prepared or delivered talking points that the only way to avoid war with Iran was to go forward with the deal. The reasons for not pressuring any of Iran's proxies, fellow travelers, and allies in the Middle East and Latin America were couched in similar language. Iranian and Venezuelan propaganda machines have managed to create the impression that the regimes in these countries, despite rampant fraud and intimidation of the opposition, are legitimate and democratically elected, and therefore interventionism would be illegal and contrary to the popular will of their citizens.
Policy Recommendations
U.S. policy towards Iran and Venezuela has been polarized and uneven, which sends mixed messages to allies and adversaries alike. Seeing the largely partisan split on whether to pressure the Iran regimes and whether to follow the Monroe Doctrine, which allows forceful intervention against foreign forces in Latin America, tells both Tehran and Caracas that these vulnerabilities can be exploited ad infinitum. While the President and Congress, or Republicans and Democrats, are fighting over what to do and how to do it, the regimes can continue implementing their agenda with the single-minded focus only authoritarian governments can enjoy.
Furthermore, the vacillations over policy within the same administration signals weakness. US allies, on the other hand, are getting the message that the US is not a stalwart or reliable "friend in need" and may in the future lean further on Russia and China—the two states looking to edge US influence out of the Middle East and Latin America—for partnership and assistance. The US has failed to follow through on many promises regarding "maximum pressure" against Iran, nor has it fully supported Guiado, leaving him out in the cold when he appeared to be on the verge of securing military support for the overthrow of Maduro. The resolve of the US in conducting effective foreign policy and securing its own interest, much less standing guard against exportation of revolutions and instability around the world, is currently very much in question.
Whether the Trump administration can redirect its energy to a focused effort or whether it will continue to be torn between keeping isolationist election promises and having to respond to real-time needs with serious long-term consequences remains to be seen. However, there are several commonsense ideas and principles they should adopt as a guide for figuring out the next steps to prevent further deterioration of the security situation that ultimately threatens US borders and the security of its bases and allies:
Acting from a Position of Strength
-Maduro's regime is ultimately weak and hinges on the willingness of the military apparatus to support his claims. The military will hold out for its own interest in access to mines and so forth. Guiado, in negotiations, may need to cut temporary deals with the military to get their backing. It is up to the United States to ensure that if he does ultimately succeed in this endeavor, these deals do not become so entrenched as to lead to another crisis.
-Maduro is heavily dependent on foreign actors. Without infusions of bailout cash, credit, military, and intelligence support from Iran, Russia, Cuba, and China, he would hardly be expected to last. Interrupting the flow of this support should be the top priority for the administration, especially if it is reluctant to engage in direct military intervention. That also means cracking down on illegal schemes, but most importantly going after—and very personally—the individual actors within each state's government involved in overseeing these infusions and schemes. Sanctions should be imposed against these individuals preventing them from traveling to the US and freezing their assets. Interpol "red notices" should be used to advance the possibility of arresting these officials, undoubtedly profiteering from the support for these actions. Avoiding sanctions and intervening with Venezuela or other countries should be made costly and unpleasant for the apparatchiks of the patron regimes.
-Hezbollah assets have been frozen in Argentina, but money is fungible and they can ultimately shift their activity to more friendly states, such as Bolivia. If Colombia is sufficiently destabilized by the flow of refugees from Venezuela, it can crack and end-up adopting a socialist system of governance. The exporters of revolution can take advantage of the refugee crisis to destabilize existing pro-American governments. Mexico, Guatemala, Honduras, and El Salvador, all corrupt states, with varying degrees of weakness, are ripe for exploitation. Cartel activity in Mexico makes it an ideal counterpart for Iran's Hezbollah in particular. The US should take measures to prevent proliferation of terrorists and ideological outreach in these and other states. Iran has established numerous "cultural centers" to mask Hezbollah activity and indoctrination all over Latin America. How soon until the trainees there are responsible for more than just enrichment schemes and plot more terrorist attacks, perhaps eventually reaching the US or making travel and business in Latin America undesirable for anyone except Iranians, Russians, and Chinese?
-Bankrupting Iran, forcing out Russia, and providing a suitable and practical alternative to China's self-serving and corrupt projects in Latin America should be the pillars of US policy. Iran, even with all its illicit activities, nor Russia afford costly technical development races and the type of investments that US can. Russia cannot afford systematic investment in anything but defense agreements. For this reason, most of Russia's foreign policy is focused on destabilization at the expense of someone else.
-China's economy, too, is weakening; even with its Confusius Institutes, the mission of which is to whitewash China's image, it is coming to a reckoning with the fact that it has simply failed to deliver on many of its promises and investments, and that most of its projects benefit Beijing to the exclusion of client countries, their local labor forces, and general populations. This is where the US has an opportunity to reengage in building people to people relationships, and optimizing business, educational, and humanitarian opportunity in line with its own policies and interests, and as a contrast to China's corrupt deals with local officials.
-The US, for its part, should not make promises it does not have the political will to keep. Its allies would rather see consistent, limited support than grandiose statements backed up by nothing at the moment they become dependent on expectations stemming from those promises. That said, if threats to bad actors are issued in public, there should be an immediate and well thought out follow through even if it is unpopular. That will ultimately do more to deter these actors than weeks of sound and fury, signifying nothing.
II. Beware of Limitations of Pragmatic "Reformism"
A faction of the "reformists" in Iran gained popularity as a political decoy by the regime to create an impression of a struggle between "hard-liners" and "moderates". Iran used politicians who appeared willing to engage in diplomatic discussions with the West (always on their terms) in order to secure concessions, and ultimately, to push through the financially and politically beneficial nuclear deal with Western countries. Ultimately, the number of political arrests and executions soared under the "reformist" President Rouhani, showing that he was just as much of a puppet of the ayatollahs in charge as the tough-talking former President Mahmoud Ahmadinejad.
These dichotomies—that if the West does not back the "moderates", the scary "hard-liners' will triumph—were ultimately a propaganda fiction dispersed by the regime itself. Elections in Iran are effectually meaningless given the supreme rule of the Ayatollah. Not to take any chances with the powerless parliament, all major elections in Iraq are fraught with fraud to ensure that no real reformist could ever be elected. The "reformist" narrative is deployed merely to fool willfully naïve Westerners or provide the less credulous with a public excuse for their lucrative political or business deal with Tehran. The "reformist" narrative may well have largely outlived itself, but similar such moves are likely to try to secure a new nuclear deal or other political concessions in the future. No doubt the regime will use this stick-and-carrot tactic of its own invention to push back against new sanctions, waiting to drag the US and Europeans back to the negotiating table until such time as the administrations change and those willing to go along with Iran's agenda come to power.
Iran's success in that regard may very well have carried over elsewhere. If Guiado is nothing more than a Venezuelan version of a "Reformist" who says just enough of the right things to the Western ear to manipulate the politicians and the public, he may be no less dangerous than the Maduro regime. If the Venezuelan government is a puppet of foreign powers, likely so is the opposition, at least one that is well known and has an open following. In Russia, opposition leaders who openly ran against Vladimir Putin, such as Boris Nemtsov, met an untimely end, or like Alexey Navalny, spend half their time behind bars in "temporary" custody.
The fact that Guiado is so openly out and about and was even able to engage with the military in power negotiations shows that the Maduro regime is fairly secure in itself and can afford to use one known opposition leader as propaganda for its alleged limitations or willingness to cater to the popular will and provide the appearance of democracy on some limited level. The West should not look on Guiado as a savior, but rather as a tool serving a particular purpose at the moment while working to educate the population about the fallacies of following anything even remotely associated with the current system, as well as seeking to build up future leaders who have not been produced by the same circumstances as Maduro. Tempting as it may seem to consider Guiado as a "pragmatic choice" at the moment, because he is the lesser of two evils, it is not in fact clear that because he is willing to pander to Western democracies today, he will not become an equal or even greater evil when in power.
III. Don't let Iran, Cuba, Russia, China, and Venezuela get away with political hostage taking
All of these countries have engaged in taking Americans and other Westerns, as well as dual nationals, as hostages for the purpose of gaining political legitimacy through negotiations over their release, securing concessions, or in some case, as during the nuclear deal with Iran, receiving financial ransoms in a hidden form. The US has been able to secure the release of some but not all through high costs to its own credibility; many others remain imprisoned, charged with espionage, treason, and other national security crimes as a way to pressure the US and other Western governments.
So far, all of these countries have been able to get away with these actions with impunity, and have even been rewarded with attention, money, and other benefits. They should be severely punished instead. In 2018, Senators Rubio, then-Senator Nelson, Menendez, and Cornyn introduced a bill that would hold Iran accountable for hostage taking and other human rights abuses. Similar measure passed in the House in 2018, with the idea of criminal and civil penalties for foreign officials, not just sanctions. The penalties would include denying access to American education to their families, confiscation of assets, and possible imprisonment for those responsible traveling to the United States. The bill never reached the vote in the Senate, but should be reconsidered in light of recent developments and Iran's rising aggression and persistent continuation of this policy.
Similar versions of the bill should be individually crafted to apply to other countries that have engaged in these unlawful practices. Without feeling the pain for engaging in such abuses, there is no reason for these policies to stop.
IV. Responding to Gold Smuggling and Money Laundering
Senator Ted Cruz recently reintroduced a measure designed to stop Iranian and Venezuelan smuggling of gold and other precious metals. This is but one of a host of illegal activities which keep both regimes financially afloat. Congress should bring this measure to a vote as soon as possible; there is no reason to let two illegitimate regimes unjustly enrich themselves while stealing natural resources. The VERDAD actresponding to Venezuelan money laundering and gold passed the Senate Foreign Relations Committee in May 2018. It is important to expedite the passage for this bill into law, and to work on securing consistent implementation afterwards. The same applies for similar measures against the Iranian regime.
V. Accountability for the AMIA bombing
US senators are pushing for a resolution that would assist Argentina in its probe to uncover the full truth behind the 1994 Jewish Center bombing. The resolution should receive not only full support from Congress, but also the backing of the White House. Furthermore, the Venezuelan angle should be explored and exposed, and the role the Obama administration played in any assistance or silence in the cover-up by the Kirchners should likewise be aired. The White House can play an important role in directing its intelligence agencies to release and share any relevant information, and perhaps to be further involved in an investigative capacity. However, that role should not be relegated to the security apparatus: any investigative journalists or other experts who have leads or information that could be of assistance to this issue should likewise be involved.
VI. Securing US borders
The history of Hezbollah drug smuggling and presence in the United States shows that further measures need to be taken to secure borders from infiltration by criminals, contrabandists, terrorists, and spies. The security involved is a complex combination of border fencing or walls, better human security implementation, satellite overwatch of human movements, immigration reform, and electronic measures of control. At the end of the day, however, spies and saboteurs can also enter legally under various covers, so better training and close cooperation with other intelligence agencies is paramount to preventing fraudulent entries into the US.
The spread of destabilizing activity in the US can also spread through existing Iranian communities, mosques, "cultural centers", existing regime propagandists imbedded in universities and think tanks, as well as assorted businessmen and women who travel back and forth. Being vigilant and training community members and institutions to be aware of common activities that can be harmful to US security should play an important role in the national defense.
VII. Chaos and instability help export revolutions
The Arab Spring movements did not bring real liberalism nor create Jeffersonian democracies. Instead, they created a chaotic cycle of upheavals, crackdowns, and the formation of unstable and unsecured democracies in such places as Tunisia. The biggest beneficiary was Iran, who exploited the power vacuums or friendly regimes (as in Morsi's Egypt) to further its influence and subversion campaigns.
Western states were openly backing these movements even as Iran exploited them aggressively on the ground. The best way to guard against Iran's exportation of revolutionary, violent, and anti-Western ideas to the Arab world and elsewhere is by working with governments across the region to implement reforms needed to educate and empower the young people to build and strengthen local communities to address local needs rather than turning to meddling foreign powers for ideological engagement and the kind of "help" that has brought nothing but misery for all involved.
The same principle applies to Latin America, where Cuba, Nicaragua, Venezuela, and Bolivia are seeking to spread their repressive revolutions and socialist systems by various means to more prosperous and stable countries.  The outcome of the "resistance" culture, of those who use populism to create upheavals to real or imaginary grievances, is societal wreckage of Iran, Cuba, and Venezuela. America and the West needs to assert its leadership based on principles and proactive policies that promote peace and prosperity.
*Hos Loftus, MD, formerly Seyed Hossein Lotfizadeh, was born in Iran. He lived through the Islamic Revolution at a young age. He is a neurologist living on Long Island with his family. He offers an Iranian-American's perspective on Middle East politics
Beware, the Blame-Game Will Backfire
The blames that certain American politicians have been trying to shift to China have all backfired on themselves, and the hardest-working blame-game player Mike Pompeo is considered by many American media and netizens as "one of the worst Secretaries of State in history."
Shifting the blame to others has eventually boomeranged against themselves. What exactly have they done to shift the blame then?
At first, the American politicians played "face change" repeatedly. They praised China's anti-virus efforts when COVID-19 first broke out in the country. Then all of a sudden, they changed their tune and began to criticize China. The U-turn in their attitude came at a subtle timing when the outbreak quickly escalated in the US. With a mentality of speculation and adventurism, the anxious and upset US politicians felt no qualms about going back on their own words. What an eye-opening farce for the world!
Later, they joined efforts to stigmatize China. As the pandemic spread ever more quickly across the US to the brink of going completely out of control, some politicians couldn't wait to stand up and collectively slam and smear China, using very tough and strong words even though they knew the accusations carried no weight. Being incompetent in controlling the pandemic at home, they have been adamant about scapegoating China and put forth all sorts of China-bashing fallacies.
But the truth always beats lies in the end. The false accusations made by those politicians were not bought even by their own people, not to mention the rest of the world. When asked if they had any evidence to prove that the virus came from China, the politicians just beat around the bush, unable to give a direct answer. Their bluffing trick, after playing for a long time, was seen through. The continuously worsening pandemic situation in the US has infuriated its media and people so much that criticisms of the government and its officials for their slow and bungled response have never stopped. Facts have proven that these politicians, failing to shift the blame, have finally shot themselves in the foot.
Now that the blame-game doesn't work, the true situation about America's pandemic prevention and control can no longer be covered up. It is exactly because of those American politicians who, instead of concentrating on bringing the outbreak under control, are only focused on smearing other countries and shifting the blame to others that the US has left the world far behind in the number of confirmed COVID-19 cases. Closer scrutiny would show that their blame-game just revealed their incorrigible "sinophobia paranoia."
Some American politicians have been trumpeting the "end of history" theory. They don't want to see a fast-developing and strong China, much less a successful socialist country. Still, history rolls forward irrespective of personal wishes, and no force can stop China's progress. Thanks to the tremendous efforts made since the outbreak, China has achieved remarkable success in containing the virus, and resumed business operation and production across the country.
In contrast, the US has become the epicenter of the global pandemic, with the virus spreading further, and the number of infections and deaths still on the rise. Such a comparison is the last thing that those infected with "sinophobia paranoia" want to see. So, they played the blame-game to pass the buck for their poor epidemic response, and defame and throw obstacles at China's development. How insidious!
Justice lies in people's hearts. The people of the world have seen clearly that the fancy slogans like "America first" and "making America great again" should be based on "bearing responsibilities" rather than shirking them. The irresponsible and unconscionable move of shifting blame will in no way help with the anti-epidemic efforts; rather, it will only lead to an irremediable situation where the US has no choice but to eat the bitter fruit of its own making.
There is an old Chinese saying that goes "lift a rock only to drop it on one's own feet," which is similar to "shift the blame only to have it backfire." We advise those American politicians, who confuse right with wrong, cling to the past, maintain biased viewpoints and randomly shift blame, to stop making anti-China noises and face up to justice, reason, and public opinion. After all, blaming China won't cure your "disease" or make your wish to curb China's development come true. That the US insists on going its own way stubbornly and recklessly will only make itself a laughing stock and the target of disdain.
Donald Trump, "The Crowd" And A Nation's Bitter Despair
"The crowd is untruth."-Soren Kierkegaaard
The "crowd," cautioned Danish philosopher Soren Kierkegaard, is  "untruth." Nowhere is the concise wisdom of this 19th century warning more plainly apparent than in Donald Trump's despairing United States.  Even  today, even after so much rancorous presidential dissemblance and chicanery, this fragmenting and unhappy nation too often accepts incoherent political dogma as proper authority and  conspicuously vile political gibberish as truth.
Even now, even when a derelict president elevates his own contrived and illiterate judgments concerning epidemiology above the authoritative opinion of America's distinguished scientists and physicians, millions of his supporters still offer a visceral "amen." In essence, these "obedient" citizens stand in stubbornly open support of untruth or anti-Reason. Why?
How can this unchanging self-destructiveness be suitably explained?
It gets even worse. In certain refractory instances, this irrational hierarchy of US citizen preference has led hundreds (perhaps thousands) of Americans to consume potentially lethal medications against Covid-19. What are these "obedient" people "thinking"? This is a president, let us not forget, who thinks human bodies can somehow undergo beneficial anti-viral "cleanings" with commercially-available disinfectants. If it can "kill" virus on tabletops, reasons Trump openly, why not take the remediating substance internally?
Credo quia absurdum, affirmed the ancient philosophers. "I believe because it is absurd." Still, this is a president of the United States in the year 2020. How can such preposterous "reasoning" be accepted by literally millions of Americans?
There is more. How shall such normally incomprehensible behaviors be explained more gainfully? At one level, at least, the answer is obvious. America is no longer a society that sincerely values knowledge, education or learning. Led by a retrograde man of commerce who never reads books – indeed, who proudly reads nothing at all – this has become a "know nothing" country, a nation that wittingly and shamelessly spurns both intellect and truth.[1] For whatever deeply underlying reasons, docile Trump minions seek to keep themselves "anesthetized."
In this active form of complicity with self-destruction, these Americans are not passive victims. Rather, they insistently hold themselves captive by a lengthening string of embarrassingly false presidential reassurances and by clinging to endlessly mindless Trump simplifications of complex problems.[2]
In her magisterial two-volume work, The Life of the Mind (1971), political philosopher Hannah Arendt makes much of the "manifest shallowness" of historical evil-doers, hypothesizing that the critically underlying causes of harm are not specifically evil motives or common stupidity per se. Rather, she concludes controversially but convincingly, the root problem is thoughtlessness, a more-or-less verifiable human condition that makes a susceptible individual readily subject to the presumed "wisdom" of clichés, stock phrases and narrowly visceral codes of expression.
There are always a great many who will be "susceptible." This does not mean only those who lack a decent formal education. Significantly, in Donald Trump's fragmenting America, just as earlier in the Third Reich, well-educated and affluent persons have joined forces with gun worshippers and street fighters to meet certain presumptively overlapping objectives. In the end, we may learn from both history and logic, each faction will suffer grievously alongside the general citizenry.
Both sides will "lose."[3]
For philosopher Hannah Arendt, the core problem is this: a literal absence of thinking. In her learned and lucid assessment, evil is not calculable according to any specific purpose or ideology. Rather, it is deceptively commonplace and altogether predictable. Evil, we may learn from the philosopher, is "banal."
There is more. Fundamentally, the "mass man" or "mass woman" (a Jungian term[4] that closely resembles Arendt's evildoer) who cheers wildly in rancorous presidential crowds, and whatever the articulated gibberish of the moment, favors a constant flow of empty witticisms over any meaningful insights of reasoning or science. Living in a commerce-driven society that has been drifting ever further from any still-residual "life of the mind," this susceptible American is a perfect "recruit" for Trumpian conversion.
This "obedient" citizen, after all, has absolutely no use for study, evidence or critical thinking of any kind. Why should he? Der Fuhrer will do his "thinking" for him.[5]
Could anything be more "convenient?"
With Arendt and Jung, the anti-Reason "culprit" is unmasked. It is the once-individual human being who has wittingly ceased to be an individual, who has effectively become the unapologetic enemy of intellect and a reliable ally of thoughtlessness. Using the succinct but incomparably expressive words of Spanish philosopher Jose Oretga y'Gassett, he or she thinks only "in his own flesh."[6] Following any such antecedent triumphs of anti-Reason in the United States, it becomes more easy to understand the hideous rise and political survival of dissembling American President Donald J. Trump.
America's most insidious enemy in this suffocating Trump Era should now be easier to recognize. It is an unphilosophical national spirit that knows nothing and wants to know nothing of truth.[7] Now facing unprecedented and overlapping crises of health, economics and law,[8] sizable elements of "We the People" feel at their best when they can chant anesthetizing gibberish in mesmerizing chorus. "We're number one; we're number one,"these Americans still shout reflexively, even as their country's capacity to project global power withers minute by minute, and even as the already ominous separations of rich and poor have come to mimic (and sometimes exceed) what is discoverable in the most downtrodden nations on earth.
Most alarmingly, among these manifold catastrophic American declensions, the badly-wounded American nation is still being led by an utterly ignorant pied piper, by a would-be emperor who was stunningly "naked" from the start and who has now managed to bring the United States to once unimaginable levels of suffering. In this connection, the Corona Virus pandemic was not of his own personal making, of course, but this relentless plague has become infinitely more injurious under Trump's unsteady dictatorial hand.
Nonetheless, the champions of anti-Reason in America will still generally rise to defend their Fuhrer. He did not create this growing plague, we are reminded. He is, therefore, just another victim of a plausibly unavoidable national circumstance. Why keep picking on this innocent and brilliant man? Instead, let us stand loyally by his inconspicuously sagacious counsel.
Sound familiar?
Recalling philosopher Hannah Arendt, such determinedly twisted loyalties stem originally from massive citizen thoughtlessness. Though Donald Trump is not in any way responsible for the actual biological menace of our current plague, he has still willingly weakened the American nation's most indispensable medical and scientific defenses.[9] It is well worth mentioning too, on this particular count, that meaningful national defense always entails more than just large-scale weapons systems and infrastructures.[10] Looking ahead, moreover, this country has far more to gain from a coherent and science-based antivirus policy than from a patently preposterous Trumpian "Space Force."[11]
Thomas Jefferson, Chief architect of the Declaration of Independence, earlier observed the imperative congruence of viable national democracy with wisdom and learning. Today, however, many still accept a president whose proud refrain during the 2016 election process was "I love the poorly educated." Among other humiliating derelictions, this refrain represented a palpable echo of Third Reich Propaganda Minister Joseph Goebbels Nuremberg rally comment: "Intellect rots the brain."
Americans are polarized not only by race, ethnicity and class, but also by inclination or disinclination to serious thought. For most of this dreary and unhappy country, any inclination toward a "life of the mind" is anathema. In irrefutable evidence, trivial or debasing entertainments remain the only expected compensation for a shallow national life of tedious obligation, financial exhaustion and premature death. This sizable portion of the populace, now kept distant from authentic personal growth by every imaginable social and economic obstacle, desperately seeks residual compensations, whether in silly slogans, status-bearing affiliations or the manifestly deranging promises of Trump Era politics.
Even at this eleventh hour, Americans must learn understand that no nation can be "first"[12] that does not hold the individual "soul"[13] sacred. At one time in our collective history, after American Transcendental philosophers Ralph Waldo Emerson and Henry David Thoreau, a spirit of personal accomplishment did actually earn high marks. Then, young people especially, strove to rise interestingly, not as the embarrassingly obedient servants of destructive power and raw commerce, but as plausibly proud owners of a unique and personal Self.
Alas, today this Self "lives" together with increasingly unbearable material and biologically uncertain ties. Whether Americans would prefer to become more secular or more reverent, to grant government more authority over their lives, or less, a willing submission to multitudes has become the nation's most unifying national "religion." Regarding the pied piper in the White House, many Americans accept even the most patently preposterous Trump claims of enhanced national security. Credo quia absurdum.
Upon returning to Washington DC after the Singapore Summit, President Trump made the following statement: "Everybody can now feel much safer than the day I took office. There is no longer a nuclear threat from North Korea."[14]
It's not just America. Crowd-like sentiments like these have a long and diversified planetary history. We are, to be fair, hardly the first people to surrender to crowds. The contemporary crowd-man or woman is, in fact, a primitive and universal being, one who has uniformly "slipped back," in the words of Spanish philosopher Jose Ortega y' Gasset, "through the wings, on to the age-old stage of civilization."
This grotesque stage is not bare. It is littered with the corpses of dead civilizations.[15] Indiscriminately, the crowd defiles all that is most gracious and still-promising in society. Charles Dickens, during his first visit to America, already observed back in 1842: "I do fear that the heaviest blow ever dealt at liberty will be dealt by this country in the failure of its example to the earth."
To this point, at least, Americans have successfully maintained their political freedom from traditional political tyranny and oppression, but – plainly – this could now change at almost any moment. Already, we have come to accept in once unimaginable terms the kind of presidential manipulation and bullying that can shred and pull apart well-established constitutions. As corollary, Americans have also cravenly surrendered their liberty to become authentic persons. Openly deploring a life of meaning and sincerity, a nation stubbornly confuses wealth with success, blurting out rhythmic chants of patriotic celebration even as their cheerless democracy vanishes into meaninglessness, pandemic disease and a plausibly irremediable despair.
Whatever its origin, there is an identifiable "reason" lying behind this synchronized delirium. In part, at least, such orchestrated babble seeks to protect Americans from a potentially terrifying and unbearable loneliness. In the end, however, it is a contrived and inevitably lethal remedy . In the end, it offers just another Final Solution.
Still, there remain individual American citizens of integrity and courage. The fearlessly resolute individual who actively seeks an escape from the steadily-poisoning "crowd," the One who opts heroically for disciplined individual thought over effortless conformance, must feel quite deeply alone. "The most radical division," asserted José Ortega y Gasset in 1930, "is that which splits humanity…. those who make great demands on themselves…and those who demand nothing special of themselves…" In 1965, the Jewish philosopher, Abraham Joshua Heschel, offered an almost identical argument. Lamenting, "The emancipated man is yet to emerge," Heschel then asked each One to inquire: "What is expected of me? What is demanded of me?"
Why are these same questions so casually pushed aside by current American supporters of a rancorous president who opposes "emancipation" in any conceivable form?
There is more. It is time for camouflage and concealment in our pitiful American crowd to yield to what Abraham Joshua Heschel called "being-challenged-in-the-world." Individuals who would dare to read books for more than transient entertainment, and who are willing to risk social and material disapproval in exchange for exiting the crowd ("emancipation"), offer America its only real and lasting hope. To be sure, these rare souls can seldom be found in politics, in universities, in corporate boardrooms or almost anywhere (there are some exceptions still) on radio, television or in the movies. Always, their critical inner strength lies not in pompous oratory, catchy crowd phrases, or observably ostentatious accumulations of personal wealth ("Trump. Trump, Trump"), but in the considerably more ample powers of genuineness, thought and Reason.
There is much yet to learn. Currently, not even the flimsiest ghost of intellectual originality haunts America's public discussions of politics and economics, even those organized by intelligent and well-meaning Trump opponents. Now that America's largely self-deceiving citizenry has lost all residual sense of awe in the world, this national public not only avoids authenticity, it positively loathes it. Indeed, in a nation that has lost all recognizable regard for the Western literary canon, our American crowdsgenerally seek aid, comfort and fraternity in a conveniently shared public illiteracy.
Inter alia, the classical division of American society into Few and Mass represents a useful separation of those who are imitators from those who could initiate real understanding. "The mass," said Jose Ortega y Gasset, "crushes beneath it everything that is different, everything that is excellent, individual, qualified and select." Today, in foolish and prospectively fatal deference to this Mass, the intellectually un-ambitious American not only wallows lazily in nonsensical political and cultural phrases of a naked emperor, he or she also applauds a manifestly shallow national ethos of personal surrender.
"America First," yes, but only in Covid-19 mortality.
By definition, the Mass, or Crowd, can never become Few. Yet, someindividual members of the Mass can make the very difficult transformation. Those who are already part of the Few must announce and maintain their determined stance. "One must become accustomed to living on mountains," says Nietzsche, "to seeing the wretched ephemeral chatter of politics and national egotism beneath one." It was Nietzsche, too, in Zarathustra, who warned presciently: "Never seek the Higher Man at the marketplace."
Aware that they may still comprise a core barrier to America's spiritual, cultural, intellectual and political disintegration, the Few, resolute opponents of the Crowd, knowingly refuse to chant in chorus. Ultimately, they should remind us of something very important: It is that both individually and collectively, doggedly staying the course of self-actualization and self-renewal – a lonely course of lucid consciousness rather than self-inflicted delusion – is the only honest and purposeful option for an imperiled nation.
Today, unhindered in their endlessly misguided work, Trump Era cheerleaders in all walks of life draw feverishly upon the sovereignty of an unqualified Crowd. This Mass depends for its very breath of life on the relentless withering of personal dignity, and also on the continued servitude of all independent citizen consciousness. Oddly, "We the people," frightfully unaware of this dangerous parasitism, are being passively converted into the fuel for the omnivorous machine of Trumpian "democracy." This is a pathologic system of governance in which the American citizenry is still permitted to speak and interact freely, but which is also an anti-intellectual plutocracy.
In the early 1950s, Karl Jaspers, well familiar with the seminal earlier writings of Danish philosopher Soren Kierkegaard, sought to explain what a dissembling "Crowd" had brought to his native Germany and Germany's captive nations. Publishing Reason and Anti-Reason in Our Time in 1952, the distinguished German philosopher explained the formidable difficulties of sustaining Reason among many who would prefer "the fog of the irrational." Now, Jaspers' earlier observations about Nazi Germany may apply equally well to Donald Trump's dissembling America:
Reason is confronted again and again with the fact of a mass of believers who have lost all ability to listen, who can absorb no argument and who hold unshakably fast to the Absurd as an unassailable presupposition….
Here, in essence, Jaspers here underscores the "fraudulent freedom of obedience" in any society that might seemingly will itself to be a democracy, but is actually just an oblique celebration of tyranny, moreover, the singularly arch-tyranny of anti-Reason. In earlier times, such perverse celebrations were unexceptional or even de rigeur, but they also "set the stage" for what Americans are experiencing so painfully at the present moment. To some extent, at least, for America to be freed from the false freedom of obedience will demand the whole society be placed in status nascens, as if newly born.
, When, in 1633, Galileo Galilei kneeled before the Inquisitorial Tribunal of Rome and was forced to renounce the compelling science of Copernicus, he revealed the vulnerability of Reason to the mortal seductions of anti-Reason. In this case, history deserves notable pride of place. When Americans watch the evening news depicting US President Donald Trump railing thoughtlessly against well-established theories of biology and medical science, they should finally begin to appreciate something utterly primal. Such flagrant seductions of anti-Reason are not only sinister, but also lethal.
"The crowd is untruth."
---
[1] In this regard, consider the philosopher Friedrich Nietzsche's succinct warning in Zarathusrtra: "Never seek the higher man at the marketplace."
[2] One may be usefully reminded of Bertrand Russell's trenchant observation in Principles of Social Reconstruction (1916): "Men fear thought more than they fear anything else on earth – more than ruin, more even than death."
[3] Said Nazi Propaganda Minister Joseph Goebbels in 1934: ""Whoever can conquer the street will one day conquer the state." Later, in 2019, Donald Trump echoed this dreadful sentiment: "I have the support of the street, of the police, of the military, the support of Bikers for Trump. I have the tough people, but they don't play it tough – until they go to a certain point and then it would be very bad, very bad." In a similar vein, during a 2016 rally in Las Vegas, Trump told a wildly cheering crowd that he'd "like to punch the protestors in the face." "I love the old days, you know what they used to do to guys like that when they're in a place like this, they'd be carried out on a stretcher," Then, identifying a specific target person in the audience, Trump added: I'd like to punch him in the face."
[4] See the pertinent writings of Swiss psychologist Carl G. Jung, especially The Undiscovered Self (1957).
[5] A current example is flag-waving Trump supporters who hold signs blaming distinguished epidemiologist Dr. Anthony Fauci for "tyrannical" closure policies, and simultaneously urging greater medical authority for President Donald J Trump.
[6] "The mass-man," we were warned earlier by Ortega in The Revolt of the Masses (1930) "has no attention to spare for reasoning; he learns only in his own flesh." Nothing could be more conspicuously clarifying than this graphic metaphor.
[7] Apropos of truth in Plato's The Republic: "To them, I said, the truth would be literally nothing but the shadows of the images."
[8] See, by this author, Louis René Beres: https://www.jurist.org/commentary/2020/04/the-trump-presidency-a-breathtaking-assault-on-law-justice-and-security/
[9] "This virus is going to disappear," said Trump, on February 27th, 2020.
[10] On this matter, of course, one ought also note this president's withdrawal from treaties with Russia and from the United Nations World Health Organization. Credo quia absurdum.
[11] The United States Space Force was created by US President Donald Trump on December 20, 2019, under terms of the National Defense Authorization Act. Although it is intended to bolster this country's overall military power in any expanding strategic competition with Russia, its most likely effects will be contractive, corrosive and destabilizing. The critical underlying US policy error being committed in this creation is conceptual and historic. In essence, it consists of failing to recognize that millennia of belligerent geopolitical competitions have resulted not in peace, but in assorted forms of international war. At a unique time when the United States faces a new and unpredictable set of dangers from worldwide disease pandemic, shifting large sums of money needed for public health to a space-centered arena of future international conflict represents mistaken national priorities. Of course, from what we ought already have learned about Reason and Anti-Reason, before this miscalculation can be changed, America's leaders will have to appreciate the fundamentally intellectual antecedents of US foreign policy decision-making at every level.
[12] This president's self-serving refrain of "America First" ignores an absolutely overarching empirical truth: America is "first" in Covid-19 deaths, but not in any other tangibly enviable standard of civilizational quality or improvement. Always, we have the biggest bombs and missiles, but little else to show for even the most basic expectations of human empathy and compassion. For this president and his retrograde followers, caring about others is a sign of weakness. Nothing else. To wit, in the president's currently most evident example, wearing a mask against Covid-19 infection is described as little more than "political correctness."
[13] Both Sigmund Freud and Carl Jung thought of "soul" (in German, Seele) as the very essence of a human being. Neither Freud nor Jung ever provides a precise definition of the term, but it was not intended by either in any ordinary religious sense. For both psychologists, it was a still-recognizable and critical seat of both mind and passions in this life. Interesting, too, in the present context, is that Freud explained his already-predicted decline of America by various express references to "soul." Freud was disgusted by any civilization so apparently unmoved by considerations of true "consciousness" (e.g., awareness of intellect and literature), and even thought that the anti-intellectual American commitment to perpetually shallow optimism and to crudely material accomplishment would occasion sweeping psychological misery.
[14] The worst expression of such incoherent presidential reassurance would likely be a nuclear war. For authoritative early accounts by this author of nuclear war effects, see: Louis René Beres, Apocalypse: Nuclear Catastrophe in World Politics (Chicago: University of Chicago Press, 1980); Louis René Beres, Mimicking Sisyphus: America's Countervailing Nuclear Strategy (Lexington, Mass., Lexington Books, 1983); Louis René Beres, Reason and Realpolitik: U.S. Foreign Policy and World Order (Lexington, Mass., Lexington Books, 1984); and Louis René Beres, Security or Armageddon: Israel's Nuclear Strategy (Lexington, Mass., Lexington Books, 1986). Most recently, by Professor Beres, see: Surviving Amid Chaos: Israel's Nuclear Strategy (New York, Rowman & Littlefield, 2016; 2nd ed. 2018).
[15] Dostoyevsky reminds us soberly: "And what is it in us that is mellowed by civilization? All it does, I'd say, is to develop in man a capacity to feel a greater variety of sensations. And nothing, absolutely nothing else. And through this development, man will yet learn how to enjoy bloodshed. Why, it has already happened….Civilization has made man, if not always more bloodthirsty, at least more viciously, more horribly bloodthirsty." (See Fyodor Dostoyevsky, Notes From Underground, 108 (Andrew R. Mac Andrew, tr., New American Library, 1961 (1862).
Latin America is inching slowly towards a change for the better
Authors: Ash Narain Roy and Shimone Jaini*
Every utopia sooner or later turns into a dystopia. Why, then, do Latin Americans fancy themselves constructing alternative utopias? What good is utopia? Uruguayan writer Eduardo Galeano seems to have the answer, "it is good for walk." Latin America hasn't stopped imagining and dreaming. It may not have captured the imagination of global policy-makers and the chattering classes. But the region has indeed changed, mostly for the better. However, it would be premature to proclaim that Latin America has turned the corner.
Why has Latin America acquired the reputation for its pursuit of endless revolutions or what Marina Sitrin calls 'Everyday Revolutions'? Peruvian novelist Santiago Roncagliolo provides some insights about such revolutions in his novel, Red April, "there is a feeling in Latin America that good ones were not so good and the bad ones were not so bad."
Latin America has long been a laboratory of political and social experiments. Sebastian Edwards, author of Left Behind: Latin America and the False Promise of Populism, says that the political and economic history of Latin America has been "marked by great hopes and even greater disappointments". And yet, some of the political and social experiments continue to catapult the region into the global consciousness and resonate with people across the globe.
Latin America suffers from many frailties. But it refuses to put an end to imaginations. It continues to dream how to construct a world where many worlds could live. Thanks to their endless dreams and imaginations, the region glimpses possibilities of other worlds. There is a lot to learn from Latin America both from its best practices and worst failures.
Deepening democracy and political participation
With the entrenchment of democracy, new paradigms of governance have emerged in Latin America. In recent decades the region has shown a trend to reject traditional political parties and vote for new formations to power. The dominance of the Christian Democrats and Social Democrats is long over. But Political institutions are still quite weak. Rewriting constitutions comes easy to Latin Americans. Dominican Republic is having its 32nd constitution. Venezuela, Haiti and Ecuador have had 32nd, 26th and 20th constitutions respectively. Now Chilean President has agreed to change the 1980 Pinochet constitution.
Does it show Latin America's growing impatience with the non-performing models? Or are Latin Americans undermining democratic principles in the name of pursuing more radical agendas?
The institutional architecture for democracy has been very diverse in Latin America. For instance, in some countries, the party system has collapsed (e.g., Peru and Venezuela); in other countries, parties have become increasingly detached from civil society (e.g., Chile and Mexico), and, in others, social movements have replaced traditional parties (e.g., Bolivia).
The region has also shown deep contempt for modern democratic politics. It means a different kind of politics, not necessarily the denial or rejection of politics. Maybe what the region is hankering after is not just a politics which delivers but also which uses a new language of politics. It is, in a way, what Andreas Schedlar calls 'end of politics.'
The same voters who were captivated by new, mostly leftist movements, promising to redistribute wealth, punishing traditional parties and turning political systems on their heads have now begun rejecting them. Across the continent traditional parties have disintegrated though the trend is more pronounced in the Andean region.
It all began with the emergence of a 'vote of rage' towards the end of the 1990s and the beginning of the present century. Several governments lost power and the voters made a demand like 'que se vayantodos' (they all should go). Elections in Mexico in 2000 ended 70 years of PRI's domination. In 1999, elections in Venezuela brought an end to 40 years of bipartisan politics. Something similar happened in Uruguay in 2000 when the domination of the Colorados and the Blancos came to an end. Popular movements toppled several governments in Argentina, Bolivia and Ecuador.
Ivan Hinojosa of Catholic University in Lima says that "some parties recuperate but many don't, and in their place you have all new and unpredictable movements".
The institutions that promised better outcomes have delivered at best modest results. Much of the frustrations and anger that have given rise to mass protests and democratic discontent across the region are centred on the weaknesses of these institutions.1 Governments have changed, new parties and political formations have captured power and even the rhetoric has changed but meaningful institutional innovations are still a work in progress.
Constitutional changes and innovative schemes have empowered the various indigenous groups. Social policies and constitutional recognition of new citizenship rights have given these groups a new sense of belonging. However, the durability of these measures remains a moot question at a time when Latin America is witnessing end of the commodity boom and electoral setback to left-wing regimes.
New tools to boost political participation
In the areas of women's empowerment and advancement of gender rights, the region has made notable advance. A study conducted by International IDEA in 18 Latin American countries demonstrates how important it is to have both men and women leaders to promote better participation from women, if the parties want to be democratic and inclusive institutions.
Efforts made by such parties in 11 "institutional spaces" include Statutes and Declarations of Principles, Internal Organization, Financing, Training, Recruiting, Media, etc. For example, the United Nations Convention on the Elimination of All Forms of Discrimination against Women (1979) have been ratified by every Latin American country. Most countries have approved laws promoting gender equality. Moreover, a small yet significant step of using gender-sensitive language to acknowledge women has proven monumental in reversing the predominantly male concepts in political language.
Despite the continued presence of a series of obstacles limiting the political participation of women in the region, such political parties have undertaken innovative and effective initiatives that can be considered "best practices".
Multiple global crises have led to an increased interest in Latin America in the social and solidarity economy (SSE). In Latin America, the social and solidarity discourse, deployed with increasing intensity since the 1990s, refers to a model of political and economic development based on principles of solidarity, participation, cooperation and reciprocity. The same has also been articulated as 'social knowledge economy'.
Hotbed of political innovation
A wave of political innovation is sweeping across Latin America as it is creating more participatory and inclusive democratic governments, breaking its shackles from the deep-rooted authoritarianism. It has also become an inspiration for many on how path to democracy is mapped out and advanced.
The Instituto Update, which studies political innovation in Latin America, found in its study that more than 600 initiatives have been put in place which are trying to reduce the gap between citizens and their governments by increasing political participation, improving transparency and accountability, encouraging innovation in government, and doing more to develop independent media.
The study identifies 5 main approaches in Latin America towards creating, developing and practicing new methods and instruments to foster political participation and trust in government. Firstly, citizens themselves are working for social change. The Secundarista movement that spread all over Brazil was led by students protesting for better education reforms in Saõ Paulo's public high schools.
Another movement in México known as #Yo soy 132 was spearheaded by students who were protesting against political corruption during the 2012 presidential elections. This shows that people are creating new innovative ways to mobilize resources and to persuade elected officials and bureaucrats to pursue public policy changes.
Secondly, there are many feminist movements taking place all over Latin America like-#PrimaveraFeminista, #NiUnaMenos, #Pimp My Carroça, demanding reproductive rights and bringing attention to the issue of domestic abuse. Activists and organisations are also using social media and humor like GregNews, a comedy news show to make citizens aware and interested in public interest issues.
Thirdly, elected officials are trying to make institutions more participatory and inclusive. Measures like DemocracyOS (Argentina) and LinQ (Ecuador) to Brazil's Internet Bill of Rights have made great progress in giving voice to the people in the policymaking process.
Moreover, to monitor and hold politicians and corporations accountable, civil society organizations are using technology and open data. Groups like Paraguay's A Quienes Elegimos, Argentina's Chequeado, and Chile's Del Dicho al Hecho are using online tools and organising public protests to insist on transparency from the government.
And finally, there's a recognition that politics across Latin America needs new voices and new people to get involved. Today, movements such as Mexico's WikiPolítica and Brazil's Bancada Ativista, as well as new political parties like Chile's Revolución Democrática and Argentina's Partido de la Red, are aiming to make politics accessible, cool, and honorable to a new generation of activists.
How protest movements are novel
Culture has long been a tool of propaganda. But culture in Latin America is also a tool of protests. Protesters dancing to the rhythms of cumbia and salsa music and citizens pot-banging from their balconies have grabbed global eyeballs. Brazilians have resorted to 'panelacos' (protesting with pots and pans) against President Bolsonaro for denying science on Coronavirus.
Chileans have resorted to social media with their different artistic modes of expression to warrant their movement against the government which decided to privatize public services and raise the price of public transportation. Victor Jara's 1971 song "Derecho a la paz"(Right to peace) has become a resistance anthem for students and working-class protestors. The song, originally composed during Pinochet's dictatorship, has now become an inspiration for the demonstrators to take to the streets despite the violent oppression by the police and military national forces.
New slogans, new symbols of power, new empowerment
For hundreds of years the indigenous people remained invisible in a culture dominated by the language and traditions of Europe. They also became victims ofwhat sociologist Eduardo Bonilla-Silva calls 'Racism without Racists'. Hence, recent gains by the indigenous are credible. Today, they have begun to dream. After all, dreams give vision and vision leads to action. Today, the various indigenous communities refuse to return to the dark valley; they have realized that forgetting could be a key part of learning.
Empowerment is an enabling exercise. It begins with the marginal, the forgotten. The indigenous groups in particular have worked to address the incompleteness of citizenship. In their efforts to rework politics, they have pointed out how for many, citizenship has remained an unfulfilled promise; citizenship is not mere entitlement.
For the indigenous, the body is the site for politics, very much the way it was for Gandhi. It is also a site for struggle. As Shiv Viswanathan argues, "the body prevents politics from straying into the abstractions of ideology or policy. It is a statement of presence, of sensing politics and suffering as part of a sensorium of sounds, smells, touch, taste and memory." No less importantly, the rise of the indigenous has gone a long way to liberate politics from its behavioral and ideological pomposity.
By making way for leaders of their choice to gain power and overthrowing several presidents in Bolivia and Ecuador, the newly empowered indigenous groups want to ensure that no despot ascends the throne but a doer, one who heals their wounds, not turn the knife in them. In several countries and more specifically in Bolivia and Ecuador, the traditionally occupied indigenous territories have been recognized and protected and the sustainable development of natural resources located in their land has been guaranteed. Some of the issues like land as an economic base, a space of social reproduction and a condition for survival, recognition of their collective rights, have gained recognition in international forums.
Indigenous and peasant groups have not stopped at mere protests. They have adopted another strategy: protesta con propuesta, whereby positive alternatives have been suggested. The Confederation of Indigenous Nationalities of Ecuador (CONAIE), for example, has formulated its own water reform proposal. Without denying their economic importance, the proposals emphasize the community-based, social, and ecological aspects of water. Also in Peru and Bolivia, platforms of popular alliances and peasant and indigenous organizations have formulated constructive counter-proposals that complement their claims and protests.
The following section analyses some of the institutional innovations and best practices in Latin America that have found acceptance and admiration outside the region.
Mexico's Oportunidades and Brazil's Zero Hunger
Progresa, Mexico's Conditional Cash Transfer (CCT) program,(later known as Oportunidades and now as Prospera), is known for increasing school enrolments and attendance in its initial 18-month randomized evaluation (Parker and Todd 2017). In this program, money is directly given to families if they send children to school, meet nutrition standards and receive regular health check-ups. This has had significant long-term benefits that could reduce intergenerational poverty according to a study published in National Bureau of Economic Research.
A similar CCT program was adopted by Colombia in 2000 known as Familasenaccion which provides money to poor households with children under 18 years old. It targets population that comprises of poor families that have either been displaced by the conflict or are from indigenous communities. Though it is no longer regarded as an emergency response to a short-term crisis, but it has proven efficient as an answer to more structural poverty problems.
Another commendable example towards ensuring food security for everyone was taken up by Brazil in the form of 'Fome Zero' or Zero Hunger program. The program launched in 2003 with the goal that all people be able to access enough and the right kinds of foods, to meet basic nutritional needs and support health. Fome Zero is based on a multi-sectoral approach at the public policy level, involving policies and programs around social protection and safety nets, education, food production, health services, drinking water, and sanitation. This can serve as a role model for national commitment to making better nutrition a top priority.
Another best practice, Participatory budgeting (PB), has been the most serious effort to take democracy to the doorsteps of the citizens. The Workers Party and a coalition of civil society organizations of Brazil introduced PB in Porto Alegre in 1989. It soon spread to more than 250 municipalities. Several countries followed suit. PB is a process of democratic decision-making. It is a type of participatory democracy, in which ordinary people decide how to allocate part of a municipal or public budget. It allows citizens to identify, discuss and prioritize public spending projects and gives them the power to make real decisions about how money is spent. The Porto Alegre model is no longer used in the same way in Porto Alegre itself. It has lost its sheen elsewhere in Latin America.
Consulta previa (prior consultation) is another significant legal framework that some countries in Latin America have institutionalized to deepen democracy. It is the right of the indigenous and ethnic groups to be consulted on matters affecting their culture and heritage as established by ILO Convention 169. Its implementation has at best been patchy. While it has been successfully implemented by Peru's Amazonian communities, progress is much slower as far as the Andean communities are concerned. Much of the natural resources are located in the region inhabited by the indigenous communities, consulta previa has given the people a say in the extraction of raw materials. However, many left-leaning governments have resorted to the so-called "progressive neo-extractism" to 'fight poverty'. The indigenous groups have sharpened attacks on the Left arguing such model of development, which relies on the rapacious extraction of natural resources, entails environmental destruction and the fragmentation of indigenous territory.
Cuba's medical internationalism
For nearly 60 years, Cuba has been sending healthcare professionals all over the globe. This is done partly to support those in need but also as a part of concerted campaign of its medical diplomacy and to make some money to help the country survive an ongoing US embargo. Since then, Cuba has established permanent medical missions in a number of countries. Over the last five decades, it has sent between 135,000 to 400,000 doctors abroad.
The tradition of medical internationalism in Cuba goes back to the first years of the Cuban Revolution. The country has dispatched 593 workers to 14 countries in the battle against Covid-19. According to the Cuban health ministry, 179 doctors, 399 nurses and 15 health technologists have been dispatched as part of Henry Reeve initiative. According to Helen Yaffe, free healthcare as a universal human right has been a key tenet now and in the 1959 Cuban Revolution which laid the foundation of medical internationalism thereby enforcing the idea and practice of sending medical teams abroad.
Even though the Cuban medical support has been helpful and hopeful to all those in desperate need, it also hasn't been able to keep away from criticism. Some rights groups have accused Havana of exploiting its medical workers who are forced to work in unsafe environments. Others have criticized by calling the program "selectively humanitarian" which makes lower numbers of doctors available to the Cuban population. Many countries have been wary of accepting Cuba's help due to its poor human rights record. While everyone may not find Cuba's help genuine, this is perhaps the time to put ideological differences aside and focus on the joint effort against the global war of Coronavirus.
Zapatistas' enduring legacy
The Zapatista movement was the first post-modern movement and it is still defiant in mountain strongholds. It rose up not just to fight indigenous repression, but also the globalization from above. It was a genuine popular movement striving for justice and for changing the status quo. Scholarly interest in the various indigenous movements in Latin America was shown only after the 1994 Zapatista uprising in Chiapas.The images of the Zapatistas were too striking to be missed—indigenous peasants with wooden rifles declaring war on the Mexican government. With their faces covered by black ski masks or red bandanas, the Zapatistas symbolically became the face of the faceless, the voice of the voiceless.
The Zapatista National Liberation Army had one-third women, some in bare feet. They became instant heroes of the left and an inspiration to indigenous groups and political romantics. There are still areas under their control where they have their own system of education, health, justice and security. They train their own teachers and doctors and some have their own currency. Their slogans have been equally instructive such as "cuando una mujeravanza, no hay hombre que retrocede (when a woman advances, no man is left behind) and "here you can buy or sell anything except indigenous dignity". The Zapatistas spelt out their key priorities like revitalizing indigenous worldviews, building autonomous, locally focused food system and food sovereignty and gender equity. Mexican sociologist Gonzalez Casanova says that the Zapatistas represent a new way of approaching problems and alternatives beyond the old dilemmas of the left, defending life, water, land and forest. The Zapatista movement offered alternative ways to organize societies, economies and the food systems.
In 1990s, Colombia's indigenous groups formed the Indigenous Social Alliance. It won a few seats in national parliament a few years later. Nationally visible indigenous parties came up in mid-1990s in Bolivia and Ecuador. In Bolivia, groups like the Assembly for the Sovereignty of the Peoples, Movement towards Socialism and Pachakutic Movement of Plurinational Unity gained traction. The Confederation of Indigenous Nationalities (CONAIE) in Ecuador has tasted electoral success and acquired considerable clout. It initially supported the left but later broke from its tutelage. The indigenous movements have helped in the democratization process. The group has combined indigenous culture and state institutions in innovative ways.
Limits of caudillismo
Latin Americans are masters at creating leaders, prophets and gods. The bane of Latin America is the system of caudillos (strongmen). Hence some are seeking leaderless revolutions. They contend, we don't need leaders, certainly not big leaders. As Emile Zapata says, "strong leaders make a weak people."
Populism the bane
Populism continues to be the bane of Latin American polity. Power and authority are still configured in relation to caudillos, not institutions. Parliaments, judiciary, party system and civil society provide little institutional counterweights to political abuses by the political class. The caudillos promise magical solutions and people still fall for them. Ironically, to remain in power, the maximum leader exerts and abuses state force but also propagate the myth that he/she is there by the popular will. The growing polarization has not allowed institutions like the judiciary and the police to become autonomous and independent. Populism has acquired a "new dimension" with decisive leaders pushing nationalism, demonizing opposition and stirring up issues that divide society. Populismhas marginalized the centrist forces and removed their bonding powers resulting in gridlock in parliament and diluting public trust in its efficacy.
Bertrand Russell says that the game of politics is the process by which people choose the man who will get the blame. Latin America has witnessed the masterful play of such blame game. Populist leaders thrive on confrontation and chaos. Bolsonaro is using the pandemic to stir up his base. He has dismissed Coronavirus as "just a little flu", "we will all die one day".
Conclusion
Some of the best practices in Latin America have caught the attention of the world. Whether these are replicable or not requires further research and study.The region has been long experimenting with novel political, social and economic initiatives and practices which resonate with people across the globe. Some consider the region to be a land of endless revolutions, but it has launched not only slogans but sustainable alternatives as well. It has maintained the ideal of 'Protesta con propuesta'(Protest with purpose). However, many have questioned the robustness of these measures when Latin America is witnessing the end of the commodity boom and the defeat of left-wing governments. The historical conflicts, the silhouettes of authoritarianism and past of caudillismo still weigh heavily on the Latin American present.
Will the region be able to overcome its non-democratic past and advance with its revitalized worldview? Or will it succumb to the ghosts of the old despotic regimes? There are no easy answers. It has to do with Latin American psychology, "the rejection of what is real and possible." Latin America also fits in Hannah Arendt's description how the most radical revolutionary becomes "conservative the day after the revolution". That of course doesn't deter Latin Americans from constructing alternative utopias.
*Shimone Jaini is doing Masters from Centre of Spanish, Portuguese, Italian andLatin American Studies, Jawaharlal Nehru University