Lithuania's new chief of defence has no chance
Lithuania's new chief of defence, Major General Valdemaras Rupsys calls himself a realist though it seems as if he is a fatalist with no hope to change anything in the national armed forces.
In a detailed interview with BNS Valdemaras Rupsys demonstrates his inability and even lack of hope to modify national military system. He distinctly reveals his plans.
Major General Valdemaras Rupsys says he will seek to accelerate new armored vehicle and artillery system purchases if the country's defense spending makes this possible.
The key words here are "if the country's defense spending makes this possible". The matter is Lithuania itself can rely only on foreign financing and help to strengthen its defence. Thus, he informs that a number of Boxer IFVs are currently being delivered to Lithuania. Renamed "Vilkas", or "wolf" in Lithuanian, the vehicles will be provided only to two battalions of the Iron Wolf mechanized infantry brigade, in Rukla and Alytus. It should be noted that Mechanized Infantry Brigade "Iron Wolf" is the core unit of the Lithuanian Army and forms the country's contribution to NATO collective defence. But even this unit will not be provided with all necessary vehicles and equipment.
The brigade's other two battalions, in Rukla and Panevezys, will continue to use old M113 armored personnel carriers, with plans to replace them with more advanced vehicles by 2030. No budget money – no vehicles!
Major General Valdemaras Rupsys admits that the only thing he can definitely do – to speak to the authorities. "We'll definitely have to speak to the ministry about whether there are possibilities to replace their platform earlier than planned," the general told in an interview. "Plans call for doing so in around 2030 but everything depends on financial resources. There won't be any drastic decisions to replace the acquisitions that we are already planning now," he added.
When he answers to the question if the Iron Wolf brigade needs tanks he is very flexible and says that "being aware of our means and financial capacity, I don't dream about tanks right now. We don't have such plans.
Another question is if he dreams about fighter jets in the Lithuanian army. And he again says – "No, I don't today. I am a realist and don't dream about things we cannot have."
The worst thing is his full satisfaction with the existing situation. He will not even try to change things. In terms of conscription system he shifts the responsibility on the political leadership, on the whole, which should decide on that. And then what is his responsibility? Does Lithuania need such a chief of defence who decides nothing from the very beginning?
Obviously, Lithuania has no money, but according to Major General Valdemaras Rupsys Lithuania even lacks of ambitious either to be a strong country. Possibly, this aim could be reached at the expense of others. At least he is honest.
Latvia becomes a victim of the East-West confrontation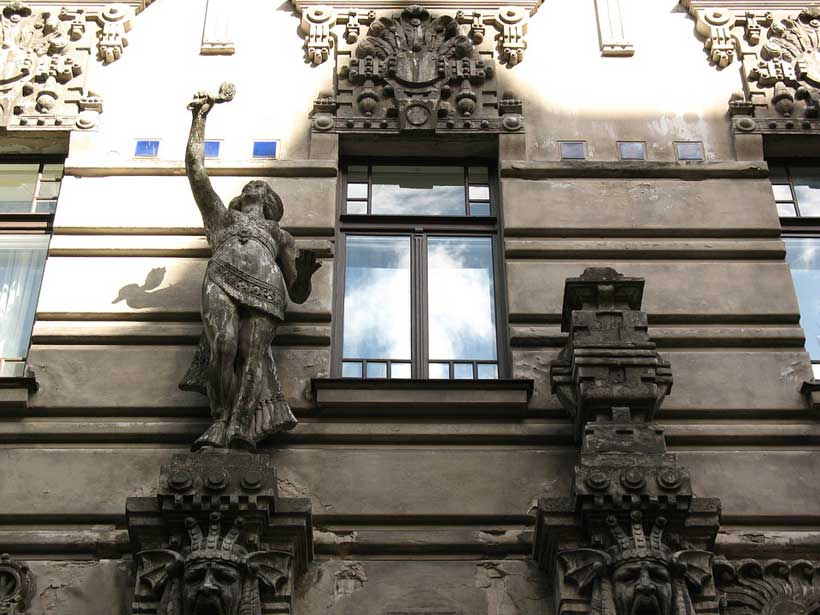 The foreign policy of Latvia has been providing a surprising case of balancing policy between economic wisdom and political situation for some decades. Being the EU and NATO member state, Latvia managed to fulfill its commitments and at the same time Riga maintained fruitful relationship in the economic sphere with neighbouring countries – Russia and Belarus. And this despite the fact that these two countries are seen by the European Union and the Alliance as opponents rather than friends.
But cooling of the EU and NATO's relations with Russia made such a balance impossible and forced Latvia to take such political decisions that totally harmed its economy. Thus, Latvia has gradually become a victim of the East-West confrontation.
Only one of the negative results of this confrontation is dramatic reduction of transit cargo. Russia's cargo volume has fallen sharply.
Russia's decision to build its own ports and divert traffic to them has become a direct consequence of the EU economic sanctions imposed against Russia.
In October, the largest decrease in Latvian ports was for coal transported to the main coal terminal on the Russian Island in Riga. Of the planned average of 118 wagons, only 39 were received per day.
The more so, in October, the Russian side did not coordinate 94% of the requested amount of coal cargo – customers wanted to receive more than 4,800 coal wagons to Latvian ports, but got only 279. In November, 100% of the requested amount was not agreed, which means a complete stop of coal cargo delivery. And it is clear that gradually less and less cargo will pass through Latvia and maybe not at all because of the destructive foreign policies toward relations with Russia.
On the one hand, Latvian authorities understand that the country needs Russian cargoes. Latvian Minister of Transport Tālis Linkaits points out: "It is the need of the Latvian state to ensure the operation of the infrastructure of "Latvijas dzelzceļš". And we are interested in every ton of cargo that could come through Latvia or to Latvia." On the other hand, during the annual Rīga Conference which took place in November Latvian Prime Minister Krišjānis Kariņš and NATO Secretary General Jens Stoltenberg both emphasized that Russia remains a threat. "Russia remains a great big problem," Kariņš said. Latvia as well as other Baltic States deployed NATO troops on its territory and thereby endangering good neighborly relations with Russia and regional security in general. Russia has taken measures to build up its military capabilities as well.
Former President of Latvia Valdis Zatlers says: "Prayers will not help. This is Russian policy."
Foreign Minister Edgars Rinkevichs admitted: "I don't understand what we sometimes have in Latvia, that it is somehow difficult for us to drive in the middle of the road – to be proportionate, to be principled in matters of principle, to be practical, but not to carry from one ditch to another."
So, Latvia maneuvers between politics and the desire not to lose important partner. Russia in its turn does not hide its intention and is not going to play along. If Latvia's political views prevent it from developing fruitful partnership with neighbour states, this is Latvia's choice. Latvia's economy today is hostage to its foreign policy.
Latvia's failure in cooperation with Russia reflects the bleak economic prospects if Russia ceases to see the region as a territory of special economic importance. In recent years, Moscow has already made it clear that it considers the gain in the struggle for the region too small to participate in it.
The situation resembles an old Latin proverb: "Between two stools, one falls to the ground." Latvia is almost on the ground.
The State of Civil Society in Belarus and Armenia: Challenges and Opportunities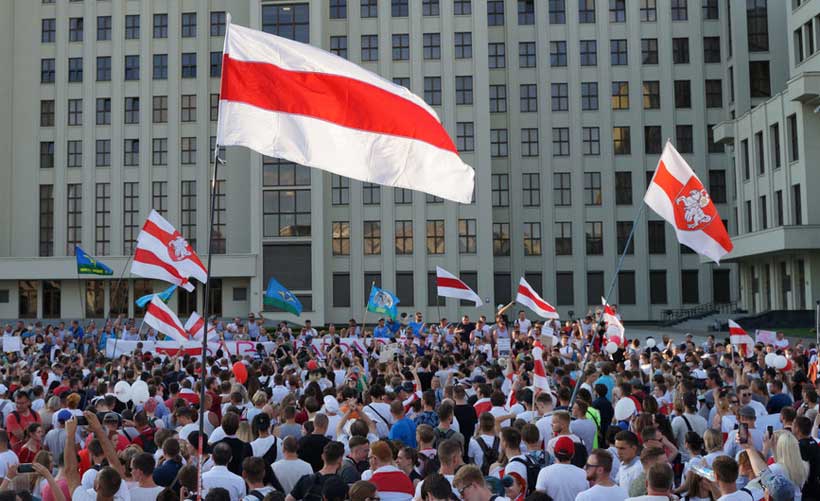 A vibrant civil society has long been thought to be a crucial instrument for political change in countries in transition and a key component of a democratic society.
While civic activism was critical to the 2018 "Velvet Revolution" in Armenia, and posesformidable challenges to Aleksander Lukashenko's authoritarian rule in Belarus, a question remains as to whether or not civil societies have the capacities to evolve into powerful agents of democracy in the two post-Soviet countries.
The two countries share much in come in terms of their communist past and close alliances with Russia, vividly manifested in their being members of the Russia-dominated Eurasian Economic Union and CSTO. Moreover, the post-Soviet transition of both countries has been marred by a series of authoritarian malpractices, ranging from centralization and personalization of power to extensive crackdown on civil liberties and political freedoms
In both countries civil society organizations have been characterized by their organizational weakness, and marginality in terms of their social base, financial assets and influence over policy making.
Controlling the mass media and civil society has been crucial for Europe's 'last dictator' Alexander Lukashenko's rule. As a result, freedom of association has been extremely limited in Belarus, where the registration of groups remains entirely arbitrary, while the foreign funding to NGOs is treated as interference in the country's domestic affairs. Only a few human rights groups continue to operate, amid huge harassment by the government. Alarmingly, in 2018, the Criminal Code of Belarus introduced the prospect of large fines for unregistered or liquidated organizations, thus aiming to curbtheir activism.
Moreover, the lack of a vibrant civil society has led to a situation where Belarusians have huge misconceptions about civil society organizations and do not tend to use the available resources within civil society and human rights organizations to defend their rights
The situation in Belarus turned upside down in the wake of 2020 presidential elections, that unleashed a huge wave of civic activism: hundreds of thousands of Belarusians raising their voices and taking to the streets.
The anti-government protests following the 2020 presidential elections show that the Belarusian opposition and civil society have the potential to challenge the status quo meticulously preserved by Lukashenko.
Nevertheless, it would be misleading to treat the successful actions by protesters or even civil society representatives per se as s shift in a robust or "emerging" civil society. The question remains as to if protests are organized by well-established and institutionalized organizations, or do groups emerge spontaneously out of the protests themselves?
By contrast, the Armenian civil society organizations enjoy considerable freedom and face less harassment by the government. While civil society played a critical role in the "Velvet Revolution," the absence of an umbrella organization or clearly reform-oriented movement in Armenia, seems to leave the fate of the societal coalition that brought Nikol Pashinyan to power uncertain. Not surprisingly, the societal coalition started to break into pieces as Armenia endured tremendous setbacks in the war against Azerbaijan in November 2020. Overall, the demonstrations leading the revolution showed the "Velvet Revolution was a one-time fairy tale, rather than a feature of a vibrant civil society. Meanwhile, civil society organizations and activists need to move beyond the victory in the street and pursue victory in town halls and elections, with the growing realization that the "Velvet Revolution" now needs to be in people's minds and behavior rather than in downtown Yerevan .
Despite the growing number of civil society organizations (there are more than 4,000 registered civil society organizations, mainly non-governmental organizations (NGO), absolute majority of them are inactive with little to no potential to represent certain interest groups. NGOs are especially weak in terms of their social base, funding and heavily depend on foreign donors.
Arguably, the Russian oversize influence over Belarus and Armenia has been one of the core challenges to a vibrant civil society advancement in both countries. Of all the Eastern Partnership countries, Armenia and Belarus is by far the most vulnerable to Russian influence. This reflects its structural dependence on Russia in the economic, energy, security, geopolitical, as well as socio-cultural spheres, particularly in case of Belarus.
Belarus displays a series of characteristics that allow Russia to have a strong impact on civil society. These include a weak national identity, issues around language, the prevalence of Russian information in the media, exposure to Russian information warfare, as well as the presence in Belarus of Russian government-organized NGOs (GONGOs) and the Russian Orthodox Church.
Notably, within its strategy of promoting Eurasian integration within the Eurasian Economic Union and beyond, Russian propaganda would frequently target Armenian NGOs by framing those which are Western-funded ones as threats to Armenian-Russian relations. Such claims would be followed by the calls for 'neutralizing' them through information campaigns and other methods, including through the legislature. Not surprisingly, the 2017 amendments to existing NGO legislation in Armenia, with imposed restrictions on their activities, would be largely viewed as a direct result of the mounting pressure emanating from Russia.
Boosting CSOs Actorness
Studies show that the path to a vibrant and consolidated civil society has two main dimensions. The first dimension boils down to the changes in the nature of civil society relations with the state and society and its potential and ability to induce reform, or what is often referred to as "change on the outside". This has much to do with increasing their impact on public policy and practice, not least through engaging more with their constituencies and improving their interaction with public institutions and actors. It has not been uncommon for post-Soviet societies to treat civic associations as threat to the power and stability of the state together with the conviction that the state bears the responsibility for the wellbeing of the society.
Moreover, the CSOs' tendency to prioritize relations with Western donors over engagement with citizens would result in their treatment as donor-driven, rather than community-oriented organizations. Meanwhile, greater engagement and effective communication with various social groups is critical to breaking down the public misconceptions about CSOs and their activities.
Thus, the "change on the outside" is instrumental in dissolving the apathy of the wider public leading to their shift from spectators to actors.
A major impediment to civil society in both countries is prevailing post-Soviet "informality" in the form of behavioral practices, such as considerable tolerance towards informal governance, the use of informal networks and connections in exchanges of favors, phone justice, corruption, etc. The latter has long condemned both countries to a vicious circle of underdevelopment and bad governance. Even though it would be an oversimplification to contend that graft is a way of life it takes a long time for deep rooted behavioral practices to change. Therefore, both governments, as well as CSOs have a crucial role in eradicating the informality and culture of corruption in both societies, not least through promoting liberal values and good governance practices.
The second critical dimension is "change on the inside", related to the nature of civil society per se: such as the way it is organized and operates. This in turn has a great deal to do with the development of adequate institutional and professional capacity in civil society organizations and networks as a vital tool for influencing policy making. The institutional development at the organizational level includes building organizational capacities for governance, decision-making, and conflict management, as well as clarifying organizational identity, values and strategy of impact.
The latter is of crucial relevance as a lot of CSOs in both countries were established in response to certain needs or funding priorities with no predefined mission, strategic plans and organization structure. That said, they were doomed to failure in terms of addressing the specific needs of their constituencies.
Overall, these changes and reforms are vital to the advancement of a vibrant civil society that can become an agent of democracy in both countries.
Can economic cooperation contribute to sustainable peace in Karabakh?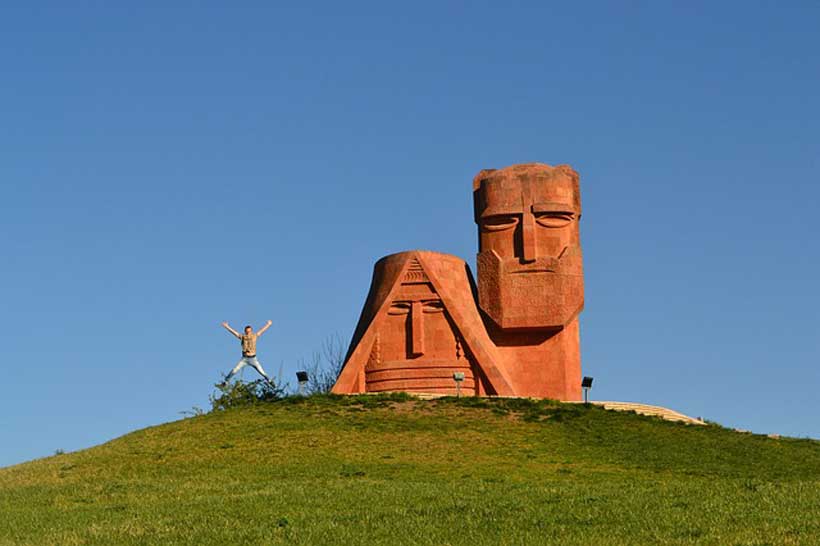 A major step has taken towards the Karabakh conflict on November 10, 2020. The century-old conflict between Azerbaijan and Armenia has undoubtedly, entered a different phase with the signing of a trilateral statement by Azerbaijan, Armenia, and Russia. Before this, in late September, Azerbaijan has launched a successful counter-offensive to implement the UN Security Council Resolutions (822, 853, 874, 884) through liberating its territories that were under Armenian occupation for almost 30 years. As a result of the military campaign, Azerbaijan was able to get back the majority of the strategic points in Karabakh including the historic city of Shusha.
While the protests broke out in the Armenian capital Yerevan, when PM Pashinyan publicly declared that he was obliged to sign the agreement to prevent its army from a total collapse, the Azerbaijani side enjoyed the victory by massive celebrations in Baku. The President of Azerbaijan Ilham Aliyev signed the statement on a live broadcast, and right after, addressed the nation and familiarized the Azerbaijani public with the context. As the details revealed by President Aliyev, it became obvious that the agreement was the capitulation of the Armenian side.
Afterward, the consequence of the "44-day war" was described as "a defeat both on the battlefield and in the diplomatic arena" by the Armenian President Armen Sarkissian. Namely, the agreement comprised the unconditional withdrawal of the Armenian troops from the occupied territories within a definite schedule, the return of all refugees, and the deployment of the Russian peacekeepers in the several points of Karabakh. Furthermore, the cardinal element of the statement is that there was not a word about the status of Nagorno-Karabakh. Apparently, the overwhelming military advantage of Azerbaijan induced the Armenian government to come to the negotiation table and finalize its illegal military presence within the boundaries of a neighboring sovereign state.
The agreement further articulates the opening of all communications, restoration of economic and transport links. Due to the stipulated economic notions, the statement possesses a significant role for lasting and sustainable peace. In this context, if Armenia would ensure adherence to the principles of the trilateral statement, the possible economic consequences will encapsulate in two dimensions: regional and global.
The regional dimension or local basis encompasses joint initiatives and shall include Georgia as well. For instance, the "South Caucasus Economic Union" could emerge to build high-quality cross-border infrastructure, to establish intraregional supply chains, and to form stronger financial links. The project rationale derives from the recognition that the development of an integrated South Caucasus, which can guarantee peace and spur growth in all fields, requires multiple, cohesive, and long-term efforts. Thus, the fundamental prerequisite for Armenia is to terminate all the hostilities with neighboring countries.
In the mutually assured peace environment, Azerbaijan and Armenia would strongly benefit from enormous savings on conflict-related fiscal expenditures. Military expenditures could be lessened by 2% of annual GDP in both countries to a reasonable level as in the countries at peace. Besides, Azerbaijan could eventually save expenditures for supporting refugees amounting to 0.4% of annual GDP, thus diminishing total expenditure by 2.4% of GDP yearly. Armenia could save annual expenditures of 0.9% of GDP for supporting the local economy in Nagorno-Karabakh and 0.1% of GDP in interest payments, thus saving 3% of GDP every year. Such massive fiscal savings would enable both countries to avert the budget-related issues and at the same time substantially increase spending in social spheres by eliminating any budgetary pressures.
In the global dimension, South Caucasus is capable of creating opportunities for sustainable growth. The ongoing conflict was generating an elevated extent of risks, which were constituting several constraints for the capital flow to the region. Since an opportunity has emerged to settle the conflict thoroughly regarding the trilateral statement, the effect that it would create in the future on ratings, risk premiums on bonds, loans and equity, investment, and finally, economic growth are likely to be very positive.
The South Caucasus region, acting as a link between the Middle East, China, Russia, and Europe, has immense strategic significance. Previously opened the Baku-Tbilisi-Kars railway, today serves as the shortest way to deliver Chinese goods to Turkey and reduces delivery time to Western Europe. This project was developed within a larger Trans-Caspian International Transit Route, as part of the Belt & Road Initiative.
Within the scope of the agreement, Azerbaijan gained a corridor that links the mainland to the exclave Nakhchivan Autonomous Republic through the Zangazur region of Armenia. The new corridor seems to be a more efficient alternative from distance and timing aspects. Thus, the agreement can be characterized as pivotal since it will not only stimulate the regional development credibly, it will transform the region into a hub of the international supply chain system, as well.
Undoubtedly, the foremost economic issue will be compensation as Armenia officially approved itself as the aggressor state in this conflict with the sign of PM Pashinyan on November 10. According to the United Nations, the overall damage to the Azerbaijani economy has estimated to be around $53.5 billion in 1994. Recently, President Ilham Aliyev stated that foreign experts are going to be invited for the up-to-datecalculations of the total damage as the result of the occupation.
After a longstanding negotiation process, the situation has been exacerbated, and inevitably, processes oriented to the military theatre. This trilateral statement can forestall the risks of resumption of the military operations in this phase. Here, strengthening the capacity to manage the conflict and promote peace through regional economic integration, trade facilitation initiatives, and other policy measures will be on the agenda. There is a plethora of similar practices in the world so that it might lead to a feasible solution.
The Karabakh conflict was making South Caucasus one of the most explosive regions in Eurasia. Nevertheless, from this moment, the focus shall be on the peacemaking process as it yields considerable economic benefits. As mentioned, the flow of investments to the region will tremendously increase, whereby the states in South Caucasus will be able to maximize their economic potentials. For Armenia, it is time to act on facts and realities rather than dreams. So, it should renounce territorial claims and start to rational cooperation with neighbors for a better future.