ADB, Laxmi Bank Sign Partnership Agreement to Support Trade in Nepal
The Asian Development Bank's (ADB) Trade Finance Program (TFP) and Laxmi Bank Limited, a leading bank in Nepal, today signed an agreement to provide guarantees to support trade in the country.
"We are delighted that Laxmi Bank has joined the Trade Finance Program as the latest issuing bank member at a time of resurgent economic growth in Nepal," said ADB Investment Specialist and Relationship Manager for Nepal Ms. Janet Hyde. "This new facility will assist with the country's reconstruction efforts by supporting trade flows into the country, especially those involving small and medium-sized enterprises (SMEs)."
ADB's TFP has been operating in Nepal since 2009 and currently works with 2 local partner banks. To date, the program has conducted more than 200 transactions in Nepal, supporting $82 million in trade, and benefiting more than 80 SMEs in a wide range of sectors including agricultural commodities, construction materials and machinery, solar panels, and textiles.
"Laxmi Bank is pleased to join ADB's Trade Finance Program as the third member bank from Nepal after completion of on-site and off-site due diligence of our financials, asset quality, and operations," said Laxmi Bank's Chief Executive Officer Mr. Ajaya Shah. "Laxmi Bank is already a major provider of trade finance services for Nepali SMEs, corporates, institutions, and infrastructure projects. Access to this new facility will further strengthen our ability to conduct large value or complex international trade transactions. We believe this will directly benefit our clients by enhancing their acceptance in the international market especially at a time when the country is pursuing economic growth led by private sector investments in national priority sectors."
Backed by ADB's AAA credit rating, TFP provides guarantees and loans to over 200 partner banks to support trade, enabling more companies throughout Asia and the Pacific to engage in import and export activities. Since 2009, ADB's TFP has supported more than 15,000 SMEs across developing Asia—through over 21,000 transactions valued at over $36 billion—in sectors ranging from commodities and capital goods, to medical supplies and consumer goods.
In 2018, TFP grew almost 40% to support $6.2 billion in trade through 4,470 transactions. TFP complements its financial support with knowledge products, including a study that quantifies market gaps for trade finance, initiatives to increase the role of women in banking, efforts to enhance environmental safeguards, and initiatives to fight crime through greater transparency in the global financial system. TFP also provides workshops and seminars to increase knowledge and expertise in matters related to finance, trade, risk management, and fraud prevention.
Laxmi Bank, established in 2002, serves a wide range of customers through its branches and a host of IT-enabled channels. Despite a relatively short history, Laxmi Bank has emerged as a major player across all business lines—retail, midmarket, corporate, infrastructure, and treasury. The bank is widely recognized as one of the best-managed banks in Nepal with high standards of corporate governance culture, risk-management systems, and a strong technology focus. Laxmi Bank's network includes 110 branches across 48 districts, 2 extension counters and 4 hospital service counters, 131 ATMs, 2,500 remittance agents, and 58 branchless banking agents spread across the country.
Gen. Li Shangfu: "When jackals or wolves come, we will face them with shotguns"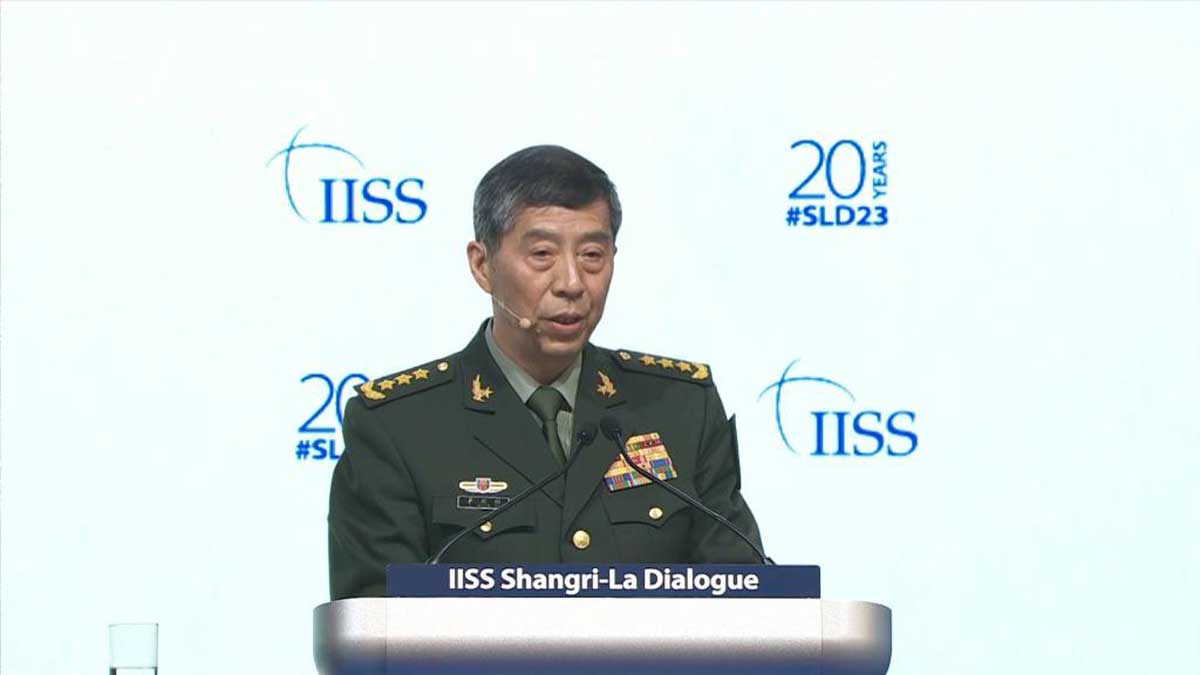 In his first international public address since becoming defense minister in March, General Li Shangfu told the Shangri-La Dialogue that China doesn't have any problems with "innocent passage" but that "we must prevent attempts that try to use those freedom of navigation (patrols), that innocent passage, to exercise hegemony of navigation."
A U.S. guided-missile destroyer and a Canadian frigate were intercepted by a Chinese warship as they transited the strait between the self-governed island of Taiwan, which China claims as its own territory, and mainland China. The Chinese vessel overtook the American ship and then veered across its bow at a distance of 150 yards in an "unsafe manner," according to the U.S. Indo-Pacific Command.
Additionally, the U.S. has said a Chinese J-16 fighter jet late last month "performed an unnecessarily aggressive maneuver" while intercepting a U.S. Air Force reconnaissance aircraft over the South China Sea, flying directly in front of the plane's nose.
Those and previous incidents have raised concerns of a possible accident occurring that could lead to an escalation between the two nations at a time when tensions are already high.
Li suggested the U.S. and its allies had created the danger, and should instead should focus on taking "good care of your own territorial airspace and waters."
"The best way is for the countries, especially the naval vessels and fighter jets of countries, not to do closing actions around other countries' territories," he said through an interpreter. "What's the point of going there? In China we always say, 'Mind your own business.'"
He accused the U.S. and others of "meddling in China's internal affairs" by providing Taiwan with defense support and training, and conducting high-level diplomatic visits.
"China stays committed to the path of peaceful development, but we will never hesitate to defend our legitimate rights and interests, let alone sacrifice the nation's core interests," he said.
"As the lyrics of a well-known Chinese song go: 'When friends visit us, we welcome them with fine wine. When jackals or wolves come, we will face them with shotguns.'"
In his speech U.S. Defense Secretary Lloyd Austin broadly outlined the U.S. vision for a "free, open, and secure Indo-Pacific within a world of rules and rights."
Li scoffed at the notion, saying "some country takes a selective approach to rules and international laws." "It likes forcing its own rules on others," he said. "Its so-called 'rules-based international order' never tells you what the rules are and who made these rules."
Republicans accuse Biden of corruption
Biden whistleblowers 'fear for their lives': Republicans say FBI won't hand over alleged $5 million 'bribery' document because key informant's safety could be in jeopardy, writes London "Daily Mail". The FBI allowed leaders of the House Oversight Committee to view the FD-1023 form Republicans say proves President Biden was involved in a $5 million criminal bribery scheme.
House Republicans say that the FBI is violating a subpoena to turn over an alleged Biden 'bribery' document because the original informant's life could be in danger if they are 'unmasked' – despite the names being redacted.
According to a 'highly credible' whistleblower, an internal FD-1023 memo created in 2020 based off information from a highly-paid FBI informant apparently details a $5 million 'arrangement' for an exchange of money for policy decisions between then-Vice President Joe Biden and a foreign national.
Rep. Marjorie Taylor Greene, R-Ga., told DailyMail.com that the foreign nation involved in the $5 million money exchange was Ukraine, and that it happened seven years ago. Greene added that the FBI could take measures to protect the informant's life if they 'cared about doing the right thing.'
The Georgia congresswoman added that it is necessary to move forward with contempt charges against Wray because the information contained in the document is 'so damaging and so dangerous to our national security' that Americans need the facts.
After reviewing the document, House Oversight Committee Republicans Chairman James Comer told reporters the accusations contained in the form 'suggests a pattern of bribery' consistent with findings the committee has put out publicly.
It's called 'money laundering,' he said, saying it fits within the pattern of over $1 million in Romanian-linked payments to the Biden family revealed last month.
The White House has also pushed back, calling the Republican-led investigation 'unfounded' and 'politically motivated.'
China takes leadership role in Central Asia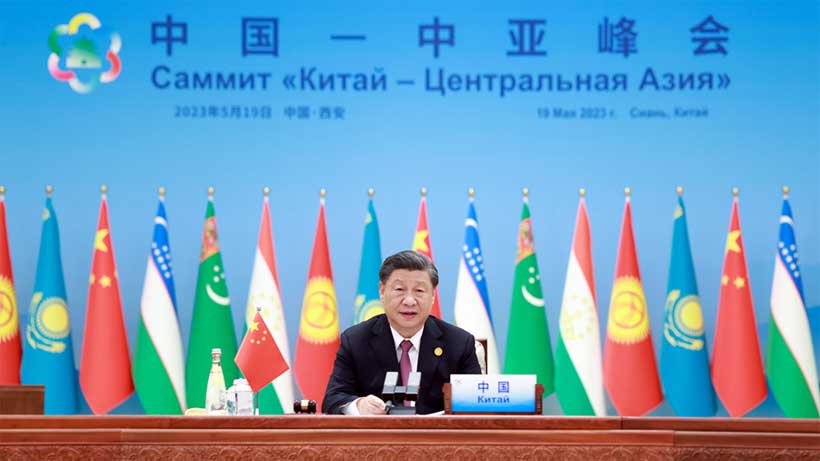 The China-Central Asia Summit, which took place recently in Xi'an on May 18-19 was every bit a geopolitical event as much as the G7 summit in Hiroshima that it overlapped. The symbolism was profound, notes M.K. Bhadrakumar, Indian Ambassador and prominent international observer.
China and Russia were the elephants in the room for both summits but the Xi'an summit distinguished itself as an inclusive affair, whereas, the G7 event was, regrettably, an exclusive gathering of wealthy countries of the Western World dripping with cold war-era animosities, and it didn't hide its intentions even in its choice of "special invitees" — one ASEAN country; two BRICS countries; one tiny African state; a Pacific island etc. — borne out of the old colonial mindset of "divide and rule."
The biggest difference was that the Xi'an summit was substantive and focused on a positive agenda that is quantifiable, while the Hiroshima summit was largely prescriptive and partly declarative and only marginally tangible. This was because the China-Central Asia summit took place on native soil while the G7 has no habitation and name in Asia except that one of the seven member countries is of Asian origin and the summit itself was a thinly-veiled attempt to insert the alien Western agenda into the Asian setting.
The China-Central Asia Summit was motivated by the growing realisation that the countries of the Eurasian region must play a proactive role in the common task of pushing back the United States, the driving force of the G7, which they perceive to be attempting to destabilise the common neighbourhood of Russia and China in Central Asia. Simply put, the Xi'an summit tacitly signalled that Russia and China are unitedly circling the wagons for a common purpose — to borrow an idiom which was employed by the Americans in the 19th century to describe a defensive manoeuvre.
From a historical perspective, it is for the first time ever that Russia and China are explicitly joining hands to stabilise the Central Asian region — a momentous happening by itself — with Beijing assuming a leadership role, given Russia's preoccupations in Ukraine. This paradigm shift belies the western propaganda that Russian and Chinese interests collide in the Central Asian region. There is a strategic convergence between Moscow and Beijing that stability in Central Asian region, which is vital for both capitals in their own interests, is best achieved through ensuring security, boosting economic development or international political backing.
The Xi'an Declaration released after the summit includes 15 points, divided into several blocks of issues: security, logistics, trade and economic cooperation, humanitarian cooperation and ecology.
China's thesis is that security is best strengthened through economic development and for that reason, therefore, the region is important from the point of view of economic cooperation and regional development — although in aggregate terms, Central Asian economic resources are nowhere near sufficient for meeting China's needs.
Suffice to say, terrorist threats emanating from the region, posing threat to Xinjiang, are China's main concern and Beijing is willing to openly invest its resources in the security of the region and take part in the training of the anti–terrorist forces of the Central Asian states. Geographically, three out of the five Central Asian countries, namely Kazakhstan, Kyrgyzstan, and Tajikistan, share borders with China. As for Russia, it has long regarded the region as its traditional sphere of influence and a strategic buffer zone, and thus prioritised the security of its southern border. Therefore, a safe and secure Central Asia aligns with China and Russia's respective national interests.
In the context of the Ukraine crisis, Central Asia has emerged as a frontline for the US strategy to contain and weaken Russia. However, although Central Asian countries have adopted a neutral stance on the Ukraine situation, Russia's influence in the region remains strong and is unlikely to be largely disrupted. Three key factors are at work here.
First, Russia is seen as the provider of security and Russia's defence capabilities continue to play a crucial role in maintaining stability in the region.
Second, Central Asian states heavily depend on Russia in regard of labor migration, market access, transportation, and energy resources, and no other outside power foots the bill.
Third, do not underestimate that the Russia-led Eurasian Economic Union continues to systematically build up regional economic integration.
The Xi'an Declaration talks about resisting religious extremism and attempts by external forces to impose their own rules on the region.
It stands to reason that China and the Central Asian states and Russia felt the need to create more effective mechanisms and plans in their common space so as to impart a new quality of cooperation, and supplement the SCO if need arises.
So far, Russia was engaged in strengthening political integration, while China systematically and powerfully interacted with the governments of Central Asian countries for the development of energy and infrastructure projects within the framework of a full-fledged economic expansion. That division of labour worked rather well, but then, the regional security environment changed dramatically of late.
For example, it has become vital for Moscow in the context of the rupture of Russia's energy ties with Europe to divert its oil and gas exports to the Chinese market, and that requires Central Asian infrastructure in transit mode — a novel idea altogether.
Suffice to say, a high level of harmonisation and synchronisation of the national plans of the Central Asian countries is needed. Currently, there are no agreed common strategies in the Central Asian region, which has a population of 75 million, M.K. Bhadrakumar stresses.