What's Behind Restoration of the Cold War?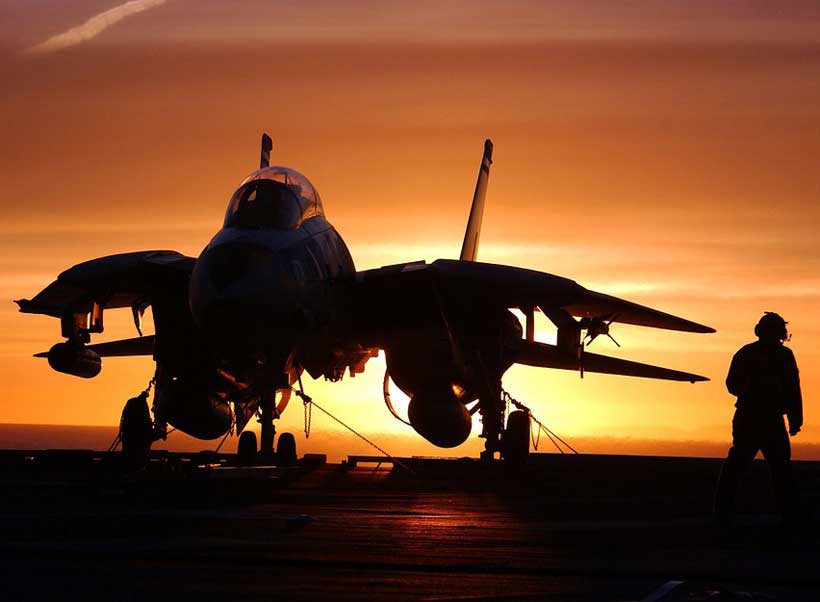 What's behind restoration of the Cold War is a fall-off in the global armaments trade after the capitalist-versus-communist Cold War ended with the 9 November 1989 elimination of the Berlin Wall, and after the ideological excuse for buying and using nuclear weapons thus ended when the Soviet Union and its communism and its Warsaw Pact military alliance copy of America's NATO military alliance all ended soon thereafter, in 1991. Weapons became less needed, because there was no longer an ideological excuse available for invading, and for perpetrating (and/or backing) coups in, foreign countries, such as Iran 1953, Guatemala 1954, etc. This reduction in the weapons-market harmed the major investors in arms-manufacturing international corporations. Their business was suffering.
Any nation's armaments-industry is especially crucial to that given nation's aristocracy (the controlling owners of their international corporations); and, so, the fall-off in the arms business was deeply problematic for international capitalists — especially for the people whose wealth depends largely upon America's arms-manufacturers, the international corporations whose only markets are their own and allied governments (which governments America's and its allied aristocracies control). Therefore, any capitalist nation's aristocracy is heavily invested in and controls that given nation's 'defense' (or, more typically, invasion) industry. Without allied governments to buy their arms, and 'enemy' governments for those weapons to be used against (i.e., countries which are targets instead of markets for those weapons), there is no business, no arms-sales, and no profits, from these companies. Furthermore, the weapons that any given nation has at its disposal and which are paid for by that nation's entire taxpaying public (thus enabling that aristocracy to extract wealth from their nation's public in order for the government to buy weapons from their firms), also provide a vital means of enforcing that nation's aristocracy's property-rights in all other countries — the guns and military to enforce their will against those countries. Soldiers are more important to international billionaires than police are. Aristocrats tend to be invested in many countries, and so to be very much in need of this international enforcement. Whereas police are more important to the general public, soldiers and spies are more important to billionaires, whose net worths are often extracted more from foreign lands than from their own. This international enforcement also advantages them in any international negotiations. Furthermore, the nation's diplomatic service, such as America's State Department, also boosts their international negotiations. Much of the U.S. federal Government serves America's 607 billionaires more than it serves the remainder of America's 330 million people — who pay taxes instead of secret their main wealth in places such as Barbados. So, while the public do the paying and the killing and the dying, the country's owners do the profits. That's the reality — not the myth, none of the myth — about international relations. It's global gangland. Everything else is just PR.
For a while after the end of communism and end of the Soviet Union in 1991, the U.S. aristocracy and its allied aristocracies in Europe, Japan and elsewhere, experienced declining sales of armaments, and nothing seemed capable of turning that situation around: their investments became increasingly bad as the 'post-Cold-War' period (which "post" on the Russian side was real from 1991 on, but not on the U.S. side, where the Cold War was actually only temporarily suspended and never yet ended) proceeded throughout the 1990s. For America's aristocracy (and its allied aristocracies abroad), this decline in weapons-income was tolerable so long as the U.S. group were able to siphon some wealth out of Russia, and also out of its allies such as Ukraine. But, by the time when George W. Bush became U.S. President in 2001, America's aristocracy worked in conjunction with Saudi Arabia's aristocracy — the Saudi royal family, the largest foreign purchaser of U.S. weapons — to replace the Soviet enemy, by a new jihadist enemy, "radical Islamic terrorism" or jihadists from fundamentalist-Sunni sects such as Saudi Arabia's own Wahhabist sect, so as to have an ongoing excuse for invasions, to keep their arms-makers busy.
For example: during the latest reporting period, 2017 and 2018, Saudi Arabia imported from U.S. "6599" (millions of dollars worth, or $6.6 billion) of American-made weapons, and the second-largest, Australia, imported only "2007" — meaning that Saudi Arabia dwarfed every other importer, and consumed 29% of all "22993" (or $23 billion) of U.S. arms-exports, during that two-year period. That's enormous clout over the U.S. Government, which means that the owner of Saudi Arabia, its King, who is by far the world's wealthiest person and the only certain trillionaire, probably has even more control over U.S. foreign policies than does any single U.S. billionaire — even than does whomever actually controls Lockheed Martin.
After 9/11 (a joint U.S.-Saudi operation), military expenditures promptly quit declining and started rising and thus providing, yet again, good returns to international capitalists. Here, that increase, which was indicated in the above chart, is also shown by a graph in an article which extends decades farther back than merely to 1988, "Military Expenditure Trends for 1960–2014 and What They Reveal", by Todd Sandler and Justin George, published on 7 March 2016:
As is clear from that, the Cold War was a booming business for investors throughout the U.S. and its allied aristocracies, during at least 1960 till around the time when the Berlin Wall ended on 9 November 1989; and, then, after the 1991 end of the Soviet Union, this thirty-plus years-long uptrend in those investments became instead a clear downtrend, until 11 September 2001, when military spending again soared, but this favorable trend for armaments-investors stopped when Barack Obama became the U.S. President in 2009, and military sales then declined till 2014, and flatlined thereafter. What caused it to stop declining further was especially Obama's coup in Ukraine during February 2014, turning neutralist Ukraine rabidly against its adjoining nation Russia and seeking NATO membership and so becoming a potential staging-area for U.S. missiles against Russia. This seemed, at the time, to be a brilliant sales-promotion policy for American corporations such as Lockheed.
This flatlined military spending was unacceptable to the U.S. aristocracy, who control the U.S. government. Therefore, starting by no later than 2011, the Obama-Clinton U.S. State Department began preparations to overthrow the Russia-friendly democratically elected (in 2010) government of Ukraine, which is the European country that has the longest border with Russia and therefore the most opportunities for placing U.S. missiles on Russia's border so as to be able to surprise-attack Russia faster than Russia will be able to launch its missiles in retaliation — in other words, to conquer Russia. That U.S. coup in Ukraine was carried out in February 2014; and, afterward, the international arms-trade boomed again.
The United States, which until the end of the Soviet Union, and of its communism, and of its Warsaw Pact copy of America's own NATO, had had an excuse for high military spending, had lost that excuse when, on 9 November 1989, the last Soviet leader Mikhail Gorbachev "tore down that wall" separating East Berlin from West Berlin, and, in 1991 he ended the Cold War itself on the Soviet side and became instead the President of Russia — the leading state in the former Soviet federation. The U.S. secretly continued the Cold War, now against Russia alone, and tried to take Russia over by means of constructing a new Russian aristocracy that would be dependent upon the U.S. aristocracy and would provide America's aristocrats with lucrative new opportunities for exploitation. But Russia's new President Vladimir Putin in 2000 immediately turned against Boris Berezovsky and Russia's other U.S.-allied new aristocrats or "oligarchs," and drove them out of the country and so established Russian national sovereignty over Russia's natural and other resources — the very things that America's aristocrats had wanted to exploit.
Putin replaced the previous, U.S.-allied, oligarchs, by his own friends, who agreed to obey Russia's leader as the representative of Russia's national sovereignty, even if and when Putin would tell them to do things that are against their own pecuniary interests — he demanded this loyalty from them, loyalty to what he as the representative of the Russian people determined to be in Russia's national interest. For forcing out and replacing the previous, U.S.-backed, oligarchs, Putin was called a brutal dictator, by the aristocrats who control the U.S. government and news media and weapons-producing firms.
The post-9/11 restoration of the sales-volumes of the U.S. aristocracy's weapons-firms turned out to be insufficient, it ended within eight years, because only with a return of sales of nuclear-arms production, and the huge missile systems to deliver them, could the old glory days of America's aristocracy return again. Or so they thought. And, so, the emphasis again went to making the U.S.-and-allied publics hate Russians instead of hate Muslims, and all of the major media turned to that. But look at the flatline after 2010 which is shown in the top visual here: the U.S. owners are desperate to restore their growth. Consequently, the first thing that the incoming U.S. President Donald Trump did when coming into power in 2017 was to go to Saudi Arabia and sell $350 billion of U.S. weapons to the Sauds over the coming 10-year period — the world's all-time biggest arms-sale, if the Sauds fulfill on it. This is why Trump refuses to acknowledge that Crown Prince Salman al-Saud ordered the torture-murder of Jamal Khashoggi. Trump's biggest success has been that sale, and he won't allow it to fail.
Communism is gone. The Soviet Union is gone. Its Warsaw Pact is gone (and almost entirely absorbed now into America's NATO military club — they're aimed now against Russia, instead of against the U.S.). All of the pretext for the Cold War was gone; and therefore to call this new war against the lone and non-communist rump Russian government a 'new cold war' (at a time when Russia's former Soviet partners have been switched to enemies, and the Warsaw Pact of allies has been switched to the NATO pact of enemies) is preposterous; it is nothing of a 'new cold war' sort. It is U.S. aggression, flat-out and recognized even by America's top experts. And a pretext was thus needed in order to be able to call Putin's Russia the world's most aggressive country. One pretext was to call the two breaks-away from Ukraine, one by Crimea (which had voted 75% for the government that Obama overthrew) and the other by Donbass (which had voted 90% for that government), 'aggressions' on the part of Russia (and to ignore that Obama's coup in Ukraine had caused both). The Obama regime denied the right of self-determination of peoples, when it pertained to those breakaway regions from Ukraine, even though Obama accepted the right of self-determination of peoples when it pertained to Scots in UK, and to Catalans in Spain.
The other pretext was that Russia backed the allegedly brutal secular leader of Syria, and not the actually brutal sectarian leader of Saudi Arabia who was determined to conquer secular Syria by infiltrating into Syria jihadist allies of Al Qaeda in order to create a Wahhabist dictatorship in Syria, which would be in debt to the Sauds and to the Americans.
For these reasons, nuclear war is now not only on the table, as it was during the Cold War, but, in the currently spreading now hot war using jihadists and other proxy fighters in order to overthrow and replace Russia's allies, America is finally going for the nuclear jugular. Even if it's not a sound thing to do if those weapons are ever used, it's the only way America's aristocrats know to boost the value of their investments, at least in the short term (which is the time-perspective that increasingly has come to dominate among America's aristocrats and their allies).
America's current President, Trump, will have to decide whether to culminate this, or whether instead to condemn and repudiate it. If he decides to do the latter, then he will be condemning and repudiating the entire U.S. aristocracy, which no U.S. President (except for Jimmy Carter in his retirement) has ever done. American Presidents have been assassinated for less than that. And, in any case, courage is not a trait that's commonly attributed to Trump, even by his own most ardent admirers. However, unless he turns out to be a person of extraordinary courage, World War III now appears to be virtually inevitable, to occur rather soon, and the only real question would be: Which side will nuclear-blitz-attack the other the first?
Every well-informed person now knows what the full import was of U.S. President Dwight Eisenhower's elliptical parting words as President, from his Farewell Address, on 17 January 1961:
"In the councils of government, we must guard against the acquisition of unwarranted influence, whether sought or unsought, by the military-industrial complex. The potential for the disastrous rise of misplaced power exists and will persist. We must never let the weight of this combination endanger our liberties or democratic processes."
What he was so vaguely warning against, has actually occurred, and is proceeding toward its ever-likelier climax: the end. This push is politically bipartisan. It is toward an end so horrific that no scientific estimate of its result to the planet has been allowed to be published. It would release at least the 3,176 already-deployed nuclear warheads (the 100-plus-kiloton bombs that would be used in a U.S.-Russia war: 1,765 on Russia's side, plus 1,411 on America's). However, a release of only 100 nuclear warheads (each only 15-kilotons) (thus, roughly 200 times smaller release in total, than a U.S.-Russia war would entail) was allowed to be published; and here that is. (The study itself says that: "Our results show that this period of no food production needs to be extended by many years, making the impacts of nuclear winter even worse than previously thought." But, clearly, a U.S.-Russia war would simply end a livable planet.)
Trump's Presidency was bought by the anti-Iran Adelson billionaires and other agents for Israel. Unlike Obama, who was hired by anti-Russia Democratic Party billionaire neoconservatives, the anti-Iran billionaires are the patrons of Trump's Presidency. And, so, America's target to destroy is Iran and its allies, instead of Russia and its allies. The only reason why Trump continues Obama's aggressions (even increases his sanctions) against Russia is in order to be acceptable to the Democratic Party billionaires who control much of the news-media. He gets lots of pressure from them to 'stop being Putin's puppet', and nobody can fight the mainstream news-media, who shape voters' perceptions.
Author's note: updated version from originally posted at strategic-culture.org
Turning Gulf Security Upside Down
Like many paradigms across the globe, the pandemic and its associated economic downturn have changed the paradigm shaping debates about Gulf security that was inevitably set to gradually migrate from a unipolar US defense umbrella that shielded energy-rich monarchies against Iran to an architecture that was more multilateral. In many ways, the pandemic's fallout has levelled the playing field and not necessarily in ways that favour current policies of Gulf states.
Saudi Arabia's relations with the West are increasingly being called into question, with the Saudi–Russian oil price war in March potentially having broken the camel's back. The Kingdom and the United Arab Emirates (UAE) stand to lose at least some of the financial clout that allowed them to punch above their weight even if they are likely to exclude arms purchases from their austerity measures.
Weakened financial clout comes at a moment when the Gulf states and Iran are gearing up towards an arms race in the wake of Iran's recent satellite launch and unveiling of an unmanned underwater vehicle against the backdrop of the 2015 international agreement that curbed the Islamic Republic's nuclear programme inching towards collapse. The unmanned underwater vehicle puts Iran in an elite club, of which the only other members capable of producing them are the United States, Britain and China.[1] The satellite adds Iran to a group of only about a dozen countries able to do launches of their own. [2]
Add to this the fact that none of the regional players — Saudi Arabia, the UAE, Qatar, Iran, Turkey and Israel — feel secure that any of the external powers — the United States, China and Russia — are reliable security and geopolitical partners.
Gulf states have, for years going back to the era of Barak Obama if not Bill Clinton, increasingly perceived the United States as unfortunately their only option on the premise that they are not willing to change their policies, particularly towards Iran, but one that is demonstrably unreliable, unwilling to defend Gulf states at whatever cost, and at times at odds with them in terms of policy objectives.
The Gulf states' problem is that neither Russia nor China offer real alternatives at least not on terms that all Gulf states are willing to accept. Russia is neither interested nor capable of replacing the United States. Moreover, its Gulf security plan is at odds with at least the policy of Saudi Arabia.
The plan calls for a security arrangement modelled on that of Europe under the auspices of the Organization for Security and Cooperation in Europe (OSCE). It would be an arrangement that, unlike the US defence umbrella in the Gulf, includes Iran, not directed against it. It would have to involve some kind of regional agreement on non-aggression.[3]
Saudi Arabia, under Crown Prince Mohammed bin Salman, has made clear that it is not interested, as is evident in the pandemic where it has refrained, in contrast to other Gulf states, from reaching out to Iran with humanitarian aid even though it last year engaged in an indirect exchange with the Islamic Republic. That exchange died with the killing by the United States in January of Iranian general Qassim Soleimani.
The Elephant in the Room
China is obviously the elephant in the room.
Logically, China and the Gulf states are in the same boat as they grapple with uncertainty about current regional security arrangements. Like the Gulf states, China has long relied on the US defence umbrella to ensure the security of the flow of energy and other goods through waters surrounding the Gulf in what the United States has termed free-riding.
In anticipation of the day when China can no longer depend on security provided by the United States free of charge, China has gradually adjusted its defense strategy and built its first foreign military facility in Djibouti facing the Gulf from the Horn of Africa. With the People's Liberation Army Navy tasked with protecting China's sea lines of communication and safeguarding its overseas interests, strategic planners have signalled that Djibouti is a first step in the likely establishment of further bases that would allow it to project long-range capability and shorten the time needed to resupply.
But like with the Russians, Chinese strategic planners and their Gulf counterparts may part ways when it comes to what would be acceptable geopolitical parameters for a rejuvenated regional security architecture, particularly with regard to Iran. Any new architecture would break the mould of Chinese engagement in the Middle East that is designed to shield the People's Republic from being sucked into the region's myriad conflicts.
The assumption has long been that China could at best postpone execution, but that ultimately, it would have no choice but to engage in the politics of the region. More recently, influential Chinese analysts are suggesting that China has another option: turn its back on the region. That may seem incredulous given China's dependence on Middle Eastern energy resources as well as its significant investments in the region.
These analysts argue, however, that China is able to diversify its energy sources and that Chinese investment in the Middle East is but a small percentage of overall Chinese overseas investment. They describe Chinese Middle Eastern economic relations as past their heyday with economies of both in decline and the prospects of the situation in the Middle East getting worse before it becomes better.
"China–Middle East countries is not a political strategic logic, it's an economic logic. For China, the Middle East is always on the very distant backburner of China's strategic global strategies … Covid-19, combined with the oil price crisis, will dramatically change the Middle East. (This) will change China's investment model in the Middle East … The good times of China and the Middle East are already gone… Both China and the Middle Eastern economies have been slowing down … In the future, the pandemic, combined with the oil price problem, will make the Middle East situation worse. So, the China economic relationship with the Middle East will be affected very deeply," said Niu Xinchun, director of Middle East studies at China Institutes of Contemporary International Relations (CICIR), widely viewed as China's most influential think tank.[4]
Pessimistic forecasts of economic prospects in the Middle East bolster Niu's prediction. Data and analytics company GlobalData predicted in an email that depressed oil markets and prices in the Middle East and North Africa would lead to a contraction in non-oil sectors, including construction. "Construction activity for the remainder of 2020 is set to see poor performance … In addition, public investment is likely to be moderate, which will translate into fewer prospects for private sector businesses to grow — especially within sectors such as infrastructure. Expected increase in taxes, selected subsidy cuts and the introduction of several public sector service charges will influence households' purchasing power, having a knock-on effect on future commercial investments," said GlobalData economist Yasmine Ghozzi.
Moreover, the downplaying of Chinese economic interest in the Middle East fits a pattern of reduced Chinese capital outflows. "What we may not have seen is how much China has retreated financially already for the past four years … Especially since 2016, China's outflows have come down dramatically in both lending and investment. Foreign direct investment is now at about 30 per cent of what it was in 2016," said Agatha Kratz, associate director of Rhodium Group, an independent research provider.[5]
To be sure, Chinese officials and analysts have consistently maintained that the Middle East is not a Chinese priority, that any future battles with the United States will be fought in the Asia Pacific, not in the Gulf. Their assertions are backed up by the fact that China has yet to articulate a comprehensive policy towards the region and in 2016 issued its one and only white paper on policy towards the Arab world that essentially was an elaboration of its basic foreign and defense policy principles.
More likely than China seriously entertaining turning its back on the Middle East is the probability that it is sending the region a message that is not dissimilar from what Russia is saying: get your act together and find a way to dial down the tension. It is a message that appears to varying degrees to have been heard in the smaller Gulf states but has yet to resonate in Riyadh. It is also a message that has not been rejected out of hand by Iran.
Discussing a possible extension of a United Nations arms embargo against Iran, Saudi Ambassador Abdallah Al Mouallimi, arguing in favour of a prolongation, suggested that it would serve Russian and Chinese interests even though they would not agree with that assessment. "They have their views, we respect their views, but their interests would be better served and promoted with the embargo extended," said Al Mouallimi.[6]
A Chinese Communist Party newspaper made days later a first reference in the People's Republic's state-controlled media to reports of an alleged secret 25-year multi-billion-dollar co-operation agreement in Iran amid controversy in the Islamic Republic. Chinese officials and media have largely remained silent about Iranian reports of an agreement worth anywhere between US$120 billion and US$400 billion that seemingly was proposed by Iran, but has yet to be accepted by China.[7]
Writing in the Shanghai Observer, a subsidiary of Liberation Daily, the official newspaper of the Shanghai Committee of the Communist Party of China, Middle East scholar Fan Hongda argued that the agreement, though nowhere close to implementation, highlighted "an important moment of development" at a time that US–Chinese tensions allowed Beijing to pay less heed to American policies.[8] Fan's suggestion that the US–Chinese divide gave China more room to develop its relations with Iran will not have gone unnoticed in Riyadh and other Gulf capitals.
An Emerging Tug of War
How all of this may shake out could be determined by the emerging tug of war in the Middle East between China and the US. Israel has already been caught up in it and has made its choice clear, even if it still attempting to maintain some wiggle room. Nonetheless, Israel, in the ultimate analysis, knows where its bread is buttered, particularly at a moment where the United States is the only backer of its annexationist policies. In contrast to Israel, the US is likely to find the going tougher when it comes to persuading Gulf states to limit their engagement with China, including with telecom giant Huawei, which already has significant operations in the region.
Like Israel, UAE officials have sought to convey to the US that they see relations with the United States as indispensable even though that has yet to be put to a test when it comes to China. Gulf officials' stress on the importance of ties will, however, not shield them from American demands that they review and limit their relations with China, nor its warnings that involvement of Huawei could jeopardise sensitive communications, particularly given the multiple US bases in the region, including the US Fifth Fleet in Bahrain and the forward headquarters of the US military's Central Command, or Centcom, in Qatar.
The US Embassy in Abu Dhabi, in a shot across the Gulf's bow, last month rejected a UAE offer to donate hundreds of coronavirus tests for screening of its staff. The snub was designed to put a dent in China's health "Silk Road" diplomacy centered on its experience with the pandemic and ability to manufacture personal protective and medical equipment.
A US official said the tests were rejected because they were either Chinese-made or involved BGI Genomics, a Chinese company active in the Gulf, which raised concerns about patient privacy. The US softened the blow when the prestigious Ohio-based Cleveland Clinic sent 40 nurses and doctor to its Abu Dhabi subsidiary. The Abu Dhabi facility was tasked with treating the UAE's most severe cases of coronavirus.[9]
The problem for the US is that it is not only Trump's policy or lack thereof towards the Middle East that undermines confidence but it is also policies that, on the surface, have nothing to do with the Middle East. The United States has been asking its partners including Gulf states to give it time to develop an alternative to Huawei's 5G network. Yet at the same time, it is barring the kind of people entry that technology companies need to develop systems.
A Silver Lining
No matter how the tug of war in the Middle East evolves, the silver lining is that, like China, the United States despite its desire to reduce its commitment cannot afford a power void in the region. That is what may create the basis for breaking the mould.
It will require a backing away from approaches that treat conflicts as zero-sum games not only on the part of regional players but also of external players, like in the case of the US versus Iran, and it will require engagement by all regional and external players. To achieve that, players would have to recognise that in many ways, perceptions on both sides of the Gulf divide are mirror images of one another: all parties see each other as existential threats.
Failure to break the stalemate risks conflicts becoming further entrenched and threatening to spin out of control. The opportunity is that confidence-building measures and a willingness to engage open a door towards mutually acceptable regional security arrangements and conflict resolution. However, for that to happen, major powers would have to invest political will and energy at a time when they feel they have bigger fish to fry and prioritise geopolitical jockeying.
In a twist of irony, geopolitical jockeying may prove to be an icebreaker in a world, and certainly a region, where everything is interconnected. Increasingly, security in the Gulf is not just about security in the Gulf. It is not even just about security in the Middle East. It is about security in the Mediterranean, whether one looks at Libya on the sea's southern shores, Syria in the east, or growing tension in the whole of the Eastern Mediterranean. And it does not stop there with regional rivalries reaching into the Black and Caspian Seas and into Central Asia.
Finally, there are the grey and black swans built into partnerships and alliances that are either becoming more fragile like those of the United States or ones that have fragility built into their DNA like the ties between Iran, Turkey, China and Russia. Those swans could at any moment swing the pendulum one way or another.
To be sure, contrary to Western perceptions, relations between Iran, Turkey, Russia and China are not just opportunistic and driven by short-term common interests but also grounded in a degree of shared values. The fact of the matter is that men like presidents Recep Tayyip Erdogan, Vladimir Putin, Xi Jinping and Ayatollah Ali Khamenei find common ground in a view of a new world order that rejects democracy and the rule of law; disregards human and minority rights; flaunts, at least for now, violations of international law; and operates on the principle of might is right.
That glue, however, is insufficient, to prevent Turkey and Russia from ending up on opposite sides of conflicts in Libya and Syria. It is also unlikely to halt the gradual erosion of a presumed division of labour in Central Asia with Russia ensuring security and China focusing on economic development. And it is doubtful it would alter the simmering rivalry between Iran and Russia in the Caspian Sea and long-standing Russian reluctance to sell Iran a desperately needed anti-missile defense system.
In short, fasten your seat belt. Gulf and broader regional security could prove to be a bumpy ride with unexpected speed bumps.
[1] "Iran's UUV to add new dimension to its warfare capability: Forbes", Tehran Times, 30 May 2020, https://www.tehrantimes.com/news/448370/Iran-s-UUV-to-add-new-dimension-to-its-warfare-capability-Forbes.
[2] Mike Wall, "Iran launches its 1st military satellite into orbit: reports", Space.com, 22 April 2020, https://www.space.com/iran-launches-first-military-satellite.html.
[3] Theodore Karasik, "Is Russia's 'old' Gulf security plan the best it can do?", Arab News, 20 July 2019, https://www.arabnews.com/node/1533096.
[4] Niu Xinchun speaking on "How are China's Relations with the Middle East Evolving During the COVID-19 Pandemic?", Chatham House, 19 May 2019, https://www.facebook.com/watch/?v=2721841274725780.
[5] Agatha Kratz speaking on "China and the Mediterranean Region in and Beyond the Pandemic, German Marshal Fund", 3 July 2020, https://www.gmfus.org/events/china-and-mediterranean-region-and-beyond-pandemic.
[6] Joyce Karam, "Russian and Chinese interests 'better served' if Iran arms embargo is extended, says Saudi official", The National, 2 July 2020, https://www.thenational.ae/world/the-americas/russian-and-chinese-interests-better-served-if-iran-arms-embargo-is-extended-says-saudi-official-1.1042822.
[7] Seth J Frantzman, "Iran media discuss 25-year deal between Iran and China", The Jerusalem Post, 3 July 2020, https://www.jpost.com/middle-east/iran-media-discuss-25-year-deal-between-iran-and-china-633739.
[8] Fan Hongda, "Iran announced a 25-year comprehensive cooperation plan with China, can Sino-Iranian relations get closer?" [观察家 | 伊朗宣布与华25年全面合作计划,中伊关系能否进一步走近?], Shanghai Observer, 20 June 2020, https://www.shobserver.com/news/detail?id=264494.
[9]Interview with the author, 8 June 2020.
Author's note: This story first appeared as an MEI Insight
The Chinese Navy: A new force is rising in the East
The information coming to the West from various sources, either open or closed, regarding the Chinese Navy, concludes on the finding that in the last couple of decades an extensive program of modernization and numerical expansion of the Navy, by the Chinese authorities, is underway. The fundamental pillar of China's (not-so-future) Navy, known as the People's Liberation Army Navy PLAN, (will be) for its aircraft carriers; cruisers; destroyers; amphibious assault ships; and submarines. In general, China is arming with modern multi-purpose ships, with the purpose of attacking and defending capabilities. Its discernible ambition is to use its fleet against the dominant US Navy, whose presence is pronounced in the China Sea and consequently in the Pacific Ocean. As a matter of fact, the Chinese Navy is already considered to be the second most powerful in the world, exceeding historical Naval Powers such as the United Kingdom and Japan. Indicatively, we note the fact that the once dominant Royal Navy is currently comprised of only 9 destroyers and 2 aircraft carriers, while the Chinese, respectively and exceeds those numbers. It is the swiftest growing Navy in the world. Literally, since 2014, the Chinese Navy has launched more warships than the Royal Navy has on duty today.
This article will be focusing on the rapid development of the Chinese Navy, which incidentally is only one aspect of Beijing's overall maritime strategy (another aspect refers to the construction of military bases on tiny islands within the entire Chinese Sea and abroad, as in Djibouti). China aims to secure the homeland from a possible attack from the sea and to protect their vulnerable maritime supply lines. In the Chinese strategic culture, the Age of Humiliation is of paramount importance, because it had been the period when the Chinese were subservient to Westerners. Therefore, the Never Again of the CCP (Chinese Communist Party) is the legitimizing substance which keeps it in power but simultaneously a commitment that satisfies the nationalist Chinese instincts. China is keen to return to its former position, before its contact with the Western Powers, so its policy is towards this strategic target.
It was not until the 1990's that the Chinese forces consisted of out-of-dated naval vessels with limited offensive and defensive capabilities. Furthermore, the Chinese fleet was limited to about 150 main units (destroyers, frigates, submarines) and no conventional aircraft carriers. Today, China has both fiscal and technological ability to build domestic projects at a rapid pace. In order to understand the class size of the Chinese naval armaments program we will note that in 2016 and 2017 the country's Navy launched 18 and 14 units respectively, while the US Navy launched only 5 and 8.
The Center for Strategic and International Studies estimates that in the forthcoming 15 years, the Chinese Navy will deploy 430 surface units and 100 submarines, while other valid US estimations set this number up to 530. The U.S. Pentagon estimates that this year alone (2020) the Chinese Navy will deploy 78 submarines; 60 stealth-guided-missile ships; 40 corvettes fit for the environment of the Chinese Sea (while 60 more are waiting to be delivered); 24 modern all purpose frigates; 20 state-of-the-art destroyers; 12 cruisers with a delivery horizon in the current decade; 4 fleet support ships; 3 helicopter carriers; 5 ships of amphibious assault missions; and 2 aircraft carriers with the third already under construction.
The informed reader may be concerned as this extensive construction of warships is inconsistent with the Silent Rise which was the official doctrine of the Chinese government until recently. According to it, the country should, at all costs, continue its uninterrupted economic growth, capitalizing on the globalization. This will happen only if the country manages not to provoke the United States as well as neighboring countries, many of which are close allies to Washington (like Japan and South Korea). However, it seems that the Chinese elite is increasingly abandoning this doctrine while adopting a more provocative stance through a peculiar nationalism, especially as economic growth decelerates. In this context, the extensive reinforcement of the Chinese Navy is deliberated and resulting in an increasing concern of neighbor states and the United States, which realizes that the balance of naval power is gradually turning at its expense. China, in order to become a great power again should secure its sovereignty, especially the homeland, from possible attacks. This is incidental to the expulsion of all the American forces which are based in the region and specifically from the China Sea. The Chinese high strategy can only be fruitful with the presence of a modern and powerful Navy (blue-water Navy) combined with an extensive network of military bases which Beijing is rapidly building on tiny, sometimes disputable, islands throughout the China Sea. With those facts and the Chinese demands, no state including the Philippines, Malaysia, Brunei, Taiwan, Vietnam, and Japan, feels safe, although the published Chinese military doctrine remains chiefly defensive.
Regarding the Chinese Navy, it's noticeable that the modernization program is traced back only to 2012, when President Hu Jintao, during the 18th Congress of the CCP, ordered the country to be transformed into a sea power. More recently, President Xi Jinping declared that the current situation urges China to develop its naval forces promptly. This statement was followed by a 55% increase in defense spending between 2015 and 2020, making China the world's second-largest spender behind the United States (China's defense spending is estimated at $260.8 billion in 2019). The significance of the Navy for the country's leadership is reflected in its budget, which increased by 82%, reaching $57 billion. As a result, six shipyards across the country have lifted the burden of building an advanced fleet capable of dealing with the dominant US Navy. The construction of advanced warships is the implementation of the Chinese Dream, the vision of the current President for a powerful China which is respected home and abroad.
The result of this policy is astonishing. In 2018 China became the country with the most warships on order, surpassing South Korea with 43.9% share in global orders. In February 2020, at the peak of the Covid-19 crisis, China fell to 4th place with a 35% share in global orders, a testament to the country's industry dynamics. Despite the impressive armament program, it should be noted that a capable naval force consists not only of modern warships, but also as a key component consists of well-trained crews who have a deep knowledge of the maritime environment. This knowledge can largely be taught in naval schools, but actual engagement with the maritime environment is also required. Seamanship is exactly that, the long-term contact with the sea and the valuable experience that a nation acquires from this contact. For many centuries China has become a land power by turning its back on the sea. The current leadership seems to have understood this historical mistake and tries to change it by turning the Chinese people back to the sea from their school years.
Today, the US Navy is the most powerful in the world as it enables the United States to demonstrate its power globally. At the same time, it protects peace and free navigation on the high seas. It is a key contribution to world trade which is essentially maritime, and eventually to the global economy. Chinese officials occasionally admit that despite the Chinese Navy's numerical superiority, it still lags behind technologically from the US Navy. Even in terms of tactics and training, the US Navy is a highly professional force tested in real war conditions as distinct from the Chinese which has not yet demonstrated its true value and capabilities in realistic conditions. However, the situation across the China Sea seems to be tilting in favor of the Chinese side as its naval forces are dramatically strengthened due to the proximity of the area of operations to the Chinese coastline.
Beijing's growing military network is making it increasingly difficult for U.S. ships to sail safely into the disputed area to effectively support their allies. One of China's main targets now is Taiwan which is considered Chinese territory. As a result, Chinaωstrongly opposes any attempt towards Taiwanese independence and that is the main reason behind China's amphibious force, a capable force ready to invade the island at any time.The Chinese leadership seems to have fully recognized the domains in which it lags behind its main rival and is trying to fill the gap by developing more and more contemporary navy ships and continuous crew training in order to be ready to cope with a realistic conflict. Similarly, the United States is closely monitoring the progress of its most important rival for the world's hegemony.
Who Exactly Fights For The UN-backed Sarraj Government?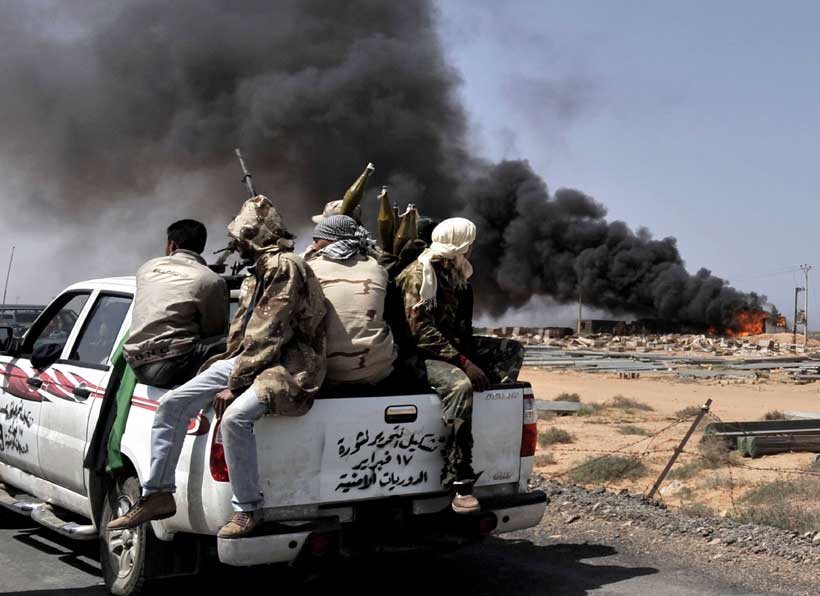 The latest turn of the tide in the Libyan conflict ended in the forces loyal to the Government of National Accord led by Fayez al-Sarraj pushing back the Libyan National Army and establishing full control over the capital Tripoli and the surrounding areas. Coverage of these developments in Western media was shaped along the tune of justice being restored by legitimate forces. Is that narrative off-key, and what exactly are these ostensibly legitimate forces?
First and foremost, the recent successes achieved by the GNA were only made possible by military support provided by Turkey, who supplied Sarraj with drones, military advisors and Syrian fighters recruited among the Turkish proxies notorious for their criminal tendencies. Contrary to the narrative enforced by the West depicting the GNA militias as a legitimate regular army, in reality these forces are little more than a bunch of criminals and radical elements financed by the Turkish intelligence.
Knowing this, it makes sense that the GNA forces resort to any means, including those explicitly forbidden by the international humanitarian law. The GNA supporters, however, choose to ignore these crimes turning a blind eye to the violations of Geneva conventions committed both by the fighters and their backers.
Finding evidence of these crimes presents no difficulty, as the fighters make little effort to hide them. In fact, they often unknowingly document their own atrocities. Perhaps the most telling example is the video published on the official Facebook page of the militia named Tripoli Protection Force that features armed members of the group driving in a vehicle marked with Red Crescent symbols. The raid showed on video ended in capture of a number of people who were promptly declared agents of the LNA. The video is still online.
When the GNA militants are not busy driving medical vehicles, they engage in torture of civilians such as these Egyptian workers who were violently beaten and abused by the fighters. The Egyptian nationals had been working in Tarhuna before the town was captured by the militias loyal to the GNA.
UN expressed "deep concern" over the detention and torture of Egyptians in Tarhuna, urging the authorities in Tripoli to investigate the incident. In its turn, Egypt took offense and claimed that it will launch an independent investigation, emphasizing that it is ready to make a strong response to the GNA aggression.
These examples are but a small part of the violations committed by the GNA militias. Despite the support it receives from the UN and its foreign backers, the GNA will not be able to contribute to a safer, stable Libya, unless it gives up on the radicals who do not abide by the law. It has long been evident for everyone except the GNA allies abroad.