European Forest Week 2019 to highlight the role of forests in the circular economy
The global problem of plastic waste and the need to cut CO2 emissions call for alternative materials and products that are renewable, biodegradable, easily recyclable and that store rather than release carbon.
Forests can help to respond to these challenges. The key role of the forest sector in a circular economy lies in the fact that it provides biodegradable raw materials – a strategic resource that can be used for creation of several advanced, reusable and recyclable bio-materials. These materials can feed into various value chains and prompt transformation in a number of strategic sectors of the economy such as construction and manufacturing (e.g. automotive, home and IT appliances, textiles, packaging etc.). The most illustrative examples of the emerging forest-based value chains include wood-based construction, textiles production, and bioplastics.
Under the theme, Forests and the Circular Economy, the European Forest Week 2019 will take place from 4 to 8 November 2019.
First celebrated in 2008, the European Forest Week provides a unique opportunity to increase the forest sector's visibility and to influence pan-European and global discussions related to forests. The week is jointly organized by the Food and Agriculture Organization of the United Nations (FAO) and the United Nations Economic Commission for Europe (UNECE). This year, the European Forest Week will be celebrated in conjunction with Forêt2019, the Joint Session of the UNECE Committee of Forests and the Forest Industry (COFFI), and the FAO European Forestry Commission (EFC). This will provide a forum for forest policy professionals to discuss the role of forests and forest products in the circular economy. Forêt2019 will take place from 4 to 7 November 2019 in Geneva.
How can you participate?
Organize an event in your city! National and local activities held simultaneously in participating countries will raise awareness on forests' role in the circular economy, through contests, exhibitions, talks and videos. Events in the past have included a wilderness retreat in Austria, lectures in Spain, a forestry film festival in Czech Republic, a workshop on flood prevention in Ukraine, and many more.
Detailed information about events taking place throughout Europe will be updated regularly on the European Forest Week's website: http://www.fao.org/about/meetings/european-forest-week/en/
Exploring financing opportunities for forest landscape restoration
For centuries, world's forests have been cleared and removed for agricultural or other land uses, often resulting in degraded lands found in almost every country today. As global population increases and climate change threatens ecosystems worldwide, there is an urgent need for more sustainable management of land to help mitigate greenhouse gas emissions.
As a process of restoring degraded lands and retrieving their economic and environmental productivity, forest landscape restoration is a promising way to achieve desalination of the soils and reduced wind and water erosion. It also helps filtering drinking water and raising the level of groundwater in restored areas and the storage of carbon dioxide in the newly accumulated biomass.
So far, countries in Europe, the Caucasus and Central Asia pledged to restore close to 3 million hectares of degraded land under the Bonn Challenge, a global effort to restore 350 million hectares of degraded land by 2030, which also count under the ECCA30, a regional initiative to restore 30 million hectares by 2030 in Europe, the Caucasus and Central Asia.
Countries interested in forest landscape restoration commonly cite the lack of funding as a major impediment for its implementation. This is a particularly acute issue in the light of current COVID-19 outbreak, as funding priorities are expected to shift towards the economic recovery and strengthening and re-building of healthcare systems.
To address the commonly asked question: "what are sources of financing forest landscape restoration?", the UNECE/FAO Forestry and Timber Section, in cooperation with the International Union for the Conservation of Nature (IUCN), hosted a webinar where representatives of donor countries and key international institutions informed countries interested in forest landscape restoration about existing sources of funding.
Speaking on behalf of the Federal German Ministry for the Environment, Nature Conservation and Nuclear Safety, Dr. Michael Krause-Besan, IKI Secretariat, introduced the International Climate Initiative (IKI) project portfolio supporting forest landscape restoration efforts in ODA eligible countries, available through large-scale programmes and thematic/country calls.
The Green Climate Fund (GCF) also offers long term financing opportunities under the United Nations Framework Convention on Climate Change, informed Mr. Marc Dumas-Johansen. Another potential source of funding presented at the webinar was the Global Environment Facility (GEF), that already dedicated around $350 million in grants towards restoration purposes in its current funding cycle (2018-2022). This info is available in the presentation: https://www.unece.org/fileadmin/DAM/timber/meetings/2020/20200716/U.Apel_GEF_Sources_of_financning_GEF.pdf.
Speaking on behalf of GEF, Mr. Ulrich Apel underlined that an active pledge under the Bonn Challenge represents an important selection criterion for funding restoration and will be taken into account during the next funding cycle. Mr. Stephen Hart from the European Investment Bank illustrated the financing opportunities for biodiversity and climate adaptation for businesses and cities using Nature-based Solutions, through the bank's Natural Capital Financing Facility.
In their conclusions, speakers underlined the diversity of financing mechanisms and sources of finance, and the importance of linking restoration efforts to national objectives in order to access finance from climate, biodiversity, sustainable development and the private sector.
Building a green economy, brick by brick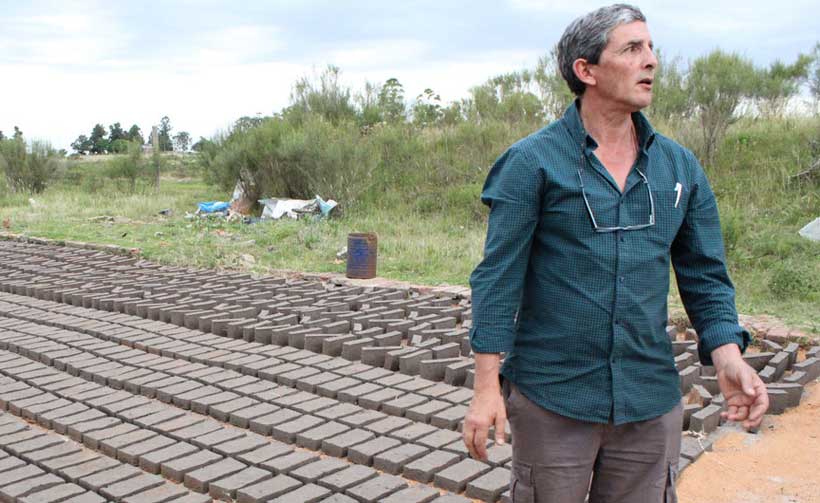 In Uruguay, thousands of families earn a precarious livelihood making bricks, using traditional methods that are often inefficient and harmful to the environment. A UN project, in collaboration with the Uruguayan government, aims to make the industry less polluting, whilst preserving jobs for the many artisans who depend on it.
Land, fire and water
When Eduardo Romero was 40 years old, he was fired from his job as a bricklayer. It was 1992, in the city of Durazno, Uruguay. With his few belongings on his shoulder, Eduardo headed for the north of the country and stopped only when he found work. It was in the city of Tranqueras, and his new source of income came from land, fire and water: Eduardo started making bricks.
Today, five jobs, two ventures, three children and 28 years later, Mr. Romero is still linked to this insecure industry, which is both an easy source of employment for those who need it most, but where people work without social security or insurance, and with their labour rights continuously violated. "It is a precarious sector," says Mr. Romero. "We are always on the edge of town, wearing dirty clothes."
Reliable statistics on the industry are hard to come by, but estimates suggest that there are some 14,000 families working in 3,500 production units across the country. The informal nature of the work makes for high turnover.
Changing traditions
On top of the pressure on individual workers, the industry has a negative impact on the environment; emissions are high and some brickmakers, lacking other sources of fuel, burn protected species of trees.
During the brickmaking season, which lasts from September to April, an artisanal producer can make an average of about 30,000 bricks per month; the entire sector in Uruguay yields enough bricks every year to build at least 1,500 new houses, plus hundreds of businesses, kilns, factories, and more.
Eduardo is one of a growing number of artisanal producers who are changing the way they make bricks and, in the process, helping the entire country enjoy a cleaner environment. But in a sector like this, changing traditions is difficult.
Turning mud and garbage into solid foundations
Making bricks the traditional way, is an art that requires several stages. First the elements are obtained to make the raw material: water, soil, clay, sand, and organic matter such as horse dung.
This material is mixed and put into moulds, then laid out to dry for three days. Then they are baked in an oven, with firewood serving as the main fuel, for between two and seven days, and allowed to cool. Four days later they are ready for sale.
At each stage of the process, there are abundant occupational hazards and environmental impacts.
'Far behind in technological terms'
In addition, this method is far more inefficient than modern, mechanized techniques: according to the government, factories can churn out bricks almost seven times faster than an artisanal producer.
"The artisanal brick industry is far behind in technological terms," says Pablo Montes, who works for the Uruguayan government, and is also national coordinator of PAGE Uruguay (Partnership for Action on the Green Economy), a project involving the UN and the Uruguayan Government.
He explains that there are significant obstacles to artisans moving to newer techniques: it has fewer job opportunities; it also requires certification that most artisans don't have, whether for the expense, or because many have not finished primary school and can barely read or write.
That's why PAGE is looking to support the artisanal industry, helping workers to enjoy greater rights and higher incomes, and cutting pollution during the production process.
PAGE staff talked to brickmakers from all over the country, looking for improvements at every stage of the production process, and brought in consultants from other countries – such as Colombia, which has already undergone its own transformation – to give workshops on how to make better bricks.
By doing so, PAGE is helping to move Uruguay closer to the twin goals of a greener and more prosperous economy. The project is still in progress, and is developing even better methods and training more brickmakers.
Artisanal, safer, greener
"Transforming the industry will allow these ventures to be successful," says Mr. Romero. Still, he has no illusions that such a change will be easy to achieve.
"In this profession, there are men and women who have made an honest living for decades or for their whole lives," he explains. Artisanal brickmaking is a way of life, a tradition. Countless homes and businesses in every part of Uruguay have been built with bricks made by the hands of anonymous laborers. They have invested their lives in the profession, and they are proud of what they have created.
"That is what we are trying to defend," says Mr. Romero. Even as he changes his own way of working, with guidance from PAGE, he realizes that not everyone will be so quick to adapt. Some may be sceptical of outsiders who come to teach them a skill they've practiced for many years.
Pablo Montes of PAGE is optimistic that brickmakers will be won over by the benefits that the new ways of working offer them. "We want to keep the industry artisanal, while making it safer and greener," he says. "We can have both."
The status of climate risk management in Latin American and Caribbean banks
A survey among 78 financial institutions in Latin America and the Caribbean holding 54% of the total assets managed by the banking sector in the region, revealed that 38% of banks incorporate guidelines on climate change in their strategy and 24% have a policy on climate risk evaluation and disclosure.
The study entitled "How the Banks of Latin America and the Caribbean incorporate climate change in their risk management," presented today during an online event, was prepared by the UN Environment Programme Finance Initiative (UNEP FI) and CAF – Development Bank of Latin America, with the collaboration of the Latin American Federation of Banks (FELABAN).
69% of the participant banks identified forestry and agriculture as the sector most exposed to climate risks, followed by the energy generation sector at 44%. 80% of the institutions recognized that the main physical risk to be incorporated in their risk evaluation and management was 'flooding,' followed by 'drought' (mentioned by 41% of the banks).
Banks in the region have an opportunity to improve the assessment of climate risks in their plans and strategies, with the aim of increasing their resilience and be better prepared to support the transition to low carbon economies.
According to the report, 41% of the institutions that took part in the survey recognized they do not have mechanisms to identify, analyze and manage climate risks.
The authors concluded that climate risks remain unmanaged mainly due to a lack of knowledge regarding the financial impact of climate change, and because of the absence of regulatory demands.
Banks in the region still tend to perceive climate risks from the perspective of how companies impact the environment, and not how exposed these companies are to climate threats. Considering the latter is key for financial institutions in the face of the expected increase in disasters and other impacts of extreme weather, the report notes.
According to the Intergovernmental Panel on Climate Change, given current concentrations and on-going emissions of greenhouse gases, it is likely that by the end of this century the rise in global temperature will exceed 1.5°C above preindustrial levels. This will come with higher sea levels and more frequent and intense climate disasters.
"During the last decade, banks in Latin America and the Caribbean have made significant progress in integrating sustainability criteria in their different areas of work. The study that we present today will also contribute to the timely management of climate risks in their financing portfolios," said Julián Suárez, Vice President of Sustainable Development at CAF.
"Climate risk assessment is key to the goal of aligning the banking industry with a sustainable and equitable global economy in the 21st century, which becomes even more relevant today as we need to build back better after the COVID-19 pandemic," said Eric Usher, Head of UNEP FI.
The authors call to follow the recommendations of the Task Force on Climate-related Financial Disclosures (TCFD), and to replicate initiatives like the UNEP FI pilot project with 16 of the world's leading banks to develop analytical tools and indicators that strengthen the assessment and disclosure of climate risks.
The survey revealed that 53% of the banks utilized the Sustainability Report as a mechanism to disclose risks linked to climate change, while only 16% reported through regulatory financial forms as advocated by the TCFD recommendations.
Due to the lack of knowledge regarding climate-related risks definitions, the authors also recommend the banking sector of Latin America and the Caribbean to prepare a common taxonomy on these issues.