2021 declared International Year for the Elimination of Child Labour
The United Nations General Assembly (UNGA) has unanimously adopted a resolution declaring 2021 as the International Year for the Elimination of Child Labour, and has asked the International Labour Organization to take the lead in its implementation.

The resolution highlights the member States' commitments "to take immediate and effective measures to eradicate forced labour, end modern slavery and human trafficking and secure the prohibition and elimination of the worst forms of child labour, including recruitment and use of child soldiers, and by 2025 end child labour in all its forms."

The UNGA acknowledged the importance of the ILO's Minimum Age Convention, 1973 (No. 138) and the Convention on the Worst Forms of Child Labour, 1999 (No. 182) – which is close to universal ratification by the ILO's 187 member States – as well as the Convention on the Rights of the Child.

It also recognized the importance of "revitalized global partnerships to ensure the implementation of the 2030 Agenda for Sustainable Development , including the implementation of the goals and targets related to the elimination of child labour."

Argentina took a lead role in advocating for this global commitment, as a follow up to the IV Global Conference on the Sustained Eradication of Child Labour , which took place in Buenos Aires in November 2017. Seventy-eight countries co-sponsored the resolution.

"We hope that this will be one more step to redouble our efforts and our progress to advance, day by day, towards a world in which no child is subjected to child labour or exploitation and a world where decent work for all will be a reality," said Martin Garcia Moritán, Argentina's representative to the UN.

The ILO has been working for the abolition of child labour throughout its 100 year-history, and one of the first Conventions it adopted was on Minimum Age in Industry (No. 5, 1919) .

The organization is a partner in Alliance 8.7 and serves as the secretariat of this global partnership for eradicating forced labour, modern slavery, human trafficking and child labour around the world.

Substantial progress has been achieved in recent years, largely because of intense advocacy and national mobilization backed by legislative and practical action. Between 2000 and 2016 alone, there was a 38 per cent decrease in child labour globally.

"The struggle against child labour has gained extraordinary momentum over the past two decades," said Beate Andrees, Chief of the ILO's Fundamentals Principles and Rights at Work Branch. "Yet, 152 million children across the world are still in child labour. We obviously need to scale up action further, and the decision by the General Assembly to declare 2021 the International Year for the Elimination of Child Labour will be a great help in focusing attention on the millions of girls and boys still toiling in the fields, in the mines and in factories."
UN human rights report shows rise in reprisals against activists, victims
Cases of intimidation and retaliation against victims, civil society and activists who cooperate with the United Nations are on the rise, a new report from the UN Human Rights Office reveals.
The study documents incidents from nearly 50 countries, such as the detention and imprisonment of activists, and the filming of participants at meetings, including on UN premises, without their consent.
Andrew Gilmour, UN Assistant Secretary-General for Human Rights, said there are also cases of authorities threatening and harassing relatives of activists.
"Some governments seem prepared to go to almost any lengths to punish people who cooperate with us. This may actually underscore the justice of the victims' causes," he said.
The report covers the period from 1 June 2018 to 31 May of this year. It also notes misuse of online spaces to promote hate speech, cyberbullying and smear campaigns, particularly against women and lesbian, gay, bisexual, transgender and intersex persons.
Mr. Gilmour expressed concern over the continued trend in the use of national security arguments and counter-terrorism strategies as justification for blocking access to the United Nations.
"Reported cases include individuals or organizations being charged with terrorism, blamed for cooperation with foreign entities or accused of damaging the reputation or security of the State. These have also been used to justify restrictions on foreign funding," he wrote in the report's conclusions and recommendations.
"A disproportionate number of cases of enforced disappearance or detention, many which have been deemed arbitrary by United Nations experts, relate to these national security arguments. This is a worrisome trend that I have addressed publicly, including in my previous report, and, regrettably, it continues."
He said the UN will continue to strengthen its response to these developments, including through improved reporting on allegations. However, he added, the onus remains on countries as "Member States must be accountable for their own actions and practices, and provide remedy when reprisals occur."
UN General Assembly celebrates 20 years of promoting a culture of peace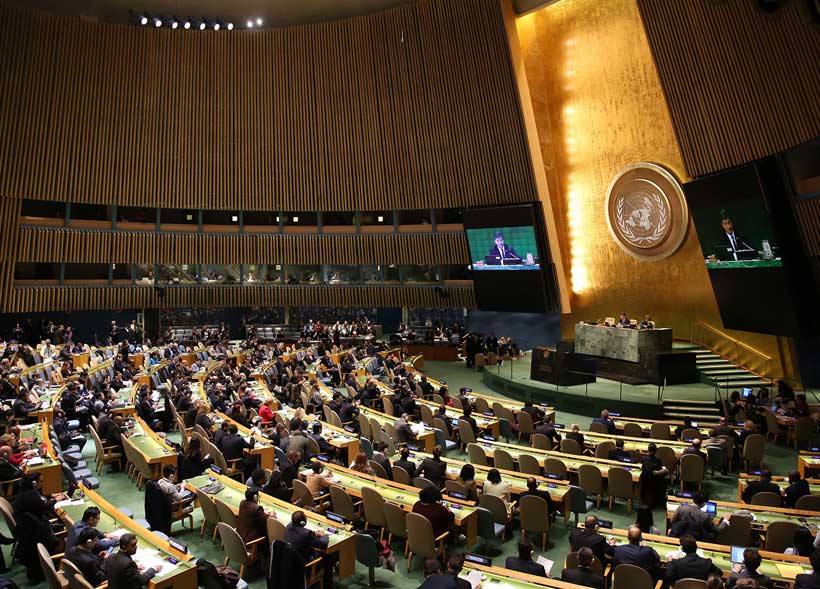 Just as the greatest global challenges cannot be solved by a single country, peace cannot be pursued in isolation, outgoing UN General Assembly President María Fernanda Espinosa said on Friday.
Ms. Espinosa was speaking at a high-level forum to mark the 20th anniversary of the General Assembly's adoption of a Declaration and Programme of Action on a Culture of Peace.
"Because peace is more than the absence of war, it needs constant nurturing through the pursuit of dignity and equality, of human rights and justice, of respect and understanding, and of cooperation and multilateralism", she said.
As UN Chef de Cabinet Maria Luiza Ribeiro Viotti pointed out, although peace is at the heart of the work of the United Nations, it is something that must be addressed daily.
"A culture of peace is inseparable from human rights, respect for diversity, and fairer societies," she said.
"One main challenge as we strive to achieve the Sustainable Development Goals is to build more preventive and inclusive approaches that ensure the participation of women, young people and vulnerable, marginalized and non-represented groups."
The Chef de Cabinet said working to achieve peace not only covers traditional notions of security but also challenges such as social injustice, the normalization of hate speech, terrorism, violence against women, and conflict.
Leymah Gbowee from Liberia knows many of these issues first-hand. She won the 2011 Nobel Peace Prize for her role in uniting Christian and Muslim women to help end her country's 14-year civil war.
She said peace is seen as the absence of bad, rather than the presence of good. However, instead of being "a fairytale of bland happiness", she views it as quite radical.
"If we dig a little deeper into what a culture of peace actually looks like, it pushes us beyond understanding peace as the absence of conflict and being a positive state itself", Ms. Gbowee told the gathering.
"A culture of peace creates an environment where people thrive and have their needs met. It looks like a population of satisfied people: healthy children, educated children, a functional health system, responsive justice structure, an empowered, recognized, appreciated and fully compensated community of women; food on the table of every home, and a lot more. It is the full expression of human dignity."
The high-level commemorative event marked Ms. Espinosa's final session presiding over the General Assembly, where all 193 Member States have equal representation.
In her goal to bring the UN's main deliberative and policy-making organ closer to everyday people, she chose the traditional ruler of the Ashanti people of Ghana to deliver the keynote address: a historic first.
Representing a kingdom that has existed since the 17th century, Otumfuo Osei Tutu II ascended the podium wearing kente cloth and accompanied by two praise-singers.
He highlighted some of the UN's accomplishments in preserving global security: for example, staving off nuclear war and preventing conflict between nations. However, as he observed, the landscape today is different.
"Warfare is no longer the threat we face from states; it is now a danger we face on a daily basis from our citizens and from all quarters. This new threat comes on the heels of an unprecedented trust deficit in political leadership at the national level. The effect of this trust deficit is to erode the capacity of political leaders to rally their people to coalesce around national interests. The consequence for peace and security cannot be overstated", he said.
The Ashanti leader called for a new partnership between elected authorities and traditional governance, in the spirit of authentic collaboration.
Scourge of slavery still claims 40 million victims worldwide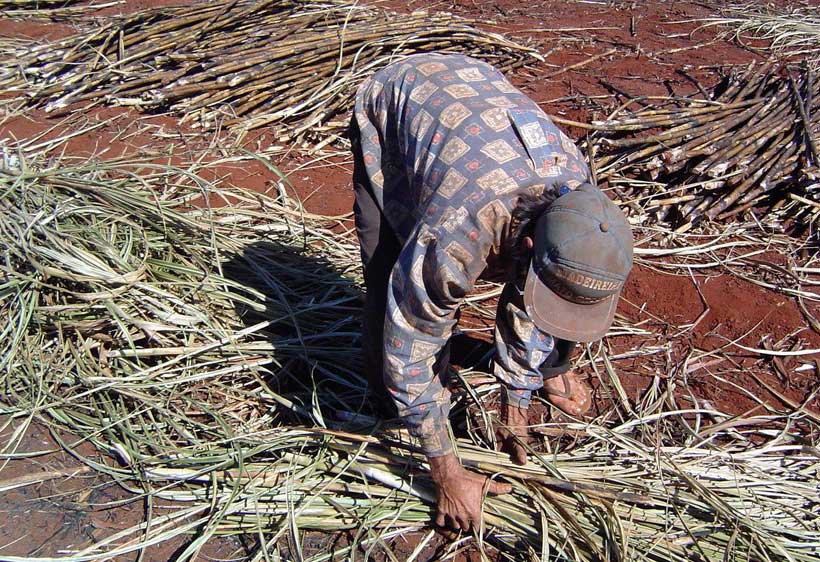 Incidents of modern-day slavery are "only likely to increase" as a result of some of biggest challenges facing the world today, a UN expert outlined in a report for the Human Rights Council in Geneva on Monday.
The Special Rapporteur on contemporary forms of slavery, Urmila Bhoola, explained that over 40 million people are enslaved around the world, a quarter of them children. Due to problems of environmental degradation, migration and shifting demographics, the scourge of modern-day slavery is expected to grow.
Over 60 percent of those in forced labour work in the private sector, Ms. Bhoola said, with women and girls disproportionately affected. Of the female victims involved in forced labour, 98 percent have experienced sexual violence.
Global estimates from the International Labour Organization (ILO) indicate that 24.9 million people are in forced labour situations worldwide, and 15.4 million live in forced marriages.
This sort of trend, "must serve as a wakeup call," Ms. Bhoola said, highlighting that the astounding statistics come four years after States committed to the UN's Sustainable Development Goals (SDGs), with relevant targets 5.2 and 8.7 aimed at stamping out trafficking, ending violence against women, and eradicating modern slavery.
The problem is exacerbated by the pressing climate conflict of our time. "In wake of climate change, people may lose their livelihoods, young people who don't have access to decent work may migrate through unsafe channels and changes in the world of work, such as automation, may push already vulnerable people out of their jobs," all of which could increase people's vulnerability to slavery, the expert explained.
Even for those who escape, life for survivors is often difficult. Investigations by the NGO Human Rights Watch, highlight how even victims who manage to extricate themselves, can return home to the same desperate circumstances that made them vulnerable to begin with, but now facing stigma or blame.
Beyond these tragic realities for individuals, "slavery leads to increased public health costs, productivity losses, negative environmental externalities and lost income," Ms. Bhoola added, urging for States and business to "act now."
"We cannot afford to stand by while more and people are driven into forced labour, servile marriage or child labour," she said.
Looking forward, the UN expert highlighted that for youth approaching working age, the situation is more dire – "By 2030, some 85 percent of the more than 25 million young people entering the labour force globally will be in developing and emerging countries," she noted. "Their perspectives to access jobs offering decent work will determine their level of vulnerability to exploitation, including slavery."
To prepare for this, "it is imperative" anti-slavery efforts are "systematic, scientific, strategic, sustainable, survivor-informed, and smart" she maintained.
Current efforts to end slavery are falling short and States and businesses "must take more decisive action to end slavery," Ms. Bhoola concluded. This must be done "by committing more resources to this effort and by adopting and implementing public policies which address contemporary forms of slavery effectively."