Protea Hotel Fire & Ice! by Marriott opens in Durban
Protea Hotel Fire & Ice! by Marriott Durban uMhlanga Ridge officially opened this month, making it the first Fire & Ice! by Marriott hotel in KwaZulu-Natal and the fourth in South Africa. A highly anticipated addition to the brand's fast-growing portfolio, it joins Fire & Ice! by Marriott hotels in Melrose Arch (Johannesburg), Cape Town and Menlyn (Pretoria).
A short drive from King Shaka International Airport, Protea Hotel Fire & Ice! by Marriott Durban uMhlanga Ridge is nestled along the picturesque KwaZulu-Natal coastline in the sought-after seaside town of uMhlanga, just north of Durban. In close proximity to the breathtakingly beautiful uMhlanga Rocks Beach, the Gateway Theatre Mall and the Moses Mabhida Stadium, it provides easy access to the region's resplendent natural beauty, rich cultural heritage as well as its burgeoning energy and vibe.
Featuring the hallmarks of the Fire & Ice! by Marriott brand such as comedy and DJ nights, bold décor, and associates who go the extra mile, it is set to transform the hotel scene in uMhlanga and emerge as the new coolest hotspot. A Durban-inspired menu, a retro VW combi, DJ booth, and design elements linked to a beach and surf theme, lend the hotel its own unique flavour and twist.
"Durban is a dynamic, cosmopolitan city with a need for a hotel brand that matches its spirit. We are thrilled to introduce Fire & Ice! by Marriott brand with its trend-setting aesthetic fused with local influence to the thriving town of uMhlanga. Protea Hotel Fire & Ice! by Marriott Durban uMhlanga Ridge will provide the quirky, modern vibe that guests and locals in this area are looking for. The property reflects our agility and adaptability to identify and transform a property to suit an evolving destination," said Volker Heiden, Area Vice-President for Marriott International.
Previously a Protea Hotel by Marriott, Protea Hotel Fire & Ice! by Marriott Durban uMhlanga Ridge has been rebranded after a complete transformation
"This entailed heavy-duty renovations, an aesthetic metamorphosis, and a complete change in operations. Fire & Ice! by Marriott hotels dare to be different − they are progressive and fun, and while each hotel is individual in its personality, it is this edge that unites them under the brand. We had to balance that in creating this beautifully sassy hotel," said the designer of Protea Hotel Fire & Ice! by Marriott Durban uMhlanga Ridge, Peter de Klerk.
Guests are welcomed into a refreshed lobby that brings to life the vibe of the Fire & Ice! by Marriott brand, with mixed seating, a DJ booth and a TV wall. The new reception area features three pods and a dedicated guest relations desk. The outdoor deck features a retractable awning, three exterior pods for relaxing and dining, and a swimming pool. The VW combi completes the Fire & Ice! by Marriott atmosphere.
205 completely renovated chic and stylish guest rooms offer both comfort and thoughtful amenities including complimentary Wi-Fi. Guests can enjoy a sumptuous buffet breakfast at the Breakfast Room on the first floor and choose indoor seating, one of the two private dining rooms or the outdoor deck. Whether you're swinging by for a crafted cocktail or looking for an indulgent delicious meal, the stylish restaurant, which features sophisticated neutral décor and delicious global cuisine prepared in an open kitchen offers the ideal venue with both indoor and a scenic outdoor patio seating option. The new menu reflects a strong African focus rooted in KwaZulu-Natal's culinary specialties. Guests can expect a fresh take on the likes of bunny chow and curry, with a Fire & Ice! twist and elegance as well the brand's signature (egg-ceptional) Fire & Ice! By Marriott breakfast options.
No Fire & Ice! by Marriott hotel would be complete without a strong link to music. Protea Hotel Fire & Ice! by Marriott Durban uMhlanga Ridge will host Friday DJ nights, featuring top local and national DJs. The hotel will also share the brand's renowned sense of humour, with regular comedy nights playing host to South Africa's top comedians.
"We have put considerable thought into making this property utterly unique, while still retaining the high standard of guest experience and professional and efficient service for which Fire & Ice! by Marriott hotels are known. This hotel will do more than just provide a room or a place to eat. We're a lifestyle hotel that curates experiences and we look forward to welcoming guests and visitors and showcase this new-age take on hospitality," said Thuthukile Moloto, General Manager of Protea Hotel Fire & Ice! by Marriott Durban uMhlanga Ridge.
5 Thrilling Reasons to Visit Four Seasons Hotel Montreal This Winter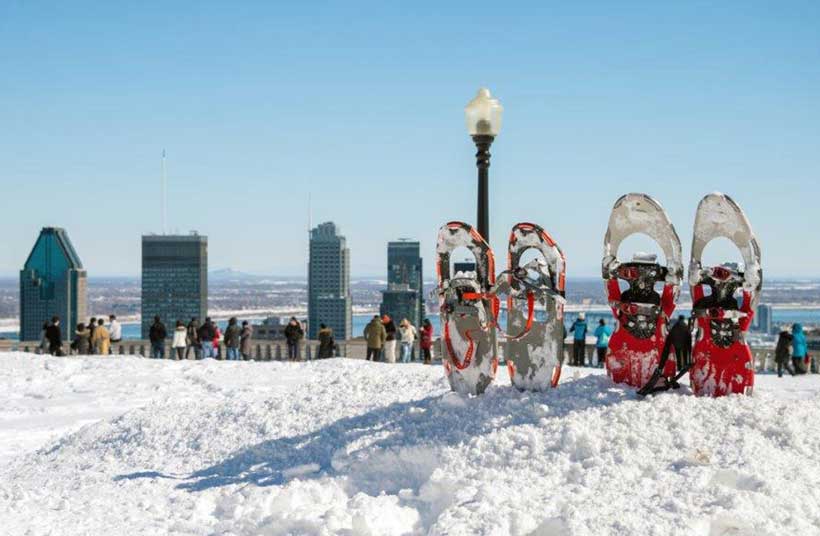 When it comes to winter destinations, Montreal tops the lists of many travellers from all corners of the world. The Canadian metropolis and its surroundings were made for winter, and Montrealers have packed the coldest season with the hottest attractions. With the opening of the award-winning new Four Seasons Hotel Montreal and MARCUS Restaurant, the first Canadian outpost by celebrity Chef Marcus Samuelsson, the city is now more desirable than ever.
Here are 5 thrilling reasons to visit Montreal between January and April:
Winter Festivals
Igloofest(January 16 to February 8, 2020) turns January's cold weather into an excuse to dance with thousands of Montrealers in the Old's Port's Jacques-Cartier pier every Thursday, Friday and Saturday night. Dance to electronic music by top international and local producers, DJs, hip hop artists and more in an electro winter wonderland. Montréal en Lumière(February 20 to March 1, 2020) is the city's biggest winter festival, merging gourmet food and drink events with arts, culture and an exciting outdoor activity site at Place des Festivals, located close to the Hotel. Enjoy themed restaurant meals and feasts by international celebrity chefs, outdoor music, ice slides and Nuit Blanche, an all-night celebration of art, culture and urban life.
Art Souterrain (Underground Art)
Expect a creative surprise around every corner in Montreal's underground city during this annual visual arts and design festival. Spread over 33 kilometres (20 miles) of warm and cosy underground pedestrian walkways, the festival's 11th edition features artwork under the theme "True or False" and offers visitors guided tours and other activities. February 20 to March 22, 2020.
Imagine Van Gogh
Montreal hosts a spectacular and immersive exhibition of the works of Vincent Van Gogh. The exhibition, presented by Paul Dupont-Hébert and Tandem, is on display in a sprawling former shipyard converted into Arsenal Contemporary Art Montreal, located in Montreal's Griffintown. It takes viewers on a creative and utterly original journey inside the artist's paintings. Through February 2, 2020.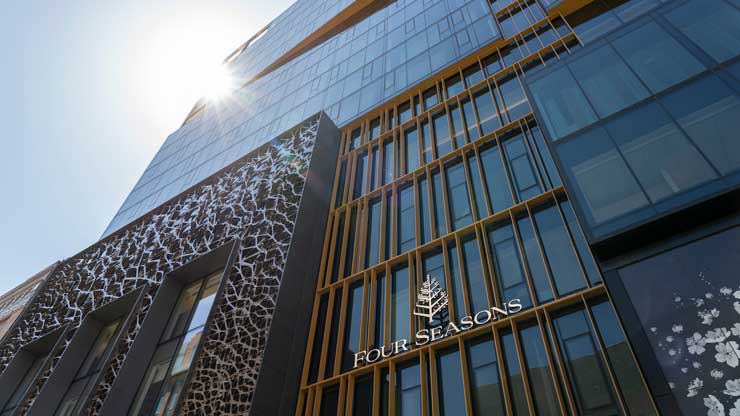 Mount-Royal Park
Designed by Frederick Law Olmsted (New York's Central Park) and inaugurated in 1876, Mount-Royal Park is a breath-taking urban green space featuring 200 hectares (400 acres) of biodiversity and natural beauty. Rising in the heart of the city, minutes away from Four Seasons Hotel Montreal, the mountain is stage to a host of recreational winter pursuits, including snowshoeing, cross-country skiing, tobogganing, and skating on Beaver Lake.
Montreal Canadiens
Founded in 1909, the Canadiens are the longest continuously operating professional ice hockey team worldwide, and the only existing NHL club to predate the founding of the NHL. The Canadiens have won the Stanley Cup more times than any other franchise, with a grand total of 24. Take in the heart-thumping action of a hockey game at the Bell Centre, one of the world's most electrifying sports arenas.
Mandarin Oriental Ritz, Madrid to Open in Summer 2020
The iconic Hotel Ritz, Madrid is set to open in Summer 2020 as Mandarin Oriental Ritz, Madrid, following the most extensive restoration in its 110-year history.
The hotel, which was designed and built under the supervision of legendary hotelier César Ritz, first opened its doors in 1910. The restoration will significantly enhance the hotel's facilities and services, while maintaining its unique character, encapsulated in the Belle Époque style of the original building. Spanish architect, Rafael de La-Hoz, has been instrumental in providing the context for the historical restoration, while French designers, Gilles & Boissier, have overseen the interiors with the aim of increasing the property's appeal to local and international guests alike while celebrating César Ritz's pioneering spirit. The re-design of the public spaces has focused on restoring the hotel's many fine interior architectural features, while incorporating a number of valuable artistic pieces from the property's collection, including crystal chandeliers, antique paintings and sculptures.
The hotel has always been an intregral part of society in Spain's capital, and has been host to royalty, politicians, corporate leaders and celebrities. It is situated within the 'Golden Triangle of Art', an area defined by the most important museums in the city – the Prado, the Thyssen-Bornemisza and the Reina Sofía Museum of Modern Art. The property's location within a prestigous residential area close to Madrid's financial and commercial district and to El Retiro Park, adds to its appeal.
"We are proud and excited to be opening Mandarin Oriental Ritz, Madrid this summer, our second hotel in Spain. The meticulous restoration is designed to ensure that this legendary property is once again recognised as one of Europe's greatest hotels," said James Riley, Group Chief Executive of Mandarin Oriental Hotel Group. "We are confident that the local community will be even more proud of this historic landmark, and we look forward to providing our guests with memorable experiences, in majestic surroundings, all underpinned by Mandarin Oriental's exceptional service," he added.
Guestrooms and Suites
Gilles & Boissier have created a sophisticated design for the hotel's new guestrooms, encapsulating a classic but contemporary residential style for the 153 rooms including 53 suites. Within the suite inventory, there are several one-of-a-kind speciality suites, featuring unique design elements inspired by the hotel's historic connections to the city, Spanish culture and art. A spacious Royal Suite and the Presidential Suite feature magnificent views over the Prado museum. Located in the top floor turrets are two new suites, each with private balconies and views over the Prado Museum and Lealtad Square.
Restaurants and Bars
Chef Quique Dacosta, one of the most celebrated chefs in Spain, has been appointed to design, develop and oversee all culinary operations at the hotel's five restaurants and bars. The award-winning chef is renowned for the three Michelin starred restaurant, Dénia, in Alicante, and the two Michelin starred El Poblet restaurant in Valencia. At Mandarin Oriental Ritz, Madrid, a signature Quique Dacosta restaurant, overlooking the famous hotel garden, is set to be a destination in its own right. All day dining and traditional afternoon tea will be served in the elegant surroundings of The Palm Court, under a spectacular glass canopy ceiling that formed an integral part of the original building but had been lost for 80 years and will be reconstructed. Guests will also be able to dine in the Ritz Garden or enjoy the charm of the Ritz Bar. Finally, the Champagne Bar will offer an ever-changing selection of exclusive champagnes paired with a signature tapas menu.
"I am very excited to work on the culinary offering of Mandarin Oriental Ritz, Madrid to provide unique gastronomic experiences across all restaurants, bars and banquet facilities," said Quique Dacosta.
"We look forward to welcoming Quique Dacosta to Mandarin Oriental Ritz, Madrid. His desire to deliver more than a culinary experience, with his sense of creativity and his unique character, matches perfectly our mission to delight and satisfy our guests," said Gérard Sintès, General Manager of Mandarin Oriental Ritz, Madrid.
Leisure & Wellness
The hotel's new leisure and wellness facilities include a heated indoor swimming pool, a vitality pool, experience showers, a steam room and a contemporary fitness centre. A dedicated treatment room has been designed as a hidden sanctuary, providing a range of exclusive local and signature beauty and massage treatments.
Event Spaces
As one of the most iconic buildings in the Spanish capital, Mandarin Oriental Ritz, Madrid is ideally placed for memorable social events. The ballroom and functions spaces, with their large windows facing the Prado Museum will be beautifully restored and designed to ensure the hotel is once again the venue of choice for weddings, private dinners and parties.
Hyatt Regency Manchester and Hyatt House Manchester Officially Open
Hyatt Hotels Corporation announced today the opening of the 212-room Hyatt Regency Manchester and 116-room Hyatt House Manchester in the city's landmark building "The Lume." The openings represent a significant milestone for Hyatt's brand growth in the U.K. and the debut of Hyatt's extended stay segment, the Hyatt House brand.
Hyatt Regency Manchester offers empathetic service that anticipates the needs of guests and event planners to ensure they have a seamless and personalized experience. The hotel will stay true to the brand promise of making travel free from stress by providing guests everything they need under one roof. Hyatt House Manchester is designed to make guests feel at home, offering residents spacious, apartment-style living paired with amenities that help them maintain work and personal routines while on the road.
Situated in the Innovation District on the Oxford Road Corridor, both hotels are close to Manchester's major transportation hubs and provide easy access to major attractions such as the Manchester Museum, the Whitworth Art Gallery and the world-famous football stadiums of Manchester United F.C and Manchester City F.C.
"We look forward to welcoming guests to the first Hyatt hotels in Manchester – one of the UK's most multicultural cities and a hub for innovative start-ups," said Assumpta McDonald, general manager of Hyatt Regency and Hyatt House Manchester. "A city popular for leisure and business travelers, Manchester and its growing commercial center is an ideal destination for having two brands within one building. Located in close proximity to the University, the city center and a number of tourist attractions, we believe that both hotels will attract business and leisure travelers alike."
The properties offer a variety of shared facilities, including The Laureate Restaurant, The Graduate Bar, seven state-of-the-art meeting rooms and a fully equipped 24-hour fitness center. Additionally, guests staying at Hyatt House Manchester have access to the Omelet Bar and the 24/7 H Market.
Guestrooms
Hyatt Regency Manchester offers 212 contemporary guestrooms and suites, all featuring floor-to-ceiling windows with city views. Guests can opt for Regency Club rooms or suites and enjoy additional amenities including complimentary breakfast, evening cocktails, and canapés.
For travelers looking for an extended stay, Hyatt House Manchester offers 116 studios and one-bedroom suites, all featuring fully equipped kitchens, free wi-fi and stylish living and working spaces. Guests of the hotel can also enjoy 24-hour access to complimentary laundry facilities, inclusive breakfast, and the 24/7 H Market.
Dining and Drinking
Hyatt Regency Manchester and Hyatt House Manchester share two distinctive gastronomic offerings – The Laureate Restaurant and The Graduate Bar.
The Laureate Restaurant boasts a menu that celebrates Manchester as one of the UK's most multicultural cities. Executive chef Nathaniel Farrell serves inspiring, seasonally curated dishes combining fresh, locally sourced ingredients. While the name pays tribute to the world-leading educational institutions on its doorstep, the décor makes The Laureate the perfect spot for guests and locals alike to gather, recharge and dine.
Aptly named to reflect the academic brilliance of the hotel's surroundings, The Graduate Bar is a vibrant, airy oasis inspiring guests and locals to relax and unwind. It offers cocktails, quality beers and gourmet bites.
Exclusively accessible for guests of Hyatt House Manchester, the H Market is open 24/7 and provides a range of groceries and on-the-go snacks. Guests can also enjoy access to the Omelet Bar, offering a chef-inspired omelet of the day or the option to create one to their own liking each morning.
Meetings and Events
Hyatt Regency Manchester offers an array of flexible meeting spaces, with seven state-of-the-art meeting rooms. The hotel pays tribute to some of Manchester's best-known academics, naming the meeting rooms after famous alumni and those working closely with the University. These include former chief executive of Manchester City Council Sir Howard Bernstein and renowned mathematician Alan Turing, best known for his work in breaking the German Enigma code during World War II.
Hyatt House Manchester offers two intimate event spaces: The Conservatory and The Living Room, both located on the 18th floor of the hotel.
The varied selection of meeting spaces offered by the two hotels provide guests of both properties the option to book from a range of options to ensure a seamless environment for every event. The meeting rooms are equipped with LCD projectors and screens for presentations, and the on-site business center is open 24 hours a day. Additionally, all meeting rooms and event spaces offer expert catering services.