Afghan returnees face economic difficulties, unemployment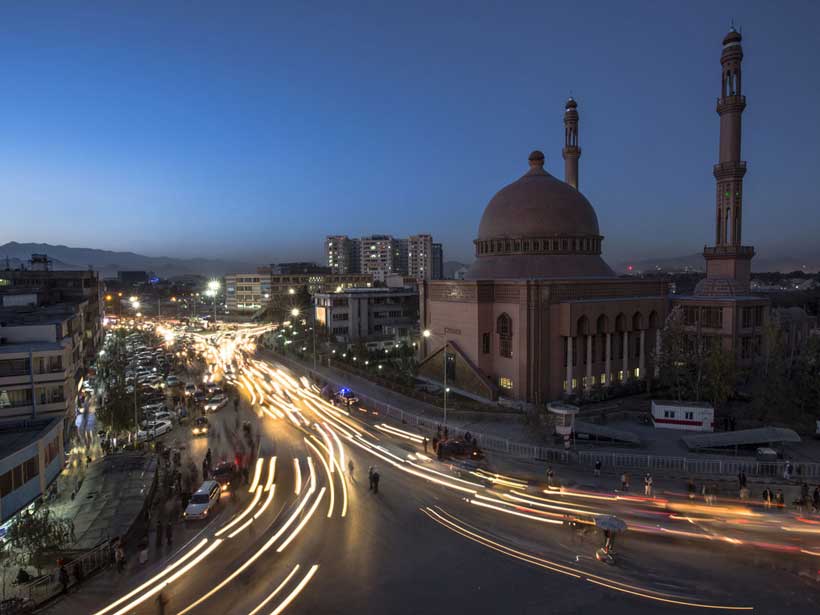 Afghan refugees who returned to Afghanistan between 2014 and 2017 tend to be worse off financially and face multiple economic difficulties compared to refugees who stayed in Pakistan, finds a new joint report by the World Bank and UNHCR in Afghanistan.
The report entitled "Living Conditions and Settlement Decisions of Recent Afghan Returnees" is the first joint report resulting from the collaboration between UNHCR Afghanistan and the World Bank. The report analyzes the living conditions of the large Afghan refugee population that returned from Pakistan between 2014 and 2017.
The report shows that despite high poverty and limited employment opportunities, most Afghans returned to their home provinces, with Kabul and Nangarhar provinces together hosting a third of all returnees. According to the report findings, Afghans living in their province of origin were more likely to be employed, benefitting from established social ties. Lower access to education and healthcare services are other challenges faced by returnees and host communities, the report highlights.
"The living conditions of Afghan returnees are extremely challenging and require deep and urgent attention," said Henry Kerali, World Bank Country Director for Afghanistan. "To understand the fundamental needs and challenges Afghan returnees face in their daily lives and to identify and agree on the best ways of addressing those challenges, access to accurate data and analysis is key. Our joint report with UNHCR helps increase coordination among partners and improve the work in support of Afghan returnees."
"In 2019, we are marking 40 years of Afghan displacement, and while several programs are in place to assist returnees and facilitate their sustainable reintegration in Afghanistan, much remains to be done," said UNHCR's Representative in Afghanistan, Caroline Van Buren. "The data and analysis in this report will be crucial to UNHCR and our partners, including the Government of Afghanistan, as we try to improve the way we support Afghan returnees."
The report assesses the existing challenges and identifies opportunities to further enhance returnees' sustainable reintegration within Afghanistan's socio-economic landscape. It recommends focusing on the voluntary and gradual repatriation of Afghan refugees as a long-term solution to forced displacement and encourages the Government of Afghanistan and its partners to put in place measures to facilitate the return in safety and dignity. The findings of the report will contribute to further expanding the close collaboration between UNHCR and the World Bank, including on projects that promote self-reliance and support the development of community infrastructure.
New ADB Country Strategy to Expand Trade, Drive Economic Growth in Georgia
The Asian Development Bank (ADB) has today endorsed a new Country Partnership Strategy (CPS) for Georgia.
The 5-year partnership strategy, from 2019–2023, supports the Government of Georgia's overall development strategy to increase productivity and reduce poverty through closer economic integration with its neighbors and the rest of the world.
The new CPS will focus on expanding trade, creating jobs, and combating poverty through the development of economic and transport corridors in Georgia and for Central and West Asia. It will also strengthen the country's private sector and support the government's emphasis on market-driven growth by further developing an enabling business environment and skills among the labor force.
Located at the crossroads between Asia and Europe, Georgia is well-positioned to take advantage of its strategic location. The country has over 30 free trade agreements with its major trading partners, attracting high levels of foreign direct investment. In 2018, Georgia's economy grew by 4.7%. Yet a high unemployment rate, especially among young people, and a persistent current account deficit caused by low productivity has prevented the country from achieving its full potential. Helping the government address these issues is a key focus of the new CPS.
"We are delighted to continue our strong partnership with the Government of Georgia to help develop the country and improve the lives of its people," said ADB Country Director for Georgia Ms. Yesim Elhan-Kayalar. "The priority of our new country partnership strategy is to further develop the country's openness to the global economy as a means to drive growth and reduce poverty. We will do that through our support for regional cooperation and integration, trade facilitation, the development of transport and economic corridors, improved infrastructure, more livable cities, a better trained workforce, and institutional reforms and business development to support the private sector."
ADB's sovereign lending to Georgia to support the new CPS is projected to reach over $2 billion over five years, supplemented by the mobilization of additional cofinancing from development partners. This includes support for three flagship projects of the government: the development of the East–West and the North–South transport and economic corridors, and the Anaklia Deep Sea Port and Special Economic Zone. These projects are critical for Georgia's goal of becoming a regional hub through increased connectivity and trade, opening the landlocked markets of Armenia and Azerbaijan, and extending the Central Asia Regional Economic Cooperation corridors to the Black Sea and Europe.
In parallel with the development of transport corridors, the new CPS will support the government's vision of connecting them to local centers of economic activity, major tourist destinations, and the rural population engaged in agricultural production. Priority will be placed on creating livable cities that offer prime business, logistics, and investment destinations that will drive economic growth and job creation.
"The ultimate objective of the new CPS is to help develop the Caucasus as a gateway to the world and complement other regional cooperation initiatives in neighboring countries. The CPS is fully aligned with the Government of Georgia's development strategy—Freedom, Rapid Development, Prosperity: Government Platform 2016–2020—and ADB's Strategy 2030, both of which call for closer regional cooperation and integration," said ADB Director General for Central and West Asia Mr. Werner Liepach.
ADB has supported Georgia since 2007 and is one of the country's largest multilateral development partners. Sovereign and nonsovereign loans to Georgia to date total about $2.8 billion.
Top global firms commit to tackling inequality by joining G7 Business for Inclusive Growth coalition
A group of major international companies has pledged to tackle inequality and promote diversity in their workplaces and supply chains as part of a G7 initiative sponsored by French President Emmanuel Macron and overseen by the OECD.
The Business for Inclusive Growth (B4IG) coalition will be launched at the G7 Leaders' Summit in Biarritz, France, taking place from 24 to 26 August 2019. Spearheaded by Emmanuel Faber, Danone Chairman and CEO, the coalition brings together 34 leading multinationals with more than 3 million employees worldwide and global revenues topping $1 trillion. Members have agreed to sign a pledge to take concrete actions to ensure that the benefits of economic growth are more widely shared.
B4IG coalition members will tackle persistent inequalities of opportunity, reduce regional disparities and fight gender discrimination. Companies have identified an initial pool of more than 50 existing and planned projects, representing more than 1 billion euros in private funding, to be covered under the initiative. The projects range from training programmes to help employees adapt to the future of work to greater investment in childcare, to increasing women's participation in the workforce; to financially supporting small businesses, to encouraging greater participation in supply chains; and to enhancing the integration of refugees through faster integration to the workforce. Coalition members will seek to accelerate, scale up and replicate already existing projects, while significantly expanding their social impact.
The platform, chaired by Danone, consists of a three-year, OECD-managed programme. It aims at increasing opportunities for disadvantaged and under-represented groups through retraining and upskilling, as well as promoting diversity on the companies' boards and executive committees and tackling inequalities throughout their supply chains. They will also step up business action to advance human rights, build more inclusive workplaces and strengthen inclusion in their internal and external business ecosystems.
The B4IG initiative will be presented to President Macron during a meeting with business and civil society leaders at the Elysées Palace on Friday 23 August.
OECD Secretary-General Angel Gurría said: "Growing inequality is one of the biggest social challenges in the world today, perpetuating poverty, undermining social cohesion and trust. Sustainable economic growth means inclusive economic growth. It means giving every individual the opportunity to fulfil her or his potential, the chance not only to contribute to a nation's growth but to benefit from it, regardless of their background or origins."
Mr Gurría added: "I welcome this initiative by France to involve some of the world's most important companies to work hand-in-hand with governments and the OECD to tackle inequalities. The OECD, for its part, will contribute with its policy analysis, research and expertise."
A Business for Inclusive Growth (B4IG) Incubator of public-private projects will be created at the OECD. The facility will offer companies access to the latest policy research, to help them launch and develop projects, undertake impact assessments and eventually bring about meaningful change. The B4IG Incubator will be funded by both G7 governments and private donors. It will service innovative inclusive business projects that require strong collaboration between the private and the public sector. The Incubator will catalyse and disseminate knowledge around the business models with higher social impact.
An evaluation of the projects will be published after three years, alongside OECD guidance for promoting inclusive growth through joint public-private action and for measuring business performance.
OECD Chief of Staff and Sherpa Gabriela Ramos, leader of the OECD Inclusive Growth Initiative, said: "The OECD has been documenting and raising the alarm bell regarding the increased inequalities of income and opportunities in OECD countries for decades. They do not only undermine social cohesion and trust, but they also hamper growth, by preventing our economies to take full advantage of the talent of its people and businesses. We are delighted to partner with leading companies that are committed to take action. Our experience, evidence and best practices are at the service of the Business for Inclusive Growth Initiative."
World Bank Launches Stakeholders Consultations to Support Peace in Afghanistan
The World Bank today launched a stakeholder's consultation to identify economic initiatives to support and sustain peace in Afghanistan once a potential political settlement is reached with the Taliban.
After completing several consultations with international and Afghan stakeholders, the World Bank is now seeking broader input from all stakeholders and made public several draft documents on its website to facilitate the process.
At the 2018 Geneva Ministerial Conference on Afghanistan, the World Bank was tasked to support planning for post-settlement economic development projects and programming following discussions.
According to Henry Kerali, the World Bank Country Director for Afghanistan, the consultations will serve several purposes. "First, we want to show that a peace agreement can bring substantial economic benefits to all Afghans and is in the interest of all parties involved in the ongoing conflict. Second, we want to identify potential principles and themes to guide programming decisions following a settlement. Finally, we want to provide some concrete ideas about the kind of programs that could be scaled up or initiated to maintain peace and realize new economic opportunities in Afghanistan."
Kerali also noted that the consultations come at a critical time for Afghanistan. "The World Bank is merely providing technical analysis and is not involved in any negotiations; our priority is to plan for the future of Afghanistan. Peace prospects can improve if the right economic conditions are in place and create job opportunities for those who might otherwise take up arms." Kerali also noted that public input would be vital to ensure effective planning.
The World Bank is inviting comment on three documents now published on its Afghanistan website:
Consultations are expected to continue until a peace agreement is reached and new programming decisions are made. The public is invited to share comments and questions throughout the process via email or through comments on the relevant website.