Afghan returnees face economic difficulties, unemployment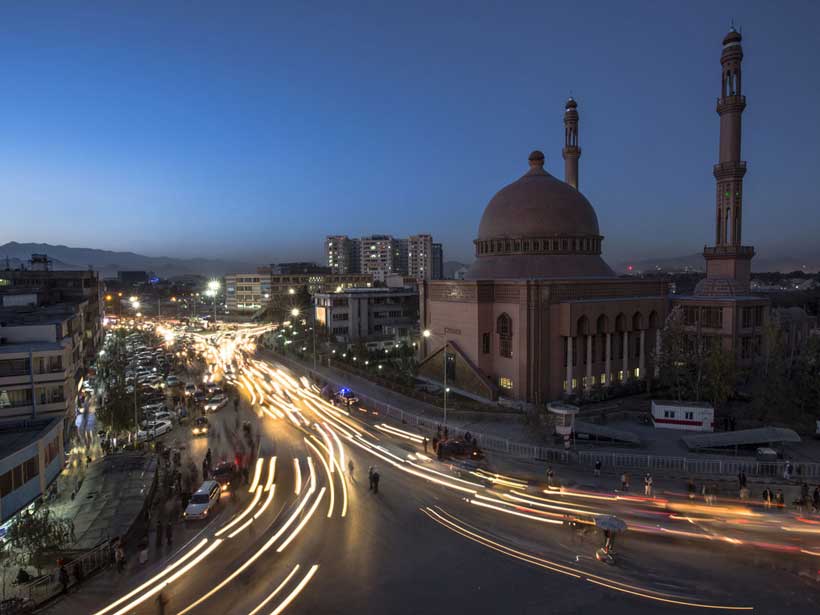 Afghan refugees who returned to Afghanistan between 2014 and 2017 tend to be worse off financially and face multiple economic difficulties compared to refugees who stayed in Pakistan, finds a new joint report by the World Bank and UNHCR in Afghanistan.
The report entitled "Living Conditions and Settlement Decisions of Recent Afghan Returnees" is the first joint report resulting from the collaboration between UNHCR Afghanistan and the World Bank. The report analyzes the living conditions of the large Afghan refugee population that returned from Pakistan between 2014 and 2017.
The report shows that despite high poverty and limited employment opportunities, most Afghans returned to their home provinces, with Kabul and Nangarhar provinces together hosting a third of all returnees. According to the report findings, Afghans living in their province of origin were more likely to be employed, benefitting from established social ties. Lower access to education and healthcare services are other challenges faced by returnees and host communities, the report highlights.
"The living conditions of Afghan returnees are extremely challenging and require deep and urgent attention," said Henry Kerali, World Bank Country Director for Afghanistan. "To understand the fundamental needs and challenges Afghan returnees face in their daily lives and to identify and agree on the best ways of addressing those challenges, access to accurate data and analysis is key. Our joint report with UNHCR helps increase coordination among partners and improve the work in support of Afghan returnees."
"In 2019, we are marking 40 years of Afghan displacement, and while several programs are in place to assist returnees and facilitate their sustainable reintegration in Afghanistan, much remains to be done," said UNHCR's Representative in Afghanistan, Caroline Van Buren. "The data and analysis in this report will be crucial to UNHCR and our partners, including the Government of Afghanistan, as we try to improve the way we support Afghan returnees."
The report assesses the existing challenges and identifies opportunities to further enhance returnees' sustainable reintegration within Afghanistan's socio-economic landscape. It recommends focusing on the voluntary and gradual repatriation of Afghan refugees as a long-term solution to forced displacement and encourages the Government of Afghanistan and its partners to put in place measures to facilitate the return in safety and dignity. The findings of the report will contribute to further expanding the close collaboration between UNHCR and the World Bank, including on projects that promote self-reliance and support the development of community infrastructure.
Online game showcases plight of our planet's disappearing coral reefs
One of the world's leading producers of online word games joined a global effort to help protect the planet's coral reefs, which a new report finds are disappearing at an alarming rate.
Sweden's MAG Interactive has unveiled six ocean-themed games to educate people about the ocean, coral reefs and climate change risks. The games will be launched in Wordzee, Ruzzle, Word Domination, WordBrain, WordBrain 2 and New QuizDuel.
Players are encouraged to either add their name to the petition for greater ocean and climate action and/or donate to projects associated with the Global Fund for Coral Reefs that are working to protect ocean health.
MAG Interactive is part of United Nations Environment Programmes's (UNEP's) Playing for the Planet Alliance that brings together gaming companies worldwide with a monthly active player base of more than 1.5 billion and a common goal of improving the environment through play.
The initiative has seen developers, including the popular Rovio Angry Birds, integrate environmental messages into their games to support the global environmental agenda, ranging from planting millions of trees to reducing plastic in their products.
Gaming companies are also supporting the Playing4Forests pledge, asking world leaders to protect forests as a line of defence against climate change.
"We couldn't be more excited to join hands with MAG Interactive and Playing for the Planet partners, to raise awareness and resources for our planet's precious coral reefs on the front line of climate change," said Leticia Carvalho, Head of Marine and Freshwater at UNEP.
"Many people have no idea of the value of coral reefs to the well being of species and humans alike. Gaming can be transformational in inspiring this learning and action journey," she added.
While they may look like plants or hard rocks, most corals are made up of thousands of small, soft-bodied animals, called polyps, surrounded by stony exoskeletons. Coral reefs support a quarter of all marine life. They also provide at least half a billion people with jobs and food while protecting coastlines from storms and flooding.
Coral reefs are also extremely sensitive to climate change. Corals have shown the most rapid increase in extinction risk of all the species assessed by the Global Biodiversity Outlook.
When waters get too warm, corals release the symbiotic algae turning white, a process known as bleaching. While corals can recover from bleaching if conditions improve, prolonged coral bleaching can be fatal.
The Status of Coral Reefs of the World: 2020, released last week by the Global Coral Reef Monitoring Network in partnership with UNEP, found that 14 per cent of the world's coral has been lost since 2009, and climate change is threatening what remains of these fragile ecosystems, often call the "rainforests of the sea."
In the last 12 years, around 11,700 square kilometres of coral has disappeared. That is more than all the living coral in Australia.
But there is still hope for corals. Across the globe, scientists are identifying pockets of coral habitats that have greater resilience to climate change and may provide the key to their survival. The research shows that incorporating coral safe havens, known as climate refugia, into conservation plans is vital for ensuring their future survival as we work to halt and reverse current threats.
"Our goal is to create engaging content for our players while spreading an important message, that they have the power to help preserve marine ecosystems," said Daniel Hasselberg, CEO of MAG Interactive.
MAG Interactive, whose ten game titles have been downloaded over 350 million times, developed the ocean-themes games based on the UNEP-led campaign Glowing Glowing Gone.
The creative campaign works to curb the threats to coral reefs, which along with climate change are under siege from overfishing, coastal development, pollution and ocean acidification.
The debut of the ocean-themed games preceded the recent announcement of US$125 million earmarked for the Global Fund for Coral Reefs to address critical financing and private investment barriers centered around the blue economy and to protect coral reefs. As the Global Climate Fund's first at-scale private sector programme in climate adaptation, this investment signifies a major achievement for coral and climate resilience.
Act Urgently to Preserve Biodiversity for Sustainable Future — ADB President
The world must act urgently to preserve ecosystems and biodiversity for the sake of a sustainable future and prosperity, Asian Development Bank (ADB) President Masatsugu Asakawa said at the opening of a global event on biodiversity here today.
"The world is at a critical turning point. If we are to reverse the alarming decline in nature, we must respond with urgency and coordinated action," Mr. Asakawa said. "These efforts are needed to ensure the survival of our ecosystems, and for the sake of our shared future and prosperity."
Asia and the Pacific is one of the most biodiverse regions in the world—home to 17 of the 36 global biodiversity hotspots, 7 of the 17 megadiverse countries, and the greatest marine diversity. "If restored and well-managed, these natural capital assets can help to mitigate global climate change and biodiversity loss in a cost-effective and impactful manner," Mr. Asakawa said in his opening remarks at the Ecological Civilization Forum at the 15th Conference of Parties to the Convention on Biological Diversity (COP15) in Kunming, the People's Republic of China (PRC).
The event is cohosted by the PRC's Ministry of Ecology and Environment, Yunnan provincial government, and the Secretariat of the Convention on Biological Diversity. Participants include high-level representatives from governments, the private sector, development agencies including ADB, and civil society.
ADB is committed to helping accelerate and increase nature-positive investments in Asia and the Pacific. "Through our ADB Nature-Positive Investment Roadmap, we are working with partners to scale up finance, develop knowledge of natural capital, and generate financially sustainable projects that deliver on biodiversity and healthy ecosystems," Mr. Asakawa said.
At COP15, ADB is launching a new publication, Greening Development in the People's Republic of China, which outlines how ADB and the PRC have successfully partnered to promote green development and ecological restoration in a way that complements economic and social priorities.
In partnership with the Chinese Academy of Science and Stanford University, ADB is sharing progress on its new Natural Capital Lab due for launch in 2022. This will be a digital platform for sharing methods for valuing biodiversity and ecosystems, and for building knowledge, capacities, and alliances across the region.
In addition, ADB with partners will be launching the Regional Flyway Initiative that will conserve ecosystem services that support people and critical habitats for more than 50 million migratory waterbirds.
Stockholm+50: Accelerate action towards a healthy and prosperous planet for all
The United Nations General Assembly agreed on the way forward for plans to host an international meeting at the highest possible level in Stockholm next June, during the week of World Environment Day. The event will commemorate the 50 years since the United Nations Conference on the Human Environment and serve as a contribution to accelerate action towards a more sustainable society.
The Declaration of the United Nations Conference on the Human Environment was made in 1972 in Stockholm, Sweden, resulting in what is often seen as the the first step toward the development of international environmental law, recognizing the importance of a healthy environment for people, and creating the UN Environment Programme (UNEP).
Five decades after the 1972 Stockholm Conference, the Government of Sweden, with support from the Government of Kenya, will host Stockholm+50, an international meeting in 2022 to commemorate the 50 years since the United Nations Conference on the Human Environment and its outcome documents, as a contribution to the environmental dimension of sustainable development to accelerate the implementation of commitments in the context of the decade of action and delivery for sustainable development, including a sustainable recovery from the coronavirus disease (COVID-19) pandemic.
The international meeting, "Stockholm+50: a healthy planet for the prosperity of all – our responsibility, our opportunity", will take place in Stockholm on 2 and 3 June 2022, following a UN General Assembly resolution. In three leadership dialogues, the meeting will reflect on the urgent need for actions towards a healthy planet and prosperity of all, achieving a sustainable and inclusive recovery from the COVID-19 pandemic, and accelerating the implementation of the environmental dimension of Sustainable Development in the context of the Decade of Action. The meeting will also reinforce the messages and the outcomes of the event to commemorate UNEP's 50th anniversary (UNEP@50), which will have taken place in March 2022, in Nairobi.
Per Bolund, Sweden's Minister for the Environment and Climate, and Deputy Prime Minister, said "Our aim is clear, we want Stockholm+50 to make a concrete contribution to accelerating the transformation to a sustainable future. We call this meeting to commemorate the fiftieth anniversary of the 1972 conference. We are running out of time and urgent action is needed. These challenges are global, and we must meet them with a global response that drives action on the ground."
Inger Andersen, Executive Director of UNEP, who was on 11 October appointed by UN Secretary-General António Guterres as the Secretary-General of the Stockholm+50 international meeting, said: "We need to urgently work to transform our economies and societies, but our branches will spread only as far as our roots are deep. By remembering Stockholm at 50, we also remember how the world came together to heal the ozone layer in 2013, phase out leaded fuel this year and stop endangered species from going extinct. By convening in Stockholm, we also recommit to human and planetary health, responsibility, prosperity, equality and peace – as we have seen only too clearly in COVID-19."