IRENA and RES4Africa Partner to Accelerate Renewables in Africa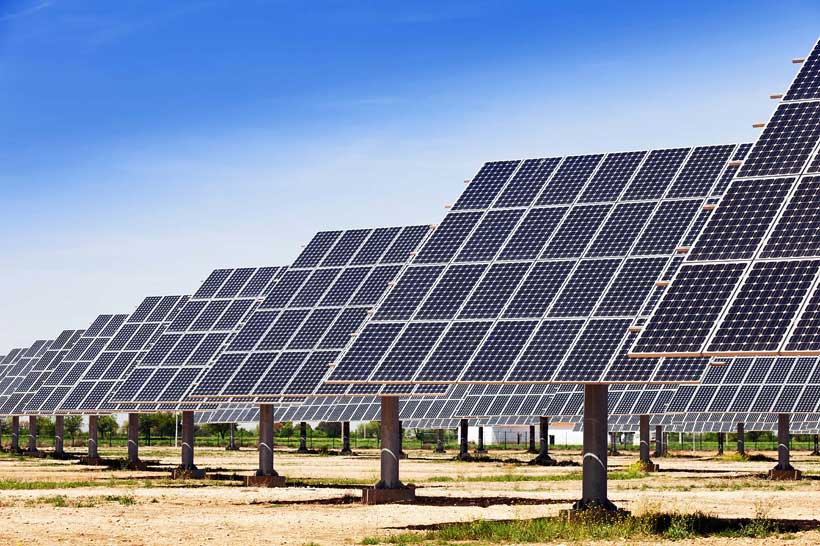 IRENA and the RES4Africa Foundation have agreed to cooperate to increase the speed of renewable energy development in Africa in the pursuit of the continent's sustainable development and climate goals. The 'Letter of Intent' signed on 15 July 2019 in Rome, will see the two parties work together to explore public-private initiatives, knowledge creation opportunities, capacity building programmes and strategic dialogues to accelerate renewable energy deployment in Africa.
With more than 620 million Africans – nearly half the continent's population – still without access to electricity, the RES4Africa Foundation works to address the water-energy-food nexus and promote the adoption of renewable energy in Africa. IRENA estimates the continent could meet nearly a quarter of its energy needs from indigenous and clean renewable energy by 2030, but to realise this potential a step-up in renewable energy action is necessary.
"To achieve the sustainable development goals and tackle climate change we must grow the share of global energy supplied by renewables to 50 per cent by mid-century," said Francesco La Camera, Director-General of IRENA during the signing event. "That requires a significant scale up of renewable energy deployment. Stronger partnerships can accelerate the energy transformation lifting millions of people in rural villages across Africa out of energy poverty and delivering socioeconomic outcomes."
Growing engagement in Africa
IRENA's engagement with Africa on renewables dates back to the Agency's formation nearly a decade ago. A key component of IRENA's engagement and its effort to promote regional market integration in Africa, has been through the development of the Clean Energy Corridors. IRENA's work informed the objectives of the African Renewable Energy Initiative (AREI), which now targets to develop 300 gigawatts of renewable energy capacity across the continent by 2030.
IRENA analysis suggests a transformation of Africa's energy sector with renewables by 2030, would result in carbon-dioxide emission reductions of up to 310 megatonnes per annum and create millions of jobs across the continent.
IRENA and UN Climate Change Join Forces to Accelerate Renewables as Climate Solution
The International Renewable Energy Agency (IRENA) and UN Climate Change (UNFCCC) are jointly ramping up efforts to fight climate change by promoting the widespread adoption and sustainable use of renewable energy. The new strategic partnership builds on a long history of cooperation that aims to ensure a low-carbon climate-resilient world in line with the Sustainable Development Goals and the Paris Agreement.
In a Memorandum of Understanding signed today in Bonn between the heads of IRENA and UN Climate Change, the two organisations have agreed to step up the exchange of knowledge on energy transition, collaborate more closely at expert meetings, increase capacity building to promote renewables and undertake joint outreach activities.
Patricia Espinosa, Executive Secretary of the UN Framework Convention on Climate Change (UNFCCC) said: "The rapid transition to clean energy is crucial to meet the central goal of the Paris Climate Change Agreement, which is to hold the global average temperature rise to as close as possible to 1.5 degrees Celsius.
Time is running out – we are already seeing worsening climate change impacts around the world –including unprecedented heatwaves – and we need to grasp all opportunities to rapidly deploy clean, renewable energy at scale to prevent the worst climate scenarios form becoming a reality."
Francesco La Camera, Director-General of the International Renewable Energy Agency (IRENA) added: "Falling technology costs have made solar, wind and other renewables the competitive backbone of energy decarbonisation and, together with energy efficiency, the most effective climate action tool available.
Renewable energy delivers jobs, delivers on sustainable development and will deliver a viable climate solution. The renewables-based energy transition provides a clear opportunity to increase ambition in the reviewing process of the national climate commitments under the Paris Agreement. IRENA will fully support countries in realising this opportunity on the way to COP25 in Chile this year and to COP26 in 2020."
UN Climate Change and IRENA are already working together to promote renewable energy, notably at expert meetings and through publications.
At a practical level, the organisations have jointly provided capacity building on renewable energy through training sessions, for example to several African countries.
IRENA is also one of the biggest supporters of the UNFCCC's Global Climate Action work, designed to mobilise climate-related activities of cities, regions, businesses and investors.
The new agreement is designed to build on this work, and to expand regional activities in the field of clean technology.
African Development Bank helps power wind of change in Kenya
Africa's largest wind farm, a €620 million energy masterpiece boosting 365 turbines in northern Kenya, will help the East African nation stay on track to reach its target of 100% green energy by 2030.
Known as the Lake Turkana Wind Power, the 40,000 acre wind farm will generate around 310 megawatts of power to the national grid, enough to light up over 300,000 households.
The winds sweeping the area start in the Indian Ocean and are channeled through the "Turkana corridor" created by Ethiopian and Kenyan highlands. They blow consistently at 11 miles per hour, making this an ideal area for situating wind turbines.
The wind farm will increase the country's electricity supply by 13%. At its launch earlier this month, President Uhuru Kenyatta said, "We again raise the bar for the continent …Kenya is without doubt on course to be a global leader in renewable energy."
The African Development Bank served as lead arranger for €436 million in senior credit facilities towards the project cost of €623 million euros. The Bank also provided a partial risk guarantee from the African Development Fund of €20 million for the part of the project devoted to the transmission lines.
Since 2016, the Bank has invested around $4.5bn of its own resources in the energy sector.
African Development Bank President Akinwumi Adesina is in little doubt about the significance of the Bank's funding. "African economic development is all about political will. We have little time and much to do for the continental transformation needed to light up and power Africa by 2025. Projects like the Lake Turkana Wind Power allow us to leap forward towards our key objectives. The Bank is very proud to be associated with this crucial addition to African infrastructure and clean energy generation".
The continent has copious, even limitless, supplies of sun, water, and wind, as well as significant amounts of natural gas and other valuable natural resources and raw materials. Acccordingly, its New Deal is investing $12 billion over the next five years and leveraging up to $55 billion to achieve universal access to energy by 2025.
"This is a milestone that we are proud to celebrate. Kids can't learn much in the dark. School books have to be put down when the sun sets. Life-saving vaccines can't be preserved. Nurses and mid-wives have to deliver babies using lanterns or torches", said Wale Shonibare, the Bank's acting Vice–President for power, energy, climate change, and green growth.
"Turkana's launch proves that we are determined to continue to work relentlessly to close Africa's energy gap. Our efforts will be felt in hundreds of thousands of Kenyan households and beyond", Shonibare added.
The site is Kenya's largest renewable energy project and its biggest single private sector investment. The plant is expected to reduce power shortages by 12.5% and cut the cost of electricity in Kenya by up to 10%. It is proof of Kenya's commitment to pursue clean sources of energy and provides a major boost to the country's international commitments to lower greenhouse gas emissions.
Commission approves support for six offshore wind farms in France
The European Commission has found support to six large offshore wind farms in French territorial waters to be in line with EU State aid rules. The measures will help France reduce CO2 emissions, in line with EU energy and climate goals, without unduly distorting competition in the single market.
France intends to support six offshore wind farms for electricity generation. The six sites are located in French territorial waters off the North-Western coast of France. The sites are "Courselles-sur-Mer", "Fécamp", "Saint-Nazaire", "Iles d'Yeu / Noirmoutier", "Dieppe / Le Tréport" and "Saint-Brieuc".
These are the first selected offshore wind projects supported by France. Each of the wind farms will be composed of 62 to 83 turbines with an installed capacity of 450 to 498 megawatts per farm. The selected installations will receive support in the form of feed-in tariffs over a period of 20 years. The construction of the first of the wind farms is to start this year and they should be operational as of 2022. Once finalised, the wind farms will increase France's renewables generation capacity by about three gigawatts.
The Commission assessed the six support measures under EU State aid rules, in particular the Commission's 2008 Guidelines on State aid for environmental protection.
The Commission found that:
the support measures will help France boost its share of electricity produced from renewable energy sources to meet its climate targets, in line with the environmental objectives of the EU;
the level of aid granted to the six projects is proportionate and does not entail overcompensation of the beneficiaries, in line with the requirements of the Guidelines.
On this basis, the Commission has concluded that the measures will encourage the development of renewable energy and will help France meet its climate targets, without unduly distorting competition.
Background
The Commission's 2008 Guidelines on State Aid for Environmental Protection allow Member States to support the production of electricity from renewable energy sources, subject to certain conditions. These rules are aimed at meeting the EU's ambitious energy and climate targets at the least possible cost for taxpayers and without undue distortions of competition in the Single Market.
The Renewable Energy Directive established targets for all Member States' shares of renewable energy sources in gross final energy consumption by 2020. For France that target is 23% by 2020. The projects aim to contribute to reaching that target.
More information on today's decision will be available, once potential confidentiality issues have been resolved, in the State aid register on the Commission's competition website under the case numbers SA.45274, SA.45275, SA.45276, SA.47246, SA.47247 and SA.48007. The State Aid Weekly e-News lists new publications of State aid decisions on the internet and in the EU Official Journal.