Ursula von der Leyen presents her vision to MEPs
In a debate with MEPs, Ursula von der Leyen outlined her vision as Commission President. MEPs will vote on her nomination, held by secret paper ballot, at 18.00.
Ursula von der Leyen outlined her political priorities, if elected as Commission President, to MEPs in Strasbourg this morning.
Here is a selection of the topics she mentioned during her speech.
Having identified the collective need for "a healthy planet as our greatest challenge and responsibility", Ms von der Leyen proposed bolder emissions targets, with a reduction of 50% to 55% by 2030 and committed to submit a plan for a "Green Deal for Europe" and a European Climate Law within her first 100 days in office. She also announced plans for sustainable European investment (also through the partial conversion of EIB funds into a "climate bank") to provide €1 trillion in investments within a decade.
Ms von der Leyen also stressed that the EU must establish an economy that serves the people. In order for this to happen however, "everyone needs to share the burden" – including those tech giants that conduct their business (and should continue to do so) in Europe, yet do not repay the people of Europe for their access to EU human and social capital.
Reiterating her commitment for a gender-balanced College of Commissioners during her term, she also highlighted that violence against women has to be tackled decisively; she would therefore seek to define violence against women as a crime in the European treaties, in parallel to completing the EU's accession to the Istanbul Convention.
Ms von der Leyen declared her commitment to rule of law as a European value, announcing that she intends to establish an EU-wide monitoring mechanism in parallel to existing measures. She emphasised that these European values also include a duty to save lives at sea and should translate into a humane border policy. She stated her support for a "new pact on migration & asylum" and Dublin Regulation reform, adding that she intends to ensure that Frontex border guards number 10,000 not by 2027, but by 2024, and that all countries should shoulder their fair share of the burden based on the principle of European solidarity.
On the matter of European democracy, Ms von der Leyen announced a two-year Conference for Europe as of 2020, in which citizens will take a leading and active role. She also emphasised the need for the Spitzenkandidaten system to be strengthened and that transnational lists should be reconsidered in future European elections. She also declared her full support for a right of initiative for the European Parliament, committing to put forward a legislative proposal in response to every resolution that is passed with a majority of Parliament's constituent members.
Reactions from political groups
Manfred Weber (EPP, DE) confirmed his group's support for Ms von der Leyen. "We stand for a Europe that is fair, modern and innovative, secure, open-minded and ecological. We will implement these pledges together with her." He welcomed her proposals for a right of initiative for the EP and to improve the lead candidate process, saying, "Backroom deals must be a thing of the past."
Iratxe García Pérez (S&D, ES) complained that "European democracy is progressing way too slowly" and underlined that Ms von der Leyen must give further details on how she plans to respond to citizens' demands, and particularly youth, before the S&D decides whether or not to back her. Support for sustainable growth, stronger action to fight poverty, and a binding strategy for gender equality are essential, García added.
Dacian Cioloș (Renew, RO) said, "We can no longer disappoint the millions of Europeans who said YES to Europe. They expect the EU to defend the rule of law without hesitation". His group is ready to support her, with one goal: the renewal of Europe. "But, above all, we expect from you real pro-European leadership. Europe is not an administration, but a political ambition", he said.
Philippe Lamberts (Greens/EFA, BE) said that his group was not ready to hand over the helm of the European Union to Ursula von der Leyen at a time when ''our common house is burning, the climate is deteriorating, there are ever deeper inequalities and a backlash in fundamental freedoms and the rule of law". However, if elected, his group was ready to provide its support "whenever the proposals would be up to the existential challenges we face".
Jörg Meuthen (ID, DE) announced that his group will vote against her, stating that she is unfit for the job and that she had no convincing vision for Europe. He criticised her for promising too many different, contradictory things to groups in order to secure support, e.g. regarding the rule of law or migration.
Raffaele Fitto (ECR, IT) asked Ursula von der Leyen to clarify her position on "the mechanism on the rule of law, on which we are at odds" with the policy pursued so far by the Commission. Regarding the fight against climate change, he said he was "happy for proposals such as the transition fund and the bank for sustainable investments, but we discuss increasingly ambitious targets, without saying how to achieve them".
Martin Schirdewan (GUE/NGL, DE) said that his group will not vote for Ms von der Leyen. Voters expected a lead candidate as Commission President, he claimed, not a Minister of Defence, which is a signal "for the continued militarisation and isolation of the EU." He called for austerity policies to end and for investment in social security, education, healthcare and fighting climate change.
Why social fairness and solidarity are more important than ever
EU Commission's services have published the 2020 edition of the Employment and Social Developments in Europe (ESDE) review dedicated to the theme of social fairness and solidarity. The review provides evidence-based analysis on how to achieve greater fairness across the EU in the face of crises such as the COVID-19 pandemic as well as structural changes due to demographic ageing, and the green and digital transitions.
Commissioner for Jobs and Social Rights Nicolas Schmit said: "The ESDE report shows that strengthening social fairness is key to overcoming the crisis. This requires putting people front and centre. To ensure resilience, solidarity and cohesion, the EU's response has to prioritise employment, reduce inequalities and ensure equal opportunities. The effective implementation of the European Pillar of Social Rights will serve as our guide."
The review notes that the COVID-19 pandemic is having profound health, economic, employment and social effects, threatening much of the progress that the EU had achieved previously. All Member States are experiencing a greater economic shock than in 2008-2009. Economic output has contracted sharply and unemployment is on the rise. The most vulnerable persons, including Europe's youth, are hit particularly hard.
Against this background, the ESDE report points to the following findings:
Adequate minimum wages and minimum income can have a beneficial effect on the social mobility of Europeans.
Strengthening social fairness, including through investments in people, pays off. Closing gender-related gaps brings particularly high returns, while extending working lives, and raising educational attainment also have positive effects.
Structural change, such as the green transition, has to be accompanied by social measures to be successful. Notably, this transition requires social investment in the form of re-skilling programmes and/or unemployment benefits. According to ESDE, this social investment could amount to €20 billion or more until 2030.
Short-time work schemes are protecting jobs effectively. The EU is helping Member States to provide such support through solidarity mechanisms like the instrument for temporary Support to mitigate Unemployment Risks in an Emergency (SURE).
Social dialogue and collective bargaining influence fairness and its perception at the workplace by promoting more equitable wages, better working conditions and more inclusive labour markets.
More generally, to repair the damage done by COVID-19 and prepare an economy and society for a future of faster structural changes, the EU and Member States need to embrace fully the opportunities offered by the transition to a greener, digitalised economy and build inclusiveness, solidarity and resilience into the design of all policies. Ensuring a broad-based recovery is a key policy objective of our policy action, which will help strengthen social resilience in the longer run.
Background
The annual Employment and Social Developments in Europe review prepared by the Directorate-General of Employment, Social Affairs and Inclusion, provides up-to-date economic analysis of employment and social trends in Europe and discusses related policy options. It is the European Commission's analytical flagship report in the area of employment and social affairs, mandated by Articles 151, 159 and 161 of the Treaty on the Functioning of the European Union (TFEU).
There are many examples in which the Commission focuses on addressing the challenges raised in the yearly ESDE reports. In April 2020, the Commission proposed the SURE instrument, which will provide €100 billion in financial support to help protect jobs and workers affected by the coronavirus pandemic. In May 2020, the Commission put forward a powerful, modern and revamped long-term EU budget boosted by NextGenerationEU, an emergency temporary recovery instrument, to help repair the economic and social damage brought by the coronavirus pandemic, kickstart the recovery and prepare for a better future for the next generation. The Recovery and Resilience Facility will be one of EU's main recovery tools, providing an unprecedented €672.5 billion of loans and grants in frontloaded financial support for the crucial first years of the recovery. The European Social Fund Plus (ESF+) will continue to invest in people, while an improved European Globalisation Adjustment Fund (EGF) will be able to intervene even more effectively to support workers who have lost their jobs. The European Pillar of Social Rights and its upcoming Action Plan, as well as initiatives and tools such as the European Skills Agenda, the Youth Employment Support initiative or the Digital Europe Programme will all contribute to address challenges identified in the ESDE.
EU-China Leaders' Meeting: Upholding EU values and interests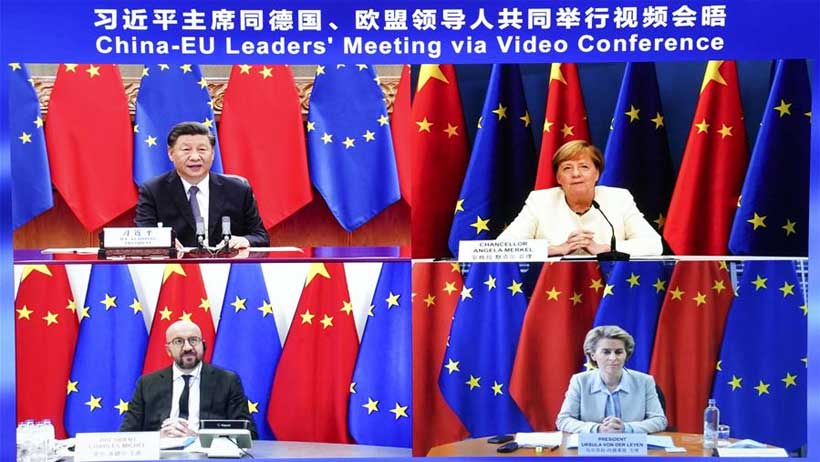 The European Union and China held a Leaders' Meeting via videoconference on 14 September 2020. An EU-China Leaders' meeting with the participation of leaders of all EU member states was initially scheduled to take place on this date. President of the European Council, Charles Michel, President of the European Commission, Ursula von der Leyen, and the Federal Chancellor of Germany, Angela Merkel, for the Council Presidency, conducted the videoconference with Chinese President Xi Jinping. The meeting provided an opportunity to follow up on discussions at the 22nd EU-China Summit (22 June). The meeting was important to maintain the momentum of EU-China high-level exchanges in order to achieve concrete results in line with EU interests and values.
The comprehensive agenda of the Leaders' meeting covered trade and investment, climate change and biodiversity, the response to the COVID-19 pandemic, as well as international affairs and other issues.
With regard to the negotiations for an ambitious EU-China Comprehensive Investment Agreement (CAI), while both sides registered progress on the rules regulating the behaviour of State-owned-enterprises, on forced technology transfer and on transparency of subsidies, the EU emphasised that more work was urgently needed on the issues of rebalancing market access and on sustainable development. The EU called on China to step up its ambition on these issues. The two sides reaffirmed their objective of closing the remaining gaps before the end of the year. The EU side emphasised that high-level political engagement would be required within the Chinese system to achieve a meaningful agreement.
On other trade and economic issues, the EU reiterated its call on China to engage in future negotiations on industrial subsidies in the WTO. The EU stressed that, in line with China's stated commitment to open up and ensure that EU producers are fairly treated on the Chinese market, more needed to be done to improve market access in the agri-food trade, financial services and the digital sector. The EU also again made clear its concerns on overcapacity, both in traditional sectors such as steel and aluminium as well as in high tech.
The two sides welcomed the signature of the EU-China Agreement on Geographical Indications which will improve access to the Chinese market especially for high-quality European agricultural products.
The EU underlined the need for reciprocity and a level playing field in the area of science and technology, underpinned by high ethical and integrity standards. Leaders welcomed and agreed to continue the high level digital dialogue. They looked forward to concrete progress on ICT standards, product safety and research and innovation.
On climate change and biodiversity, the EU encouraged China to strengthen its climate commitments in terms of peaking carbon dioxide emissions and setting the goal of climate neutrality domestically. The EU also stressed the importance of a moratorium in China of building coal-fired power plants and financing their construction abroad, at least as part of a global initiative. The EU also encouraged China to launch its national emission trading system soon. The two sides agreed to establish a High-Level Environment and Climate Dialogue to pursue ambitious joint commitments on these issues.
The EU noted that joint commitments by both sides on biodiversity could be a game-changer at global level and China has a key role to play as host of the Conference of the Parties next year. An ambitious global agreement would be a major achievement.
On the COVID-19 response, the EU emphasised the shared responsibility to participate in global efforts to stop the spread of the virus, boost research on treatments and vaccines, and strengthen the role of the World Health Organisation, including through the full implementation of the World Health Assembly resolution of May 2020. The EU also underlined that the recovery measures should support the transition to a greener and more sustainable economy. China's full engagement in G20 efforts to support low-income countries and effectively implement the G20 – Paris Club Debt Service Suspension Initiative will also be essential.
With regard to Hong Kong, EU Leaders voiced their grave concerns about the erosion of the fundamental rights and freedoms following the imposition of the national security law on Hong Kong on 30 June, which is contrary to China's international commitments. They also reiterated the EU's concerns at the postponement of the Legislative Council election and the disqualification of candidates.
The EU reiterated its serious concerns about the treatment of ethnic and religious minorities, the situation of human rights defenders, as well as the limitations to freedom of expression and access to information. The two sides agreed that the Human Rights Dialogue will take place as a physical meeting in China later this year.
On regional and international issues, the EU referred to the escalating tensions in the South China Sea, urging for self-restraint and a peaceful resolution of disputes in accordance with international law. Leaders welcomed the start of the intra-Afghan negotiations in Doha. They also confirmed their commitment to upholding the Joint Comprehensive Plan of Action (the Iran nuclear deal).
The EU also expressed readiness to continue to discuss the Strategic Agenda for Cooperation 2025, which can only be concluded once significant progress has been made in the negotiations on the Comprehensive Investment Agreement.
An EU-China Leaders' Meeting with the participation of the Heads of State and Government of the EU member states and President Xi is foreseen to be held in 2021.
Commission adopts proposal to make EU-U.S. agreement on tariffs effective
The European Commission today published a proposal for a Council and European Parliament regulation to scrap duties on certain imports to the EU. In return, the United States will reduce its duties on certain EU exports to the U.S. market. This will put into effect the agreement announced by the EU and the U.S. on 21 August 2020. These tariff reductions between the EU and the U.S. will increase access to both EU and U.S. markets by around €200 million per year.
Executive Vice-President Valdis Dombrovskis said: "The EU and the U.S. share the most important economic partnership in the world, with trade in goods and services worth over €1.3 trillion annually. This deal provides both sides with a true win-win outcome, helping us to strengthen our partnership even further. Lowering tariffs on both sides improves access for our exporters and reduces the cost of imported goods. Those are both critically important factors in this time of coronavirus-related economic crisis. From the EU side, we view this agreement as an important step towards improving our relationship and resolving outstanding disputes. We remain eager to deepen transatlantic cooperation wherever possible as we firmly believe that, when it comes to truly global challenges, the chances of achieving successful global outcomes are improved if the European Union and United States work together."
Once approved in line with the relevant procedures on either side of the Atlantic, the agreement will entail the reduction of U.S. tariffs on EU exports worth some $160 million a year. This includes prepared meals, crystal glassware, surface preparations, propellant powders, lighters and lighter parts. On its side, the EU will eliminate tariffs on imports of U.S. live and frozen lobster products. U.S. exports of these products to the EU are worth some $111 million.
Both sides will eliminate those tariffs on a most-favored nation (MFN) basis, i.e. for any partner, in line with the existing multilateral commitments. The measures will apply with retroactive effect as of 1 August 2020.