Turkey Will Get a Chunk of Syria: An Advantage of Being in NATO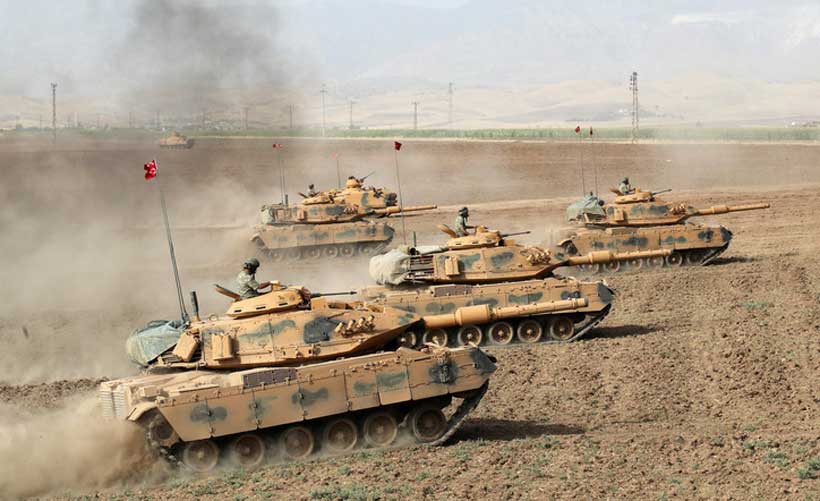 The success of Turkey's takeover of Syria's most pro-jihadist province, Idlib, is making less and less likely that Syria will be able to continue maintaining Idlib as being a part of Syria. (This is something I had predicted, back on 14 September 2018, to be possible or even likely, and now it is actually happening.) On July 10th, Reuters headlined "Assad hits a wall in Syrian war as front lines harden", and reported that, "More than two months of Russian-backed operations in and around Idlib province have yielded little or nothing for Assad's side. It marks a rare case of a military campaign that has not gone his way since Russia intervened in 2015. While resisting government attacks, the insurgents have managed to carve out small advances of their own, drawing on ample stocks of guided anti-tank missiles that opposition and diplomatic sources say have been supplied by Turkey." It continues:
Moscow has appeared keen to preserve its ties with Ankara even as its air force bombs in support of Assad: Turkey says Russia has intervened to stop attacks on Turkish forces from Syrian government-held territory. … The Idlib area is dominated by Tahrir al-Sham, the jihadists formerly known as the Nusra Front. [And before that, they were called Al Qaeda in Syria, but Western news-agencies, such as Reuters, prefer not to mention that fact, especially because the U.S. used_Nusra to train 'our' proxy boots-on-the-ground 'moderate rebels' in Syria to bring down Syria's Government. Elsewhere, the Reuters article calls them 'insurgents'.] Some 300,000 people fleeing bombardment have moved toward the Turkish border since April, prompting the United Nations to warn that Idlib was on the brink of a "humanitarian nightmare".
For Ankara, the Syrian opposition's last major state sponsor, preventing another major influx of Syrian refugees is of paramount importance: Turkey already hosts 3.6 million of them. …
A Russian private military contractor who was based near Idlib province told Reuters that rebel fighters there are far more professional and motivated than their adversary. Pro-government forces cannot win the battle for Idlib unless Moscow helps them on the ground, he said. …
"Of course the regime [that's the legitimate Government, but Western 'news'-agencies such as Reuters call it 'the regime', and most of their audience don't even recognize that their own intelligence has just been insulted by Reuters when it calls Syria's Government a 'regime', which only the invading countries actually are] has the desire to recover Idlib by force [as if the sovereign Government of Syria doesn't have this right — it's Syrian territory, after all, but Reuters doesn't care about that fact], but … without the Russians it can't [tsk, tsk: those 'nasty' Russians are defending Syria from the supposedly 'kindly' U.S.-Saud-backed proxy-armies that are led mostly by Al Qaeda in Syria, and which invaders have actually destroyed Syria], because there are many militants and the Russians are completely committed to the Turks," the source said.
Reuters, naturally, quotes enemies, not defenders, of Syria. Western mainstream 'news'-media are constantly insulting the intelligence of their audiences, as if their audiences cannot distinguish propaganda from honest news-reporting. Unfortunately, however, their assumption on that might be right.
Syria's Government is fighting hard against jihadist forces in Idlib who meet Turkey's standard of being 'moderate rebels' against Syria's Government, but unless Russian forces there — which were invited in by Syria's Government, instead of being invaders there like Turkey and the United States are — will commit far more forces for the defense of Syria (which seems increasingly unlikely), Turkey will win Idlib as being a part of Turkey.
Consequently, Turkey is already starting to build infrastructure even immediately to the north and east of Idlib in order to stake its claim to a yet larger portion of Syria than just Idlib. This might not have been part of the deal that was worked out by Russia's Putin, Iran's Rouhani, and Turkey's Erdogan, in Tehran, on 9 September 2018, which agreement allowed Turkey only to take over — and only on a temporary basis — Idlib province, which is by far the most pro-jihadist (and the most anti-Assad) of Syria's 14 provinces. Turkey was instead supposed to hold it only temporarily, but the exact terms of the Turkey-Russia-Iran agreement have never been publicly disclosed.
Until that 9 September 2018 Tehran conference, Idlib had been the province to which Syria's Government was busing defeated jihadists who had surrendered instead of choosing to stay and die where they were. Syria's Government had given its surrounded jihadists this final option, in order to reduce as much as possible the numbers of jihadists' civilian hostages who would also likely be killed in an all-out bombing campaign there. So, the existing population of Idlib, which was already the most pro-jihadist in Syria, was now starting to overflow with the additional thousands of defeated jihadists who had chosen to surrender instead of to be immediately killed.
At that time, just prior to the Tehran conference — and this was actually the reason why the conference was held — the U.S. and its allies, and the U.N., were demanding that an all-out invasion of Idlib, which had been planned by the Governments of Syria and of Russia, must not take place, for 'humanitarian' reasons. There was all that 'humanitarian' concern (led by the United States) for the world's biggest concentration of Nusra and Nusra-led jihadists — and for Syria's most jihadist-supporting civilian population. So much 'kindness', such 'admirable' 'humanitarianism'. Furthermore the U.S. Government was threatening to greatly increase its forces against Syria if that invasion by Syria and by Russia into Idlib (which is, after all, part of Syria — so, what business is it, even of the U.N., at all?) were to be carried out. The Tehran conference was meeting in order to resolve that emergency situation (mainly America's threats of a possible war against Russia), so as to forestall this attack.
However, now that it's clear that Erdogan will not follow through on his generally understood promise that this would be only a temporary military occupation of Idlib, the question is: what can Syria and Russia and Iran do to keep Idlib inside Syria, and whether they even want to do so. If Syria loses those jihadists, then not only will it lose the perhaps hundred thousand surviving jihadists there — many of whom came from other countries in order to fight against Syria's secular Government — but also will lose some of those Idlib natives, who were always against Syria's secular Government. Since those people would no longer be voting against Bashar al-Assad, because they would become Turks, this would actually be a Syrian political advantage for Assad. Yet, he has been resisting it, in order to hold Syria together. He has always been committed to holding Syria together.
Turkey's negotiating position is exceptionally strong, because Turkey now is riding the fence between the U.S. alliance, NATO (of which Turkey has been the only predominantly Muslim member ever since it joined in 1952), versus Russia. According to a major report in English from Iran's Fars News Agency — which had translated from published Arab sources in many countries and which report hasn't been denied by any of them — Russia had saved Erdogan's life on 15 June 2016, when there was a coup-attempt to get rid of him. Headlining on 20 July, just five days after the failed coup, "Erdogan Warned of Incoming Coup by Russian Alert", Fars said that,
Several Arab media outlets, including Rai Alyoum, quoted diplomatic sources in Ankara as saying that Turkey's National Intelligence Organization, known locally as the MIT, received intel from its Russian counterpart that warned of an impending coup in the Muslim state.
The unnamed diplomats said the Russian army in the region had intercepted highly sensitive army exchanges and encoded radio messages showing that the Turkish army was readying to stage a coup against the administration in Ankara.
The exchanges included dispatch of several army choppers to President Erdogan's resort hotel to arrest or kill the president.
The standard treatment of this matter in U.S.-and-allied 'news'-media was to ignore the coup and to downplay any U.S. role in it, but other news-media haven't been so dismissive — for examples: On 29 July 2016, Erdogan tactfully suggested that "US general is on side of coup plotters: Erdoğan", as one Turkish newspaper headlined it. On 2 August 2016, the New York Times bannered "Turks Can Agree on One Thing: U.S. Was Behind Failed Coup". On 18 August 2016, I headlined at Strategic Culture Foundation, "What Was Behind the Turkish Coup-Attempt?" and provided some of the reasons why the U.S. regime almost certainly was. On 8 July 2019, Michel Chossudovsly, at his Global Research, headlined "A Major Conventional War Against Iran Is an Impossibility. Crisis within the US Command Structure" and he said, "Turkey's exit from NATO is almost de facto. America can no longer rely on its staunchest allies." He even said "Turkey is now aligned with Russia and Iran." However, his article didn't so much as even mention the coup — nor any other possible reason for this shocking switch.
In any case, after that event, Turkey's foreign policies definitely switched away from being clearly U.S.-allied, to being on the fence and calculated purely to serve Turkey's advantage, no longer tied, at all, to NATO or the U.S., and, in many important respects, very much contrary to the U.S. regime. In fact, Erdogan has been emphatic that this coup had been led by Fethullah Gulen, a billionaire Muslim cleric, formerly allied with Erdogan, who since moving to the U.S. in 1999 has been his bitter enemy. In fact, some of NATO's forces in Turkey were participating in the attempted coup. However, Erdogan holds on tenaciously to that NATO membership, because it gives Turkey enormous leverage it can use in order to grab territory from Syria, which the U.S. regime wants Turkey to do.
Here is how Erdogan has clearlly committed Turkey to taking at least parts of Syria's northeast:
On 6 June 2018, Reuters headlined "Turkish university to open campus in northern Syria" and reported that, "Turkey's Harran University, in the southeastern province of Sanliurfa [Turkey], said it is preparing to open a faculty in Al-Bab [Syria] for students in towns under Turkish control. … The Turkish cabinet has also approved opening a vocational high school in Jarablus [Syria] affiliated with Gaziantep University, Turkey's official gazette said on Tuesday."
On 30 July 2018, Syria.LiveuaMap headlined "Turkey start[s] to build highways starting from Cobanbey-al-Bab to Jarablus-Manbij in Syria" — all of which is in the parts of Syria's north that Turkey controls.
On 23 May 2019, Gaziantep University posted an announcement of "The Global Syrian Refugee Crisis" conference to be held in Gaziantep, Turkey, on 14-18 October 2019, and also announced that: "The medium of instruction of our university is entirely English in %80 of faculties and Turkish in some faculties. However, after the ferocious civil war in Syria, we opened four departments (Engineering, Architecture, Administration and Theology) that teach in Arabic language. This was achieved by hiring Syrian academic staff in these programs which created opportunities for refugee students who want to continue their studies in Arabic." So, it does seem to be Erdogan's intention that directly across the border in Syria, this part of what has, until recently, been a part of Syria, is to be instead a part of Turkey. This would be the chief favorable outcome for the U.S. regime resulting from the Syrian portion of the CIA-planted "Arab Spring" rebellions in 2011.
On 27 May 2019, the Daily Sabah headlined "Turkey to Build New Faculties to Promote Higher Education in Northern Syria" and reported that
Gaziantep University, located in southern Turkey close to the Syrian border, decided to offer education for Syrians living in the northern part of the war-torn country, the areas that were liberated by Turkey's two cross-border operations. …
The university applied to Turkish education officials to set up four faculties in northern Syria's al-Bab, Azaz and Mare districts, which is planned to focus on economics, business, teaching and engineering; some 2,700 prospective students have already taken proficiency exams. The faculties will be the second move by Gaziantep University as it previously opened a vocational school last year in Aleppo's Jarablus district. While vocational education currently continues in five departments, the university is planning to expand it with four more and to provide education for 500 students.
In 2016, Turkey launched Operation Euphrates Shield and cleared about 2,000 kilometers of area in northern Syria, which was once dragged into darkness by the Daesh terrorist organization.
This seems to reflect Syria's actual capitulation to Turkey, which henceforth is to control that area — permanently. The only question now is how large the seized area will turn out to be.
The first person, it seems, who recognized quickly the significance of this takeover was the tweeter "domihol" who on 28 May 2019 posted
Turkey is also throwing serious money at its seemingly permanent slice of Syria.
You don't build universities just so Damascus can take it over soon.
Right below that is his:
I'm sorry to say – my prediction for Syria's near and possibly medium term future still holds …
Dominic | دومينيك added,
[15 December 2018] prediction:
TRUMP gets the oil & gas
ERDOGAN gets the water
PUTIN gets the "mission accomplished" moment …
9:49 AM – 28 May 2019
However, his predictions there (as is routine for tweets, which are good for communicating only bumper-stickers) are unsupported by anything. For example: Where is Turkey's oil and gas? Is it actually anywhere near to the Turkish border? Here's a map which shows where it is, and that's certainly not near the Turkish border.
In addition, the U.S. regime is evidently preparing to assist Turkey's takeover of parts of Syria, but focuses it specifically against Iran. On 24 May 2019, the U.S. State Department advertised a "Grant Opportunity" for NGOs to be "Supporting Local Governance and Civil Society in Syria" and are offering up to $75 million to each, in order to "Counter extremism and disinformation perpetuated by Iranian forces" and "End the presence of Iranian forces and proxies in Syria" and otherwise support America's war against Iran. Perhaps the U.S. and Turkey have agreed that U.S. operations against Syria will continue in the Turk-seized areas after the U.S. occupation of the remaining parts of Syria has ended.
If Assad were to give a press conference now, the first question to ask would be: "Is Syria going to allow Turkish universities and highways to be built on Turk-seized Syrian territory?" Because, if the answer to that is anything like yes, then not only would it seem that Turkey has won against Syria and Russia and Iran, but so too has the U.S., whose fall-back position, ever since it first tried a coup in Syria in 1949, has been to at least break off a piece of Syria, when and if it failed to take the whole thing. The construction of a Turkish university, highway, and/or etc., in Syria, would be a huge apparent win for Donald Trump, but an even bigger apparent victory for Tayyip Erdogan, who now seems to be, yet again, a member of America's alliance against Russia. (And Iran, too, would seem to be endangered by Syria's apparent defeat in that part of Syria. But maybe not: is Turkey going to end altogether its alliance with the U.S.?)
Usually, successful aggression is impossible without allies, and the U.S., again, seems to have Turkey as one — and as an extremely important one (more important, perhaps, than ever before).
The U.S. Government wants to remove land from Syria's Government. The Turkish Government wants to be the Government that actually takes it. So, U.S. and Turkey seem to have made a deal. Turkey took Syrian territory while promising (as the Qatar regime's Al Jazeera headlined on 5 June 2018 — "YPG confirms withdrawal from Syria's Manbij after Turkey-US deal"). Al Jazeera reported there that, "The Syrian Kurdish People's Protection Units (YPG) said its military advisers would leave the town of Manbij a day after Turkey and the United States said they reached an agreement on the armed group's withdrawal." Those two foreign invaders against Syria (Turkey and U.S.) came to this agreement in Washington DC, regarding their respective invasions: Turkish forces won't conquer YPG (separatist-Kurd) forces in any part of Syria unless and until that part has already become instead a part of Turkey — swallowed-up by Turkey. The U.S. will be protecting those Kurds until the U.S. ends its military occupation of Syria. After that, those Kurds will be on their own.
Back on 10 January 2018, Elijah J. Magnier had commented, "Syrian President Bashar Al-Assad also considers Turkey to be another occupying force in northern Syria. He would like to liberate the entire Syrian territory, which is not the case with Russia, which would prefer to end the war as soon as possible and undertake the work at the negotiating table." Magnier seems to have been correct: Russia appears not to be objecting to Turkey's land-seizures in Syria. Therefore, Turkey is a "middle-man" between both U.S. and Russia — strategizing with both.
On 19 January 2018, Tony Cartalucci commented, "The Syrian government with support from its Russian, Iranian, and Lebanese allies has embarked on a major military operation to retake parts of Syria's northern governorate of Idlib. As it does so, the US and its regional allies are rushing to position themselves to ensure the permanent partition of Syria is achieved." He continued (all of which has likewise subsequently been borne out):
It should be noted that Afrin is located between [Idlib and] territory Turkey is currently occupying. Turkish troops, should they seize Afrin
[which they soon did]
, would effectively have expanded Turkey's "Euphrates Shield" by 30 miles (53 km) and present an opportunity for its troops to link up with troops of Turkey's "Idlib Shield." This would create a large, singular buffer zone within which US-NATO forces could harbor militants driven back by Syria's most recent offensive.
Depending on Turkey's success, the zone could be expanded even further, even as far as including Idlib city itself [which happened in September of that year] – thus granting the US an opportunity to present it as a second Syrian "capital" much in the way Benghazi was used in Libya during US-led regime change there. There remains, however, the fact that Idlib is openly occupied and administered by Al Qaeda, making the proposal of transforming it into an "opposition capital" particularly dubious.
Meanwhile, the US itself continues its own uninvited, illegal occupation of Syrian territory east of the Euphrates, having previously justified the invasion and occupation of Syrian territory under the guise of fighting the so-called "Islamic State" (ISIS). …
The US occupation of Syrian territory will be difficult for Damascus and its allies to contest without being drawn into a direct military confrontation. Turkey's occupation may be easier to confound, but if sufficient political will exists to maintain it along with US backing, it could effectively result in a Golan Heights-style occupation of Syrian territory [by Turkey] that provides a long-term geopolitical pressure point versus Damascus for years to come.
And while US efforts to destroy Syria have fallen short, the US now permanently occupies territory within one of Iran's closest and most important regional allies. Like a splinter under the skin turning septic, the US occupation will remain a constant potential source of wider infection both for Syria and the rest of the region.
Perhaps Cartalucci was the first person publicly to recognize what has been happening here.
On 8 February 2018, Russia's RT bannered, "US-led coalition conducts 'defensive' airstrikes against Syrian forces", and reported, "The US-led coalition has also firmly stressed its 'non-negotiable right to act in self-defense,' since its service members are embedded with the [anti-Syrian] 'partners' on ground in Syria. … 'It's very likely that the Americans have taken a course of dividing the country. They just gave up their assurances, given to us, that the only goal of their presence in Syria – without an invitation of the legitimate government – was to defeat Islamic State and the terrorists,' Lavrov said."
All of this, likewise, has since been borne out. Key was the September 2018 Tehran summit of Erdogan, Putin and Rouhani (Syria not even being represented there), to decide how to handle Syria's most pro-jihadist province: Idlib. (It's even more jihadist than Raqqah, where ISIS was headquartered, and which is the second-most-jihadist.)
On 9 September 2018, the Turkish-Government-controlled (and this also means anti-Syrian) Daily Sabah newspaper bannered "The outcome of the Tehran summit" and reported that:
We know for a fact that Erdoğan's goal was to prevent the Russians and the Assad regime from carrying out a comprehensive operation in Idlib. In this sense, he got what he wanted. At the joint press conference, the Russian president announced that the three countries, at the request of President Erdoğan, urged all parties to lay down their arms. As such, it became possible to prevent another humanitarian disaster, a new influx of refugees, the collapse of the Astana process [which Putin had established to replace the U.N.'s U.S.-approved peace process immediately after Obama bombed on 17 September 2016 Syria's Army at Deir Ezzor — which bombing by the U.S. violated the ceasefire agreement that Obama's Secretary of State John Kerry had just signed with Russia's Foreign Minister Sergey Lavrov on 9 September 2016] and the radicalization of moderate opposition, who would have moved closer to the Hayat Tahrir al-Sham (HTS) [Al Qaeda in Syria]. At the same time, a clear distinction was made between 'terrorists' and opposition groups. At the same time, there is no doubt that the Iranian president's proposal to remove the United States from the east of the Euphrates river was in line with Erdoğan's own agenda.
Actually, however, the truthfulness of that last sentence is still very much in doubt.
The ultra-reliable Al Masdar News reported on 10 September 2018 that "Russia and Iran have already informed Turkey that they will not accept any jihadist factions inside of Idlib; however, the latter is attempting to convince Moscow and Tehran to avoid carrying out the attack in favor of Ankara clearing these groups." Putin and Rouhani accepted Erdogan's promise there (of "Ankara clearing those groups"), and consequently allowed Turkey's troops to handle Idlib. But, evidently, Erdogan had been lying about that. He didn't eliminate the jihadists — he has instead been protecting them (except that his forces attack the Kurdish-independence forces against Syria's Government, the anti-Assad fighters whom Erdogan authentically has been obsessed to kill).
The very next day, on September 11th, Paul Mansfield at Syria News headlined "Erdogan Buys Time for Terrorists at the Tehran Summit" and he observed that
The Turkish newspaper Daily Sabah released the components of Turkey's plan for Idlib. It doesn't take a genius to figure out it effectively means annexing Syrian territory, entrenching Turkish proxy Free Syrian Army forces, while falsely legitimizing their presence through a trilateral agreement, one made (it should be mentioned) without the presence of the country it concerns: Syria.
On 18 September 2018, another of the Turkish regime's major newspapers, Yeni Safak, headlined "Turkey tells 50,000 FSA fighters to be ready for deployment as tensions rise in Idlib" and reported that, "As the Assad regime and Russian warplanes viciously attack the last opposition-held stronghold of Syria's Idlib, Turkey ramped up its military reinforcements in northern Syria and instructed over 50,000 Free Syrian Army (FSA) [that being the Turkish-led anti-Assad] fighters stationed in Afrin, Azaz, Jarabulus, al-Bab and al-Rai to 'be ready for military deployment.'"
This anti-Syrian report continued, "The Bashar al-Assad regime recently announced plans to launch a major military offensive in Idlib, which is controlled by various armed opposition groups." It didn't mention that those "armed opposition groups" were the members of Al Qaeda-led forces defeated elsewhere in Syria who had chosen to be bused by the Syrian Government into the most pro-jihadist Syrian province, Idlib, instead of to be outright shot to death on-the-spot by Syrian troops, where they had been fighting. Such crucial information was left out of Western news-reports.
It went on: "An attack on Syria's Idlib, the last opposition-held stronghold, would be a massacre," and (since this newspaper reflected Erdogan's anti-Assad, meaning anti-Syrian, viewpoint) it alleged that "Russia and Assad regime target civilians" instead of try to exterminate jihadists — especially now in Idlib itself, to which Syria's Government had, indeed, been busing the surviving defeated jihadists. (As was previously noted, the only alternative that Syria's Government had had regarding those hold-out fighters would have been simply to go in and slaughter not only them but the human shields behind whom they were fighting, which would have enormously increased the civilian casualties, which the 'barbaric' Assad-led Government was always trying to avoid doing. So: that's how and why so many of the Al Qaeda-led forces came to be collected inside Idlib to begin with.)
NOTE:
Erdogan might be a double-agent here. But how could Turkey be building infrastructure in Syria and not be permanently taking that land? All of those "seems to be" could be wrong, but it's hard to see how Syria's Government could accept any such blatant grab of land away from their nation. I had written on 14 September 2018 about Erdogan's duplicity, headlining "U.S. Protects Al Qaeda in Syria, Proven":
Erdogan is in both camps — America's and Russia's — and playing each side against the other, for what he wants. But he could turn out to be the biggest loser from 'his' success here.
If he exterminates Idlib's jihadists, then the U.S. side will condemn him for it. But if he instead frees those jihadists to return to their home-countries, then both sides will condemn him for having done so.
The biggest apparent 'winner' from all this, Erdogan, could thus turn out to be the biggest real loser from it. And the biggest apparent 'loser' from it, Assad, could turn out to be the biggest real winner from it.
Then, three days later, on September 17th, I argued that the big winners from this will probably be Putin, Erdogan, Rouhani, and Assad. The headline of that was "Putin and Erdogan Plan Syria-Idlib DMZ as I Recommended", and the basic case was presented that this would turn out to be only a feint on Erdogan's part, and that he and Putin and Rouhani (and Assad) would all benefit from this feint by Erdogan, and take home the win. It still could be that. But only Erdogan himself probably knows. And who can read his mind? The main sign I would look at is whether Putin and Rouhani just ignore, as much as possible, Turkey's 'seizures' of Idlib and of the most-jihadist parts of Aleppo province bordering Idlib to Idlib's immediate east. (For example, this fundamentalist-Sunni family from Sweida — which is perhaps the most pro-jihadist southern province — migrated during the war to Al-Bab, which is Turk-controlled.) If Putin and Rouhani ignore Turkey's solidification of its control over those areas of northern Syria, then this is how the U.S. side and proxy forces — jihadists and Kurdish fanatics — might lose in Syria, and be forced out of there. This Turkish 'win' would entail a loss for both the U.S. and its proxy-forces, especially the Kurds. But it would also entail Syria's loss of the areas that were always the greatest thorn in Assad's side. In that case, America's former proxy-forces in northwest Syria — Al Qaeda's surviving Syrian forces, plus the separatist Kurdish forces — would henceforth be under Erdogan's control. If Putin, Rouhani and Assad won't object to that, then the main loser could be the U.S. regime, which would cede to Erdogan not only America's last holdout in Syria but also all of its proxy-forces in Syria, henceforth to be totally subject to whatever Erdogan has in mind for them. However, the biggest losers could still be the Turkish and the American regimes. But that would be true only if the surrounded U.S. forces in Syria's northeast become forced out. If the U.S. occupation stays in Syria, then the U.S. and Turkey will have taken all of northern Syria. But no oil or gas is there, either. (It's south of there.) What, consequently, is this war even about, any longer? Is it about contending national leaders who refuse to acknowledge defeat? Is that now the only real reason for all of this ongoing death, and destruction? Is it just pure ego?
If Turkey quits NATO, then the biggest loser from the end-part of the Syrian war would be the U.S. and its allies. But, of course, the biggest losers from the entire war are the Syrian people. There's no doubt, whatsoever, about that. 
Author's note: first posted at The Saker
The outcome of the Berlin Conference
Twelve countries and organizations have participated in the Berlin Conference on Libya, which has just ended.
There have been all the countries and organizations that really count in Libya. Egypt, which obviously supports General Haftar for the security of its particularly sensitive eastern borders, as well as to avoid the progressive expansion eastwards – starting from Tunisia and Tripolitania – of the Muslim Brotherhood, that is the axis of al-Sarraj's regime and the international point of reference, inter alia, of President Erdogan's Turkey.
Algeria, which also fears the spreading of political instability originating from Libya that would strike it immediately. It does not absolutely want to be excluded from the Libyan pacification "process", although it strongly opposes Turkey's role in protecting al-Sarraj's regime.
Congo, which wants to avoid the jihadization – resulting from the expansion of the Libyan jihad – of the recent internal conflict originated from the militias called CODECO, with the further violent Islamization of the Lendu ethnic group.
Turkey, which wants above all to start to exploit the land and sea areas facing Tripolitania's coast, through an agreement already signed with al- Sarraj's government – an agreement which has both the economic and oil component and its corollary for the military "collaboration", i.e. protection, of Tripolitania, indirectly aimed against Italy and, in some respects, against the EU itself.
This is the reason why this Turkish choice is also good for Vladimir Putin.
Turkey's move in Tripolitania is also targeted against Saudi Arabia and it has been harshly commented by Egypt, which does not want to have the Muslim Brotherhood in the way, not even in the distance. The latter is the political-military organization against which Al Sisi organized his coup.
Moreover, Greece, which is slowly being involved again in the economic and strategic game in the Mediterranean and trades much oil and gas with Misrata, wants to oppose – even military- Turkey's designs on the Mediterranean, possibly with Israel's and Cyprus' support.
Obviously, the Lebanon and Jordan are fiercely opposed to the aims of Erdogan's Turkey in Libya and certainly do not favour al-Sarraj's Tripolitania.
The reason is the close relationship between the Tripoli government, Erdogan's AKP Turkey and the Muslim Brotherhood.
It should be recalled that the Islamist radicalization of a young, very rich and westernized Saudi Arabian Osama bin Laden began when he met, as a young enfant gâté, a university Professor from Ikhwan, the Brotherhood.
If the military leader of Tobruk and Benghazi, namely Khalifa Haftar – who is also the military leader of a government that won the elections, but had no international recognition – wins, Turkey will automatically lose access to the oil it is drilling in Tripolitania and on the Libyan coast.
In Berlin there were also the five permanent members of the UN Security Council.
It should be noted that on January 6, 2020 Ghassam Salamé, the UN special envoy and French-Lebanese Head of UNSMIL, stated that "the other nations" – meaning the countries outside the Security Council – "must not meddle in Libyan affairs".
The not-so-hidden reference was to the bombing of a cadet military academy by "a country friendly to Haftar's forces". The attack, however, was carried out with weapons coming from countries which have long been members of the UN Security Council.
The UN primary countries want to marginalize the current, albeit minor, points of references for the forces in Libya, but the member countries of the UN Security Council have chosen different and opposing military groups to operate with their interests in Libya. However, at least formally, the whole UN organization supports al-Sarraj's Tripolitania.
A geopolitical Rubik's Cube.
What does Italy want from the Berlin Conference on Libya? First and foremost, the Italian government is "optimistic", which is not so usual in strategic and geopolitical thinking.
"Everyone is to be involved" to take a "step towards peace and stability". It seems the appeal of a motivational speech for vendors. We are a very strong team.
Then, there comes a 1960s pacifist-style speech, i.e. "a military solution is not a solution". But the military solution is already in place and hence the problem is no longer there.
Not to finally mention the fact that the government has almost completely forgotten ENI in Libya.
Immediately negotiating with the new leaders of the anti-Gaddafi uprising, at the beginning of the feral 2011, with talks supported by an excellent former Director of Italy's intelligence services, ENI has endured and tolerated everything.
Insulated, with very little staff and a dozen managers flying to and fro other areas, it has suffered – more than any other Italian national organization in Libya – the strange option of the current Italian government to find a sort of balance between the two great opposing military camps in Libya.
It is easy to imagine how useful this is for the protection of Italian interests, which are – or would be – fundamental.
Hateful to God and to His enemies – as in Inferno, Canto III of Dante's Divine Comedy reference is made to those about whom we are currently talking, namely the ignavi,i.e. the inefficient or indifferent people, as well as the opportunists.
In 2018 ENI started again oil explorations in Libya, while it was clear that none of the Libyan factions had a real interest in achieving peace.
What are the prospects? The decrease -despite everything – of ENI's Libyan extraction quota, which is currently worth about 15% of Italy's national requirements, without even imagining where we will get what we need later, if we lose it in Libya.
The "free" market would certainly see Italy losing out.
In the framework of the Berlin Conference, however, the Italian government has confined itself to prescribing to put some flowers in our guns, with very pleasant additions on the fact that since our soldiers are "peace soldiers", they will not go to protect themselves from possible attacks, operations or breaks of the possible ceasefire, but will possibly act as "municipal messengers" or as law enforcement officers to notify of military clashes to whom it may concern.
This is stuff for a small-town Prosecutor's Office, the mentality of young lawyers with little experience.
They will bring the "Clean Hands Operation"- from which Italy's tunted Second Republic originated – to Libya.
The problem also lies in the fact that the real negotiation between al-Sarraj and Khalifa Haftar was already carried out by others, namely Turkey and Russia, on January 12 last.
It does not matter that much that the Chief of the Tobruk and Benghazi Forces, namely Haftar, withdrew from the final bilateral document on the permanent ceasefire, just a moment before its signing.
Those who will settle the matter anyway – and well before we may think – will only be Erdogan and Putin.
The Turkish leader wants to maintain – in any case and in any way – his spot in Tripolitania, in a future of ever-increasing oil and migration conditioning vis-à-vis the unaware (and indolent) European Union. That is enough for him.
A blackmail conditioning from the "Balkan corridor", which President Erdogan has already experienced for a long time, and a current and future "maritime corridor" from Tripolitania, which will soon make its voice be heard strongly.
It is also incredible that in Italy the migration issue, which is essential also from a strategic and security viewpoint, has been tackled so superficially by all political parties.
Al-Sarraj also asked to include Tunisia and Qatar in the list of participants in the Berlin Conference. His request went unheeded.
The reason why the request was not met is obvious. These two countries are Tripoli's quasi-friends: Tunisia is interested in the security of its very important borders and oil pipelines from Libya to the Tunisian sea and to Italy, while Qatar is a distant but generous supporter of Muslim Brotherhood's Tripolitania.
The conclusions that can be drawn are in line with the tradition of previous peace conferences on Libya – that is, irrelevant.
All the major demands were, in fact, accepted in the final document, thus making it unusable for some operations on the ground in Libya.
Or for an effective political solution. A strategic falling between two stools.
Probably that was its ultimate goal.
However, it begins to emerge the establishment – which we imagine to be very complex and cumbersome – of a 5+5 Committee between al-Sarraj's government (and who knows why it is still recognized by the United Nations) and Khalifa Haftar's Libyan National Army (LNA). A body which will be bound to fail if it remains a joint body fully based on members on an equal footing. The "Berlin Process" on Libya was initiated on January 19. As you have certainly noticed, nowadays all the endless negotiations on Libya (Paris, Palermo, Abu Dhabi and other backroom ones) are pompously defined as "processes".
Again on the basis of the final statement of the Berlin Conference, the United Nations Support Mission in Libya (UNSMIL) will organize an International Follow-Up Committee, made up of representatives from all the countries and organizations that participated in the Berlin Conference on January 19.
A repetition? Probably not.
This sequence of similar documents, piling up one upon the other will be a way to play all possible sides and make the Libyan conflict last ad infinitum. This may definitely and permanently harm some countries (such as Italy) but will certainly favour others, such as Turkey, the Russian Federation and France.
In Libya, as also in the European Union, currently every game is a "zero-sum game".
The conclusions of this Follow-Up Committee will be submitted directly to the UN Security Council, which sees strongly conflicting interests on Libya represented within it.
Moreover, the Committee's conclusions shall be in line with all the "processes" prior to the one which has just begun in Berlin. As said in the final statement of the Berlin Conference, said "processes" also refer to the "three-point plan" drawn up by Ghassan Salamé on July 30, 2019.
The UN special envoy's plan regarded – first and foremost – a truce, which began on August 10, 2019, for Eid-Al Adha, the Islamic Festival of the Sacrifice.
So much ado for a few-days truce, which could be negotiated by a local Imam without problems? Who knows!
Why referring so explicitly to a short truce that has already occurred? It is a mystery.
Probably the aim is to give more power to Salamé – hence just say so.
Again last August, the second point of Salamé's plan consisted in organizing an International Conference, which was in fact already organized and closed in Berlin, but with the participation of all the countries concerned and interested in the Libyan conflict. Indeed, not all of them were present in Berlin.
Well, we have already done it – so what? Another Conference, like those of Paris, Palermo, Abu Dhabi and Berlin? To say what? We cannot see anything new under the sun.
A Conference is a Conference is a Conference, like Gertrude Stein's rose.
Finally, the third point of Salamé's plan regarded a Conference – and this is exactly what we need! -between the political and military "parties" present in Libya and anyway of Libyan origin.
It will be the most crowded and – we imagine – the least effective Conference. And probably the roughest and most vociferous one.
In Libya as elsewhere, however, the truce regards the ability of the mediating third party alone to make it credible for those who wish to sign it.
Without this ability of effective and immediate recourse to the "third-party in Law" (if we can here use a concept of Roman law) no one signs a truce whatsoever.
Furthermore, which is the only way to enforce a ceasefire? Possibly creating an "interposition force", which makes both parties' probable war and criminal intentions more technically difficult?
No, I do not think so because, in this case, the Interposition Force – organized to make a truce hold – cannot control the non-military movements of both sides' positions, which will become warlike at a later stage.
Anyway, while Libya has become the area of a new great proxy war between enemies, allies and quasi-friends, when reaching truces, all of them which are outside Libya will certainly start to deploy their military potentials in new areas.
In this case, truces are a way to wage and make war, not to stop it, even temporarily.
In essence, as the final statement candidly admits, the Berlin Conference wanted to unite and muster international support for a political solution in Libya.
Here, there are two possible alternative options.
Either we go on with the potentially endless sequence of irresolute Conferences, attended by countries which do not even dream of sending troops to Libya, if not to be used as traffic policemen.
Or a real international force is created, possibly under the UN aegis, which of course does not pacify Libya, but establishes those who win or lose power in Tripolitania and Cyrenaica.
Yet the question remains: do we really want a new Libya split up in the various Ottoman vilayets, as it was before the Italian pre-Fascist colonization, or do we still really want a united Libya?
In the latter case, which will be the small group of European or non-European powers that will manage their inevitable hegemony over the still united Libya?
Because it should be recalled that, in many areas of the old "sandbox", there is a national Libyan feeling that often overlaps with loyalty to one's own katiba or the traditional alliance of the various tribes with one's own.
Some years ago, even a young agent of the "new" Libyan intelligence Services told me that the Libyan national feeling is stronger than we may believe, even if it mixes – surprisingly and hence unpredictably – with tribe hierarchies.
We should also recall the positive effect that the authoritarian welfare State established by Gaddafi had for many years. In a paper of the Bertelsmann Foundation published a few days before the start of the Benghazi insurgency, it is stated that Libya was on average much better than Southern Italy in terms of income and social services and benefits.
Finally, also in the Berlin Conference it was reiterated that "there could be no possible military solution" for Libya.
Of course, because the military solution is already in place it and it has been so for many years. It is made up of potentially equivalent forces, with equivalent protectors, who will therefore never be able to really find an agreement.
However, as Machiavelli said, cum parole non si mantengono li Stati.
Westerners' sloth is no wonder, even though the gains for every Western country would be scarce and limited.
Italy is an unstructured country that, with controlled or uncontrolled immigration, will import and has probably already imported many jihadists in Europe, the next area of deep deconstruction. For Italy, Libya is a country that – being no longer fundamental for oil, except for Italy only – remains fundamental for the international oil and gas markets.
Hence, what are we doing? We are wasting time with talks and diplomatic "processes", waiting for someone to win on his own in Libya and dictate his conditions.
Obviously the final statement of the Berlin Conference could not fail to make reference to the fight against terrorism and "illegal" migration.
First and foremost, we must never speak generically of "terrorism", which is a universal practice, but rather of a specific and refined jihadist warfare strategy, which is very different from what we call terrorism, even if it certainly does not exclude it.
This also applies to the Koranic doctrine of "truce", which would be a very interesting topic to discuss here.
I imagine, however, that the intellectual arrogance of Westerners makes the unrepentant conference-goers believe that the only war and peace doctrine is the one which is developed and practiced in the framework of the enlightened, secularist and rationalist universalism.
They are wrong. Currently most of the people living in the world conceive and make war in a very different way from what Grotius, Kant or Althusius theorized.
With specific reference to "illegal" migration which is, in fact, an asymmetrical war system, as also the "sword jihad", a less moralistic and legal analysis should be made.
The winners send illegal migrants to the countries of their enemies or economic or military competitors, the losers take them all and must also keep silent.
Has the Italian government ever imagined the reason underlying the very powerful information and defamation war on Italy, with so many NGOs built ad hoc, during the previous "yellow-green" government?
Do you believe that our EU friends are not involved in these issues? Certainly not.
Ultimately, the final statement of the "Berlin process" refers not only to the embargo on all arms – which is completely useless, considering that Libya is full of weapons, and everyone can anyway get them from the south – but also to the "equal sharing and distribution of wealth", albeit it is not clear between whom, but we can here understand the very complex issue of the relationship between the NOC, the Libyan Central Bank and Khalifa Haftar's LNA.
Finally, we speak of "legitimate and lawful use of force" to be granted only to States (or to the State).
Which State, in Libya? Tripolitania – which is now reduced to a few districts of Tripoli, with some katibe of Misrata, the military axis of al-Sarraj's regime, already shifted to Haftar's control – or the Tobruk-Bengasi one, for which Haftar is fighting, which has won the elections but has not been recognized by the external powers and the United Nations?
Who is really legitimate and lawful? It is hard to answer this question, even if we only thought – as it is now usual among Western powers – of a political and State legitimacy that is simply granted by Western countries or by the United Nations.
Hence how many legitimate and lawful States are there in Africa? Once again it is hard to answer this question.
It would be good to go back to the classics, from Hobbes to Spinoza. Even under the fierce sun of Libya, as when Lawrence of Arabia read Suetonius (obviously in Latin) riding his camel in Wadi Rumm.
Turkey's Role in the Libyan Conflict
On January 8, 2020, Russian President Vladimir Putin and Turkish President Recep Erdogan met in Istanbul. Discussions focused on the launch of the Turkish Stream gas pipeline, as well as topical issues on the international agenda. After the meeting, both presidents called on all parties involved in the Libyan conflict to cease hostilities from January 12 and take a seat at the negotiating table. Putin and Erdogan confirmed the high level of contractibility demonstrated earlier by other politicians on other painful issues.
Of course, the ceasefire in Libya suits Ankara's foreign policy interests, since in a one-on-one battle, the Government of National Accord (GNA), supported by Turkey and recognised by the UN as the legitimate government of Libya, would have difficulty repelling new attacks by the Libyan National Army (LNA) under the General Khalifa Haftar and protecting controlled territory. Due to the intensification of hostilities in December 2019 and the new LNA campaign in Tripoli, the head of the GNA Faiz Saraj turned to the head of the Turkish state with a request to provide military support to Tripoli. Turkish President Recep Erdogan forwarded the relevant bill to the Grand National Assembly of Turkey, and, on January 2, the parliament approved the sending of Turkish troops to Libya by a majority vote. Soon after Erdogan announced that Turkish units are already in Libya.
In response to the decision of the Turkish parliament to support the sending of the Turkish military contingent to Libya, the LNA commander Khalifa Haftar announced a general mobilisation. His troops are currently conducting active hostilities and are gradually moving towards the centre of Tripoli. Recent major territorial acquisitions include the non-functioning capital airport, as well as the city of Sirte and its environs. However, the fact that Turkish troops are already in Libya can significantly complicate the further attack of the LNA.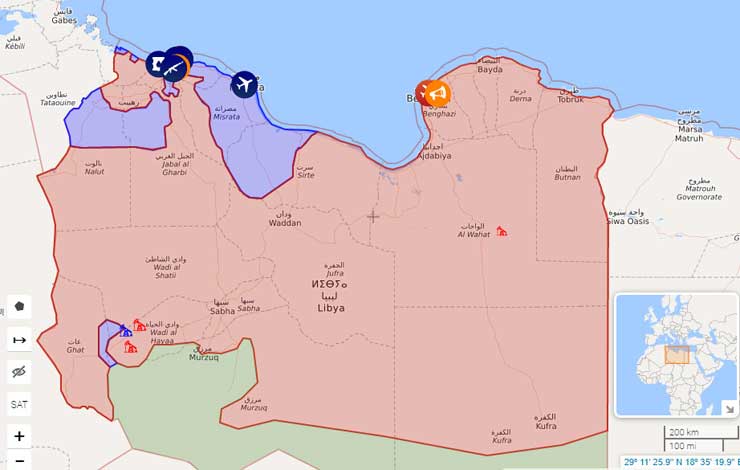 The Establishment of a Turkish Exclusive Economic Zone in the Mediterranean
The conclusion of two agreements with the government of Faiz Saraj preceded Turkish interference in the Libyan conflict. On November 27, 2019, Turkey signed a memorandum with the GNA on the delimitation of maritime zones in the Mediterranean Sea, which establishes new maritime borders of Libya and Turkey. The signed document confirms the rights of Ankara to a significant part of the east of the Mediterranean Sea, where there are significant natural gas reserves. Previously, Turkey carried out illegal geological exploration in the economic zone of Cyprus in the eastern part of the Mediterranean Sea.
The agreement reached between Recep Erdogan and Faiz Saraj raised concerns among other Eastern Mediterranean states also interested in gaining access to hydrocarbon production in these areas. Egypt, Israel, Greece, and Cyprus have made statements that the memorandum violates international law. The European Union also declared a similar position, which even did not recognise the maritime agreement between the Republic of Turkey and the GNA in connection with the violation of the sovereign rights of third states.
The agreements reached between Ankara and Tripoli strengthened the Turkish position in the region. Certainly, the designation of an exclusive economic zone led to even greater isolation of Turkey and the notable deterioration in relations with other states of the Eastern Mediterranean. It is also important to mention that the Republic of Turkey has become somewhat dependent on the stability of the Faiz Saraj regime. The agreement with him gives Ankara at least the fragile validity of Turkish claims for a hydrocarbon-rich part of the East of the Mediterranean Sea. This means that the Turkish leadership in Libya protects not only the pro-Turkish GNA, but also its interests in the eastern part of the Mediterranean Sea.
So Why Does Egypt Support Khalifa Haftar?
In Libya, Turkey is confronted with the interests of its foreign policy opponents; in particular, the United Arab Emirates (UAE) and the Arab Republic of Egypt (ARE). The latter is the main ally of General Khalifa Haftar. Cairo supports the LNA, because members of the Muslim Brotherhood, an organisation banned in Egypt, are operating in Libya. The commander-in-chief of the LNA successfully fights with them, as well as with jihadists that pose a threat to the security of ARE. Besides, the instability of the situation in Libya negatively affects business activity in the region, which is detrimental to the Egyptian economy. The troops of Khalifa Haftar are the only force capable of restoring relative order in Libya. While Haftar's troops have established control over most of the country's territory, including major oil fields, it is difficult for GNA to control Tripoli. The geographical factor makes Egyptian support for LNA more effective.
Through the border with Libya, militants of the "Islamic state" enter Egypt and arms smuggling flourishes. The Egyptian leadership is trying to secure its borders with the help of additional troops and armoured vehicles, for example, the Egyptian space satellite used to control the border effectively. ARE authorities say that most of the weapons used by the ISIS cell in the Sinai Peninsula come from neighbouring Libya. The statistics demonstrate the scale of the problem. For example, from 2015 to 2017 Egyptian soldiers destroyed more than 1,200 trucks with weapons and explosives sent from Libya to Egypt.
The House of Representatives promises to build a border wall on the border with Egypt, although the effectiveness of the project raises great doubts – the length of the wall will be merely 1 km, while the length of the border between the two states is more than 1,100 km.
Nevertheless, the government controlled by Khalifa Haftar is demonstrating a willingness to tackle the problem of arms smuggling across the Libyan-Egyptian border. Additionally, Khalifa Haftar proved that he would rather fight terrorist groups than negotiate with them. The terrorist threat posed by militants in Libya is a serious security challenge in Egypt, so Cairo supports Haftar in the Libyan conflict. Besides, the GNA is a government focused on Ankara, Cairo's foreign policy opponent. Any strengthening of the government of Faiz Saraj in Egypt is perceived as strengthening the position of Turkey in North Africa.
Cairo actively reacted to the signing of agreements between Turkey and the GNA, as well as to the introduction of the Turkish military in Libya. In particular, President al-Sisi called the President of Cyprus Nikos Anastasiadis and the President of France Emmanuel Macron to discuss measures to impede the implementation of the agreements reached between Ankara and Tripoli.
Egypt told the UN Security Council that it does not recognise the agreements. According to the representative of Egypt to the UN, Mohammed Edris, Egypt does not consider the signed memorandums as legitimate, because they were not ratified by the Libyan House of Representatives.
The Role of Extra-Regional Players in the Libyan Peace Building Process
The position of the Republic of Turkey on the Libyan issue is not shared with its NATO allies – France and the United States. Earlier, French President Emmanuel Macron contributed to the formation of the diplomatic status of Khalifa Haftar and supported his political independence. When Haftar tried to take Tripoli in the spring of 2019, France blocked an EU statement urging Khalifa Haftar to stop the LNA attack on Tripoli. Besides, according to the media, France supplied anti-tank weapons to the LNA, bypassing the arms embargo. In particular, Javelin missiles were handed over to Khalifa Haftar's troops.
In April 2019, the unique role of Field Marshal Haftar in the fight against terrorism in Libya was recognised by U.S. President Donald Trump. Then Washington threatened to block the UN Security Council resolution calling for a ceasefire and stop the advance of troops in Tripoli. Responding to the new offensive of Khalifa Haftar in the Libyan capital, the White House invited the parties to the Libyan conflict to refrain from receiving outside assistance, and thus again supported the actions of the LNA unofficially. This initiative was directed primarily against Turkey and the transfer of the Turkish military to Libya.
In addition to France and Egypt, Khalifa Haftar is supported by Jordan and the UAE. In addition to providing financial assistance, some countries supply weapons to the LNA, despite the UN arms embargo. UAE delivered LNA unmanned aerial vehicles. Turkey, of course, provided GNA drones.
To sum up, Libya is becoming one of the key strategic directions of Turkey's foreign policy, which is probably considering the country as an arena for confrontation with Greece, Cyprus, Egypt, the UAE, and other unfriendly states. At the same time, the mutual dependence of Ankara and Tripoli on each other is growing. Turkey is the main ally for the GNA, for the sake of which it is ready to send its troops to the combat zone. The formal legitimacy of the Turkish geological exploration and Ankara's rights to the exclusive economic zone depends on the durability of the Faiz Saraj regime.
Dissatisfaction with Ankara's actions continues to grow: the decision to introduce Turkish army units was condemned by the United States, the EU, Russia and some regional actors. Turkish troops will not leave Libya as long as Haftar's forces besiege Tripoli. A major problem remains the agreements reached between Turkey and the Saraj government on military cooperation between Ankara and Tripoli, as well as the delineation of exclusive economic zones in the Mediterranean Sea. Washington promised to support Cyprus and Greece in resolving the situation in the eastern Mediterranean, and Erdogan promised not to recede from concluded deals even though, as we know, it is a clear violation of the arms embargo and inconsistency with the principles of international law.
The USA, France and some other states continue to regard the LNA as the main bulwark of the fight against terrorism in Libya. Haftar's troops remain the most combat-ready armed forces, which have a much higher chance of stabilising the situation in Libya than their opponents. It was demonstrated by the victorious struggle of the LNA with the terrorist groups Islamic State, Ansar al-Sharia, Wrath of Fesan, etc.
Al-Sisi supports Haftar for the same reason, besides the issue of ensuring stability in Libya is directly related to the security of his state. Also, both politicians declare their tough stance towards Islamism, which makes them ideological allies.
Unfortunately, the establishment of a ceasefire can only lead to a temporary de-escalation of the conflict. In this situation, Russia may call on its partners not to violate the arms embargo on Libya. Besides, Moscow could initiate the adoption by the UN Security Council of a troop withdrawal resolution of any units of foreign states from the territory of the Libyan State. This measure would significantly reduce the degree of tension that has arisen in Libya in the past few weeks. Also, Russia can be an intermediary in the negotiations between the Libyan House of Representatives and the GNA. This is especially evident after Russia's victories over ISIS in the Syrian Arab Republic, the Middle East and North Africa. Therefore, it's possible that the role of Moscow as a broker of dialogue will bring positive results.
From our partner RIAC
Libyan reconciliation: Via Moscow on to Berlin
During the January 8 talks in Istanbul, Turkey and Russia, acting as "mediators," called on all parties in Libya to "cease hostilities from midnight on Sunday, January 12, 2020, declare a sustainable ceasefire, supported by necessary measures to be taken for stabilizing the situation on the ground and normalizing daily life in Tripoli and other cities, to immediately sit down at the negotiating table in order to put an end to the suffering of the Libyans and return peace and prosperity to the country." The leaders of the warring parties – the Prime Minister of the Tripoli-based Government of National Accord (GNA) Fayez Sarraj and Field Marshal Khalifa Haftar, the commander of the eastern-based Libyan National Army (LNA) – were invited to Moscow for talks.
While the GNA, hard-pressed by the situation at the front, was quick to accept the Russian-Turkish proposal, Haftar, whose forces are advancing on the capital, took his time.
"We welcome [Russian President Vladimir] Putin's call for a ceasefire. However, our fight against terrorist organizations that seized Tripoli and received support of some countries will continue until the end," Haftar's spokesman said.
However, Haftar was eventually persuaded by Russia to attend the Moscow parley.
The negotiations between the rival Libyan leaders, preceded by consultations by Russian and Turkish foreign and defense ministers, were conducted through intermediaries. Sarraj refused to meet in person with Haftar, saying that the LNA continued its advance, but still agreed to a ceasefire deal proposed by Moscow and Ankara. Khalifa Haftar first said he needed time to think it over, and then left Moscow altogether, explaining to the Russian military representatives that he was taking a time out to consult with his allies. According to media reports, he was not content with the absence in the text of the agreement primarily of clauses concerning the dissolution of GNA units, the withdrawal of Turkish troops from Libya and the annulment of memorandums signed by Tripoli and Ankara. Buoyed by their gains on the battlefield, the LNA leaders apparently prefer to talk with their opponents from a position of strength.
It was apparently with this understanding in mind that, immediately after their commander's departure from Moscow, the LNA representatives said they were all set to achieve "the complete liberation of the capital from terrorists." According to media reports, shortly after that, hostilities resumed south of Tripoli.
Meanwhile, the GNA's ally, Turkish President Recep Tayyip Erdogan, threatened to "teach" Haftar "a lesson" if he did not stop his military advance on Tripoli. As to his ally, Sarraj, on his way back from Moscow, he made a stopover in Turkey, where he met with the US ambassador to Turkey, David Satterfield, at a hotel in Istanbul to discuss "issues of mutual interest."
Well, the foreign policy context of the Libyan crisis is by no means less complicated than Syria's. Sarraj is backed by Turkey and Qatar, and has Muslim Brotherhood units fighting on its side, while Haftar's Libyan National Army faction is supported by Egypt, the United Arab Emirates and Saudi Arabia. Europe is trying to reconcile the warring parties, and Italy, France, and more recently Germany, have equally been active in this effort. The United States is "waking up" too.
While Syria is of little interest to most Western nations, Libya happens to be a sort of Europe's underbelly the main flow of African refugees goes through. Besides, Libya's hydrocarbon reserves are incomparable with Syria's. Notably, just as Russian and Turkish officials were meeting in Istanbul, Sarraj was in Brussels meeting with EU representatives, and Haftar was on a visit to Rome.
Moscow has always kept an equal distance from both Tripoli and Tobruk (the seat of the House of Representatives and the interim government of Libya, supporting LNA), emphasizing its contacts with both sides of the conflict.
Now, Turkey and Russia have apparently decided to implement the successful Astana format, as some experts believe that the role once played by Iran could be assigned to Algeria both Moscow and Ankara are on good terms with now. During his inauguration ceremony last year, Algeria's new president, Abdelmadjid Tebboune, prioritized the development of closer ties with Libya.
This won't be easy though, just as the rival Libyan leaders demonstrated to a full extent in Moscow. Still, after many hours of negotiations, the Russian and Turkish foreign ministers spoke about having achieved "certain progress." As a result of the two countries' diplomatic effort, the irreconcilable (at least for now) Libyan enemies eventually arrived in Moscow – the last time Sarraj and Haftar met was a year ago, even before the LNA launched its "decisive attack" on Tripoli (April 2019). Moreover, "the main result of the meeting was the achievement of agreement in principle between the conflicting sides to maintain and indefinitely continue the cessation of hostilities, which creates a more favorable atmosphere for the Berlin Conference on Libya," the Russian Defense Ministry said in a statement.
Russia wants much more than just to replicate Syrian developments, even the most successful ones. Moscow wants to get Europeans and regional actors working together to end the bloodshed in Libya.
"We want to combine the efforts being made by Europeans, including Germans, French and Italians, and by Libyan neighbors – Algeria, Egypt, and also the UAE, Turkey, Qatar, and the Russian Federation, to make sure that everyone works together to encourage all the Libyan parties to come to an agreement," Russia's acting Foreign Minister Sergey Lavrov said ahead of the Berlin Conference on Libya, scheduled for January 19.
Germany hopes to bring Fayez Sarraj, Khalifa Haftar, representatives of Russia, the US, China, Britain, Italy, France, Turkey, Egypt, Algeria, the United Arab Emirates, the African Union, the EU, the United Nations and the League of Arab States to the negotiating table to discuss and, quoting German Foreign Minister Heiko Maas, "possibly adopt" a document that will lead to a sustainable cessation of hostilities and start the political process under the auspices of the United Nations.
Skeptical as many experts are about the outcome of the Berlin meeting, it still seems that chances of success look very real. On the one hand, the position of Fayez Sarraj, who earlier said he was ready to agree, remains precarious. On the other hand, the highly representative lineup of participants in the Berlin forum may well convince Haftar (or his representatives, if the Field Marshal does not show up) to more realistically assess his capabilities. Therefore, the LNA's activities following the Moscow talks could just be an attempt to strengthen its negotiating position ahead of the Berlin Conference.
From our partner International Affairs