Turkey Will Get a Chunk of Syria: An Advantage of Being in NATO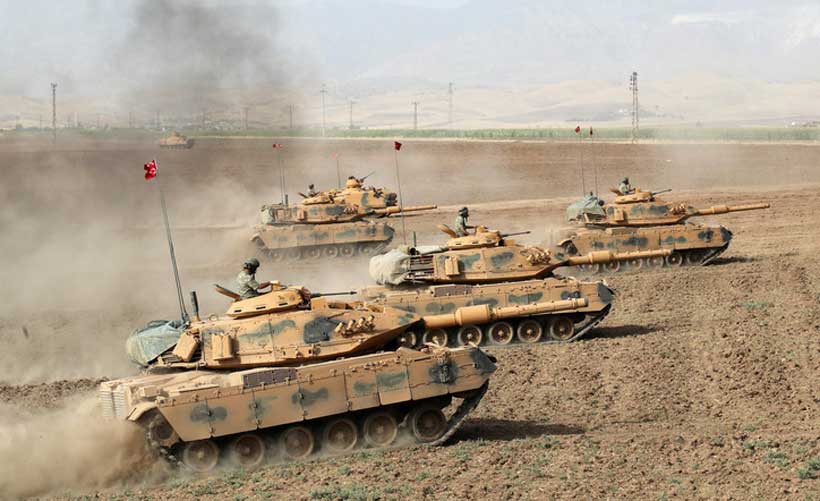 The success of Turkey's takeover of Syria's most pro-jihadist province, Idlib, is making less and less likely that Syria will be able to continue maintaining Idlib as being a part of Syria. (This is something I had predicted, back on 14 September 2018, to be possible or even likely, and now it is actually happening.) On July 10th, Reuters headlined "Assad hits a wall in Syrian war as front lines harden", and reported that, "More than two months of Russian-backed operations in and around Idlib province have yielded little or nothing for Assad's side. It marks a rare case of a military campaign that has not gone his way since Russia intervened in 2015. While resisting government attacks, the insurgents have managed to carve out small advances of their own, drawing on ample stocks of guided anti-tank missiles that opposition and diplomatic sources say have been supplied by Turkey." It continues:
Moscow has appeared keen to preserve its ties with Ankara even as its air force bombs in support of Assad: Turkey says Russia has intervened to stop attacks on Turkish forces from Syrian government-held territory. … The Idlib area is dominated by Tahrir al-Sham, the jihadists formerly known as the Nusra Front. [And before that, they were called Al Qaeda in Syria, but Western news-agencies, such as Reuters, prefer not to mention that fact, especially because the U.S. used_Nusra to train 'our' proxy boots-on-the-ground 'moderate rebels' in Syria to bring down Syria's Government. Elsewhere, the Reuters article calls them 'insurgents'.] Some 300,000 people fleeing bombardment have moved toward the Turkish border since April, prompting the United Nations to warn that Idlib was on the brink of a "humanitarian nightmare".
For Ankara, the Syrian opposition's last major state sponsor, preventing another major influx of Syrian refugees is of paramount importance: Turkey already hosts 3.6 million of them. …
A Russian private military contractor who was based near Idlib province told Reuters that rebel fighters there are far more professional and motivated than their adversary. Pro-government forces cannot win the battle for Idlib unless Moscow helps them on the ground, he said. …
"Of course the regime [that's the legitimate Government, but Western 'news'-agencies such as Reuters call it 'the regime', and most of their audience don't even recognize that their own intelligence has just been insulted by Reuters when it calls Syria's Government a 'regime', which only the invading countries actually are] has the desire to recover Idlib by force [as if the sovereign Government of Syria doesn't have this right — it's Syrian territory, after all, but Reuters doesn't care about that fact], but … without the Russians it can't [tsk, tsk: those 'nasty' Russians are defending Syria from the supposedly 'kindly' U.S.-Saud-backed proxy-armies that are led mostly by Al Qaeda in Syria, and which invaders have actually destroyed Syria], because there are many militants and the Russians are completely committed to the Turks," the source said.
Reuters, naturally, quotes enemies, not defenders, of Syria. Western mainstream 'news'-media are constantly insulting the intelligence of their audiences, as if their audiences cannot distinguish propaganda from honest news-reporting. Unfortunately, however, their assumption on that might be right.
Syria's Government is fighting hard against jihadist forces in Idlib who meet Turkey's standard of being 'moderate rebels' against Syria's Government, but unless Russian forces there — which were invited in by Syria's Government, instead of being invaders there like Turkey and the United States are — will commit far more forces for the defense of Syria (which seems increasingly unlikely), Turkey will win Idlib as being a part of Turkey.
Consequently, Turkey is already starting to build infrastructure even immediately to the north and east of Idlib in order to stake its claim to a yet larger portion of Syria than just Idlib. This might not have been part of the deal that was worked out by Russia's Putin, Iran's Rouhani, and Turkey's Erdogan, in Tehran, on 9 September 2018, which agreement allowed Turkey only to take over — and only on a temporary basis — Idlib province, which is by far the most pro-jihadist (and the most anti-Assad) of Syria's 14 provinces. Turkey was instead supposed to hold it only temporarily, but the exact terms of the Turkey-Russia-Iran agreement have never been publicly disclosed.
Until that 9 September 2018 Tehran conference, Idlib had been the province to which Syria's Government was busing defeated jihadists who had surrendered instead of choosing to stay and die where they were. Syria's Government had given its surrounded jihadists this final option, in order to reduce as much as possible the numbers of jihadists' civilian hostages who would also likely be killed in an all-out bombing campaign there. So, the existing population of Idlib, which was already the most pro-jihadist in Syria, was now starting to overflow with the additional thousands of defeated jihadists who had chosen to surrender instead of to be immediately killed.
At that time, just prior to the Tehran conference — and this was actually the reason why the conference was held — the U.S. and its allies, and the U.N., were demanding that an all-out invasion of Idlib, which had been planned by the Governments of Syria and of Russia, must not take place, for 'humanitarian' reasons. There was all that 'humanitarian' concern (led by the United States) for the world's biggest concentration of Nusra and Nusra-led jihadists — and for Syria's most jihadist-supporting civilian population. So much 'kindness', such 'admirable' 'humanitarianism'. Furthermore the U.S. Government was threatening to greatly increase its forces against Syria if that invasion by Syria and by Russia into Idlib (which is, after all, part of Syria — so, what business is it, even of the U.N., at all?) were to be carried out. The Tehran conference was meeting in order to resolve that emergency situation (mainly America's threats of a possible war against Russia), so as to forestall this attack.
However, now that it's clear that Erdogan will not follow through on his generally understood promise that this would be only a temporary military occupation of Idlib, the question is: what can Syria and Russia and Iran do to keep Idlib inside Syria, and whether they even want to do so. If Syria loses those jihadists, then not only will it lose the perhaps hundred thousand surviving jihadists there — many of whom came from other countries in order to fight against Syria's secular Government — but also will lose some of those Idlib natives, who were always against Syria's secular Government. Since those people would no longer be voting against Bashar al-Assad, because they would become Turks, this would actually be a Syrian political advantage for Assad. Yet, he has been resisting it, in order to hold Syria together. He has always been committed to holding Syria together.
Turkey's negotiating position is exceptionally strong, because Turkey now is riding the fence between the U.S. alliance, NATO (of which Turkey has been the only predominantly Muslim member ever since it joined in 1952), versus Russia. According to a major report in English from Iran's Fars News Agency — which had translated from published Arab sources in many countries and which report hasn't been denied by any of them — Russia had saved Erdogan's life on 15 June 2016, when there was a coup-attempt to get rid of him. Headlining on 20 July, just five days after the failed coup, "Erdogan Warned of Incoming Coup by Russian Alert", Fars said that,
Several Arab media outlets, including Rai Alyoum, quoted diplomatic sources in Ankara as saying that Turkey's National Intelligence Organization, known locally as the MIT, received intel from its Russian counterpart that warned of an impending coup in the Muslim state.
The unnamed diplomats said the Russian army in the region had intercepted highly sensitive army exchanges and encoded radio messages showing that the Turkish army was readying to stage a coup against the administration in Ankara.
The exchanges included dispatch of several army choppers to President Erdogan's resort hotel to arrest or kill the president.
The standard treatment of this matter in U.S.-and-allied 'news'-media was to ignore the coup and to downplay any U.S. role in it, but other news-media haven't been so dismissive — for examples: On 29 July 2016, Erdogan tactfully suggested that "US general is on side of coup plotters: Erdoğan", as one Turkish newspaper headlined it. On 2 August 2016, the New York Times bannered "Turks Can Agree on One Thing: U.S. Was Behind Failed Coup". On 18 August 2016, I headlined at Strategic Culture Foundation, "What Was Behind the Turkish Coup-Attempt?" and provided some of the reasons why the U.S. regime almost certainly was. On 8 July 2019, Michel Chossudovsly, at his Global Research, headlined "A Major Conventional War Against Iran Is an Impossibility. Crisis within the US Command Structure" and he said, "Turkey's exit from NATO is almost de facto. America can no longer rely on its staunchest allies." He even said "Turkey is now aligned with Russia and Iran." However, his article didn't so much as even mention the coup — nor any other possible reason for this shocking switch.
In any case, after that event, Turkey's foreign policies definitely switched away from being clearly U.S.-allied, to being on the fence and calculated purely to serve Turkey's advantage, no longer tied, at all, to NATO or the U.S., and, in many important respects, very much contrary to the U.S. regime. In fact, Erdogan has been emphatic that this coup had been led by Fethullah Gulen, a billionaire Muslim cleric, formerly allied with Erdogan, who since moving to the U.S. in 1999 has been his bitter enemy. In fact, some of NATO's forces in Turkey were participating in the attempted coup. However, Erdogan holds on tenaciously to that NATO membership, because it gives Turkey enormous leverage it can use in order to grab territory from Syria, which the U.S. regime wants Turkey to do.
Here is how Erdogan has clearlly committed Turkey to taking at least parts of Syria's northeast:
On 6 June 2018, Reuters headlined "Turkish university to open campus in northern Syria" and reported that, "Turkey's Harran University, in the southeastern province of Sanliurfa [Turkey], said it is preparing to open a faculty in Al-Bab [Syria] for students in towns under Turkish control. … The Turkish cabinet has also approved opening a vocational high school in Jarablus [Syria] affiliated with Gaziantep University, Turkey's official gazette said on Tuesday."
On 30 July 2018, Syria.LiveuaMap headlined "Turkey start[s] to build highways starting from Cobanbey-al-Bab to Jarablus-Manbij in Syria" — all of which is in the parts of Syria's north that Turkey controls.
On 23 May 2019, Gaziantep University posted an announcement of "The Global Syrian Refugee Crisis" conference to be held in Gaziantep, Turkey, on 14-18 October 2019, and also announced that: "The medium of instruction of our university is entirely English in %80 of faculties and Turkish in some faculties. However, after the ferocious civil war in Syria, we opened four departments (Engineering, Architecture, Administration and Theology) that teach in Arabic language. This was achieved by hiring Syrian academic staff in these programs which created opportunities for refugee students who want to continue their studies in Arabic." So, it does seem to be Erdogan's intention that directly across the border in Syria, this part of what has, until recently, been a part of Syria, is to be instead a part of Turkey. This would be the chief favorable outcome for the U.S. regime resulting from the Syrian portion of the CIA-planted "Arab Spring" rebellions in 2011.
On 27 May 2019, the Daily Sabah headlined "Turkey to Build New Faculties to Promote Higher Education in Northern Syria" and reported that
Gaziantep University, located in southern Turkey close to the Syrian border, decided to offer education for Syrians living in the northern part of the war-torn country, the areas that were liberated by Turkey's two cross-border operations. …
The university applied to Turkish education officials to set up four faculties in northern Syria's al-Bab, Azaz and Mare districts, which is planned to focus on economics, business, teaching and engineering; some 2,700 prospective students have already taken proficiency exams. The faculties will be the second move by Gaziantep University as it previously opened a vocational school last year in Aleppo's Jarablus district. While vocational education currently continues in five departments, the university is planning to expand it with four more and to provide education for 500 students.
In 2016, Turkey launched Operation Euphrates Shield and cleared about 2,000 kilometers of area in northern Syria, which was once dragged into darkness by the Daesh terrorist organization.
This seems to reflect Syria's actual capitulation to Turkey, which henceforth is to control that area — permanently. The only question now is how large the seized area will turn out to be.
The first person, it seems, who recognized quickly the significance of this takeover was the tweeter "domihol" who on 28 May 2019 posted
Turkey is also throwing serious money at its seemingly permanent slice of Syria.
You don't build universities just so Damascus can take it over soon.
Right below that is his:
I'm sorry to say – my prediction for Syria's near and possibly medium term future still holds …
Dominic | دومينيك added,
[15 December 2018] prediction:
TRUMP gets the oil & gas
ERDOGAN gets the water
PUTIN gets the "mission accomplished" moment …
9:49 AM – 28 May 2019
However, his predictions there (as is routine for tweets, which are good for communicating only bumper-stickers) are unsupported by anything. For example: Where is Turkey's oil and gas? Is it actually anywhere near to the Turkish border? Here's a map which shows where it is, and that's certainly not near the Turkish border.
In addition, the U.S. regime is evidently preparing to assist Turkey's takeover of parts of Syria, but focuses it specifically against Iran. On 24 May 2019, the U.S. State Department advertised a "Grant Opportunity" for NGOs to be "Supporting Local Governance and Civil Society in Syria" and are offering up to $75 million to each, in order to "Counter extremism and disinformation perpetuated by Iranian forces" and "End the presence of Iranian forces and proxies in Syria" and otherwise support America's war against Iran. Perhaps the U.S. and Turkey have agreed that U.S. operations against Syria will continue in the Turk-seized areas after the U.S. occupation of the remaining parts of Syria has ended.
If Assad were to give a press conference now, the first question to ask would be: "Is Syria going to allow Turkish universities and highways to be built on Turk-seized Syrian territory?" Because, if the answer to that is anything like yes, then not only would it seem that Turkey has won against Syria and Russia and Iran, but so too has the U.S., whose fall-back position, ever since it first tried a coup in Syria in 1949, has been to at least break off a piece of Syria, when and if it failed to take the whole thing. The construction of a Turkish university, highway, and/or etc., in Syria, would be a huge apparent win for Donald Trump, but an even bigger apparent victory for Tayyip Erdogan, who now seems to be, yet again, a member of America's alliance against Russia. (And Iran, too, would seem to be endangered by Syria's apparent defeat in that part of Syria. But maybe not: is Turkey going to end altogether its alliance with the U.S.?)
Usually, successful aggression is impossible without allies, and the U.S., again, seems to have Turkey as one — and as an extremely important one (more important, perhaps, than ever before).
The U.S. Government wants to remove land from Syria's Government. The Turkish Government wants to be the Government that actually takes it. So, U.S. and Turkey seem to have made a deal. Turkey took Syrian territory while promising (as the Qatar regime's Al Jazeera headlined on 5 June 2018 — "YPG confirms withdrawal from Syria's Manbij after Turkey-US deal"). Al Jazeera reported there that, "The Syrian Kurdish People's Protection Units (YPG) said its military advisers would leave the town of Manbij a day after Turkey and the United States said they reached an agreement on the armed group's withdrawal." Those two foreign invaders against Syria (Turkey and U.S.) came to this agreement in Washington DC, regarding their respective invasions: Turkish forces won't conquer YPG (separatist-Kurd) forces in any part of Syria unless and until that part has already become instead a part of Turkey — swallowed-up by Turkey. The U.S. will be protecting those Kurds until the U.S. ends its military occupation of Syria. After that, those Kurds will be on their own.
Back on 10 January 2018, Elijah J. Magnier had commented, "Syrian President Bashar Al-Assad also considers Turkey to be another occupying force in northern Syria. He would like to liberate the entire Syrian territory, which is not the case with Russia, which would prefer to end the war as soon as possible and undertake the work at the negotiating table." Magnier seems to have been correct: Russia appears not to be objecting to Turkey's land-seizures in Syria. Therefore, Turkey is a "middle-man" between both U.S. and Russia — strategizing with both.
On 19 January 2018, Tony Cartalucci commented, "The Syrian government with support from its Russian, Iranian, and Lebanese allies has embarked on a major military operation to retake parts of Syria's northern governorate of Idlib. As it does so, the US and its regional allies are rushing to position themselves to ensure the permanent partition of Syria is achieved." He continued (all of which has likewise subsequently been borne out):
It should be noted that Afrin is located between [Idlib and] territory Turkey is currently occupying. Turkish troops, should they seize Afrin
[which they soon did]
, would effectively have expanded Turkey's "Euphrates Shield" by 30 miles (53 km) and present an opportunity for its troops to link up with troops of Turkey's "Idlib Shield." This would create a large, singular buffer zone within which US-NATO forces could harbor militants driven back by Syria's most recent offensive.
Depending on Turkey's success, the zone could be expanded even further, even as far as including Idlib city itself [which happened in September of that year] – thus granting the US an opportunity to present it as a second Syrian "capital" much in the way Benghazi was used in Libya during US-led regime change there. There remains, however, the fact that Idlib is openly occupied and administered by Al Qaeda, making the proposal of transforming it into an "opposition capital" particularly dubious.
Meanwhile, the US itself continues its own uninvited, illegal occupation of Syrian territory east of the Euphrates, having previously justified the invasion and occupation of Syrian territory under the guise of fighting the so-called "Islamic State" (ISIS). …
The US occupation of Syrian territory will be difficult for Damascus and its allies to contest without being drawn into a direct military confrontation. Turkey's occupation may be easier to confound, but if sufficient political will exists to maintain it along with US backing, it could effectively result in a Golan Heights-style occupation of Syrian territory [by Turkey] that provides a long-term geopolitical pressure point versus Damascus for years to come.
And while US efforts to destroy Syria have fallen short, the US now permanently occupies territory within one of Iran's closest and most important regional allies. Like a splinter under the skin turning septic, the US occupation will remain a constant potential source of wider infection both for Syria and the rest of the region.
Perhaps Cartalucci was the first person publicly to recognize what has been happening here.
On 8 February 2018, Russia's RT bannered, "US-led coalition conducts 'defensive' airstrikes against Syrian forces", and reported, "The US-led coalition has also firmly stressed its 'non-negotiable right to act in self-defense,' since its service members are embedded with the [anti-Syrian] 'partners' on ground in Syria. … 'It's very likely that the Americans have taken a course of dividing the country. They just gave up their assurances, given to us, that the only goal of their presence in Syria – without an invitation of the legitimate government – was to defeat Islamic State and the terrorists,' Lavrov said."
All of this, likewise, has since been borne out. Key was the September 2018 Tehran summit of Erdogan, Putin and Rouhani (Syria not even being represented there), to decide how to handle Syria's most pro-jihadist province: Idlib. (It's even more jihadist than Raqqah, where ISIS was headquartered, and which is the second-most-jihadist.)
On 9 September 2018, the Turkish-Government-controlled (and this also means anti-Syrian) Daily Sabah newspaper bannered "The outcome of the Tehran summit" and reported that:
We know for a fact that Erdoğan's goal was to prevent the Russians and the Assad regime from carrying out a comprehensive operation in Idlib. In this sense, he got what he wanted. At the joint press conference, the Russian president announced that the three countries, at the request of President Erdoğan, urged all parties to lay down their arms. As such, it became possible to prevent another humanitarian disaster, a new influx of refugees, the collapse of the Astana process [which Putin had established to replace the U.N.'s U.S.-approved peace process immediately after Obama bombed on 17 September 2016 Syria's Army at Deir Ezzor — which bombing by the U.S. violated the ceasefire agreement that Obama's Secretary of State John Kerry had just signed with Russia's Foreign Minister Sergey Lavrov on 9 September 2016] and the radicalization of moderate opposition, who would have moved closer to the Hayat Tahrir al-Sham (HTS) [Al Qaeda in Syria]. At the same time, a clear distinction was made between 'terrorists' and opposition groups. At the same time, there is no doubt that the Iranian president's proposal to remove the United States from the east of the Euphrates river was in line with Erdoğan's own agenda.
Actually, however, the truthfulness of that last sentence is still very much in doubt.
The ultra-reliable Al Masdar News reported on 10 September 2018 that "Russia and Iran have already informed Turkey that they will not accept any jihadist factions inside of Idlib; however, the latter is attempting to convince Moscow and Tehran to avoid carrying out the attack in favor of Ankara clearing these groups." Putin and Rouhani accepted Erdogan's promise there (of "Ankara clearing those groups"), and consequently allowed Turkey's troops to handle Idlib. But, evidently, Erdogan had been lying about that. He didn't eliminate the jihadists — he has instead been protecting them (except that his forces attack the Kurdish-independence forces against Syria's Government, the anti-Assad fighters whom Erdogan authentically has been obsessed to kill).
The very next day, on September 11th, Paul Mansfield at Syria News headlined "Erdogan Buys Time for Terrorists at the Tehran Summit" and he observed that
The Turkish newspaper Daily Sabah released the components of Turkey's plan for Idlib. It doesn't take a genius to figure out it effectively means annexing Syrian territory, entrenching Turkish proxy Free Syrian Army forces, while falsely legitimizing their presence through a trilateral agreement, one made (it should be mentioned) without the presence of the country it concerns: Syria.
On 18 September 2018, another of the Turkish regime's major newspapers, Yeni Safak, headlined "Turkey tells 50,000 FSA fighters to be ready for deployment as tensions rise in Idlib" and reported that, "As the Assad regime and Russian warplanes viciously attack the last opposition-held stronghold of Syria's Idlib, Turkey ramped up its military reinforcements in northern Syria and instructed over 50,000 Free Syrian Army (FSA) [that being the Turkish-led anti-Assad] fighters stationed in Afrin, Azaz, Jarabulus, al-Bab and al-Rai to 'be ready for military deployment.'"
This anti-Syrian report continued, "The Bashar al-Assad regime recently announced plans to launch a major military offensive in Idlib, which is controlled by various armed opposition groups." It didn't mention that those "armed opposition groups" were the members of Al Qaeda-led forces defeated elsewhere in Syria who had chosen to be bused by the Syrian Government into the most pro-jihadist Syrian province, Idlib, instead of to be outright shot to death on-the-spot by Syrian troops, where they had been fighting. Such crucial information was left out of Western news-reports.
It went on: "An attack on Syria's Idlib, the last opposition-held stronghold, would be a massacre," and (since this newspaper reflected Erdogan's anti-Assad, meaning anti-Syrian, viewpoint) it alleged that "Russia and Assad regime target civilians" instead of try to exterminate jihadists — especially now in Idlib itself, to which Syria's Government had, indeed, been busing the surviving defeated jihadists. (As was previously noted, the only alternative that Syria's Government had had regarding those hold-out fighters would have been simply to go in and slaughter not only them but the human shields behind whom they were fighting, which would have enormously increased the civilian casualties, which the 'barbaric' Assad-led Government was always trying to avoid doing. So: that's how and why so many of the Al Qaeda-led forces came to be collected inside Idlib to begin with.)
NOTE:
Erdogan might be a double-agent here. But how could Turkey be building infrastructure in Syria and not be permanently taking that land? All of those "seems to be" could be wrong, but it's hard to see how Syria's Government could accept any such blatant grab of land away from their nation. I had written on 14 September 2018 about Erdogan's duplicity, headlining "U.S. Protects Al Qaeda in Syria, Proven":
Erdogan is in both camps — America's and Russia's — and playing each side against the other, for what he wants. But he could turn out to be the biggest loser from 'his' success here.
If he exterminates Idlib's jihadists, then the U.S. side will condemn him for it. But if he instead frees those jihadists to return to their home-countries, then both sides will condemn him for having done so.
The biggest apparent 'winner' from all this, Erdogan, could thus turn out to be the biggest real loser from it. And the biggest apparent 'loser' from it, Assad, could turn out to be the biggest real winner from it.
Then, three days later, on September 17th, I argued that the big winners from this will probably be Putin, Erdogan, Rouhani, and Assad. The headline of that was "Putin and Erdogan Plan Syria-Idlib DMZ as I Recommended", and the basic case was presented that this would turn out to be only a feint on Erdogan's part, and that he and Putin and Rouhani (and Assad) would all benefit from this feint by Erdogan, and take home the win. It still could be that. But only Erdogan himself probably knows. And who can read his mind? The main sign I would look at is whether Putin and Rouhani just ignore, as much as possible, Turkey's 'seizures' of Idlib and of the most-jihadist parts of Aleppo province bordering Idlib to Idlib's immediate east. (For example, this fundamentalist-Sunni family from Sweida — which is perhaps the most pro-jihadist southern province — migrated during the war to Al-Bab, which is Turk-controlled.) If Putin and Rouhani ignore Turkey's solidification of its control over those areas of northern Syria, then this is how the U.S. side and proxy forces — jihadists and Kurdish fanatics — might lose in Syria, and be forced out of there. This Turkish 'win' would entail a loss for both the U.S. and its proxy-forces, especially the Kurds. But it would also entail Syria's loss of the areas that were always the greatest thorn in Assad's side. In that case, America's former proxy-forces in northwest Syria — Al Qaeda's surviving Syrian forces, plus the separatist Kurdish forces — would henceforth be under Erdogan's control. If Putin, Rouhani and Assad won't object to that, then the main loser could be the U.S. regime, which would cede to Erdogan not only America's last holdout in Syria but also all of its proxy-forces in Syria, henceforth to be totally subject to whatever Erdogan has in mind for them. However, the biggest losers could still be the Turkish and the American regimes. But that would be true only if the surrounded U.S. forces in Syria's northeast become forced out. If the U.S. occupation stays in Syria, then the U.S. and Turkey will have taken all of northern Syria. But no oil or gas is there, either. (It's south of there.) What, consequently, is this war even about, any longer? Is it about contending national leaders who refuse to acknowledge defeat? Is that now the only real reason for all of this ongoing death, and destruction? Is it just pure ego?
If Turkey quits NATO, then the biggest loser from the end-part of the Syrian war would be the U.S. and its allies. But, of course, the biggest losers from the entire war are the Syrian people. There's no doubt, whatsoever, about that. 
Author's note: first posted at The Saker
Politics by Other Means: A Case Study of the 1991 Gulf War
War has been around since the dawn of man and is spawned by innate human characteristics. Often, when efforts at resolving conflicts fail diplomatically (be it at the nation or international level), war is what follows and seemingly the only other option. As Clausewitz, the famed Prussian military commander and military theorist, once said, "War is not merely a political act, but also a real political instrument, a continuation of political commerce" and, despite the horror and destruction of war, war is necessary for the conduct of foreign policy. War and physical combat allows for resolutions that cannot come about from any other way, once all legitimate foreign policy tactics have been exhausted. With the U.S. there are an abundant amount of examples showing how direct military conflict has solved a foreign policy problem. The 1991 Gulf War is a prime example.
The Gulf War began in August of 1990, when Iraqi tanks rolled over the Iraqi-Kuwait border, claiming vast oil reserves and annexing the country. Saddam Hussein's Iraq had just come out of the Iran-Iraq War, an almost eight-year, prolonged war of attrition which ended with, "an estimated quarter of a million dead…over 60,000 Iraqis [as] prisoners of war…[and] had run up a debt of over $80 billion…[with] the collapse of world prices meant that Iraq's oil revenues in 1988 amounted to $11 billion, less than half its 1980 revenue". Not only this, but Iraq had been fighting what was essentially a civil war in Iraqi Kurdistan, which involved the use of chemical weapons against civilians. The hundred year plus dispute between Iraq and Kuwait about sections of the border with essential waterways leading to the Gulf, the economic hardships and falling price of oil, the U.S. severing ties with the Middle Eastern nation due to war crimes and crimes against humanity, and the fear of decreasing power and influence in the region, and the desire to attain the funding for nuclear weapons programs were all central factors in Iraq's invasion of Kuwait.
International outcry was swift and critical of Saddam's actions. This was largely due to the fact that Iraq was now closer to Saudi Arabia and the threat of him and Iraq controlling a substantial portion of the world's oil reserves was very real. Richard Kohn, a professor of military history at the University of North Carolina-Chapel Hill, discussed this with NPR, stating, "The stakes in 1990 and '91 were really rather enormous. Had Saddam Hussein gotten control of the Saudi oil fields, he would have had the world economy by the throat. That was immediately recognized by capitals around the world". Immediately following the invasion, on August 03, the United Nations Security Council demanded that Iraq withdraw from the country and, when Iraq did not abide by this demand, the UN "imposed a worldwide ban on trade with Iraq (The Iraqi government responded by formally annexing Kuwait on August 8)". The U.S. too engaged and tried to push the Iraqis out of Kuwait by placing U.S. troops in Saudi Arabia, utilizing this military presence as a deterrent.
Despite such action by the most powerful international foreign policy and diplomatic body in the globe, and diplomatic action on the part of the U.S. and other foreign nations, war still occurred in January of 1991, which eventually pushed Saddam out of Kuwait via aerial and naval bombardment and, by February, had armor and infantry troops rolling towards Baghdad. The question that remains is, was the war necessary to solving the situation in Iraq and did such military action further international foreign policy goals of the United States?
War was the only other option that the United States could take when dealing with Saddam. The United Nations, the Arab League, and the United States had all vitriolically and openly opposed Saddam's invasion of Kuwait. When Iraq tried to open diplomatic channels to resolve the crisis (while not complying with the UN's order and keeping troops in Kuwait), the U.S. requested that the Iraqis comply with the decree and pull out of Kuwait, following Margaret Thatcher and Britain's line of thought that concessions to a dictator would strengthen the Iraqi influence and desire for more power.
While the fact that the United States did not try to pursue a diplomatic avenue with Iraq in this matter is certainly an interesting method, it is also understandable. Giving in to Iraq's desires and granting them concessions when they had flagrantly disregarded international law and violated the sovereignty of a fellow nation state (in addition to committing horrendous crimes against their own population), capitulating to the Iraqi government would have been a mistake. It would have solidified their power and their influence within the region and would have seemingly legitimized their standpoint.
Not only would negotiating on such terms have legitimized their view and stance, but it effectively would have been negotiating with a terrorist. The former Deputy Chief of Mission for the U.S. Embassy in Baghdad from 1989 to 1991, Joseph C. Wilson, (who would later play a key role in the Plame Affair during the Iraq War), discussed how, "several hundred hostages were held by Saddam, 150 Americans as well as another 70 in our care to keep them out of Iraqi hands…There is no doubt that our personnel and our families were at risk, in considerable danger in fact,". Hussein's motivation for holding these Americans and others of varying nationalities (notably British) was most probably to utilize them as a deterrent to an attack from the West. Engaging in capitulation and trying to negotiate with someone who was essentially a terrorist (utilizing terror and violence, or the threat of such action, to attain a political goal) was not something that the United States nor the United Kingdom was willing to do under any circumstances.
The United States, in this instance, was dealing with a terrorist and a dictator, a megalomaniac who was determined to reclaim what he believed was rightfully Iraqi territory and gain access to further wealth through illegal means. The potential of his army in securing what were important and essential global financial centers in the Middle East was serious and it is possible he was planning to invade Saudi Arabia at some point. Saad al-Bazzaz, the former head of both the Iraqi News Agency and the Iraqi Radio and Television Establishment in addition to being an aide to Saddam, alleged in 1996 that, "the Iraqi leader ordered the elite Republican Guard to be ready to launch an offensive…nine days after the invasion of Kuwait…The invasion plans called for four divisions, or 120,000 troops, to thrust into the desert to capture oil fields more than 180 miles away". The fact that Iraqi troops also, in January of 1991, after the initial aerial bombardment, captured the small, Saudi Arabian coastal city of Khafji, lends credence to the idea that Saddam may have been planning something larger. al-Bazzaz also alleged that Saddam again began planning an invasion of Saudi Arabia while the Battle of Khafji was ongoing, but resorted to defense when it was apparent he would lose Kuwait.
Upon the conclusion of the Gulf War, what did the U.S. gain? One of the most significant achievements in the aftermath of the conflict was that the United States was able to create a coalition of military forces (including those from Middle Eastern nations like Syria and Egypt) to side with other nations (former colonizers like France and the United Kingdom) who are often opposed to their conduct of foreign policy or have fraught relationships. As well, the State Department's Office of the Historian notes, "Although Russia did not commit troops, it joined the United States in condemning Iraq, its long-time client state". The Office goes on to describe how Secretary of State Baker and his staff went about gathering allies and were instrumental in assisting in diplomatic and coordination efforts for the eventual air and ground campaign. The U.S. gained improved relationships that bonded by the pursuit of an enemy and the removal of a foreign power from a sovereign nation and were further solidified in the UN's policing of Iraqi airspace and nuclear deproliferation programs.
Often, wars can be prevented and all out avoided through the use of diplomacy and foreign policy. The Vietnam War, the 1898 Spanish-American War, and the Chaco War of the 1930's between Bolivia and Paraguay are prime examples of when diplomacy should have been utilized to the fullest effect and in which foreign policy officials and avenues for conflict resolution were not fully considered or utilized. However, in this instance, war was the only viable option for removing Saddam from Kuwait and returning the country to its rightful citizens. Negotiating or trying to work with the Iraqi government on the terms they had decided (meaning working with them in a foreign territory they have illegally acquired) would have given their actions an aura of legitimacy and possibly emboldened Saddam to further push the boundaries of international law. By giving Saddam an ultimatum and proceeding with physical combat and engaging in a war, war with Iraq was the correct decision when considering the person and government being dealt with.
Middle Eastern interventionism galore: Neither US nor Chinese policies alleviate
A recent analysis of Middle Eastern states' interventionist policies suggests that misguided big power approaches have fueled a vicious cycle of interference and instability over the last decade.
Those approaches are abetted, if not encouraged by US and Chinese strategies that are similar, if not essentially the same, just labelled differently. The United States has long opted for regime stability in the Middle East rather than political reform, an approach China adopts under the mum of non-interference in the internal affairs of others.
As a result, both the United States and China de facto signal autocrats that they will not be held accountable for their actions. This week's US response and Chinese silence about the suspension of democracy in Tunisia illustrates the point.
The policies of the two powers diverge, however, on one key approach: The US, unlike China, frequently identifies one or more regimes, most notably Iran, as a threat to regional security. In doing so, US policy is often shaped by the narrow lens of a frequently demonized 'enemy' or hostile power.
The problem with that approach is that it encourages policies that are based on a distorted picture of reality. The Obama administration's negotiation of a 2015 international nuclear agreement to curb Iran's nuclear program proved that amending those policies constitutes a gargantuan task, albeit one that is gaining traction with more critical trends emerging in both the Democratic Party and among Evangelists.
The recent study, 'No Clean Hands: The Interventions of Middle Eastern Powers, 2010-2020,' published by the Washington-based Quincy Institute for Responsible Statecraft, suggests by implication that China has at the vey least allowed instability to fester in the Middle East that is fueled as much by destabilizing Iranian interventions as by similar actions of various US allies.
The study was authored by researcher Matthew Petti and Trita Parsi, the Institute's co-founder and executive vice president and founder and former president of the National Iranian American Council.
To be sure China may not have been able to influence all interventionist decisions, including the US invasions of Afghanistan and Iraq, but potentially could have at times tempered the interventionist inklings of regional players with a more assertive approach rather than remaining aloof and focusing exclusively on economic opportunity.
China demonstrated its willingness and ability to ensure that regional players dance to its tune when it made certain that Middle Eastern and Muslim-majority countries refrained from criticizing Beijing's brutal attempt to alter the ethnic and religious identity of its Turkic Muslim population in the north-western province of Xinjiang.
Taking Syria as an example, Li Shaoxian, a former vice president at the China Institutes of Contemporary International Relations, articulated China's approach in 2016 as Chinese President Xi Jinping paid his first visit to the Middle East. "China doesn't really care who takes the presidency…in the future—as long as that person could stabilize and develop the country, we would agree," Mr. Li said.
To be fair, the Quincy Institute study focuses on the interventionist policies of Middle Eastern states and recommendations for US policy rather than on China even if the report by implication has consequences for China too.
A key conclusion of the study is that the fallacy of US policy was not only to continue to attempt to batter Iran into submission despite evidence that pressure was not persuading the Islamic republic to buckle under.
It was also a failure to acknowledge that Middle Eastern instability was fueled by interventionist policies of not just one state, Iran, but of six states, five of which are US allies: Israel, Qatar, Saudi Arabia, Turkey, and the United Arab Emirates. The US allies, with the exception of Turkey and to a lesser degree Qatar, are perceived as supporters of the regional status quo.
On the other hand, the United States and its allies have long held that Iran's use of militant proxies in Lebanon, Iraq, and Yemen; its intervention in Syria and support of Hamas, the Islamist group that controls the Gaza Strip; and its armament policies, including its nuclear and ballistic missiles programs, destabilize the Middle East and pose the greatest threat to regional security.
They assert that Iran continues to want to export its revolution. It is an argument that is supported by Iran's own rhetoric and need to maintain a revolutionary façade.
Middle East scholar Danny Postel challenges the argument in a second paper published this month by the University of Denver's Center for Middle East Studies that seems to bolster the Quincy Institute's analysis.
"The view of Iran as a 'revolutionary' state has been dead for quite some time yet somehow stumbles along and blinds us to what is actually happening on the ground in the Middle East. A brief look at the role Iran has played over the last decade in three countries — Lebanon, Iraq, and Syria — reveals a very different picture: not one of a revolutionary but rather of a counter-revolutionary force," Mr. Postel argues.
The scholar noted that Hezbollah, the powerful Iranian-backed militia in Lebanon, and pro-Iranian armed groups in Iraq responded in similar ways to mass anti-government protests in 2019 and 2020 in Lebanese and Iraqi cities that transcended sectarian divisions and identified the Iran-aligned factions with widespread corruption that was dragging their countries down.
They attacked the protesters in an attempt to salvage a failed system that served their purpose and suppress what amounted to popular uprisings.
"Do they really think that we would hand over a state, an economy, one that we have built over 15 years? That they can just casually come and take it? Impossible! This is a state that was built with blood," said an Iraqi official with links to the pro-Iranian militias. A Hezbollah official speaking about Lebanon probably could not have said it better.
Iranian support for Syrian President Bashar al-Assad's brutal suppression of a popular revolt is no less counter-revolutionary and illustrative of the length to which Iran is willing to go to protect its interests.
"Indeed, for all the talk of Iran's 'disruptive' role in the region, what the cases of Syria, Iraq, and Lebanon reveal is instead an Islamic Republic hell-bent on keeping entrenched political establishments and ruling classes in power while helping them quell popular movements for social justice, democratic rights, and human dignity," Mr. Postel concludes.
"The idea that Iran is a revolutionary power while Saudi Arabia is a counter-revolutionary power in the region is a stale binary. Both the Islamic Republic and the Saudi Kingdom play counter-revolutionary roles in the Middle East. They are competing counter-revolutionary powers, each pursuing its counter-revolutionary agenda in its respective sphere of influence within the region," Mr. Postel goes on to say.
Counterterrorism expert Matthew Levitt appeared to contradict Mr. Postel in a paper published this week that asserted that Hezbollah remained a revolutionary pro-Iranian force in its regional posture beyond Lebanon.
"Hezbollah's regional adventurism is most pronounced in its expeditionary forces deployed in Syria and elsewhere in the region, but no less important are the group's advanced training regimen for other Shi'a militias aligned with Iran, its expansive illicit financing activities across the region, and its procurement, intelligence, cyber, and disinformation activities," Mr. Levitt said.
Mr. Postel's analysis in various ways bolsters the Quincy Institute report's observation that tactics employed by Iran are not uniquely Iranian but have been adopted at various times by all interventionist players in the Middle East.
The Quincy Institute study suggests further that a significant number of instances in the last decade in which Middle Eastern states projected military power beyond their borders involved Turkey, the UAE, Saudi Arabia, and Qatar on battlefields that were as much related to competition for regional influence among US allies or the countering of popular movements as they were to rivalry with Iran.
"Iran is highly interventionist, but not an outlier. The other major powers in the region are often as interventionist as the Islamic Republic – and at times even more so. Indeed, the UAE and Turkey have surpassed in recent years," the report said.
The report's publication coincided with the indictment of billionaire Thomas J. Barrack, a one-time advisor and close associate of former US President Donald J. Trump, on charges of operating as an unregistered foreign agent in the United States for the UAE, widely seen as another case and form of intervention by a Middle Eastern state.
By implication, the study raises the question whether compartmentalizing security issues like the nuclear question and framing them exclusively in terms of the concerns of the West and its Middle Eastern allies rather than discussing them in relation to diverging security concerns of all regional players, including Iran, will lead to a sustainable regional security architecture.
There is little indication that thinking in Washington is paying heed to the Quincy Institute study or Mr. Postel's analysis even though their publication came at an inflection point in negotiations with Iran suspended until President-elect Ebrahim Raisi takes office in mid-August.
That was evident in a proposal put forward this month by former US Middle East peace negotiator Dennis Ross on how to respond to Iran's refusal to discuss its ballistic missiles program and support of armed proxies as well as Mr. Al-Assad as part of the nuclear negotiation. Mr. Ross suggested that the United States sell to Israel the GBU-57 Massive Ordnance Penetrator, a 30,000-pound mountain-buster capable of destroying hardened underground nuclear facilities.
Members of Congress last year offered legislation that would authorize the sale as a way to maintain Israel's military edge as the United States moves to reward the UAE for its establishment of diplomatic reltions with Israel by selling it top-of-the-line F-35 fighter jets.
The administration is expected to move ahead with the sale of the jets after putting it on hold for review when Joe Biden took office In January.
The Quincy Institute and Mr. Postel's calls for a paradigm shift in thinking about the Middle East and/or Iran take on added significance in the light of debates about the sustainability of the Iranian clerical regime.
Contrary to suggestions that the regime is teetering on the brink of collapse as the result of sanctions and domestic discontent, most recently evidenced in this month's protests sparked by water shortages, widely respected Iran expert Karim Sadjadpour argues that the Iranian regime could have a shelf life of at least another generation.
Mr. Sadjadpour draws a comparison to the Soviet Union. "Post-Soviet Russia… didn't transition from the Soviet Union to a democratic Russia, but it essentially became a new form of authoritarianism which took Communism and replaced it with grievance driven Russia nationalism—led by someone from the ancient regime and a product of the KGB, Vladimir Putin," Mr. Sadjadpour argues.
"Likewise, if I had to make a prediction in Iran, I think that the next prominent leader is less likely to be an aging cleric—like an Ayatollah Khamenei or Ibrahim Raisi—and more likely to be someone who is a product of either the Revolutionary Guards or Iran's intelligence services. Instead of espousing Shiite nationalism, they will substitute that with Iranian nationalism—or Persian nationalism," he goes on to say.
An Iranian nationalist regime potentially could contribute to regional stability. It would likely remove the threats of Iranian meddling in the domestic affairs of various Arab countries by empowering Shiite Muslim groups as well as support for political Islam. Iranian nationalism would turn aid to groups like Hezbollah in Lebanon militias in Iraq, and the Houthis in Yemen into a liability rather than an asset.
Mr. Sadjadpour's prognosis coupled with the Quincy Institute report suggests that the Biden administration has an opportunity to reframe its Middle East policy in the long-term interests of the United States as well as the region and the international community.
The nuclear talks are one potential entry point to what would amount to the equivalent of turning a supertanker around in the Suez Canal – a gradual process at best rather than an overnight change. The US withdrawal from Afghanistan may be another.
Concern in Beijing, Moscow, and Tehran about the fallout of the withdrawal suggests that stabilizing the greater Middle East in ways that conflicts can be sustainably managed if not resolved creates grounds for China, Russia and the United States to cooperate on what should be a common interest: securing the free flow of oil and gas as well as trade.
China, Russia, and Iran may be bracing themselves for worst case scenarios as the Taliban advance militarily, but the potential for some form of big power cooperation remains.
China scholars Haiyun Ma and I-wei Jennifer Chang note that in the case of Afghanistan "despite the Taliban's advancement on the ground and its call for Chinese investment, the current military situation and the political process have not yet manifested a power vacuum created by the US retreat, which makes Chinese entry and gains…largely symbolic in nature."
The Russian bear in Lebanon
It turned out that the Biden-Putin summit on May 16 has established a wider effect than anyone would expect.
It exceeded by far political analysis, especially in Lebanon. The summit almost coincided with the Russian economic delegation's visit to Beirut on the 18th of the same month and the announcement of its study results to initiate investments projects in Lebanon.
The results revealed the Russian delegation's future plans in rebuilding the oil refineries in Zahrani and Tripoli and rehabilitating the latter's port. Regardless of the projects, the Russian companies intend to deal with, if they are approved and encouraged by good signs changes can be relied upon. It means that Lebanon has taken an important leap in its economic policies by gradually moving towards the East.
Naturally, Lebanon's orientation towards the East "if it happens" will not be absolute and definitive, but rather principled and partial. This is an important matter by itself. It is marked as a qualitative leap that may minimize the private companies' monopolization of energy imports, which will be directly reflected, firstly, in electricity production in Lebanon, and secondly in facilitating the provision of petroleum products in Lebanon. Such projects became a necessity, in particular, after the collapse of the Lebanese lira against the American dollar.
Logically, changing the reality of the production of electricity will reveal immediate results. It will be reflected in the change in the rehabilitation of the economic infrastructure fields in Lebanon. It will also positively reflect in other vital areas, such as determining the prices of food commodities, which became outrageously high.
Accordingly, one of the most important reasons for the obscene rise in food prices is related to the high costs of transportation in the last month alone. It is almost above the purchasing power of the Lebanese. For example, the prices of vegetables and fruits, a non-imported commodity, which is not supervised by government support, remained within reasonable prices; however, once the diesel prices started rising, it directly affected the prices of the seasonal vegetables and fruits.
In addition, there are unseen accomplishments that will go with the entry of Russian companies, which is creating new job opportunities in Lebanon. Lately, it was reported that unemployment in Lebanon will reach 41.4% this year. It is a huge rate, which the Lebanese media, in general, use to provoke people against the current resigned government. However, it neglects to shed the light on the importance of the Russian investment in creating new job opportunities, which will affect all social groups, whether they were transporters, building workers, porters, cleaners, or university graduates.
The companies coming to Lebanon are directly supported by the Russian state. However, they are private companies, a fact that has its advantages. They are familiarized with dealing with other Western international companies. Russian companies have previously coordinated with French and Italian companies in Lebanon, through contracts concluded for the extraction of gas in Lebanese fields and in other fields outside Lebanon. Russian- European coordination process is also recognized in rebuilding Beirut's harbor. A German company will rebuild the docks, while the French will rebuild the containers or depots, and the Russian companies will rebuild the wheat silos.
It seems that the process is closely related to the future of Lebanon and the future of the Chinese project, the New Silk Road, [One Road, and One Belt]. However, it is not clear yet whether the Russian companies will be investing in Tripoli's refinery and in regenerating and expanding its port or it will be invested by the Chinese companies. If this achievement is accomplished, then Tripoli will restore its navigating glorious history. Tripoli was one of the most important ports on the Mediterranean. Additionally, there is a need for the Russian and the Chinese to expand on the warm shores of the Mediterranean Sea.
Secondly, the project will boost Tripoli and its surroundings from the current low economic situation to a prosperous economic one, if the real intentions are there. The results in Tripoli will be read as soon as the projects set foot in the city. Of course, this will establish another Sino-Russian victory in the world of economy and trade, if not in politics as well.
The entry of the Russians and the Chinese into the Lebanese field of commerce has international implications. It will come within international and global agreements or understanding. Nevertheless, it is a sign that the Americans are actually losing their grip on Lebanon. This entry will stop the imposition of a limited number of European-oriented Lebanese monopolizing companies, which have dominated the major Lebanese trade of oil and its products. Dominance is protected with the "illusion" of meaningless international resolution. It is true that the Americans are still maneuvering in several places; however, this is evident to the arbitrariness of decisions making in the U.S. today. It is the confusion resulting from ramifications of the "Sword of Jerusalem" operation in Palestine; it seems that they do not have a clear plan towards policies in the region, other than supporting "Israel".
If the above is put into action, and the Russian companies start working within a guarantee agreement with the Lebanese state. This means a set of important issues on the international and regional levels. And it also means that the Americans would certainly prefer the Russians to any Chinese or Iranian economic direct cooperation in Lebanon.
Firstly, it is clear that in their meeting Mr. Biden and Mr. Putin reached a kind of consent to activate stability in the region. Two years ago, the Americans had a different plan. According to an established source, the Americans actually intended to strike internal stability in Lebanon and ignite another civil war round, before finalizing stability in Syria. This assertion tunes with David Hale's, an American envoy to Lebanon, a declaration about the American anger over the $10 billion spent in Lebanon to change the political reality and overthrow Hezbollah from the government. Consequently, the American project is behind us now. Russia and China need to invest in the stability of Lebanon, in order to secure their investments in the process of rebuilding Syria.
Secondly, the Lebanese state guarantee, which the Russians require, is directly related to the lack of confidence in the Lebanese banking policies, which have lost their powers as a guarantor for investments after the role they played since November 17, 2019 till today. It proved the inefficiency of the financial policies of the Lebanese banks, which was based on the principle of usury since the nineties of the last century. In addition, a state guarantee will enable the Russian companies to surpass the American sanctions.
The state guarantee increases the value and importance of the Lebanese state as an entity in the region, and this can be understood from Macron's statements after the explosion of Beirut port last August when he said that Lebanon's role in the region as we know it must change.
Thirdly, if we consider the history of international unions in the world, including the European Union, the (Persian) Gulf Cooperation Council and others, they started as economic alliances before they end as political alliances. Therefore, at this historical stage and in order to work on the economic recovery of Lebanon, which needs more investments instead of falling under the burden of more debts. Lebanon needs to head East towards economic unity with Syria. In cooperating with two superpowers, Lebanon and Syria can form an economic bloc on the Mediterranean shores, a bloc that can get Lebanon out of the vortex of Western absurdity and expand its alliances and horizons to be a real economic and cultural forum where the East and the West can meet.
From our partner Tehran Times