Gambling with the Nuclear Button in South Asia
Over the last decade, India's rapid expansion of its conventional and nuclear arms capabilities have presented a worrying dilemma with regard to the South Asian region's security and stability. This holds especially true considering how its clear ambitions to translate its economic rise into a menacing projection of hard-power have remained on full display particularly under the BJP's tenure. While many observers have come to regard these ambitions as the ruling party simply pandering to the populist vote, the steady consistency with which this policy has been carried throughout the last decade represents a dangerous mindset that appears to have become deeply engrained within India's civil and military bureaucracy. This mindset and its obsession with external hard-power is further evident in the institutionalization of concepts such as Cold Start and Surgical Strikes both of which have been formalized as part of the Indian State's official policy as well as its military doctrine.
For instance, both these concepts have been defined at length in the Joint Doctrine of the Indian Armed Forces that was released in April 2017 as well as the Indian Army's Land Warfare Doctrine that was published the following year. As a clear signal of its regional ambitions, both these documents have also unmistakably identified Pakistan and China as India's principle source of threats. In order to counter these threats these same documents advocate the development of military strategies aimed at pre-set and purportedly restrained instances of minimal force projection that allow India to remain well within the nuclear threshold. This threshold that currently pervades throughout India's strategic rivalry with both Pakistan and China is arguably the key to maintaining the delicate strategic balance that currently pervades throughout the South Asian region. A region that otherwise comprises of a key locus for the world's future economic growth and development.
However, the fact that India's stated policy is to radically alter this strategic balance represents a dangerous mindset, that is based more on its own solitary potential for growth rather than that of the wider region. In what can be termed as nothing short of a myopic outlook to the entire region's trajectory, India's efforts at enhancing its force projection capabilities and tilting this delicate balance in its favor is replete with risks. Risks that are in turn deeply rooted in unqualified and broad-ranging premises that assume both Pakistan and China to remain as passive spectators to its aggressive military posturing.
Hence, by constantly aiming to raise the nuclear threshold, the above-mentioned concepts of cold start and surgical strikes are in essence aimed at downplaying the risks of a potential nuclear exchange in South Asia. From a purely rational perspective, this policy while appearing as nothing short of madness, openly flirts with the grave sanctity of the escalation ladder on which the region's strategic planners and decision-makers rely on when calculating the possibility of a potential nuclear first-strike. As a Nuclear Weapons' State (NWS) that shares disputed borders with two other Nuclear Weapons' states, India's dangerous posturing is thus heavily dependent on it being perceived as a responsible Nuclear power to both Pakistan and China. However, it is this perception of being a responsible NWS which India is actively working to negate as evident in its leaders' jingoistic saber-rattling.
These include regular statements by Indian leaders in which by openly alluding to the death and annihilation of its strategic rivals, one can witness a certain normalization of nuclear brinkmanship which has become a modus operandi of sorts for Prime Minister Modi. Similar allusions to India possessing the 'Mother of all Bombs'(in the form of perhaps thermo-nuclear weapons) also represents a kind of posturing that is aimed at upending the status-quo and provoking a response. These statements when coupled with the Indian military-bureaucracy's clear allusions to reneging its No First Use policy, have further led to even greater ambiguity with regard to India's strategic calculus. As a result, all these instances represent a dangerous precedent being set for what is considered as 'acceptable risk' by India's strategic planners.
While such negative posturing has been successful in communicating India's increased risk-appetite to its strategic rivals, what's unclear is whether these risks are based on a credible deterrence capability or quite simply, the egoistic hubris of its elected leaders and bureaucratic machinery. In what can perhaps only be described as an infantile staring contest; in which one's sole chance of survival from a nuclear holocaust is counting on the other party's willingness to blink first, the Indian state's projection of hard-power seems to be based on more of a wild gamble than the well-thought out contingencies of a major nuclear power.
Hence, with the Indian leadership's official preference of a defence policy steeped in the risks of nuclear exchange, the merits of institutionalizing its approach to brinkmanship is something that appears downright non-sensical in this day age. Especially during a time where economic growth and human development remain as some of the region's most pervasive challenges, India's aggressive regional posturing hark back to the politics of a bygone era in times that otherwise require a visionary approach to fostering regional peace and stability.
Lithuania: To serve or not to serve in the army
It is well known that in 2015 Lithuanian authorities reintroduced compulsory military service due to the potential threat caused by the Russian Federation.
It should be said, that young Lithuanians do not appreciate the idea and try to avoid the service in every possible way. They even are not afraid of penalties and imprisonment.
In order to force them to serve Lithuanian authorities are inventing new "tools" to make the process of avoidance the conscription harder.
From the beginning of 2015 all Lithuanian men aged 19-26 had to perform compulsory military service in the Lithuanian Armed Forces for a period of 9 months if fate decided.
The matter is the way of choosing the men who will serve is more than surprising. They say that 2 percent of men are randomly selected to complete vacancies in the army within the year. The lists of military conscripts then are published on the Internet. But "randomly" could also mean "nobody knows how they are selected."
At the beginning of this year authorities lowered the age range at which men are called up for mandatory military service to 18-23 years and banned volunteer soldiers from holding seats in the parliament and municipal councils.
Defence Minister Raimundas Karoblis said that the aim of lowering the conscription age is to ensure that conscripts' military service causes the minimum possible disruption to their civilian lives.
The matter is the way of choosing the men who will serve is more than surprising. They say that 2 percent of men are randomly selected to complete vacancies in the army within the year. The lists of military conscripts then are published on the Internet. But "randomly" could also mean "nobody knows how they are selected."
In reality the Ministry of National Defence can't meet its recruitment goals.
The system includes Lithuanians living abroad who are forced to leave their home and come back for the service. The government of Lithuania doesn't care that men living overseas have their personal life, own career paths and financial responsibilities.
The military authorities are trying to take immigrants for service on purpose, not caring about their personal problems, including health issues and financial commitments.
They also discriminate homosexual men by giving them specific tests to find out how gay they are, including a talk with the psychiatrist. Because homosexuality is still a sickness in Lithuania, with existing laws against gay people.
A lot of Lithuania men who decided not to come back for the service, are often wanted by police, and in some circumstances might end up in prison for up to 3 years.
Thus, in December 2019, 24-year-old Marius H. from Kedainiai was prosecuted for not visiting the military registration and enlistment office, but did not change his position. He said later that he would not go to serve, it is not in his interests. He has a well-paid job in Belgium and is not going to change his way of life. So he paid penalty (800 euros) and left for Belgium. And he is not the only one in the country who has made such choice.
Evidently, it is impossible to solve the problem in that way, using methods of coercion and punishment. Unfortunately, reintroducing of compulsory military service was the decision of the authorities, finding the ways to avoid it is the choice of youth. If the government doesn't respect the citizens, the citizens have a right not to obey their decisions.
Assessing India's Enhanced Air Defence Shield with reference to Pakistan's MIRV Capabilities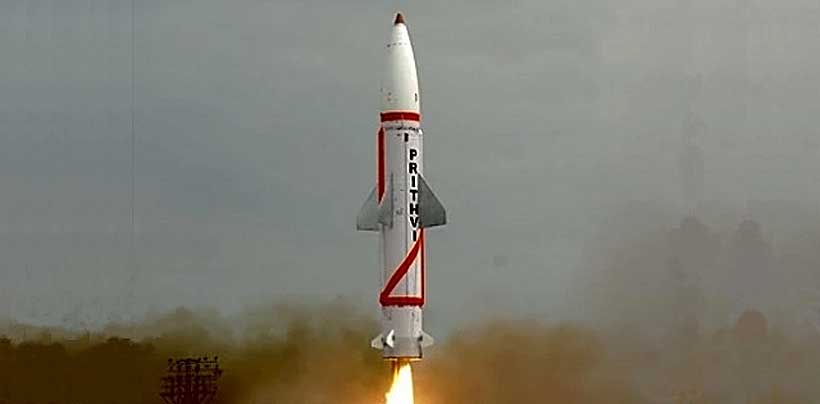 Since the last few years, India has been continuously carrying out an extensive military modernization program aimed at enhancing its counterforce capabilities vis-à-vis Pakistan. Under this notion, one of its most important components is the enhancement of its air defence capabilities aimed at providing an extensive multi-layered air defence shield. This has been done partly by combining indigenously developed systems with some of the world's most expensive and advanced Missile Defence Systems which India has been purchasing over the last few years. Pakistan, due to its economic constraints cannot compete with India on a tit for tat basis. Hence, to address such a threat, Pakistan, for the time being, seems to be enhancing its indigenously developed Multiple Independent Reentry Vehicle (MIRV) capabilities. These, in turn, are aimed at accurately penetrating the Indian Air Defense network that is being currently developed, by swarming it with a plethora of smarter and precision-based warheads to devastating effect.
At present, India possesses and intends to acquire various air defence systems in its missile defence inventory. These include indigenously developed ballistic missile defence systems such as the Prithvi Air Defence (PAD) missiles, the Advanced Air Defence (AAD) Ashwin missiles and the Barak-8 missile defence system which has been jointly developed with Israel. Furthermore, to enhance its future capabilities, India had also signed an agreement with Russia for the acquisition of the S-400 anti-missile system back in October 2018, the delivery of which is expected in October this year. In another significant development, India reportedly intends to acquire the 'National Advanced Surface to Air Missile System-II (NASAMS-II), a medium-range missile system from the US. India's acquisition of advanced missile defence systems such as these would thus likely destabilize the pre-existing deterrence framework in South Asia, as it would embolden India to consider countering Pakistan's existing range of warhead delivery systems such as its ballistic missiles, cruise missiles, fighter jets, and unmanned aerial vehicles with greater impunity.
In order to restore stability, Pakistan has two choices; firstly, in the long term, to purchase similar, albeit expensive missile defence systems from the international market – such as from Russia and/or China. A tall prospect which already seems difficult given the country's economic difficulties. Secondly, to counter the Indian advanced air defence shield while staying within its existing doctrinal posture, it seems that the induction of an increased number of MIRV capable ballistic missiles appears as the more plausible and immediate solution.
It is worth mentioning here that Pakistan's Ababeel Ballistic Missile, a medium-range ballistic missile, which it had tested in January 2017, is believed to have introduced MIRV technology into Pakistan's nuclear arsenal with its reported range of 2200 kilometers. Pakistan's rationale for achieving this milestone is widely believed to be inclined towards neutralizing a broad range of the expected outcomes of India's military modernization drive, including the threat from its enhanced missile defence systems. This is further evident in the statements of Pakistan Military Officials, in which they have clearly stated that the development of the Ababeel weapon system is aimed at ensuring the survivability of Pakistan's ballistic missiles 'keeping in view the growing regional Ballistic Missile Defence (BMD) environment', hence further reinforcing nuclear deterrence.
In the same vein, there is widespread speculation that Pakistan's recently tested short-range ballistic missile Ghaznavi – with its operational range of 290 kilometers – is also MIRV capable. No matter the validity of such speculation, there is still an ongoing debate questioning whether Pakistan needs to have such a short-range MIRV capable ballistic missile. Particularly keeping in view India's counterforce designs which highlight an apparent shift towards nuclear counterforce and the notions of 'splendid first strike' and surgical strikes against Pakistan. A strategy that is, in turn, directly linked to its Air Defence modernization plans because such counterforce temptations might provoke Pakistani retaliation. Hence, the road-mobile Ghaznavi missile, based on its accuracy and, shorter range and flight times could thus be a prospective platform for being a MIRV capable delivery system aimed at penetrating the Indian Air Defence shield. Hence, for Pakistan, the provision of such short-range MIRV capable ballistic missiles like Ghaznavi would likely serve as a key deterrent against the Indian advanced air defence shield.
At the present, Pakistan by being overtly threatened by the ruling BJP government still holds a principled stance in working towards bringing about lost peace and stability in the South Asian region. However, Indian aspirations as evident in its ambitious military modernization plans have compelled Pakistan to take all possible measures to assure its security and preserve its sovereignty. As such Pakistan may need to expand its strategy of playing its cards close to its chest particularly when taking into account India's ongoing expansion of its Air Defence shield. In this regard, the induction and perhaps even testing of a medium to short-range MIRV capable missile seems to be the only way out, at least for the time being.
The Baltic States are Target Number One
From 1 January 2020 security of the Baltic airspace is ensured by three Command and Reporting Centers designed for specific national airspace surveillance, based in Tallinn, Lielvarde, and Karmėlava, instead of one joint unit.

It is said that they enhance capabilities of NATO's Integrated Air and Missile Defense System, regional interoperability, and reliability of protection of the Alliance airspace. On December 19 the new BALTNET (Baltic Air Surveillance Network and Control System) configuration and three national centers in Lithuania, Latvia and Estonia were inaugurated at a ceremony in Kaunas.

According to the Baltic States' officials, three countries have moved from the defensive to offensive measures in order to provide their security and defence.
The more so, the three Baltic Allies have launched the cooperative project of the BALTNET future configuration to further enhance their contribution to NATO's collective defence effort and architecture.

Major Pärn, senior Estonian officer at Baltic Control and Reporting Centre (CRC) Karmelava said that "a before-and-after comparison clearly shows that we are moving from peacetime construct with just one joint Baltic CRC to the crisis-and-conflict-capable architecture of three Control and Reporting Points, including back-up capabilities and clear responsibilities increasing support for Allies and enhancing our national skills in special fields such as surface-based air defense, integration of ground forces and intelligence."

This sounds like a very proud statement to any who is not accustomed with the situation.
At the moment, the Armed Forces of the three states are deprived of modern air defense systems. The main reason for this, as Estonian Defence Minister Jüri Luik admitted, is the lack of money.

For example, the Estonian Armed Forces continue to use the Soviet 23mm Anti-aircraft Cannon ZU-23-2, despite the supply of other systems. Thus, Tallinn has been purchasing the Mistral portable air defense missile systems. In 2018, the Ministry of Defence of Estonia signed a contract with the European company MBDA for the supply of these systems. However, the Mistral missiles have a range of 6km only.

In the coming years, Lithuania will remain the only owner of medium-range air defense systems in the region. In 2017, the Lithuanian Air Force was set to procure NASAMS mid-range air defense systems for $ 122.4 million from Norway. The missile is able to hit targets at the range of up to 40 km and at the height of up to 14 km. However, NASAMS, developed in the early 1990s, can't be named the most advanced air defense system.

Washington provides financial assistance to the Baltic States but the amount of funds allocated for the needs of air defense is small: as Luik previously reported, in 2020 Estonia, Lithuania and Latvia will receive a total of $ 50 million from the Pentagon's budget.
Generally speaking, the United States is interested in developing the air defense system of the Baltic region, but is not ready to invest substantial financial resources in it. For this reason, Russia doesn't consider BALTNET to be a serious threat.

At the same time, Russia is not going to tolerate the Baltic States' attempts to enhance NATO military strength near its borders. Moscow considers these measures as demonstration of readiness to attack. Its reaction is unpredictable and the Baltic States with its population have become real targets. BALTNET will help to detect a threat, but will not defend. On the other hand, three Baltic States are the NATO's shield, aimed to stop Russia in case of war. On the other hand, NATO, probably, could stop Russia in the Baltic States, but these countries in this case will cease to exist. They will be Target Number One with no chances.