10 Instagram Worthy Spots in Kuala Lumpur
Embark on a fascinating visual journey through Malaysia's Kuala Lumpur, where diverse cultures and artistic influences combine to form a vibrant, eye-catching landscape. In a place where ancient rainforest rubs shoulders with soaring skyscrapers, perspective is simply a matter of where you're standing. Located in the heart of the city, Four Seasons Hotel Kuala Lumpur is the ideal base for travellers to explore the richness of this unique destination – and take some stunning Instagram pictures.
Four Seasons Hotel Kuala Lumpur Concierge recommends 10 of the city's most photogenic spots:
1. Petronas Twin Towers
Situated next to the Hotel, these 88-storey twin towers define the modern cityscape of Kuala Lumpur – a symbol of the country's soaring ambitions and aspirations. Four Seasons guests can capture these iconic structures from a myriad of angles and at different hours. By day, the towers are lofty and striking; at night, they take on a dazzling aspect, glittering against the darkened sky.
2. KL Forest Eco Park
One of the oldest permanent forest reserves in Malaysia, KL Forest Eco Park offers photo opportunities galore. Experience the tropical jungle from a unique vantage point, perched on the 200-metre canopy walkway. Take in aerial views of lush treetops, with the city just beyond. Located a 10-minute drive from Four Seasons.
3. Thean Hou Temple
This six-tiered Buddhist temple, also known as the Temple of the Goddess of Heaven, is a wonderland of colour and imagery. Stately pagodas and intricate carvings form a spectacular backdrop, with quaint features at every turn – from a tortoise pond, to a medicinal herb garden. The hilltop temple also offers panoramic views of Kuala Lumpur.
4. Zhongshan Building
Connect with the city's flourishing creative community and get some great pictures in the bargain. Dating back to the 1950s, the Zhongshan building was originally an interconnected shophouse. Now repurposed as an independent arts hub, it is home to a gallery, a risograph printing studio, a standing café, a record store and a bookstore.
5. Nautilus Staircase
With a design that reflects the whorled shells of sea creatures, this spiral staircase is a symbol of the never-ending quest for knowledge. It is housed in the National Bank of Malaysia's museum, where you can delve into the country's financial history before heading upstairs for a fabulous shot of the Nautilus Staircase.
6. Bamboo Playhouse
Located in the picturesque Perdana Botanical Gardens, the Bamboo Playhouse is sure to find a special place in your heart as well as your reel. Inspired by traditional Malaysian pavilions, the airy bamboo structure is wrapped in verdant vegetation and features 31 interconnected, elevated platforms.
7. Laman Seni 7
Welcome to a world of rainbow hues and playful pictures at Laman Seni 7, a two-block area filled with vivid murals created by some of Malaysia's most talented street artists. The open-air gallery is designed to be interactive, so go ahead – strike a pose, take a selfie and join the fun.
8. Merchant Lane
Formerly a brothel, Merchant Lane on Petaling Street is now an atmospheric café with gorgeous Orient-inspired interiors and charming details, such as vintage objet d'art and floral motifs on the walls. Come for the visual feast, stay for the Malaysian fusion menu.
9. School Kids Mural
If you're heading to Petaling Street, don't forget to visit the "School Kids in a Riot" mural, a thought-provoking work of street art by Ernest Zacharevic. Four Seasons Concierge recommends an early morning start; once the workday begins, the mural gets blocked by parked cars.
10. Instagram Escalator
This remarkable escalator is located in NU Sentral, a trendy mall that is easily accessible from KL Sentral station. Nicknamed the Instagram Escalator by the city's millennials, it is back-dropped by geometric grills and the cityscape beyond. The views are equally compelling from the top as well as the bottom.
Trips that transform: How airline miles can transform a child's life
Maksim was just a few months shy of 2 years old when his parents rushed him to the emergency room for severe flu-like symptoms, only to find that their little boy was suffering from kidney failure. Since that day, Maksim has spent most of his six years in and out of hospitals, doctors' offices and dialysis treatments.
After receiving a life-saving kidney transplant from his father, Maksim and his family had to remain vigilant to protect him from any risk of infection by limiting his daily activities and exposure to other people. He has not had the life most children enjoy, as he is unable to go to school and play with other children.
Despite all of this, Maksim has always kept a positive attitude, as his parents observed: "His joy blows us away." Maksim's parents have chosen to put some of their own plans on the back burner while coping with his mounting medical needs and getting Maksim the care he needs to survive. Most of what Maksim knows and remembers in his short life is being sick — a life filled with needles, surgeries, side effects from medications, dialysis, hospitalizations and more.
Until Maksim's social worker told his family about Make-A-Wish(R).
Maksim is fascinated by sharks, and he wanted to visit Hawaii to spend time at the ocean. "I like playing with shark toys," Maksim said. "And I have a lot of shark books! I love when my parents read to me."
Due to medical delays, it was awhile before Maksim would be able to take such a trip, but once his wish came true, his parents described his wish trip to Hawaii as "pure joy."
"Every waking moment outside of his medical care was focused on him having fun," Maksim's parents said. "We all got to pause life's responsibilities and focus on fun and family. It was such a unique opportunity to take time out and do something special, because he has to live with this affliction for the rest of his life. At the end of the day, there just isn't much time left to spend together because there is always something else demanding your attention. Being granted time away like this brings tears to our eyes."
At Make-A-Wish, 77 percent of children's wishes involve some form of travel. Make-A-Wish has the resources to grant only half of those wishes. To make all of those life-changing wishes come true, the organization needs more than 3 billion airline miles or points and 25,000 room nights every year.
If you have unused or close-to-expiring airline miles/points, you can make a difference in the life of a child battling a critical illness. Donate your miles or points through participating travel sponsors, including American Airlines, United Airlines, Southwest Airlines, JetBlue and Delta Air Lines. And, once you donate miles and points to Make-A-Wish, they never expire.
Here's how you can help:
1. Visit wish.org/travel.
2. Select the airline(s) of the miles/points you would like to donate.
3. Know you have transformed the lives of wish kids and their families with your donation!
Your gift of airline miles/points is crucial for children with critical illnesses. That's because a wish trip creates an opportunity for a child to experience life beyond illness. It's also a chance for a family like Maksim's to reconnect and get much-deserved respite.
When asked what his favorite part of his wish trip to Hawaii was, Maksim responded, "I think the whole trip was my favorite part!"
To learn more about Make-A-Wish, visit wish.org or check out #TripsThatTransform on Instagram to see some of the amazing places wish families have experienced, thanks to Make-A-Wish donors and partners.
Top 4 Drives around Beverly Hills and L.A. to Experience in a 2019 Maserati Levante SUV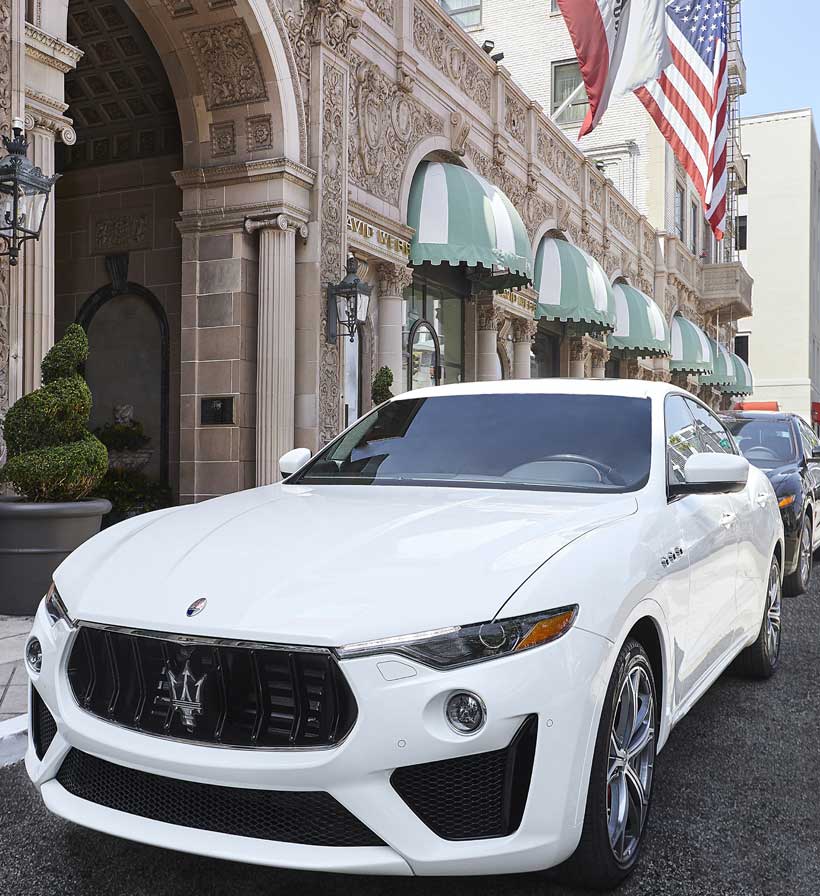 With a deep history of more than 100 years of Italian craftsmanship, Maserati's DNA is a balance of luxurious, sophisticated style paired with the soul of a race car. And as part of a new stay-and-drive package at Beverly Wilshire, A Four Seasons Hotel, the following driving tour suggestions will help guests experience the famed Maserati lifestyle and all that Beverly Hills and Los Angeles has to offer.
Rodeo Drive "Italian Craftsmanship" Loop
1 mile (1.6 kilometre) loop that takes approximately 10 minutes without traffic
Undeniably one of the most famous streets around the globe, experience luxury on this loop around the legendary Rodeo Drive. Expertly pairing Maserati's history of creating exquisite masterpieces with the storied history of Beverly Wilshire, A Four Seasons Hotel, car aficionados and enthusiasts will enjoy the best of Beverly Hills from a Maserati Levante.
Starting Point: Beverly Wilshire, A Four Seasons Hotel – 9500 Wilshire Blvd, Beverly Hills, California 90212
Depart Beverly Wilshire, A Four Seasons Hotel, originally built on the Beverly Auto Speedway. The then American board track, built in 1919, was home to speeding Model Ts and saw the likes of prominent race car drivers such as Jimmy Murphy and Harlan Fengler before the Hotel's opening in 1928.
Head west on Wilshire Blvd (0.1 miles).
Make a slight right onto N Camden Drive (0.3 miles).
Turn right at the 2nd cross street onto S Santa Monica Blvd (390 feet).
If you look to your left you will pass the Bang & Olufsen store, which is one of the brands that develops sound systems for Maserati.
Turn right onto Rodeo Drive.
On the right before you get to Brighton Way you will see BVLGARI at 401 N Rodeo Drive.  This legendary Italian jeweller creates one of a kind timepieces for Maserati owners.
Continue down Rodeo Drive and on your right you will see the Ermengildo Zegna store at 337 N. Rodeo Drive.  Zegna and Maserati are long standing partners and Zegna exclusively creates an optional silk interiors and soon to come in Spring 2020 a leather woven interiors for Maserati.
If you continue down Rodeo Drive to Wilshire Blvd you will be back at the renowned, Beverly Wilshire, A Four Seasons Hotel. Make a left on Wilshire Blvd, then a right on El Camino Drive, entering through the guard gates modelled after the Buckingham Palace gates.
End Point: Beverly Wilshire, A Four Seasons Hotel – 9500 Wilshire Blvd, Beverly Hills, California 90212
Mulholland Drive Scenic Overlook
6.2 miles (10 kilometres) that takes approximately 20 minutes without traffic
Pro Tip: Program 8591 Mulholland Drive, Los Angeles, California 90046 into your GPS
Best done in the daytime, stop at this popular overlook to see the city stretching into the distance beneath, complete with breath-taking views.
Starting Point: Beverly Wilshire, A Four Seasons Hotel – 9500 Wilshire Blvd, Beverly Hills, California 90212
Head east on Wilshire Blvd toward S El Camino Drive (479 feet).
Turn left onto N Beverly Drive (1.7 miles).
Stay left and continue  onto Coldwater Canyon Drive (2.8 miles).
Turn right onto Mulholland Drive.
Destination will be on the left.
End Point: Mulholland Scenic Overlook 8591 Mulholland Drive, Los Angeles, California 90046
Pacific Coast Highway to the Getty Villa
13.4 Miles (22 kilometres) that takes approximately 31 minutes without traffic
Pro Tip: The Getty Villa 17985 Pacific Coast Hwy, Pacific Palisades, California 90272 can be added to the GPS
Enjoy scenic coastal views as you travel on one of American's most scenic roadways, the Pacific Coast Highway to the esteemed Getty Villa. Offering an experience of ancient Greek and Roman art in a setting that recreates a first-century Roman villa, the museum is home to J. Paul Getty's antiquities collection. The two-floor museum displays art that spans the 7,000 years from the end of the Stone Age to the fall of the Roman Empire and is complemented by stunning fountains and gardens.
Starting Point: Beverly Wilshire, A Four Seasons Hotel – 9500 Wilshire Blvd, Beverly Hills, California 90212
Head south on S Rodeo Drive toward Charleville Blvd (0.5 miles).
Turn right onto W Olympic Blvd (1.8 miles).
Continue straight to stay on W Olympic Blvd (0.1 miles).
Turn left onto Overland Ave (1.1 miles).
Use the left 2 lanes to turn left to merge onto I-10 W (0.2 miles).
Follow I-10 W and CA-1 N to Getty Villa Drive 13 min (9.6 miles).
Merge onto I-10 W (2.8 miles).
Keep left to stay on I-10 W (1.7 miles).
Continue onto CA-1 N (5.1 miles).
Turn right onto Getty Villa Drive.
End Point: The Getty Villa 17985 Pacific Coast Hwy, Pacific Palisades, California 90272
Peterson Automotive Museum
2.3 miles (3.7 kilometres) that takes approximately 7 minutes without traffic
Pro Tip: Program 6060 Wilshire Blvd, Los Angeles, California 90036 to the GPS
Known as the entertainment capital of the world, Los Angeles not only invented the magic of movies and television, but in turn is recognised as the driver behind the nation's passion for vehicles due to Hollywood's influence on crafting captivating car movies throughout the years. To learn more about Hollywood's impact on the car culture, visit the Petersen Automotive Museum. Featuring more than 300 vehicles, make sure to visit the Made in Italy installation, which guides guests through the manufacturing process of the Maserati Levante, and the new Hollywood Dream Machines: Vehicles of Science Fiction and Fantasy, which explores the cult classic films and stories, bringing them to life through props, design drawings and physical vehicle models.
Starting Point: Beverly Wilshire, A Four Seasons Hotel – 9500 Wilshire Blvd, Beverly Hills, California 90212
Head east on Wilshire Blvd towards El Camino Drive (2.3 miles).
Turn right onto S Fairfax Ave (89 feet).
Turn left into Petersen Automotive Museum Parking.
End Point: Petersen Automotive Museum 6060 Wilshire Blvd, Los Angeles, California 90036
5 advantages of traveling on a small cruise ship
Close your eyes and imagine your perfect ocean voyage. Are you peaceful and serene, gently floating toward exciting ports? Do you imagine a leisurely trip, with a delightful itinerary and plenty of time to explore your ideal destinations?
If that's the picture of your dream cruise, chances are you're imagining a small ship. While the typical cruise may conjure the image of a huge, noisy, floating party, there are better options — with travelers like you in mind.
Here are five advantages of traveling on a small ship:
1. Unique and unusual ports
A smaller ship can bring you to more under-the-radar spots around the world, whose ports can't accommodate larger ships. Viking, for example, sails to remote Scandinavian ports including the stunning Lofoten Islands among jagged peaks of Norwegian mountains, or the picturesque fishing village of Skagen, Denmark's northernmost town. Smaller ships can also take you closer to the heart of your dream destinations such as the Sydney Harbor or the Thames River in London.
2. An intimate, relaxed journey
Ships with fewer than 1,000 passengers allow every traveler a more leisurely, intimate experience. You'll get to know your fellow passengers, the crew and the boat's amenities much better than on a large cruise ship. You'll spend less time just trying to find your way around a smaller vessel, allowing you to focus on what matters to you. Smaller ships also mean you'll experience much quicker and easier embarkation and disembarkation, with no long lines for anything onboard.
On Viking Sky and her sister ships, there are no more than 930 passengers. Each stateroom offers a private veranda, with no interior cabins. Viking hosts no children under 18, has no casinos and offers free access to the spa, creating a relaxed, peaceful ambiance so you can enjoy the journey as much as the exceptional destinations.
3. Culturally enriching experiences
Smaller ships allow for more fascinating tours, and savvy travelers can find the perfect itinerary to suit their tastes. Excursions on smaller ships afford more flexibility, often including interesting experiences larger ships wouldn't have time to offer. For example, Viking offers excursions that are designed to immerse guests in local cultures, including Local Life, Working World and Privileged Access experiences. Local Life excursions shine a light on everyday activities, such as a Viking Chef-hosted trip to a local farmers market, or tea at a home with local residents, while Working World excursions feature behind-the-scenes "making of" experiences like factory and farm visits highlighting local exports. Privileged Access excursions include unique experiences only available to Viking guests, such as an exclusive dinner in the Churchill War Rooms in London or a private cooking class in a Tuscan castle.
Travel experiences through Viking's ocean cruises are unique, such as the "Viking Homelands" itinerary, which includes Scandinavia and the Baltic, with overnights in Stockholm and scenic Bergen, plus the historic cities of Tallinn, Estonia, and Gdansk, Poland. If warmer climes entice you, the "West Indies Explorer" itinerary sails round trip from San Juan avoiding the long sea days from South Florida associated with most Caribbean cruises and allowing you more time to spend discovering the rich cultures of nine Caribbean islands over the 11-day sailing. You'll spend more time on shore, with at least one overnight stay on virtually every itinerary.
4. Unparalleled shipboard experiences
A smaller ship lets you choose the exact experiences you desire. Rather than aiming to please everyone, smaller cruise lines have the luxury of specializing in terms of not only itineraries, but the entire on-board experience. It's wise to research what amenities are included — or not included — on any ship before signing on to the journey.
5. Compelling value
Smaller ships can offer a greater variety of choices in terms of voyage length, types of accommodations, a better crew-to-passenger ratio (which means better service) and an overall experience that suits each passenger in a way that larger, one-size-fits-all cruises cannot. Search for the right experience for your dream voyage by listing your must-have amenities and destinations first — then don't settle for less.
Smaller cruise ships like Viking Sky and her sister ships offer luxurious amenities such as fine dining, complimentary beer and wine with lunch and dinner, free Wi-Fi and 24-hour room service. The onboard Spa draws on the holistic wellness philosophy of Nordic culture, so you can stimulate your circulatory system in the sauna, then be invigorated by the snow grotto, where snowflakes gently descend from the ceiling through chilled air. Viking even offers book collections thoughtfully curated by London's Heywood Hill throughout the ships.
If you yearn to travel by sea, consider options offered by smaller cruise ship lines, and look for your ideal experience. Your dream ocean voyage will reflect your interests, your travel style and the best experiences to suit your taste — so you'll enjoy the journey as much as the destinations.