IEA hosts high-level meeting on technologies for a clean energy future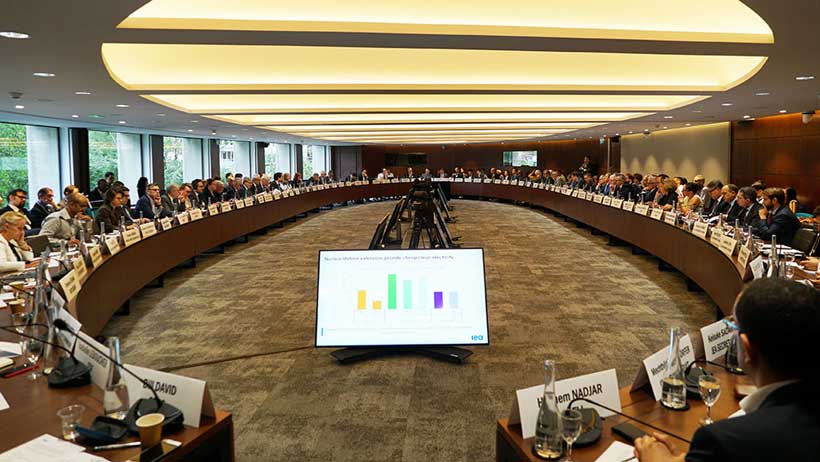 The International Energy Agency on 11 July hosted a discussion among leading global energy sector figures about technologies that can help to bring about a clean energy future, including hydrogen and nuclear power.
The main speakers at the event were Dan Brouillette, Deputy US Energy Secretary; Jean-Bernard Lévy, Chairman and CEO of EDF; Hiroshi Oe, Japanese Ambassador to the OECD and Chair of the IEA Governing Board; and Dominique Ristori, Director-General Energy at the European Commission.
The discussion at the IEA's headquarters in Paris was informed by two recent major reports from the IEA: Nuclear Power in a Clean Energy System and The Future of Hydrogen: Seizing Today's Opportunities.
At a time of profound change in the global energy sector, countries will require all the tools at their disposal to meet their commitments to tackling emissions and air pollution while maintaining energy security.
"I'd like to thank our speakers for the robust and rewarding conversation," said Dr Fatih Birol, the IEA's Executive Director, who hosted the event. "There is no miracle technology that will solve the daunting environmental challenges the world faces. We need continued innovation across a range of technologies, including renewables, energy efficiency, batteries, carbon capture and more. The IEA sees hydrogen and nuclear power as important parts of clean energy transitions in many countries, but they need help from governments to overcome significant obstacles."
Nuclear power is by far the largest source of low-carbon electricity in both Europe and North America, but many of their plants are aging. Without effective policies to spur new investment, advanced economies could lose as much as two-thirds of their nuclear capacity in the next 20 years, threatening global climate goals and energy security.
Hydrogen, which is currently enjoying unprecedented momentum, can help tackle various critical energy challenges. It offers ways to decarbonise a range of sectors where it is proving difficult to meaningfully reduce emissions, including long-haul transport, chemicals, and iron and steel. Hydrogen's ability to store and transport energy could enable renewables to make a greater contribution to the global energy system. But it has experienced false starts in the past and still faces big challenges to scale up infrastructure and bring down costs.
The meeting on 11 July to discuss these important energy issues highlights the IEA's role as the world's leading energy authority and its commitment to covering all fuels and all technologies. Guests included Lithunia's Minister of Energy Žygimantas Vaičiūnas. Lithuania has requested to join the IEA as a member country and the accession process has begun.
Burkina Faso: AfDB approves €48,82 million for Desert to Power Yeleen programme
The Board of Directors of the Bank has approved a €48,82 million loan to the Government of Burkina Faso for the Yeleen solar plant, intended to boost national power supply.
Yeleen, which is to be implemented under the Bank's Desert to Power ( DTP) Initiative, and which will span a period of five years from 2020-2024, is the second project under the DTP initiative in Burkina Faso. The total project cost is estimated at €136.69 million. The rest of the financing for Yeleen is provided by Agence Française de Développement (AFD), European Union (EU), and Société Nationale d'électricité du Burkina Faso (SONABEL).
The electricity access rate in Burkina Faso is one of the lowest in Africa at around 21% at national level in 2018. Upon completion, the project will increase and diversify electricity supply through the construction of four new 52 MWc photovoltaic (PV) plants and extend power distribution networks to connect 30,000 new households, or about 200,000 people. It will also contribute to the avoidance of 48,000 tCO2eq emissions annually.
Wale Shonibare, the Bank's Acting Vice-President for Power, Energy, Climate Change & Green Growth said: "This project will augment the Bank's efforts to ensure inclusive access to energy through improvements in rural electrification, regional interconnections and energy sector reforms. Notably, it will increase Burkina Faso's generation capacity by 15%, which will greatly help to reduce Burkina Faso's reliance on fossil fuel imports."
Dr. Daniel Schroth, the Bank's Acting Director for Renewable Energy & Energy Efficiency also added that the approval would further the Desert to Power Initiative's momentum in line with commitments made at the Sahel G5 Summit on 13th September in Ouagadougou.
"With this project, we are making concrete progress on two of the five priority areas under the Desert to Power initiative which include adding new solar generation capacity and strengthening the transmission and distribution networks," said Schroth.
The current project is part of Burkina Faso's broader 2025 Solar Programme, known as "Yeleen" with three components: (i) Development of photovoltaic plants (PV) connected to the interconnected national grid; (ii) Increase in the electricity distribution network; and (iii) Rural electrification by mini-grids (isolated) and individual solar systems. The rural electrification " Yeleen rural electrification project" which aims to to increase electricity access in Burkina Faso by connecting 150,000 households to solar mini- grids (50,000 household) and through stand-alone solar kits systems (100,000 households) was approved by the Bank in December 2018 with joint financing with EU and GCF.
The project aligns with Bank's Country strategy paper for Burkina Faso (CSP 2017-2021), its High-5 "Light Up and Power Africa"initiative, and the Bank's Climate Change plan. Desert to Power initiative aims to accelerate economic development by adding solar energy generation capacity of up to 10 GW by 2025 through a combination of public and private interventions.
Improving gender diversity in the energy sector is an important measure of success
Energy industries have lacked female participation throughout their history, with women making up only about one-fifth of the traditional energy sector labour force.
The International Energy Agency, which promotes the need for equal opportunities, today hosted a high-level event focused on how to advance gender diversity in the energy sector to support future workforce needs.
Held in Paris ahead of the IEA's biennial Ministerial Meeting, the event was chaired by Christyne Tremblay, Canada's Deputy Minister of Natural Resources, and Megan Woods, New Zealand's Minister of Energy and Resources. At the event, the United States launched the C3E International Ambassador Programme, which gives all countries an opportunity to nominate individuals who will support governments' efforts in improving gender diversity in the energy sector.
Other participants included ministers or senior government officials from Austria, Australia, Belgium, Finland, Germany, Italy, the Netherlands, Sweden, the United Kingdom and other IEA Family countries, as well as executives from several major energy sector companies. During the meeting, participants expressed enthusiastic support for advancing gender diversity across the energy sector and its importance for clean energy transitions.
"Achieving a better gender balance is not only an issue of fairness. It is also good for results as well, as studies show that diverse organisations perform better," said Dr Fatih Birol, the IEA's Executive Director.
Participants at the meeting emphasised the importance of integrating gender into energy policies, promoting female employment and careers, and sharing best practices. They welcomed the activities of C3E TCP, which aims to build a community of women leaders across a range of clean energy sectors, and the Equal by 30 campaign, which secures commitments from public and private sector organisations to work towards equal pay, equal leadership and equal opportunities for women in the clean energy sector by 2030.
The meeting identified those two initiatives as platforms to exchange best practices and strengthen collaboration in several areas, including knowledge and data collection, recognition of female leadership, reducing barriers and raising ambition on implementation.
The 2019 IEA Ministerial Meeting is taking place in Paris on 5-6 December. It is chaired by Mr Michał Kurtyka, Poland's Minister of Climate and the President of COP24. Ministers of IEA Member, Accession and Association countries and CEOs of leading companies are attending the meeting.
ADB Approves $300 Million to Reform Pakistan's Energy Sector
The Asian Development Bank (ADB) today approved a $300 million policy-based loan that will help the Government of Pakistan to address financial sustainability, governance, and energy infrastructure policy constraints in Pakistan's energy sector.
The financing will support the first of three subprograms totaling $1 billion under the Energy Sector Reforms and Financial Sustainability Program, a key component of a comprehensive multidonor economic reform program led by the International Monetary Fund that aims to put Pakistan's economy on the path to sustainable and inclusive growth after a deterioration in its fiscal and financial position in recent years.
"The cash shortfall across the power supply chain in Pakistan, also known as circular debt, has shot up to more than $10 billion and is a longstanding chronic issue ailing the country's power sector," said ADB Director General for Central and West Asia Mr. Werner Liepach. "A comprehensive and realistic Circular Debt Reduction Plan, assisted by ADB in close coordination with other development partners, is the cornerstone of this subprogram. The plan aims to drastically cut the new flows of circular debt and provides policy directions on addressing accumulated circular debt."
While Pakistan has made significant effort in recent years to expand its electricity generation capacity and stabilize supply, the country is yet to overcome the challenge of inefficiencies, distortions, and uneven reform progress in the sector. These inefficiencies were estimated to have cost the country's economy up to $18 billion, or 6.5% of gross domestic product, in 2015.
The energy reform program aims to address the underlying causes of circular debt with a focus on improving inadequate tariff and subsidy systems, strengthening energy accounting, and reducing generation costs.
ADB will finance the program with support from its development partners. The Export–Import Bank of Korea has confirmed it will provide $80 million in cofinancing for the first subprogram.