IEA hosts high-level meeting on technologies for a clean energy future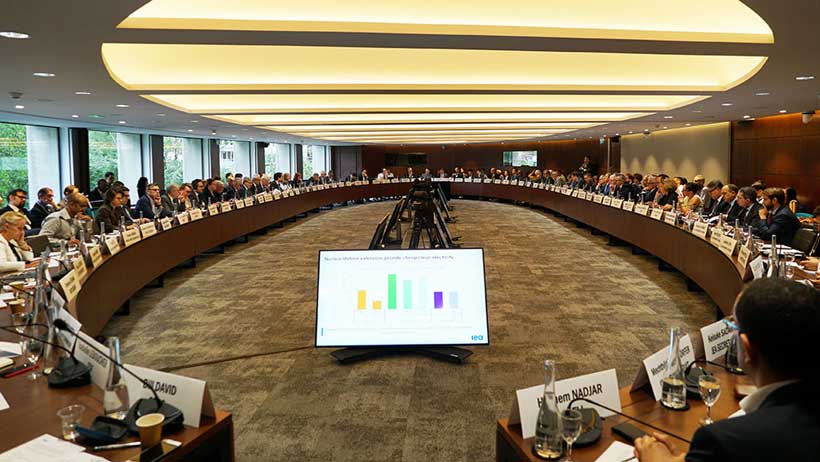 The International Energy Agency on 11 July hosted a discussion among leading global energy sector figures about technologies that can help to bring about a clean energy future, including hydrogen and nuclear power.
The main speakers at the event were Dan Brouillette, Deputy US Energy Secretary; Jean-Bernard Lévy, Chairman and CEO of EDF; Hiroshi Oe, Japanese Ambassador to the OECD and Chair of the IEA Governing Board; and Dominique Ristori, Director-General Energy at the European Commission.
The discussion at the IEA's headquarters in Paris was informed by two recent major reports from the IEA: Nuclear Power in a Clean Energy System and The Future of Hydrogen: Seizing Today's Opportunities.
At a time of profound change in the global energy sector, countries will require all the tools at their disposal to meet their commitments to tackling emissions and air pollution while maintaining energy security.
"I'd like to thank our speakers for the robust and rewarding conversation," said Dr Fatih Birol, the IEA's Executive Director, who hosted the event. "There is no miracle technology that will solve the daunting environmental challenges the world faces. We need continued innovation across a range of technologies, including renewables, energy efficiency, batteries, carbon capture and more. The IEA sees hydrogen and nuclear power as important parts of clean energy transitions in many countries, but they need help from governments to overcome significant obstacles."
Nuclear power is by far the largest source of low-carbon electricity in both Europe and North America, but many of their plants are aging. Without effective policies to spur new investment, advanced economies could lose as much as two-thirds of their nuclear capacity in the next 20 years, threatening global climate goals and energy security.
Hydrogen, which is currently enjoying unprecedented momentum, can help tackle various critical energy challenges. It offers ways to decarbonise a range of sectors where it is proving difficult to meaningfully reduce emissions, including long-haul transport, chemicals, and iron and steel. Hydrogen's ability to store and transport energy could enable renewables to make a greater contribution to the global energy system. But it has experienced false starts in the past and still faces big challenges to scale up infrastructure and bring down costs.
The meeting on 11 July to discuss these important energy issues highlights the IEA's role as the world's leading energy authority and its commitment to covering all fuels and all technologies. Guests included Lithunia's Minister of Energy Žygimantas Vaičiūnas. Lithuania has requested to join the IEA as a member country and the accession process has begun.
Indonesia's First Pumped Storage Hydropower Plant to Support Energy Transition
The World Bank's Board of Executive Directors today approved a US$380 million loan to develop Indonesia's first pumped storage hydropower plant, aiming to improve power generation capacity during peak demand, while supporting the country's energy transition and decarbonization goals.
"The Indonesian government is committed to reduce greenhouse gas emissions through, among others, development of renewable energy, energy conservation, and use of clean energy technology. Emission reduction in the energy sector will be driven by new and renewable energy generation and application of energy efficiency," said Arifin Tasrif, Minister of Energy and Mineral Resources of the Republic of Indonesia.
Over 80 percent of the power generated for the Java-Bali grid, which supplies electricity to 70 percent of the country's population, comes from fossil fuels. A key measure to support Indonesia's decarbonization agenda is the development of energy storage to enable integration of renewable energy into the grid. Pumped storage hydropower plays a crucial role in this approach.
The financing will support the construction of the Upper Cisokan pumped storage hydropower plant, to be located between Jakarta and Bandung, with an expected capacity of 1,040 MW. The facility will have significant power generation capacity to meet peak demand, provide significant storage capacity to enable a larger penetration of renewable energies and, because of its close location to two large demand centers, will alleviate increasing transmission loads on the grid. As a result, a more environmentally friendly and reliable supply of electricity will benefit consumers in Java and Bali.
"We are excited about this project as it will be the first of its kind for Indonesia. It represents a turning point for Indonesia's decarbonization pathway. The World Bank will continue to support Indonesia in its efforts to achieve resilient, sustainable, and inclusive development that will benefit the people of Indonesia now and in the future," said Satu Kahkonen, World Bank Country Director for Indonesia and Timor-Leste.
Pumped storage hydropower makes use of two water reservoirs at different elevations. At times of low electricity demand or when there is abundant generation from clean power sources, such as solar energy, power from the grid is used to pump water to the upper reservoir. Power is generated during peak demand, usually evening hours, as water moves down to the lower reservoir using a turbine, when electricity generation costs are high.
The project will help enhance the system flexibility and efficiency in balancing supply and demand, and therefore improve the reliability and quality of electricity services in Java and Bali. It also aims to support the government to integrate variable renewable energy into the Java-Bali grid, and to do so in an environmentally and socially sustainable manner.
Iran determined to boost oil exports despite sanctions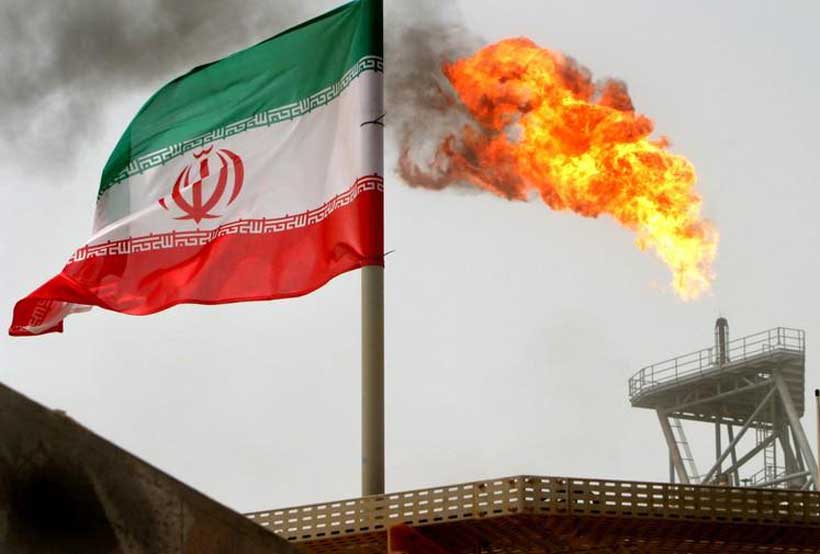 Iranian Oil Minister Javad Oji has said the Islamic Republic is determined to increase its oil exports despite the U.S. sanctions on the country's oil industry, adding that the use of oil sanctions as a "political tool" would harm the market.
"There is strong will in Iran to increase oil exports despite the unjust and illegal U.S. sanctions; I promise that good things will happen regarding Iran's oil sales in the coming months," Oji told the state TV.
As reported by IRIB, Oji noted that Iran can barter its crude oil for goods or even for services and investment not only in the oil industry but also in other sectors as well.
"Oil sales have dropped dramatically since the imposition of unjust sanctions, but this capacity exists in the Oil Ministry and all the industry's departments to increase oil sales," the minister said.
Iranian oil exports have plunged under U.S. sanctions, which were reimposed three years ago after Washington abandoned Tehran's 2015 nuclear deal with six powers.
"Iran will return to its pre-sanctions crude production level as soon as U.S. sanctions on Iran are lifted," Oji said.
"We are against using oil as a political tool that would harm the oil market."
Since April 9, Tehran and six world powers have been in talks to revive the nuclear pact. The sixth round of the negotiations adjourned on June 20. The next round of talks has yet to be scheduled.
Oji said Iran backed a decision made by the Organization of the Petroleum Exporting Countries and allies, a group known as OPEC+, on Wednesday to stick to a policy from July of phasing out record output cuts by adding 400,000 barrels per day (bpd) a month to the market.
Iran has been gradually boosting crude oil production to get ready for a strong comeback into the global market as the talks with world powers over the nuclear deal show signs of progress.
According to a Bloomberg report, National Iranian Oil Company (NIOC) officials have stated that the country's oil fields are going through overhaul operations and connections with oil buyers are being re-established.
"In the most optimistic estimates, the country could return to pre-sanctions production levels of almost four million barrels a day in as little as three months," the report published in May stated.
EF/MA
IRENA and IAEA to Help African Union Develop Continental Power Master Plan
The International Renewable Energy Agency (IRENA) and the International Atomic Energy Agency (IAEA) have been selected as modelling partners for the development of the African Continental Power Systems Master Plan (CMP). The initiative is led by the African Union Development Agency (AUDA) with the technical and financial support of the European Union (EU), and is aimed at establishing a long-term continent-wide planning process. The two agencies' modelling tools will be the official planning models utilised in this initiative.
African energy ministers tasked the African Union Development Agency (AUDA-NEPAD) to lead the development of the master plan. Following a two-year consultation process coordinated by the EU Technical Assistance Facility (TAF) for Sustainable Energy, the five African power pools selected IRENA and the IAEA to support the continent's modelling and capacity needs. The two organisations will lead the development of an electricity master plan that promotes access to affordable, reliable and sustainable electricity supplies across the continent.
A unified transmission network in Africa will enable inter-country trade between African countries as well as cross-continental trade with Europe and Asia, via existing links in North Africa, allowing African countries to source electricity from a wide-range of competitive, clean energy sources. It will also create beneficial socioeconomic opportunities by increasing interregional access to affordable African renewable energy resources within the continent, fostering investment opportunities, job growth and ultimately contributing to the region's sustainable development.
The urgency of this task is underlined by the prospect of carbon lock-in. Existing plans in Eastern and Southern African countries include more than 100 GW of new coal-fired power plants by 2040 – the development of which would triple carbon dioxide (CO2) emissions to 1,200 megatonnes (Mt) per year. Under the CMP, power generation options will be reviewed and re-considered to maximise socioeconomic benefits while simultaneously minimising emissions.
IRENA and the IAEA, as modelling partners, will support African stakeholders with the development of the CMP identifying surplus and deficit regions/countries in Africa in terms of electricity generation and demand. This will help identify the most cost-effective ways of expanding clean electricity generation and transmission infrastructure across the African continent.
IRENA and IAEA will also train AUDA-NEPAD staff and Power Pool experts on the use of the modelling tools, including IRENA's System Planning Test (SPLAT) models using the IAEA's Model for Energy Supply System Alternatives and their General Environmental Impacts (Message) tool, and support the team in the development of the CMP, ensuring knowledge transfer and capacity building.
The MESSAGE-SPLAT capacity expansion models are a key component and product of IRENA's support to African countries. Built using the MESSAGE software, the agency has developed SPLAT models covering 47 African countries across the five African power pools. They have been used in IRENA's capacity building programmes on energy planning across the continent.
The IAEA and IRENA cooperate on energy planning with a view to enhancing the effectiveness and impact of capacity-building efforts by joining the complementary competencies of the two organisations. The inter-agency cooperation was formalized through a Practical Arrangement, signed by both organizations on 2 November 2016, and extended for another three years in 2019.