Industry 4.0 Calls for Asia Leadership and Clear Mission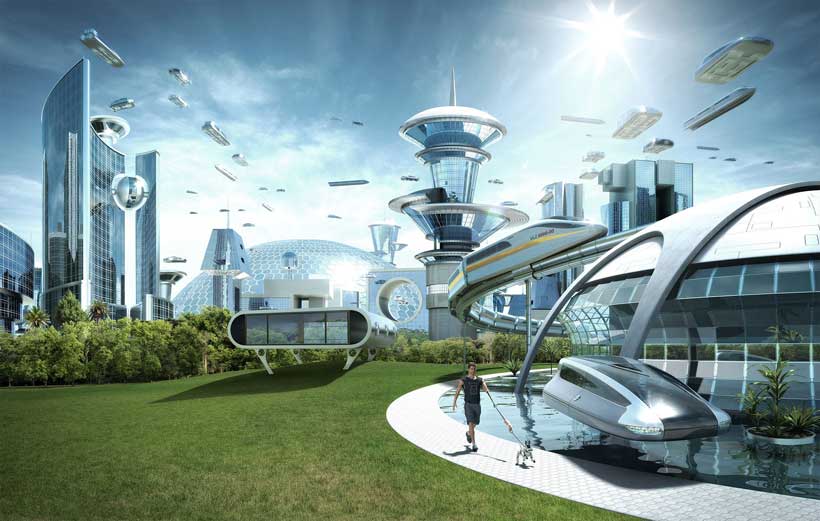 The profound changes expected in a new era of advanced technologies and the unprecedented speed of change will require leaders of Industry 4.0 to be agile and adaptive while still keeping in view the mission that drives their corporate existence, agreed panellists in a session on leadership at the Annual General Meeting of the New Champions, which closed today.
Michelle Zatlyn, Co-Founder and Chief Operating Officer of Cloudflare, said her definition of leadership – the act of motivating a group of people towards a common goal – has not changed. However, she underlined the "certain risk of disruption" if leaders and their organizations do not respond with great agility.
Huang Yiping, Deputy Dean of the National School of Development at Peking University, agreed, noting that those who are innovative and flexible will have a higher chance of surviving the dynamism of the Fourth Industrial Revolution. He expressed concern about unbridled growth, underlining the need to temper the rapid rate of innovation, particularly in the fintech sector, with risk management before another major failure undermines consumer and investor confidence.
Suphachai Chearvanont, Chief Executive Officer at CP Group, emphasized the need to retain a sense of mission and values, especially at a time when chaotic changes are putting ever increasing pressures on leaders.
The command-and-control structure that informs decision-making will have to give way to a more bottom-up approach that empowers employees to participate in a more free-wheeling environment. Zatlyn, however, is unsure that the much-hyped "leading without leaders" style of start-ups is necessarily more effective in fostering agility. "You want agility but you don't want a whiplash," she said.
Organizations of the future will be learning organizations, said John Meacock, Global Chief Strategy Officer at Deloitte, who stressed the importance of proper planning and strategy notwithstanding the constant changes and challenges ahead.
Outcomes from the meeting include:
The Government of the United Arab Emirates joined the Forum's Closing the Skills Gap initiative, launching an accelerator programme that will be stewarded by the country's Minister of State for Higher Education and Advanced Skills.
Leaders in the health and information technologies sectors shaped and committed to developing EPI-BRAIN, a first-of-its-kind data innovation platform to predict and forecast epidemics.
The Forum announced it will open a branch of the Tropical Forest Alliance in China. The Alliance is an initiative led by the World Economic Forum that aims to remove deforestation from commodity supply chains.
Bahrain will pilot a set of guidelines for the ethical procurement of artificial intelligence developed by the UK and the Centres for the Fourth Industrial Revolution Network (announced at last year's Annual Meeting of the New Champions).
The Inter-American Development Bank (IDB) will use the newly launched Blockchain Single Trade Window framework, developed by IDB and the Forum, to pilot blockchain projects that improve border clearance, and will share lessons and best practices.
Fahad Almubarak, State Minister, Member of the Saudi Council of Ministers, Saudi G20 Sherpa and Secretary-General of the G20 Saudi Secretariat, chaired a consultation session with Asian stakeholders to gather input for the agenda of its G20 presidency, starting in December.
Business for Nature, a global coalition to elevate the business call for comprehensive action to reverse nature loss and restore the planet's vital natural systems, was launched on 2 July.
A first advisory meeting took place to provide strategic direction to the 28 financial institutions that have signed up to a set of Green Investment Principles. The principles, drafted by a coalition including the Forum, the Green Finance Committee of China, the Society for Finance and Banking and the Green Finance Initiative of the City of London, aim to serve as a voluntary standard for investment into the Belt and Road Initiative.
As part of a wide-ranging memorandum of understanding between China's Ministry of Ecology and the Environment (MEE), the two partners announced:
A collaboration in support of the 2020 Biodiversity Conference of Parties in Kunming, China; the agreement will see the formation of a new community and the publication of a report, The New Nature Economy.
The Forum also joined the Green Belt and Road Coalition, which will see collaboration with MEE on a number of thematic partnerships, including Environmental Information Sharing and Big Data; Biodiversity and Ecosystem Management; Green Finance and Investment; and Green Technology Innovation.
South Korea joined the Forum's Centres for the Fourth Industrial Revolution Network.
The Forum's Global Future Council on Agile Governance piloted a new tool, endorsed by the Government of the United Arab Emirates, to help policy-makers and regulators avoid being left behind by rapid technological change.
The Infrastructure and Urban Development community formed a task force on Risk Allocation and Mitigation to make infrastructure collaborations between the public and private sectors more equitable, future-proof, socially endorsed and immune to political cycles.
The small things make a big difference in the science of measurement
Scientists must make ever more sophisticated measurements as technology shrinks to the nanoscale and we face global challenges from the effects of climate change.
As industry works more and more on the nanometre scale (a nanometre is a billionth of a metre), there is a need to measure more reliably and accurately things we can barely see. This requires metrology, the science of measurement.
Nano-scale metrology is useful in everyday life, for example to measure doses of medication or in the development of computer chips for our digital devices.
'Metrology is needed everywhere that you make measurements or if you want to compare measurements,' said Virpi Korpelainen, senior scientist at the Technical Research Centre of Finland and National Metrology Institute in Espoo, Finland.
Since the earliest civilisations, standardised and consistent measurements have always been crucial to the smooth functioning of society. In ancient times, physical quantities such as a body measurement were used.
One of the earliest known units was the cubit, which was approximately the length of a forearm. The Romans used fingers and feet in their measurement systems while the story goes that Henry I of England (c 1068 – 1135) tried to standardise a yard as the distance from his nose to his thumb.
Standard units
Standardisation demands precise definitions and consistent measurements. In the interest of greater accuracy, in the 1790s, the French government commission standardised the metre as the basic unit of distance. This set Europe on a path to the standardised international system of base units (SI) which has been evolving since.
Since 2018, some key definitions of measurement units have been redefined. The kilo, the ampere, the kelvin and the mole are now based on fundamental constants in nature instead of physical models. This is because over time, the physical models change as happened with the model of the kilo, which lost a tiny amount of mass over 100 years after it was created. With this new approach, which was adopted after years of careful science, the definitions will not change.
This evolution is often driven by incredibly sophisticated science, familiar only to metrologists, such as the speed of light in a vacuum (metre), the rate of radioactive decay (time) or the Planck constant (kilogram), all of which are used to calibrate key units of measurement under the SI.
'When you buy a measuring instrument, people typically don't think of where the scale comes from,' said Korpelainen. This goes for scientists and engineers too.
Once the realm of research scientists, nanoscales are increasingly important in industry. Nanotechnology, computer chips and medications typically rely on very accurate measurements at very small scales.
Even the most advanced microscopes need to be calibrated, meaning that steps must be taken to standardise its measurements of the very small. Korpelainen and colleagues around Europe are developing improved atomic force microscopes (AFMs) in an ongoing project called MetExSPM.
AFM is a type of microscope that gets so close to a sample, it can almost reveal its individual atoms. 'In industry, people need traceable measurements for quality control and for buying components from subcontractors,' said Korpelainen.
The project will allow the AFM microscopes to take reliable measurements at nanoscale resolution by using high-speed scanning, even on relatively large samples.
'Industry needs AFM resolution if they want to measure distances between really small structures,' Korpelainen said. Research on AFMs has revealed that measurement errors are easily introduced at this scale and can be as high as 30%.
The demand for small, sophisticated, high-performing devices means the nanoscale is growing in importance. She used an AFM microscope and lasers to calibrate precision scales for other microscopes.
She also coordinated another project, 3DNano, in order to measure nanoscale 3D objects that are not always perfectly symmetrical. Precise measurements of such objects support the development of new technology in medicine, energy storage and space exploration.
Radon flux
Dr Annette Röttger, a nuclear physicist at PTB, the national metrology institute in Germany is interested in measuring radon, a radioactive gas with no colour, smell or taste.
Radon is naturally occurring. It originates from decaying uranium below ground. Generally, the gas leaks into the atmosphere and is harmless, but it can reach dangerous levels when it builds up in dwellings, potentially causing illness to residents.
But there is another reason Röttger is interested in measuring radon. She believes it can improve the measurement of important greenhouse gases (GHG).
'For methane and carbon dioxide, you can measure the amounts in the atmosphere very precisely, but you cannot measure the flux of these gases coming out of the ground, representatively,' said Röttger.
'Flux' is the rate of seepage of a gas. It is a helpful measurement to trace the quantities of other GHG such as methane that also seep out of the ground. Measurements of methane coming out of the ground are variable, so that one spot will differ from another a few steps away. The flow of radon gas out of the ground closely tracks the flow of methane, a damaging GHG with both natural and human origins.
When radon gas emissions from the ground increase, so do carbon dioxide and methane levels. 'Radon is more homogenous,' said Röttger, 'and there is a close correlation between radon and these greenhouse gases.' The research project to study it is called traceRadon.
Radon is measured via its radioactivity but because of its low concentrations it is very challenging to measure. 'Several devices will not work at all, so you will get a zero-reading value because you are below the detection limit,' said Röttger.
Wetland rewetting
Measuring the escape of radon enables scientists to model the rate of emissions over a landscape. This can be useful to measure the effects of climate mitigation measures. For example, research indicates that the rapid rewetting of drained peatland stores greenhouse gas and mitigates climate change.
But if you go to the trouble of rewetting a large marshland, 'You will want to know if this worked,' said Röttger. 'If it works for these GHG, then we should see less radon coming out too. If we don't, then it didn't work.'
With more precise calibration, the project will improve radon measurements over large geographical areas. This may also be used to improve radiological early warning systems in a European monitoring network called the European Radiological Data Exchange Platform (EURDEP).
'We have lots of false alarms (due to radon) and we might even miss an alarm because of this,' said Röttger. 'We can make this network better which is increasingly important for radiological emergency management support by metrology.'
Given the intensity of the climate crisis, it is crucial to present reliable data for policy makers, added Röttger. This will assist greatly in addressing climate change, arguably the biggest threat mankind has faced since the cubit was first employed as a measure in ancient Egypt over 3,000 years ago.
The research in this article was funded by the EU. This article was originally published in Horizon, the EU Research and Innovation Magazine. 
Triumph of Simulacra – How Deepfakes Aim to Rule Our Minds
Deepfakes are famous for fake pornography and YouTube videos with dancing politicians. But how can else they challenge our society?
Menace from the 90s
According to Antispoofing Wiki The deepfake technology can be traced back to 1997 when the first digital face manipulation tool Video Rewrite was presented by the Interval Research Corporation. Funnily, the first deepfake in history was political — it made JFK lip-sync to a "I never met Forrest Gump" phrase.
In 2017 deepfake videos have turned into a mainstream threat as their production tools became widely available to the common users. Someone, under the alias "deepfake" posted on Reddit a few pornographic videos. In them, faces of a few Hollywood actresses — Gal Gadot being one of them — were glued to the real adult genre divas with the dark wizardry of generative deep learning. This is how the deepfake era began.

Currently, deepfakes are considered as the gravest threat coming from AI and machine learning technologies. Crime Science reports that deepfakes are capable of producing devastating societal harm: from political slender and fake news to petty money thefts via realistic impersonations.
The study also mentions that deepfake technology proliferation is simple to orchestrate: it can be quickly shared, sold, and copied by the perpetrators. (Unlike physical crime tools like guns — these require covert logistics.)
So, why are deepfakes so dangerous?
Destructive Qualities of Deepfakes
Falsified media can cause unpredictable results. For example, deepfake allegations nearly sparked an upheaval in Gabon. The military top ranks accused the president's administration of using a synthesized video of the country's leader Bongo Ondimba who, supposedly, died from a heart attack sometime earlier in 2019.

Allegedly, to avoid losing power, the corrupt officials quickly whipped up a New Year's deepfake address that would soothe the suspicious public and help them win some time.
The fabricated rumors were used by the national guards as a pretext to seize the central radio station — they pleaded for the citizens to stop whatever they were doing and flood the streets in righteous anger. However, the coup d'état failed.
Audio deepfakes seem to be an equally serious threat. In the UAE a massive heist was orchestrated with the help of a voice-cloning tool. Fraudsters mimicked a company director's voice and successfully requested a $35 million transfer from a Hong Kong bank.

The pressing issue of deepfakes spurred regional and international alarm. For instance, the European Parliament published a study Tackling Deepfakes in European Policy. The document lists among all other risk categories brought by the technology: bullying, extortion, identity theft, election and stock-price manipulations, etc.
However, one of the most destructive properties of deepfakes are the liar's dividend and truth apathy. While some are paranoid that one day they will be targeted by the odious technology and jeopardized beyond any belief, others can rejoice. Deepfakes will finally allow them to refute any compromising materials.

Liar's dividend can produce a scarily damaging impact on our society. The paradigm don't believe what you see can actually help some unscrupulous politicians and public figures wiggle out of a scandal.

Even though the legitimacy of a video or audio can be confirmed with technical means — like double compression analysis — regular observers are often distrustful of the expert verdict. It's always easy to discard something you don't really comprehend.
If the liar's dividend is Phobos, then reality apathy is Deimos in this duet. Not being able to trust their own senses, people may ignore actually important materials. As long as there's no reliable, trustworthy and universally available way to tell a fake from bona fide media, deception will prevail over common sense.
A Challenger Appears
Deepfake isn't alone: it has a sibling called "cheapfake". Cheapfakes are a type of falsified media that are easy, cheap and quick to produce. Con artists don't even need to operate neural networks to make them.
They can churn out cheapfakes in gargantuan amounts with simple editing tools: Movie Maker, Adobe Premiere/Audition and of course Photoshop. The famous "drunken Pelosi hoax" is a textbook cheapfake. It was produced by simply slowing down the speed of the original video, making the target appear intoxicated.
Yes, cheapfakes wouldn't get their moniker for nothing. They are cheap indeed. And quite easy to spot too, like in the Pelosi hoax case. However, in certain areas where technological literacy leaves a lot to be desired, cheapfakes can lead to tragic events.
In 2018 a series of cheapfakes began circulating in the Indian WhatsApp group chats. It showed motorcycle riders "kidnapping" children for organ harvesting. It was accompanied by some really gruesome footage of dead kids "killed by the harvesters".
It promptly stirred a panic and paranoia in the villages of Karnataka, Maharashtra and other Indian states. Villagers assembled in lynching mobs and attacked random outsiders, tourists and bikers — at least 20 random people got killed in light of this hoax.
In reality, the cheapfake used a recontextualization technique presenting some irrelevant footage in a completely different light. For instance, the images of the dead children were captured a few years prior to the hysteria to document war casualties among kids. As for the "bike-riding kidnappers", it was simply a clip withdrawn from a social advertising that warned parents of how easy it is to abduct a child.
Countermeasures
Experts indicate that lack of awareness and technological illiteracy are the two main factors that sparked mass lynching in India. Another vital factor is that social media and messenger apps are ideal channels for the deepfakes and cheapfakes to proliferate. It makes them similar to a viral disease.
Right now, there are just a handful of methods to neutralize false media. First, researchers recommend paying attention to visual clues: unnatural facial feature alignment, weird complexion, posture, gestures, lip movement/voice mismatches. Plus artifacts (such as distortion or blur) can be spotted in areas where one body part transitions into another: neck, elbows, wrists, etc.
Second, we should mention the Content Authenticity Initiative (CAI) proposed by Adobe. This initiative seeks to establish standards, as well as introduce a universal platform that will protect original media content from malicious tampering. This is achievable by inserting unerasable metadata — the special data that reveals who, where and when produced the content.
But of course these countermeasures won't work solo. They need strong support from educators around the world. Starting in schools and finishing in communities living in the less developed regions. Ignorance is a breeding ground for many negative phenomena. And deepfakes are one of them.
Implications of remote conformity assessment for developing countries
The United Nations Industrial Development Organization (UNIDO) is pleased to announce the launch of a publication titled "Remote conformity assessment in a digital world: Opportunities, challenges and implications for developing countries".
The publication provides a high-level overview of how remote assessment/audit techniques have developed in recent years and applied in different conformity assessment contexts. It also highlights the associated benefits of such techniques along with the challenges and implications for the future.
Quality Infrastructure is the combination of initiatives, institutions, organizations, activities, and people that help ensure products and services meet customers' requirements. Conformity assessment is a central part of this important work as it links regulation, industry, and markets. Evidence shows that establishing a Quality Infrastructure can assist a nation in pursuing a development track in line with the Sustainable Development Goals.
Remote assessments/audits play a crucial role in the context of digital transformation of Quality Infrastructures around the world, with the global disruptions arising from the COVID-19 pandemic having accelerated this process and injected urgency into the adoption of new technologies. where the use of remote assessment techniques to ensure the continuity of conformity assessment and confidence in its outcomes became a strategic imperative.
The need to stay abreast of the latest developments to ensure that no country is left behind in the increasingly digitalized world of conformity assessment makes this publication relevant for developing countries and a wider audience. Pragmatic steps that can be taken to address this need are presented accordingly.
UNIDO remains committed to continuing its support to developing countries, assisting them in overcoming the challenges and making the most of the opportunities posed by the growing use of remote assessment techniques.