Does economic growth worth degrading the environment?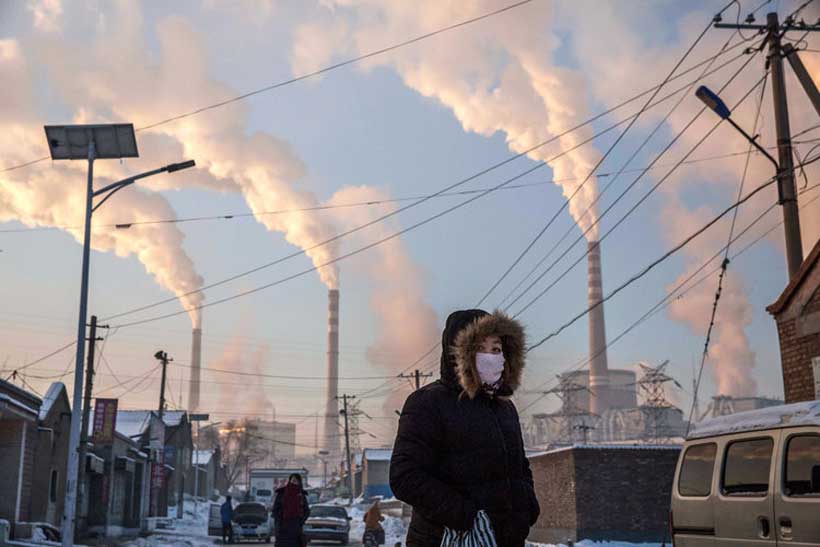 Although environmental consequences of economic growth bring about numerous reactions of economists and environmentalists, there is still doubt that environment protection rules and regulations hinder economic growth, or future development has dire consequences on the environment which does not worth it.
Here the question arises that whether eliminating natural resources must continue to make up for the slow economic growth or come up with more practicable solutions to safeguard non-renewable resources.
Many cases in Iran and other countries demonstrate the direct relation between socio-economic development and environmental degradation, showing that human are using natural resources at a pace much faster than it can replenish.
For instance, deforestation is the permanent destruction of forests in order to make the land available for other uses. An estimated 18 million acres (7.3 million hectares) of forest, which is roughly the size of the country of Panama, are lost each year, according to the United Nations' Food and Agriculture Organization (FAO).
Reza Bayani, an official with Forests, Range and Watershed Management Organization said in April that approximately 12,000 hectares of forests across Iran is wiped out annually.
Bayani referring to illegal logging as the leading cause of forest degradation, noted that timber smuggling steadily proceeding in the forests poses a serious threat to the country's ecology for a minor population benefits.
Yousefali Ebrahimpour, commander of the protection unit of natural resources and watershed management department of West Azarbaijan province said in February that over 450 tons of smuggled log has been seized in the forests in the province, which were being smuggled to the northern provinces of the country.
While the following year flash floods in 31 provinces of the country started on March 19, caused great losses and damages which was due to deforestation and vegetation depletion in addition to building encroaching river beds.
Seyed Mohammad Mojabi, head of environment committee of the Expediency Council, said in May that following recurrent droughts and low precipitation, related organizations believed that severe rainfalls seem far-fetched in a country with arid and semi-arid climate and decided to allow construction projects through river banks, which increased flood devastation.
Road construction also is another way of development which is at loggerheads with nature, mainly resulting in many irreparable damages including road surface erosion and sediment yield, slope failures and mass movement, direct loss of habitat (by the conversion of the original land cover into an artificial surface) and indirect loss of habitat (by the fragmentation of an ecosystem into smaller and more isolated patches).
The chief of Mazandaran provincial department of environment Ebrahim Fallahi said in September 2018 that long stretches of roads are under construction in Savadkuh forest.
Moreover, excessive groundwater withdrawal, dam construction, water transfer projects, land use changes and wildfires are also the fallouts of unplanned industrial expansion which bring environmental damages, and if thinking deeply it can be realized that they can also cause immeasurable financial losses in the long run.
Mohammad Reza Goldansaz, a researcher in the field of water resources stated in June that an annual amount of 50 billion cubic meters of groundwater resources are withdrawn to supply agricultural, industrial as well as drinking water in Iran.
How growth even affects air we breathe?
When it comes to air pollution the situation even gets more complex, as car manufacturing companies produce more cars without scrapping emitting clunker ones for generating profit and responsible devices not improving fuel quality, in addition to not preparing proper plan to curb the emissions.
Deputy interior minister for urban and rural development, Mehdi Jamalinejad, has said that some 22,000 busses are operating in the country's public transport fleet, 16,000 of which are clunkers, accounting for 70 percent of the volume of bus transport system.
Ali Mohammadi, an official with traffic police, said in January that the scrappage of clunker vehicles has decreased by 65 percent in the past Iranian calendar year 1397 (ended in March 2019) compared to a year earlier.
While last year some 140,000 vehicles were scrapped, this year only 50,000 old vehicles were discarded, he added.
Environment should not be destroyed for sake of growth
MP Homayoun Yousefi has said that economic growth is not worth of environmental degradation.
He lamented that environmental protection has decreased in Western Asia, which is mostly due to decision making is based on personal tastes not environmental assessment.
"Iran's climate being arid is fragile, so development should be done in light of the fragility and low capacity of the country's environment," he highlighted, regretting, nature seems to be less considered in some development plans.
"An important factor for showing power of countries is sustainable environment, and we also need to focus more on the environment in this regard," he added.
Toward economic growth while safeguarding environment
Green production is likely to become the center of attention globally in the near future due to the proven importance of environment, however, economic and industrial expansion resulting in urbanization are a reality that is inevitable specially in developing countries, so, we must never lose sight of the need to safeguard the environment.
Every country regarding the resources each have, has an important opportunity to make policies or take steps in line with regulations which can guide it to developmental goals. By considering environmental issues and planning for appropriate confrontation measures wherever necessary, we can even set a role model for other countries to follow.
From our partner Tehran Times
Blessing In Disguise: The Lockdown-Effect On Environment
Authors: Deepanjali Jain and Prateek Khandelwal*
From one Wuhanese to over 4 million humans, the coronavirus has shackled pillars and institutions of our civilisation. The pandemic has socially distanced humans and spread fear which could be gauged from any nook and corner of the world. Though it seems, nature can finally breathe after decades, the signatures of which were visible from space.
As the factories and vehicle closed, dirty brown pollution belts shrunk over industrial centres in the country within days after lockdown. After decades of relentless exploitation, the human footprint on the earth has lightened. The persistent denial by the industrialist got an answer that climate change is real and that it is a reflection of human 'exploitation'. The overexploitation of nature is fuelled by human greed, where consumption increases production and vice-versa. This vicious cycle depletes the natural ability of environment, which can be sensed in the lockdown months, to balance itself and so disrupts ecology.
COVID-19 is not only a pandemic; it reflects a broader trend that more planetary crisis is scheduled for upcoming years. While we muddle through each new crisis, with the current economic model, then the repercussions will eventually exceed the capacity of financial institutions to respond. Indeed, the "corona crisis" has already done so. For just climate transition, new economic reforms should have a blueprint for "planned degrowth" that emphasizes on the wellbeing of people over profit margins.
The initial move towards this is assuring the incentives that governments are announcing across the globe are not exhausted on bailing out corporations. Instead, the funds should be allocated to decentralised renewable energy production to implement the 'Green' New Deal and create meaningful jobs for 'the Great Depression' post-COVID-19. Along with this, the state should enact on the provision of social welfare such as universal healthcare and free education for all vulnerable populations.
Though set for 2025, by G7 and many European countries, elimination of perverse fossil-fuel subsidies can be done amid the recent oil-price plunge. It is the appropriate moment to deploy renewable energy technologies, which are now globally accessible without any economic barrier and phase out age-old fossil fuel.
A shift from exploitative industry setup to regenerative industries is immediately feasible. Also, it would allow us to sequester carbon emission spread by the current economic framework at a rate that is ample to reverse the ongoing climate crisis. This will have a positive impact on the environment and improve global wellbeing; also, it would turn to be an economically profit-enhancing model.
Though defined with differences and demarcated with boundaries, the planet with various species, nations, and geopolitical issues are ultimately interconnected. COVID-19 narrated that crisis does not observe national or even physical borders; the same is the case with climate change, biodiversity loss, and other environmental problem. Collective actions to curb these from becoming a full-blown crisis can only help in managing these issues. The current rescue plan for battling COVID-19 could usher these changes, as we are getting accustomed to the lifestyle and economic pattern that minimise consuming.
With the idea of sticking with this development structure, Governments can succeed in curbing the Corona epidemic. But we should move a step ahead to do a greater good for society and nature. The use of science can be moulded to construct an economy that will not mitigate the threats of climate change, biodiversity loss, pandemics and other challenges. A green economy should be laid down that has a preamble of nature-based solutions and is geared toward the public good.
Obviously, the circumstances are not ideal, but the rapid reflex actions and response to the virus of mutual aid also illustrates that human society is capable of controlling and working collectively in the face of a grave pandemic. The phase of development which humans are at, they are entrepreneurial and capable to begin again perfectly. If we learn from our failures and embrace this moment of upheaval as an opportunity to invest in shared prosperity, planetary health, and green economy, we can build a brighter future than the one we are heading towards. We have long since exceeded our natural limits; it is time to try something new.
*Prateek Khandelwal is a 2nd Year student pursuing B.B.A., LL.B. (Hons.) from Chanakya National Law University, Patna.
How video games are joining the fight to save the planet
As bush fires were raging across Australia in December 2019, players of Space Ape video games reached out to the company and asked what they could do to help. The London-based firm quickly put an in-game purchase into several of its mobile titles, with all proceeds going to either a wildlife or humanitarian charity working in the area.
In just four days the company raised $120,000.
"That just speaks to how much people want to do good," said Deborah Mensah-Bonsu, former Head of Content at Space Ape Games, who now runs her own consultancy focused on using games for social impact.
Now, the video game industry is poised to roll up its sleeves and do even more for the planet. In August 2020, some of the biggest names in mobile gaming unveiled a series of environmentally themed missions and messages that will be integrated into popular titles, such as Angry Birds 2, Golf Clash and Subway Surfers. The additions will encourage players to do things like combat climate change or protect endangered wolves. The initiative is part of a push by the United Nations Environment Programme (UNEP) to work with game developers to raise awareness about pressing environmental issues.
"Video gaming is one of the biggest communication mediums on the planet," says Sam Barratt, Chief of Education and Advocacy with UNEP. "We aim to support the industry to encourage gamers to be educated, inspired and activated around the wider environmental agenda, and so far it seems to be working."
Globally, 2.6 billion people play video games and a growing number are taking an interest in the environment and conservation. A 2019 UNEP report, Playing for the Planet, found that video games could engage billions to contribute to solutions to social and environmental challenges.
The video game industry has yearly revenues of $140 billion—more than Hollywood, Bollywood and recorded music sales combined. In 2017, 666 million people watched other people play games on YouTube and Twitch – more than the combined audience of HBO, ESPN and Netflix. According to the UNEP report, channelling even a small portion of that attention and the industry's revenues towards the planet would create tremendous impact in the real world.
Playing for the Planet
Space Ape is one of 25 members of UNEP's Playing for the Planet Alliance, an initiative that aims to harness the power of gaming to encourage action on climate change. The project, which launched in 2019, has reached more than 970 million players. In joining the alliance, game companies make commitments, ranging from integrating green activations into games to reducing their emissions to supporting the global environmental agenda.
The alliance held a Green Game Jam earlier this year which saw 11 mobile game companies compete to add a sustainability element to one of their existing games, a so-called "green nudge." The objectives included asking players to make personal commitments, like skipping meat on Mondays or biking to work, or designing green environments, solar panels or electric cars into games.
Space Ape, whose game Transformers: Earth Wars contains environmental themes in the original storyline, picked renewable energy. For the updated release, it brought both good and evil Transformers together to find a new technology to harvest Earth's energy resources more sustainably.
Mensah-Bonsu says that the company also wanted to give players a call to action, so it asked them to take a pledge to switch their lightbulbs from incandescents to LEDs.
California-based Pixelberry Studios focused on climate change in its title "Choices." The game centres on a young woman who returns to her coastal hometown where there has been a large fish die-off. The girl's younger sister is convinced the die-off is connected to climate change, despite skepticism from local politicians and business owners. The player's role is to help their young sister rally others and raise awareness about climate change.
Saran Walker, one of the writers at Pixelberry, said the team had read dozens of articles about younger generations experiencing anxiety around climate change. (A recent survey of millennials — 30,000 individuals under the age of 30 from 186 countries confirmed this — finding that climate change and destruction of nature were the most critical issues for them.)
"We were all really inspired by Greta Thunberg's story," Walker said, referring to the young Swedish environmental activist. "Anyone at the company who has kids is thinking about what kind of world are they going to leave to their children. We wanted to show people that they can actually do a lot as an individual."
A shift in the industry
The gaming industry is also considering how it can become carbon neutral, or in some cases carbon positive – a welcome move for a sector that has been scrutinized for its environmental footprint. Currently, 50 million tons of electronic waste is generated annually, with that number projected to reach 120 million tons by 2050.
Supercell, which makes mobile titles, recently committed to going entirely carbon neutral and offsetting the carbon dioxide used by players when playing their games. Rovio and Space Ape aim to take similar action.
The Playing for the Planet Alliance will share guidance with its members on how to decarbonize, with Sony leading a working group that includes other console makers. The alliance will help devise a new carbon calculator for the industry, develop fresh guidance on offsetting and forge new collective commitments around the restoration of forest landscapes, which help absorb carbon emissions.
"When we set out on this journey we wanted to help others in the industry too," said Mensah-Bonsu. "If we all do our part, we can make a change in the world."
Green Politics: The hope for a better tomorrow
Authors: Anurag Mishra and Aaditya Vikram Sharma
Green Political Parties in India
To pick from the last instalment, the culture of Indian environmentalism is indeed ancient and quite veritably primitive. For the record, India has various Green parties. The prominent one is of course is the India Greens Party which runs as an offshoot of the Global Greens and is a full member of the Asia Pacific Greens Federation. To take a measure of how green politics fares in the Indian context would only require us to take a quick visit to the Indian Green Party's website. The events calendar for the IGP is blank for the month of July as well as the previous month. The last press release made by the IGP was in the month of March. A google search doesn't even yield a Wikipedia page for the IGP because there isn't one.
The Coronavirus pandemic poses a grave danger to humanity but also throws open an opportunity for laying the path which the posterity will tread. It is however disheartening that the response to the pandemic has more or less remained limited to desperate search for a vaccine. A vaccine nevertheless is the acute need of the hour but what is of no less importance is a future plan for humanity which is closer to nature and yet at a safe distance.
Global Green Political Parties
Here, we look at the contemporary Green parties around the world. We primarily focus on North America and the Asia Pacific. In North America, Canada got its first Green parties starting 1983. Being a federal country, Canada has such parties present on provincial as well as the national level. The provincial parties include the Green Party of Ontario, the Green Party of Prince Edward Island, the Green Party of British Columbia and the Green Party of New Brunswick. The parliamentarians who get elected are colloquially known as "Green MLAs." In the United States of America, the Green Party of the United States happens to be the primary such entity. It should be noted that as of April 2018, 156 Greens held elective office across the US in 19 states. The states with the largest numbers of Green elected officials are California (68), Connecticut (15), and Pennsylvania (15). Titles of offices held include: Alderman, Auditor, Board of Appeals, Board of Finance, Board of Selectmen, Borough Council, Budget Committee, Circuit Court Judge, City Council and so on. The Green Party has contested six U.S.A. presidential elections: in 1996 and 2000 with Ralph Nader for president and Winona LaDuke as vice president, in 2004 with David Cobb for president and Pat LaMarche for vice president, and in 2008 with Cynthia McKinney for president and Rosa Clemente for vice president. In 2000, Nader received more votes for president than any Green Party candidate before or since. Jill Stein ran for president on the Green ticket in 2012 and 2016; the vice-presidential candidates were Cheri Honkala in 2012 and Ajamu Baraka in 2016. Stein, who received over one million votes in the 2016 race, led unsuccessful attempts toward 2016 election recounts in three states: Michigan, Pennsylvania, and Wisconsin.
On the other side of the planet, the Asia Pacific Greens Federation is of prominence. It is a federation of national Green parties, social and environmental organizations in countries in the Pacific Ocean and Asia, and is one of the four federations that constitute the Global Greens. 32 Parties from 30 nations got together in February 2005 in Kyoto, Japan, to found the network. There they elected a Membership Panel, and delegates to the Global Greens Coordination (GGC). The federation has a presence in countries such as Australia, India, Mongolia, New Zealand, Pakistan, South Korea etc.
A Common Agenda?
The Agenda of these parties overall can be derived through their principles and policies- a list of such guidelines available on some websites of the Green parties. Overall these can be divided into the following headers- Ecological Wisdom, Social Justice, Participatory Democracy, Non-violence, Sustainability and Respect for Diversity. Overall, the idea seems to be in conformity with international treaties and upcoming practices for environmental governance. The agendas also seem to comply with global requirements for climate commitments, such as that of the Paris Agreement.
However, environmental policies are just one part of international relations. Thus, it is not clear what the other policies of green parties would be. Thus, their agenda needs to more well defined and encompassing.
Conclusion
Netflix released the second season of its popular school drama The Politician last month. Where the first season of the series had focused almost entirely upon the protagonist's political ambition and his run to the office of school president, the second season centred around his political campaign based entirely upon environmentalism. A strong movement requires novel instruments of mass mobilization and symbols which people can relate to and take to. The Global Green Movement needs to make itself 'catchy' to generate mass participation without which it is bound to remain a fringe movement even after fifty years since the United Tasmania Group coming into being. What seems to be the only way forward is mainstreaming of the Green agenda and making it "cool" and part of the popular culture.
However, it is not just awareness that would suffice and thus the scientific developments in the areas of energy, agriculture and food among other things need unprecedented attention and investment. In the food industry, the way Veganism has caught people from diverse range of countries is an example how an idea can travel far and wide and can bring about even the most difficult and unimaginable lifestyle changes. The technology has tried keeping pace with companies like Impossible Foods and Green Meat Co. coming up with vegetable based meat etc. The growing popularity of EVs and renewable sources of energy have steadily moved in the direction of creating a global ecosystem based on the idea of sustainability and environmentalism. All we need is a huge push and unrelenting spirit.