ADB-Supported Bus Rapid Transit System to Improve Transport in Karachi
The Asian Development Bank (ADB) has approved a $235 million loan to help develop a bus rapid transit (BRT) system with innovative energy and climate resilience features that will enhance access to quality public transport for people in Karachi, Pakistan's largest and most populated city.
The Karachi Bus Rapid Transit Red Line Project will deliver the 26.6-kilometer (km) Bus Rapid Transit Line Red Line corridor and associated facilities benefiting as many as 1.5 million people, about 10% of Karachi's population, who live within a kilometer of a Red Line BRT station. More than 300,000 passengers per day are expected on the Red Line BRT routes. ADB will partially administer two $100 million loans from the Asian Infrastructure Investment Bank and the Agence Française de Développement to jointly finance the project's civil works and equipment costs.
"There is a need for a more sustainable, reliable, safe, and gender and environment-friendly transportation system in a city as dense and rapidly growing as Karachi. A sustainable transportation system will not only solve the city's mobility issue but also its growing pollution problem," said ADB Principal Urban Development Specialist (Transport) for Central and West Asia Mr. David Margonsztern. "The BRT system, with its innovative features, will address all these issues, improving the overall quality of lives of people in the city."
The project will restructure the entire width of the Red Line BRT corridor, including the construction of 29 stations and dedicated lanes along the 26.6 km stretch; improvement of the mixed-traffic roadway with up to six lanes in each direction; inclusion of on-street parking and landscaped green areas in various locations; improvement of the drainage system to climate-proof the corridor; and installation of nonmotorized transport infrastructure such as bicycle lanes, improved sidewalks, and energy-efficient street lights.
The project will also establish sustainable BRT operations in Karachi by improving the capacity of relevant transport authorities; designing the BRT business model and subsidy-free operations; implementing a bus industry transition program, including a fleet scrapping program and compensation mechanism; developing an effective public communications campaign; and delivering the BRT fleet, feeder e-vehicles, intelligent transport system, and a biogas plant.
ADB will also administer a $37.2 million loan and an $11.8 million grant from the Green Climate Fund (GCF). The GCF grant will finance climate change adaptation measures, including innovative drainage features such as bioswales (landscape elements designed to concentrate or remove debris and pollution out of surface runoff water); post-project emissions' monitoring activities; and feeder e-vehicles. The GCF loan, meanwhile, will finance the biogas plant and the incremental cost of the transition from basic diesel bus technology to compressed natural gas hybrid bus technology, with the biomethane extracted from cattle waste.
Investing in Girls and Women's Empowerment in and Beyond the Sahel
The World Bank Board of Directors today approved $376 million in additional International Development Association (IDA)* financing to build human capital and improve human development outcomes in Africa. This is the fourth additional financing to the Sahel Women Empowerment and Demographic Dividend project (SWEDD), a significant regional initiative developed in response to a call for action by the Presidents of Niger, Burkina Faso, Chad, Côte d'Ivoire, Mali and Mauritania in 2014. The newly approved expansion brings the total World Bank investment toward the SWEDD to $680 million, with an additional EUR 10 million invested in parallel financing by the Agence Française de Développement (AFD) in Mali.
SWEDD 2 will scale-up activities underway in Chad, Côte d'Ivoire, Mali and Mauritania and expand into two new countries, Cameroon (US$ 75 million) and Guinea ($60 million).
"Cameroon's vision for 2035 emphasizes how healthy and well-educated Cameroonians will achieve the country's enormous potential for shared prosperity. However, challenges faced by girls and women today, including child marriage, early and frequent pregnancies as well as early school drop-out, put girls and their future children at heightened risk of poor health outcomes, tremendous loss of educational opportunity and future earnings prospects", said Abdoulaye Seck, World Bank Country Director for Cameroon. "SWEDD 2 will serve as an instrument for empowering girls and building human capital, initially concentrating on three regions, namely the Far North, North and Adamaoua, where about 700,000 girls 10-19 years of age are vulnerable to these risks".
Overall, the SWEDD 2 will continue to invest in activities that target adolescent girls and their surrounding communities to improve life skills and sexual and reproductive health knowledge among adolescents, keep girls in school, expand economic opportunity and create an enabling environment for girls' social and economic empowerment through the nexus of statutory, religious and customary laws and norms, including through the prevention and improved response to gender based violence. Investments will also enhance last mile delivery of essential medicines, including access to contraceptives at community level and strengthen the capacity for midwives to deliver services in rural areas to women and adolescent girls.
One important aspect introduced by SWEDD 2 is the enhanced attention to strengthen legal frameworks that promote women's rights to health and education. Activities supported by the project have been identified at both national and regional level through peer consultations between parliamentarians, judges and lawyers in and beyond SWEDD countries. These include reinforcing legislation, strengthening judicial capacity and promoting knowledge and application of existing legislation in communities where harmful practices are highly prevalent.
SWEDD 2 will also support the West Africa Health Organization (WAHO) – the health arm of the Economic Community of West African States (ECOWAS)— to facilitate a regional dialogue on improved opportunities in rural areas, and to conduct regional workshops to facilitate knowledge sharing. The United Nations Population Fund (UNFPA) remains an important partner in coordinating technical advice and implementation support, including through contracting with specialized partners and in the delivery of the regional social behavior change and communications campaign.
The African Union (AU) joins the project as a new strategic partner. With membership of 55 States, the AU is the largest inter-governmental organization on the continent, providing a platform for social and economic transformation. This partnership will build AU's capacity to serve as a platform for codifying policy/legal reform, facilitate peer exchange and communicate progress on areas related to the advancement of women empowerment across the continent.
The SWEDD project is well aligned with the African Union's Agenda 2063, as well as with the national strategies of the respective beneficiary countries. It also contributes to the World Bank Group's Regional Integration and Cooperation Assistance Strategy which puts an emphasis on human capital development, with a special focus on women's economic empowerment. "The World Bank believes that there can be no sustainable economic growth without women's empowerment and sees the full participation and inclusion of girls and women as fundamental to the continent's progress," said Deborah Wetzel, World Bank Director of Regional Integration for Africa.
ADB Approves $300 Million Loan to Increase Indonesia's Geothermal Electricity Generation
The Asian Development Bank (ADB) has approved a $300 million loan to help PT Geo Dipa Energi (GDE), an Indonesian state-owned company, expand its geothermal power generation capacity by 110 megawatts in Java, the country's largest electricity grid and a challenging market for the development of renewable energy. ADB will also manage a $35 million loan from the Clean Technology Fund for the project.
"ADB's geothermal project will help Indonesia combat climate change and make its electricity system more sustainable, reliable, and efficient. It will also help businesses and consumers access affordable, reliable, and modern energy," said ADB Country Director for Indonesia Winfried F. Wicklein. "Our support is aligned with Indonesia's long-term goals for economic growth and energy, including maximizing the use of indigenous energy resources, diversifying the fuel mix, and ensuring environmental sustainability."
Indonesia has the world's largest geothermal potential, with an estimated 29 gigawatts (GW), and the world's second-largest installed geothermal capacity of 2.1 GW. ADB, through its private sector finance operations, has had a long-standing interest in Indonesia's geothermal sector, supporting projects at Muara Laboh, Rantau Dedap, and Sarulla. But the development of geothermal power remains slow, largely because the exploration phase is costly, lengthy, and high risk.
The Geothermal Power Generation Project will support the construction and commissioning of two geothermal plants at Dieng in Central Java and Patuha in West Java by GDE, a state-owned enterprise focused on geothermal exploration, development, and power generation. It will boost GDE's capacity to plan and execute projects and undertake government-supported drilling, which aims to attract much-needed private sector investment to develop new geothermal areas. In addition, GDE will provide direct assistance to nearby communities, including women and other vulnerable groups, and help improve livelihoods.
"The project, recognized as a National Strategic Project by the government, will provide environmentally friendly base-load electricity to the Java–Bali electricity grid, reducing CO2 emissions by more than 700,000 tons per year," said GDE President Director Riki Ibrahim. "The project will build critical geothermal experience in Indonesia and contribute to the government's efforts to attract private-sector investment in the sector by reducing early-stage project development risk."
The project, approved amid the novel coronavirus disease (COVID-19) pandemic, will help ensure that Indonesia's economic recovery will be green, sustainable, and resilient.
"ADB's intervention will help make clean energy transition a key part of the country's recovery from the pandemic. The project will create jobs for those supplying goods and services for drilling and construction, and will create livelihood opportunities in the local area," said ADB Senior Energy Specialist for Southeast Asia Shannon Cowlin.
US must take 'serious action' to halt police killings of unarmed African Americans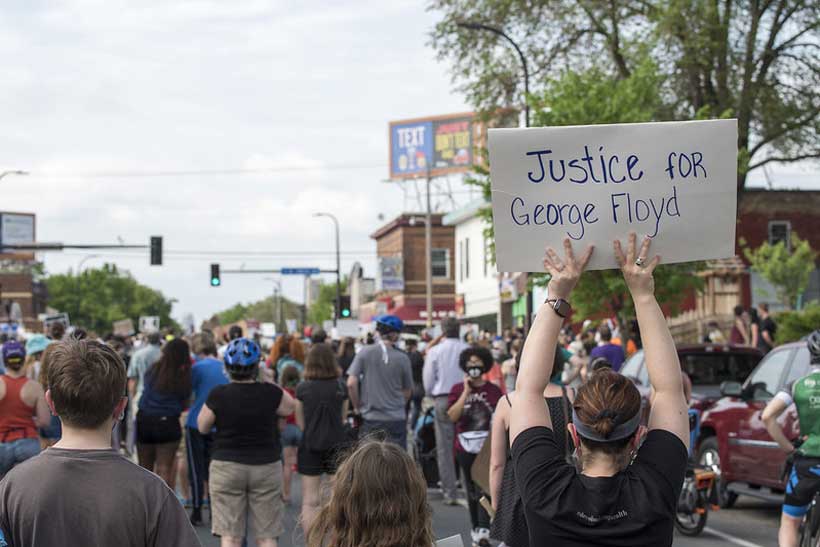 The UN human rights chief on Thursday condemned the killing of 46-year-old George Floyd while in police custody in the city of Minneapolis, calling it the latest in "a long line of killings of unarmed African Americans by US police officers and members of the public".
"I am dismayed to have to add George Floyd's name to that of Breonna Taylor, Eric Garner, Michael Brown and many other unarmed African Americans who have died over the years at the hands of the police – as well as people such as Ahmaud Arbery and Trayvon Martin who were killed by armed members of the public", said High Commissioner for Human Rights, Michelle Bachelet, in statement.
She spelled out that authorities in the United States must take "serious action" to stop such killings, and to ensure that justice is done when they do occur.
"Procedures must change, prevention systems must be put in place, and above all police officers who resort to excessive use of force, should be charged and convicted for the crimes committed", the High Commissioner underscored.
A probe prioritized
The UN human rights chief welcomed the announcement by Federal authorities in Washington, that they would be prioritizing an investigation into the incident, but stressed that "in too many cases in the past, such investigations have led to killings being deemed justified on questionable grounds, or only being addressed by administrative measures."
"The role that entrenched and pervasive racial discrimination plays in such deaths must also be fully examined, properly recognized and dealt with", she added.
Erupting protests
The killing has sparked violent protests in Minnesota's largest city, with hundreds of demonstrators clashing with police clad in riot gear, over two nights of unrest.
Video captured at the scene on Monday, and posted on social media, shows a white police officer, using his knee to pin Mr. Floyd to the ground over the course of several minutes. Four officers involved in the incident have been dismissed, but none have so far been charged. The city's Mayor, Jacob Frey, has appealed for calm, writing on Twitter that "we cannot let tragedy beget more tragedy".
Violence won't end police brutality
While empathizing with the anger unleashed by Mr. Floyd's killing, the top UN rights official encouraged people in Minneapolis and elsewhere to protest peacefully.
"Violence and destruction of property won't solve the problem of police brutality and enshrined discrimination", she said.
"I urge protestors to express their demands for justice peacefully, and I urge the police to take utmost care not enflame the current situation even more with any further use of excessive force", concluded the High Commissioner.