Vietnam's economy slows down amidst heightened uncertainties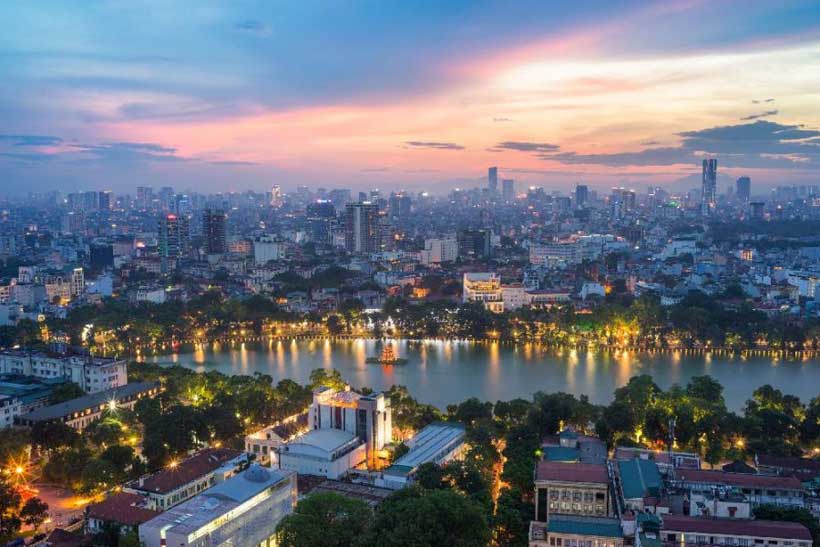 Vietnam's growth momentum moderated since the beginning of the year, but outlook remains positive, according to Taking Stock, the World Bank's bi-annual economic report on Vietnam released today.
During the reported period, the service sector performed robustly – signaling sustained buoyancy in domestic demand and especially private consumption. The public debt-to-GDP ratio declined from a peak of 63.7 percent in 2016 to an estimated 58.4 in 2018. Recent slower growth reflected the repercussions of unfavorable external factors on key economic sectors. The outbreak of African swine fever and a decline in international prices dampened agricultural outputs while weaker external demand moderated growth of the export-oriented manufacturing sector.
Despite these signs of a cyclical moderation in growth, Vietnam's outlook remains positive, the report says. Real GDP growth for the whole year of 2019 is forecasted to decelerate to 6.6 percent, driven by a weaker external demand and continued tightening of credit and fiscal policies. Inflation indexes are meant to be kept below the official inflation target of 4 percent.
Risks have continued to intensify, reflecting heightened global uncertainty amid re-escalation of trade tensions and rising financial volatility. Those external risks are compounded by domestic vulnerabilities, including potential slippages in fiscal consolidation, Stated-Owned Enterprises and banking sector reforms could undermine investor sentiment and growth prospects.
"Vietnam needs to prepare to adjust macroeconomic policies in case some of these risks materialize and lead to a deeper than expected downturn," said Ousmane Dione, the World Bank Country Director for Vietnam. "Vietnam will also continue to push for deeper structural reforms, enhance export competitiveness and further deepen trade integration through bilateral and regional agreements."
Selected Economic Indicators
| | | | | | |
| --- | --- | --- | --- | --- | --- |
| | 2017 | 2018 | 2019 | 2020 | 2021 |
| GDP growth (%) | 6.8 | 7.1 | 6.6 | 6.5 | 6.5 |
| Consumer price index (annual average, %) | 3.5 | 3.5 | 3.7 | 3.8 | 3.8 |
| Current account balance (% of GDP) | 2.1 | 2.3 | 2 | 1.4 | 1.4 |
| Fiscal balance (% of GDP, MOF) | -2.7 | -2.5 | -2.5 | -2.3 | -2.2 |
| Public debt (% of GDP) | 61.4 | 58.4 | 58.3 | 58 | 57.6 |
| Public debt (% of GDP) | 58.2 | 55.6 | 54.4 | 53.3 | 52.5 |
Source: Government of Vietnam, IMF and WB.
The special section of this edition takes a close look at the development of the Vietnam's tourism industry – the country's single largest services export, contributing 8 percent of GDP in 2017. It surmises that the sector's rapid expansion has brought it to a tipping point in its development, where continued growth, if not well managed, could have adverse economic, environmental, and social impacts.
The report suggests certain measures to ensure the long-term sustainability of the sector. Key priorities include: (i) enhancing coordination of destination planning and product development, (ii) diversifying tourism products and visitor source markets, (iii) developing tourism workforce skills, (iv) strengthening local tourism value chain linkages, (v) improving visitor flow management, (vi) boosting destination infrastructure capacity and quality, and (vii) protecting environmental and cultural assets.
Companies may be overlooking the riskiest cyber threats of all
A majority of companies don't have a handle on their third-party cyber risks – risks obscured by the complexity of their business relationships and vendor/supplier networks. This is the finding of the PwC 2022 Global Digital Trust Insights Survey. The survey of 3,600 CEOs and other C-suite executives globally found that 60% have less than a thorough understanding of the risk of data breaches through third parties, while 20% have little or no understanding at all of these risks.
The findings are a red flag in an environment where 60% of the C-suite respondents anticipate an increase in cyber crime in 2022. They also reflect the challenges organizations face in building trust in their data — making sure it is accurate, verified and secure, so customers and other stakeholders can trust that their information will be protected.
Notably, 56% of respondents say their organizations expect a rise in breaches via their software supply chain, yet only 34% have formally assessed their enterprise's exposure to this risk. Similarly, 58% expect a jump in attacks on their cloud services, but only 37% profess to have an understanding of cloud risks based on formal assessments.
Sean Joyce, Global & US Cybersecurity & Privacy Leader, PwC United States said: "Organizations can be vulnerable to an attack even when their own cyber defenses are good; a sophisticated attacker searches for the weakest link – sometimes through the organization's suppliers. Gaining visibility and managing your organization's web of third-party relationships and dependencies is a must. Yet, in our research, fewer than half of respondents say they have responded to the escalating threats that complex business ecosystems pose."
Asked how their companies are minimizing third-party risks, the most common answers were auditing or verifying their suppliers' compliance (46%), sharing information with third parties or helping them in some other way to improve their cyber stance (42%), and addressing cost- or time-related challenges to cyber resilience (40%). But a majority have not refined their third-party criteria (58%), not rewritten contracts (60%), nor increased the rigor of their due diligence (62%) to identify third-party threats.
Simplifying the way to cybersecurity
Nearly three quarters of respondents said the complexity of their organization poses "concerning" cyber and privacy risks. Data governance and data infrastructure (77% each) ranked highest among areas of unnecessary and avoidable complexity.
Simplification is a challenge, but there is ample evidence that it is worthwhile. While three in 10 respondents overall said their organizations had streamlined operations over the past two years, the "most improved" in our survey (the top 10% in cyber outcomes) were five times more likely to have streamlined operations enterprise-wide. These top 10% organizations are also 10 times more likely to have implemented formal data trust practices and 11 times more likely to have a high level of understanding of third party cyber and privacy risks.
CEO engagement can make a difference
Executive and CEO respondents differ on how much the support the CEO provides on cyber, with CEOs seeing themselves as more involved in, and supportive of, setting and achieving cyber goals than their teams do. But there is no disagreement that proactive CEO engagement in setting and achieving cyber goals makes a difference. Executives in the "most improved" group, reporting the most progress in cybersecurity outcomes, were 12x more likely to have broad and deep support on cyber from their CEOs. Most executives also believe that educating CEOs and boards so they can better fulfill their cyber responsibilities is the most important act for realizing a more secure digital society by 2030.
Sean Joyce concluded: "Our survey shows that the most advanced organizations see cybersecurity as more than defense and controls, but as a means to drive sustained business outcomes and build trust with their customers. As leaders of organizations, CEOs set the tone for focusing their cyber teams on bigger-picture, growth-related objectives rather than narrower, short-term expectations."
Are we on track to meet the SDG9 industry-related targets by 2030?
A new report published by the United Nations Industrial Development Organization (UNIDO), Statistical Indicators of Inclusive and Sustainable Industrialization, looks at the progress made towards achieving the industry-related targets of Sustainable Development Goal (SDG) 9 of the UN 2030 Agenda for Sustainable Development. The report is primarily based on the SDG9 indicators related to inclusive and sustainable industrialization, for which UNIDO is designated as a custodian agency, showing the patterns of the recent changes in different country groups.
Six years after the adoption of the 2030 Agenda for Sustainable Development and its 17 SDGs, there has been increasing demand for information on whether the SDG targets could be reached, and what actions should governments take to accelerate progress. The UNIDO report introduces two new tools developed by UNIDO to help countries measuring performance and progress towards SDG9 industry-related targets: the SDG9 Industry Index and SDG9 progress and outlook indicators. The SDG9 Industry Index benchmarks countries' performance on SDG-9 targets over 2000-2018 for 131 economies. In addition, the report develops two measures to answer the main questions:
Progress: how much progress has been made since 2000?
Outlook: how likely is it that the target will be achieved by 2030?
The global COVID-19 pandemic has inevitably had a negative toll on the progress towards reaching the SDG9 indicators, but the extent of the long-term impact remains to be seen. Industrialized countries continue to dominate global manufacturing industry, but their relative share has gradually declined over the past decade. In 2010, industrialized economies made up 60.3% of global production, which has decreased to 50.5% in 2020. China has been the largest manufacturer, now accounting for 31.7% of global production. This is a trend that has been reinforced by the pandemic.
Progress for the least developed countries (LDCs), at the heart of the 2030 Agenda, is a different story. While economic theory and countries' experiences across the world have established that industrialization is an engine of sustainable growth, progress among LDCs remains very diverse. Asian LDCs are poised to double their share of manufacturing in GDP and thus meet SDG target 9.2, but African LDCs have stagnated.
SDG9 Industry Index
The SDG-9 Industry Index, consisting of five dimensions, covers three targets and five indicators and assigns a final score to countries. In 2018, the top ten consisted of exclusively industrialized economies, with Taiwan, Province of China, Ireland, Switzerland, the Republic of Korea and Germany making up the top five. In general, industrialized economies perform best in all dimensions of the Index.

The countries at the bottom of the ranking are LDCs, in particular those located in sub-Saharan Africa. Although some African countries have been displaying impressive growth rates, growth has been driven by an extended commodity boom and foreign capital inflows, while industrialization and structural transformation have stagnated. Additionally, substantial data is lacking for a significant amount of the countries. In the SDG9 Industry Index, only 24 out of 54 African countries are included, from which only eight are LDCs. It is clear that national statistics offices need strengthening, as data availability helps countries formulate, review and evaluate their development plans and programmes.
ASEAN Survey Calls for Joint Action for an Inclusive and Sustainable Digital Economy
The World Economic Forum launches today the ASEAN Digital Generation Report 2021, a special edition of its annual ASEAN youth survey report series, which examines the impact of the pandemic on personal income, savings and the role of digitalization in the region's economic recovery. The report's survey, conducted with close to 90,000 participants from Indonesia, Malaysia, the Philippines, Singapore, Thailand and Viet Nam, also flags the gaps needed to build a more inclusive and sustainable economy, namely: access to technology, digital skills training for all generations, and measures to enhance online trust and security.
The survey's findings confirm e-commerce's role as the key driver of growth in the ASEAN region. Wholesale and retail trade sector had the highest proportion of people starting new businesses (50%), while the logistics sector had the highest share of people finding new jobs (36%).
Notably, respondents from these two sectors are among those who also reported a decline in income. This could be because when people experienced a fall in income, they started new businesses in the wholesale and retail trade sector to leverage e-commerce opportunities.
A majority of respondents have adapted to the challenges of the coronavirus pandemic through significant digital adoption. Across ASEAN, 64% of respondents have digitalized 50% or more of their tasks, as have 84% of respondents who are owners of micro, small and medium enterprises (MSMEs). Respondents who reported greater levels of digitalization of their work and business reported lower levels of income decline. Similarly, business owners with an online presence were more likely to report an increase in savings (24%) and income (28%) compared to those without one (18%).
However, the benefits of digitalization are unevenly spread across the region. Those who are less "digitalized" found further digital adoption less appealing. As in 2020, respondents continued to point to expensive or poor internet quality or digital devices as the top barriers to digital adoption. While less digitalized respondents pointed to lack of digital skills as a key additional obstacle, more digitalized respondents pointed to trust and security concerns instead.
The identified obstacles were consistent across all six countries surveyed. As such, multistakeholder and regional joint actions are needed to unlock the full potential of ASEAN nations in the digital age and narrow these gaps.
"Through this annual survey, we wanted to understand the views, priorities and concerns of the digital users in ASEAN and gain statistical insights that will help inform and shape relevant regional policy," said Joo-Ok Lee, Head of the Regional Agenda, Asia-Pacific, World Economic Forum. "The survey showed improving the quality and affordability of ASEAN digital infrastructure, equipping the ASEAN workforce with appropriate skills and enhancing people's trust in the digital environment are crucial to bring ASEAN over the tipping point for inclusive and sustainable digital transformation."
"One of the key findings was that digitalization has a 'flywheel' effect wherein users who had first experienced the benefits of technology were more eager to deepen their levels of digitalization," added Santitarn Sathirathai, Group Chief Economist at Sea, a Singapore-based global consumer internet company."It is critical for the public and private sector to work even more closely to lower any friction and barriers, which may prevent the positive digitalization momentum from taking place. Through this, digitalization can enable post- pandemic recovery in an inclusive and sustainable way."
Between July and August 2021, the survey polled participants from Indonesia, Malaysia, the Philippines, Singapore, Thailand and Viet Nam. Some 77% of respondents are youths aged between 16 and 35, 56% female and 10% business owners.
This year's edition continues tomonitor the impact of the pandemic on respondents, explores how the ongoing digitalization has benefited their life and society in the real economy, what stands in their way of further digitalization and maximization of such benefits, and how to tackle the identified obstacles.