High Expectations from PM Imran Khan's visit to the U.S.
High expectations run for the upcoming visit of Pakistan's Prime Minister Imran Khan, to the USA on 20 July 2019 for a 5 days trip. It will be his first official visit after becoming Prime Minister of Pakistan. Unlike, previous leaders, who were eager to visit the USA just after taking charge of the office, because they need foreign support, especially from the USA to authenticate their legitimacy and power to rule. PM Imran Khan is a different leader, and not over-ambitious. In fact, previous leaders were always seeking US support to maintain their government's legitimacy and recognition. But, PM Imran Khan, depends on his people, masses of Pakistan. He enjoys the full support of common people in Pakistan, especially the youth. He is lucky enough to enjoy support from the Military establishment and Judiciary of the country. He gained deep roots inside Pakistan and may not depend on any political support from abroad.
Pakistan believes to maintain good relations with all nations, based on equality, respect, and mutual benefits. Pakistan is a nation of peace lovers and believes the rules set under UN charter for developing relations among nations. Pak-US relations are also no exceptions.
Although the US is one of the first nations that had established diplomatic relations with Islamabad. However, the seven decades of US-Pakistan ties have been far from smooth and experienced many ups and downs.
During the Cold War, Pakistan was a big supporter of the US and protected American vital interests in the region, including during the Soviet occupation of Afghanistan. Pakistan was also a close ally in the "war on terror" after the attacks on the World Trade Center and the Pentagon on September 11, 2001.
Although Pakistan extended a cordial hand of friendship to the US whenever it needs support, and sacrificed a lot, and heavy price for friendship, but the US always steps back whenever it does not requires Pakistani role in an issue and relations declines. In spite of non-NATO closest ally, Pakistan has faced some of the toughest and strictest US sanctions in history.
The two countries have always cooperated with each other on their common goals and interests, though the US has failed to value Pakistan's interests and has kept on making demands. "Do more" has been the message of the US leadership in recent years, without understanding Pakistan's capacity to comply, or its own interests.
During the past few years, the US has blamed, coerced and threatened Pakistan. Of course, there exist some concerns on both sides, and some of these may be genuine, but some are based on misunderstandings only. However, requires to address each other's concerns seriously and can be resolved easily.
Practically, the US considered the relations were on the project to project basis. Whenever the US needs Pakistan' support, they extend the hands of friendship and ignore all the differences, while, once the project is over, the objectives were achieved, the real face of the US revealed and sanctions, coercion, and threats were witnessed. It happened not only once, but became the routine normal practice in the past. The Pak-US relations were considered transactional, based on assignment to assignment only.
Currently, the US has been facing a big headache "Afghan Issue". After fighting for 18 years, spending up to US Dollars trillions, using the most lethal weapons, most sophisticated war techniques, most advanced technologies, best-trained troops, and resources from its allies, NATO, yet could not win in Afghanistan. Currently, 60% of Afghanistan is controlled by the Taliban. Americans cannot walk freely and fearlessly in the streets of Kabul. They are not safe except inside military camps, like Bagram Air Base. In practical terms, it is the Taliban who rule most of Afghanistan, not the US-supported government of President Ashraf Ghani.
US economy may not be able to sustain such expensive wars anymore. That is why the US has principally decided to pull its troops from Afghanistan and Syria. But wanted to save its face, wanted a safe and honorable exit.
The US tried India for any role in Afghanistan but failed to achieve any objective. The military and civil leadership in the US has realized the pivotal role of Pakistan and reached a conclusion that the US may not be able to achieve its strategic goals in this region, without Pakistan's vital support. Pakistan is willing to extend its all possible support to resolve Afghan Issues, as long as it is Afghan Led, Afghan Owned and should be sustainable. Pakistan has already helped the US to contact the Taliban directly for peace talks, and several rounds of such talks have been conducted successfully. Pakistan may play an important role in the safe and honored withdrawal of US Troops.
The US president desired to meet the Pakistani new leadership and upon his desires, PM Imran Khan has decided his proposed trip. This visit may carry some extraordinary expectations because it is going to happen under very extraordinary geopolitics prevailing in this region currently.
The US is engaged with China on Trade War, the South China Sea and "Contain China". While confronting Russia is at its peak, North Korean Issues, Middle-East, especially Iran is hot burning issue of the current era. The US relations with Europe and its impression in the developing world, especially "Islamophobia".
It is expected that Pakistan may full-fill its needs on Afghan Issues. But Pakistan may ask some kind of permanent friendship based on the guidelines-principles of the UN. Keeping its strategic interests with Russia and China, Pakistan may strengthen its relations with the US. Pakistan may not compromise on its ongoing initiatives for revival of its economy like CPEC/BRI. Pakistan's strategic interests in SCO may not be compromised. Pakistan would like to meet its security requirements from any country in any form, including S-400. Pakistan may not accept project based relations and will ask persistency and sustainable long term policy based relations. Pakistan may not accept coercion, sanctions, threats, and pressures in any form in the future. It depends on how maturely the US administration responds to Pakistan's genuine expectation. However, the intellectual circles are optimistic about the expected outcomes of this visit. On the other hand, Pakistan is ruled by better leaders today and understands its strategic interests very well and may not compromise.
Afghanistan deserves humanitarian assistance generously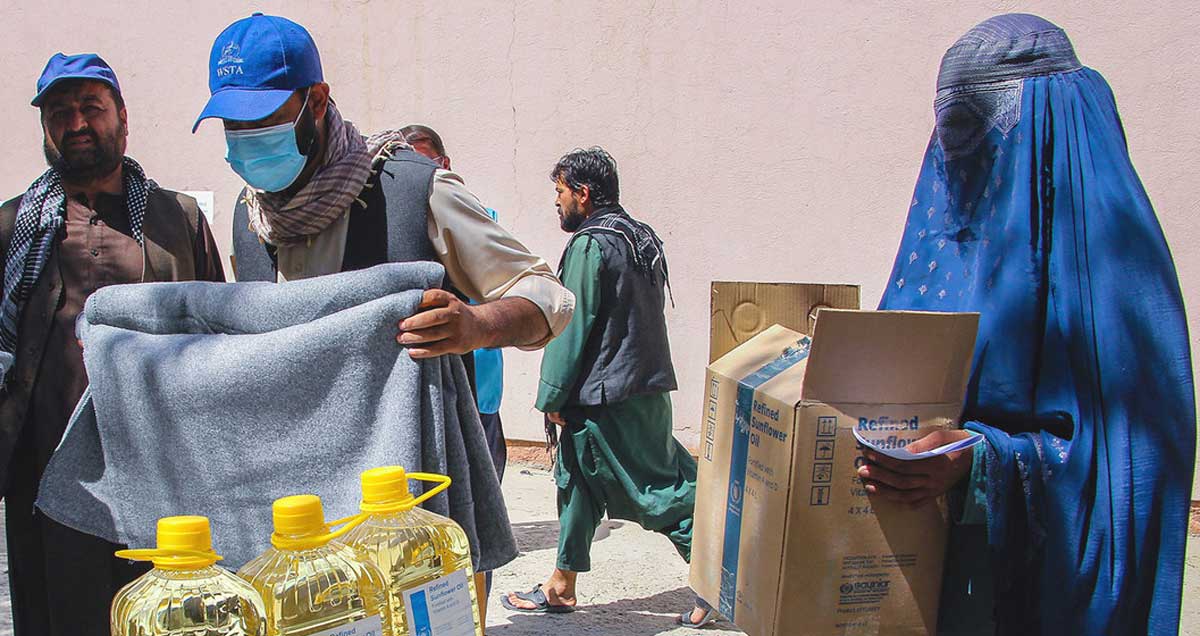 Whether it was the former USSR's occupation of Afghanistan in the 1980s or the US war from 2001-2021, Afghanistan was under war and unrest for almost four decades. Not only Afghanistan was destroyed completely but has affected the whole region, especially Pakistan. Pakistan was one of the fastest growing economies in the 1960s, and 1970s, but with the start of the war in Afghanistan in the 1980s, Pakistan's economy started deteriorating consecutively on yearly basis. Pakistan has not only sacrificed around 80,000 precious human lives but also an estimated economic loss of around US Dollars 250 Billion. Extremism, Terrorism, Drug culture, and Gun Culture was additional gift of the Afghan war.
Since the US withdrawal of its troops from Afghanistan and over-taken by the Taliban on 15 August 2021, there appears hope for peace and stability. It has benefited Afghanistan immensely but also has shown positive developments in the whole region. Regional developments and prosperity are linked to peace and stability in Afghanistan.
Pakistan is all out to stand with the people of Afghanistan to boost their economy and well-being. In this context, Pakistan and Afghanistan are likely to agree on the development of a multimodal Air-to-Road Corridor, which will contribute significantly to the economic development of both countries. Pakistan underscored the need for urgent international humanitarian assistance for the Afghan people while reiterating its support for a peaceful, united, stable, and prosperous Afghanistan. Pakistan-China plan to extend CPEC to Afghanistan is proof of Pakistan's firm commitment to a peaceful, stable, prosperous, and connected Afghanistan.
Since September 2021, over 14945 Tons of humanitarian assistance has been sent to Afghanistan via 694 trucks and four C130 planes under arrangements of the Pak-Afghan Cooperation Forum (PACF). In the wake of the recent earthquake in Afghanistan, Pakistan has opened its border in South Waziristan and established a makeshift medical facility. Relief aids from Pakistan include food, clothing, blankets, medicines, etc. For ages, Pakistan is supporting reconstruction in the war-ravaged neighboring country by building hospitals, schools, and roads to help improve the lives of the Afghan people and its development assistance to Afghanistan has reached the US $1 billion so far. In 2019, Afghanistan's second-largest hospital, Jinnah Hospital, which is a 200-bed, state-of-the-art medical facility in Kabul, was opened at a cost of more than $24 million as part of Pakistan's contribution to reconstruction and development efforts.
Recently, Pakistan has offered to provide online education facilities for Afghan students – Allama Iqbal Open University (AIOU) and Virtual University (VU) will teach students through their TV network.
In 2020, the country's Higher Education Commission (HEC) announced around 3,000 scholarships worth Rs. 1.5 billion Afghan students studying in different institutes of Pakistan in various fields, including medicine, engineering, agriculture, management, and computer science.
Pakistan has made exemplary efforts to reinvigorate bilateral economic relations to boost trade and investment through cooperation in diverse areas and frequent exchange of business delegations.
In a bid to reconstruct and rebuild Afghanistan, Pakistan has never acted as a traditional donor country which is evident from its four decades of hosting 3 million Afghan refugees and facilitation of the Afghan peace process prior to the Taliban takeover in August 2021.
From its limited resources, Pakistan is providing the US $500 million for capacity building in various sectors including education, and health as well as building schools, hospitals, roads, etc. communications infrastructures of Afghanistan. A few completed projects under Pakistan's Bilateral Assistance Program are as under:-
Roads & Transportation Sector
o 75 Km Torkham – Jalalabad Road.
o Additional carriage Wayat Torkham – Jalalabad Road.
o 3 internal roads in Jalalabad.
o Traffic signals in Jalalabad city.
o Provision of road construction machinery.
o 30 Mobile hot mixers, generators, and medicines for Wardak Province.
o 200 Trucks & 100 Public transport buses.
Education Sector
o Rehman Baba School and Hostel, Kabul at cost of Rs: 120 million.
o Liaquat Ali Khan Engineering Faculty Block, Balkh University at cost of Rs: 1046 billion.
o Allama Iqbal faculty of Arts, Kabul University at cost of Rs: 672.54 million.
o Sir Syed Post-graduate faculty of sciences, Nangarhar University at cost of Rs: 389.65 million.
o 6 primary schools and 2 Vocational Training Institutes in Kabul and Baghlan.
o 10 Buses for Kabul and Nangarhar Universities.
o 300,000 School Kits for 18 provinces.
o 2000 fully funded scholarships for higher education in Pakistan.
o 500,000 refugee students enrolled in schools in Pakistan.
o Trained 644 Afghan police and drug control officers, doctors and paramedical staff, diplomats, judicial officers, customs officers, agriculturists, and bankers.
Health Sector
o Nishtar Kidney Centre, Jalalabad at a cost of USD 7 million.
o 400 Bed Jinnah Hospital, Kabul at a cost of USD118.854 million.
o Naeb Aminullah Khan Hospital, Logar at a cost of USD 20 million.
o 45 Ambulances for 12 provinces.
o 14 fully equipped mobile medical units at a cost of Rs 58020 million.
o Medicines for Kabul, Jalalabad and Kandahar.
o Free Eye Camps (still continued).
o A single philanthropic Pakistani organization performed over 30,000 free eye surgeries on Afghan patients in 2008 alone.
General Assistance included the provision of TV transmitters for Kandahar, a Digital Radio Link between Kabul and Peshawar, security equipment and computers, installation of 15 deep well hand pumps in villages of Kabul, and rehabilitation of Kabul Zoo and Deh Mazang Park.
It is desired that the International Community may also follow the same spirit and extend the much-needed humanitarian assistance to Afghanistan on emergency bases. Especially the developed nations should generously assist Afghanistan.
Varisha Tariq – Representing women in politics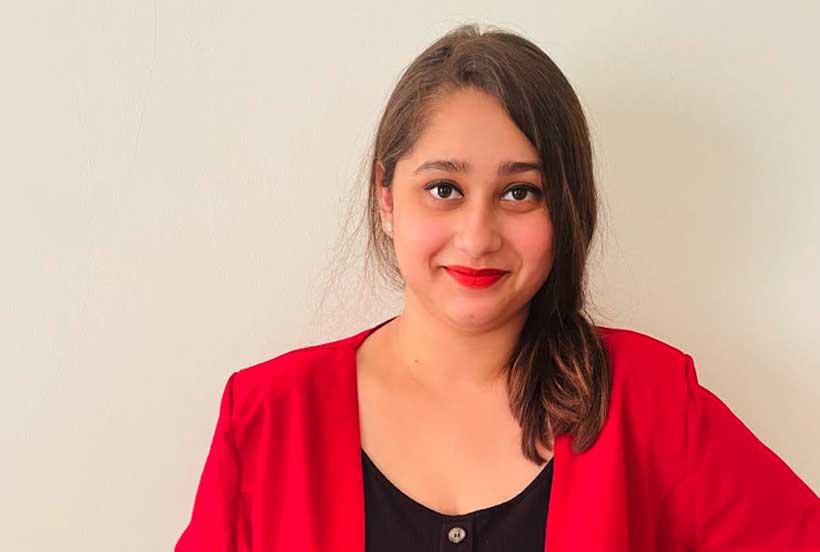 Varisha Tariq is a writer and politician interested in the intersectionality of gender, class and global politics with culture. She is an Alumna of Ashoka University, and founder of Helping Hands NGO, Lucknow. She has been published in an anthropological book 'People called Lucknow' and in news outlets like Vogue, Stylist Magazine, Fodor, CH-VOID, LiveWire, Your Story, Feminism In India and Hindustan Times. You can find all her published work here and her most recent article in Vogue here.
Why did you choose to contest for elections in India?
Growing up as a Muslim woman I had become intricately familiar with how politics impacts marginalised women's rights. The lack of women in politics certainly played a huge role in how the policies in the country were shaped. I had always been a feminist who has been interested in bringing large-scale change and post my undergraduate studies at Ashoka, I realise the potential Indian Politics hold. Not just that but the understanding that it's all about the courage to enter these fields. To quote Emma Watson, "if not me, who? if not now, when?"
Why did you choose Congress as the party you want to support?
My reason for choosing congress was based on the party's current policy, leadership and an analysis of its relevance geographically and their long-term vision. The party re-designed its vision to a feminist structure with women empowerment as a key point in its manifesto. It promised to have a minimum of forty per cent women in leadership positions. In Uttar Pradesh, Congress has been strong opposition to the right-wing ideological party, BJP. Moreover, the party leadership is committed to restructuring the party from a long-term perspective and I appreciated the dedication. These were my reason for choosing to support congress.
What are some campaigns you ran for your party?
All my campaigns were in alignment with #LadkiHounLadSaktiHoun campaign. I ran a digital campaign to raise awareness about the electoral process in order to encourage others to apply. I tried to break down the process of applying for MLA in Uttar Pradesh as this knowledge would make politics more accessible to people who have doubts or reservations about the political system. The campaigns were planned keeping Covid in mind so they had physical restrictions.
Why did you choose feminism as a centric theme for your campaigns?
Having experienced patriarchal and structural defects that work against the Indian woman, and having worked in the social sector, I realised the biggest change that needs to come in India is in the field of policy making. Even if we have strong laws that can help prevent oppression against women, we don't have a strong policy system that can properly support it. Politicians are key in creating and promoting healthy policies. Strong policies regardig women can only come into affect if we have more feminist politicians. Even apart from that, I have always dreamt of creating feminist social impact and I believe that this campaign has been a start of a lifelong commitment to this cause.
Do you see yourself trying for elections again despite the outcome this time?
That is a yes without any doubt. Politics is one profession where you must commit to a long-term plan. For the same reason, this is never rushed. You keep coming back to politics as and when you grow. When I entered I knew that this would be something I would carry with me lifelong and the efforts have to be consistent. So, in short, yes, I will definitely keep trying till it works out.
What has your social work in the past included?
I worked as a Resident Assistant in the final year of my college, a student ambassador for Ashoka University for two years, a member of Centre for Gender and Sexuality, Ashoka University. All these commitments drew out a leader in me, a leader who is passionate about serving her community. In 2019, I established Helping Hands NGO where I led a team of six individuals. The objective was to make welfare schemes accessible for the marginalized. Over the span of four months, I connected to more than forty-five thousand female students and two thousand families. During the deadly second wave of Covid, I used my NGO to increase awareness of medical resources available in Lucknow. I worked with Ashoka University and Barefoot International at the time when India was, quite literally, gasping for breath. Today I am working to create sustainable creative scholarships for marginalised young girls who want to grow up and pursue unconventional career paths.
What are your future plans?
After dabbling in the creative sector, development sector, politics and business I have realised that the one thing that has remained common in whatever I do is my feminist understanding of the world. In order to learn and understand more about the feminst leadership and perspective I have decide to pursue a masters in Gender and Law from SOAS Univeristy of London. Post that I would want to come back to India and pursue politics. Hopefully my deeper understanding of Gender and Law from South-Asian perspective would allow me to create meaningful and sustainble impact in politics in the years to come.
The India-Pakistan Sub-Conventional War: Democracy and Peace in South Asia -Book Review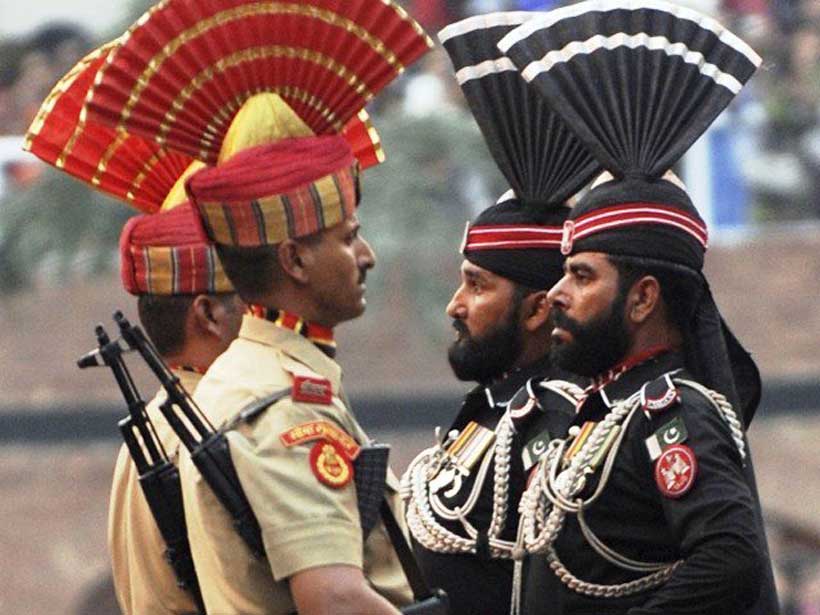 Sanjeev Kumar H.M., The India-Pakistan Sub-Conventional War: Democracy and Peace in South Asia, New Delhi: SAGE Publications India Pvt. Ltd, 2022, pp. 207, ₹1,095 (Hard Cover). ISBN: 978-93-5479-420-9.
The India-Pakistan relations have involved a manifestation of the multifaceted nature of conflict since their independence and partition. The legacy of colonialism, psychology of fractured identities and a deep sense of nationalism have been the leading trends defining their relations. From geopolitical conflicts over Kashmir issue and cross-border terrorism, their geostrategic ties with other countries to the third party involvement of US and China, India and Pakistan have seen multiple level of tensions.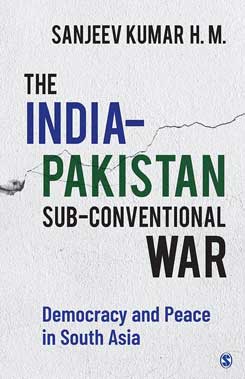 To understand these multifaceted dynamics of India-Pakistan relations, the book under review involves an adequate analysis of their unique relations that is beyond the understanding of any western theorization. The book criticises the theory of democratic peace thesis and reports its failure in the context of India-Pakistan relationship as two democracies facing multiple level of conflicts. The author, Sanjeev Kumar HM, criticize the liberal peace thesis for considering only the conventional definition of warfare, and suggests to move beyond or consider the sub conventional form of conflict through diving into the empirical case scenarios of India-Pakistan relations. It examines the modes by which the crisis-prone processes of democratization in South Asia have contested the central thesis of liberal theory of international relations, which claims a natural link between democracy and war. In other words, the book opposes the epistemic foundations of democratic peace hypothesis by deconstructing its central arguments in the geostrategic context of the South Asian regional security architecture. It explains the South Asian region as a postcolonial territorial formation, which has been plagued by internal conflicts driven by social-economic inequities and embedded complexities.
Unlike the chronological explanations of India-Pakistan relations, the book aims to revise the theoretical rigors around them. The ontology, epistemology, spatial-temporal aspect of every theory is different, thus cannot be generalized. The democratic peace these is suitable for those societies engaged in interdependent community, for instance- European Union. The author has analyzed the transferability of democracy and peace from domestic to regional and then to the global level, which varies as per the history of a country or region. Unlike Western Society, the South Asian region has multiple aspect of analysis- Nationalism, Post-colonial conditionality, and delayed modernity. The failure of modernity in South Asia itself makes it not qualified to be analyzed as per the liberal peace thesis concept.
The deepening of democracy goes through stages like- decay, consolidation and maturity. Pakistan as a deep state, manages between authoritarianism and democratization since the beginning. With increasing emphasizes on Islamic state goals and military statecraft, Pakistan continued to face legitimation crisis and shrinking of public sphere, being a terror manufacturing state facilitating under military control thus has no connection to the liberal peace theses. While despite all the neo-liberal reforms, India has failed to create an inclusive society and over-bureaucratization of development that reflects how India doesn't fit in liberal peace theses. In liberal peace theses, there is a presupposed rationalism required between two parties to maintain peace that is mostly missing between India-Pakistan.
He has argued how liberal peace theses fails to take following factors into consideration (thus fails to anlyze the South Asian region)- 1) Regime types, as a democracy can be procedural or consolidated or both based on the stage of democracy deepening it could have achieved; 2) Different nature of State, as while India focused on maintaining status quo, Pakistan continued to emphasize on escalation and reaching threshold; 3) State behavior, as the nature of peace and war gets determined by the behavior of states. The most important aspect of the book is the fact that author has attempted to redefine the concept of war as different from the conventional concept of war given by democratic peace theses. He argues that India-Pakistan war are not only conventional in nature, but also have remained sub-conventional that costed more casualties to both sides. The sub-conventional wars have been a result of both countries' failure in nuclear deterrence.
The book concludes that the democracies in South Asia have gone through sub-conventional war consistently, most particularly between India-Pakistan making their equations as unsuitable to be analyzed by the democratic peace theses, despite being democracies. Their sub-conventional war involves multifaceted aspect of conflicts that involves- a) geopolitical factors due to contest and hostilities over the territory of Jammu and Kashmir, majorly seen as contest between the Westphalian and the primordialist conception of state; b) Ideological contestation between secularism and Islamic nationhood in the context of Jammu and Kashmir most particularly. c) The over acquisition of nuclear weapons by both countries reflects their contested terrain of power politics.
Weakness or Limits of the book:
The book is theoretically loaded with less empirical explanations, which requires a less advanced IR scholar or student to do two or more readings to understand the complex terminologies used in the book. It has given a fair explanation how liberal peace thesis has no application in the South Asian region, but has used only the case study of India-Pakistan relations. If the central argument opposes the generalization of democratic peace thesis in analyzing the relations between any democracies, then the counter-argument of the book should have used more examples before generalization the non-application of peace thesis in South Asia. The absence of enough empirical examples in comparison to theoretical arguments can limit the readership of the book.
How it is good for the IR students?
As mastery on theoretical analysis is a loosing trend among IR and foreign policy scholars. This book will lead the reader in the direction of conceptual clarity of not only democratic peace thesis and its critic neo-kantian cosmopolitan, but also the whole IR theoretical base. How every theory of IR views the anarchical nature of world order and suggest solutions, but not all solutions fit into the South Asian region. This means the analysis should consider the spatial and temporal aspects of a situation or case study as well. Sometimes a theory fits, sometimes doesn't but following a particular spatio-temporal analysis derived majorly from Euro-American experience limits the scope of analyzing a regional of different spatial-temporal dimension like South Asia, which is full of its very unique kind of controversies and disputes around the issues of river water sharing, transborder migration, cross-border terrorism, diverse ethnic nationalities, and so on.