Despite Truce, No End in Sight for the US-China Trade War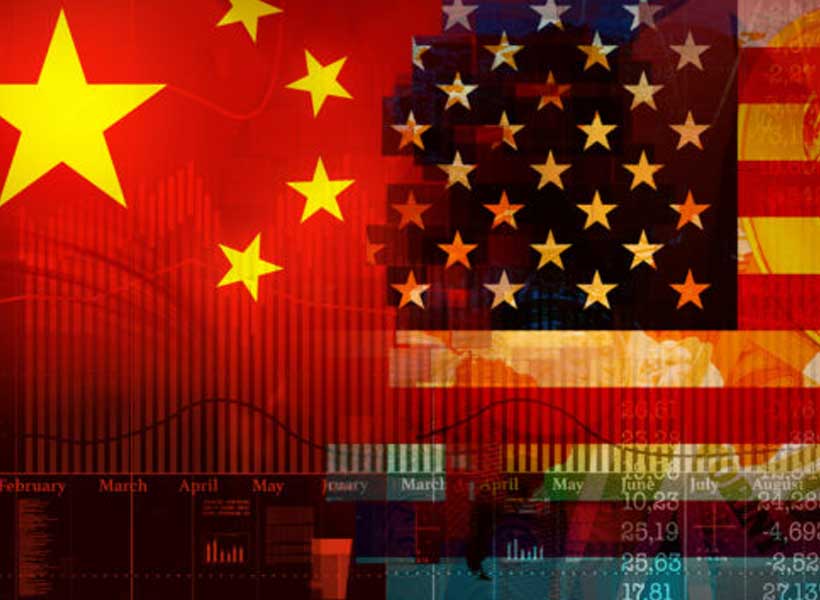 As the trade war between the US and China moves into truce, but not yet comprehensive agreement, uncertainly still rules, agreed panellists at a CNBC debate on the first day of the World Economic Forum's Annual Meeting of the New Champions.
"The implication of the trade war is going to be so much broader than whatever impact it may have on business in the US and China," said Charles Li, Chief Executive of Hong Kong Exchanges and Clearing. "This will be a long, long process before it's over."
Li compared the trade war to two runners, with the second runner closing distance in a manner that the race leader thinks is unfair. "Either you run faster to create the distance again, or you find a way to slow the other runner down."
For the time being, there is no immediate end to the race in sight. None of the panellists predicted that there would be a resolution between the US and China on trade by the end of the year.
"The business community is very pleased that they are going back to the negotiating table … and that additional tariffs are going to be postponed for the time being," said Timothy P. Stratford, Managing Partner, Beijing, at Covington & Burling. "What we are most concerned about is all the remaining uncertainty."
"National security and trade policy are different fields," he added, "with different rationales and goals they are trying to achieve." He warned: "Mixing them together can really complicate things. They both need to be addressed in parallel, because they impact each other, but you have to keep them separate."
"It's a temporary truce," reminded Mari Elka Pangestu, Professor of International Economics at the University of Indonesia, "but the issues behind the trade tariffs and deficit go deeper, into the perception of unfair trade practices, intellectual property and technology. I'm not sure it can be resolved anytime soon."
Pangestu stressed the need for a multilateral rather than a bilateral resolution, so that all stakeholders can participate. "When two elephants fight," she said, "countries like Indonesia don't want to be trampled; we need to be agile."
China's loss can also be South-East Asia's and ASEAN's gain, as US firms seek alternative supply chains and manufacturing bases. But these could only be short-term gains, Pangestu warned, emphasizing that, for Indonesia in the long term, "it's better that we go back to a rules-based system and more certainty."
"We are very happy to hear that both the US and China have agreed to come back to the negotiating table," said Yi Xiaozhun, Deputy Director-General of the World Trade Organization. However, he voiced the hope that multilateral arbitrage can help the US and China to resolve their differences.
"The WTO is a rules-based organization," Yi stressed. "If some members feel their business opportunities are jeopardized by other members, they should come to the WTO to raise their concerns."
"A lot of smaller economies are also affected by this trade war," added Yi. "The current economic situation in the world does not look good. Uncertainty has reduced the confidence of investment, and global supply chains are disrupted. We hope that uncertainty can be reduced … and the WTO can move forward to more liberalization rather than moving back to managing trade."
"Uncertainty is causing a lot of delay in investment decisions," concurred Pangestu. "At the end of the day, it's consumers who have to pay."
Repercussions run deeper than rising prices. "Americans are concerned that the Chinese government will find other ways to show its displeasure," warned Stratford, citing different types of retaliation including audits, investigations and the inability to get business licences.
Stratford noted: "One possibility is that the Government of China might decide it would be easier to deal with another president, and wants to see the results of the [2020] election. Although I agree that, whether you have a Republican or a Democrat in the White House, the US will never go back to what their China policy was before."
"Both sides are suffering pain," Stratford said, and seek a solution. But the resolution will not come easily or swiftly. "We're moving into a process that might take three or four years."
Central and South America now 'intense zones' for COVID-19 transmission
Greater solidarity must be shown to Central and South American countries which have become "the intense zones" for COVID-19 transmission, a top official with the World Health Organization (WHO) said on Monday.
Dr. Michael Ryan, WHO Executive Director, was speaking to journalists listening in to the UN agency's regular virtual update on the pandemic.
He reported that the Americas are home to five of the 10 countries with the highest number of COVID-19 cases over the past 24 hours: Brazil, the United States, Peru, Chile and Mexico.
The biggest rise in caseloads can be found in Brazil, Colombia, Chile, Peru, Mexico, Haiti, Argentina and Bolivia.
"While the numbers are not exponential, in some countries we are seeing a progressive increase in cases on a daily basis", said Dr. Ryan.
"And countries are having to work very hard to both understand the scale of infection, but also health systems are beginning to come under pressure across the region."
Countries vary in response
The Americas offer a mixed picture of COVID-19 responses on a national level, Dr. Ryan continued, with some countries taking what he described as an "all-of-government, all-of-society, inclusive, scientific-driven approach" to tackling the disease, and others struggling.
Factors that drive virus transmission across the region include complexities in population structure and urban poverty.
"I would certainly characterize that Central and South America in particular have very much become the intense zones of transmission for this virus as we speak, and I don't believe that we have reached the peak in that transmission. And at this point, I cannot predict when we will", he said.
Dr. Ryan called for support and international solidarity for countries in the region.
WHO is particularly concerned about the situation in Haiti due to the inherent weakness of the country's health system.
Last month, an advisory group with the UN's Economic and Social Council (ECOSOC) warned that the pandemic could trigger a humanitarian catastrophe in the Caribbean island nation, where six million people already live below the poverty line.
Explainer: rescEU and Humanitarian Aid under the new MFF
Why is the Commission proposing to strengthen the EU Civil Protection Mechanism and rescEU?
The EU Civil Protection Mechanism is a crisis management structure that allows Member States and Participating States[1] to strengthen their cooperation in the field of civil protection, to improve prevention, preparedness and response to disasters. It is based on voluntary contributions of Member States, with the European Commission playing a key coordinating and co-financing role.
The need for a more flexible, faster and reactive system to respond to large-scale emergencies is one of the lessons learnt from the outbreak of the coronavirus pandemic.
The rapid spread of the virus exposed some limitations in the current crisis management framework. At times when Member States are hit by the same emergency simultaneously and unable to offer each other assistance, the EU is currently unable to help quickly enough to fill these critical gaps as it does not have its own assets and has to rely on voluntary support from Member States.
A reinforcement and upgrade of the EU Civil Protection Mechanism – as requested by the European Council in March 2020 – is therefore necessary to avoid situations where Member States are left alone during crises.
What is the main objective of the proposal?
The Commission's proposes to allow the EU and its Member States to be better prepared for and able to react quickly and flexibly to crises, in particular those with a high-impact given the potential disruption to our economies and societies.
Under the Commission's proposal, the EU will be able to;
directly procure an adequate safety net of rescEU capacities;
use its budget more flexibly to be able to prepare more effectively and react faster in times of exceptional needs
dispose of the logistical capacity to provide multi-purpose air services in case of emergencies and to ensure timely transport and delivery of assistance;
These strategic capacities will be supplementary to those of the EU Member States. They should be strategically pre-positioned in such a way as to ensure the most effective geographic coverage in response to an emergency.
In this way, a sufficient number of strategic assets will be available in order to support Member and Participating States in situations of large-scale emergencies and offer an effective EU-response.
What kinds of action will be financed under the proposal?
The upgraded EU Civil Protection Mechanism will equip the European Union with assets and logistical infrastructure that can cater for different types of emergencies, including those with a medical emergency dimension. This would allow the EU to:
Acquire, rent, lease and stockpile identified rescEU capacities;
Fully finance the development and the operational cost of all rescEU capacities as a strategic European reserve in case national capacities are overwhelmed;
Enhance the funding for national capacities deployed under the European Civil Protection Pool to increase their availability for deployment;
Ensure timely transport and delivery of requested assistance. This also includes internationally deployable experts, technical and scientific support for all types of disasters as well as specific medical equipment and personnel such as 'flying medical experts', nurses and epidemiologists.
Humanitarian Aid
How will EU humanitarian aid be enhanced under the new MFF?
The Commission proposes €14.8 billion for humanitarian aid, of which €5 billion come from the European Union Recovery Instrument to reinforce the humanitarian aid instrument.
The increased budget reflects the growing humanitarian needs in the most vulnerable parts of the world. The Humanitarian Aid Instrument will provide needs-based delivery of EU assistance to save and preserve lives, prevent and alleviate human suffering, and safeguard the integrity and dignity of populations affected by natural hazards or man-made crises.
A significantly enhanced Solidarity and Emergency Aid Reserve will reinforce EU action in response to all aspects of the health crisis, as well as other emergencies. Funds can be channelled to provide emergency support as and when needed through EU instruments such as humanitarian aid in cases where funding under dedicated programmes proves insufficient.
Why is the Commission proposing to increase humanitarian aid budget?
Humanitarian crises in the world are increasing: In 2020, nearly 168 million people will need humanitarian assistance and protection, a significant increase from 130 million people in 2018 (OCHA humanitarian needs overview 2020). The needs are stemming from the conflicts, global refugee crisis, worsening natural disasters due to climate change.
The coronavirus pandemic further increases already existing humanitarian needs. It has a major health, social and economic impact on societies around the globe, in particular on the poorest countries. It is estimated that up to 265 million people worldwide could be under severe threat of hunger by the end of 2020 due to the effects of the pandemic (OCHA humanitarian needs overview 2020). This requires strong reinforcements to the humanitarian aid budget to meet the growing needs.
The EU adapted its humanitarian response in light of the needs stemming from the coronavirus pandemic. However, the impact of the pandemic and the economic fall-out, are compounding existing needs, making it all the more important that the Union is equipped to demonstrate solidarity with the rest of the world.
Renewables Increasingly Beat Even Cheapest Coal Competitors on Cost
Renewable power is increasingly cheaper than any new electricity capacity based on fossil fuels, a new report by the International Renewable Energy Agency (IRENA) published today finds. Renewable Power Generation Costs in 2019 shows that more than half of the renewable capacity added in 2019 achieved lower power costs than the cheapest new coal plants.
The report highlights that new renewable power generation projects now increasingly undercut existing coal-fired plants. On average, new solar photovoltaic (PV) and onshore wind power cost less than keeping many existing coal plants in operation, and auction results show this trend accelerating – reinforcing the case to phase-out coal entirely. Next year, up to 1 200 gigawatts (GW) of existing coal capacity could cost more to operate than the cost of new utility-scale solar PV, the report shows.
Replacing the costliest 500 GW of coal with solar PV and onshore wind next year would cut power system costs by up to USD 23 billion every year and reduce annual emissions by around 1.8 gigatons (Gt) of carbon dioxide (CO2), equivalent to 5% of total global CO2 emissions in 2019. It would also yield an investment stimulus of USD 940 billion, which is equal to around 1% of global GDP.
"We have reached an important turning point in the energy transition. The case for new and much of the existing coal power generation, is both environmentally and economically unjustifiable," said Francesco La Camera, Director-General of IRENA. "Renewable energy is increasingly the cheapest source of new electricity, offering tremendous potential to stimulate the global economy and get people back to work. Renewable investments are stable, cost-effective and attractive offering consistent and predictable returns while delivering benefits to the wider economy."
"A global recovery strategy must be a green strategy," La Camera added. "Renewables offer a way to align short-term policy action with medium- and long-term energy and climate goals. Renewables must be the backbone of national efforts to restart economies in the wake of the COVID-19 outbreak. With the right policies in place, falling renewable power costs, can shift markets and contribute greatly towards a green recovery."
Renewable electricity costs have fallen sharply over the past decade, driven by improving technologies, economies of scale, increasingly competitive supply chains and growing developer experience. Since 2010, utility-scale solar PV power has shown the sharpest cost decline at 82%, followed by concentrating solar power (CSP) at 47%, onshore wind at 39% and offshore wind at 29%.
Costs for solar and wind power technologies also continued to fall year-on-year. Electricity costs from utility-scale solar PV fell 13% in 2019, reaching a global average of 6.8 cents (USD 0.068) per kilowatt-hour (kWh). Onshore and offshore wind both declined about 9%, reaching USD 0.053/kWh and USD 0.115/kWh, respectively.
Recent auctions and power purchase agreements (PPAs) show the downward trend continuing for new projects are commissioned in 2020 and beyond. Solar PV prices based on competitive procurement could average USD 0.039/kWh for projects commissioned in 2021, down 42% compared to 2019 and more than one-fifth less than the cheapest fossil-fuel competitor namely coal-fired plants. Record-low auction prices for solar PV in Abu Dhabi and Dubai (UAE), Chile, Ethiopia, Mexico, Peru and Saudi Arabia confirm that values as low as USD 0.03/kWh are already possible.
For the first time, IRENA's annual report also looks at investment value in relation to falling generation costs. The same amount of money invested in renewable power today produces more new capacity than it would have a decade ago. In 2019, twice as much renewable power generation capacity was commissioned than in 2010 but required only 18% more investment.