AD Climate Summit: IRENA Urges for More Climate Ambition through Renewables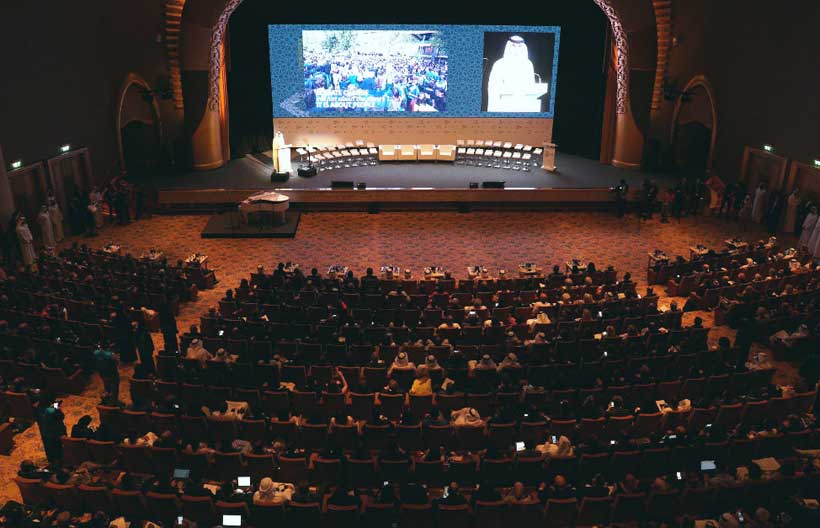 The tools required to meet the decarbonisation goals of the Paris Agreement exist today, and are technically feasible and economically attractive. This central message is being presented by IRENA at the UN's Abu Dhabi Climate Summit taking place on June 30 and July 1 in the UAE capital. IRENA will outline that falling technology costs have made solar, wind and other renewables the competitive backbone of energy decarbonisation and the most effective climate action tool available.
"Renewable energy delivers jobs, delivers on sustainable economic development and will deliver a viable climate solution. It is the competitive backbone of global energy decarbonisation and an essential and ready instrument to achieve the Paris Agreement goals," said Francesco La Camera, IRENA Director-General, who is participating in a series of ministerial-level sessions addressing the energy transition.
To meet climate goals however, deployment needs to happen six times faster than it is today. IRENA estimates that keeping global average temperature rise well below 2 degrees Celsius by 2050, means two-thirds of the world's energy should be renewable.
More ambition needed
A clear opportunity lies in increasing ambition under Nationally Determined Contributions (NDCs), a framework for co-ordinated climate action under the Paris Agreement. Currently NDCs would increase installed renewable power capacity by 3.6% annually to 2030, yet annual renewable energy deployment has actually increased by 8.5% over 2015-2018. NDC targets could already more than double just by reflecting the current pace of renewable energy deployment.
In addition to climate benefits, IRENA analysis suggests that the cumulative payoff by 2050 of increased renewables deployment, in economic terms, would be a 2.5% GDP boost —between USD 65 trillion and USD 160 trillion— and up to 31 million additional renewable energy sector jobs.
Further championing renewable energy's case at the Abu Dhabi meeting, IRENA staff and directors are participating in meetings on climate investment, NDCs, and transitioning away from coal to renewables, among others.
Assessing the challenges and opportunities of Africa's energy future
The International Energy Agency has significantly deepened its engagement with Africa in recent years, including through greater dialogue with governments and business leaders, increased training programmes for policy makers and expanded analytical work.
Today, several ministers from African countries took part in a special roundtable event about the continent's energy future that was hosted by the IEA ahead of the Agency's biennial Ministerial Meeting. It was chaired by Amani Abou-Zeid, the African Union's Commissioner for Infrastructure and Energy, and Alessandra Todde, Italy's State Secretary of Economic Development.
The roundtable included the Energy Ministers of Morocco, Senegal and South Africa, as well as other key stakeholders from government, industry and international organisations. The discussions assessed Africa's energy challenges, took stock of the findings from the IEA's recent Africa Energy Outlook 2019 and explored the opportunities for further IEA engagement to help African countries' achieve universal access to affordable, secure and sustainable energy.
"How Africa meets the energy needs of a fast-growing and increasingly urban population is crucial for its economic and energy future – and the world. That is why the IEA is strategically enhancing its engagement with African leaders and convening its partners here today," said Dr Fatih Birol, the IEA's Executive Director. "The IEA is fully committed to supporting African countries in achieving sustainable and prosperous energy transitions in the coming decades."
In June, the African Union Commission and the IEA co-hosted their first joint ministerial forum, which brought together high-level representatives from government and industry in Addis Ababa to discuss the development of Africa's energy sector. Dr Birol announced today that the second ministerial forum will take place in April 2020 and that South Africa has offered to host the event in line with its 2020 presidency of the African Union.
Following the meeting, the IEA and Senegal signed a Memorandum of Understanding to increase cooperation.
The 2019 IEA Ministerial Meeting is taking place in Paris on 5-6 December. It is chaired by Mr Michał Kurtyka, Poland's Minister of Climate and the President of COP24. Ministers of IEA Member, Accession and Association countries and CEOs of leading companies are attending the meeting.
Governments should take stronger action on energy efficiency -IEA survey
Governments need to take stronger policy action to reverse the worrying slowdown in global energy efficiency improvements, according to a public survey conducted by the International Energy Agency. The survey was carried out to inform the first meeting of the Global Commission for Urgent Action on Energy Efficiency, which takes place Wednesday.
Launched in July, the 23-member Global Commission is led by Honorary Chair Irish Prime Minister Leo Varadkar and composed of national leaders, current and former ministers, business executives and international experts. It is tasked with producing recommendations by next summer to accelerate global progress on energy efficiency, which declined last year to its slowest rate since the start of this decade.
During their first meeting in Paris on Wednesday, commission members will examine the key factors that determine success in the design and implementation of efficiency policies – as well as in securing political and popular support for the policies. The meeting will lay the groundwork for developing the commission's recommendations.
The IEA is providing analytical support for the commission's work. As part of this, it conducted a global public survey on energy efficiency to which nearly 800 people from around 80 countries responded. The survey includes questions on the objective of efficiency policies, key opportunities and focus areas for the commission.
In response to a question asking why the significant potential to improve energy efficiency is not being realised, the most popular answer was that governments do not place efficiency high enough on their agendas. Only 3% of respondents pointed to a lack of readily available technologies as a factor.
IEA analysis shows that there remains considerable cost-effective potential to improve energy efficiency, which is notbeing realised. In your opinion, what are the reasons for this?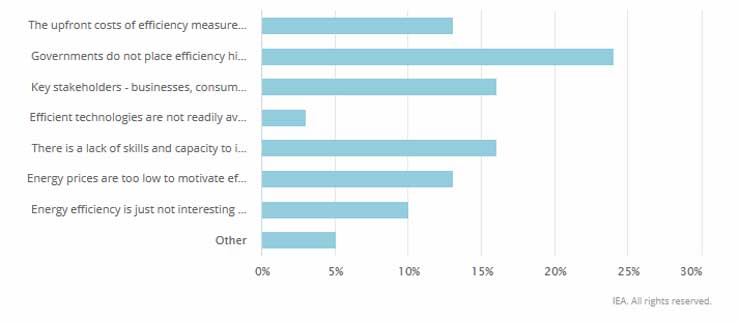 The reduction of greenhouse gas emissions is the most compelling reason to pursue greater levels of efficiency, according to most survey respondents. Many of them identified the buildings sector as having the greatest potential for immediate efficiency gains. More than 80% of respondents agreed or strongly agreed that efficiency progress is not possible without firm targets backed by clear strategies and policies.
Indicate your level of agreement with the following statements
When asked what topics the Global Commission should prioritise, the top two answers from respondents were identifying ways to raise the profile of energy efficiency to put it higher on government agendas and determining key success factors in policy design and implementation. Those themes reflect the wider energy efficiency community's expectations that the Global Commission will show how to build more support for energy efficiency among decision-makers and pinpoint the best ways to design and implement efficiency policies to effectively mobilise finance and investment.
What are the most important topics that you think the Global Commission should consider?
The views gathered by the public survey provide important insights for commission members as they begin their discussions and develop detailed policy recommendations.
IEA hosts energy efficiency events under Japan's presidency of the G20
The International Energy Agency recently hosted two energy efficiency events related to Japan's presidency of the G20.
The third workshop of the G20 Energy End-Use Data and Energy Efficiency Metrics initiative took place on 21 and 22 November at the IEA headquarters in Paris under the title "Uncovering the role of digitalisation for energy efficiency indicators."
This initiative – co-led by the IEA and the French government through its national energy efficiency agency (ADEME) – aims to bring professionals together to develop international cooperation on energy end-use data and energy efficiency metrics by sharing best practices and experiences on the topic. This year, it included a special focus on the role of new digital technologies.
The workshop drew wide interest and engagement, gathering 30 representatives from 14 countries and 4 international organisations around the table. Their discussions will feed into a paper under the framework of the initiative that will compile good examples of traditional data collection methodologies across sectors and the development of new technologies and digitalisation for end-use data collection.
The presentations are available on the workshop page. More information on the IEA's work on energy efficiency data is available here.
The two-day event was preceded by a half-day workshop on 20 November on global energy efficiency benchmarking. Aimed at government and industry experts, it focused on the specific processes and challenges associated with collecting data and benchmarking energy efficiency in energy-intensive industry sub-sectors, specifically iron and steel.
The IEA is eager to continue engaging with countries in the G20 and beyond on efficiency data and benchmarking activities, as well as discussing development priorities and the latest advances around these topics.