No More Business as Usual: Improving Water Usage in Central Asia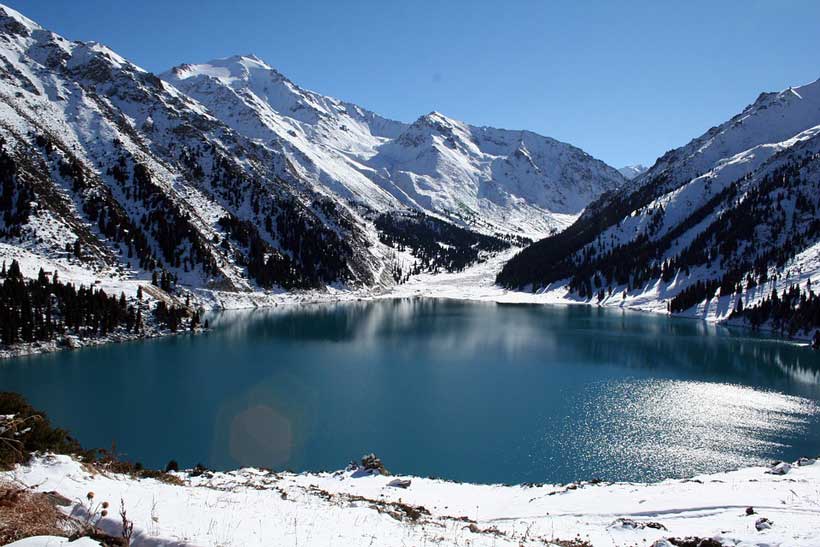 Central Asia's future economic development, including its energy and water security, depends to a great extent on how effectively countries manage their natural water supplies, especially under increased pressures from climate variability, economic growth, and population expansion.
The population of Central Asia is expected to grow by around 30% by 2050. As such, demand for water services will also increase significantly.
Central Asia is heavily dependent on agriculture, which provides livelihoods for about 50% of the population in some countries. But its level of water productivity is one of the lowest in the Europe and Central Asia region. More efficient use of water in the economy could significantly contribute to increased agricultural productivity, green energy production and the health of the region's environmental assets.
According to estimates, the adoption of modern agricultural techniques and methods could increase the region's crop yields by over 20% by 2030, and by 50% by 2050. On the other hand, if countries continue a "business as usual" approach, Central Asia is among the regions that could experience a significantly negative impact on GDP under climate change. Each year, inadequate water supply and sanitation leads to overall economic costs equivalent to around $2.1 billion, although these costs differ from country to country – ranging from almost 0.5% of GDP in Kazakhstan to around 4.25% in Tajikistan (2017 data).
"The water agenda in Central Asia is always viewed through the lens of the Aral Sea disaster," said Ato Brown, World Bank Country Manager for Kazakhstan. "Today, it is high time for us to start changing the narrative so that Central Asia is known for being an oasis of production and productivity."
According to a World Bank report, Central Asia is among the regions that have most to gain from properly managing water resources under climate change.
Most of the major rivers in Central Asia cross borders, therefore countries need to coordinate water management to advance sustainable development and climate resilience.
Water resources in the region are sensitive to climate variability, which poses significant challenges to the agriculture and energy sectors.
Since the 1950s, average annual temperatures have increased by 0.5°C in the mountainous areas of southern Central Asia, and glaciers that feed the region's main rivers – Amu Darya and Syr Darya – have shrunk by a third. With the melting of glaciers, the expected fall in river flows will have a major impact on agricultural production.
By 2025, hydropower is expected to overtake gas as the main fuel source for energy production in Central Asia. Where hydroelectricity production is based on reservoir storage, there can be flow management benefits for climate change adaptation, including flood and drought prevention and mitigation, as well as timely delivery of irrigation and drinking water.
"Central Asian countries need to start with a joint project, and there are opportunities for working together," said Ato Brown at the Astana Economic Forum. If the countries of Central Asia invest sufficiently and effectively in better water management, they have the potential to become not just economically prosperous and resilient to climate change – but also to provide new opportunities and hope for all their citizens.
Tokayev's Second Republic and its future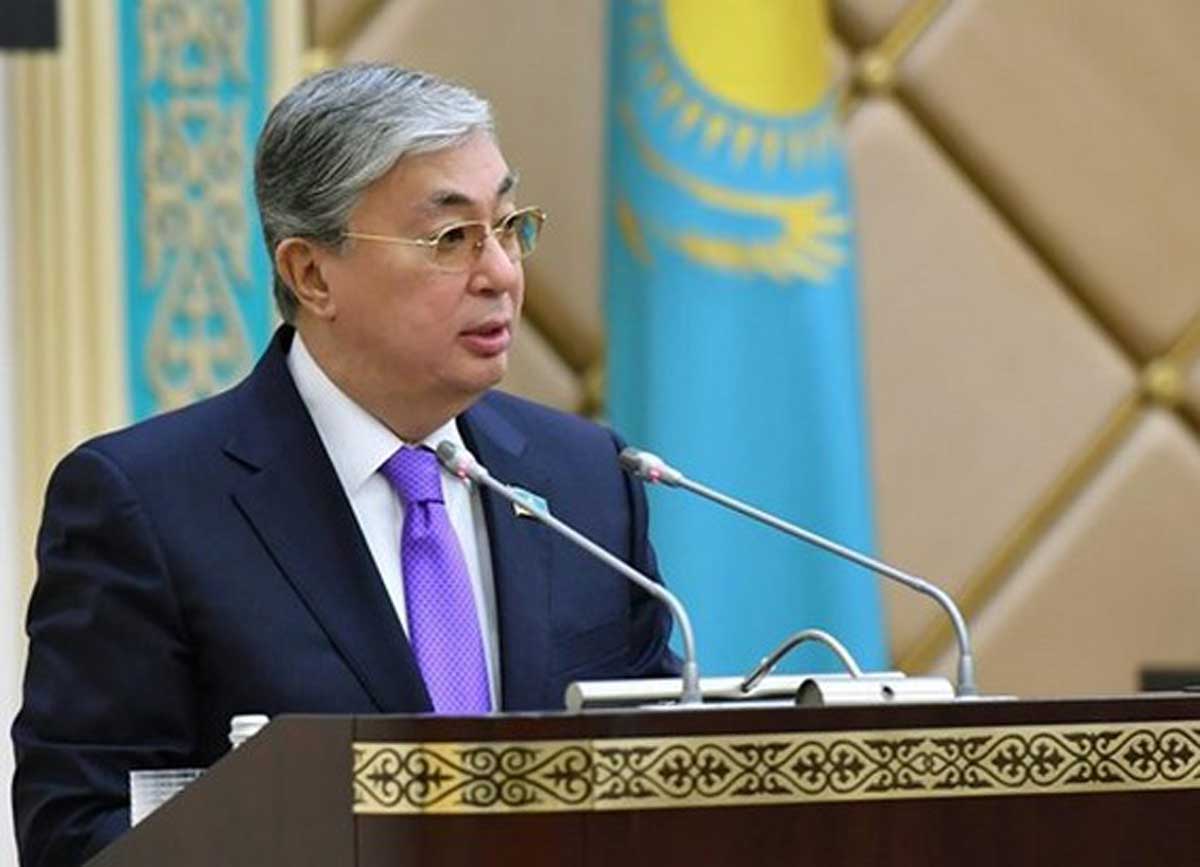 Since Tokayev's assumption of presidential office in March 2019 and election in June the same year, there have not been many changes so far, although he has been promising large scale political reforms. President Tokayev has even coined the term of "Listening State" which means a state that listens to the complaints of its citizens and considers them. Till the tragic January events of 2022, it was felt that despite being the Head of State, President Tokayev did not exercise his authority fully. There was a deep belief of Nazarbayev still ruling the country. It was natural since Nazarbayev was the chairman of the security council of the country and was de-facto power holder. President Tokayev had to align all his policies with the chairman of the security council with Nazarbayev. Furthermore, President Tokayev has inherited the immense state apparatus with old members who were cronies of his predecessor.
This year started with massive unrest in the western regions of Kazakhstan and spread later to other regions, ipso facto state of emergency was declared in most part of the country. Twofold increase of gas price fuelled people's anger and for people of oil-producing country it was beyond comprehension. Protestors were demanding the Government to take control over gas prices, however later economic demands grew to social and political ones. In his messages to the population, President Tokayev declared that soon he would present his political reforms. He did not make the Kazakh society to wait long. After two months of tragic events, in March President Tokayev delivered State of the Nation Address, in which he presented his plans of political reforms.
In one of his interviews, the Secretary of State, Erlan Karin, elaborated on the newly presented reformation plans and commented that: "First and foremost, reforms mark the end of the super-presidential form of government and open the path towards a presidential republic with a strong parliament". The current electoral system has been fundamentally changed following the announcement of the transition to a mixed proportional-majority model and the liberalisation of the process of registering new political parties''.
It means that individuals who are not members of a particular party will be able to participate in parliamentary elections, which will increase the degree of direct participation of citizens in the formation of the Mazhilis (lower house of parliament). State secretary also emphasized that initiatives which were revealed recently would have been announced regardless of the tragic January events that took place in the country.
It should be noted that president Tokayev said the reforms cannot be put in place overnight and at the same time they cannot be prolonged. This year parliament will have to work intensively in order to provide legal platform for the reforms, adopt and make great deal of amendments to the existing constitution. However, before making projects of law, the initiatives must be widely discussed with the representatives of the civil society and public figures. Tokayev also made it impossible for future presidents to adhere to any political party and that their close relatives cannot occupy positions in state organs.
In his interview to a reputed American magazine The National Interest, he shares his views on the connectivity of the current international situation on the reforms ongoing in Kazakhstan. He stressed "Turbulence across Eurasia Will Not Slow Kazakhstan's Progress". Tokayev pledged to build a "New Kazakhstan" and in closing out his speech stressed that amid the "geopolitical storm" Kazakhstan's strategic course, aimed at protecting sovereignty and territorial integrity, was the most important task.
From the first days of independence the state system had to be changed and the first president has carried out liberalization and democratization reforms as far as he could. But his rule of 28 years became an era of personalization of the state and all laws and norms were changed upon the wishes of the first president. He introduced several reforms and programs of modernization, industrialization and sustainable development. Most of his development programs were ineffective and "theatrics", even if he harboured most kind intentions majority of these programs were in vain, as they could not provide sustainable growth in all spheres of life. State propaganda machine was financed enough to make people believe that the country is quickly advancing and famous expressions of "Kazakhstan is the leader among all central Asian countries in terms of social, economic and infrastructural development". "The GDP of Almaty city is bigger than whole GDP of Kyrgyzstan".
Some politically-conversant people do not share optimism of Tokayev's supporters. During these 30 years people have been told about "bright future", well-being and prosperity and they are afraid that this state of the nation address is also long litany of beautiful words and nothing more than that. Or at least, they believe that Nazarbayev's loyalists could sabotage his initiatives and instructions. President Tokayev inherited Nazarbayev's gigantic state apparatus and staff. He has to work with his predecessor's ministers, governors and public servants.
Even though, duumvirate which has kept the country in a relative stability for short term, later showed that there cannot be two suns in the sky. Earlier or later it would result in political misperception as well as confusion. Furthermore, ex-prime minister Akezhan Kazhygeldin tells the fact that when he was serving as prime minister, Tokayev was his foreign minister. According to former prime minister, the current president Tokayev is not an independent politician, that there is a power dichotomy in the country, president Tokayev is not courageous enough to take power into his hands. If President Tokayev wants to be an independent President, he must send Nazarbayev to retirement thus ending his political influence.
On 22nd of April, President Tokayev stepped down as the chairman of the ruling party "Amanat" heritage from Kazakh which was renamed on 1st of March from "Nur-Otan" to its current name. He explained his decision that Kazakhstan will not be a super-presidential country anymore.
On 29th of April, President Tokayev announced the he would initiate referendum to have a public support for more than 30 amendments to be modified in the constitution. Next week, Tokayev announced the date of the second referendum in the history of the country. 5th of June was chosen suitable for the referendum. "A general vote by citizens on the draft of constitutional amendments will demonstrate our strong commitment to democratic principles. The referendum allowed every citizen to directly participate in a historic event that took place in Kazakhstan. The constitutional reform is aimed at a comprehensive transformation of the entire state model," said Tokayev. Some major amendments include limiting presidential powers, giving more power to the Parliament and making it more representative of the country's 19 million population through replacement of the proportional system of elections to a mixed majoritarian-proportional one, as well as significant decentralization of power with more competences given to regional and local authorities.
The recently held referendum showed that people wanted changes and novelties. "The referendum can be considered validated," electoral commission chair Nurlan Abdirov said, citing preliminary results that 77 percent of voters had backed the move. Although the referendum was a matter of purely political motives, it clarified people's wants and desires in the country's politics
Tokayev seems gained power relatively recently and still, it is too early to do any kinds of prognoses. His declarative speeches seem promising and emboldening, although one must stay attentive in order to be able to evaluate the developments objectively. Since his tenure in the presidential office, he has been introducing new faces to Kazakh political life, however, it should not be forgotten that the majority of his environment and government members are the heritage inherited by him from Nazarbayev. Furthermore, the vicinity to unpleasant geopolitical storms and instabilities make it difficult to conduct solid reforms and even they can be halted and waited for better times.
Contesting Russia requires renewed US engagement in Central Asia
When US Defense Secretary Lloyd J. Austin III declared that Washington wanted to see Russia so "weakened" that it would no longer be able to invade a neighbouring state, he lifted the veil on US goals in Ukraine. He also held out the prospect of a long-term US-Russian contest for power and influence.
Mr. Austin's remarks were problematic on several fronts. For one, they legitimised Russian President Vladimir Putin's justification of the invasion of Ukraine as a defence against US-led efforts to box Russia in and potentially undermine his regime.
"US policy toward Russia continues to be plagued by lack of rhetorical discipline. First calling for regime change, now goal of weakening Russia. This only increases Putin's case for escalating & shifts focus away from Russian actions in Ukraine & toward Russia-US/NATO showdown," tweeted New York-based Council of Foreign Relations president and former senior State Department official Richard Haas.
Mr. Haas was referring to President Joe Biden's remark last month, which he subsequently walked back, that Mr. Putin "cannot remain in power."
Leaving aside that Mr. Austin's remark was inopportune, it also suggested a lack of vision of what it will take to ensure that Mr. Putin does not repeat his Ukraine operation elsewhere in the former Soviet Union. That is an endeavour that would involve looking beyond Ukraine to foster closer ties with former Soviet republics that do not immediately border Ukraine.
One place to look is Kazakhstan, a potential future target if Russia still has the wherewithal after what has become a draining slug in Ukraine.
Mr. Putin has long set Kazakhstan up as a potential future target.
He has repeatedly used language when it comes to Kazakhstan that is similar to his rhetoric on the artificial character of the Ukrainian state.
Referring to his notion of a Russian world whose boundaries are defined by the presence of Russian speakers and adherents to Russian culture rather than its internationally recognised borders, Mr. Putin asserted last December that "Kazakhstan is a Russian-speaking country in the full sense of the word."
Mr. Putin first sent a chill down Kazakh spines eight years ago when a student asked him nine months after the annexation of Crimea whether Kazakhstan, with a 6,800 kilometre-long border with Russia, the world's second-longest frontier, risked a fate similar to that of Ukraine.
In response, Mr. Putin noted that then-president Nursultan Nazarbayev, Kazakhstan's Soviet-era Communist party boss, had "performed a unique feat: he has created a state on a territory where there has never been a state. The Kazakhs never had a state of their own, and he created it."
To be sure, Russian troops invited in January by Kazakh President Kassym-Jomart Tokayev to help put down anti-government protests were quick to withdraw from the Central Asian nation once calm had been restored.
Mr. Putin's remarks, coupled with distrust of China fuelled by the repression of Turkic Muslims, including ethnic Kazakhs, in the north-western province of Xinjiang, and the shutdown of Russia's Black Sea Novorossiysk oil terminal, Kazakhstan's main Caspian oil export route, creates an opportunity for the United States.
Last month, Kazakhstan abstained in a United Nations General Assembly vote that condemned Russia for its invasion of Ukraine. Since then, its sovereign wealth fund announced that it would no longer do business in rubles in compliance with US and European sanctions against Russia. This week, Kazakhstan stopped production of Russia's Sputnik V vaccine against Covid-19.
In an apparent effort to stir the pot, Russian media accused Kazakhstan of preventing Russian nationals from expressing support for Mr. Putin's invasion and firing Kazakhs who supported the Russian president's actions from their jobs. At the same time, opponents of the war were allowed to stage demonstrations.
"As Washington policymakers look for ways to counter Russian influence and complicate Mr. Putin's life, helping Kazakhstan reduce its dependence on Moscow-controlled pipelines, reform its economy, and coordinate with neighbouring Central Asian states to limit the influence of both China and Russia might be a good place to start," said Wall Street Journal columnist Walter Russell Mead.
Last month, Mr. Tokayev, the Kazakh president, promised sweeping reforms in response to the January protests.
A high-level Kazakh delegation visited Washington this week to discuss closer cooperation and ways to mitigate the impact on Kazakhstan of potentially crippling sanctions against Russia.
Supporting Kazakhstan would involve a renewed US engagement in Central Asia, a key region that constitutes Russia as well as China's backyard. The United States is perceived to have abandoned the region with its withdrawal from Afghanistan last August.
It would also mean enlarging the figurative battlefield to include not only military and financial support for Ukraine and sanctions against Russia but also the strengthening of political and economic ties with former Soviet republics such as Kazakhstan, Kyrgyzstan, Uzbekistan, and Tajikistan.
Kyrgyzstan and Tajikistan are, alongside Kazakhstan, members of the Russian-led Eurasian Economic Union (EEU), which Mr. Putin, referring to Kazakhstan, described as a bulwark that "helps them stay within the so-called 'greater Russian world,' which is part of world civilization."
The invasion of Ukraine has given Uzbekistan second thoughts. Uzbekistan failed to vote on the UN resolution, but Uzbek officials have since condemned the war and expressed support for Ukraine's territorial integrity.
As a result, Uzbekistan appears to have reversed its ambition to join the EEU and forge closer ties to the Collective Security Treaty Organisation (CSTO), the region's Russian-led military alliance.
"The way Central Asia thinks about Russia has changed. While before, Russia was seen as a source of stability, it now seems that its presence in a very sensitive security dimension has become a weakness for regional stability, sovereignty, and territorial integrity," said Carnegie Endowment Central Asia scholar Temur Umarov.
"I think that Central Asian governments will seek to minimise the influence of Russia, which will be difficult to do, but they have no choice since it has become an unpredictable power." Mr. Umarov predicted.
Turkmenistan's Presidential Elections: What to Expect from the New Head of State?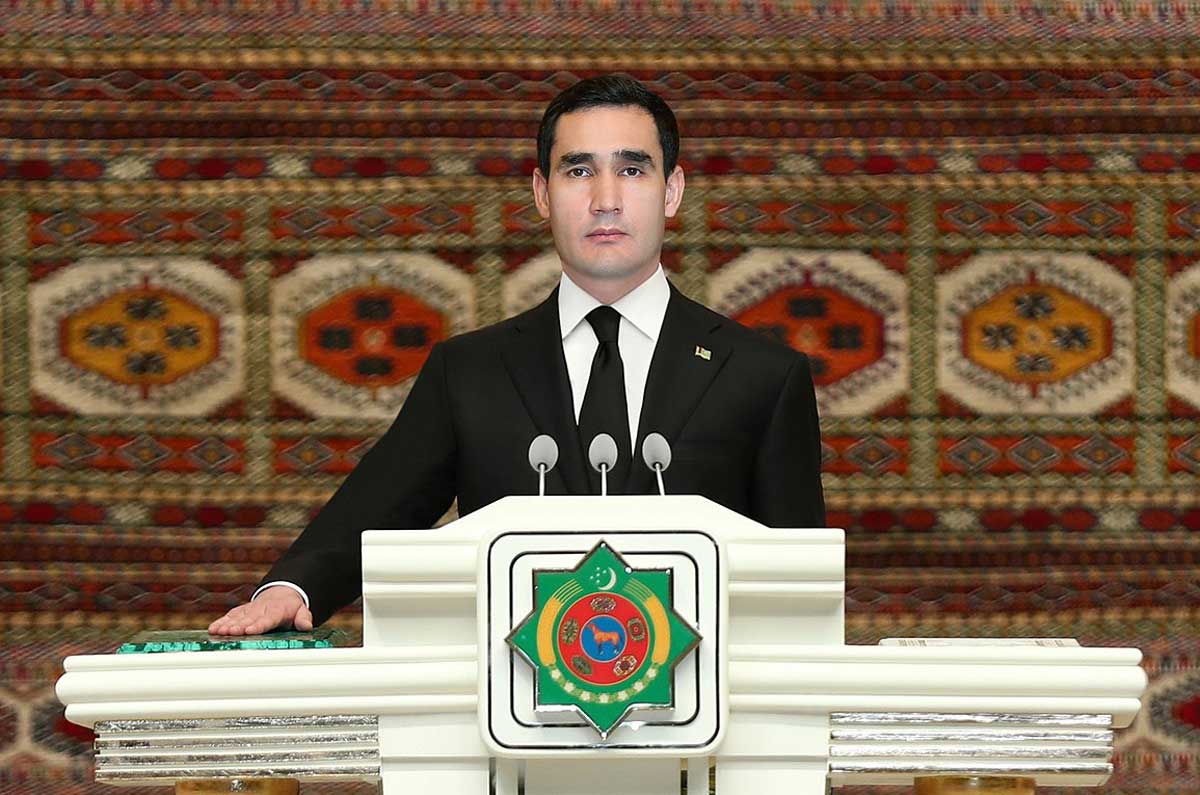 Not much is known about Turkmenistan – it is a rather closed-off country. While fairly credible information on the nation's foreign policy can be found, there is no opportunity whatsoever to glean credible information on its economy, society and domestic policy. This article is an attempt to forecast the new president's agenda by looking back to the presidential elections of the past.
Serdar Berdimuhamedow's Rise to Office
Serdar's father, Gurbanguly Berdimuhamedow, was in power since 2006. He won the latest election of 2017, securing 97% of the votes. The Constitution of Turkmenistan stipulated that the next election was to be held in 2024, but Berdimuhamedow announced an early vote in February 2022, marking the end of his 15 years in office. He specifically emphasized that he did not intend to run for president, instead remaining head of the Halk Maslahaty, the upper chamber of Turkmenistan's parliament: "I support the idea that young leaders who have been brought up in a spiritual environment and in accordance with the high requirements of our time should be given an opportunity to lead our country," he said on the occasion. "As the Chairman of the Halk Maslakhaty, I now intend to direct my vast life and political experience to this area."
Political pundits and the media rushed to declare that Berdimuhamedow was preparing for a transfer of power. Special emphasis was laid on the fact that Serdar Berdimuhamedow, the president's son, recently turned 40, which is the minimum age to become president under Turkmenistan's Constitution. One of the possible reasons for the president's retirement was his health, which can neither be confirmed nor disproved on the basis of the available information.
Two days into the statement by Berdimuhamedow Senior, on February 14, 2022, Serdar Berdimuhamedow's candidacy was indeed proposed at the meeting of the ruling Democratic Party of Turkmenistan.
Two more days after, the Agrarian Party of Turkmenistan proposed the candidacy of Agajan Bekmyradov, deputy head of the Mary Region. On February 18, 2022, it was announced that at least six other candidates would compete for Turkmenistan's presidency if they collected enough signatures. Then, two candidates emerged on February 19 – Berdymammet Gurmanov (a doctor from the Balkan Region) and Perhat Begenjov (a school principal from the Lebap Region). On February 22, more candidates were registered, most prominently Hydyr Nunnayev, Vice Rector for Research at the Turkmen State Institute of Physical Culture and Sports. The registration ended soon after, and the electoral campaign began on February 23.
As expected by observers, Serdar Berdimuhamedow took the election in a landslide. It should be noted, however, that the share of his supporters (72.97%) looked more realistic than the last result of his father.
Who is Serdar Berdimuhamedow: How He Prepared for His Presidency and What to Expect
On March 19, 2022, Serdar Berdimuhamedow officially became Turkmenistan's third president.
Serdar Berdimuhamedow was born on September 22, 1981, in Ashgabat. He graduated from the Turkmen Agricultural University as an engineering technologist in 2001, at about the same time when his father, Gurbanguly Berdimuhamedow, started his political career. Berdimuhamedow Senior provided his son with plenty of opportunities to explore the many levels and dimensions of civil service.
The first step was to acquire some experience in foreign policy. In 2008–2011, Serdar Berdimuhamedow held the post of minister-counsellor in the Embassy of Turkmenistan to the Russian Federation. During that period, he graduated from the Diplomatic Academy of the Ministry of Foreign Affairs of Russia with a degree in International Relations. In 2011–2013, Serdar Berdimuhamedow worked as an adviser in the Permanent Mission of Turkmenistan to the United Nations in Geneva, where he studied European and International Security at the Geneva Centre for Security Sector Governance (DCAF). On returning from Switzerland, he became Head of the European Department at Turkmenistan's Ministry of Foreign Affairs, overseeing the country's relations with the entirety of Europe. In 2016–2017, he held the position of Head of International Information of the Ministry of Foreign Affairs of Turkmenistan. Finally, in 2018, he became Deputy Minister of Foreign Affairs of Turkmenistan.
It should be noted that Turkmenistan's permanent neutrality status—officially confirmed at a United Nations General Assembly meeting on December 12, 1995, during the rule of Saparmurat Niyazov (Turkmenbashy), but largely thanks to the efforts of Minister of Foreign Affairs and Vice Prime Minister Boris Shikhmuradov—is a key trait of the country's identity in foreign policy. Serdar Berdimuhamedow has picked up the baton of this tradition. Since 1995, Turkmenistan has not been part of any bloc or integration, even opting to be an associated member rather than a full member of the Commonwealth of Independent States. This allows the country to pursue a pragmatic multi-vector foreign policy based on engaging with all interested countries in hydrocarbon trade. In his inauguration speech, Serdar Berdimuhamedow declared that he would be committed to the "principles of neutrality and good neighbourhood."
Oil and gas remain the most important dimension of Turkmenistan's economy: gas accounts for the majority of the country's GDP. The new president has dabbled in this as well: in 2013, he was appointed Director of the State Agency for Management and Use of Hydrocarbon Resources.
Turkmenistan's notable feature is that the president is often perceived as a "leader" in science and the arts. Saparmurat Niyazov actively contributed to history, religion and literature, and Gurbanguly Berdimuhamedow published works on a wide range of topics, most of all medicine and healthy living. In Turkmenistan's political culture, the subject taken up by the president becomes the key focus of the country's ideology. Having obtained degrees of Candidate of Technical Sciences (roughly equivalent to a PhD) in 2014 and Doctor of Technical Sciences (a still more advanced degree) in 2015, it is quite possible that Serdar Berdimuhamedow will start publishing on technical and economic issues, technological innovation, etc.
In 2016, the future president started his career in domestic policy: in November, he was elected member of the Mejlis (lower chamber of parliament) of Turkmenistan. The following year, he became Chairman of the Legislative Committee.
In 2019, Serdar Berdimuhamedow was appointed head of the Ahal Region, a key province where the capital is located as well as where the politically dominant Teke tribe lives. In 2020, Serdar Berdimuhamedow was appointed Turkmenistan's Minister of Industry. After a year in this capacity, he was appointed Vice Prime Minister, which equates to being the "second in command" in the country, since the president and the prime minister are one and the same person. It is from this office that Berdimuhamedow Senior had risen to the rank of president once Saparmurat Niyazov passed away. At the same time, Serdar Berdimuhamedow was appointed to the State Security Council of Turkmenistan.
What Should We Expect from Turkmenistan's Third President?
Serdar Berdimuhamedow started his presidential term by dismissing the government, which was entirely in accordance with the Turkmenistan's Constitution. With this, he's set about forming new government and elaborating new policy. Experts are still out as to what his rule will be like. Some say that Berdimuhamedow Junior will maintain the system his father had erected. Others, including the author, expect that he may carry out some reforms, albeit at a limited scale.
The first reason why we could expect reforms from Serdar Berdimuhamedow is tradition. Serdar's father likely advises his son to make the same political steps he made himself when he rose to power.
In this context, we may recall that Berdimuhamedow Senior's presidential term started with moderate reforms. In large part, it was due to his background: unlike most heads of post-Soviet states, who came from business, military, security or intelligence agencies, or from the Soviet political establishment, Berdimuhamedow Senior was a representative of intelligentsia, just like Shavkat Mirziyoyev, the current President of Uzbekistan. Before his political career, Gurbanguly Berdimuhamedow was quite a successful dentist.
Berdimuhamedow Senior did away with some of Saparmurat Niyazov's most notorious policies governing culture and everyday life, like the ban of opera and ballet as "contrary to national traditions." In the social and economic domains, the second president made every effort to redress the utter breakdown of education and healthcare that occurred under Niyazov.
Certainly, when it comes to the political part, it is unlikely that Berdimuhamedow Senior will advise his son to repeat his history of reforms to the letter. The cult of Saparmurat Niyazov, who had declared himself a "prophet equal to Mohammed," was quietly laid to rest. Berdimuhamedow Senior also replaced all the officials installed by Niyazov, with the most active "cleansing" taking place from mid-2007 to early 2008. Among those who lost their posts were key security and military officials, the Minister of Energy, Minister of Automobile Industry and Construction, Prosecutor General and Supreme Court leadership, as well as a number of other key figures. A significant number of political prisoners convicted under Niyazov were set free through the work of extrajudicial commissions. This time, however, the only political change we can expect is to see more younger faces, but even that would likely happen gradually.
Second, when speculating about possible reforms, we need to remember that Turkmenistan is undergoing a deep socio-economic crisis caused by an ineffective state bureaucracy and a less than advantageous gas contract with China.
Reports about the country's progress in the fight against COVID-19 are also contradictory. According to the official sources, Turkmenistan's healthcare system was well prepared for the pandemic: Gurbanguly Berdimuhamedow said that healthcare facilities are receiving all the resources they need. It is important to note that Berdimuhamedow served as the minister of healthcare under Niyazov, so effective medicine is one of the pillars of his legitimacy in his post. At the same time, opposition sources paint a different picture: a dire need of beds, qualified doctors, testing facilities and personal protective equipment. Furthermore, opposition sources report that mass gatherings were held in Turkmenistan from March to April 2020 because political celebrations were not cancelled out of ideological considerations.
Crisis in the neighbouring Kazakhstan, another post-Soviet commodity exporter, is an important circumstance that reflects on risk assessment of the Turkmen leaders. During the civil unrest of January 2022, Turkmen security forces were put on high alert, and it was then that the decision to convene the upper chamber of parliament was made, which the president used to announce extraordinary elections.
Reforms may not only help to resolve difficult domestic situations, but also to successfully overcome challenges in foreign policy. If the civil war in Afghanistan escalates, hostilities might spill over the Turkmen-Afghan border. Other foreign policy risks include the consequences of mass migration into Turkey. Many of the Turkmen migrants have fought in Syria, and their return may create certain risks for the government.
Given the current reality of Turkmenistan, an important factor in maintaining the stability of the existing regime could be Berdimuhamedow Senior, who is apparently going to follow the Singapore/China model by gradually transferring power to his heir—much as Lee Kuan Yew and Deng Xiaoping did in their time. On the whole, a gradual transfer of supreme power from father to son is not new on the post-Soviet soil. This has been done by Heydar and Ilham Aliyev in Azerbaijan, and a similar process is currently unfolding in Tajikistan.
Speaking about reforms in Turkmenistan, we should understand that they will be rather limited, mostly aiming at economic aspects – specifically, expanding foreign investment opportunities and modernizing the country's economy. Far-reaching political reforms, however, do not appear to be on the agenda. The Turkmen government's main focus seems to be maintaining stability in a difficult international situation. It may find a possible model for economic reform in the experience of the neighboring Uzbekistan or Kazakhstan, both far ahead of Turkmenistan when it comes to modernization.
Russia may benefit from enhancing its economic ties with Turkmenistan, especially given the current foreign economic environment. Export items likely to be in demand on the Russian market include Turkmen vegetables, fruit and cotton textiles. The experience of quickly expanding trade with Uzbekistan after Mirziyoyev began his reforms may prove useful in this regard.
From our partner RIAC