WEF to Lead G20 Smart Cities Alliance on Technology Governance
The World Economic Forum, the International Organization for Public-Private Cooperation, has been selected to act as the secretariat for a new G20 Global Smart Cities Alliance.

The alliance unites municipal, regional and national governments, private-sector partners and cities' residents around a shared set of core guiding principles for the implementation of smart city technologies. Currently, there is no global framework or set of rules in place for how sensor data collected in public spaces, such as by traffic cameras, is used. The effort aims to foster greater openness and trust as well as create standards for how this data is collected and used. This marks the first time that smart city technologies and global technology governance have been elevated to the main agenda.
The Forum will coordinate with members from the G20, Urban 20 and Business 20 communities to develop new global governance guidelines for the responsible use of data and digital technologies in urban environments. The Internet of Things, Robotics and Smart Cities team in the Forum's Centre for the Fourth Industrial Revolution Network will take the lead and ensure accountability throughout the alliance's members.
"This is a commitment from the largest economies in the world to work together and set the norms and values for smart cities," said Børge Brende, President of the World Economic Forum. "We will coordinate efforts so that we can all work in alignment to move this important work forward. It is important we maximize the benefit and minimize the risk of smart city technology so all of society can benefit, not the few."
"The advancement of smart cities and communities is critical to realize Japan's vision for Society 5.0. It is also essential to address the world's most pressing challenges, including climate change and inclusive economic growth," said Koichi Akaishi, Director General for Science, Technology and Innovation for the Cabinet Office of the Government of Japan. "The Government of Japan is proud to have championed this cause as part of our G20 presidency and was pleased to see the Business 20, Urban 20 and G20 Digital Ministers all pledge their support for the creation of a global smart cities coalition. To advance this work, we are pleased to welcome the World Economic Forum Centre for the Fourth Industrial Revolution as the global secretariat for this important initiative."
Public-private cooperation is crucial to achieving global change. Efforts to form the Global Smart Cities Alliance have been supported by four partners of the World Economic Forum: Eisai, Hitachi, NEC and Salesforce.
"Open and Agile Smart Cities is thrilled to be part of this global effort led by the World Economic Forum to support cities and communities with a global framework," said Martin Brynskov, Chair of Open and Agile Smart Cities, an international smart cities network. "Openness and interoperability are key to scaling up digital smart city solutions that help tackle the challenges that cities are facing in the 21st century – on the cities' terms and conditions."
"This alliance builds on the work already done by many cities around the globe – such as the Cities Coalition for Digital Rights – to empower citizens through digital technologies. A human-centric digital society shall reflect the openness, diversity and inclusion that are at the core of our societies and value systems," said Ada Colau, Mayor of Barcelona. "Cities must spearhead efforts to put technology and data at the service of the citizens in order to tackle big social and environmental challenges, such as feminism, affordable housing, climate change and the energy transition. We are committed to being part of this global endeavour to build a digital society that puts citizens first and preserves their fundamental rights."
"In today's interconnected world, global collaboration is no longer merely an option, it is a necessity, said Bill de Blasio, Mayor of New York City. "New York City is proud to have championed a model for smart cities that puts our most vulnerable residents first. We also recognize that now more than ever urban issues have global implications. As mayors, we have a unique responsibility to lead by example and demonstrate a sustainable path towards a more inclusive and equitable future."
"As the world continues to urbanise, it is indispensable to successfully manage urban growth," said Ichiro Hara, Secretary General of the B20 Tokyo Summit, and Managing Director of Japan Business Federation, Keidanren. "The Business 20 have called to support the implementation of Society 5.0 by fostering cooperation among smart cities. We applaud the G20 for heeding our call for a smart cities alliance and look forward for a common guiding principles to be developed through this critical initiative."
"The Cities for All Network is excited to partner with the World Economic Forum and the G20 to help realize our shared vision for a more inclusive urban future," said Victor Pineda, President of World Enabled and Co-Founder of Smart Cities for All. "The last industrial revolution left out a lot of people. As we move into the Fourth Industrial Revolution, we cannot risk repeating past mistakes. We need to work together to co-design robust policy frameworks to ensure that all members of society can contribute to and benefit from technological advancements."
"Local governments and city leadership need to be at the core of decision-making when developing smart cities, said Emilia Saiz, Secretary General of United Cities and Local Governments (UCLG). "It is the guarantee to ensure the human dimension and the protection of the commons. United Cities and Local Governments is delighted to contribute in every way possible to that process and to transform the conversation around digital rights."
"In pursuit of the Sustainable Development Goals and in line with the New Urban Agenda, UN-Habitat affirms the importance of coordinating efforts around protections and standards in deploying smart digital infrastructure to ensure that such smart technologies benefit all, particularly the vulnerable, including people with disabilities," said Maimunah Mohd Sharif, Executive Director of UN Habitat. "We welcome this important new alliance led by the World Economic Forum, G20, mayors, national governments, multilateral organizations, and civil society groups."
About the Centre for the Fourth Industrial Revolution Network
The Network helped Rwanda write the world's first agile drone regulation and is scaling this up throughout Africa and Asia. It also developed actionable governance toolkits for corporate executives on blockchain, co-designed the first-ever Industrial IoT (IIoT) Safety and Security Protocol and created a personal data policy framework with the UAE.
Based in San Francisco, the World Economic Forum Centre for the Fourth Industrial Revolution brings together governments, leading companies, civil society and experts from around the world to co-design and pilot innovative approaches to the policy and governance of new technologies. More than 100 governments, companies, civil society, international organizations and experts are working together to design and pilot innovative approaches to the policy and governance of technology. Teams are creating human-centred and agile policies to be piloted by policy-makers and legislators around the world, shaping the future of emerging technology in ways that maximize the benefits and minimize the risks.
Cities Around the World Want to Be Resilient and Sustainable. But What Does This Mean?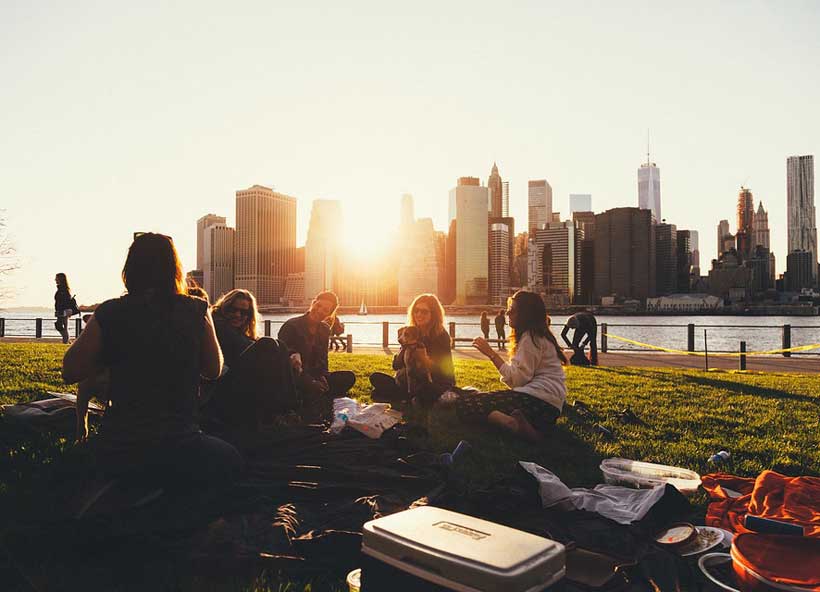 Cities around the world, large and small, face common challenges, especially due to rapid urbanization and climate change. According to United Nations (UN) estimates, four billion people – more than half of the world's population – live in urban areas today. By 2050, over two-thirds of the global population will be urban, challenging cities to meet accelerating demand for affordable housing, well-connected transport systems and other infrastructure and services, as well as jobs.
In addition, rising global temperatures increase the risks of rising water levels, landslides, droughts, hurricanes, and other disasters. Without urgent action, these climate impacts could push an additional 100 million people into poverty by 2030, according to the World Bank.
The good news is that, armed with knowledge and creativity, urban centers are finding ways to tackle new and old problems alike, with fewer losses and greater recovery capacity – in other words, creating "resilience".
The Catalyzing Sustainable Urban Futures global conference held recently in São Paulo, Brazil, which was co-hosted by the São Paulo City Hall, the Sustainable Cities Program, and the World Bank's Global Platform for Sustainable Cities (GPSC), with the support of the Global Environment Facility (GEF), looked closely at this topic of "resilience".
Representatives from four continents examined three global issues, with sustainability and resilience as an ever-present backdrop. The first was climate change, a concern that mayors can no longer afford to sidestep. According to the World Bank, cities consume about 2/3 of the world's energy and account for over 70% of global greenhouse gas emissions.
The second issue was the need for more green spaces – think about public parks with trees, birds, bees, and other species. Today, around one million animal and plant species are threatened with extinction, eroding the foundation of our shared livelihood, society's ability for adaptation, and nature's capacity to store carbon. Green spaces do not only help cities mitigate and adapt to climate change, but also serve as important places for human-wildlife coexistence – and a home for conserving urban biodiversity.
Third, there was a constant discussion about solid waste management. Without it, rivers will overflow and the air will be polluted by harmful substances, among other problems. With it, millions of people, including those in the recycling industry, will be presented with new opportunities.
Mitigating and adapting to climate change
Today, 90% of urban expansion takes place in developing countries, and much of it occurs near natural hazards, rivers, and coastal regions, in the form of informal and unplanned settlements. A lack of infrastructure and proper land use plans exacerbates the risks facing residents, especially in view of climate change. Thus, several cities are now devising their own mitigation and adaptation plans. São Paulo, for example, is set to launch its plan in June 2020.
Another Brazilian city, Recife, already has a plan in place, in preparation for the city's 500th anniversary celebration in 2037. One-third of the local population lives in hill areas susceptible to disasters; another third of the population resides at sea level, which means that flooding is a threat.
"With the participation of civil society and the general population, we have compiled a strategic plan based on a set of urban and environmental plans containing a series of initiatives to mitigate [disaster risks], increase resilience, and adapt to the consequences of the climate crisis," stated Mayor Geraldo Júlio at the conference.
Plans in developed countries are even more ambitious. Paris, France, has pledged to become a carbon-neutral city by 2050, enacting 500 measures in various industries, such as construction, transport, energy, and food. These measures include goals such as using only green energy (biomass, wind, and solar), banning diesel cars by 2024, and eliminating all cars running on petrol fuels by 2030.
Less asphalt, more forests and parks
"With fewer cars on the street, we will not need as many parking lots or as much asphalt," said the Deputy Mayor of Paris, Pénélope Komitès. "We can, for example, use garage buildings to plant urban forests that help regulate the temperature."
Just like Paris, the expansion of green spaces is becoming a trend, from China to Paraguay. These spaces capture carbon and improve air quality, among other benefits. Such changes are most welcome in Chinese cities like Ningbo, which has over 40 square kilometers of protected areas despite its population of 8 million people.
In Latin America, the city of Asunción, Paraguay, is planning to build a green urban corridor – at least 35,000 hectares in size – to take better care of its biodiversity, especially birds. The project is in the preliminary phase.
Parks also help reduce heat, a much-needed improvement in a city like Caruaru in the Brazilian state of Pernambuco, where a linear park (i.e., longer than it is wide) will be built with a bike path connecting 14 neighborhoods, with the potential to benefit 140,000 people.
Together, these measures create opportunities for cities to deliver growth that is green, low carbon and competitive – and to build societies that are resilient, inclusive, and livable.
Waste remains rather unsustainable
According to the World Bank report What a Waste 2.0: A Global Snapshot of Solid Waste Management to 2050, in 30 years the global rate of waste production will be double the growth rate of the population. "Cities and countries are developing rapidly, but without suitable systems to cope with changes in the waste disposed of by citizens," the study highlights.
Against this trend, São Paulo is gradually enacting initiatives and setting goals to alleviate the problem. For example, this year the local government joined the New Plastics Economy Global Commitment to ensure that 100 percent of plastic packaging can be recycled or reused by 2025.
In addition, there is an initiative in place in São Paulo to increase composting yards. Currently, there are five composting yards that receive waste from public markets with a capacity of up to 10 tons / day. By the end of 2020, the local government has promised a total of 17 composting yards to treat 100 percent of the waste from the more than 800 open markets held each week in the state capital.
Composting yards, waste disposal eco-points (available in São Paulo and Caruaru), or simply improved urban sanitation systems (as in the more precarious neighborhoods of Abidjan, Côte d'Ivoire) are among the various solutions that can be adopted by cities around the world to boost sustainability and resilience. Granted, these ideas are not always easy to implement and can be rather expensive. However, according to the What a Waste 2.0 report, the cost of inertia tends to be much higher for both the environment and the poor.
Cities can fight climate change and improve lives by finding new ways to be cool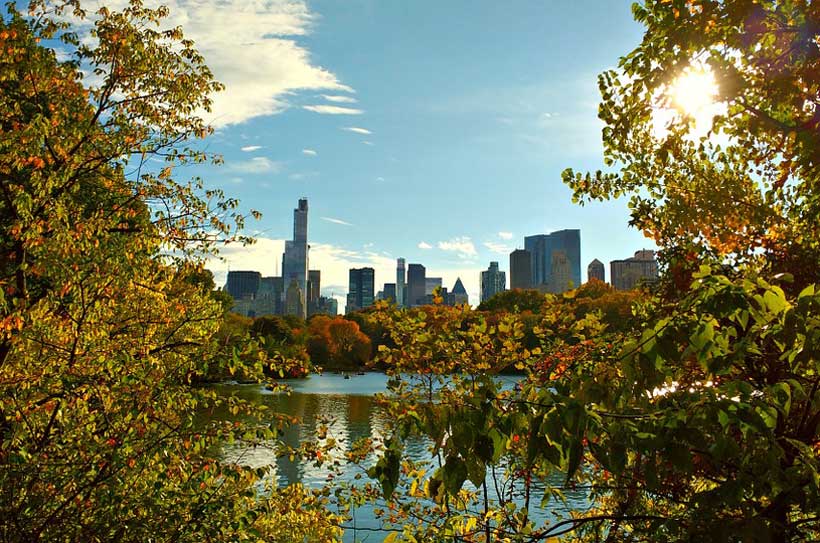 Life has always been hotter in cities. Concrete soaking up and radiating sunlight, and the concentration of people, cars and machinery crank up the temperatures, making them on average 5–9°C warmer than rural areas.
This has led to fast growth of power-hungry air conditioning units delivering cooling. The problem is that this cooling has been pumping out excess heat and greenhouse gas emissions, which warm the planet and so lead to an ever-greater need for cooling.
Cities will still have to keep their citizens cool. We have already witnessed growing heat waves, both in frequency and amplitude. They severely affect the functioning and health of cities and their citizens. Rising temperatures contribute to heat-related deaths, reduced workforce productivity—estimated at 2.2 per cent of working hours lost worldwide by 2030—and poor air quality, which disproportionately affects the poorest communities. Rising temperatures mean that 1.6 billion people could face average summer temperature highs of 35°C by 2050, approximately 1.4 billion more people than today.
We need better ways to keep cool.
"About 40 per cent of energy consumed by buildings worldwide is used for space heating and cooling," said Martina Otto, who heads the secretariat of the Global Alliance on Buildings and Construction at the UN Environment Programme (UNEP). "Space cooling is amongst the fastest-growing building end uses, and with higher temperature, more urbanites and rising standards of living, we will need a multiplicity of solutions to provide thermal comfort and protect human health."
Active cooling needs to be cleaner and more efficient while we design buildings for more passive cooling and include nature-based solutions in buildings and cities' public space. And we need to shift from the notion of cooling down space to providing thermal comfort.
Cities already starting to deliver
There are global and local efforts to address the energy efficiency and climate impact of the cooling sector, in particular through the Kigali Amendment to the Montreal Protocol. These actions can make a huge difference, but cities can do a lot more.
The Cool Coalition—a global network connecting over 80 partners—is working towards a rapid global transition to efficient and climate-friendly cooling. It will work with C40 cities and its network of more than 90 members to share expertise and integrate urban cooling into their climate action plans, as well as with the GlobalABC, who issued a call: "Buildings—keeping cool, naturally".
By implementing clean cooling strategies, cities can not only reduce the demand for cooling but align their policies with other areas of importance, such as air quality, public health and energy resilience.
Cities are working on innovative solutions, and C40 cities are delving deeper into them as they meet in Copenhagen this week for the C40 World Mayors Summit. These range from scaling up district cooling initiatives to cool roofs and green roofs and facades, to urban landscaping with nature-based solutions such as green corridors, a well-articulated offer of green public spaces.
"Cities have a critical role to play in delivering efficient, clean cooling for their citizens" said David Aitken, Director, Innovation at Cool Coalition partner the Carbon Trust. "In their role as a facilitator, planning authority, asset owner and financier, cities have many levers to pull that can influence the way cooling is produced and consumed. Taking action on cooling at the local level will also leverage co-benefits relating to health and wellbeing, air quality and living standards."
There are examples from all over the world.
Following the 2010 heatwave, Ahmedabad in India developed a plan for cool roofs, awareness raising and cooling stations. Since 2013, the city has avoided an estimated 1,100 deaths per year. It has acted as a blueprint for 30 cities in India, who have now released or are developing their own plan.
As part of their commitment to the Paris Climate agreement, Melbourne, Australia is banking on nature-based solutions. The goal is to plant 3,000 trees—which provide shade, reflect sunlight and release moisture into the air through their leaves—every year and cool the city by 4°C.
Copenhagen, Denmark, uses seawater in its district cooling system, reducing CO₂ emissions by up to 30,000 tonnes per year. The goal is to expand district cooling further and contribute to Copenhagen's target of becoming CO2-neutral by 2025. Other initiatives in Copenhagen include green roofs for municipal buildings and a smart city energy lab that demonstrates how electricity and heating, energy-efficient buildings and electric transport can be integrated into an optimized system.
Cool roofs and new building materials on the rise
Cool roofs are gaining traction globally. Through its CoolRoofs Initiative, New York City has already painted more than 5 million square feet of its roofs with a reflective coating. Meanwhile, the Global Cool Cities Alliance has launched the Million Cool Roofs Challenge, a US$2 million global competition to rapidly scale up the deployment of highly solar-reflective roofs in developing countries.
"The concept of cool roofs is simple, but implementation faces barriers in the global south," said Kurt Shickman, Executive Director of the Global Cool Cities Alliance. "We need to raise awareness of the opportunity. The availability of coatings and other cool roof solutions is often limited or non-existent. There is a lack of financing and investment. The Million Cool Roofs Challenge seeks to address each of these challenges."
Green roofs and facades provide thermal insulation and help clean the air by trapping particulate matter. They offer the opportunity for urban agriculture and onsite wastewater treatment, adding further benefits. Bio-based building materials, which have a lower climate impact than concrete and store less heat, also offer real potential to improve the building envelope. While concrete has a high thermal mass, it's extremely energy intensive to produce: 8 to 10 per cent of the world's CO₂ emissions come from cement. "Alternatives such as bio-based materials are increasingly being used and can help reduce environmental impacts, while also providing the desired thermal mass," said Otto. "For example, we have engaged in a partnership with Yale University to explore the use of such alternatives, from certified timber to bamboo and use of agricultural waste products such as coco fibre."
It is clear that cities have a wide menu of options to choose from. They can walk the talk through public procurement decisions regarding their own buildings, set performance standards, use their planning authority and enter into partnerships with the private sector. By taking advantage of these options, cities can turn down the heat in the city and help put the world on track for a cooler future.
Unprecedented Global Alliance for Smart City Technology Launched to Counter Growing Tensions
Fifteen of the world's leading city networks and technology governance organizations announced today a new partnership to advance the responsible and ethical use of smart city technologies. The G20 Global Smart Cities Alliance on Technology Governance will create global norms and policy standards for the use of connected devices in public spaces. It is the largest and most ambitious undertaking to advance the responsible and ethical use of smart city technologies on a global level.
Smart city technologies can help decrease traffic congestion, combat crime, improve resilience during natural disasters and reduce greenhouse emissions. Without proper governance, these technologies pose significant risk, notably to privacy and security. To ensure data collected in public places is used safely and ethically, the Global Smart Cities Alliance will develop, pilot and collectively implement new global policy standards.
"Our cities stand at a crossroads. Rapid urbanization – if not effectively managed – threatens to paralyse local economies and undermine recent advances in the quality of life," said Jeff Merritt, Head of IoT, Robotics and Smart Cities at the World Economic Forum. "Smart city technologies offer huge promise, but they can be a Pandora's box. Today's announcement is a critical first step to accelerate global best practices, mitigate risks, and foster greater openness and public trust regarding the collection of data in public spaces."
Established in June 2019 in conjunction with the G20 Summit in Osaka, Japan, the Alliance comprises fifteen of the world's leading city networks and technology governance organizations. The partners represent more than 200,000 cities and local governments, leading companies, start-ups, research institutions, and civil society organizations. The World Economic Forum serves as the secretariat.
"The advancement of smart cities and communities is critical to realizing Japan's vision for Society 5.0. It is also essential to addressing the world's most pressing challenges, including climate change and inclusive economic growth," said Koichi Akaishi, Vice Minister for Science, Technology, and Innovation for the Cabinet Office of the Government of Japan. "The Government of Japan is proud to have championed this initiative as part of our G20 presidency. We hope that cities will pledge support for the Alliance and participate in its activities to cooperate and form shared global principles in the future."
Working together with municipal, regional and national governments, private-sector partners and city residents, the Global Smart Cities Alliance has committed to co-design and roll out a first-of-its-kind global policy framework on smart city technologies in advance of the 2020 G20 Summit in Riyadh, Saudi Arabia. It is currently accepting nominations from cities and private entities, interested in piloting and contributing to global policy standards. The first policy design workshops with city leaders will be held in November 2019 in conjunction with the Smart City Expo World Congress in Barcelona, Spain. For more information, please visit: http://www.GlobalSmartCitiesAlliance.org.
The Global Smart Cities Alliance's founding set of institutional partners include: the presidents and host nations of the Group of 20 (G20) in 2019 and 2020; Japan and the Kingdom of Saudi Arabia; the Smart City Mission of India; Cities for All; Cities Today Institute; Commonwealth Local Government Forum; Commonwealth Sustainable Cities Network; Connected Places Catapult; Digital Future Society; ICLEI – Local Governments for Sustainability; International Telecommunication Union; Open and Agile Smart Cities; Smart City Expo World Congress; United Cities and Local Governments; What Works Cities; World Economic Forum; and World Enabled.
What leaders are saying about the Global Smart Cities Alliance
"Inequality is no longer an option and needs to be addressed by all spheres of government to be at the centre of every tool we have," said Emília Saiz, Secretary General of United Cities and Local Governments (UCLG). "We want to bring the voices of all local governments, big and small, to this alliance. When quality of life and humanity are at stake, local governments are the first respondents. Count on UCLG to be critical and committed."
"The rapid growth and expansion of cities brings both enormous opportunities and significant challenges," said Kunal Kumar, Joint Secretary and Director of India's Smart Cities Mission. "India is at the forefront of this urban transformation and is committed to ensuring that our cities develop in a way that is smart and sustainable. The Smart Cities Mission looks forward to working together with city leaders around the world to share best practices and forge new policy standards for the responsible and ethical use of smart technologies in our cities."
"As urban populations grow, smart city technologies become more and more essential not only to improve the quality of life of citizens but also to simply keep our cities livable," said Chizuru Suga, Head of the World Economic Forum Centre for the Fourth Industrial Revolution Japan. "However, it would be difficult for cities to face the challenges of these technologies to balance economic development and innovation with the protection of the public, alone. We will commit to supporting these cities, through international cooperation and technology governance."
"Cities are the solution makers and testbeds of the future," said Jan Vapaavuori, Mayor of Helsinki, Finland. "Our ability to forward technological advancements and smart city solutions is directly related to the responsible and ethical use of data and technology. Only by creating a joint trust-based framework can we realize the full potential of smart city technologies for the benefit of all mankind in the future."
"Our message has always been that one city is not a market. If we want a scalable, global market for Smart Cities, this can only happen when people come together to agree common ways of working, to build scalable, interoperable solutions centred around human needs", said Nicola Yates, CEO of Connected Place Catapult. "That's why the UK invested in leading the establishment of the first set of smart city standards in 2014 and we are pleased to be joining the Global Smart Cities Alliance partnering with the G20 and World Economic Forum to further this mission and the opportunities this can provide to stimulate growth and improve the lives of citizens around the world."
"We've seen how data and technology can radically transform how cities design and deliver services to residents," said Simone Brody, Executive Director of What Works Cities. "They enable us to identify the most pressing needs that residents have and provide tailored solutions to address them. They are among the best tools we have to advance economic mobility, and we are excited to partner with the World Economic Forum to advance this effort."
"The G20 Global Smart Cities Alliance will be critical to minimize the risks and maximize the benefits of rapid urbanization," said Victor Pineda, President of World Enabled and Co-Founder of Cities for All. "Cities for All and our partners will help ensure that the Alliance can develop new global norms related to access and inclusion. Networks like this can help ensure that we align and can reach the promise of the SDGs and the 2030 Agenda."
"Smart City Expo World Congress is thrilled to join forces with the World Economic Forum and the G20 Global Smart Cities Alliance in this major challenge of advancing together towards a more sustainable and inclusive urban future," said Ugo Valenti, Director of Smart City Expo World Congress. "As the world's leading event for cities, we are committed to help accelerate and implement smart solutions that empower people and make cities a better place to live in."
"The rapid development of technology is transforming physical and social infrastructure," said Gino Van Begin, Secretary General of ICLEI – Local Governments for Sustainability. "Smart cities look at the big picture, supporting resource efficiency and technological progress while considering rising challenges like cybersecurity, job loss and privacy. We're excited to support the G20 Global Smart Cities Alliance in joint pursuit of people-focused smart solutions in cities that lead to a safe, inclusive and sustainable future."
"I would like to extend my sincere congratulations on the establishment of the Global Smart Cities Alliance," said Kizo Hisamoto, Mayor of Kobe, Japan. "The City of Kobe has been actively promoting smart city initiatives, including personal health records and autonomous vehicles, but in order to accelerate these efforts even further, last month we launched a new public-private collaboration project, called "Be Smart KOBE". We believe that establishing standards for data utilization will stimulate the growth of smart cities, and we are looking forward to working together on solving global issues."
"The Cities Today Institute is excited to join the World Economic Forum's effort to help cities move quickly from understanding the benefits of digitalization to implementing solutions that will define the citizen experience in a 21st Century Community," said Bob Bennett, Chair of the Cities Today Institute.
"Open and Agile Smart Cities is proud to be a founding partner of the G20 Global Smart Cities Alliance," said Martin Brynskov, Chair of Open and Agile Smart Cities, an international smart cities network. "A global framework based on common, open, and minimal mechanisms is needed to de-risk investment and scale up smart city solutions that help tackle the challenges cities are facing in the 21st century – on the individual city's terms and conditions."
"Digital Future Society is delighted to join this global alliance led by the World Economic Forum to ensure that cities drive our digital future toward a good common framework," said Esteban Redolfi, Director of Digital Future Society. "For years, cities have acted as testing grounds for massive technology deployments; now is the moment for cities to lead by sharing learnings and creating guidelines that reinforce a more conscious use of technology. We are committed to analysing, sharing and building on those cases where cities have developed a sustainable and effective path toward a more inclusive and equitable digital future."
"When we consider smart cities in Asia, fundamental urban challenges such as water and waste disposal, energy efficiency, and low-carbon transport systems are of exceeding importance," said Fumiko Hayashi, Mayor of Yokohama City, Japan. "In addition to this kind of infrastructure, we also need an integrated discussion on the impact that new technologies such as AI will have on our cities. Here in Yokohama, we are engaged in a pilot public-private collaborative project to support the development of communities centered on the city's residents. We are working to foster innovative ideas, create networking opportunities, and reduce carbon dioxide emissions.
I hope those involved in smart city development in Asia, including the private sector, international organizations, academia, experts, and businesses in Yokohama, will all take advantage of this initiative."
"Building an inclusive society is a vital mission, and Eisai Co. is excited to partner with the World Economic Forum to achieve it," said Keisuke Naito, Chief Digital Officer of Eisai and Member of the Global Internet of Things Council. "We look forward to sharing knowledge and experience through the Global Smart City Alliance, which we believe will become an invaluable forum for enhancing the governance for the benefit of all, regardless of functional impairments or disabilities."
"NEC is proud to celebrate today's first step for the G20 Global Smart City Alliance. We are confident that this alliance will become an innovative platform for providing ever-increasing social value to all communities by means of cross-border, open collaboration of people and cities aiming for globally shared goals," said Nobuhiro Endo, Board Chair of NEC Corporation. "NEC is committed to social value creation in support of safety, security, efficiency and equality, and will continue to contribute to the promotion of globally agreeable technology governance in partnership with the World Economic Forum."
"Salesforce believes that business is the greatest platform for change and is excited to work toward this goal in partnership with the World Economic Forum and the Centre for the Fourth Industrial Revolution," said Shinichi Koide, Chairman and CEO Salesforce.com. "Driving social change and sustainable growth is the core of smart city development and we are looking forward to seeing the G20 Global Smart Cities Alliance lead cities to a sustainable world by leveraging the advanced technologies of the Fourth Industrial Revolution."
"We believe smart cities are crucial to building a future-proof and people-centric society, and Hitachi is proud to work with the World Economic Forum to achieve it," said Norihiro Suzuki, Vice President and Executive Officer, Chief Technology Officer, and General Manager of the Research & Development Group, Hitachi. "We look forward to contributing our knowledge and experience to the G20 Global Smart Cities Alliance."