Singapore: A golden treasure of ASEAN
Inspired by "The theory and requirements of 5 E's Djawed Sangdel to the global leaders in the world", it is here to present Singapore to illustrate 5 main pillars of the 5E's: Esteem, Education, Energy, Entrepreneur, and Economy. For Sangdel a county can't has the development without the exigency of 5E's.
Since the independence period from British colonization, Singapore has become stronger and wealthier than any Asia-Pacific region (ranked the second among 43 countries in regards of economic freedom score: 89.4, leading its economy to be the second freest in the 2019 Index). Also, Singapore was the third most globalized economy in the list of 60 world's largest economies, according to Ernst and Young 2011 Globalization Index).
Certainly, the economy of Singapore is sustainable and keeps growing these days. Also, the Singaporean government has dedicatedly invested in its people for decades. However, this "Asian tiger" has only around 700 kilometers, lacking of both arable and natural resources such as fuels, minerals or metals. Moreover, there is only 1.3% of the labor force working in agriculture, which does not contribute to the majority of the GDP. Thus, it is questionable that does Singapore fulfill the conditions and requirements of the 5 E's in its developmental process?
Esteem
Charlie Munger once said that Singapore had a better accomplishment compared to the United States in the beginning, and the powerful talented person behind this success was definitely Lee Kuan Yew, the Warren Buffett of Singapore.
It is undoubtedly that Lee Kuan Yew possesses a varied range of wonderful characteristics and personalities since he was born. Growing up in a middle-class Chinese family, and then residing in Singapore since the 19th century. Mr. Lee studied law at Cambridge, United Kingdom, and then coming back to Singapore to study economics, English literature, and mathematics at Raffles College. His education was interrupted by the Japanese conquest. He decided to learn Japanese and became a translator for a news agency. His nationalist pride was strong, which he was aware Singapore has to be independent and free from foreign powers.
Lee Kuan Yew – the founding father of Singapore
Lee Kwan Yew started his political career as an election agent under a pro-British Progressive Party. Then, he co-founded the People's Action Party (PAP) aiming of ending British colonial rule and reaching to self-governance for Singapore. After that, he became the first Prime Minister of Singapore when winning43 of the 51 seats in the legislative assembly on 30th May 1959.
Taking control of the new nation, Lee Kuan Yew understood Singapore had no natural resources and had to rely on Malaysia to support and distribute fresh water to the people. Along with that, Lee saw that it was vital to have a good relationship with Malaysia for Singapore's survival. Thus, he initiated the proposal to join Malaysia as one of its member states. However, the merger happened shortly (1963-1965) due to mounting disagreements between the Federal Government of Malaysia and the PAP. Even he was anguish at that time, he had a strong belief in himself and his people for Singapore and continuing to develop a nation that he envisioned it to be, "better and stronger" than Malaysia. Then, Singapore became a sovereign, democratic and independent nation.
Becoming independent from Britain and Malaysia, Lee formed a great team and kept them together as founding fathers of Singapore – Goh Keng Swee, Lim Kim San, S Rajaratnam, Toh Chin Chye and Devan Nair faced with the survival of the nation and Lee never gave up on his vision and his belief. Lee Kuan Yew was also trying to spread his clear vision for Singapore and shared it to his people in several public speeches.
Moreover, Lee understood the vulnerability of small nations such as Singapore, and believed that "a small country must seek a maximum number of friends, while maintaining the freedom to be itself as a sovereign and independent nation". He desired being global, learning languages (English, Mandarin and Malay) as a multi-lingual orator, giving him the ability to reach the widest audience of the multi-racial, multi-cultural states. He managed to create close-knitted collaboration and be global influence in different races, states and faiths. Thus, Mr. Lee traveled around 304 official trips to 83 countries between 1959 and 2012. He was striving for Singapore's future in the international arena.
Certainly, Lee Kuan Yew possessed a strong self-esteem to manage his nation effectively and innovatively through dark times and brighten times to have a success of Singapore these days. From his brilliant style of leadership and quick wit, how did he aspire his esteem to his people? How had he managed to bring the prosperity of Singapore?
Succession planning to Singapore
After the British left and Singapore attained self-government, the country faced a myriad of problems such as poverty, poor public health, a severe housing shortage, an inactive economy and an exploding population. How did Lee Kuan Yew govern and solve these overwhelming problems?
First, Singapore officially applied to join the United Nations on 3rd September 1965, after separation from the Federation of Malaysia. And then received acceptance, becoming the 11th UN member state on 21st September in the same year. Lee Kuan Yew and his team realized United Nations has made a safer place for countries like Singapore because it "restrains middle powers from invading small states". This action has allowed not only to raise the country's profile but also achieve a high recognition in the international community. Also, it was 'natural' for Singapore to adhere the policy of "resolving differences between nations through peaceful negotiations, not by violent means", proved by holding several global conferences and committees.
In addition, to compete with global giants, Lee needed to provide Singapore people with its housing and employment opportunities to bring economic stability. Thus, Lee and his colleagues established key initiatives and implemented several important policies that tackled every aspect of Singapore society from economy to housing, healthcare and the environment. For this purpose, he established the Housing Development Board and Economic Development Board. The Government gave public housing as its top priority, transforming inner city slums into carefully planned mixed townships sold at low cost and provided superior living conditions for its citizens. Also, to encourage home ownership, Singaporeans were allowed to use their Central Provident Fund savings to pay for these apartments.
Furthermore, the Government installed a strict quota system in public housing to ensure that ethnic groups did not create their own monolithic areas. This action preserved racial harmony and disruption in religious. Enacting the Prevention of Corruption Act, the Government implemented a comprehensive anti-corruption framework that manages laws, enforcement, public service and public outreach. Any unexplained wealth unbalance to known sources of income would be investigated to the Government. During against corruption, Lee and his PAP colleagues usually wore white shirts and white trousers, symbolizing their determination to keep the Government clean and incorruptible. The anti-corruption agency, the Corrupt Practices Investigation Bureau (CPIB), is well-resourced and independent. Its purpose is to investigate anybody from the highest position level to the lowest one to raise public awareness and form social norms.
Another essential action by Lee Kuan Yew, establishing internal rules; for example, banning chewing gum since 1992.There was a report showed that train cabin doors could not close in a proper way because the passengers stuck gums on the doors causing malfunction. Therefore, he and his team were concerned this negative habit was a noticeable enemy of progress on Singapore's success. Even it was rumored as a nanny state, Mr. Lee said Singaporeans are better behaved and live in a more satisfied place than 20 years ago. He once made a joke, if one cannot think because one cannot chew, try a banana.
There was an aggressive method of avoiding rapid population growth and threaten economic progress, Minister Lee designed the Stop at Two Family Planning Campaign. It was urging families that already had two children to undergo sterilization. It worked effectively during that time. Until now, Singaporeans are simply not reproducing, with a fertility rate of 1.29 and mostly Singapore population growth depends on immigration. The misguided family planning policies have led to a low birthrate even the Government currently encourage married women have three or four children.
Although Lee Kuan Yew passed away at the age of 91, his contributions, strategies and determination with his colleagues respectfully transformed a small port into global trading hub as these days, remarkably receiving hundreds of admirations from world leaders. Lee Hsien Loong, his son, replacing his position to develop and manage as the third President of Singapore, whether he will make great as his father and maintaining its success in a long-lasting sustainable period?
Lee Hsien Loong – continuing stable success and development
Son of Lee Kuan Yew, Lee Hsien Loong, became the third Prime Minister of Singapore. Growing up with the admiration of his father, Lee Hsien Loong passionately follows the instructions and leans in politics, economics in the early ages as Deputy Prime Minister (1991-2004), Minister of Finance, and Minister of Trade & Industry.
This man has been a shadow of the political and intellectual giant, his father, Lee Kuan Yew since he becomes Prime Minister of Singapore. While senior Lee usually tries to implement what he promises in his speech during his term, junior Lee tends to use too many facts and figures to the audiences, which sometimes made them get lost, and did not do what he said.
Moreover, junior Lee is struggling with his inner circle – core colleagues inside the government. His general managers are quite weak to assist him with serious problems and lack of will to tackle the solutions. Thus, Lee Hsien Loong probably needs more talented people from private sectors with hands-on experience to work with him.
Junior Lee also seems to be a soft leader and rarely makes hard decisions. He was working in his first five years as Prime Minister with invisible presence, due to the dependence of his team of ministers. However, after losing Aljunied Group Representation Constituency (Aljunied GRC) and receiving the lowest majority votes in any election, he has become more realized to be in action. For example, he said the locals committed more crimes than foreigners when the crime rate rose up, which made the locals scared and be careful with current situations.
In addition, senior Lee usually made a trip to the U.S once a year to have a close relationship unlike his son who only visited the U.S during President Obama's tenure. Compared to his father, Lee Hsien Loong does not prefer interacting with international arena but being a domestic position during his 10-year tenure.
Some people has judged Lee Hsien Loong as someone who climbs the politic ladder through his father's influence. However, they could not know junior Lee wants to prove himself with greater effort to govern and develop Singapore more than what his father did in the past. Certainly, what Lee Kuan Yew did and Lee Hsien Loong is doing now is a different era with different aspirations. Thus, Singaporeans and foreigners should trust in him and what Lee Hsien Loong runs the government to see what will happen.
And what if junior Lee is a failure when the result of upcoming election – whether he will lose some seats or reclaim back Aljunied GRC? And what if he loses his seats, who will govern Singapore more effectively and successfully than Lee Kuan Yew?
Education
Stepping out from 140-year Singapore's British colonial past, Lee Kuan Yew and his PAP colleagues decided to have an investment in education first, as "to develop Singapore's only available natural resource, its people".
Mr. Lee was willing to inherit useful educational models from his enemy as solid foundations to apply in Singaporean education. For example, primary, secondary and pre-university levels operate in four different languages: English, Chinese, Malay, and Tamil, as well as its focus on science, technology, engineering, and mathematics (STEM). Also, the curriculum for secondary education is modeled on the British O-level and A-level qualifications.
Major education policies since 1959
Being a political independence in 1965, the Singaporean government designed two key goals for education in a new nation: supporting national economic growth and fostering social cohesion in a multi-ethnic, multi-religious population. Besides that, the PAP began classifying curricula, examinations, and teacher qualifications and salaries, as its main target is teachers and students.
In order to support its economic development, the education adopted bilingualism with English (along with the mother tongue of Mandarin, Malay or Tamil), brought a multi-ethnic society's need for a common language. At the same time, a variety of daily rituals was implemented in schools in order to promote social cohesion and national identity, such as national pledge, awareness of national flag, and singing national anthem.
These two purposes of educational policies have remained over the past six decades. According to 5 E's, education ranks as the second important element to evaluate the success of the country, this nation has also focused on education to invest on people. Its desired outcomes of education are to "loving Singapore", and "being enterprising and innovative".
Key features of Singapore's education system
One of the most remarkable features is meritocracy, which the PAP has preserved as a founding myth. Its expression is to offer everyone fair educational opportunities and select talent based on individual hard work and merit (individual performance in a series of competitive national examinations).
Secondly, Singaporean education focuses on ability-based streaming, considered as individual differences in ability require unequal curricula. Based on student's performance in national exams, students would have different courses, levels of complexity in subject curriculum, and different terminal examinations.
Last but not least, the balance between independent schools and the centralization of policymaking of the government established. There are more autonomous schools at secondary level evolving to have freedom in terms of staff deployment and curricula offerings.
Emerging concerns in Singapore education
Successfully, Singapore gradually ranks among top performers in educational attainment measured by the Organization for Economic Cooperation and Developments' Program International Student Assessment. In addition, its two famous universities are the top 75 in the latest Times Higher Education World University Rankings, as China, Japan, and Germany. However, there still some contradictions in its education system to worry about. The meritocracy has brought several disadvantages as its focus on identifying and nurturing the very best talent and directing it to public service. Moreover, the quick marketization of education (such as promotion of school choice and competition) has created interschool inequalities and social inequalities since the 1980s. Another problematic feature of Singaporean education is the influence of these inequalities on social cohesion.
Energy
Located as a disadvantage position with its neighbor – Malaysia and Indonesia, Singapore barely has natural resources, with not much land area. There is only a tiny fraction of the land area is categorized as agricultural, and production contributes a portion to the overall economy. Locals focus on cultivation intensively, growing vegetables and fruits and poultry for their daily consumptions. Also, the local fishing industry supplies a small portion of the total fresh fish requirement, and a tiny aquaculture industry raising groupers, sea bass, and prawns. Thus, Singapore is a key exporter of both orchids and aquarium fish.
As illustrated below, the energy in Singapore from 2004 to 2013 is classified as population, primary energy, production, import, electricity, and CO2 emission. Singapore does not produce any natural resources, and mostly importing from Malaysia and other countries.
Energy in Singapore
Population
(million)
Prim. energy
(TWh)
Production
(TWh)
Import
(TWh)
Electricity
(TWh)
CO2-emission
(Mt)
2004
4.24
298
0
548
34.6
38.1
2007
4.59
311
0
628
39.1
45.0
2008
4.84
215
0
650
39.6
44.3
2009
5.0
215
0
685
39.7
44.8
2012
5.31
291
7.0
823
46.2
49.8
2013
5.40
304
7.4
855
47.7
46.6
Mtoe = 11.63 TWh, Prim. energy includes energy losses
(Source: International Energy Agency – https://www.iea.org)
In details, natural resources in Singapore can be classified into nonrenewable resources, renewable resources, and water resources.
Nonrenewable resources
Singapore has very limited nonrenewable resources. Therefore, the Government chooses to be dependent on oil and natural gas imports. Also, they took a serious decision to move from fuel oil to natural gas since 2001 to reduce high carbon content and energy of the country. Currently, natural gas accounts for 80 percent of the electricity generation.
Renewable resources
As the limited supply of fossil fuels (nonrenewable resources) spread out the country, Singapore government has taken other alternatives for using renewable energy such as the use of bio mass. Biomass energy origins from organic matters including wood, leaves, animal waste, crops, bones, etc. In another way, biomass can be led to solar energy which could produce electricity or fuel. However, this country seems to have a shortage of land, and the government has to find another solution to manage its solar energy potentially.
Water resource
A big challenge for Singapore is the conservation and management of water resource. Its land usage to conserve water has to integrate with the use of land for socio economic growth. Therefore, water itself is a scarce resource, used limitedly. In the past years, the Government of Singapore had to make a deal with Malaysia to transfer a huge amount of fresh water for Singaporean residents.
Until now, there are still five challenges for Singapore government to deal with: safeguarding water resources, managing cost effective and safe drinking water, reducing the system of water supply to a minimum, water conservation, and finishing the water loop. Due to its drawbacks, Singapore has to initiate an efficient water management policy, guaranteeing its sustainability of water resources in a long run, especially infrastructure investment, technology upgrade, and water management strategies to manage water resource.
Entrepreneurship
Entrepreneurship is an essential factor, staying as the fourth in 5 E's to develop the country successfully. It creates jobs, expanding economic health, and sustaining growth and prosperity of the nation development.
According to a report from research firm Compass, Singapore ranks as top ten hottest startup ecosystems in the world. This city-state opens to 3,600 startups in a wide range of sectors such as e-commerce, social media, gaming, etc. One of the advantaged reasons to start up in Singapore is its strategic location and connectedness to foreign markets. The 190 kilometers of coastline with natural deep-water ports, and island is located with key shipping routes in Southeast Asia.
In the Asia Pacific region, Singapore ranks the ninth in terms of venture capital funding in the Compass report. Also, it has usually ranked No.1 for its ease of doing business (World Bank, accordingly) while the U.S ranked 7th in 2013 and 2014. It can be seen as hundreds of multinational corporations have decided to locate their Asia Pacific headquarters in this lion city, such as Google, Uber, and Facebook.
In general, the entrepreneurial environment maintains one of the world's most transparent and efficient. The start-up process is straightforward, with no minimum capital required. Additionally, the labor market with flexible labor regulations is vibrant and functional.
The support of local government
Ranked as the 3rd wealthiest country worldwide by Forbes magazine, No.1 as the best labor force in the world, No.1 as the most politically stable country and No.1 for quality of life in Asia, Singaporeans and international businesses receive hundreds of supports from Singapore's policy makers.
Back in 1999, the local government launched a $1 billion "Technopreneurship Fund" which support for local startups, and about $2 million can go to invest any individual company. Moreover, the deputy prime minister added an extra $50 million investment to this fund in 2013 to present the large attention to startup ecosystem. Also, after China and Japan, Singapore has become the third largest venture capital investments in the APAC region, seems the "easy" gateway to Southeast Asia market.
Open market and high opportunity for start-ups
There are no dividend or capital gains taxes, no estate/death/inheritance tax in Singapore. Additionally, the personal tax rates start at 0% and maximum of 20% above $320K, and corporate tax rates are about 8.5% up to $300K. Many free trade agreements and the Investment Guarantee Agreements are open in Singapore. Last but not least, thanks to Singapore's strict enforcement of its strong intellectual property laws, Singapore protects the ideas and innovations confidentially.
In 2014, the road density in Singapore was only after urban centers in London, New York, and Tokyo, accordingly the data from the Land Transport Authority. Thus, for example, GrabTaxi, a ride-hailing service, first launched in Malaysia, and rapidly expanded to locate Singapore as its headquarter, which purposes to reduce transport headaches across the region. Its idea has raised $680 million over five funding rounds, from high-profile investors in Singapore.
Economy
Singapore has growing successfully with its free-market economy, open and corruption-free business environment, along with transparent monetary and fiscal policies, and clear legal framework. It also ranked as the third highest per-capita GDP in the world in terms of Purchasing Power Parity and its unemployment rate is only 2.1 percent in 2018.
The significance of manufacturing
Agriculture barely contributes to the Singaporean economy whereas the manufacturing sector plays a significant role with about 20-25 percent of annual Singapore's GDP, and the services sector with around 70 percent in 2017. In details, key industry elements in its manufacturing include electronics, biomedical sciences, chemicals, transport engineering, and logistics. Especially, the petrochemical industry is crucial for local economy when Singapore imports lots of crude oil for purified petroleum products.
Besides, the government has focuses on high-end manufacturing which includes consumer electronics, semi-conductors, machinery, transport equipment, and ships. They additionally have been trying to foster future potential sectors such as precision engineering, aerospace, and life sciences.
Globalization and free trade
Singapore's business-friendly environment has encouraged investment not only in manufacturing but also service sector to the economy growth. Service sector has provided jobs to 80 percent of workers, and creates more than 75 percent of the GDP.
Situating as one of the most perfect and busiest cargo ports in the world, Singapore's port contains hundreds of import/export trade, shipping, and logistics with China, Hong Kong, Japan, Indonesia, South Korea, etc. in global. Furthermore, globalization and free trade are favorably welcomed by the government. This tiny nation allows low import tariffs and is an active member of NATO, ASEAN, and other multinational trade organizations. It has become the first ASEAN country to sign a Free Trade Agreement (FTA) with the European Union in 2016 and many other free trade agreements.
Sometimes, Singapore is called as "the Switzerland of Asia" as banking, finance, and insurance also contributes a large part to the development of Singaporean economy, as well as wealth management.
When Singaporean government opens a free trade environment and commitment to others, it has created an efficient and easy workplace to do business. Moreover, it provides more opportunities with large investments in infrastructure projects, industrial parks as well as high-tech research and development hub. Nevertheless, there is an urging financial inequality among Singaporean population when many expats have worked and been attracted to the city-state for its safe environment and high living standard.
Conclusion
Reflected from "The theory and requirements of 5E's Djawd Sangdel for global leaders", Singapore has become "a mission possible" when its nation owns rare energy but still being a healthy developing country compared to developing and developed countries these days. The esteem of Singapore was truly great during Lee Kuan Yew era but it seems pretty moderate with the power of his son, Lee Hsien Loong. Along with that, policy makers always invest on its people for decades, which led to an ambitious education and then entrepreneurship. Undoubtedly, the growth of economy has run efficiently and fast as named "Asian tiger" with its emerging strategies.
Therefore, personally I would think that Singapore can be a wonderful example to apply the 5E to understand its developmental process. Also, we could realize that education is always important to be invested to build the esteem in every country, even without natural resources.
The Indo-Pacific Conundrum: Why U.S. Plans Are Destined to Fail
That U.S. Vice President Kamala Harris paid an official visit to Singapore and Vietnam in late August 2021 signifies clear intention of Joe Biden's democratic administration to forge ahead with the course taken by his predecessor to build A Free and Open Indo-Pacific. According to the statement made by the second-highest political office-holder in the U.S., fostering partnership with the countries of the Indo-Pacific, including those in Southeast Asia, is Washington's priority in foreign policy. Kamala Harris reaffirmed the U.S. commitment to the international rules-based order, ensuring freedom on the seas, unimpeded commerce and advancing human rights. Although the U.S. Vice President noted that China continues to coerce and intimidate, Washington's engagement in Southeast Asia, she argued, is not against any country, nor is it designed to make ASEAN member states choose between countries. At the same time, almost all Indo-Pacific states, either known as the so-called Quad—the United States, Japan, India and Australia—or those willing to join the initiative on a less binding basis, have already failed to escape the adverse effects of the rapidly deteriorating U.S.-China relations.
Top Secret (or maybe not)
Previously classified as secret and unintended to be publicly released before 2042, the U.S. Strategic Framework for the Indo-Pacific was made available in May 2021. Experts believe this to be a guarantor of continuity in the Asian dimension of Washington's foreign policy, regardless of the party affiliation of the country's leadership. The document provides for a tougher confrontation with China in the military and economic spheres, which may negatively be perceived by some Indo-Pacific states and complicate their relations with the United States.
The policy outlined in the document seems inconsistent, which may cause misunderstanding on the part of allies and partners, resulting in a discussion about the real priorities and intentions of the United States. For example, it is difficult to explain the differing interpretations of India's role. In the declassified NSC document, the nation is equated with Washington's leading partners in the region, which implies an allocation of significant assistance from the U.S. Department of State, the military and the secret services in order to enhance "India's capacity to address continental challenges." Meanwhile, the 2019 Indo-Pacific Strategy Report of the U.S. Department of Defense ranked India among small and medium-sized states of Asia, which are not considered U.S. allies and are, therefore, not eligible for considerable assistance.
The ASEAN Way
Australian experts note that the deliberately declassified document reveals the need to consolidate the leading role of ASEAN in the security architecture of the region. At the same time, there is no consensus among the union's member states regarding the essence and degree of priority of such important for the United States categories as freedom of navigation, trade and investment, respect for human rights and the rule of law. The so-called universal liberal values are of less importance to them as compared to the practical benefits coming from bilateral relations with China. According to Indonesian experts, such a divergence of views signifies apparently little sense of the specifics of Southeast Asia and regional processes on the part of analysts in Washington. They believe that the United States has not yet been able to convince the ASEAN nations of the need to create a counterbalance to Beijing as the U.S. cannot guarantee their security. As a result, the region has to face invidious choices since they find themselves at the intersection of the U.S.-China confrontation. Some countries seek to develop ties with Beijing within the Belt and Road Initiative (Thailand, Cambodia, Myanmar), while others opt for equidistance (Vietnam, Singapore) or adopt a wait-and-see approach (Philippines, Malaysia, Indonesia). At the same time, the latter increasingly tend to re-establish ties with the U.S. in order to benefit from American partners and put pressure on the Chinese leadership.
Re-Rebalancing
Among the measures on claiming superiority over China, the architects of the U.S. Strategic Framework for the Indo-Pacific envisage to deny the People's Liberation Army (PLA) air and sea dominance within the first island chain in a conflict (Japan, Taiwan, northern Philippines). However, this merely is a further extension of the "rebalancing" policy carried out without much success by the Obama administration. A restoration of this course is predetermined by the fact that the plans of the former U.S. President Donald Trump for the massive rearmament and more American troops to be stationed in the Indo-Pacific never received proper financial support. The doldrums seem to be rooted in the Biden administration officials being skeptical about these grand in scale military goals in the Indo-Pacific, which they believe are neither affordable nor necessary to balance China and protect U.S. interests in Asia.
The underlying theme of the National Security Council report is "the U.S. remaining the region's dominant actor." However, analysts believe that Washington's fundamental interest is effectively about ensuring access of national manufacturers to the markets and resources of the region rather than maintaining U.S. hegemony there. To this end, the American authorities are invited to clearly define how they could help the states of South and Southeast Asia in resisting pressure from China. At the same time, experts rely on the Cold War experience, when the U.S. could justify its military and economic presence by the menacing spread of communism. Consequently, the notion of an authoritarian the Chinese Communist Party and the need to sever ties with communist China are gaining popularity in the American establishment.
First Match
The Pacific Deterrence Initiative and the Interim National Security Strategic Guidance provide for a change in the U.S. military presence in the Indo-Pacific, taking into account its reorientation to ensure an effective response following the loss of unconditional dominance over the PLA.
The key pillars of the revised strategy to deter China were presented by Navy Adm. Philip S. Davidson in March 2021, at that time the commander of the U.S. Indo-Pacific Command (USINDOPACOM). He believes that China's military capabilities will enable it to upset the status quo in most of East Asia, especially in the Taiwan Strait, the East China and the South China Seas, over the next six years. In order to prevent a further erosion of the rules-based order, he suggested putting a premium on "exercises, experimentation, and innovation" within the U.S. military in the Indo-Pacific as "critical enablers to deter day-to-day, in crisis, and key to our ability to fight and win."
The Pentagon plans to provide for the allocation of USD 4.68 billion for the force design and stronger military capabilities in 2022, with another USD 22.69 billion spanning from FY 2023 through FY 2027. One of the focus areas is the creation of forward-based joint rotational forces under the auspices of INDOPACOM that would be capable of responding to challenges that require immediate and joint solutions.
Earlier on, one of the authors of this initiative, former U.S. Navy Secretary Kenneth Braithwaite, argued that the U.S. Navy should create a new First Fleet [1] that would take some load off the U.S. Third and Seventh Fleet (respectively based in San Diego and Yokosuka). According to American experts, the Seventh Fleet, overloaded with combat and training under the present conditions, is experiencing difficulties in supplies and staffing, since it is actually forced to operate in a vast area of the western Pacific and eastern Indian Oceans (from the dateline to India–Pakistan border). At the same time, the strength of the Third Fleet, whose AOR is the east and north of the Pacific, is excessive to fulfill the tasks facing it now[2].
Spare the Triarii
The U.S. military envisage the allies and partners of the United States to become the basis of the security system of "A Free and Open Indo-Pacific." In the meantime, close attention will be paid to the compatibility of branches of the armed forces, interaction of units and formations, improving the exchange of information as well as leveling the technology of the region's nations in the field of defense to be similar to the U.S.
The U.S. Department of Defense considers it justified to maintain an emphasis on forward deployment at foreign bases and the rotation of operational formations (mainly aircraft carrier and expeditionary strike groups), based on the specific situation. In this regard, Washington relies on India's and Singapore's assistance in the deployment of American units and formations as well as their logistic support. Promoting cooperation with the Maldives in this area is not ruled out either, with a defense agreement being signed in 2020. The prospects for a partial renewal of the substantive provisions of the 1951 Mutual Defense Treaty Between the United States and the Republic of the Philippines, which provided for the deployment of the U.S. armed forces on its territory, look rather realistic. Earlier in February 2020, Rodrigo Duterte, President of the Philippines, announced the suspension of the Visiting Force Agreement, but his position towards the U.S. softened, given the complications in relations between the Philippines and China.
First Chain Bound
Based on the rhetoric of the U.S. military leadership representatives and the published reports, Washington must constantly demonstrate its ability to deter China, denying China actions in critical regions and deploying sufficient U.S. forces in these regions to defeat the PLA. In alignment with the situation, the Pentagon finds this possible through creating local superiority zones within the so-called first island chain, using Fleet Forces, Air Force, mobile air missile defense systems as well as high-precision short- and medium-range missiles. In addition, an integrated Indo-Pacific anti-missile and air missile defense system is designed to ensure stability for the second island chain (from the Bonin Islands through the Mariana Islands to New Guinea). The U.S. Department of Defense is planning to allocate funds to improve space detection and tracking systems for a timely response to the PLA's unwanted activities. These actions are designed to fulfill the Pentagon's mission to increase the lethality of the Integrated Joint Force to prevent any enemy from dominance in land, sea, air, space and cyberspace conflicts.
Hidden Catch
The plans presented by Washington are built around the futility of military operations against it within the Indo-Pacific and are coupled with high losses for any potential adversary. At the same time, the presented strategy does not provide for inevitable retaliatory measures from China. Relying on allies and partners seems controversial as well, including when it comes to the deployment of additional U.S. Armed Forces. Most Asian states would prefer to retain the benefit from furthering cooperation with Beijing and are afraid of being abandoned by Washington in the event of a serious threat to their security, with the situation in Afghanistan already serving as an illustration.
Apparently, the Biden administration, even in the face of the declared defense budget austerity, will still increase the costs to strengthen U.S. military presence in the Indo-Pacific. On the one hand, this approach reflects the intention to reach a compromise with the Republicans. On the other hand, it is aimed at putting pressure on China and persuading it to negotiate such important areas of bilateral cooperation as trade, arms control and freedom of navigation in the South China Sea. This policy has already shown itself at the meeting of the U.S. and China representatives in Anchorage in March 2021 as well as at the meeting of U.S. Deputy Secretary of State Wendy Sherman with China's State Councilor and Foreign Minister Wang Yi in July 2021.
Most likely, the United States will not give up on its attempts to establish a multilateral Quad-based security system in the Indo-Pacific in the foreseeable future. It is also planned to gradually involve other participants in this format, as evidenced by the increased contacts with Singapore, Vietnam, the Philippines and Indonesia. Taipei has a critical role to play in the U.S. strategic plans in the Indo-Pacific, while the development of military and technical, trade and economic cooperation, and the exchange of intelligence information with it deserves particular attention.
Today, Beijing is no longer going to hide its capabilities and bide its time, rather pursuing policies to advance its own security and development interests. China's activities, not being directed against anyone, are perceived by the United States and its allies as an expansion and an attempt to crash the liberal world order, which is habitually defended by the liberal military force.
An operational formation with AOR in the Northwest Pacific and the same name already existed from 1946 to 1973.
The total number of warships (aircraft carrier, landing ship, cruiser, destroyer, frigate, multi-role nuclear submarine) is almost five times greater.
From our partner RIAC
AUKUS: A Sequela of World War II and US Withdrawal from Afghanistan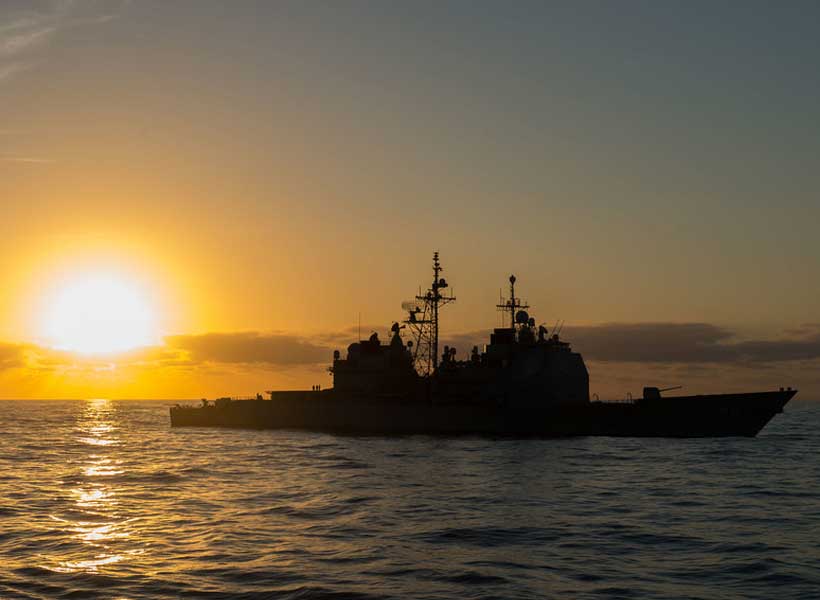 Deemed as a historic security pact, AUKUS was unveiled by the leaders of the US, the UK and Australia – a patent revelation of their shared interests in the Indo-Pacific. Despite the Prime Minister of Australia Scott Morrison's public refusal "to acquire nuclear weapons or establish a civil nuclear capability", the plan of building eight nuclear-powered submarines under the agreement remarkably augurs the country's official accession to the existing "nuclear submarine club" whose members include the US, the UK, Russia, China, France and India. The AUKUS pact, for all intents and purposes, delivers as huge a leap in Australia's defense capabilities as its international military strength.
Many have interpreted the birth of AUKUS as an effort to counter China's aggressively rising military presence in the Pacific even though China was never explicitly mentioned in the remarks of the creation of the new alliance by its leaders. However, judged by China's vehement condemnation of the security pact as "extremely irresponsible" so that it has risked "severely damaging regional peace" and "intensifying the arms race", China obviously perceived it as a barefaced provocation and threat.
It has been witnessed that the tensions between Australia and China over the past few years have been soaring, ranging from Scott Morrison's insistence on a full-bodied investigation into the origins of COVID-19 to Beijing's indefinite suspension of all activities under the China-Australia Strategic Economic Dialogue Deal. Be that as it may, military confrontations between the two countries still seemed implausible until the formation of AUKUS. To make matters worse, Australia's bold move also gave a rise out of France by scrapping their previous $40 billion submarine deal, which led the Foreign Minister of France Jean-Yves Le Drian to scathingly denounce Australia's action as a "stab in the back". But why on earth did Australia take such a sudden hawkish turn in terms of military, even at the expense of its relationship with France?
The shifting geopolitics of the Pacific region plays a major role. Australia has been sheltered by the ANZUS Treaty (The Australia, New Zealand and United States Security Treaty) since 1951, but the stable environment it has thrived in ascribes not only to the security agreement, but also to its own geopolitical advantage. During the Cold War, the North Atlantic was the focus of the naval operations of the US and the Soviet Union. The South Pacific, where Australia is located, was basically out of USSR's reach, not to mention a rising US-backed Japan if Soviets ever planned on marching south. Geopolitics of Australia today, nonetheless, has drastically changed as the country's greatest threat is no longer the Soviet Union. Instead, a provocative China has emerged as a new challenger in the South Pacific with its ramped-up presence in the South China Sea, rendering the area a security hotspot where Australia is ineluctably involved.
However, the geopolitical change in the Pacific is nothing new to Australia since it already experienced it decades ago. As a member of the British Empire, Australia fought alongside its Mother Country – the United Kingdom during the Second World War. Nevertheless, it was highly dependent on the UK for its defense against the backdrop of America's inactive involvement prior to Japan's attack on Pearl Harbor. Despite Winston Churchill's vow to protect Singapore from Japan, the unexpected surrender of the British troops instead led to the fall of the Britain's former colony to the Japanese army. Britain's failure to defend Singapore was seen as a betrayal by the then-Prime Minister of Australia John Curtin, and his fury was further fueled when the UK turned a blind eye to Australia's pleas for help in the wake of Japanese air raids on Darwin and northern Australia. The US did come to Australia's aid, but the very reason why Americans helped was that they needed a base in the Pacific to look out for their own interests, and Australia happened to serve as a good spot.
All of those have made Australia acknowledge the fact that it only had "small-power status" and neither the US or the UK had been a reliable ally when it comes to protecting Australia in its hour of need. In that respect, it makes perfect sense for Australia to prioritize the enhancement of its own military capabilities over other matters, especially in the wake of the blatant military threat made by the chief editor of Beijing's Global Times newspaper that Chinese missile strikes on Australia will be inevitable if the latter ever plans to intervene in Taiwan Strait issues.
Another heavily discussed question is – why did Australia rush to forge a new security pact even it is already a member of the Five Eyes intelligence-sharing alliance? The faltering American global leadership might be the major impetus. America's chaotic withdrawal from Afghanistan not only created a power vacuum in the latter, but also potential instability in the Indo-Pacific. No matter how hard the Biden Administration has tried to defend its humiliating Afghan retreat, allies of the US are alarmed and suspicions of a falling America are raised. In the eyes of Australia, America's abandonment of Afghanistan is nothing short of Britain's insouciance towards Australia 70 years ago. As the victim of abandonment trauma during World War II, Australia's contributions to AUKUS are simply the outgrowth of the country's efforts to prevent history from repeating itself.
Australia is by no means the only country seeking a stronger military force and a tougher stance against CCP during the ongoing reshuffling of the global deck. Canada and Japan, both economically powerful but politically mediocre, are likely to make the same move as Australia has made to gradually break free from their military dependence on the US. Erin O'Toole, the leader of the Conservative Party of Canada has relentlessly bashed China's Communist Regime and has highlighted his tough-on-China policy in the Canada federal election. In Japan, a great majority of the current prime minister candidates have also overtly manifested their hawkish stance on China. Regardless of where those elections may lead, it is not hard to fathom that Australia's ballooning military spending will be replicated by more countries. AUKUS, as a sequela of the Second World War and US withdrawal from Afghanistan, is likely to usher in an era of a new round of arms race.
Visit of Vietnamese President to Cuba
Following the outbreak of the Corona pandemic in Vietnam, the government has decided to procure 10 million doses of Abdala vaccines from Cuba. Abdala vaccine is one of the two vaccines produced locally in Cuba. The situation in Vietnam is compelling because Vietnam has seen more than 16,637 deaths because of the Delta warrant outbreak in the country since April of this year. The casualty rate is still low in terms of global average. The severity of the crisis has been so profound that before the visit of Vietnam's president to Havana an order of 10 million vaccine doses of Cuba's vaccine has already been placed. Abdala vaccine is the eighth vaccine approved for inoculating Vietnamese adult population.
During the visit of President Nguyen Xuan Phuc (18-20 September) and his meeting with President of Cuba Miguel Diaz Canel issues of common interest were discussed at length. The two countries have been ideal logically aligned and there has been comprehensive cooperation between the two communist parties. In terms of bilateral corporation the two countries have been working with regard to trading in consumer goods, manufacturing, renewable energy and aquatic products. Cuba has appreciated Vietnam's Doi Moi reforms and has expressed interest in drawing lessons from the initiative.
In fact the two countries have been adverse to the US capitalist approach in the past, and have been collaborating to sending off their party cadres to each other's countries for training and also collaboration between the party schools. The relationship between Cuba and US is dotted with tensions and sanctions. The two countries are keen to collaborate with the US. There is increasing trade ties between Vietnam and US following the Permanent Normalization of Trade Relations (PNTR) between the two countries.
The leaders of the two countries are on the same page for betterment of their population and providing better living standards to the people. During the time of Obama constructive engagement with Cuba was foreseen. However, during the period of Trump administration, the congenial ties between Cuba and US went on a cold freeze. Cuba has appreciative of Vietnam's support since the Cold War period and there has been exchange of knowledge and information with regard to socialist welfare model and economic liberalization measures that Vietnam has undertaken in the past few decades.
In terms of comprehensive partnership the two countries have focused primarily in areas such as agriculture, rice, coffee, aquatic culture, fisheries sector, maize and agrarian sectors. During the meeting between the two leaders it was agreed that the two countries will work together on developing the theoretical framework of Communist movement and better coordination between the foreign ministries of the two countries. In terms of defence and security aspects also there has been collaboration between the two sides and it is expressed that the collaboration should be further expanded.
It has been also seen that collaboration with regard to production of Abdala COVID-19 vaccine in Vietnam would work in enhancing ties between the two countries in health and medicine sector. Given scourge of the Corona pandemic in Vietnam it is expected that the medical and health clearances for the vaccine will be expedited quickly.
This Cuba visit happened before Vietnam president and the delegation attending the general debate in UN General Assembly in the last week of September. It is expected that the Vietnam president will also attend bilateral activities in the United States. As the Cuban visit precedes the UN meeting, it clearly exposes the strong solidarity and understanding that the two countries have.
Vietnam is also going to make a strong pitch in favour of its role as the non-permanent member of the UN Security Council and also put up its candidature for the UN human Rights Council for the period 2023-2025. It is also expected that Vietnam President will hold discussion with other heads of states and important countries related to pandemic prevention and economic recovery in the post pandemic phase.
India has also expressed strong desire with regard to intellectual property rights waiver for the vaccine development and also support to the third world countries in the production of vaccines. Vietnam has been looking for international producers of vaccines to expedite quick delivery of vaccine doses, critical medical equipment and medical supplies to the country. Following the permanent normalisation of relations between US and Vietnam, and the existence of comprehensive partnership between the two countries it is expected that better trade relations between the US and Vietnam would help Vietnam to recover from the pandemic enforced economic stress. The US has so far provided more than 6 million doses of vaccine to Vietnam through the global vaccine mechanism which is known as COVAX. Vietnam is also looking for procuring 20 million doses of Pfizer vaccine for citizens aged 12 to 18.
Vietnam has also started administrating mixture doses of Astra Zeneca and Pfizer vaccines to its population acknowledging the fact that the best way to protect the citizens from the coronavirus is through extensive vaccination programmes. Despite certain bottlenecks Vietnam has inoculated nearly 30.4 million doses of vaccines to its population. The third wave of the coronavirus is expected to be more devastating and it is compelling for a country like Vietnam to provide vaccines to its population.
With Cuba the interesting aspect is that the country will transfer the production technology to Vietnam by the end of this year. Vietnam has been a very instrumental in urging the United States to drop the hostile policy towards Cuba. In terms of trade embargo that the US has imposed on Cuba, it is anticipated that US is going to tone down the restrictions and promote trade facilitation between the two countries. Cuba is also planning to export and commercialize its two indigenous vaccines after the World Health Organization (WHO) gives approval. In terms of effectiveness Abdala vaccine is stated to be 92.28 per cent effective against COVID-19 when a person is administered three doses of the vaccine.
Given the closer relationship between the two countries which started with the recognition of Vietnam by Cuba in 1960 the ties between the two countries have grown multifold. Cuba had also supported Vietnam during its fight against the US forces in southern Vietnam and in order to show solidarity Cuba has established mission of Permanent representative in July 1962 and it appointed an Ambassador subsequently in March 1969. Also during the war of aggression undertaken by the US against Vietnam, US imposed trade embargo against Cuba and snapped all diplomatic relations with the island country. Cuba raised a nationwide movement with the slogan of 'All for Vietnam'. Interestingly, Cuba has also named manufactories schools and neighbourhood after the anti-US heroes of Vietnam. Fidel Castro during his various visits to different countries has also urged these countries to support Vietnam against the US invasion. Cuban sailors had supported Vietnamese people during the bombing at Hai Phong port.
The history of relationship between the two countries is replete with examples of cooperation, construction and support for each other's revolutionary causes. Vietnam and Cuba had signed a new trade agreement in November 2018 and have outlined the new agenda for the 2020–20 25 period. Vietnam has grown to be the second largest trading partner for Cuba in Asia. Vietnam has also supported Cuba in terms of developing rice production techniques and ensuring food security. The two countries celebrated their 60th anniversary of the establishment of diplomatic relations and are entering a new phase of unity, partnership and better economic relations.