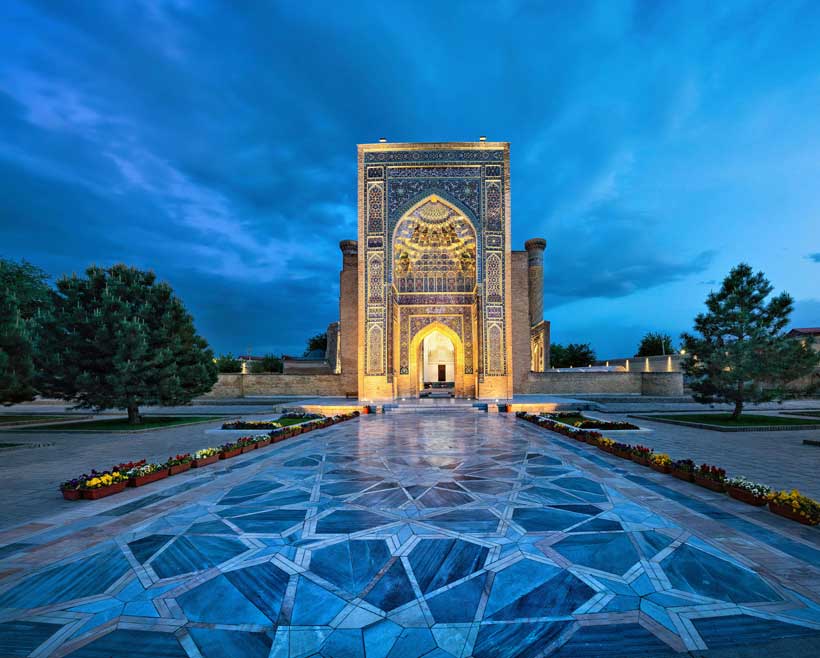 From the coasts of Caspian Sea to the rouged lands touching Afghanistan, there lies a belt of resource opulent countries, the Central Asian States. Comprising of five states, it is now becoming the new hub for social and economic development. As it lies at the heart of ancient silk route, central Asia also holds key importance in the new geo-economics of world as well. With combined population of more than 66 million and alone Uzbekistan accounting for approx. 29 million, Central Asia is an emerging market for investing companies.
Known as the five -STANs since all five states include -STAN at the end of their respective names. When these states got independence from the Soviet Union in 1991, Pakistan was among the first and few countries to recognize them and establish diplomatic relations with them. Since then, Pakistan and Central Asian countries enjoy healthy relations. Form visits of high-level delegations to signing of MOUs for establishing Joint Economic Commissions (JECs) Pakistan is fully acknowledging the role and importance of Central Asian states.
Geography plays a key role in the importance of these states located on the crossroads of East and West, Central Asian culture is an amalgam of ancient civilizations and modern era. Pakistan and the other STANs have a lot in common. Deeply connected with the bond of the religion, Pakistan and Central Asia, share many similitudes in culture. For instance, Sufism is enrooted in both societies. The architecture, cuisine, arts and handicrafts and even the dresses are somewhat similar. The languages also contain words and structures that are common. Thus, implying that both have immense potential of bilateral co-operation. For this, cross-cultural integrating policies and measures will boost the relations.
Out of many cross-cultural programs, Students' exchange programs can be very beneficial. Pakistan in 1992-93 started Special Technical Assistance Programs, under which apart from language courses, diplomacy, banking and accountancy expertise were also exchanged. Programs were fully funded by the government of Pakistan. Presently, Central Asian Faculty Development Program had 7% of its fellows from Pakistan in Phase I. Similar programs can help improve the relationship between Central Asia, at not only state level but also it will be beneficial in context to people to people diplomacy.
Economic diplomacy stands as one of the guiding principles for Pakistan's foreign policy now, hence the already important trade and commerce now stands even more important between the two societies. Presently, Pakistan's trade volume is almost 58.4 USD in region with exports comprising of larger numbers, indicating the Central Asia can be very favorable market for Pakistani exporters and investors. Kazakhstan being the largest trade central Asian partner of Pakistan, is followed by Tajikistan and Turkmenistan. This trade and commerce between the two can contribute a lot in economic development of the countries and uplifting the standard of living.
Pakistan now is lying a greater emphasis on tourism industry than ever before. It has also been a driver for development in Central Asia. Travelers from across the globe are now visiting the region because of its unique cultural heritage and landscape. The number of visitors to Central Asia is ever increasing as it increased from 2 million visitors in 2010 to 6 million in 2016. Pakistan has also aims at a single tourist visa for all Central Asia Regional Economic Cooperation (CAREC). The promotion of tourism for strengthening of economic and cultural ties across countries and generation of employment and business opportunities had been the priorities under CARCE 2030.
After Washington's venture on War on Terror and Pakistan becoming the pivot of it tables got turned. When Pakistan experienced the ricochet of Uncle Sam's policies in Afghanistan , there seemed a decline in Pakistan's heed towards the Central Asia. Affected by terrorism and its export from across the border with severe internal security challenges, discourse of Pakistan's foreign policy took a major shift. Pakistan's primal objective was to secure its internal and external parameters. After more than a decade, the dark clouds are dispersing from Pakistani skies and it is rising from the dungeon of bloodshed.
Now is the time for Pakistan to revamp its foreign policy framework and extend its diplomatic arms across the regions. Since both societies can benefit and can bring robust advancements to their socio-economic fabric by cooperating with each other. Pakistan should thus align its foreign policies with the overall shift in global politics. Since East now holds much important on international scenario, Pakistan and Central Asian co-operation will stand for a more promising future of region.
Win-Win or Zero-Sum Game: Relationship of China and Kyrgyzstan
In the context of the economic relationship between China and Central Asian countries, mostly Chinese officials emphasize relations as a win-win cooperation. In the context of the win-win cooperation, Central Asian countries export their products and raw materials to China and attract investment and financial assistance from China for improving their infrastructure. In return, China exports its products to these countries, gain new market, diversify its export-import and energy routes and expand its economic influence through Central Asia. With regard to the Sino-Kyrgyz relations, we analyze their economic relations in order to see whether the two countries' relations bases on win-win cooperation or zero-sum cooperation. If both of them relation basis on win-win cooperation, we may see that in the long term, two countries benefit from economic relations, increase their interdependency and improve their economy. In contrast to win-win, if the basis of the relations on zero-sum cooperation, we see that one side benefits from economic relations in the long term and increase its economic influence, but other side increase its dependency to another side and only benefit economic relation in the short term rather than the long term.
Since gaining independence in the 1990s, economic relations with China play an important role in the Kyrgyzstan economy. Kyrgyzstan was the first country among Central Asian countries that it was a member of WTO. Membership of WTO created a range of opportunities to country improve its economic relations with China. When China became a member of WTO in 2001, two countries' trade flows increased quickly (Omuralieva, 2014: 81). Kyrgyzstan located strategic geography for China because it plays an important role in diversifying China's export-import routes and provide a wholesale market for Chinese goods. Chinese officials always argue that Sino-Kyrgyz relations are mutually beneficial and base on win-win cooperation. In this essay, we especially pay attention to China-Kyrgyz economic relations in the context of trade, investment, and aid policy in order to explain the relations between two countries whether base on win-win or zero-sum cooperation.
Trade
Trade and economic cooperation play important role for the development of Kyrgyz-Chinese relations. Cooperation in this direction is carried out in the framework of the signed intergovernmental Agreements on trade and economic cooperation in 1998 and the establishment of the Kyrgyz-Chinese intergovernmental Commission on trade and economic cooperation in 1994. China is the main trade and investment partner of Kyrgyzstan. China took the first place in trade and investment in the economy of Kyrgyzstan at the end of the 2016 and 2017. Trade between China and Kyrgyzstan is inherently unbalanced. Trade turnover between China and Kyrgyzstan was accounted for 1.597 billion US dollars in 2017. Export was 97.5 million US dollars, import – 1.500 billion US dollars(Embassy of the Kyrgyz Republic in the People's Republic of China, 2018).Chinese exports to Kyrgyzstan consist of cloths, agricultural products, and light machinery while Kyrgyzstan's exports toChina agriculture products and natural resources(Reeves, 2015: 122).
Besides, Chinese merchants play a dominant role with the trade network of Kyrgyzstan. Both Dordoi and Kara Suu bazaar are the large wholesale and retail market in Bishkek. Both bazaars due the low taxes and location plays key role for Chinese merchants. 75% of the goods of Dordoi bazaar and 85% of goods of Kara Suu bazaar come from China. Kyrgyzstan import China's goods and re-export these goods to other regional countries. The monthly turnover of both Dordoi and Kara Suu bazaars were 331 million US dollars and 90 million US dollars respectively in 2012. We may say that these bazaars are the main motor of the Kyrgyzstan's economy (Omuralieva, 2014: 86-87). Furthermore, China's import of Kyrgyz products and raw materials also help to Kyrgyzstan to alleviate the impact of inflation (Tian, 2018).
In the context of the trade between two countries, despite the Kyrgyzstan's gains as an importer and transporter of goods, Sino-Kyrgyz relations consist of the asymmetrical trade relationship. Firstly, last years, Kyrgyzstan textile and apparel sectors grow so fast and China play a key role in these sectors (Reeves, 2015: 122). Because cotton and wool are produced in Kyrgyzstan and export mainly China. In addition, due the lack of modern standards low quality clusters, Kyrgyzstan do not export these goods to developed countries or cannot compete other regional exporters such as China, Turkey and Korea but export to less developed western China's cities, predominantly (Birkman, 2012: 24-25). Secondly and more importantly, Kyrgyzstan relies on China's good for its commercial service sector because Kyrgyz traders has developed its commercial sector around the China's imports which they re-export these goods to other regional countries, that is why, without Chinese imports, country's service sector would collapse or lose its main sources for economic growths (Reeves, 2015: 122-123). According to Marlène Laruelle and Sébastien Peyrouse, Beijing has transformed Kyrgyzstan into a China-dependent economy that can survive mainly by re-exporting Chinese products (Omonkulov, 2020: 76).
Investment and Finance
China also play dominant role in Kyrgyztan economy in terms of investment and finance. Since 2001, China was the main source of the all FDI investment (Reeves, 2015: 123). Between 2006-2017, cumulative gross of Chinese FDI flow as equal to 2.3 billion US dollar and for this period China provided 25-50% of total FDI of Kyrgyztan, which is equivalen to 2-7% of the country's GDP (Mogilevskii, 2019: 09).
Since 1990s, China mostly has been preferring to invest Kyrgyztan's mining and oil sector. For example, in 2011, a Chinese company namely Zijin Mining purchased mine, which is located in Talas province in Taldy- Burak region and Chinese Full Gold Mine Company operated Ishtamberdy mine in Jalalabad province in the south part of Kyrgyzstan in the summer of 2011(Omuralieva, 2014: 90-91). In 2012, Chinese company purchased old paper factor and 20 hectares of land in order to construct oil refinery. The company will invest 70 million US dollars for constructing factories. Furthermore, Chinese companies operate some 10 medium-sized mines producing gold-copper concentrate which is exported for refining to China(Mogilevskii, 2019: 10). In addition to mining sector, China also invests oil sector in Kyrgyzstan. For example, China financed two refineries in Kyrgyzstan, namely Kara-Balta and Tomok oil refineries. These refineries are supplied by CNPC-operated oil fields in neighboring Kazakhstan and produce 1.35 million refined products per year (Pradhan, 2018: 10). Moreover, China announced that it would provide $1.4 billion in FDI for constructing Kyrgyzstan-China oil pipeline (Reeves, 2015: 123).
In the context of the Belt and Road Initiative (BRI), China also prefers to invest infrastructure and energy project in Kyrgyzstan. In terms of infrastructure projects,the planned China-Kyrgyzstan-Uzbekistan railway and the North-South Highway, for which China's Exim Bank has lent 400 million dollars for the construction of its first phase, are considered as one of the most ambitious transportation projects in Beijing's Kyrgyzstan (Omonkulov, 2020: 72; Toktomushev, 2016: 02). By the help of the China-Kyrgyzstan-Uzbekistan railway, China has a chance to diversify its export and imports routes and also secure its energy routes. For Kyrgyzstan side, officials in the country hope that attract Chinese investment. In addition, Kyrgyzstan will gain 261 million US dollars per year as a transit country. However, the project has been postponed for years due to government debt and domestic political concerns in Kyrgyzstan. That is why, China and Uzbekistan introduced combined road-rail corridor – freight from China will be unloaded in Kyrgyzstan to reach the Uzbek section of the railway by road (CHOICE, 2021).Apart from railway project, China gave 60 million Yuan unreturned credit to Kyrgyzstan for the construction of China-Kyrgyzstan-Uzbekistan highway in 2011(Omuralieva, 2014: 83-85).
With regard to the energy projects, China has financed the construction of the Datka electricity substation and the 405-kilometer Datka-Kemin transmission line. These projects help to improve country's energy system and reduce its dependence from regional countries (Toktomushev, 2016: 02; Mogilevskii, 2019: 09). For securing its energy security, China also try to diversify its energy routes. From this perspective, Kyrgyzstan play a strategic role for China. In the context of the China-Central Asia gas pipeline energy project, China decided to construct one of the routes, namely gas line D, through theKyrgyzstan. Construction of the gas line started in 2018. By the way of the this project, Kyrgyzstan take a benefit as a transit country (Akıncı, 2019: 88; Omuralieva, 2014: 88).
China's investment in Kyrgyzstan have both positive and negative effects to country's economy. From the positive sides, firstly, some of the Chinese project is under the construction and some of the is completed recently, that is why we cannot expect major impact on the countries production capacity but we see these projects effects via comparison of the average annual GDP growth rates. A comparison of the average annual GDP growth rates in 2011-2017 and in 2000-2010 shows some increase from 4.2% per annum (2000-2010) to 4.8% per annum (2011-2017)(Mogilevskii, 2019: 12).There is no doubt that other factors also contribute the GDP growth but most Chinese investment increases share gross domestic products in Kyrgyzstan and affect positively to GDP. Secondly, improving the relationship with China contribute to Kyrgyzstan's developing country's total factor productivity (TFP) and help to country to develop an export-oriented economy, better market linkages. Moreover, China's investment creates new jobs for local people.Furthermore, China's investment inindustry of Kyrgyzstan inject energy to landlocked country's economy and promote flexible and innovative entrepreneurial development in Kyrgzystan. One of the example is emerging sewing industry in Bishkek (Tian, 2018).Finally, Chinese investment contribute to improve Kyrgyzstan's infrastructure.
Aid and Loan policy
Most of China's assistance to Central Asian countries mostly consist of the soft loans (i.e. concessional or low-interest loans below market rates, which do not contain grant elements – and government- backed or subsidized investments in infrastructure and natural resources). Compare to the Western assistance, China's assistance gives a great advantage to donor such asincreased access to energy resources and lucrative contracts for Chinese companies. Due the bad governance, poverty and instability, Kyrgyzstan is one the country that receive largest share of Chinese assistance. China is the one of the most important for Kyrgyzstan in terms of concessional loans and grant aid. China is the largest concessional loans provider to Kyrgyzstan which is account for more than 60% of the country's planned funding between 2013 and 2016. Most of China's loans and aid design to improve infrastructure projects, such as North-South highway or China-Kyrgyzstan-Uzbekistan railway. For example, China pledged 3 billion US dollar loans for infrastructure development. China is also main sources for the Kyrgyzstan in the context of the aid. For instance, China gives 16 million US dollar to Kyrgyzstan between 2000-2007 (Reeves, 2015: 123-124). In addition to the assistance for improving infrastructure, China also sends aid for building school and hospital, as a result of which, new and existing schools and hospitals benefit from improvement and upgrading of specialist equipment, technology and logistics. Finally, China also sends aid to Kyrgyzstan for reconstructing of the residential areas of Southern Kyrgyzstan which were affected violent ethnic riot in 2010 (Bossuyt, 2019).
Firstly, China's aid to Kyrgyzstan help to country improve its infrastructure and break landlocked geography. Furthermore, improving of infrastructure also create a chance to Kyrgyzstan diversifies its export and import routes. Secondly, sending aid for modernizing or building new hospital and school may increase people's lifestyle and contribute to education of younger people. Finally, China's aid also helps to country upgrade its electricity generation plants and transmission line. Developing electricity system contribute to the energy independence of Kyrgyzstan.
The fast development of Kyrgyz infrastructure by the way of the massive inflow of resources resulted in the growth of Kyrgyzstan's debt burden. China also main creditor of Kyrgyzstan. Kyrgyzstan's debt to China reached 1.7 billion dollars or 44% of its total foreign debt (3.8 billion dollars) as of February 2018. At the same time, Kyrgyzstan borrowed a total of $ 4.5 billion from China's credit line under the Belt-Road Project (Omonkulov, 2020: 75). Despite the positive impact of aid on Kyrgyzeconomy, growing debt also increase country's dependency on China and lead vulnerable position versus China.
Conclusion
In the context of the Sino-Kyrgyz trade relations, despite Kyrgyzstan's gains as an importer and transporter of Chinese goods, Sino-Kyrgyz relations consist of an asymmetrical trade relationship. Kyrgyzstan export mainly textiles and raw materials to China and import technological and manufactured products. Maybe Kyrgyzstan benefits from trade relations in the short term but, in the long term, Kyrgyzstan's dependence on China increases. In addition, exporting mostly export raw materials to China, Kyrgyzstan does not improve its human capital and high skilled labor force. With regard to the trade relations, Sino-Kyrgyz relations seem to bases on zero-sum cooperation in the long term rather than win-win cooperation.
With regards to the investment, despite the contribution of Kyrgyzstan's annual GDP growth rates and improve the total factor productivity and export-oriented economy, Chinese investment has different negative effects on the Kyrgyz economy. One of the main purposes of the Chinese investment in the mining, oil, and infrastructure sector is to increase the country's extraction and export of natural resources. This creates a range of problems for the Kyrgyz economy. Firstly, these sectors provide fewer employment opportunities to the local population and increase short-term employment in the country, and most of the time Chinese companies prefer to use their own people for working compared to the local people. Besides, the job creation of China's companies is limited and they mostly avoid technology transfer to the country. This situation also prevents the improvement of domestic industry. Secondly, extraction of the natural resource improves the certain sector and contribute corruption and unequal distribution of the wealth in the country. Furthermore, Chinese companies also violate the environmental standard. Finally, these sectors vulnerable the external shocks and increase the state's dependency on China. As trade relations, in the long term, China's investment affects Kyrgyzstan negatively and only let to improve the specific sector, especially mining and oil sectors, and this situation prevent the country to diversify its industry. With regard to the investment, as a trade relation, Sino-Kyrgyz relations seem to the basis of zero-sum cooperation rather than win-win cooperation.
Finally, in terms of the aid and loan policy, despite China's aid and loans help to improve Kyrgyzstan's infrastructure and develop its industry, it used to try to secure access to mining sites such as gold, ore deposits, and rare earth elements. Furthermore, it tries to involve in the exploration and development of gold deposits in the country. Despite the high unemployment rate in Kyrgyzstan, Chinese loans also promote Chinese firms for using Chinese equipment and laborers. Besides, China's cheap and handy loans increase Kyrgyzstan's dependency and vulnerabilities on China. This situation also causes to enhance China's political and economic influence.
To sum up, in the context of the trade, investment, and aid and loan policy, despite the different positive impacts, Sino-Kyrgyz economic relations basis on asymmetrical economic relations and in the long term give the advantage of China over Kyrgyzstan in the context of the economic influence. As a result, take the example of the trade, investment, and aid and loan policy, we think that two countries' economic relationship basis on zero-sum cooperation in the long term, rather than win-win cooperation, in contrast to China's officials' claims.
Reference
Birkman, Laura. (2012), "Textile and Apparel Cluster in Kyrgyzstan", Boston: Harvard Business School.
Embassy of the Kyrgyz Republic in the People's Republic of China. (2020), Trade and Economic Cooperation, https://mfa.gov.kg/en/dm/Embassy-of-the-Kyrgyz-Republic-in-the-Peoples-Republic-of-China/Menu—Foreign-/–uslugi/Trade-and-Economic-Cooperation/RC
Mogilevskii, Roman. (2019), "Kyrgyzstan and the Belt and Road Initiative", University of Central Asia Institute of Public Policy and Administration, No. 1, p. 1-25.
Omonkulov, Otabek. (2020), "China-Central Asia Relation in the Context of the Belt and Road Initiative", BölgeselAraştırmalarDergisi, Vol. 4, No. 1, p. 45-115.
Omuralieva, Alia. (2014), China-Kyrgyzstan Relations, Hacettepe University Institute of Social Sciences, Master's Thesis, Ankara.
Pradhan, R. (2018). The Rise of China in Central Asia: The New Silk Road Diplomacy. Fudan Journal of the Humanities and Social Sciences, 11(1), 9-29. doi:10.1007/s40647-017-0210-y
Reeves, Jeffrey. (2015), "Economic Statecraft, Structural Power, and Structural Violence in Sino- Kyrgyz Relations", Asian Security, Vol.11, p. 116-135.
Toktomushev, Kemel. (2016), "Central Asia and the Silk Road Economic Belt", University of Central Asia Institute of Public Policy and Administration, No. 1, p. 1-5.
Emil Avdaliani. (2021, January 20). How China is Breaking Central Asia's "Geographic Prison". Retrieved January 29, 2021, from https://chinaobservers.eu/how-china-is-breaking-central-asias-geographic-prison/
Tian, Hao. (2018). "China's Conditional Aid and Its Impact in Central Asia", (Laruelle, M.), China's Belt and Road Initiative and its impact in Central Asia. Washington, D.C.: The George Washington University, Central Asia Program, p. 21-34.
Bossuyt, Fabienne. (2019). The EU's and China's development assistance towards Central Asia: Low versus contested impact. (n.d.). Retrieved January 30, 2021, from https://www.tandfonline.com/doi/full/10.1080/15387216.2019.1581635
Turkmenistan's Permanent Neutrality: A Key Foreign Policy Tenant
Turkmenistan is a country in Central Asia which got independence on 27 October 1991 from the Soviet Union after its disintegration. After independence, Turkmenistan adopted and promoted a neutral position because it wants to live peacefully with its neighbours, to improve its relations with all countries and develop mutually beneficial economic relations with them. It also adopts neutral policy on almost all domestic and international issues. It did not join the Shanghai Cooperation Organization and maintained cordial relations with the Taliban and their opponents, the northern alliance to remain neutral. It provided northern alliance very limited support against the Taliban after 9/11attacks on world trade centre because of its neutrality and peaceful approach to resolve all international issues.
The neutrality of Turkmenistan was deep-rooted in its constitution; therefore, the United Nations General Assembly (UNGA) recognized its neutrality on 12 December 1995 in its special resolution. After the resolution, it became the only state whose permanent neutrality was recognized by the UN. 185 countries voted in favour of the resolution which portrays that it is playing a very efficient role in the peaceful development of world affairs, ensuring communal security and unbiased progress. On 3 June 2015, UNGA passed another resolution to support Turkmenistan neutral and legal status which was the accreditation of better direction of its foreign policy. It was the success of Turkmenistan's active foreign policy that UNGA declared 12 December as International Day of Neutrality. In 2020, Turkmenistan is celebrating 25th anniversary of its neutrality. According to the neutrality of Turkmenistan, international law is the law of peace and neutral states should act upon that in both situations of peace and war. Turkmenistan with permanent neutrality status always adheres to its constitution, UN charter and international obligations.
After permanent neutral status, Turkmenistan got international recognition and became a member of 44 international, regional and multinational organizations, established diplomatic relations with 44 countries and became a member of United Nations and its specialized agencies like UNDP, WHO, UNICEF, UNRCCA, UNHCR and Management for drugs and crime. It has now got such importance that whenever it decided to join any organization or group of states, it can demand changes according to its neutral status and join as a full member after those changes. Turkmenistan's neutrality has provided a new concept of world peace and cooperation. It has offered its neutral space for different countries to host several meetings and conferences to find the solution of complicated issues like intra-Tajikistan and intra-Afghan dialogues. The permanent neutral status of Turkmenistan had remained very productive for its economic development, its promotion as an active player and strengthening security and stability in the region and the world.
Turkmenistan is a very responsible country and it always believes on respecting the sovereignty and development of every state and adheres to these points even in a difficult situation even at the time of tension with Uzbekistan in 2002 to 2004 on some bilateral disputes.
Turkmenistan is using its positive neutrality status for the betterment and promotion of world cooperation, sustainable development and international peace. Turkmenistan with its world's fourth-largest energy resources and permanent neutrality is initiating a plan to provide stable and reliable energy to the world. It also nominated a constructive proposal in the field of transit and trade which was well responded by the international community and acknowledge by UNGA with the adoption of a resolution on "The role of transport and transit corridors in ensuring international cooperation for sustainable development" on 19 December 2014.Turkmenistan is a proponent of permanent neutrality, therefore, with its support the UN has established a group of friends of neutrality for peace, security and development and Turkmenistan have the chairmanship of that eighteen member group. The main purpose of the group is to promote and achieve regional stability, safety and shared prosperity. The United Nations also opened an Ashgabat based United Nations Regional Centre for Preventive Diplomacy for Central Asia on Turkmenistan's initiative.
The international community and the UN have accepted that permanent neutrality of Turkmenistan is unbreakable and it will stick to it in every situation so now they are giving it different responsibilities as an international liable player. It was elected as the Vice-Chair of UN General Assembly in 58th, 62nd, 64th, 68thand 71stsession, in 2012; it was elected first time to the United Nation Economic and Social Council between 2013 and 2015, the member of United Nations Commission on Population and Development and was elected to UNESCO's Executive Committee from 2013 to 2017.
Turkmenistan as a prominent, positive and neutral country is in a good position to guide the world in a better way. Turkmenistan's neutrality potential has a lot of demand in the world at this time to solve outstanding issues like Afghan matter, the process of disarmament and weapon reduction, reasonable solution of water, energy problem and ecological issues. The main point is that it has the potential to play a constructive role in resolving the issues which had become a danger for world peace.
Turkmenistan is getting benefits from its neutral policy and has chosen the approach which is constructive and flawless. Every country adopts a policy to achieve its goal but the most important thing about Turkmenistan's neutral policy is no harm to others which is the most important approach every state must adopt. In the current environment where every country has historical issues with other countries, Turkmenistan with its neutral policy has set standards which other countries should adopt to minimize their problems and differences. If the world will adopt this approach then it will be easy to achieve sustainable development and to the prosperity of their population which the sole purpose of every state.
The State of Civil Society in Central Asia: Insights from Kazakhstan and Uzbekistan
The power transitions in Kazakhstan and Uzbekistan have raised a series of unanswered questions regarding their domestic and foreign policy implications. This paper specifically focuses on the challenges and opportunities of a vibrant civil society emergence in post-Nazarbayev Kazakhstan and post-Karimov Uzbekistan.
A vibrant civil society has long been thought to be a crucial instrument for political change in countries in transition and a key component of a democratic society.
Meanwhile, according to widely held beliefs, the Soviet authoritarian legacy combined with local conservative political culture has obstructed the emergence of democratic values and a vibrant civil society in Central Asian countries.
Kazakhstan represents a distinct Central Asian model of civil society, comparable to Russia but qualitatively different from that in Europe, where civil society is more cooperative with the authoritarian system and offers less resistance to state. As for Uzbekistan, while Islam Karimov's authoritarian governance would put heavy restrictions on civil society organizations, a question arises as to what extent the government change in 2016 has trickled down to civil society. The presidential decree 'On measures for strengthening civil society institutes' role in democratization processes' of April 2018 is seen as a considerable stride towards setting the foundations to build dialogue between civil society and the government while removing the procedures that would restrict NGOs activities.
Civil society in Uzbekistan has been primarily associated with mahallas, which are self-governing bodies responsible for helping members of the community and other social work (conflict resolution, overall community upkeep, etc.).
The question remains as to what the main challenges to the emergence of a youth-driven, issue-specific civil society are.
Essentially, one of the main priorities on the path to a vibrant civil society emergence in Uzbekistan includes developing the capacities of NGOs, particularly secular civil society organizations. Even though there are over 9000 NGOs registered in Uzbekistan, unlike conservative religious organizations, the opportunities for secular civil society organizations to represent societal interests remain limited due to their organizational weakness and lack of financial support. As a result, many of them have long been inactive with little to no potential to represent certain interest groups and influence decision making.
Similarly, the NGOs in Kazakhstan remain weak and unsustainable. The explanations of institutional ineffectiveness lay in disconnect with local traditions, low visibility of NGOs, and unsupportive government. Survey of general population suggests that people in Kazakhstan know little about NGOs and do not appreciate their utility.
Studies show that one of the main dimensions on the path to a vibrant and consolidated civil society is the "change on the inside", related to the nature of civil society per se: such as the way it is organised and operates. This has a great deal to do with the development of adequate institutional and professional capacity in civil society organisations and networks as a vital tool for influencing policy making. The institutional development at the organisational level includes building organisational capacities for governance, decision-making, and conflict management, as well as clarifying organisational identity, values, and strategy of impact. The latter is of crucial relevance as a lot of CSOs in both countries were established with no predefined mission, strategic plans, and organization structure. That said, they were doomed to failure in terms of addressing the specific needs of their constituencies.
Another formidable challenge to civil society advancement is restrictive environment, compounded by state repression of dissent and pluralism in the two countries.
The freedom of expression remains severely restricted in both countries. The Karimov's administration would meticulously control media narrative on politically sensitive issues in Uzbekistan, while shuttering or blocking independent outlets. Even though domestic media, including news websites and live television programs, now cautiously discuss social problems and even criticize local officials, it is not uncommon for journalist to avoid self-censorship to avoid harassment by government. As a result, they avoid openly criticizing Mirziyoyev and the government. Not surprisingly, as suggested by Human Rights Watch reports, censorship is still widespread in Uzbekistan, with the authorities consistently restricting the media through the official state bodies that issue registration for media outlets and regulate journalistic activity.
As for Kazakhstan, the new legislation that came into force in January 2018 has further exacerbated the crackdown on freedom of expression. The law requires journalists to verify the accuracy of information prior to publication by consulting with the relevant government bodies or officials, obtaining consent for the publication of personal or otherwise confidential information, and acquiring accreditation as foreign journalists if they work for foreign outlets.
Clearly, the restrictive legislation has taken its toll on Kazakhstan's NGO landscape. In effect, NGOs operate under the conditions of mounting harassment by the government and are at risk of incurring fines and other punishments for obscurely stated offences, such as 'interfering with government activities or engaging in work beyond the scope of their charters'. It is not uncommon for civil society activists to face criminal prosecution and imprisonment just for being outspoken and critical.
Along with the restrictive legislation, low trust, and misperceptions of civil society organizations, have significantly obstructed the advancement of a vibrant civil society. It has common for post-Soviet societies to treat civic associations as threat to the power and stability of the state together with the conviction that the state bears the responsibility for the wellbeing of the society.
As a matter of fact, establishing a civil society platform for NGOs, and media organizations to monitor government activity is essential for the emergence of a vibrant civil society. In the past two years, Uzbekistan has introduced several reforms and amended legislation, but there has been no analysis or monitoring of their implementation or potential or real impact on society. Meanwhile, the input from NGOs, think tanks and media can significantly contribute to the implementation of those state programs that are deemed useful by civil society. This, in turn, comes down to the changes in the very nature of civil society relations with the state and its potential and ability to foster reform, or what is often referred to as "change on the outside."This has a lot to do with increasing their impact on public policy, through intensifying their interaction with public institutions and actors and most importantly, through engaging more with their constituencies.
A major impediment to civil society advancement in both countries is prevailing post-Soviet "informality" in the form of behavioral practices, such as considerable tolerance towards informal governance, the use of informal networks and connections in exchanges of favors, phone justice, corruption, etc. The latter has long condemned both countries to a vicious circle of underdevelopment and bad governance. Even though it would be an oversimplification to contend that graft is a way of life it takes a long time for deep rooted behavioral practices to change.
Moreover, the rise of 'illiberal civil society' or movements with a conservative agenda is a common phenomenon across Central Asia, and elsewhere. In Central Asia, Russian-language media, and religious-based outlets, have become instruments to spread illiberal ideas, which use 'traditional family values' and 'national identity' to condemn progress, often related to the rights of LGBT, the role of women in society or different minorities.
Overall, the core hindrances to the advancement of a vibrant civil society in the two Central Asian countries include severe limits on the freedom of expression, association, as well as the Uzbek and Kazakh governments' tendency of silencing dissent. Meanwhile, eradicating these malpractices is critical to reassuring and reinforcing post-Nazarbayev and post-Karimov governments' promises and pledges of significant democratic reforms.