A Splendid Summer in Atlantis, The Palm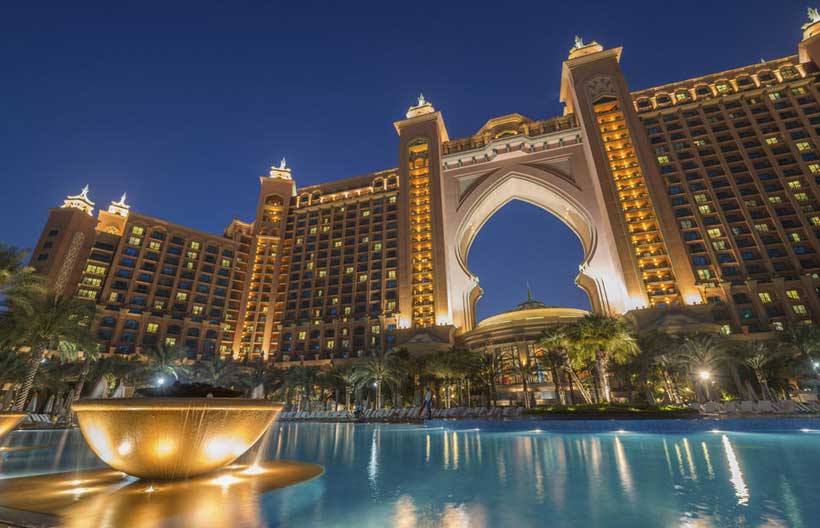 It's no secret that June in Dubai means temperatures are a little higher than usual. But that doesn't mean you can't make the most of every single minute of your dream holiday at Atlantis, The Palm.
From making a splash with our action-packed watersports offering to enjoy a once-in-a-lifetime journey with the beautiful residents of Dolphin Bay, there's a whole host of brilliant things to do and unique ways to cool off.
Here are a few of our top tips to make the most of the summer, beat the heat and create everlasting memories.
Underwater Yoga at The Lost Chambers Aquarium
Limber up for a yoga session like no other. Guests can practice their best Warrior Pose against a beautiful backdrop of more than 65,000 marine animals in our spectacular Lost Chambers Aquarium. Whether you're a yoga guru or a complete beginner, you can join in the fun and improve your strength, flexibility, and balance with the help of an expert teacher.
Underwater Fun with Our Beautiful Dolphins
Dolphins are some of the world's most charming and awe-inspiring creatures and here at Atlantis, you can see for yourself exactly why. If you book our new Dolphin Snorkel experience, it will be love at first sight as you don your snorkel gear and swim with the friendly residents of Dolphin Bay. You'll have a unique perspective of the sheer beauty of these incredible mammals playing, interacting and having fun together. Furthermore, our brainy team of marine experts is present to tell you all you need to know about the charming dolphins.
Thrills And Spills with Thrilling Watersports
If you like nothing more than taking to the open waters, then Atlantis is the perfect place for you. We have a huge range of exciting watersport activities for you to choose from, including kayaking, banana boats, and paddle boarding. There's also a variety of amazing activity packages, such as lessons in sailing, windsurfing, and waterskiing. The only challenge will be finding the time to try them all before you leave.
Relax and Unwind at Shuiqi Spa
For many of us, holidays are a time to switch off from the outside world and leave the stresses and strains behind. Luckily, Atlantis has plenty of great ways for you to do just that, including a range of gorgeous treatments at the superb ShuiQi Spa. Let the expert staff melt your troubles away with pampering treatments such as the Zerobody floating experience, an invigorating Salt Scrub or a 60-minute ESPA Deep Muscle Massage, among others.
Go on, you've earned it.
Westin Hotels & Resorts Debuts In Monterrey, Mexico
Westin Hotels & Resorts is continuing its commitment of bringing unmatched wellness offerings to Mexico with the opening of The Westin Monterrey Valle, the brand's first hotel in Monterrey, and its 8th property in Mexico. Acquired by Fibra Inn and operated by Grupo Hotelero Prisma, the new Westin Monterrey Valle is located in the heart of the city´s famous San Pedro Garza Garcia neighborhood – one of the most prestigious areas in Monterrey.
Embracing the brand's core pillars of Eat Well, Sleep Well and Move Well, the new Westin Monterrey Valle offers business and leisure travelers' unmatched, signature wellness experiences that incorporate local influences across the culinary, spa, and design elements.
"The Westin Monterrey Valle will set a new standard of hospitality in Monterrey by transforming the way travelers experience wellbeing in one of Mexico's most important cities", said Beat Meier, General Manager of The Westin Monterrey Valle. "We are extremely excited to offer our signature wellness programs that will help our guests eat, sleep, move, feel, work and play well while they stay at our wonderful hotel".
The new Monterrey hotel features 174 beautifully designed rooms and suites, all equipped with Westin's world-renowned Heavenly® Bed, which is uniquely designed to revitalize the body and mind for a night of restorative sleep.
Guests looking to stay fit while traveling can make use of the 24- hour Westin WORKOUT® fitness center that is complete with state-of-the-art fitness equipment including TRX and BOSU functional training equipment. The hotel also features a semi-Olympic outdoor swimming pool on its rooftop, offering the perfect complement to any workout. The hotel offers its signature Gear Lending program, providing New Balance® shoes and athletic wear for guests who like to pack light.
Guests looking to relax and recharge can visit the hotel's Heavenly Spa by WestinTM and choose from the latest in beauty treatments. The tranquil spa facility offers holistic massages, sage rollers, body wraps, and signature exfoliating treatments, plus an infinity pool and steam room.
The Westin Monterrey Valle offers guests opportunities to indulge in the brand's Eat Well offerings – as seen at both signature restaurants. Boasting American bistro food and distinct European influences, The Brooklyn, New York Brasserie presents a healthy, balanced menu and an unmatched dining experience with fantastic views of San Pedro Garza García. In keeping with Westin's local-sourcing promise, the hotel's second restaurant, the Deck11 Rooftop, offers refined regional flavors, trendy mixology, and traditional Mexican street food.
With more than 4,300 square feet of event space, guests and visitors will be able to host weddings, social events, conferences or corporate meetings in any of the hotel's modern venues and meeting areas. With wellness in mind, these spaces are fully equipped and designed to enhance productivity offering natural light and spectacular mountain views.
Located in Punto Valle, a residential and commercial haven in the heart of Monterrey's most prestigious neighborhood, San Pedro Garza García, The Westin Monterrey Valle will allow guests to refresh and unwind amid unforgettable views of the city. With its central location, the property allows ideal proximity to popular cultural attractions, such as Macroplaza, Museum of Contemporary Art, Fundidora Park, Pabellon M, Arena Monterrey, Cintermex, Showcenter and the Santa Lucia Riverwalk, García Caves and Cola de Caballo Waterfall.
Hyatt Expands Presence in Turkey with Plans for Hyatt Regency Izmir Istinye Park
Hyatt Hotels Corporation announced today that a Hyatt affiliate has entered into a franchise agreement with Orjin Konaklama Yönetim Hizmetleri A.Ş. for the first Hyatt branded hotel in Izmir, Turkey. Expected to open in 2021, the 161-room hotel marks the seventh Hyatt branded property in Turkey and the brand's entry into Izmir, the country's third largest and one of the oldest cities in the Mediterranean.
Hyatt Regency Izmir Istinye Park will be part of a new major development, Istinye Park Izmir, slated to become a local landmark comprising of a high-end shopping mall and an impressive 860,000 square foot (80,000 square meter) park. Located 12 miles (20 kilometers) from the airport, the hotel will be in close proximity to the metro, tram and bus stations, providing direct access to downtown Izmir.
"Turkey continues to be one of the most popular tourist destinations in Europe, and we have long sought to expand our brand footprint outside of Istanbul," said Takuya Aoyama, vice president development, Hyatt. "We are very pleased to be working with Orjin Group who has an excellent track record of developing and operating premium real estate in the country."
The property, which will overlook the Gulf of Izmir, will be designed with business and leisure travelers in mind, offering seamless and personalized experiences for any occasion. Hyatt Regency Izmir Istinye Park will feature a restaurant and bar, as well as a spa and a fitness center. Additionally, with more than 21,500 square feet (2,000 square meter) of flexible event space, the hotel will also offer a premium venue for corporate meetings and social gatherings alike.
"We are thrilled to be working alongside Hyatt as it expands its brand presence in Turkey," said Zafer Kursun, chairman of Orjin Group. "Hyatt Regency is a globally recognized brand and our extensive knowledge of the Turkish market and the city of Izmir will allow us to develop a premium property."
Hyatt Regency Izmir Istinye Park will be joining Hyatt's growing portfolio across Turkey, alongside Park Hyatt Istanbul – Macka Palas, Hyatt Regency Istanbul Atakoy, Grand Hyatt Istanbul, Nish Palas Istanbul, Hyatt Centric Levent Istanbul and Hyatt House Gebze.
Discover Ateshgah Historical Architectural Reserve with Four Seasons Hotel Baku
The capital of Azerbaijan, beautiful Baku is known for its ancient and rich culture. It's the city where centuries-long history is combined with modern landmarks.
Baku is often called the City of Fire and throughout its history there have been some mysteries that helped to shape its reputation as such. One of these mysteries is located in only 30 kilometres from the city centre and called Ateshgah Historical Architectural Reserve.
Ateshgah, also known all over the world as the "Fire Temple of Baku" is an authentic Azerbaijani exotic. This place is magical to some people because of its unique natural phenomenon – an eternal flame. The temple in its current state was created within the 17th-18th centuries and designed by the Baku-based Hindu community.
It is a pentagonal structure, with a serrated outer wall and an entrance portal. Built in local architectural traditions, Ateshgah combines the features of ancient altars of fire. In the middle of the courtyard rises the quadrangular rotunda of the main altar temple. "Balakhana" – a traditional Absheron guest room – is located right above the entrance.

But it is worth mentioning that the history of the Temple is even longer as it used to be the holy place of Zoroastrians – fire worshippers. They attached mysterious significance to unquenchable fire and went there to worship the shrine.
The Concierge team of Four Seasons Hotel Baku will gladly assist each guest who would like to learn more about the Fire Temple.
Plan an unforgettable trip to Baku with special offers from Four Seasons Hotel Baku and enjoy Atashgah and many other exciting and historic attractions of Baku.