International Labour Conference ends with adoption of key Convention and Declaration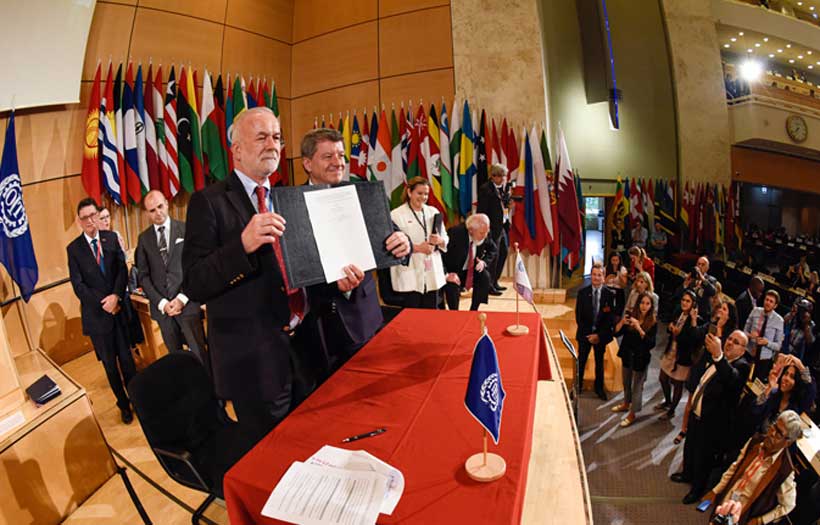 The Centenary Conference of the International Labour Organization (ILO) ended on Friday with the adoption of an unprecedented Convention and accompanying Recommendation to combat violence and harassment in the world of work, as well as a Declaration charting the way towards a human-centred future of work.

The ILO Centenary Declaration for the Future of Work, 2019 , is a reaffirmation of the relevance and importance of the ILO's mandate in the changing world of work, a strong statement of intent, a mobilizing call, and a road map for action by the ILO itself.

"What we have adopted today is a roadmap, a compass to take us forward in the future of this Organization, because the future of work is the future of our Organization," said ILO Director-General, Guy Ryder.

The Declaration looks to the future of work with a human-centred lens. It has a strong focus on enabling people to benefit from changes in the world of work, by strengthening the institutions of work to ensure adequate protection of all workers, and by promoting sustained, inclusive and sustainable growth and full and productive employment.
Specific areas for action identified include:
The effective realization of gender equality in opportunities and treatment
Effective lifelong learning and quality education for all
Universal access to comprehensive and sustainable social protection
Respect for workers' fundamental rights
An adequate minimum wage
Maximum limits on working time
Safety and health at work
Policies that promote decent work, and enhance productivity
Policies and measures that ensure appropriate privacy and personal data protection, and respond to challenges and opportunities in the world of work relating to the digital transformation of work, including platform work.
UN Secretary-General António Guterres joined some three dozen world leaders who, in the course of the two-week International Labour Conference (ILC), delivered strong messages of support for the ILO and its social justice mandate.

"You are carrying forward the torch that was lit one hundred years ago to help build a new world – a world based on social justice, founded on a model of inclusion – with governments, workers and employers at the decision-making table together," Guterres said.

Guterres told delegates that the Declaration "marks an historic opportunity to open a door to a brighter future for people around the world."

"The Declaration is ambitious – setting out the basis for delivering the ILO's mandate in its second century. But the Centenary Declaration is much more than a statement of wishes or intent. The Declaration proposes a shift in the paradigm of how we look at development," he said.

Guterres also welcomed the adoption of the Violence and Harassment Convention, 2019, which is accompanied by a Recommendation.

The Convention recognizes that violence and harassment in the world of work "can constitute a human rights violation or abuse…is a threat to equal opportunities, is unacceptable and incompatible with decent work." It defines "violence and harassment" as behaviours, practices or threats "that aim at, result in, or are likely to result in physical, psychological, sexual or economic harm." It reminds member States that they have a responsibility to promote a "general environment of zero tolerance".

The new international labour standard aims to protect workers and employees, irrespective of their contractual status, and includes persons in training, interns and apprentices, workers whose employment has been terminated, volunteers, jobseekers and job applicants. It recognizes that "individuals exercising the authority, duties or responsibilities of an employer" can also be subjected to violence and harassment.

The standard covers violence and harassment occurring in the workplace; places where a worker is paid, takes a rest or meal break, or uses sanitary, washing or changing facilities; during work-related trips, travel, training, events or social activities; work-related communications (including through information and communication technologies); in employer-provided accommodation; and when commuting to and from work. It also recognizes that violence and harassment may involve third parties.

Ryder welcomed the adoption. "The new standards recognize the right of everyone to a world of work free from violence and harassment, "he said. "The next step is to put these protections into practice, so that we create a better, safer, decent, working environment for women and men. I am sure that, given the co-operation and solidarity we have seen on this issue, and the public demand for action, we will see speedy and widespread ratifications and action to implement."

Conventions are legally binding international treaties that may be ratified by member States, while Recommendations serve as non-binding guidelines. Declarations are resolutions of the ILO's member States used to make a formal and authoritative statement.

During the Conference, the Committee on the Application of Standards adopted conclusions on 24 individual cases related to issues arising from the implementation of Conventions by ratified by member States.

The Conference outcomes "empower the ILO to perpetuate its commitment to social justice in support of peace in the world," said Conference President Jean-Jacques Elmiger, head of International Labour Affairs at Switzerland's State Secretariat for Economic Affairs. "Let us dare admit it, our conference will mark history."

The two-week ILC was attended by about 6,300 delegates, representing Governments, workers and employers from 178 of the ILO's member States, as well as observer national and international non-governmental organizations.

A number of thematic forums on future of work issues took place during the Conference, featuring heads of United Nations and multilateral agencies and high-level government, workers' and employers' representatives.
Central and South America now 'intense zones' for COVID-19 transmission
Greater solidarity must be shown to Central and South American countries which have become "the intense zones" for COVID-19 transmission, a top official with the World Health Organization (WHO) said on Monday.
Dr. Michael Ryan, WHO Executive Director, was speaking to journalists listening in to the UN agency's regular virtual update on the pandemic.
He reported that the Americas are home to five of the 10 countries with the highest number of COVID-19 cases over the past 24 hours: Brazil, the United States, Peru, Chile and Mexico.
The biggest rise in caseloads can be found in Brazil, Colombia, Chile, Peru, Mexico, Haiti, Argentina and Bolivia.
"While the numbers are not exponential, in some countries we are seeing a progressive increase in cases on a daily basis", said Dr. Ryan.
"And countries are having to work very hard to both understand the scale of infection, but also health systems are beginning to come under pressure across the region."
Countries vary in response
The Americas offer a mixed picture of COVID-19 responses on a national level, Dr. Ryan continued, with some countries taking what he described as an "all-of-government, all-of-society, inclusive, scientific-driven approach" to tackling the disease, and others struggling.
Factors that drive virus transmission across the region include complexities in population structure and urban poverty.
"I would certainly characterize that Central and South America in particular have very much become the intense zones of transmission for this virus as we speak, and I don't believe that we have reached the peak in that transmission. And at this point, I cannot predict when we will", he said.
Dr. Ryan called for support and international solidarity for countries in the region.
WHO is particularly concerned about the situation in Haiti due to the inherent weakness of the country's health system.
Last month, an advisory group with the UN's Economic and Social Council (ECOSOC) warned that the pandemic could trigger a humanitarian catastrophe in the Caribbean island nation, where six million people already live below the poverty line.
Explainer: rescEU and Humanitarian Aid under the new MFF
Why is the Commission proposing to strengthen the EU Civil Protection Mechanism and rescEU?
The EU Civil Protection Mechanism is a crisis management structure that allows Member States and Participating States[1] to strengthen their cooperation in the field of civil protection, to improve prevention, preparedness and response to disasters. It is based on voluntary contributions of Member States, with the European Commission playing a key coordinating and co-financing role.
The need for a more flexible, faster and reactive system to respond to large-scale emergencies is one of the lessons learnt from the outbreak of the coronavirus pandemic.
The rapid spread of the virus exposed some limitations in the current crisis management framework. At times when Member States are hit by the same emergency simultaneously and unable to offer each other assistance, the EU is currently unable to help quickly enough to fill these critical gaps as it does not have its own assets and has to rely on voluntary support from Member States.
A reinforcement and upgrade of the EU Civil Protection Mechanism – as requested by the European Council in March 2020 – is therefore necessary to avoid situations where Member States are left alone during crises.
What is the main objective of the proposal?
The Commission's proposes to allow the EU and its Member States to be better prepared for and able to react quickly and flexibly to crises, in particular those with a high-impact given the potential disruption to our economies and societies.
Under the Commission's proposal, the EU will be able to;
directly procure an adequate safety net of rescEU capacities;
use its budget more flexibly to be able to prepare more effectively and react faster in times of exceptional needs
dispose of the logistical capacity to provide multi-purpose air services in case of emergencies and to ensure timely transport and delivery of assistance;
These strategic capacities will be supplementary to those of the EU Member States. They should be strategically pre-positioned in such a way as to ensure the most effective geographic coverage in response to an emergency.
In this way, a sufficient number of strategic assets will be available in order to support Member and Participating States in situations of large-scale emergencies and offer an effective EU-response.
What kinds of action will be financed under the proposal?
The upgraded EU Civil Protection Mechanism will equip the European Union with assets and logistical infrastructure that can cater for different types of emergencies, including those with a medical emergency dimension. This would allow the EU to:
Acquire, rent, lease and stockpile identified rescEU capacities;
Fully finance the development and the operational cost of all rescEU capacities as a strategic European reserve in case national capacities are overwhelmed;
Enhance the funding for national capacities deployed under the European Civil Protection Pool to increase their availability for deployment;
Ensure timely transport and delivery of requested assistance. This also includes internationally deployable experts, technical and scientific support for all types of disasters as well as specific medical equipment and personnel such as 'flying medical experts', nurses and epidemiologists.
Humanitarian Aid
How will EU humanitarian aid be enhanced under the new MFF?
The Commission proposes €14.8 billion for humanitarian aid, of which €5 billion come from the European Union Recovery Instrument to reinforce the humanitarian aid instrument.
The increased budget reflects the growing humanitarian needs in the most vulnerable parts of the world. The Humanitarian Aid Instrument will provide needs-based delivery of EU assistance to save and preserve lives, prevent and alleviate human suffering, and safeguard the integrity and dignity of populations affected by natural hazards or man-made crises.
A significantly enhanced Solidarity and Emergency Aid Reserve will reinforce EU action in response to all aspects of the health crisis, as well as other emergencies. Funds can be channelled to provide emergency support as and when needed through EU instruments such as humanitarian aid in cases where funding under dedicated programmes proves insufficient.
Why is the Commission proposing to increase humanitarian aid budget?
Humanitarian crises in the world are increasing: In 2020, nearly 168 million people will need humanitarian assistance and protection, a significant increase from 130 million people in 2018 (OCHA humanitarian needs overview 2020). The needs are stemming from the conflicts, global refugee crisis, worsening natural disasters due to climate change.
The coronavirus pandemic further increases already existing humanitarian needs. It has a major health, social and economic impact on societies around the globe, in particular on the poorest countries. It is estimated that up to 265 million people worldwide could be under severe threat of hunger by the end of 2020 due to the effects of the pandemic (OCHA humanitarian needs overview 2020). This requires strong reinforcements to the humanitarian aid budget to meet the growing needs.
The EU adapted its humanitarian response in light of the needs stemming from the coronavirus pandemic. However, the impact of the pandemic and the economic fall-out, are compounding existing needs, making it all the more important that the Union is equipped to demonstrate solidarity with the rest of the world.
Renewables Increasingly Beat Even Cheapest Coal Competitors on Cost
Renewable power is increasingly cheaper than any new electricity capacity based on fossil fuels, a new report by the International Renewable Energy Agency (IRENA) published today finds. Renewable Power Generation Costs in 2019 shows that more than half of the renewable capacity added in 2019 achieved lower power costs than the cheapest new coal plants.
The report highlights that new renewable power generation projects now increasingly undercut existing coal-fired plants. On average, new solar photovoltaic (PV) and onshore wind power cost less than keeping many existing coal plants in operation, and auction results show this trend accelerating – reinforcing the case to phase-out coal entirely. Next year, up to 1 200 gigawatts (GW) of existing coal capacity could cost more to operate than the cost of new utility-scale solar PV, the report shows.
Replacing the costliest 500 GW of coal with solar PV and onshore wind next year would cut power system costs by up to USD 23 billion every year and reduce annual emissions by around 1.8 gigatons (Gt) of carbon dioxide (CO2), equivalent to 5% of total global CO2 emissions in 2019. It would also yield an investment stimulus of USD 940 billion, which is equal to around 1% of global GDP.
"We have reached an important turning point in the energy transition. The case for new and much of the existing coal power generation, is both environmentally and economically unjustifiable," said Francesco La Camera, Director-General of IRENA. "Renewable energy is increasingly the cheapest source of new electricity, offering tremendous potential to stimulate the global economy and get people back to work. Renewable investments are stable, cost-effective and attractive offering consistent and predictable returns while delivering benefits to the wider economy."
"A global recovery strategy must be a green strategy," La Camera added. "Renewables offer a way to align short-term policy action with medium- and long-term energy and climate goals. Renewables must be the backbone of national efforts to restart economies in the wake of the COVID-19 outbreak. With the right policies in place, falling renewable power costs, can shift markets and contribute greatly towards a green recovery."
Renewable electricity costs have fallen sharply over the past decade, driven by improving technologies, economies of scale, increasingly competitive supply chains and growing developer experience. Since 2010, utility-scale solar PV power has shown the sharpest cost decline at 82%, followed by concentrating solar power (CSP) at 47%, onshore wind at 39% and offshore wind at 29%.
Costs for solar and wind power technologies also continued to fall year-on-year. Electricity costs from utility-scale solar PV fell 13% in 2019, reaching a global average of 6.8 cents (USD 0.068) per kilowatt-hour (kWh). Onshore and offshore wind both declined about 9%, reaching USD 0.053/kWh and USD 0.115/kWh, respectively.
Recent auctions and power purchase agreements (PPAs) show the downward trend continuing for new projects are commissioned in 2020 and beyond. Solar PV prices based on competitive procurement could average USD 0.039/kWh for projects commissioned in 2021, down 42% compared to 2019 and more than one-fifth less than the cheapest fossil-fuel competitor namely coal-fired plants. Record-low auction prices for solar PV in Abu Dhabi and Dubai (UAE), Chile, Ethiopia, Mexico, Peru and Saudi Arabia confirm that values as low as USD 0.03/kWh are already possible.
For the first time, IRENA's annual report also looks at investment value in relation to falling generation costs. The same amount of money invested in renewable power today produces more new capacity than it would have a decade ago. In 2019, twice as much renewable power generation capacity was commissioned than in 2010 but required only 18% more investment.