Defence: Is the EU creating a European army?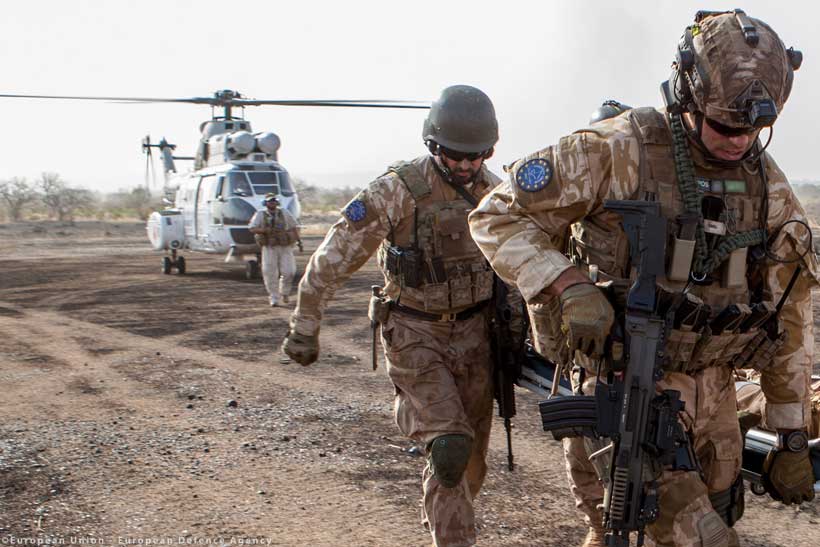 While there is no EU army and defence remains exclusively a matter for member states, the EU has recently taken big steps to boost defence cooperation.
Since 2016, there has been significant progress in the area of EU security and defence with several concrete EU initiatives to encourage cooperation and reinforce Europe's capacity to defend itself. Read the overview of the latest developments.
High expectations for EU defence
Europeans expect the EU to guarantee security and peace. Three quarters (75%) are in favour of a common EU defence and security policy according to a special Eurobarometer on security and defence in 2017 and a majority (55%) were in favour of creating an EU army. More recently 68% of Europeans said they would like the EU to do more on defence (March 2018 Eurobarometer survey).
EU leaders realise that no EU country can tackle the current security threats in isolation. For example French President Macron called for a joint European military project in 2017, while German chancellor Merkel said "we ought to work on the vision of one day establishing a proper European army" in her address to the European Parliament in November 2018. Moving towards a security and defence union has been one of the priorities of the Juncker Commission.
Recent EU measires to boost defence cooperation
A common EU defence policy is provided for by the Treaty of Lisbon (Article 42(2) TEU). However, the treaty also clearly states the importance of national defence policy, including Nato membership or neutrality.
In recent years, the EU has begun to implement ambitious initiatives to provide more resources, stimulate efficiency, facilitate cooperation and support the development of capabilities:
Permanent structured cooperation (PESCO) was launched in December 2017, and 25 EU countries are participating as of June 2019. It currently operates on the basis of 34 concrete projects with binding commitments including a European Medical Command, Maritime Surveillance System, mutual assistance for cyber-security and rapid response teams, and a Joint EU intelligence school.
The European Defence Fund (EDF) was launched in June 2017. It is the first time the EU budget is used to co-fund defence cooperation and the fund should be part of the EU's next long-term budget (2021-2027). EDF will complement national investments and provide both practical and financial incentives for collaborative research, joint development and acquisition of defence equipment and technology.
EU strengthened cooperation with Nato in 74 areas including cybersecurity, joint exercises and counter-terrorism.
A plan to facilitate military mobility within and across the EU to make it possible for military personnel and equipment to act faster in response to crises.
Making the financing of civilian and military missions and operations more effective. The EU currently has 16 such missions on three continents, with a wide range of mandates and deploying more than 6,000 civilian and military personnel.
Since June 2017 there is a new command and control structure (MPCC) to improve the EU's crisis management.
Spending more, spending better, spending together
At Nato's Wales summit in 2014, the EU countries that are members of Nato committed to spend 2% of their gross domestic product (GDP) on defence by 2024. The European Parliament has been calling on member states to live up to it.
Nato 2018 estimates show that only six countries (Greece, Estonia, the UK, Latvia, Poland and Lithuania) spent 2% of their GDP on defence.
However, building up EU defence is not only about spending more, but also about spending efficiently. EU countries collectively are the second largest defence spender in the world after the US but an estimated €26.4 billion are wasted every year due to duplication, overcapacity and barriers to procurement. As a result, more than six times as many defence systems are used in Europe than in the United States. This is where the EU can provide the conditions for countries to collaborate more.
If Europe is to compete worldwide, it will need to pool and integrate its best capabilities as it is estimated that by 2025 China will become the second largest defence spender in the world after the US.
The European Parliament's position
The European Parliament has repeatedly called for fully using the potential of the Lisbon Treaty provisions to works towards a European defence union. It consistently supports more cooperation, increased investment and pooling resources to create synergies at EU level in order to better protect Europeans.
Challenges invovled
Apart from practical challenges, the EU needs to reconcile different traditions and different strategic cultures. Parliament believes that an EU white paper on defence would be a useful way to do it and underpin the development of a future EU defence policy.
How Mercenaries in Nagorno-Karabakh can destabilize the situation
It is almost a month now since two of the former Soviet countries pitting against each other, The orthodox Christian Armenia and Muslim majority Azerbaijan. So far many casualties have been reported from both the side, however, what drew the attention and need to address soon is the involvement of the mercenaries in the conflict.
Historically mercenaries were used by many historic kingdoms to fight on their behalf or protect themselves from outside attacks for example the group called The Ten thousand a mercenary unit mostly consisted of Greeks who were hired by Cyrus the young to fight against his brother.
Then in the 14th Century came the famous John wood's "The White Company". An English Mercenary group consists of people of English, German, Hungarian origins. This group was famous for its expedition in Italy
Similarly, during the infamous raids by the Ottoman king Mahmud the II on the Byzantine Empire, the defence of the walls was handover to a famous Italian Mercenary Giovanni Guistiniani, who was given the task of defending the walls of the Kingdom with his army of Mercenaries. Throughout the raid, he and his mercenary army were able to hold up the post until he was shot and wounded during the last raid.
In the modern era, the mercenary fight was seen during the world war when few American volunteer pilots who called themselves The American Volunteer Group later were known as the infamous The Flying Tigers. Fought along with the Chinese against the Japanese forces in Burma (Myanmar).
Due to changes in the War and international Scenario, countries started hiring people for their conflicts so that anonymity can be kept. From Afghanistan to Syria the concept of mercenaries can be seen. But due to the complex international structure, the use of Mercenaries has become a debating topic for many reasons.
Destabilizing and international issues related to the hiring
Any military has to follow the basic rules of engagement that protects those combatants who were injured during the conflict and civilians who had to face the wrath of the conflict so for better understanding the International Humanitarian law had categorized the conflict into two areas a) International armed conflict b) No international armed conflict.
As per the Geneva Convention 1949 Article 2, the international armed conflict is when two 'High contracting parties' are involved. So technically it means in an international Armed conflict only military combatants of the states will be used however the situation with mercenaries is very different. The definition provided in the Additional protocol I suggested six-point that makes a party or individual a mercenary and as per IHL Database Customary IHL, the group had to meet all the six points provided in the definition to be claimed as a mercenary.
However, the problem arises when foreign Mercenaries started to enter into the war as many countries like Italy, France, and even Additional Protocol I does not acknowledge the mercenaries as a combatant or POWs that means any involvement of mercenaries will not just destabilize the situation more but it will cause great human rights violation
The legal Status of Mercenary is again something that causes a major issue in the international arena for example Under International Humanitarian Law being a mercenary is not seen as a crime and they had to be treated properly according to the fundamental guarantees under Article 75 whereas under two International conventions one is International Convention against the Recruitment, Use, Financing, and Training of Mercenaries adopted in 1989 and second is African Union, the Convention for the Elimination of Mercenaries in Africa both deem the use of mercenary as a crime.
Another important aspect brought into the light was the fact that these groups function anonymously and secretly and because of their secret nature it becomes hard to trace their origins as we have seen in the case of 2014 "The little Green man" incident was Russian involvement was alleged however the government denies any involvement with the incident, similarly the recent news of Turkey sending ex Syrian fighters to fight along with Azerbaijan was also denied by Turkey despite recent Reuters report of two Syrian fighters agreeing to the fact that they were sent by Turkey. Due to the clear deniability of the host nation, it became tougher to implement international law on them which lead to more human rights violations.
Human rights Violation
As the conflicts are becoming more private with the hiring of mercenaries the chances of human rights violations are also increasing and to address such issues Resolution 7/21 by Human Rights Council suggested the creation of The Working Group on the use of mercenaries as a means of violating human rights and impeding the exercise of the right of peoples to self-determination. But it was the Nisour Square Massacre 2007 by the employees of "The Blackwater" PMCs that forced the international community for having a strong global regulation for mercenaries or PMCs.
Mercenaries in Nagorno-Karabakh has a greater impact not only on the disability of the region but also might cause human rights issues, as mercenaries are notorious for committing heinous crimes like Drug trafficking, rape, murders, etc there are high chances that the hiring of Syrian mercenaries will lead to a humanitarian issue as the majority of the Syrian fighters who previously belonged to the Anti-government rebel faction called the Free Syrian Army is being used in the conflict, though Turkey denied their involvement in hiring however many reports suggests that at least twenty of the soldiers belong to the Syrian rebels were killed in action who were hired by Turkey. As per the Guardian article written by Bethan Mckernan suggest that Turkey was paying the soldiers of the Murad division with almost 10,000 Turkish liras to protect the Azerbaijani Oil refineries.
The Mercenaries are always convicted of committing human rights violations like Murder, Drug Trafficking, Rape, etc. So far it is not exactly clear which group is being used in the Nagorno-Karabakh region but as per the news reports, the fighters mostly belong to the Turkish-backed Murad division and Free Syrian Army. Interestingly the members of the groups were involved in the recent Syrian crisis were as per the United Nations the same rebels were involved in many human rights violations like execution, torture, etc. that mostly went unnoticed in the similar lines an article in Business insider suggests how the Free Syrian Faction started involving in crimes like smuggling, Kidnapping, etc even Amnesty International on War Crimes in Syrian Conflict reported the human rights violation committed by the members of the Free Syrian Army.
Similarly, Murad Division has a history of attacking and torturing the members of the People's Protection Unit (YPG). The division was also accused of committing violence in the parts of Afrin a Human Rights Digests published by the Office of the United Nations High Commissioner for Human rights pointed the violence like theft, harassments, murder and other abuses were committed by this group in the Northern Syrian region.
As there are no reports of hiring procedure there is a high chance that some criminals might have been hired in the conflict and might commit the same level of crimes they had committed during their days in Syria.
Paving way for terrorism and more conflict
Mercenaries have a history of committing crimes especially Transnational in nature and that is something even Antonio Guterres the current Secretary-General of United Nations had mentioned during his meeting summoned by Equatorial Guinea.
The usage of Syrian mercenaries will not only create a way for terrorism in the region but might lead to more sectarian and proxy conflict. As historically in many conflicts world has seen ex-terrorist being hired as a mercenary force in different battles for example Chechen rebels have been fighting alongside the Taliban in Afghanistan similarly many Yemeni mujahedeen fighters went to Afghanistan during the Afghan-Soviet fight who later became the reason for the creation of Al-Qaeda in Arabian Peninsula. Similarly, recent reports on ex ISIS fighters are being hired and sent to Nagorno-Karabakh is not only alarming information but this might also lead to the rise of the declining Islamic State of Levant- the Caucasus.
The historically Caucasian region was never free from insurgency and extremism the North Caucasian region was always infested with terrorism from groups like Al Qaeda, Jaish al-Muhajireen Wal- Ansar, Islamic Djamaat of Dagestan, and most importantly the Islamic State of Iraq and Levant – who involves a large number of foreign fighters for their fights. During the First and Second Chechen War, the region had seen a huge influx of Arab fighters participating in war similarly the group Jaish al-Muhajireen Wal and the Islamic States also believes in hiring foreign fighters for their cause and this is what makes them more troublesome in the region and involvement of Ex Islamic State fighter in the battle will open the Pandora box.
With Azerbaijan having their band of mercenaries fighting for them, reports also suggest that Armenia is also hiring Kurds especially Kurdistan Workers' Party (PKK) and The People's Protection Unit (YPG) to train the Armenian Militias to fight the war against the Azerbaijani forces and also the infamous Armenian Secret Army for the liberation of Armenia, fighters allegedly being hired to fight on their behalf. Kurds had a history of fighting on the behalf of Armenia as this is not the first time that Armenia had hired Kurds as their mercenaries, in 1923 – 1929 Armenia supported the Kurds group to form what previously was known as Kurdistansky Uyezd. This is the same group that is being designated as a terror outfit by Turkey, United States and even by the European Union, however, Armenia does not deem them as terror outfit this will create an issue for the international community to decide who is a terrorist and who is not and whom to put under trial as International Humanitarian law suggests that these mercenaries can only be prosecuted under the national laws, so if Armenia denies their involvement they might escape the trial and continue their fight and with such complexity in the international law famous dilemma of one man's Terrorist Another Man's freedom fighter will again arise and make this situation more tricky.
As Kurds, Free Syrian Army, Turkey getting involved in the fight this will surely push the parties into a different sectarian war as Kurds had an old rivalry with the Turks and Syrian rebels, similarly, the fighters of the Armenian Secret Army for the liberation of Armenia had a history of attacking the Turkish interest in the 1980s. With Pro – Armenian groups arriving to fight against the Turkish backed Azerbaijan, and countries like Russia coming into play this will increase the insecurity of Turkish leader Recep Tayyip Erdoğan which might push Erdoğan towards recruiting more no-state actors to achieve its dream of spreading its power and with insecurity more international state and non-state actors in the conflict might arrive which will make the issue more violent and complicated.
Conclusion
As the world becoming more privatized, countries are trying hard to make the war privatized as well by hiring mercenaries to protect their interest. Due to the lack of a proper international framework for mercenaries identifying the crimes committed by mercenaries is becoming hard and with such complexity bringing Mercenaries by both parties not only pave way for more insecurity in the region but also opens the door for more human rights violation.
It is high time that international parties especially Armenia and Azerbaijan should pledge to remove all the mercenaries form the current conflict so that proper international mechanism can be used to create peace among the parties
European defence still matters but not for Lithuania
European countries have different points of view on the issue of the EU collective defence and security. These views divide the European Union and continue to weaken the organization.
Some of the EU member states realize the need to turn the EU into a real global military power.
European experts believe, that in order for European countries to be able to defend themselves and choose their own course independently, a consolidation of national defence industries is urgently needed. For this, the EU needs to create a real European Defence Technological and Industrial Base, which can only take shape through the incentives and projects conducted within the European Union.
The EU nations must have defence industries that are capable to allow EU to reduce its dependence on American or Chinese technologies.
Researchers found out that by doing so, member states would avoid losing between €25 billion and €100 billion every year due to their lack of cooperation, and could save 30% of their annual defence expenditure by pooling procurement.
Defence budgets had already been severely impacted by the 2008 crisis, as well as COVID-19, making EU countries more dependent on NATO to ensure their security. As a consequence, safeguarding the investments made in the EU defence and industry sector appears to be a matter of real urgency and a vital issue in terms of the sovereignty of European nations.
Other European countries such as Lithuania, Latvia and Estonia which are not ready to make their own sufficient investment in the European defence, prefer to completely rely on NATO and the U.S. The Baltic states cannot imagine their security without the United States' involvement, Lithuanian President Gitanas Nauseda says.
"All Baltic states are very clear that the United States' involvement in our collective defense system is a critical factor and we can hardly imagine our 100 percent security without the United States' involvement," the president told journalists in Rukla.
In his words, Lithuania does not see the aspiration for Europe's strategic autonomy as "some sort of competition with the US's involvement in NATO activity".
"Lithuania sees it as NATO capability's complementary factor, and in no way there can be any opposition or competition between these two things as, otherwise, NATO's ability to properly do its mission would be affected," he said.
The Lithuanian leader also said he told that to French President Emmanuel Macron visiting Lithuania.
Taking part in a discussion with students of Vilnius University earlier, in his turn, Macron said Europe should be more sovereign and invest more into technology, defense to reduce its dependence on the United States and China.
"European defense is a phrase one could not utter five or ten years ago. We imagined that we can put our defense into the hands of NATO, but now we have already established a fund for the implementation of joint programs and we have structural cooperation on defense," Macron said.
"We cannot always rely on the power that is on the other side of the Atlantic, which is probably focusing more on China and cannot give us so much attention. Therefore, it's very important for us to be able to protect ourselves," the French leader said.
The opposite positions could lead to a greater gap between European countries and dissatisfaction with existing frame of the organization.
Who Needs A Proxy War In The Caucasus?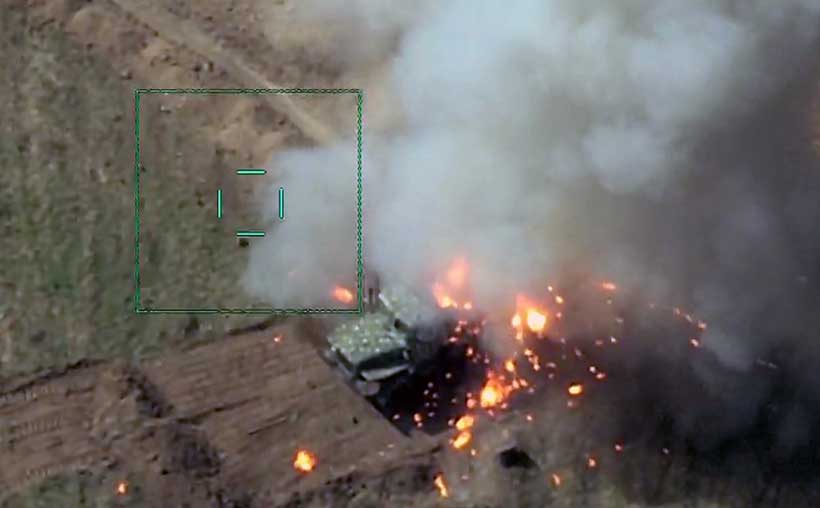 All proxy wars are, by definition, delusional. Usually, two client-states wage a war, one against another, while, actually, their war advances interests of some other states, commonly their sponsor-states. The war between Armenia and Azerbaijan over Nagorno-Karabakh is not a simple proxy war: its proxiness and delusional character exponentially grow as the conflict unfolds on the ground.
For, it is conceived as a war that was supposed to draw two major regional powers, Russia and Turkey, into a mutual conflict, on the assumptions that Russia is going to act as Armenia's sponsor-state, ready to enter the war on the side of its presumed proxy, and that Turkey is going to act as Azerbaijan's sponsor-state, ready to enter the war on the side of its presumed proxy. Yet, as the conflict unfolds, it becomes transparent that these assumptions were deeply wrong and that the proxiness and delusional character of this very war are skyrocketing beyond the absurd.
Turkish rapprochement with Russia, which is a logical consequence of Turkey's geopolitical reversal caused by its failure to become a candidate for membership in the European Union after so many years of begging, has not remained unnoticed by relevant circles in the West. While the United States has tried to persuade the Turks to remain its most reliable ally and refrain from turning towards Turkey's natural geopolitical environment, that is, towards other Eurasian powers, France's foreign policy, with a British support, has chosen a different strategy.
Assuming that the close encounters between Russia's and Turkey's troops on the soil of Syria and Libya were an expression of a true potential for their mutual conflict, rather than a careful choreography conceived by these two powers to deceive their potential adversaries in the Euro-Atlantic bloc, France and Britain have created a strategy to draw Russia and Turkey into a mutual conflict through their presumed proxies, Armenia and Azerbaijan. For this purpose, they used the traditional bonds between France and Armenia, based on the presence of the numerous Armenian diaspora in France. Due to these historical bonds, it was not difficult for France to persuade the Armenian leadership to fall into a trap of a new war with Azerbaijan, as France's (and Britain's)de facto proxy. However, the basic assumption was that in the further development Russia will automatically take Armenia's side, as it once did, in the times of Boris Yeltsin. In other words, Armenia was pushed into the war by France (and Britain), so as to make it seem as if Russia did it, in order to eventually draw Russia into a conflict with Turkey, which was assumed to be on the side of Azerbaijan in case of Armenian attack. A cunning plan, isn't it? Yet, these assumptions, as well as the strategy derived from them, have proved to be a farcical failure.
For, Putin's Russia is not Yeltsin's Russia. Yeltsin allowed himself to be drawn into a geopolitical game constructed for Russia's ultimate destruction, the game of creation of ethnically exclusive territories, like Nagorno-Karabakh, or South Ossetia, to be followed by their secession from the states to which they originally belonged and annexation by the states with which they shared common ethnic identity. In other words, this game was a game of endless ethnic cleansing and creation of ethnically exclusive territories, which would eventually destroy not only Russia with its numerous ethnic minorities, but also the entire zone of Eurasia with its numberless ethnic groups. This was a recipe for the ultimate destruction of the entire Eurasian space, carefully planned in the inner circles of the Anglo-American foreign policy establishment, and recklessly adopted by Yeltsin and many other post-Soviet politicians. However, Putin is not Yeltsin, and he did understand the destructive potential of the concept of ethnically exclusive territories when applied to the post-Soviet space: if every ethnic group were to claim its own exclusive territory, and then unification with its ethnic kin in other states, there would be no more territorially compact states in Eurasia, including Russia itself.
A similar pattern was previously applied to the Soviet Union, when its republics were stimulated to claim independence on the basis of ethnic identity and presumed right to self-determination. This process ended up with the total dissolution of the Soviet Union. Of course, full application of this pattern generates a process of endless dissolutions: for, all ethnic minorities within these newly-proclaimed states may well claim secession from these states, since the underlying assumption, adopted by many local ethnonationalist leaders, is that these ethnic groups' survival is possible only within their own ethnically exclusive statelets. To put it briefly, it is a pattern of geopolitical fission, with the consequences similar to those of nuclear fission. Among other destructive processes triggered in the post-Soviet space, this pattern also led to the Armenian invasion of Azerbaijan's territory and creation of the ethnically exclusive territory of Nagorno-Karabakh for Armenian ethnic minority in Azerbaijan, with the ultimate goal of its secession from Azerbaijan and annexation by Armenia.
The same pattern was also promoted in the Balkans, again by Britain and France, in their initiatives for ethnic partition of Bosnia in the 1990s and annexation of its territories by Serbia and Croatia, and recently, for exchange of ethnic territories between Serbia and Kosovo. The concept of ethnically exclusive territories as the only safe environment for survival of ethnic groups, therefore, is not the invention of some 'wild tribes' in the Balkans or the Caucasus. It is a premeditated strategy for permanent destabilization of any geopolitical zone, wherever applied. Its authorship needs to be finally attributed to those who are always present in their application – the British and French foreign policy establishments. Yet, this time, in the case of the second Armenian-Azeri war, this hook has not been swallowed by its main targets, Russia and Turkey.
Having been aware of the fact that the Armenian attack on Azerbaijan was generated by some other players, who were not even too careful to hide its role in it (such as President Macron of France), and that the very concept of ethnically exclusive territories has served as a tool for permanent destabilization of both Russia and the rest of Eurasia, Russian foreign policy reacted in a way that was precisely the opposite from the reaction of Yeltsin's foreign policy in the case of the first Armenian-Azeri war. Instead of automatically taking Armenia's side and further promoting the concept of ethnically exclusive territories, as designed by the Anglo-French axis, Russia took a neutral position and thereby has practically given a green light to Azerbaijan to regain control over Nagorno-Karabakh and restore its full sovereignty and territorial integrity. In this way, the very concept of ethnically exclusive territories has been delegitimised, not only in the Caucasus, but also in the entire post-Soviet space. Yet, it remains to be delegitimised in the Balkans.
Russia has probably made such a radical geopolitical turnover in tacit agreement with Turkey, so as to be safe about its outcome and the foreseeable consequences. Their rapprochement has thus been elevated to a level of potential strategic alliance. At the same time, Turkey has strengthened its credibility in the post-Soviet space and the rest of Eurasia, but not in the conflictual mode against Russia. This improvement of Turkey's international standing has been based on its principled defence of Azerbaijan's sovereignty and territorial integrity, that is, principled respect for international law, not on an aggressive implementation of a pan-Turkic programme that would eventually include all Turkic peoples, including Azeris, into some imagined Greater Turkey. The same applies to Russia and its abandonment of presupposed pan-Orthodox sentiments in the case of Armenia, although these have yet to be abandoned in the Balkans, in the case of Russia's flirting with the Greater Serbian programme of ethnically exclusive territories.
In any case, both Russia and Turkey have thus made an important step out of the straitjacket tailored for them when the concept of ethnically exclusive territories was inserted into Eurasian geopolitical space. In that way, they have also created a geopolitical framework for Armenia and Azerbaijan to make a step out of their proxy roles, in which they were given a task to inscribe their respective ethnically exclusive territories. In other words, what has been generated is a geopolitical potential for peace between these two countries and their reconstitution along civic-inclusive, instead of ethnic-exclusive, lines.