Africa Awaits Russia's Investment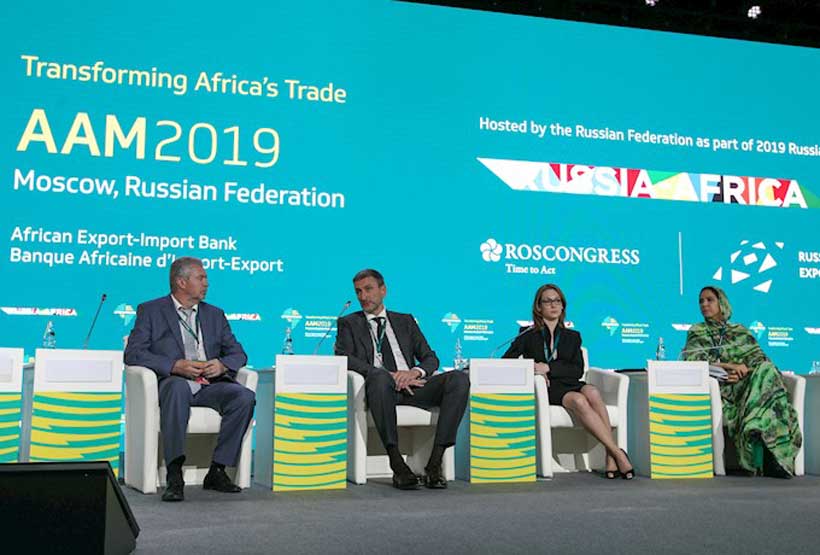 Russia has been looking to raise its existing relationship with African countries and Afreximbank is now providing huge support in realizing that long term goal. The bank, with the task of transforming Russia's trade with Africa, organized an economic conference for more than 1,500 participants from June 20-22 in Moscow. The economic conference and other Russia–African events in 2019 can be described as "the Year of Africa" in the Russian Federation.
The Afreximbank Annual Meetings included Seminar and Meeting of the Afreximbank Advisory Group on Trade Finance and Export Development in Africa and special meetings between Russian and African political and business leaders to discuss trade, industrialization, export, and the implementation of joint investment projects.
Russia continues to strengthen its relationship with Africa due to multiple factors such as untapped abundant natural resources, improvement of the business climate, the rise of the middle-level income class and economic growth, Prime Minister Dmitry Medvedev noted in his speech at conference. He further pointed to Africa's growing appeal to and demand for high-tech, telecom investors and other products that could make swift business connection with Russia.
"All these things have already made Africa attractive for investments, and not merely in producing industries but, which is of particular importance, in high technologies and telecommunications," Medvedev said.
According to certain estimates, about a half of the resource potential of the planet is in Africa, he argued "we therefore need to more efficiently use these resources and at the same time promote cooperation in this sphere, just like cooperation in other spheres."
Besides those factors, there is high desire for mutual-cooperation. "It is also important to have a sincere internal desire, and such a sincere desire is present from the side of the Russian Federation and from the side of African states. We see this at different levels, including the top levels of cooperation," Medvedev said.
Opening the conference, Foreign Minister Sergey Lavrov reminded conference participants that while relying on the long-time accumulated experience of constructive partnership, Russia and Africa are confidently moving along the road of comprehensively expanding Russian-African ties.
According to the Foreign Minister, the long years of solid friendship, which has been created, gives a fresh impetus to cooperation in many spheres and provides necessary conditions for building up trade, economic and investment exchanges, as well as cooperation in banking, and for encouraging business communities to implement mutually beneficial projects in African countries.
These include the construction of the country's first nuclear power plant and the establishment of the Russian Industrial Zone in Egypt, as well as the projects that are being implemented in Africa by such leading Russian businesses as Rosneft, Lukoil, Rosgeo, Gazprom, Alrosa, Vi Holding, GPB Global Resources and Renova.
"We can report first achievements in this sphere. Mutual trade is growing – it exceeded US$20 billion last year – and becoming more diversified. Large projects are being implemented in Africa with direct financial support from Russia," he assertively said, and added: "I am confident that cooperation with Afreximbank, which the Russian Export Centre (REC) has joined as a shareholder, will help promote long-term trade and economic relations between Russian businesses and their African partners."
As expected, REC predicts the volume of Russian-African trade relations will double within the next 3-4 years. "The Russian Export Center maintains a close partnership with Afreximbank and has already entered the first deals that we are jointly implementing on the African continent. We intend to increase the volumes and we foresee the volume of the Russian-African trade ties in the next three to four years doubling," said the Russian Export Center's (REC) chief Andrei Slepnev.
"It goes without saying that the Russian Export Center sees the African region as an important area to promote Russian non-commodity export. Our objective is to use today's positive market environment to open the access to African markets to as many exporters as possible and expand our geography," he argued.
The African continent currently has enormous potential as a sales market. Many African countries are enacting economic reforms, demand is growing for high-quality, competitive products. Russian businesses are interested in this niche, and our goods are already competitive in terms of price and quality.
Basic financial instruments of supporting trade between Russia and Africa could be direct loans to foreign buyers (including those secured by the sovereign guarantee of the borrowing country) and loans to banks of foreign buyers under the insurance coverage Exiar, loans to sovereign borrowers, financing receivables against export earnings.
In 2018, for instance, the volume of export-supported Russian products to African countries amounted to US$2.47 billion. The main partners are Egypt, South Africa, Zambia, Morocco, Algeria, Nigeria and Kenya.
Advisor to the President of the Russian Federation, Anton Kobyakov, noting the importance of multilateral cooperation between Russia and Africa: "The current situation in the world is such that we are witnesses to the formation of new centres of economic growth in Africa. Competition for African markets is growing accordingly. There is no doubt that Russia's non-commodity exporters will benefit from cooperating with Africa on manufacturing, technologies, finances, trade, and investment."
Afreximbank President and Chairman of the Board of Directors, Dr. Benedict Okey Oramah, presented the 2019 African Trade Report, an analytical survey of African trade. "As we gather in this historic city of Moscow, we will explore how we can shape the future of trade and how we can transform our continent," said Oramah. "Our collective endeavours will impact the economic future and wellbeing of Africans for generations to come."
In the report, special attention was paid to practical cooperation in the spheres of finances, energy, mining, railway infrastructure, digital technologies, cybersecurity, healthcare, education, food security in Africa.
In 2017, the Russian Export Center became Afreximbank's third largest non-African financial institution or organization shareholder, which has allowed for the rapid acceleration of investment, trade, and economic relations between Russia and African countries. It's active in mining projects in Zimbabwe and Sierra Leone, and has expressed interest in attracting Russian partners to the implementation of projects in the oil industry in Africa.
Notable among the Russian-African foreign economic projects include the signing of a memorandum of cooperation between the REC and Joint company Afromet (Vi Holding) regarding the comprehensive development of the Darwendale platinum field project in Zimbabwe, which was signed during a visit by the President of Zimbabwe, Emmerson Mnangagwa, to the Russian Federation in January 2019.
According separate reports, Russia has been developing a number of projects in cooperation with Afreximbank, including a project concerning the shipment of Russian ground transport and projects to finance industrial infrastructure construction and modernization projects in Nigeria and Angola. At the end of 2018, REC, Russian Railways, and Afreximbank signed a memorandum of cooperation. As a result, a trilateral working group was created, tasked with studying export and investment project issues in the railway and related industries, as well as forms of project and investment financing.
The latest description of Africa, which consists of 54 states, to many experts and business investors, is the last frontier. It is the last frontier because it has huge natural resources still untapped, all kinds of emerging business opportunities and constantly growing consumer market due to the increasing population. It has currently become a new business field for global players.
That negative perceptions deeply persistent among political and business elite, middle class and the public towards Russia. For the two past decades, due to Russia's low enthusiasm, lack of coordinated comprehensive mechanism and slowness in delivering on skyline investment pledges have been identified as the key factors affecting effective cooperation between Russia and Africa.
London based Business Research and Consultancy firm published a new report about global players set to continue broadening economic and business engagement across Africa. The publication has become largely important as Russia with its recognizable global status and among BRICS (Brazil, Russia, India, China and South Africa) dominated headlines that it has played less visible role in sub-Saharan Africa after Soviet's collapse.
The Russian Export Center, as a state institution for the support of non-primary goods, providing Russian exporters with a wide range of financial and non-financial support, is also working on a number of projects with Afreximbank in various African regions. Afreximbank was founded in 1993 in Abuja, Nigeria, with the authorized capital of US$5 billion. The main objectives of the bank are the development of trade between African countries and abroad. The banks' headquarters is located in Cairo, Egypt.
The transformation of Africa starts with our girls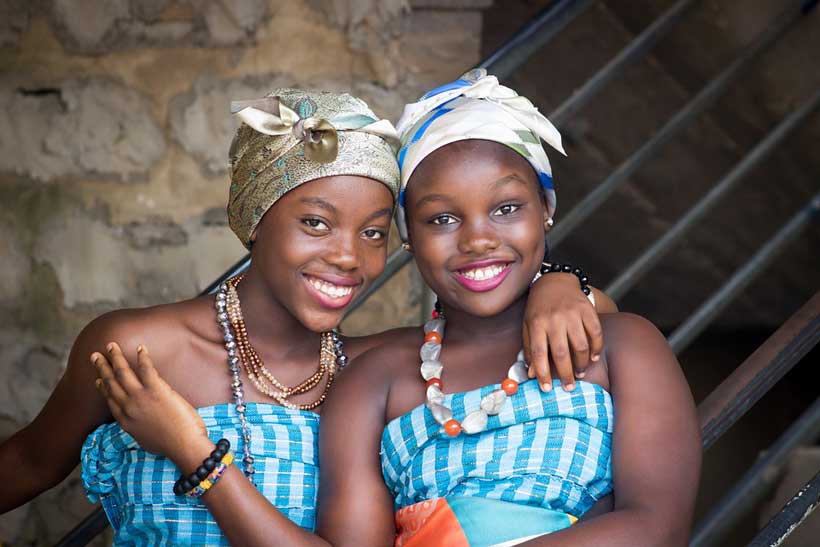 "When you educate a girl, you educate a nation." This African proverb resonates with the values passed on to me by my parents and guides my determination to drive change in the region through the education and empowerment of girls and women.
Adolescence is a critical tipping point in the lives of many girls. Decisions made for them at this age can have life-long implications for their health, skills, economic opportunities, voice, and personal agency. Far too often, choices are made that set-in motion a disadvantage for these girls that will persist throughout their entire lives. A multitude of factors throughout a woman's life cycle often combines to prevent them from realizing their potential: high fertility rates, early marriages and inadequate access to family planning services, low educational attainment, weak job opportunities, and restrictive social norms and laws.
Over the past decade, countries across Western and Central Africa have made considerable progress in accelerating gender equality, promoting girls' education, championing legal reforms, improving livelihood opportunities, and developing more inclusive financial systems. The recently released Women, Business and the Law report 2023 highlights the significant progress made by the region in the last year, with five economies—Benin, the Republic of Congo, Côte d'Ivoire, Gabon, and Senegal —enacting positive legal changes. Notably, Côte d'Ivoire and Gabon recently lifted all legal restrictions on women's employment.
We know, however, that progress in some areas has not fully translated into lifting girls and women in all areas. Some statistics are startling: nearly six out of ten girls in Western and Central Africa are still not in secondary school, two out of ten bear a child as teenagers, and nearly half believe that a husband is justified in beating his wife. A woman in the region earns significantly less than a man, regardless of whether she is a farmer, wage worker, or entrepreneur. Furthermore, the continued consequences of the COVID-19 pandemic, the growing effects of climate change and the existing realities of regional conflicts also risk increasing existing inequalities.
We have known for quite some time that women's economic empowerment fuels economic growth, provides women with income to invest in their family's health and education, increases household food stability and resilience, and strengthens women's decision-making power in their homes, communities, and societies. But our efforts have not been enough: we need to work harder, do more, and reach higher.
This is why the World Bank is stepping up its commitment to accelerating gender equality in the region. We have just launched a Regional Gender Action Plan for Western and Central Africa 2023-2027. By putting gender at the nexus of our efforts, we aim to support countries in delivering greater results around four priorities: (1) closing the earnings gap, (2) empowering adolescents and women to reduce fertility rates, (3) reaching gender parity in basic education, and (4) reducing gender-based violence.
For instance, Niger reduced by half the number of girls dropping out of school and getting married before graduation by providing girls with an allowance for food and housing to stay with host families closer to their schools through the Sahel Women's Empowerment and Demographic Dividend (SWEDD) project. The intervention is now implemented in Benin, Burkina Faso, Cameroon, Chad, Côte d'Ivoire, Guinea, Mali, Mauritania, and Niger and seeks to empower women and adolescent girls by providing access to quality education and reproductive, child and maternal health services.
In Nigeria, the Adolescent Girls Initiative for Learning and Empowerment (AGILE) project supports the education and the empowerment of 20 million young girls and mothers in 18 states by providing trainings to adolescent girls in secondary schools to strengthen socio-emotional skills and digital literacy and improve learning, sexual and reproductive health, and labor market outcomes. AGILE also works with traditional and religious leaders to change social norms and builds schools closer to the communities where they are needed.
These are a few examples of how countries can advance gender equality and promote inclusive growth in the region. Now is our opportunity to deliver results at scale for an equitable tomorrow. While adolescence is a time of great vulnerability for girls, it is also an ideal point to disrupt the poverty cycle and leverage development efforts. Educated and empowered girls and women recognize their inherent worth and will fuel sustainable economies and benefit societies and humanity at large. Let us help these girls and women fly with both wings and raise up a continent.
First published on All Africa via World Bank
International Conference Strengthens Multifaceted Relations between Russia and Africa
The International Parliamentary conference 'Russia-Africa' held on 19-20 March has, at least, focused on complexities and contradictions of the emerging new global order, the role of Russia-African alliance against growing Western imperialism, and set the limits of Africa's expectations from Russia. The conference was to build further on previous comprehensive political dialogues between parliaments of Africa and Russia.
President Vladimir Putin said at the plenary session of the international parliamentary conference 'Russia-Africa in a Multipolar World' on March 20, reminded that the first Russian-African summit, held in October 2019 in Sochi, was very productive and made it possible to noticeably revive our ties with African states, intensify business interaction, exchanges in the cultural and humanitarian spheres. That the partnership between Russia and African countries has gained additional momentum and is already reaching a qualitatively new level.
He emphatically pointed out that the states of Africa are constantly increasing their weight and role in world affairs, and are asserting themselves more and more confidently in politics and the economy. We are convinced that Africa will become one of the leaders in the emerging new multipolar world order – there are all objective prerequisites for this. And there is about 1.5 billion people live in Africa, a huge resource base is concentrated – almost a third of the world's mineral reserves.
African countries are striving to pursue an independent and sovereign foreign and domestic policy, sometimes difficult, problems on their own. Russia and African countries uphold the norms of morality and social principles that are traditional for our peoples and oppose the neo-colonial ideology imposed from outside. By the way, many states of Asia, the Middle East and Latin America adhere to similar positions, and together make up the world majority.
"We are ready to jointly shape the global agenda, work together to strengthen fair and equal interstate relations, and improve mechanisms for mutually beneficial economic cooperation. We are preparing in the most serious way for the second Russian-African summit and, of course, a rich and meaningful agenda for the summit is being developed. It is planned to hold more than a hundred of the most diverse events," he said about the forthcoming grand summit planned for July.
Africa has made a "huge leap in its development" in recent decades but its potential is yet to be unlocked, noted Valentina Matviyenko, Speaker of the Federation Council. "Africa is a continent with great potential, which is yet to be fully unlocked. A continent with a population approaching 1.5 billion. A continent which has made a huge leap in its development, not only economic, but also social and scientific, in recent decades," she said at the Russia-Africa international parliamentary delegation.
According to Matviyenko, Africa's international prestige is also increasing. "I think that this is an absolutely objective and logical trend which the collective West, led by the United States, does not want to acknowledge. They want to preserve their superiority and role as global hegemon, things that are becoming a thing of the past. They are reluctant to change their mentality of neocolonialism and are using well-known means of deterrence, such as sanctions, threats, blackmail, double standards, and blatant hypocrisy," she noted.
She stressed that Russia has always been committed to the principles of "equality, mutual respect, the inherent right of each state to choose its own path of development, its own future without interference from the outside. Russia's cooperation, mutually respectful and equal, with African countries has been built on these principles for decades."
Russia's friendship and cooperation with African countries is "time-tested." That countries of the African continent have always been Russia's reliable partners and true allies. I am convinced that it will continue like this. Our shared goal is to change the world for the better, to ensure the well-being and prosperity of the peoples of Russia and Africa, to spare no effort to ensure that hunger, dangerous diseases, and regional conflicts are extinguished," Matviyenko added.
Russian State Duma Speaker Vyacheslav Volodin, speaking at the plenary session, highlighted relations between Russia and Africa. "It is necessary to emphasize: Russia and African countries are equal allies and partners. Our relations have always been built on an unselfish basis, on the principles of mutual respect and non-interference in domestic affairs," Volodin said, stressing that for Russia "the African continent has never been a subject of mercantile interest, use of labor and raw material resources."
However, according to the speaker, the United States and Europe have a different approach. "Washington and Brussels seek to take control of Russian and African natural resources. In fact, they continue their colonial policy. They go to any measures, including force and terrorist nature, for their own benefit," the politician pointed out. "It is not for Washington to teach us how to build relationships, be friends and make plans for the future," Volodin pointed out.
He, however, describes Africa as a continent of freedom-loving people, and that friendship is a two-way street, and that Russia and African countries are at a new stage. Understandably therefore, "Russia and African countries are united by shared goals: We stand together for building a multipolar, just world based on respect for the traditions, culture, and history of the countries with which we are building mutually beneficial cooperation," Volodin said.
"Today the African continent plays an important role in solving global and regional problems. And it will only grow," he said, recalled that "despite illegal sanctions from Washington, Russia and African states are developing trade and economic cooperation." In particular, according to the politician, the trade turnover is growing, which at the end of last year amounted to $17.9 billion.
While Russian and African parliamentarians continue forging solidarity against growing neo-colonial tendencies in Africa, Russia has also expressed readiness to push for Africa's economic development by offering their legislative support. Legislators were convinced that the parliaments could do a lot for the development of relations on the principles of respect, non-interference in internal affairs of other states and mutually beneficial cooperation.
For comparison, 36 delegations from African countries took part in the first Forum which was held in 2019, this year there were delegations from about 40 countries. Russia, contrary to Western assertions, does not isolate itself from the rest of the world. "The increase in the number of participants confirms the special nature of friendly ties between Russia and Africa. Attempts by Washington and Brussels to isolate Africa and Russia have failed," earlier during the first day, emphasized Chairman of the State Duma Vyacheslav Volodin.
That however, undeterred by the pressure from the United States 'to cancel Russia' in their relationship, Africa parliamentarians have arrived in Moscow for two-day working gathering to methodically develop Russian-African relations in various fields. In addition, to the political dialogue, they are also focusing on economic, cultural, humanitarian and scientific cooperation.
According to the plan, Russian parliamentarians and African colleagues fixed topical issues of the international parliamentary agenda for discussions: parliamentary support of scientific and educational cooperation, legislative response to economic challenges, indivisible security: capabilities and contributions of parliaments, and neocolonialism of the West: how to prevent the repetition of history.
The objectives of the conference are to strengthen parliamentary cooperation with African countries in the conditions of formation of a multipolar world, to develop relations and develop common approaches to legal regulation in the economy, science and education and security. The following round tables held organized:
— Legislative Response to Economic Challenges: The modern economic challenges are crises caused by Western countries guided by the United States, numerous economic sanctions aimed at destroying the Russian economy, introduced in violation of all international trade rules and foreign economic relations. At the same time, most African countries supported friendly relations with Russia. Russia and Africa's positions coincided on many issues.
Unlike many Western countries, Russia does not have colonial experience, and the contribution of the Soviet Union to the liberation of African countries from colonial dependence is also well known. Africa stands for an equal partnership: mutual economic interests include investments, cooperation within production chains, cooperation in strategic infrastructure projects, energy, medicine and financial technologies. It is necessary to support the transformation processes of multipolar world.
— Indivisible Security: Capabilities and Contributions of Parliaments. Participants of the round table discussion on the topic "Indivisible Security: Capabilities and Contributions of Parliaments" thoroughly examined importance of sovereignty protection, non-interference in the internal affairs of other countries, fight against poverty, countering terrorism and military biological threats. Both Russia and Africa have similar challenges, are similar in many ways.
Both Russian and African parliamentarians have join their efforts, contribute to the development of effective proposals, which would help resolve conflicts. "The challenges that our friends from African countries and the challenges that the Russian Federation are facing today, are similar in many ways. The world is developing rapidly, and in this new world we want justice, equal rights and multi-polarity," said the Deputy Chairman of the State Duma Petr Tolstoy, opening the discussion.
The Speaker of the National Assembly of the Parliament of South Africa Nosiviwe Mapisa-Nqakula noted the importance of maintaining the values of humanity and tolerance towards each other. She recalled that during the Covid-19 pandemic, many countries preferred to care only about their own safety, and as a result African states did not receive enough vaccines and lost human lives.
"There are still issues of climate change, poverty, human rights violations and become a threat to peace and security, economy and the peaceful existence of people around the world. We should support all humanity. And there still be humanness in us and only, in the case, when we treat others as tolerantly as possible," stressed Nosiviwe Mapisa-Nqakula.
The President of the National Council of the Transition of the Republic of Guinea, Dansa Kourouma, noted the problem of imbalance in diplomatic relations in the context of neo-colonialism. "The unilateral approach has become the rule. It is important take into account and respect the sovereignty of states," he explained and called for a more active fight against poverty, since such situations when people do not have access to a minimum set of services lead to insecurity in such countries.
— Neocolonialism of the West: How to Prevent the Repetition of History. Here Russia and African countries want equal world without imposition of Western paradigm of consciousness. Leonid Slutsky, leader of the LDPR faction, Chairman of the Committee on International Affairs, opening the meeting thanked African countries, that despite the difficult times, gathered around Russia as a forward in the movement towards a multipolar world.
The First Deputy Chairman of the Committee on International Affairs, Vyacheslav Nikonov, emphasized that there is an overwhelming majority of people supporting those values of sovereignty, respect for each other, democracy, non-interference in the affairs of others. According to the African parliamentarians who spoke at the roundtable believes that by granting independence to African countries, colonialism still exists on the continent, including transnational companies and non-governmental organizations that have become its main instruments.
According to most of them, it necessary now to promote economic independence and diversify the economies. It is definitely an important factor in countering sanctions is the consolidation of society, pursue concrete development. But unfortunately, after political liberation many African colonies retained the old economic structures and dependence on imports from the metropolises.
President of the non-profit organization Foundation for the Study of Historical Perspective, Nataliya Narotchnitskaya, tried to answer the basic question: Why Russia is countering neocolonialism? In the process, she explained the colossal fluctuations in economy, faith, standards of living, and climate in Africa. The moment of truth for Africa, she continued, is that there must be a change in the economy, that officials should work to ensure that, at least, infrastructure projects are being implemented in Africa.
Chairman of the State Duma Vyacheslav Volodin held bilateral meetings with several heads of delegations, speakers of parliaments and chambers of parliaments of African countries. On March 19, a bilateral meeting of the Chairman of the State Duma Vyacheslav Volodin and the Speaker of the National Assembly of the Republic of Zimbabwe Jacob Mudenda was held at the State Duma. The State Duma and the National Assembly of Zimbabwe signed agreement in 2022.
"It is very important to do everything to implement this agreement. We propose to create an inter-parliamentary commission which will enable us to work more substantively on issues that are important for both our states," Jacob Mudenda emphasized at the meeting.
According to him, relations between countries should be built on the principles of mutual respect, mutually beneficial cooperation and non-interference in the internal affairs of sovereign states. Russia and Zimbabwe now shared common political interest: both are under sanctions. Frequent interactions, such as conferences, demonstrate the importance of relations at the parliamentary level between Africa and the Russian Federation.
"This will significantly advance understanding and strengthen relations between Russia and the countries of Africa. Such meetings will help share experience between the African states and the Russian Federation and develop solutions. There is also an exchange of views and development of positions on international security. You know, these issues are the most relevant now," concluded Mudenda.
South Africa's National Assembly Speaker, Nosiviwe Mapisa-Nqakula supported his suggestion that great capabilities on parliamentary dimension of Russia and South Africa could be used to enhance our cooperation in various areas in South Africa and in Africa. Mapisa-Nqakula thanked Vyacheslav Volodin for sending the invitation to take part in the Parliamentary Conference, before adding "It is very important for us that Russia gives priority to the African continent. Many countries consider Africa as a great possibility to get African resources. But taking into account the history of our cooperation, we, like many other African countries, believe that Russia has other, more genuine interests in Africa."
"Our cooperation started decades ago. And we felt your support in the worst times for us, during apartheid. We understand that now it is a difficult time for Russia as a country. But I would like to assure you that South Africa will continue cooperation, discuss areas of cooperation that are important for us. We look forward to its start," said Nosiviwe Mapisa-Nqakula.
Both also discussed issues of cooperation within the framework of the BRICS, as it is South Africa's chairmanship. "For us, the cooperation between the parliaments within the BRICS framework is very important, as we can discuss issues of common interest," emphasized the Speaker of the National Assembly of the Parliament of South Africa.
From West Africa, there were Burkina Faso and Mali. And then Central African Republic. Historically French-speaking which implies that France has had them as colonies, but the changing political situation these countries are seeking support and consequently taking directions from Russian officialdom. President of the Transitional Legislative Assembly of the Republic of Burkina Faso Ousmane Bougouma, President of the National Transitional Council of the Republic of Mali Malick Diaw and President of the National Assembly of the Central African Republic Simplice Mathieu Sarandji.
Central African Republic, Burkina Faso and Mali – these have common expectations. They are suffering a lot from terrorism, so Russia's support, including logistical support and other different support, is extremely important for them. France is longer needed. "Russia helps developing cooperation, especially on the issues of security. We also want to address together other challenges we face in the field of education and healthcare development. Our people have made a completely clear and obvious choice: we want not only to diversify our international partnership, but also to strengthen cooperation with Russia," said Malick Diaw.
The President of the Senate of the Parliament of the Republic of Congo Pierre Ngolo noted that the task is to establish a strong and solid partnership between countries based on friendship and fraternal relations, the cooperation at the level of parliaments "involves people in the process" and that both Russia and Africa are involved in some kind of battle for the well-being of the nations and the whole world.
Russia and African countries should establish an exchange of legislative experience in order to create conditions for building mutually beneficial partnerships. Within the context of strengthening relations in this emerging new world, it is necessary to address challenges and find new forms of cooperation. It always reiterated that Russia remains an important political player, despite the sanctions and pressure from the West.
The International Parliamentary event serves as a precursor for the second Russia-Africa summit, with African countries amid the emerging multipolar world. More than 40 parliamentary delegations from African countries arrived the conference, which also attended by members of the State Duma, senators of the Federation Council, representatives of the educational and business community. The conference held just few months before the second Russia-Africa summit, which is planned for July 2023 in Saint Petersburg.
How Russia's Sputnik Disappears from Africa's Radar
Until recently, Africa has not been high on Russia's policy agenda. African leaders have to understand that Russia, for the past three decades, Africa was at the bottom of its policy agenda. After the end of Soviet era, Russia has focused broadly on the United States and Europe, dreaming of becoming part of Europe, part of the configuration of Global North. The low economic presence of Russia from 1991 until 2019 was a testament to the fact that Africa was at the bottom of its priority list. Of course the October 2019 summit was symbolic, but after that Russia has left most of bilateral agreements undelivered across Africa.
With its "special military operation" on Ukraine that necessitated imposition of stringent sanctions from the United States, European Union and their allies, the United Nations Security Council mounting pressure on Russia since February 2022, pushes Russia to begin soliciting aggressively for support in Africa. Last July, an article posted to its official website, Foreign Minister Sergey Lavrov wrote: "The development of a comprehensive partnership with African countries remains among top priorities of Russia's foreign policy, Moscow is open to its further build-up multifaceted relations with Africa."
In his Op-Ed article, Lavrov further argues: "We have been rebuilding our positions for many years now. The Africans are reciprocating. They are interested in having us. It is good to see that our African friends have a similar understanding with Russia." Lavrov, however, informed about broadening African issues "in the new version of Russia's Foreign Policy Concept against the background of the waning of the Western direction" and this will objectively increase the share of the African direction in the work of the Foreign Ministry.
Lavrov consistently displays his passion for historical references. Soviet's support for struggles for political independence and against colonialism should be laid to rest in the archives. The best way to fight neo-colonialism is to demonstrate by investing in those competitive sectors, make a departure away from hyperbolic rhetoric on endless list of economic sectors. In practical terms, it is important rather to face today's development challenges and what are in store for the future generation. Africa today does not need anti-Western slogans which have become the key content in Russia's foreign policy, Africa simply needs external players who would passionately and genuinely invest in the critical economic sectors. The fundamental fact is that Africa is making efforts to transform its economy to create employment, modern agriculture and industrialize the continent, especially with the introduction of the African Continental Free Trade Area (AfCFTA).
Despite criticisms, China has built an exemplary distinctive economic power in Africa. Besides China, Africa is largely benefiting from the European Union and Western aid flows, economic and trade ties. That compared, Russia plays very little role in Africa's infrastructure, agriculture and industry, and making little efforts in leveraging unto the African Continental Free Trade Area (AfCFTA). Our monitoring shows that the Russian business community hardly pays attention to the significance of African Continental Free Trade Area (AfCFTA) which provides a unique and valuable platform for businesses to access an integrated African market of over 1.3 billion people.
Lavrov's efforts toward building 'non-Western' ties this crucial times is highly commendable especially with Africa. But, the highly respected Minister easily and, most often, forget the fundamental fact that during these three years of global pandemic, the coronavirus that has engulfed the planet, in every corner of the world, Africa was desperate looking for vaccines. Health authorities are still warning that Covid-19 has not completely faced out throughout the world.
Quartz, a global reputable media, reported early this year that "as of the end of 2022, about a quarter of the population of African countries has been fully vaccinated against Covid-19, according to the latest figures shared by Africa CDC. The coverage varies drastically depending on the country. In Liberia, for instance, nearly 80% of the population is fully vaccinated, while only 34% is in neighboring Sierra Leone. Congo, Sudan, Senegal, and Madagascar all have vaccination rates below 10%.
Africa CDC acting director Ahmed Ogwell Ouma announced in a video briefing on December 22 that it will modify the way it reports vaccination rates. Rather than reporting coverage of the overall population, it will only report vaccinations of eligible population aged 12 or more. In his briefing, Ouma said the target for Africa remains to vaccinate 70% of the population. That goal, however, was set by the World Health Organization (WHO) for the overall population. These numbers are about to change – and not because of an increase in vaccinations.
Due of delays in international vaccine deliveries, Africa lags behind the rest of the world in Covid vaccination rates, and is the only continent where less than 50% of the population is fully vaccinated. Currently, just more than 800 million doses of vaccines have been administered in Africa, or 80% of the total received. About a third of the vaccinations have been made with Johnson & Johnson's vaccine, followed by Pfizer (22%), AstraZeneca (17%), China's Sinopharm (15%) and Sinovac (7%).
Several reports monitored by this authored show that Russia has played a minimal role in the entire health sector in Africa. With the Covid-19 vaccination, Russia randomly sprinkled few thousands as humanitarian assistance among its "Soviet friends" including Egypt, Ethiopia, Guinea, Angola, Mozambique, Zimbabwe and South Africa. Nevertheless, the worse was Russia's sudden failure to supply the 300 million vaccines through the African Union (AU) especially during the times of health crisis.
In an official media release mid-February 2021 said that the Africa Vaccine Acquisition Task Team – set up by the African Union (AU) to acquire additional vaccine doses so that Africa could attain a target immunization of 60% – received an offer of 300 million Sputnik V vaccines from the Russian Federation. It was described as a 'special offer' from Russia. In the end, Russia never delivered the 300 million vaccines as contracted.
In an authoritative policy report presented November 2021 titled 'Situation Analytical Report' and prepared by 25 Russian policy experts headed by Sergei A. Karaganov, noted explicitly the failure to supply Sputnik vaccines to the African Union. The report criticized Russia's current policy and lukewarm approach towards Africa.
"In several ways, Russia's possibilities are overestimated both publicly and in closed negotiations. The supply of Russian-made vaccines to Africa is an example. Having concluded contracts for the supply of Sputnik V to a number of African states, Russian suppliers failed to meet contractual obligations on time," says the report in part.
The coronavirus outbreak a pandemic on March 11, 2020. Worth noting that Russia claims that it was the first to find cure for coronavirus. The World Health Organization (WHO), until today has not certified Russia's vaccines though. Despite the fact that Russia developed Sputnik V becoming the first registered Covid-19 vaccine, the vaccine lacks WHO approval due to lack of transparency of Russian laboratories and getting approvals before mandatory phase III clinical trials. On the other hand, all the vaccines have been registered in Russia – Sputnik V, Sputnik Light, CoviVac and EpiVacCorona – are produced in large quantities by Russian pharmaceutical companies and are currently used for vaccination.
Director of the Gamaleya National Research Centre for Epidemiology and Microbiology Alexander Gintsburg has several times highlighted aspects of the vaccine production and marketing. He noted to raise the attractiveness of the vaccines on foreign markets, including countries in the Middle East, Africa and Latin America.
The Russian Direct Investment Fund (RDIF), tasked to engage in marketing the vaccines abroad, got messed up especially in Africa. The RDIF is Russia's sovereign wealth fund established in 2011 to make equity co-investments, primarily in Russia, alongside reputable international financial and strategic investors. Of course, it took steps and speedily registered the vaccines in more than 20 African countries, but terribly failed on delivery deadlines. Worse was the Russian Direct Investment Fund supplied, at exorbitant prices, through middle-men in the Arab Emirates to a number of African countries.
Sputnik V was registered in several African countries, including Algeria, Angola, Cameroon, Djibouti, Ethiopia, Egypt, Gabon, Ghana, Guinea, Kenya, Mauritius, Morocco, Nigeria, Namibia, Seychelles, South Africa, Tunisia, the Republic of Congo (DRC) and Zimbabwe. However, Russia has not been able to meet the increasing market demand and did not make prompt delivery on its pledges to African countries consequently, – in experts' simple assessment Russia's vaccine diplomacy has arguably failed Africa. Interestingly Russia's Foreign Ministry has held series of talks with African Foreign Ministers, during this Covid-19 period and in fact this desperate moment, reiterated to assist with direct supplies for vaccinating vulnerable groups and people among the 1.3 billion population. That is Russia, considered as a reliable partner in these difficult and crucial times, whose strategic partnership with Africa has become a priority in it's foreign policy,
The above thoughts on the part of Covid-19 business offered the reasons why Russia absolutely refused to join and be part of the Covax facility, which acts as a global collective bargaining initiative to secure vaccine doses for countries who signed up, including those which are self-financing their purchases, as well as assistance from donors for poorer developing countries. The first vaccines purchased through Covax were indeed destined to reach the Africa. That was, monitored by this author, some 88.7 million doses of the AstraZeneca and Pfizer vaccines distributed to 47 countries including Africa during the first half of 2021. This same year, during the virtual meeting of G7 leaders, the European Union announced it had donated a further 500 million euros to the COVAX program. The World Bank also committed $12 billion as concessional loans to assist African countries access foreign vaccines.
That is not all from several reports monitored. In April 2022, writing under the headline: "How Russia's Hollow Humanitarian Hurt Its Vaccine Diplomacy in Africa," – the co-authors, Matthew T. Page and Paul Stronski, both noted in 2020, that Russia touted deliveries of medical and protective supplies to several African countries, while the Russian-developed Sputnik V vaccine offered hopes that African countries would soon be able to launch large-scale immunization drives. Russian efforts to promote Sputnik V in Africa have floundered for a variety of reasons, including regulatory worries, production and logistical shortfalls, bureaucratic inertia, and even sticker shock. There is, however, another key factor behind Moscow's failed vaccine diplomacy: its traditionally diminutive post-Soviet development presence on the continent.
Compared to Australia, Canada, the European Union, Japan, the United Kingdom, the United States, and even many foundations, Russia has provided a tiny share of international development assistance to African countries since the end of the Cold War. Unlike India and Cuba, it has provided scanty medical assistance to – or investment in – African countries.
If Russia wants to be influential on the continent, African political and economic leaders should demand more of Moscow, not simply settle for the symbolic diplomatic engagements or agreements at which the Russian leadership excels. Indeed, Africa has not ranked high on the Russian foreign policy agenda for much of the past three decades, getting barely a mention in the country's key security documents except as either a partner in an emerging multipolar world or a source of instability.
Indeed the time has come for African leaders to rally together to ensure that no effort is spared in facilitating and supporting the building of large-scale vaccine manufacturing capacity on the continent. The African Vaccine Manufacturing Summit held in April, 2021 was an encouraging start. Currently, no African country is manufacturing the vaccine so far. Therefore, focus needs to be on developing real vaccine R&D capacity which must necessarily lead to health products. This requires substantial investment and a long-term commitment. In a similar vien, under the aegis of the African Union, leaders have to begin looking for inside solutions, rather than base hopes on these geopolitical games, external great powers seeking only support for their peculiar or parochial interests.
Understandably, while making efforts to maintain and expand its presence in Africa, Russia simply lacks the capability to deliver on its various promises in Africa. Surely, African countries have to begin to re-evaluate their relationship with Russia. African leaders should not expect anything tangible from meetings, conferences and summits. Since the first Russia-Africa summit held in 2019, very little has been achieved. At this point, it is even more improbable that Moscow would commit adequate financial resources to invest in economic sectors, given the stringent sanctions imposed following Putin's invasion of neighbouring Ukraine.
In stark contrast to key global players, for instance the United States, China and the European Union and many others, Russia obviously has limitations. Notwithstanding that, for Russia to regain part of its Soviet-era influence, it has to address its own policy approach, this time try to shift towards new paradigms – that is to implement some of its decade-old pledges and promises, and those signed bilateral agreements; secondly to promote development-oriented policies and how to make these strategic efforts more practical, more consistent, more effective and most admirably result-oriented with African countries.