The Bahrain Summit: A Cyber Rescue for Gaza?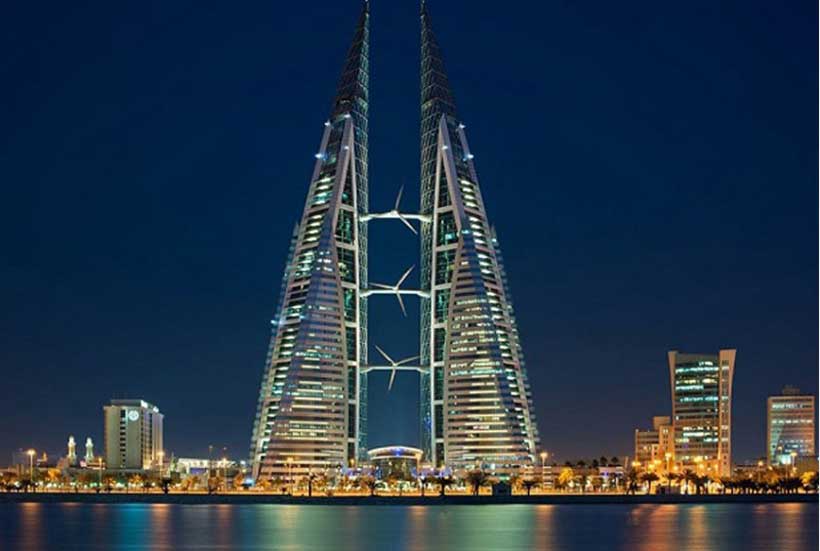 On the eve of the upcoming American peace-summit in Bahrain, there is only one burning question: what about Gaza? It's already been made clear that the upcoming summit is not about addressing regional flashpoints, such as the Israeli-Palestinian conflict. Rather, the meeting will focus on economic cooperation and development in a region facing immense systemic challenges, such as youth unemployment, water and food scarcity, and others. While this approach may appeal to the more diplomatic angels of our nature, it does not reflect the complex reality on the ground in which a lack of economic growth, or worse de-development, is a major force behind violent upheavals.
This is particularly the case in the Gaza Strip, which inches closer to total political, economic, and humanitarian collapse daily. Even if solving the Israeli-Palestinian conflict isn't on the table in Bahrain, developing Gaza's economy certainly should be.
This situation really is the epitome of a rock and a hard place. How can Hamas come to the negotiating table and not lose the support of its base, or worse, invite competition which will likely result in civil war? How can Israel proverbially keep the heads of Gaza's civilian population 'above water' (no irony lost in that metaphor) without allowing Hamas to co-opt resources and entrench their positions? Moreover, what can the rest of us, or the international community for that matter, really do about it?
It turns out there are a multitude of international organizations, IGOs, NGOs, and even private think tanks which are trying to provide strategies, funds, and projects as an answer to Gaza's questions. It takes about ten seconds of looking at the situation on the ground to understand that these international actors are consistently falling short of their ambitions and things are getting worse before they get better. The urgency of bolstering Gaza's economy becomes apparent to an Israeli when considering the prospect of another regional humanitarian and possibly refugee crisis, this time on Israel's southern border. In fact, it was these concerns that were the impetus for a year-long study my colleagues and I conducted. We essentially asked, how can international strategies for Gaza, particularly those concerned with development, be refined and adjusted to be more effective in facilitating real change? What we found ultimately led us to some surprising recommendations for decision-makers. If Gaza is going to be discussed in Manama, those attending should be aware of these findings.
For international organizations, there are many actors to consider coordinating with on Gaza's development (Israel, Hamas, NGOs, and civil society organizations). However, we found that coordination is disproportionately higher with one actor in particular, almost by twice as much – the Palestinian Authority (PA). Despite its extremely limited influence in Gaza, the PA is coordinated with at a much higher degree than Hamas, Israel, or even UNRWA. The reasons for this are unclear. Gaza cannot be discussed in isolation of the West Bank, since any future Palestinian state would encompass both territories as a unitary political entity. Given the PA's status as the sole legitimate political representative of the Palestinian people, development goals must be in line with what Ramallah wants more so than Gaza City.
There are those who advocate that working with the de facto regime in Gaza is the only way to make progress on the ground and have called on international players to abandon their no-contact policies vis-a-vis Hamas. However, this is an odd preference when considering the ambiguous status of Gaza and Hamas under international law. This is a serious technical problem that the PA does not have. This is where, contrary to the recommendations of Gisha and other policy forums, we found that attempts at working directly with Hamas will not only be counterproductive in Gaza, but will ultimately weaken the political position of Israel's only real partner for a viable two-state solution. This is an externality Israel and the international community cannot afford.
In a separate vein, we found a motif within nearly all strategies and policies that from the onset screamed 'fatal flaw'. Being the most powerful actor in the equation, almost all plans call on Israel to unilaterally lift restrictions on the flow of goods in and out of Gaza, offering no incentives, rationale, or process as to how or why they would be inclined to do so. Even an amateur negotiator could point out the problem with this approach – not only does this call to action ignore Israel's key objections and concerns, but it treats it as a monolithic party when that couldn't be farther from the case. Unlike many of their regional counterparts, Israeli decision-makers are democratically beholden to their constituents. Therefore, calling upon them to do something is about as effective as wishing it into reality, as Israel's security policy is directly shaped by the intricate and complex processes of democratic national politics. In fact, most members of the international community work with the Israeli state via a separate and completely detached diplomatic channel than those concerned with Palestinian state-building, where coordination is at a minimal level with the IDF (COGAT) rather than Israeli decision-makers.
The web becomes further tangled when adding to the mix the Oslo-era institutions, which inextricably bound the Israeli and Palestinian economies together. How can anyone realistically expect to set economic development goals and implement them when the entire economic and monetary system sits in the hands of Israel under the framework of the Paris Protocol? Israel is and will remain the lynchpin of any economic development in the Gaza Strip, but for some reason there is a disconnect between what Israeli decision-makers are asked to do and what they can expect in return or regarding their key inhibitions as a prospective customer. Those designing strategies for Gaza's development must be acutely in tune with the interests of Israel's national leadership. Of course, before someone uses this analysis to advocate that international pressure on Israel is the answer, a quick historical review demonstrates that when it comes to affecting Israel's policies from the outside, honey works much better than vinegar.
One area in which nearly all international strategies converge is identifying the private sector as the key driving and guiding force in sustainable, scalable growth. This is not only expressed outright as a goal by most actors, but it is reaffirmed by their strong emphasis on reforming the regulatory environment and fostering the flows of investment – foreign, domestic, and regional. There are essentially two major problems, however, inhibiting this private sector-led growth, even with Gaza's immense economic potential. First, the lack of a sound banking system (or effective monetary system for that matter) within Palestinian society means that there are little to no local banks which can finance local projects, leaving Palestinian entrepreneurs dependent on external backing. This isn't just a problem for private sector investment, but also for governance and civil institutions. Civil servants and citizens alike are currently reliant on suitcases of cash brought in from the outside – a phenomenon which often results in Hamas seizure and, based on the rhetoric of Israeli politicians, has a short shelf-life as a solution.
Second, the material risks on any investment in Gaza are extremely high. For example, suppose Mercedes was interested in building a manufacturing facility in Rafah. They would have to consider the viability of their investment compared to the risks. Such risks include, but are not limited to: unstable flow of electricity; a lack of healthcare; a non-existent payroll mechanism other than cash; double taxation at the border; the dual-use list limiting the flow of raw materials for building the infrastructure and the goods; and of course, the constant threat that militants may commandeer the facility, resulting in all that investment going up in smoke during the next military escalation.
So, now that you know some of the risks, is your checkbook ready? Even something as altruistic as charity has utilitarian considerations attached and unfortunately the lack of investment security is a big problem for growing any industries in Gaza. After all of these insights it would be easy to see Gaza's development as a Sisyphean task in which everything is tangled, linked, or could only be changed with a fundamental shake-up the status quo. Instead, and contrary to our own expectations, what we found were three clear conclusions in the midst of the chaos and confusion. First, we found that experts and practitioners tend to be in 'silos' in the framework of their disciplines, missing critical input from other areas of expertise and limiting the viability of their recommendations. Second, long-term planning in Gaza is a strategic mistake and many plans are contingent on realities which are far from materializing, such as politically negotiated settlements. Third, while Israel is called upon to change certain aspects of the status quo, its concerns and objections are not sufficiently addressed or taken seriously – making them unlikely to accept those recommendations fully.
The necessity of developing Gaza's economy demands that it be approached with the current limitations in mind and perhaps the fundamental shake-up we've been waiting for might already be here. International actors should develop Gaza's economy with the tools of today, not yesterday, and should therefore focus on the digital rather than the physical sphere. With two key pillars in mind, digital payments systems and web-based job creation, the reasons for shifting emphasis toward a digital economy are all tied to the challenges we identified beforehand. Going digital bypasses the physical restrictions in Gaza today. From high transaction costs, to crippling import export regimes, and the stifled flow of funds, all of these barriers are unlikely to disappear overnight. Cyberspace, however, has no borders or political roadblocks. But it gives Gaza a way of offering value to a global marketplace as a freelance/outsource hub. Perhaps more importantly, it creates a way for its people to be directly connected with those who financially support them – through employment, investment, or aid.
Digital development also offers two things that traditional industries can't – portability and scalability. When a job only requires a computer and an internet connection, the combination of low overhead costs and portability in times of conflict make it much more attractive to investors since it mitigates major risks. Furthermore, the marketplace for digital goods and services is expanding exponentially, so compared to the profit potential of textiles, furniture, or agriculture, it's a no-brainer for someone concerned with ROI. Perhaps the most promising aspect of a digitally connected economy and finance system is that it can address Gaza's cash crisis, answer Israel's primary security concerns, and offer critical oversight, which is lacking in the status-quo all at the same time. Technological advancements in e-commerce could empower Gaza's consumers, businesses, and even civil servants by providing them with a stable source of income protected by smart contracts. Both Israel, the PA, and international organizations could automatically track and prevent Hamas from shaking down civilians or misappropriating funds for terrorist operations. In fact, this technological shift already enjoys support among some Israeli decision-makers and of course will create a tool for the PA to bolster its influence in the Strip by being seen as 'the one who pays the bills'.
Obviously this is not a silver bullet, and of course there are major hurdles to be overcome to make this vision a reality. What is certain though is that the prerequisites for developing Gaza's digital economy are far fewer and much more manageable than anything else which has been tried before. These ideas have already been tested and proven on a small scale by an incredible initiative that created Gaza's first tech hub, known as Gaza Sky Geeks, even under the current crippling political inertia. Between this proof of concept and our research, I think it's safe to say that those attending the summit in Manama would do well to think outside the box when addressing economic development and cooperation in the Middle East, especially where it is desperately needed most. Einstein famously stated, "we can't solve the problems by using the same kind of thinking we used when we created them" and I think he would agree that this is certainly an experiment worth trying.
New strategy of U.S. counter-intelligence: Real and unreal threats
The newly published US Counter-Intelligence Strategy for 2020-2022 puts Russia and China at the top of the list of countries that pose a threat to the USA. "Russia and China are operating throughout the world, using all power instruments at their disposal against the United States, resorting to a wide variety of modern intelligence methods", – the document says.
The strategy formulates five objectives for the counter-intelligence service: to protect the critically important infrastructure, cut the number of threats to basic supply chains, counteract the exploitation of American economy, defend the American democracy against foreign influence, and repulse cyberattacks and technological disruptions that could come from foreign intelligence.
The US has made public only a brief 11-page version of the strategy, whereas its full, classified variant will be submitted to members of intelligence committees in the House of Representatives and the Senate, to White House officials, heads of corresponding agencies and other officials with access to classified information. The mere list of goals for counter-intelligence gives rise to questions such as whether they are fully grounded or whether they are all but tribute to the current political trends in the USA.
As we read «protect the American democracy against foreign influence» we understand what they mean by 'foreign' – both Democrats and Republicans keep talking about Russian interference in American elections. Although this talk has long been dismissed by many as inconsistent with reality, it nevertheless, continues unabated.
The strategy, published on the website of the US National Counter-Intelligence and Security Center, is a renewed version of the 2015 document. The Center's Director, William Ivanina, said as he presented the report that modern technology – artificial intelligence, encryption technology, internet of things – make the work of counter-intelligence more complicated. According to CBS, W. Ivanina has been saying since 2014 that China poses the most serious long-term threat to US security. In his words, the theft of American intellectual property, allegedly committed by the Chinese, cost the US 400 billion dollars annually.
Statements about stealing intellectual property are not new and are being exploited by the Americans to justify a trade war they are waging against China. It is not for the first time that the Trump administration is resorting to "banned methods" adding the country's economic problems to the list of national security threats, which makes it possible to introduce restrictive measures against China.
The strategy in question is seeing light just as the debates on a new American budget are getting under way. This is not accidental given that documents of this kind can justify budgetary spending. In 2021 the US government is planning to spend $1.5 billion to counter "China's influence" and another $596 million to establish "diplomatic cooperation for securing the strategy in regions of the Pacific and Indian Oceans. A statement to this effect is part of the press release circulated by the US State Department and published after the White House submitted to the Congress a draft budget for the next fiscal year.
However, proposals on the budget, though reflecting the position of the US administration, do not always become law. In most cases, the US Congress approves the budget depending on the political situation at home. Now that they have sustained defeat on Trump's impeachment, the Democrats have a good chance to take it out on the budget. Democratic minority leader in the Senate Chuck Schumer has described the draft budget submitted by the incumbent administration for the next year as "a plan to destroy America".
Considering that these are all but domestic political games, it is not immediately clear what Russia and China have to do with them.
From our partner International Affairs
Modi's extremism: Implications for South Asia
Hindutva is a main form of Hindu nationalism in India this term was popularized by Vinayak Damodar Savarkar in the 20th century. It is reinforced by the Hindu extremist volunteer organization Vishva Hindu Parishad (VHP), Rashtriya Swayamsevak Sangh (RSS), and Hindu Sena. Hindutva movement has been expressed today as almost fascist in the classical sense (sticking to a disputed idea of homogenized majority and dominance of culture). The Hindutva moment has gained enormous momentum under the government of Modi (Zaman A. , 2019). Under the Modi's government dozens of Muslims have been killed for the protection of cows. Most of them are those who allegedly slaughtering cows. These attacks indicate that Hindu extremism has increased. Even, lower caste Hindus also faced violence from hardliner Hindu extremists. (Zaman A. , 2019) .
The prevailing extremism in India is no longer a national issue, but is spilling over to become a regional flashpoint and has worldwide implications. The regional stability is endangered due to the current situation in Indian-occupied Kashmir (IoK) (Qureshi, 2019). Since the Modi's extremist policies revoked article 370 of the constitution of India in which special and independent status had been given to the Indian-occupied Kashmir (IoK). This kind of extreme move of a fanatical ruler was expected, whereas, such kind of unconstitutional effort of a democratic government was not expected. Moreover, it is not only a violation of India's constitution, but it is also a breach of United Nations Security Council Resolutions, which confirmed Kashmir as a disputed territory.
Furthermore, Article 370 and 35-A cancellation changed the demographic structure of IoK. Article 35A prevented the outsiders from staying, buying properties, getting local government jobs or scholarships in IoK than it annulment permitted outsiders to buy properties there. Hindutva forces are trying to conquer the IoK territory with its 800000 military crowd, which is making the situation more instable there. It would not have lasting consequences for India, but for the whole region (Jaspal, 2019). The Kashmir imbroglio should be the concern of the entire world because it is a perilous flashpoint that could lead to a catastrophic war between two nuclear powers. If this happens, it would not engulf the region, but the entire world. The International community is insensitive towards the recent brutal developments have taken place in IoK. The brutalities boldly committed by the more than 500,000 Indian troops in the occupied valley. There should be a strong response of big powers and the international community towards the atrocious changes in India (Elahi, 2019).
It is not the first time, Narendra Modi's administration has involved in many disputes with the regional countries which has put the regional security at risk. Like, the Modi government relationship is not just deteriorated with Pakistan, but other neighbouring states too. In 2015, Madhesi Crisis in Nepal and border issues tensed the India Nepal relations. However, India restricted the flow of trade at the check posts whereas; India did not accept this blame. India also has not good relation with Sri Lanka since 2014 as Sri Lanka has been more disposed towards China with the signing of the infrastructure projects of belt road and initiatives. Moreover, New Dehli was concerned about the harbouring of Chinese submarines in Colombo and ruler of Maldives Abdulla Yameen signed fee trade treaties with China, which was not digestible for India (Wong, 2017).
India's offensive nuclear posture towards Pakistan and increased violation of the Line of Control (LoC) has made the situation more adverse. India holds Pakistan responsible for every attack on its territory and its attitude towards Pakistan is very hostile. The Pathankot attack in 2016 and Pulwama attack in 2019 increased the resentment as Modi government blamed the attack on Pakistan-based Jaish-e-Muhammad. Pakistan asked India to provide evidence so that Pakistan can take action, but no evidence had been given. The Indian air force claimed launching air strikes on the camp of Jaish-e Mohammad mountainside in the Balakot region of Khyber Pakhtunkhwa . While, following the attack international media and local media disgraced Indian claim of launching the attack and killing many militants. Next morning, Pakistan shot down an Indian MIG 21 fighter and captured the pilot who violated the Pakistan airspace. Still, Pakistani Prime Minister Imran Khan showed peace gesture and released the captured pilot. (Shoukat, 2019).
The Indian airstrike's that were launched in response to Pulwama attack were clear a breach of Pakistan's space sovereignty. It was a clear perspective of war, however; India has continued to justify its position by calling it non-military strike. It was extremely reckless behaviour of a nuclear state. Even, history shows that such events are very rare between nuclear weapons states while the US and Russia never engaged in direct airstrike's (Jan, 2019). Afterward, an Indian submarine also detained by the Pakistani Navy, which tried to infringe Pakistani water. India blames Pakistan for every attack and defies the Pakistan air, space and land territory itself. Besides, India is also responsible of sponsoring terrorism in Pakistan through its spies as one of them is Kulbushan Yadav (Shoukat, 2019).
India's nuclear doctrine also changed from No First Use (NFU) to First use. The false description of surgical strikes and attacks on non-state base points has demonstrated the uncertain security environment in South Asia. The Indian nuclear doctrinal change increases the security risks in the region, particularly for Pakistan and China. At Pulwama, Pakistan clearly exposed India's long-held fable of conventional superiority. At the same time, it is obvious that India would keep its behaviour hawkish towards Pakistan under the radical Hindutva mindset (Nawaz, 2019).
Additionally, India took another major step against the Muslims as it passed a bill on December 9, 2019 that would give the nationality to those migrants who want to become citizens of India except Muslims. This step of Prime Minster would increase the Modi Hindu-nationalist agenda. It would modify the India secular status, preserve by its founders in 1947. The Citizenship Amendment Bill passed by the lower house, the Lok Sabha with 311 votes. Now, it would be presented in the upper house and would become law soon. Hindu extremist agenda deeply unsettled the Muslims with this new law as they would make more than 200 million Muslims second class citizens and many of them stateless. It is not first extremist step of Modi, he also stripped away the autonomy of Kashmir, which was Muslim majority Indian occupied state.
Furthermore, Hindu fundamentalist build a new temple over the remains of the demolished mosque in the Ayodhya. According to Modi this would protect the maltreated Hindus, Christians and Buddhists who want to migrate from Afghanistan and Pakistan. However, this brutal legislation would extradite innocent Muslim residents, even those whose families have been in India for generation, if they cannot provide evidence of citizenship. Under the Modi's leadership, attacks and intimidation against Muslim community have augmented and anti Muslim sentiment has become deliberately more mainstream. The people of Assam are protesting in the streets and hoisting placards again the bill because it is against their rights and identity (Gettleman & Raj, 2019).
Besides, Bangladeshi Foreign Minister AK Abdul Momen cancelled his visit for two days Indian Ocean Dialogue and Delhi Dialogue XI, to India. He also rejected a statement by Indian home minister Amit Shah that the new citizenship law will provide safety to "persecuted minorities" from Pakistan, Afghanistan and Bangladesh. An official visit to India by Japanese Prime Minister Shinzo Abe has also been delayed due to the unrest in Assam. Following the protests began in Assam, a curfew was forced in four of the main cities in the state and the internet was shut down. Two paramilitary battalions were deployed to contain the demonstrations. (News, 2019).
In a nutshell, as evident from the aforementioned brutal developments, it seems that India aspires to increasingly showcase itself hegemon and potential big power in the region. The Prime Minister Modi government is impressed by the Hindu extremist ideology and making IoK its integral part by forcefully. Its hawkish policies towards Muslims in India and IoK has once again put at stake the peace and stability of the entire region of South Asia. Indian government not only targeting Muslims everywhere, but it is also seizing their identities which is dismantling secularism foundations of India. Moreover, Indian hawkish nuclear posture increases arms race in the region and it is not only threat for Pakistan but the entire region.
Emerging Cyber warfare threats to Pakistan
"The potential for the next Pearl Harbor could very well be a cyber-attack." -Leon Panetta
In the modern era, war has been revolutionized due to rapid advancements in technology. As a result, cyber security along with its pros and cons is contributing increasingly to modern warfare. Pakistan, however, is still in the developmental phase of cyber security. Although Pakistan has passed its first law related to cyber-crimes, in the form of the 2016 Prevention of Electronic Crime Act, the overall legislation related to cyber security is still vague and not as strong to deal with the dynamic and broad-ranging nature of threats that emanate from the realms of cyber security.
In recent years, the government has taken some initiatives in order to build capacity amongst the general public such as through PAK-CERT, Presidential Initiative for Artificial Intelligence & Computing (PIAIC), Skills for all Hunarmand Pakistan, Kamyab Jawan, and National Vocational & Technical Training (NAVTTC).Yet, as has been the case for quite some time, most of these initiatives are aimed simply at spreading greater awareness to help lay the foundations for a more robust cyber security architecture. Amidst such developments, the question that arises for Pakistani policymakers is thus where their country currently stands in the cyber domain and how cyber warfare is posing threats to its national security.
In this era of innovation and connectivity even major powers such as the U.S, Russia, China, Israel and the United Kingdom remain vulnerable to an evolving spectrum of cyber threats. Across the world, states are now increasingly dependent on cyber technology which has greatly increased their chances of vulnerability. The most known example is 2015 Stuxnet virus, whereby a devastating cyber-attack on Iranian nuclear facilities wreaked havoc such as at the Nantaz Nuclear facility, significantly rolling back the Iranian nuclear program. Similarly, the WannaCry outbreak in 2017 caused mass disruption by shutting down vital computing systems in more than 80 NHS organizations in England alone. This resulted in almost 20,000 cancelled appointments, 600 GP surgeries having to return to pen and paper, and five hospitals simply diverting ambulances, unable to handle any more emergency cases. Widely attributed as being state sponsored, the attack set another devastating precedent testifying to the wide-ranging vulnerabilities that exist even in some of the world's most advanced countries.
Pakistan's cyber space too is insecure for many reasons because Pakistan is dependent on others for technology. According to leading global cyber security firms such as Symantec, Pakistan is among the ten most targeted countries in the world. Main targets include Pakistan's nuclear and other critical installations, with publicly revealed assaults on an assortment of media houses, as well as the communications networks, of key government departments including, transport and, basic utilities. Such threats for instance were further confirmed by the Snowden documents released between 2013-2014 that had showed how the NSA was keeping an eye on Pakistan's civilian and military leaders, utilizing a malware called SECONDATE.
Recently in the year 2019, Rising Security Research Institute has captured the attack launched by the internationally renowned Advanced Persistent Threat (APT) organization "Rattlesnake" through the Rising Threat Intelligence System. This time, the organization had targeted the Pakistani Navy via Target collision hijacking method. Specifically targeting the Pakistan Naval Public Relations Bureau, the attempt was aimed at stealing vital information from secure military networks while planting misleading documents masquerading as official statements from the Pakistan Navy regarding its regional neighbors such as China and India. Based on such threats, Pakistan must be readily prepared for any kind of cyber espionage and take steps towards establishing a strong national cyber policy to protect its civilian and military infrastructure.
Therefore, at this stage it is imperative that Pakistan seriously focus on the development of a robust cyber war apparatus. This would especially help mitigate the numerous threats being posed to its banking system, as well as major government networks such as its ministry of Foreign Affairs as well as other military networks that have been previously targeted such as in the case shown above. As such Pakistan can take a number of initial steps by developing strategies to prevent malwares and denial of service (DOS) attacks to reduce such threats at least to a certain level.
Yet, Pakistan has still not developed a cohesive Cyber Command or any National Cyber Policy to deal with the regional cyber threats being posed to Pakistan. Even though Pakistan has recently developed a cyber-security auditing and evaluation lab, it is still in its formative stages. There is still immense space to develop advanced tools and research technologies to protect Pakistan's cyberspace, sensitive data, and local economy from cyber-attacks while restricting illegal penetrations in it. Especially such as the initiative taken by the newly setup National Centre for Cyber Security which aims increase the number of indigenously trained cyber security professionals within the public sector.
Keeping to this trajectory Pakistan should emphasize more on indigenously developing its own cyber security industry so that in the near future it could benefit both its civilian and military infrastructure in the long run. Hence, while Pakistan may be limited in its ability to wage a strong offensive campaign within the realm of cyber warfare at the moment, such steps would go a long way in helping lay the foundations to build something greater on.