5G is here. What does it mean for you?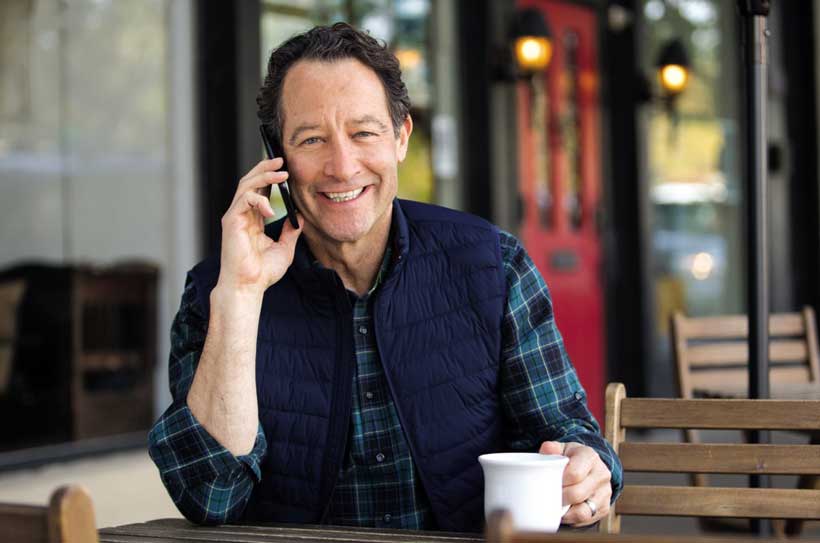 By now, you've probably heard about the coming launch of 5G. Rolling into the marketplace for the first time this year, it's the next (fifth) generation of cellular technology, and promises to significantly enhance the speed, coverage and responsiveness of wireless networks.
It's a major upgrade, and has wireless carriers excitedly rushing to promote the arrivals of their 5G networks and compatible products. As a result, the average cellphone user may well be wondering: How and when will 5G really make an impact on me?
Well, before you feel compelled to rush out and upgrade your phone, consider the following.
A limited rollout
Ever since the first field tests of 5G were deployed in 2015, hype for the technology has been building. Tests have delivered responses 10 to 100 times speedier than current 4G cellular connections. The arrival of 5G is predicted to bring phenomenal advancements to the digital landscape, supercharging marvels like self-driving cars, virtual and augmented reality, and even newly emerging medical services like remote surgery.
But that magnificent future is just that: the future. Initially, 5G is only being made available in a small number of launch cities, and even there only to those who've already laid out upwards of $1,200 for the first generation of 5G-compatible phones.
The rest of us will still be connected to the reliable 4G service we've grown used to — and 4G won't be going away anytime soon.
Check the expiration date
It's estimated that most wireless networks won't be providing widespread 5G coverage until the end of 2020, at the very earliest. And even when they do, you can expect the technology supporting 4G to remain in place indefinitely. In fact, unless you're actively seeking to change, you may not even notice that 5G has been turned on in your area for a long time.
How long? Let's use history as a guide. Just this year, major network providers have begun the final phase-out of 3G technology, which launched in 2001, meaning it's had a productive lifespan of almost 20 years. 4G launched in 2010, so it will likely still be supported for as much as another decade.
The bottom line is, if you're comfortable with your current network speeds and performance, you won't need to change a thing for a long time to come.
Going down a familiar road
The best approach for upgrading to 5G may very well be: Wait and see. If you trust your wireless provider, remember that they've been through these changes for each successive generation, and have plans in place to make sure customers stay "up to speed," so to speak.
A good example is Consumer Cellular. Focusing largely on customers ages 50 and up, the company recognizes that its users may be less tech-savvy than other segments of the market. As a result, they've helped steer them through transitions all the way from 2G by proactively reaching out to alert customers as to what changes to expect, and when, with each succeeding upgrade. The result has been millions of customers making seamless transitions, whether that required simply changing a setting on a cellphone or upgrading to an entirely new device.
5G offers a bright future for wireless, and opens an almost unlimited range of technological possibilities. Yet for the average user, and for the foreseeable future, it will be a "nice to have" rather than a "need to have" upgrade, meaning there's really no rush to decide.
Cybersecurity: A Crucial Element of Socio-economic Stability and Prosperity
Cybersecurity has become a key safeguard to future socio-economic prosperity and stability as industries are transitioning towards data- and technology-driven business models and governments grapple with the implications of the Fourth Industrial Revolution. More than 80% believe that risk of cyberattacks will increase in the year ahead. With an estimated pricetag of $90 trillion worldwide, there is a rising imperative to safeguard individuals and businesses.
Under the theme Enabling Leadership for a Secure Digital Future, over 150 leaders and experts in the cybersecurity, policy, regulation and technology fields are meeting at the second annual World Economic Forum Annual Meeting on Cybersecurity in Geneva, Switzerland, to address three priorities: Strengthening global cooperation for digital trust and security, securing future digital networks and technology, and building skills and capabilities for the digital future.
Meeting participants include government representatives from G20 countries, civil society organizations and academia, and prominent cybersecurity leaders from companies representing a cross-section of industries in the private sector. Ten international organizations, 18 countries and over 20 specialized agencies are taking part.
"As the international organization for public-private cooperation, the World Economic Forum is leading a global effort to drive systemic change on the most pressing cybersecurity issues. We believe that this change will be most impactful if the private sector and the public sector work on solutions together," said Alois Zwinggi, Head of the Centre for Cybersecurity.
Key sessions include preparing for future threats, how to secure smart cities, increasing security by replacing passwords and building cyber-resiliance. Leadership, governance and cooperation were key themes.
The Forum, as the International Organization for Public-Private Cooperation, is offering its Platform on Cybersecurity and Digital Trust to allow the participants to drive the cybersecurity agenda for the coming year, to share information on emerging cyber-threats, jointly assess the risks of emerging technologies and collaborate on urgent action to combat cybercrime.
Building Emerging Technology Governance Key to Realizing Saudi Arabia's Vision 2030
Governments and companies around the world are investing heavily in emerging technologies to boost growth. The Middle East and North Africa region could see approximately $400 billion added to its economies over the next 15 years if artificial intelligence (AI) solutions are adopted. In Saudi Arabia alone, investment in AI is forecast to add 12.4% to GDP.
To help accelerate the development and implementation of emerging technologies while mitigating risks, the King Abdulaziz City for Science and Technology (KACST) today announced the launch of the Centre for the Fourth Industrial Revolution Saudi Arabia with the World Economic Forum.
As the latest Affiliate to join the World Economic Forum Centre for the Fourth Industrial Revolution Network, this new hub will benefit from the agile governance methodology designed in San Francisco and will apply it to pilot projects in the country. The Centre for the Fourth Industrial Revolution Saudi Arabia will be run and managed locally to help the country achieve its Vision 2030.
"To use the technologies of the Fourth Industrial Revolution such as AI and blockchain, and many others, for driving economic development and social progress, we need global cooperation," said Klaus Schwab, Founder and Chairman of the World Economic Forum. "On the eve of its G20 presidency, we welcome the Kingdom of Saudi Arabia with the establishment of a new Centre for the Fourth Industrial Revolution in Riyadh, to shape those technologies in a way that serves society."
In the region, Saudi Arabia has been undertaking large-scale digitalization efforts as part of its National Transformation plan and in the run-up to its G20 presidency. The commercial 5G roll out, recent establishment of the Saudi Authority for Data and Artificial Intelligence and the high percentage of mobile phone and internet use show that the country is taking steps towards shaping the trajectory of Fourth Industrial Revolution technologies.
The World Economic Forum Centre for the Fourth Industrial Revolution Network was founded in 2017 to accelerate the development of emerging technologies by bringing together a multistakeholder community to co-design agile governance policies. To facilitate this process, the Forum launched an Affiliate Centre programme in early 2019 to help countries develop national Fourth Industrial Revolution strategies and public-private initiatives.
Affiliate Centres tap into and share research across the Forum's global network. The Centre for the Fourth Industrial Revolution Saudi Arabia will focus on the following emerging technology portfolio areas: artificial intelligence; blockchain; data policy; internet of things, smart cities and robotics; and mobility.
PwC rated as a Leader among European and Asia Pacific Cybersecurity Consulting Providers
PwC announced that it was cited as a Leader in in both The Forrester Wave™: Cybersecurity Consulting Services In Asia Pacific, Q4 2019 and The Forrester Wave™: European Cybersecurity Consulting Providers, Q4 2019.
In the APAC-focused report, Forrester stated that: "PwC shines with impressive IP-based consulting. PwC targets its impressive range of assets — like its value-at-risk offering and virtual-reality simulated cyber crisis environments — at boards and executives. It aims to use these assets to create a deeper understanding of and support for key security challenges among those stakeholders. PwC also has strong intellectual property (IP)-based consulting offerings for CISOs, such as its identity and access management automation and ethical hacking bot. PwC regularly engages regulators throughout Asia Pacific and provides thought leadership sessions to board institutions in the region, such as the Australian Institute of Board Directors."
The APAC report goes on to say that: "PwC has a demonstrated ability to use its global strengths to adapt to agile ways of working. Reference clients were happy with the firm's expertise, noted that PwC was a true partner and advisor across the region, and praised the firm's positive internal culture."
Paul O'Rourke, Asia-Pacific and Global Financial Services Cyber Leader, PwC said: "We are really pleased with this result. Our comprehensive cybersecurity solutions assist businesses with assessing, building and managing their cybersecurity capabilities and enabling effective incident response to a myriad of potential threats. With our successful track record across various domains of cybersecurity, we help our clients to strategically assess, design, implement, operate and improve cybersecurity programs from strategy through execution."
Grant Waterfall, EMEA Cybersecurity and Privacy Leader, PwC said "PwC, and specifically each member of our teams that work with clients each day to build business and consumer trust through a more secure digital society, are extremely proud to receive this recognition from Forrester Research. Over the past year, cybersecurity has been elevated to Firm-wide platform at PwC, representing a formal commitment to our clients, markets, and employees, that cybersecurity will be top priority for how we serve each of them and grow our brand for the future."