International conference on industrial parks in Peru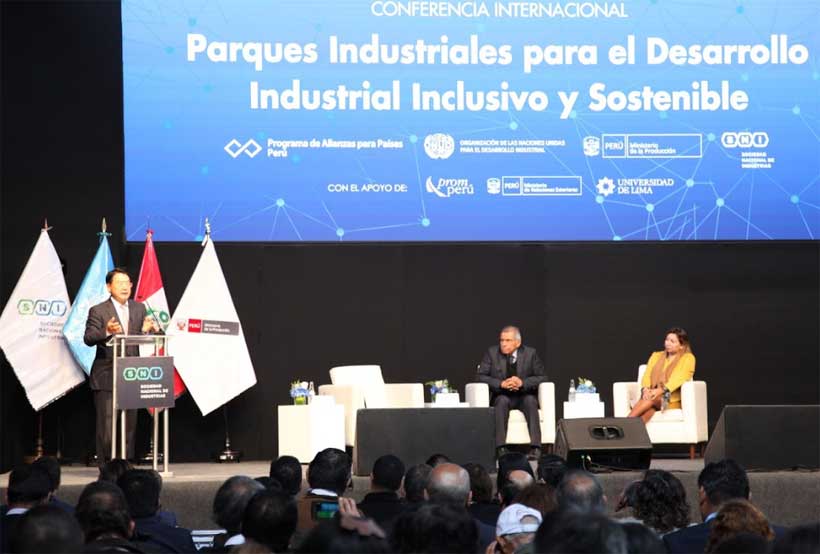 A two-day international conference to promote dialogue and the exchange of international experience on how to generate the appropriate conditions for the development of industrial parks in Peru has been organized by the United Nations Industrial Development Organization (UNIDO), and Peru's National Association of Industries (SNI) and Ministry of Production (PRODUCE).
'Industrial Parks for Inclusive and Sustainable Development', held at the SNI headquarters in Lima, was inaugurated by LI Yong, UNIDO Director General; Rocío Barrios, Minister of Production; and Ricardo Márquez Flores, President of the SNI.
Over 700 participants from 30 countries, from Latin America, Africa, Asia and Europe, listened to the views of 60 international and national panellists, including high-level representatives from the governments of Peru, Argentina, Ethiopia and Indonesia, among others. During two days of discussions, the participants shared best practices and lessons learnt on the management and development of industrial parks, and how to present them as a successful model to be replicated worldwide.
Industrial parks have been recognized as powerful tools to foster inclusive and sustainable industrial development for developing countries and middle income economies. When properly planned, they offer a unique opportunity to address the three dimensions of sustainable development: social equity, economic growth and environmental protection, in line with the UN Sustainable Development Goals (SDGs), particularly SDG9 which aims to build resilient infrastructure, promote sustainable industrialization and foster innovation. "Our collective presence at this conference will enhance dialogue on the industrial parks development agenda, and on the future vision of industrial development aligned with the SDGs, and in particular SDG9," stated UNIDO's Director General Li Yong at the opening of the conference.
The event was organized in the framework of the PCP Peru, an innovative UNIDO programme implemented by PRODUCE and UNIDO since early 2018 to accelerate industrial inclusive and sustainable development. "This conference is an important step for the promotion of industrial parks at regional and global level," said Petra Schwager, manager of UNIDO's Programme for Country Partnership (PCP) Peru.
The conference was also part of the Industry Week 2019, organized by SNI for their 123rd anniversary. In that context, visits to industrial plants in Lima and the provinces were organized (from 11 to 14 June) by SNI, as well as to Regional Forums in Arequipa, Huancayo, Chiclayo and Pucallpa. The SNI's Ricardo Márquez highlighted that: "Industrial parks generate positive results for the people, such as the creation of jobs, growth in incomes, environmental protection and new opportunities for vulnerable communities, including for the women in the country."
The conference was also an opportunity for Li Yong to reaffirm UNIDO's commitment to several ongoing development projects in the country. Constructive meetings were held with the national representatives, such as the Minister of Production Rocio Barrios, the Minister of Environment, Lucia Ruiz, and the Vice Minister of Economy and Finance, Michel Cantara Terreros, as well as with partner organizations such as the State Secretariat for Economic Affairs of the Swiss Confederation (SECO), in order to collaborate on the implementation of development projects including 'Strengthening the coffee and cocoa quality for exports from Peru' and 'Eco-industrial parks development in the Republic of Peru'. The latter is an initiative which promotes sustainable productive infrastructure development.
During the conference, a side event, 'Leveraging South-South and Triangular Cooperation for the Development of Inclusive and Sustainable Industrial Parks', was also held. It provided an opportunity to explore the potential for creating synergies and establishing potential collaborations for industrial park development in the future within the framework of South-South and Triangular Industrial Cooperation (SSTIC).
PRODUCE is now planning a National Strategy for Industrial Parks, based on earlier sector identification, "proof of concept" and guiding principles work in conjunction with UNIDO, and is looking at developing a new legal framework for industrial parks.
Bangladesh Economy Continues Robust Growth with Rising Exports and Remittances
The Bangladesh economy sustains strong growth in FY19 led by rising exports and record remittances, says a new World Bank report, "Bangladesh Development Update October 2019: Tertiary Education and Job Skills," launched today.
Remittances grew by 9.8 percent, reaching a record $16.4 billion in FY19. The contribution of net export growth was positive, supported by a diversion of garment export orders from China and a decline in imports. Agricultural and pharmaceutical exports led non-RMG export growth. However, leather and leather product exports declined by 6 percent.
Net foreign direct investment (FDI) increased by 42.9 percent from a low baseline with investments in the power, food, and textile sectors. Private consumption grew by 5.4 percent. Private sector credit growth was weak and bank liquidity remains constrained. Non-performing loans continued to rise in the banking sector.
The report warns about an uncertain global outlook and domestic risks in the financial sector. Exchange rate appreciation is also a challenge for Bangladesh's trade competitiveness. Reforms in the financial sector, including revenue mobilization and doing business, will be essential for progress. The report also urges closing the infrastructure gap and timely implementation of the Annual Development Plan.
"Bangladesh's economy is projected to maintain strong growth backed by sound macroeconomic fundamentals and progress in structural reforms," said Mercy Miyang Tembon, World Bank Country Director for Bangladesh and Bhutan. "To achieve its growth vision, Bangladesh will need a high-productivity economy. Human capital development that is responsive to labor market demand for higher-level skills and to rapid technological advancements will be crucial."
Bangladesh needs to create quality jobs for about two million young people entering the labor force every year. To harness the benefits of this growing labor supply, investments in human capital are required. The country needs to invest significantly in teaching, learning and ICT facilities, among other areas, to create a competitive workforce.
Higher labor productivity will be essential to diversify the economy beyond garment exports and remittances. Growing sectors—such as export-oriented manufacturing, light engineering, shipbuilding, agribusiness, information and communication technology (ICT), and pharmaceuticals—will require skilled professionals in managerial, technical, and leadership positions.
Tertiary graduates struggle to find jobs, indicating a major skills gap. Only 19 percent of college graduates are employed full-time or part-time. At the tertiary level, more than a third of graduates remain unemployed one or two years after graduation, while unemployment rates of female graduates are even higher.
"Labor market surveys repeatedly show that employers struggle to fill high-skill positions such as technicians and managers," said Bernard Haven, World Bank Senior Economist, and co-author of the report. "To bridge the demand and supply gap, investments in skills training, equitable access for female and poor students, public funding mechanisms to develop market-relevant skills and an effective regulatory and accountability framework are needed."
Tackling obesity would boost economic and social well-being
Obesity-related diseases will claim more than 90 million lives in OECD countries in the next 30 years, with life expectancy reduced by nearly 3 years. Obesity and its related conditions also reduce GDP by 3.3% in OECD countries and exact a heavy toll on personal budgets, amounting to USD 360 per capita per year, according to a new OECD report.
The OECD's The Heavy Burden of Obesity – The Economics of Prevention says that more than half the population is now overweight in 34 out of 36 OECD countries and almost one in four people is obese. Average rates of adult obesity in OECD countries have increased from 21% in 2010 to 24% in 2016, meaning an additional 50 million people are now obese.

Children in particular are paying a high price for obesity. Children who are overweight do less well at school, are more likely to miss school, and, when they grow up, are less likely to complete higher education. They also show lower life satisfaction and are up to three times more likely to be bullied, which in turn may contribute to lower school performance.
Obese adults are at greater risk of chronic illnesses, such as diabetes, and reduced life expectancy. In the EU28, women and men in the lowest income group are, respectively, 90% and 50% more likely to be obese, compared to those on the highest incomes, entrenching inequality. Individuals with at least one chronic disease associated with being overweight are 8% less likely to be employed the following year. When they have a job, they are up to 3.4% more likely to be absent or less productive.
"There is an urgent economic and social case to scale up investments to tackle obesity and promote healthy lifestyles," said OECD Secretary-General Angel Gurría. "These findings clearly illustrate the need for better social, health and education policies that lead to better lives. By investing in prevention, policymakers can halt the rise in obesity for future generations, and benefit economies. There is no more excuse for inaction."
OECD countries already spend 8.4% of their total health budget on treating obesity-related diseases. This is equivalent to about USD 311 billion or USD 209 per capita per year. Obesity is responsible for 70% of all treatment costs for diabetes, 23% for cardiovascular diseases and 9% for cancers.
New OECD analysis in the report finds that investing in initiatives like better labelling of food in shops or regulating the advertising of unhealthy foods to children can generate major savings. Every dollar invested in preventing obesity would generate an economic return of up to six dollars, according to the report.
Reducing by 20% the calorie content in energy-dense food, such as crisps and confectionery, could avoid more than 1 million cases of chronic disease per year, particularly heart disease. Initiatives targeting the whole population, such as food and menus displaying nutritional information and mass media campaigns, could lead to gains of between 51,000 to 115,000 life years per year up to 2050 in the 36 countries included in the analysis. This would be equivalent to preventing all road deaths in EU28 and OECD countries respectively. Economic savings would also be significant, with menu labelling alone saving up to USD 13 billion between 2020 and 2050. The report, together with country notes for Australia, Canada, France, Germany, Italy, Mexico, Spain and the United Kingdom, are available at http://www.oecd.org/health/the-heavy-burden-of-obesity-67450d67-en.htm.

OECD leading multilateral efforts to address tax challenges from digitalisation of the economy
Today the OECD Secretariat published a proposal to advance international negotiations to ensure large and highly profitable Multinational Enterprises, including digital companies, pay tax wherever they have significant consumer-facing activities and generate their profits.
The new OECD proposal brings together common elements of three competing proposals from member countries, and is based on the work of the OECD/G20 Inclusive Framework on BEPS, which groups 134 countries and jurisdictions on an equal footing, for multilateral negotiation of international tax rules, making them fit for purpose for the global economy of the 21st Century.
The proposal, which is now open to a public consultation process, would re-allocate some profits and corresponding taxing rights to countries and jurisdictions where MNEs have their markets. It would ensure that MNEs conducting significant business in places where they do not have a physical presence, be taxed in such jurisdictions, through the creation of new rules stating (1) where tax should be paid ("nexus" rules) and (2) on what portion of profits they should be taxed ("profit allocation" rules).
"We're making real progress to address the tax challenges arising from digitalisation of the economy, and to continue advancing toward a consensus-based solution to overhaul the rules-based international tax system by 2020," said OECD Secretary-General Angel Gurría. "This plan brings together common elements of existing competing proposals, involving over 130 countries, with input from governments, business, civil society, academia and the general public. It brings us closer to our ultimate goal: ensuring all MNEs pay their fair share."
"Failure to reach agreement by 2020 would greatly increase the risk that countries will act unilaterally, with negative consequences on an already fragile global economy. We must not allow that to happen," Mr Gurría said.
The Inclusive Framework's tax work on the digitalisation of the economy is part of wider efforts to restore stability and certainty in the international tax system, address possible overlaps with existing rules and mitigate the risks of double taxation. Beyond the specific elements on reallocating taxing rights, a second pillar of the work aims to resolve remaining BEPS issues, ensuring a minimum corporate income tax on MNE profits. This will be discussed in a public consultation foreseen to take place in December 2019.