International conference on industrial parks in Peru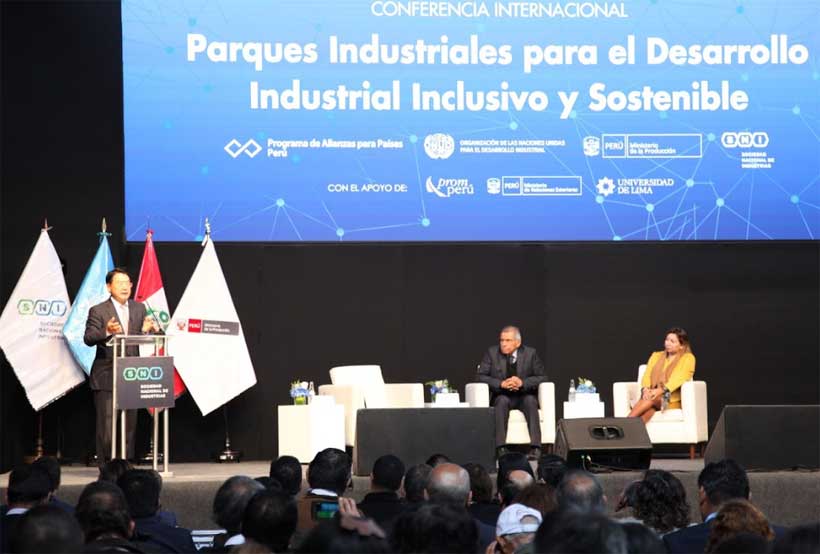 A two-day international conference to promote dialogue and the exchange of international experience on how to generate the appropriate conditions for the development of industrial parks in Peru has been organized by the United Nations Industrial Development Organization (UNIDO), and Peru's National Association of Industries (SNI) and Ministry of Production (PRODUCE).
'Industrial Parks for Inclusive and Sustainable Development', held at the SNI headquarters in Lima, was inaugurated by LI Yong, UNIDO Director General; Rocío Barrios, Minister of Production; and Ricardo Márquez Flores, President of the SNI.
Over 700 participants from 30 countries, from Latin America, Africa, Asia and Europe, listened to the views of 60 international and national panellists, including high-level representatives from the governments of Peru, Argentina, Ethiopia and Indonesia, among others. During two days of discussions, the participants shared best practices and lessons learnt on the management and development of industrial parks, and how to present them as a successful model to be replicated worldwide.
Industrial parks have been recognized as powerful tools to foster inclusive and sustainable industrial development for developing countries and middle income economies. When properly planned, they offer a unique opportunity to address the three dimensions of sustainable development: social equity, economic growth and environmental protection, in line with the UN Sustainable Development Goals (SDGs), particularly SDG9 which aims to build resilient infrastructure, promote sustainable industrialization and foster innovation. "Our collective presence at this conference will enhance dialogue on the industrial parks development agenda, and on the future vision of industrial development aligned with the SDGs, and in particular SDG9," stated UNIDO's Director General Li Yong at the opening of the conference.
The event was organized in the framework of the PCP Peru, an innovative UNIDO programme implemented by PRODUCE and UNIDO since early 2018 to accelerate industrial inclusive and sustainable development. "This conference is an important step for the promotion of industrial parks at regional and global level," said Petra Schwager, manager of UNIDO's Programme for Country Partnership (PCP) Peru.
The conference was also part of the Industry Week 2019, organized by SNI for their 123rd anniversary. In that context, visits to industrial plants in Lima and the provinces were organized (from 11 to 14 June) by SNI, as well as to Regional Forums in Arequipa, Huancayo, Chiclayo and Pucallpa. The SNI's Ricardo Márquez highlighted that: "Industrial parks generate positive results for the people, such as the creation of jobs, growth in incomes, environmental protection and new opportunities for vulnerable communities, including for the women in the country."
The conference was also an opportunity for Li Yong to reaffirm UNIDO's commitment to several ongoing development projects in the country. Constructive meetings were held with the national representatives, such as the Minister of Production Rocio Barrios, the Minister of Environment, Lucia Ruiz, and the Vice Minister of Economy and Finance, Michel Cantara Terreros, as well as with partner organizations such as the State Secretariat for Economic Affairs of the Swiss Confederation (SECO), in order to collaborate on the implementation of development projects including 'Strengthening the coffee and cocoa quality for exports from Peru' and 'Eco-industrial parks development in the Republic of Peru'. The latter is an initiative which promotes sustainable productive infrastructure development.
During the conference, a side event, 'Leveraging South-South and Triangular Cooperation for the Development of Inclusive and Sustainable Industrial Parks', was also held. It provided an opportunity to explore the potential for creating synergies and establishing potential collaborations for industrial park development in the future within the framework of South-South and Triangular Industrial Cooperation (SSTIC).
PRODUCE is now planning a National Strategy for Industrial Parks, based on earlier sector identification, "proof of concept" and guiding principles work in conjunction with UNIDO, and is looking at developing a new legal framework for industrial parks.
EU and 16 WTO members agree to work together on an interim appeal arbitration arrangement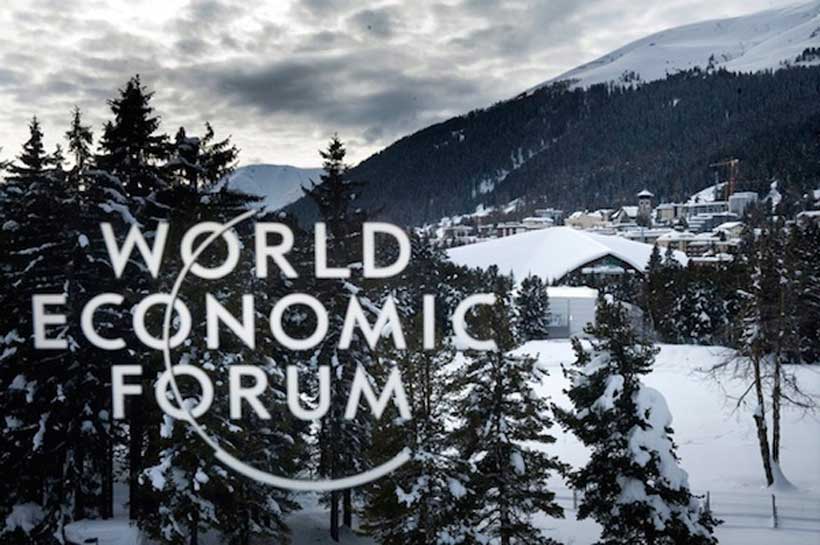 EU and Ministers from 16 Members of the World Trade Organization (WTO) have agreed to develop a multi-party interim appeal arrangement that will allow the participating WTO members to preserve a functioning and two-step dispute settlement system at the WTO in disputes among them. This initiative was launched in mid-December 2019 by the EU and a number of other WTO members following the effective paralysis of the WTO Appellate Body, due to the blockage of any new appointments since 2017.
Commissioner for Trade Phil Hogan said: "This statement testifies to the high importance that the EU and the participating WTO members attach to retaining a two-step dispute settlement process in WTO trade matters. The multiparty appeal arbitration arrangement will guarantee that the participating WTO members continue to have access to a binding, impartial and high-quality dispute settlement system among them. Let me underline again that this remains a contingency measure needed because of the paralysis of the WTO Appellate Body. We will continue our efforts to seek a lasting solution to the Appellate Body impasse, including through necessary reforms and improvements."
The multi-party interim arrangement will be based on Article 25 of the WTO Dispute Settlement Understanding (DSU). It will secure the participating WTO members (Australia, Brazil, Canada, China, Chile, Colombia, Costa Rica, the European Union, Guatemala, Republic of Korea, Mexico, New Zealand, Norway, Panama, Singapore, Switzerland, and Uruguay) an effective and binding dispute settlement process for potential trade disputes among them.
The arrangement is a contingency measure and it will only apply until the WTO Appellate Body becomes operational again. The EU believes that an independent and impartial appeal stage, giving the necessary guarantees of rulings of the highest quality, must continue to be one of the essential features of the WTO dispute settlement system.
CTCN publication explores role of technology transfer in raising climate ambition
The Climate Technology Centre and Network (CTCN) has published a report titled, 'Climate Change Strategies 2020′, which highlights the role of technology transfer in the fight against climate change. The publication includes contributions from Patricia Espinosa, Executive Secretary, United Nations Framework Convention on Climate Change (UNFCCC), as well as a foreword by CTCN Director, Rose Mwebaza, on how CTCN connects countries with the know-how, technology and finance to achieve their climate goals.There are different sections introducing best practices and cases stories regarding the action, technology, systematic change and making it happen.
The publication outlines the organizational structure and operating modalities of the CTCN in fulfilling its technology support and financing mandate for Parties to the UNFCCC. It explains how CTCN interventions help to build country capacities to adopt and use climate technology, including through engaging local partners to develop context-specific solutions that are implemented through the global network of more than 500 specialized technical partners.
It discusses the role of CTCN members in disseminating knowledge products, such as technology assessments, and information on new technologies and approaches, through the ctc-n.org online portal, which also serves as a clearinghouse for information on technical assistance interventions undertaken by the CTCN and its partners.
The United Nations Environment Programme (UN Environment) hosts the CTCN in collaboration with the United Nations Industrial Development Organization (UNIDO) and the support of a consortium of partners that are engaged in some 1,500 activities related to climate technologies in over 150 countries.
Mongolia, ADB Sign Grant to Develop Participatory Food Waste Recycling
The Asian Development Bank (ADB) and the Government of Mongolia have signed a $3 million grant agreement to improve food waste recycling in local communities in the capital city, helping to keep Ulaanbaatar cleaner.
"Discarded food waste sullies the city and can be unhealthy for the people living here," said ADB Country Director for Mongolia Mr. Pavit Ramachandran. "Implemented jointly with the government, the grant will help improve the living conditions in Ulaanbaatar by introducing participatory food waste recycling practices. It supports national programs and policies of Mongolia on solid waste management and the operational priorities of ADB's long-term strategy—Strategy 2030."
Around 1.2 million tons of solid waste are generated annually in Ulaanbaatar. Although close to 20% of the waste is recycled, food waste is typically dumped in formal or informal landfills. This large quantity of food waste pollutes the soil and groundwater and damages the health of urban communities, particularly in ger areas, where there are few water, sanitation, and waste disposal services.
The Ulaanbaatar Community Food Waste Recycling Project, with the participation of local communities, will identify food waste generation and composting options based on current food waste recycling practices. It will also pilot both smaller and larger food waste recycling activities, scale-up existing projects across Ulaanbaatar, and raise overall awareness of the need to recycle food waste.
The project is funded by the Japan Fund for Poverty Reduction, which has supported projects in Mongolia in poverty alleviation, improving livelihoods, and safeguarding the environment over the past 20 years.