Breitling Launches Wheels and Waves Limited Edition in Biarritz
Breitling took to the Wheels and Waves festival in Biarritz for the launch of its Premier Wheels and Waves Limited Edition watch, which comes in two versions: 18 k red gold and stainless steel. The brand also celebrated its powerful links to two thrilling sports – motorcycling and surfing. Since 2012, Wheels and Waves, the world's leading motorcycle, surfing, and skateboarding festival, has attracted visitors from all over the world – who are drawn to the festival's dynamic yet cool atmosphere – to the popular resort town.
Wheels and Waves is a festival like no other. Each June, thousands of visitors find their way to Biarritz, where they are treated to displays of world-class surfing, motorcycle racing, and skateboarding. This year, as Official Timekeeper, Breitling was on hand throughout the festival, which proved once again to be a platform that authentically embodies the Swiss watch manufacture's Land and Sea brand worlds. The third world, Air, was well represented on Friday night as the Breitling Jet Team dazzled festivalgoers, flying through the skies above Biarritz.
The Wheels and Waves organizers are very excited about Breitling's active role at the festival. Jérôme Allé said, "We've completely enjoyed working with Breitling and are thrilled by the support we've had from Georges Kern and his Squads. They share our passions and our commitment to engaging with our community. Breitling lives up to its reputation as a cool, inclusive brand, and the Squad brought those values to this year's Wheels and Waves."
Breitling CEO Georges Kern said, "At Wheels and Waves, we highlighted the passions we share with the festival: a cool, laid-back surfing lifestyle and sporty, elegant motorbikes. It also gave us a chance to introduce ourselves to people who, like us, are driven by action, purpose, and style – and we launched a watch that celebrates the festival that expresses those values."
The Breitling Premier B01 Chronograph 42 Wheels and Waves Limited Edition
One of the festival's highlights was the launch of the Breitling Premier Wheels and Waves Limited Edition on Thursday, June 13. It has been produced in both an 18 k red gold version, limited to 100 pieces, and a stainless-steel version issued in a series of 500 pieces. The cases in both metals feature an engraved plate with a Breitling SPECIAL inscription on the left side.
These watches are set apart by their unique anthracite dial with golden hour markers, hour and minute hands, and a red central seconds hand. The dial features a black tachymeter scale on a white inner bezel, with a red tachymeter inscription. These COSC-certified chronometers have contrasting black subdials (a chronograph minute counter at 3 o'clock and a small seconds subdial at 9 o'clock) – a mark that they are powered by Breitling's flagship Manufacture Caliber 01.
The in-house mechanical movement, which offers a power reserve of about 70 hours, is visible through a transparent caseback. The caseback for the 18 k red gold version is engraved with a "ONE OF 100" inscription; the stainless-steel model is engraved "ONE OF 500".
The red gold and the stainless-steel versions are presented on a brown nubuck leather strap.
Breitling CEO Georges Kern points out how the Premier Wheels and Waves Limited Edition watch brilliantly reflects his brand's partnership with the festival: "With this chronograph, we have created a very special version of our Premier, which is Breitling's most elegant watch family. At the same time, they reflect the things we love about Wheels and Waves: the energy, the lifestyle, and, as I've said before, the coolness."
Breitling and the sports showcased at Wheels and Waves
Some special guests were on hand to help Breitling celebrate Wheels and Waves. The brand was joined by celebrated French actor, director, screenwriter, and motorcycle enthusiast Guillaume Canet, Swiss top model Ronja Furrer, and WSL surfer Jérémy Florès, who is a member of Breitling's French Squad.
On Thursday evening, a graffiti wall, with a Wheels and Waves-themed painting by artist Tristan Barroso, was unveiled at the Artride event. Georges Kern welcomed his guests and introduced the Premier Wheels and Waves Limited Edition watch.
On Friday, there was a Breitling Surfers Squad lesson with Jérémy Florès, who generously shared tips with participants of all levels. Some of Breitling's guests were involved not only with the surfing tutorial, but also in the Deus Swank Rally Enduro Race on Friday, along with Breitling CEO Georges Kern and Guillaume Canet. A dedicated Breitling ride was followed by the main race, whose winner was presented with a Breitling watch.
The Wheels and Waves festival, with its unique focus on surfing and motorcycling, represents an ideal opportunity for Breitling to showcase its close links to both sports. Breitling already enjoys a partnership with Norton Motorcycles, the world's oldest motorcycle brand, and it has a long and strong association with motor sports, including a link to Bentley. In fact, the partnership between Breitling and Bentley is the world's longest-standing partnership between a watch brand and an automobile manufacturer.
Meanwhile, the Breitling Surfers Squad, which consists of world stars Kelly Slater, Stephanie Gilmore, and Sally Fitzgibbons, has elevated Breitling's profile on the surfing scene. Indeed, Breitling is also set to serve as Official Timekeeper at the 2019 World Surf League's Freshwater Pro in Lemoore, California.
Wheels and Waves – a new Breitling tradition
Breitling has always been a luxury watch brand, but in terms of its attitude, style, and the sports it supports, it is truly inclusive. At Wheels and Waves, thousands of visitors had a chance to interact with the brand and they were able to identify with Breitling, its stories, and its Squads. In Biarritz, Breitling took its message directly to the people, engaging men and woman of action, purpose, and style.
Dongyu Zhou wears Constellation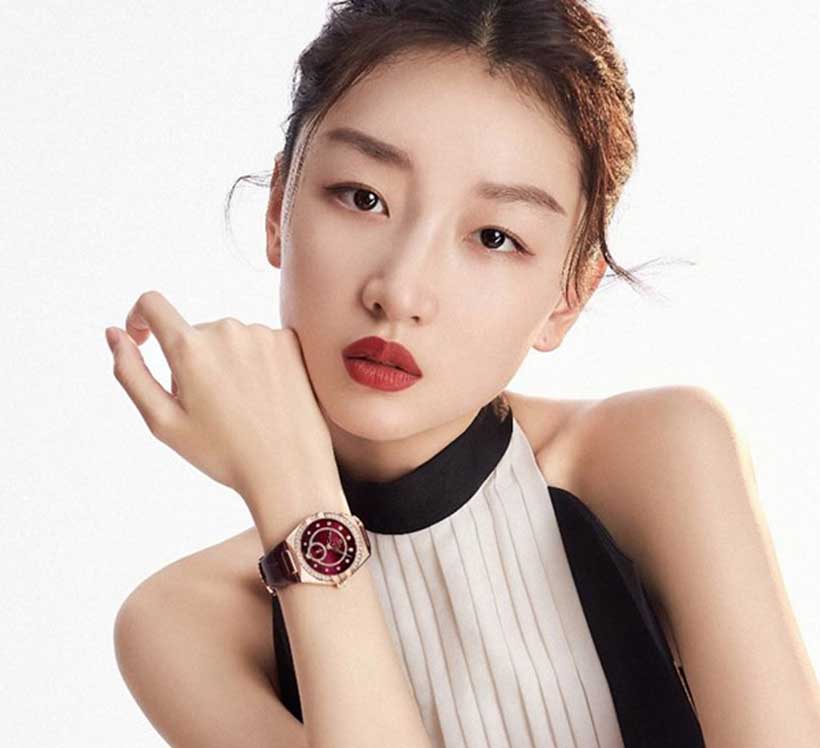 Award-winning Chinese actress Dongyu Zhou wears OMEGA's Constellation Small Seconds.
A winner of multiple domestic and foreign film awards, Dongyu Zhou is an accomplished actress capable of delivering convincing and critically acclaimed performances ranging in genres from crime thriller to romantic comedy.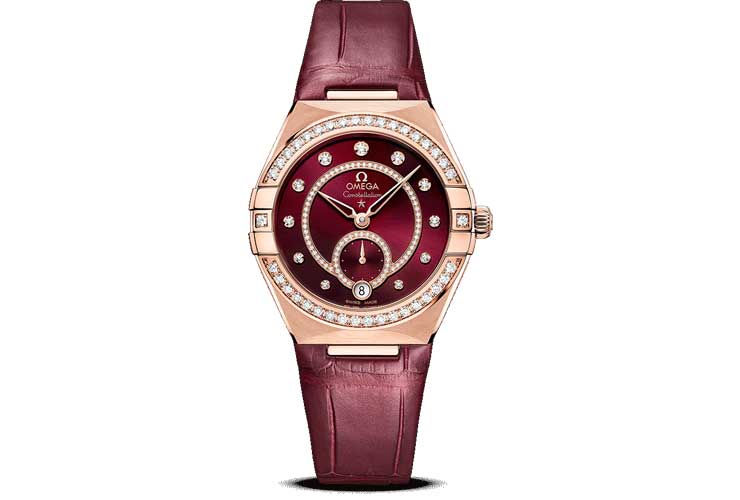 Her many accolades include the Best Actress award at the 53rd Golden Horse Awards in 2016 for her impressive performance in Soul Mate, and best actress for Better Days at the 39th Hong Kong Film Awards and 33rd Golden Rooster Awards.
As Dongyu Zhou is the youngest actress to have been honoured with the three most significant film accolades in the history of Chinese film, her choice of watch proves that the timeless OMEGA is never out of step with style.
A New Tribe Lands As An Icon Ascends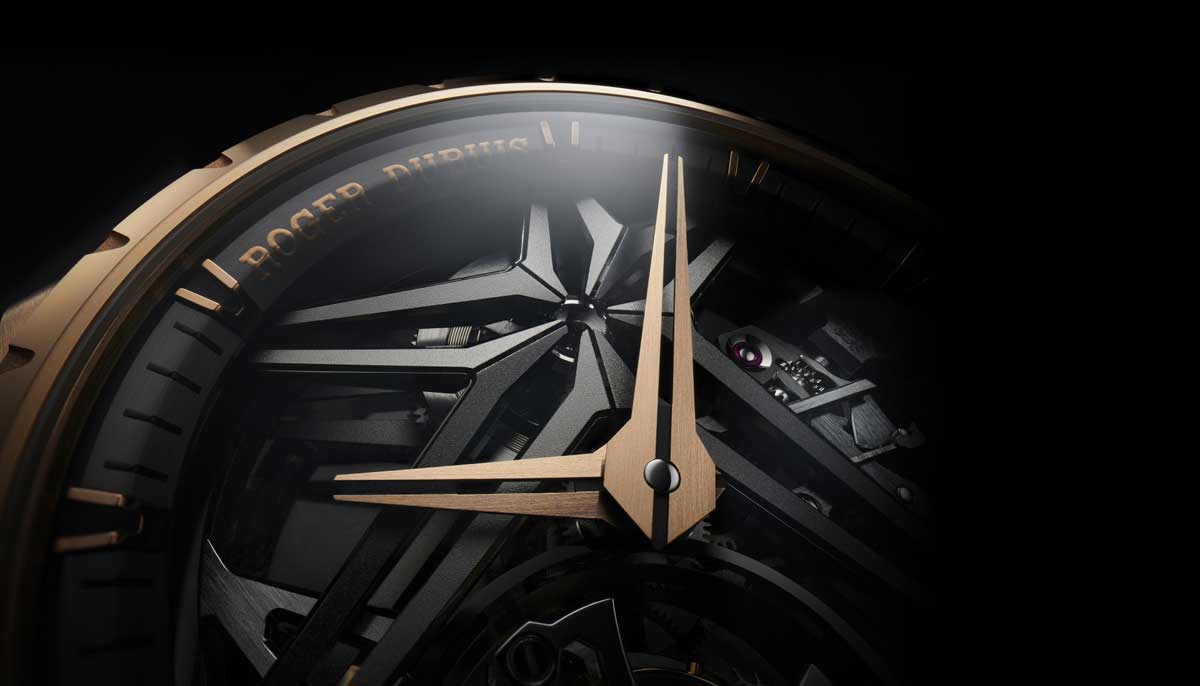 Roger Dubuis has consistently demonstrated a penchant for impertinence and extravagance. Sustained by an integrated manufacture, a flagrant disregard for convention is the backbone of its bold attitude. A true innovator, the luxury watchmaker is driven by an irrepressible willingness to come up with high-impact ideas, boundary-pushing technologies and unmistakable out-of-the-box designs. Living by the motto NO RULES, OUR GAME, the Maison proves once again it is the most exciting way to experience Hyper Horology with the launch of the new Excalibur Single Flying Tourbillon.
THE FUTURE OF HYPER HOROLOGY IS HERE
Extravagant, determined and disruptive, the bold and bright are the ones that stand out. Just like any star should. But a star doesn't just appear. It takes dedication. Innovation. Craftsmanship. Only then can an icon ascend…Introducing the Excalibur Single Flying Tourbillon: a star restyled for the new world. To mark the launch of the inimitable skeleton design reinterpreted with a contemporary touch, Roger Dubuis is set to celebrate modern art in all its shapes. Taking form in Hyper Horology with the Maison's most recent interpretation of the Excalibur Single Flying Tourbillon, this icon of watchmaking is brought to a whole new level; a masterpiece that cannot be ignored, just like its wearer.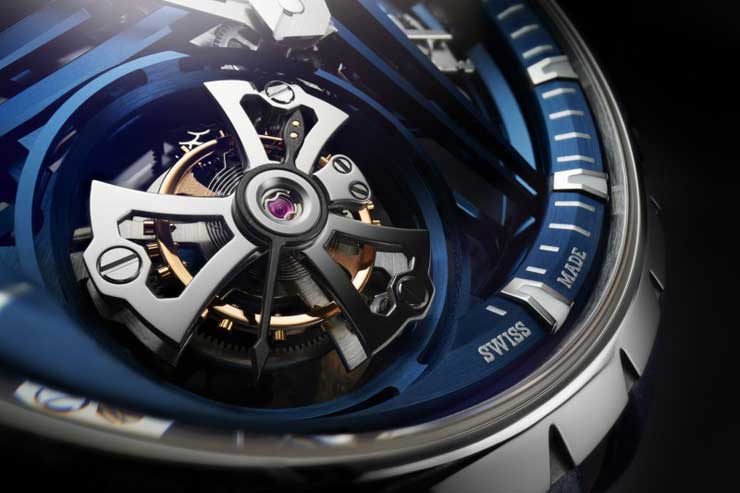 Finding kinship with those disruptive souls who dare to make a difference, the Maison partners with the URBAN ART TRIBE, world-famous urban culture artists that reflect Roger Dubuis' values: break the rules, showcase radical expertise and obsess daily over the design of the future.
THE EXCALIBUR SINGLE FLYING TOURBILLON: FROM A TIMEPIECE TO A MASTERPIECE
Roger Dubuis continues shaking up the world of haute horlogerie with the launch of the new Excalibur Single Flying Tourbillon. Enhanced with meticulous care, the timepiece is reinterpreted with sophistication and flair using modern and technical materials.
A contemporary masterpiece for the wrist, the new design showcases clean cut lines on both case and movement. Creating the impression of a thinner look and feel, while heightening the sense of transparency and depth, the calibre is rebuilt from bottom to top in an architectural feat that sees the Roger Dubuis star now levitate freely above the barrel. A strong visual identity is created with a signature two-line pattern – seen between the notch on the crown and bezel, the star's arms, the tourbillon's cage, the hour's marking on the flange, the hands – all of which cleverly appear as though they will meet but never do. This dynamic aesthetic is amplified by the Poinçon de Genève, the most demanding signature in fine watchmaking and one that requires the manual decoration of each and every component of the watch, as well as unexpected and antinomic decorations in modern haute horlogerie, such as circular-brushed top surfaces and polished angles that demonstrate Roger Dubuis' visionary approach.
Always keeping the wearer in mind, the new RD512SQ calibre is stunning in its technical prowess. Now with a titanium lower tourbillon cage – twice lighter than stainless steel – and a mirror-polished Cobalt Chrome upper tourbillon cage, the weight of the piece is reduced to optimum effect. All of which allows the power reserve to be radically optimised to 72 hours, providing the option of leaving the watch unworn over weekends without the worry of resetting come Monday. Proving no detail goes unconsidered, non-magnetic material is used inside the tourbillon to better serve the wearers and improve their experience.
Comfort is key, which is why a range of entirely new strap sizes have become available. With 5 sizes from 0 to 4, finding the perfect strap ensures the buckle is always centred on the wrist, as a Quick Release System offers ultimate flexibility. Underscored by rarity, the 42mm case is only available in eighty-eight pieces per colourway: Dark Grey DLC Titanium, Cobalt Chrome CarTech Micro-Melt BioDur CCMTM and the new EON GOLD, a pink gold shade that remains more stable thanks to non-tarnish technology. Reimagined for a contemporary era, an icon ascends in the shape of the Excalibur Single Flying Tourbillon.
THE ART OF GLOW
Showcasing the Maison's obsession with art, light and luminescence, in addition to our icons comes the Excalibur Glow Me Up, a world-premiere for Roger Dubuis limited to just eight timepieces.
By day, the new Single Flying Tourbillon calibre is elegantly adorned with 60 baguette-cut diamonds on the bezel. By night, it's a complete different version that comes to life through this vibrant timepiece with luminescent and dazzling diamonds, an achievement made possible thanks to an intricate two-part process. The first involves filling the grooves that hold the stones in place with Super-Luminova, a singular way to make the diamonds appear luminescent without altering them. Secondly, an additional patent enables Super-Luminova to be applied on the angles of the movement, as well as to the iconic star-shaped bridge. Because at Roger Dubuis less is never more.
ART IN THE MAKING
Roger Dubuis is a destination for the avant-garde. Committed to non-conformity, the Maison stands with those who choose to blaze their own trail. To show what happens when rules are rejected and creativity is unleashed, Roger Dubuis partners with the URBAN ART TRIBE, composed of two urban culture creatives – tattoo artist Dr. Woo and graffiti artist Gully. Rulebreakers in their own fields, they too shape the future by refusing to take 'no' for an answer. Brought together to unite a wider community of daring minds, Roger Dubuis and the URBAN ART TRIBE hope to encourage people to challenge the way things are, just as the Maison does when it comes to Hyper Horology, and Dr. Woo and Gully do in their industries.
A leading name among an influential elite who see tattoos, art and fashion as an indissociable whole, Dr. Woo's singular approach to needle style has shifted the paradigm for tattoos, taking them from subculture to broad popular appeal. Of the partnership he says: "I've taken this path because I don't know where it leads, and that is exactly why I'm here – to seek the unknown and go out of my comfort zone. Tattooing and watchmaking have that in common: the same attention to detail, a dot vs. a tiny component, assembled perfectly for you to see the bigger picture."
Gully, a well-known graffiti artist, chooses to work exclusively in his own atelier to maintain his anonymity. He uses a wide variety of mixed techniques and materials and explains his artistic concept as one based on conscious appropriation. Telling visual stories of children appearing in splendid settings, he reveals their enchantment with art and particularly with the paintings of the great masters. Speaking to the concept of the tribe, he comments: "Two worlds, a crossing path. I feel driven by the same energy and insatiable envy to come up with something we have never seen before. It comes as a bombshell, provokes surprise, and arouses interest. Bringing different worlds together is my trademark, so I can't wait to show you the Gully x Roger Dubuis mixture."
Generously opening the doors to their respective workshops, Dr. Woo and Gully will begin their long-term partnerships with Roger Dubuis by first sharing their creative processes at work. Initially set to reinterpret the brand's iconic astral signature, they will continue to co-create the future of Hyper Horology alongside the Maison.
Breitling's Heritage, Revived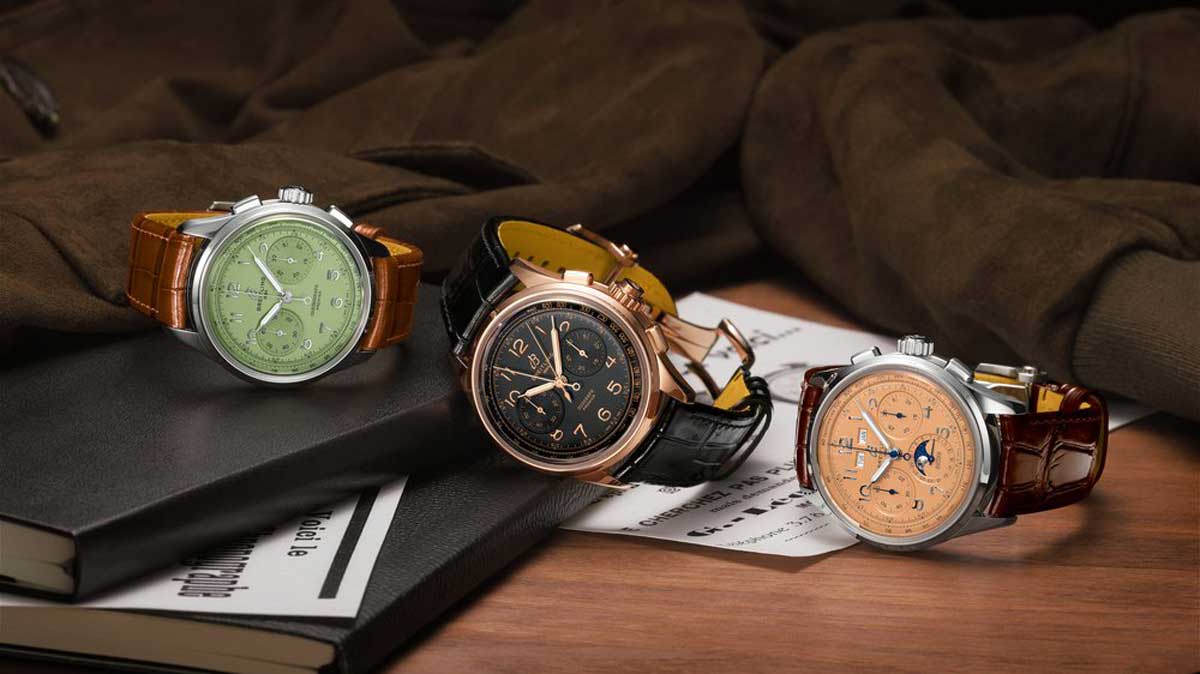 Inspired by the inventive spirit of Breitling's founders, the new Premier Heritage Collection is for the modern and discerning man of impeccable taste. These exquisite timepieces are the brand's most elegant and refined.
"This heritage-inspired design with a stylish modern twist embodies some of Breitling's most famous innovations, and revives Breitling's legacy of inventing the modern chronograph. This truly is our heritage revived," says Georges Kern of Breitling's timelessly elegant new collection.
The Premier Heritage Collection pays homage to Breitling's very own Founders Squad: three generations of men who changed the history of timekeeping and made Breitling what it is today. Léon Breitling founded the company in 1884; later, he patented a simple timer/tachymeter that could measure any speed between 15 and 150 km/h, an invention featured in the 1906 Vitesse pocket watch.
In 1915, his son, Gaston, created one of the first wrist-worn chronographs with an independent pusher at 2 o'clock. This innovation separated the start, stop, and reset functions from the crown, making it infinitely more practical for timing sports.
In 1934, Léon's grandson, Willy, patented the second independent chronograph pusher at 4 o'clock. Among Willy Breitling's celebrated pioneering achievements was the establishment of the Huit Aviation Department in 1938.
Impeccable taste
Besides being bold and tech savvy, Willy Breitling understood people's desire for a touch of elegance and glamour. This inspired him to design the original Premier wristwatches in the 1940s, Breitling's first step in linking purpose with style. As Willy saw it, "When a man puts on his watch, it is the unmistakable stamp of impeccable taste."
The latest generation of Premiers – Breitling's Premier Heritage Collection – brings this timeless elegance back to life. The collection includes six watches divided into three distinctive categories: The Chronograph, The Duograph, and The Datora.
All feature Arabic numerals, vintage-inspired hands and semi-shiny alligator straps with tone-on-tone stitching. Every watch is a COSC-certified chronometer and water-resistant up to 100 meters.
Groundbreaking functions
The 40 mm Premier Heritage Chronograph is manually wound, just like its 1940s predecessors. It is powered by the Breitling Manufacture Caliber B09, which is based on the Breitling Manufacture Caliber 01. It comes in two variations: with an eye-catching pistachio-green dial encased in stainless steel or a stately silver-colored dial encased in 18 k red gold.
With stainless-steel and 18 k red gold cases measuring 42 mm, the Premier Heritage Duograph comes with a blue or black dial, respectively. Its rattrapante function – one of the most elaborate in watchmaking – enables the wearer to measure two elapsed times simultaneously thanks to its two superimposed chronograph hands. This piece houses the mechanical hand-wound Breitling Manufacture Caliber B15, which is based on the Breitling Manufacture Caliber B03.
Like its 1940s predecessor, the 42 mm Premier Heritage Datora also stands out for its highly visible and complex functions, namely its day, date, and moon-phase displays. It is powered by the Manufacture Caliber B25. The Datora's copper-colored face is framed by a stainless-steel case, while its silver-colored dial comes in an 18 k red gold one.
All three models of the Premier Heritage Collection highlight Breitling's mastery of timekeeping as it has evolved over the generations.