Breitling Launches Wheels and Waves Limited Edition in Biarritz
Breitling took to the Wheels and Waves festival in Biarritz for the launch of its Premier Wheels and Waves Limited Edition watch, which comes in two versions: 18 k red gold and stainless steel. The brand also celebrated its powerful links to two thrilling sports – motorcycling and surfing. Since 2012, Wheels and Waves, the world's leading motorcycle, surfing, and skateboarding festival, has attracted visitors from all over the world – who are drawn to the festival's dynamic yet cool atmosphere – to the popular resort town.
Wheels and Waves is a festival like no other. Each June, thousands of visitors find their way to Biarritz, where they are treated to displays of world-class surfing, motorcycle racing, and skateboarding. This year, as Official Timekeeper, Breitling was on hand throughout the festival, which proved once again to be a platform that authentically embodies the Swiss watch manufacture's Land and Sea brand worlds. The third world, Air, was well represented on Friday night as the Breitling Jet Team dazzled festivalgoers, flying through the skies above Biarritz.
The Wheels and Waves organizers are very excited about Breitling's active role at the festival. Jérôme Allé said, "We've completely enjoyed working with Breitling and are thrilled by the support we've had from Georges Kern and his Squads. They share our passions and our commitment to engaging with our community. Breitling lives up to its reputation as a cool, inclusive brand, and the Squad brought those values to this year's Wheels and Waves."
Breitling CEO Georges Kern said, "At Wheels and Waves, we highlighted the passions we share with the festival: a cool, laid-back surfing lifestyle and sporty, elegant motorbikes. It also gave us a chance to introduce ourselves to people who, like us, are driven by action, purpose, and style – and we launched a watch that celebrates the festival that expresses those values."
The Breitling Premier B01 Chronograph 42 Wheels and Waves Limited Edition
One of the festival's highlights was the launch of the Breitling Premier Wheels and Waves Limited Edition on Thursday, June 13. It has been produced in both an 18 k red gold version, limited to 100 pieces, and a stainless-steel version issued in a series of 500 pieces. The cases in both metals feature an engraved plate with a Breitling SPECIAL inscription on the left side.
These watches are set apart by their unique anthracite dial with golden hour markers, hour and minute hands, and a red central seconds hand. The dial features a black tachymeter scale on a white inner bezel, with a red tachymeter inscription. These COSC-certified chronometers have contrasting black subdials (a chronograph minute counter at 3 o'clock and a small seconds subdial at 9 o'clock) – a mark that they are powered by Breitling's flagship Manufacture Caliber 01.
The in-house mechanical movement, which offers a power reserve of about 70 hours, is visible through a transparent caseback. The caseback for the 18 k red gold version is engraved with a "ONE OF 100" inscription; the stainless-steel model is engraved "ONE OF 500".
The red gold and the stainless-steel versions are presented on a brown nubuck leather strap.
Breitling CEO Georges Kern points out how the Premier Wheels and Waves Limited Edition watch brilliantly reflects his brand's partnership with the festival: "With this chronograph, we have created a very special version of our Premier, which is Breitling's most elegant watch family. At the same time, they reflect the things we love about Wheels and Waves: the energy, the lifestyle, and, as I've said before, the coolness."
Breitling and the sports showcased at Wheels and Waves
Some special guests were on hand to help Breitling celebrate Wheels and Waves. The brand was joined by celebrated French actor, director, screenwriter, and motorcycle enthusiast Guillaume Canet, Swiss top model Ronja Furrer, and WSL surfer Jérémy Florès, who is a member of Breitling's French Squad.
On Thursday evening, a graffiti wall, with a Wheels and Waves-themed painting by artist Tristan Barroso, was unveiled at the Artride event. Georges Kern welcomed his guests and introduced the Premier Wheels and Waves Limited Edition watch.
On Friday, there was a Breitling Surfers Squad lesson with Jérémy Florès, who generously shared tips with participants of all levels. Some of Breitling's guests were involved not only with the surfing tutorial, but also in the Deus Swank Rally Enduro Race on Friday, along with Breitling CEO Georges Kern and Guillaume Canet. A dedicated Breitling ride was followed by the main race, whose winner was presented with a Breitling watch.
The Wheels and Waves festival, with its unique focus on surfing and motorcycling, represents an ideal opportunity for Breitling to showcase its close links to both sports. Breitling already enjoys a partnership with Norton Motorcycles, the world's oldest motorcycle brand, and it has a long and strong association with motor sports, including a link to Bentley. In fact, the partnership between Breitling and Bentley is the world's longest-standing partnership between a watch brand and an automobile manufacturer.
Meanwhile, the Breitling Surfers Squad, which consists of world stars Kelly Slater, Stephanie Gilmore, and Sally Fitzgibbons, has elevated Breitling's profile on the surfing scene. Indeed, Breitling is also set to serve as Official Timekeeper at the 2019 World Surf League's Freshwater Pro in Lemoore, California.
Wheels and Waves – a new Breitling tradition
Breitling has always been a luxury watch brand, but in terms of its attitude, style, and the sports it supports, it is truly inclusive. At Wheels and Waves, thousands of visitors had a chance to interact with the brand and they were able to identify with Breitling, its stories, and its Squads. In Biarritz, Breitling took its message directly to the people, engaging men and woman of action, purpose, and style.
Breguet Type 20 Only Watch 2019
This year once again, Breguet joins Only Watch, the major international charity project sponsored by the Monegasque Association against Muscular dystrophy. This biannual event has been held since 2005 and has benefited from the support of Breguet and the high patronage of HRH Prince Albert II since the very beginning. An exceptional auction sale conducted by Christie's will be taking place in Geneva for the benefit of medical research on muscular dystrophy on Saturday, November 9, 2019.
In homage to both watchmaking and aviation, Breguet is reissuing a unique version of its Type 20 pilot chronograph from the fifties in a form that is very faithful to the original, both esthetically and mechanically.
The dial of the watch is inspired by the very rare civilian and military models with a bronze-colored dial sold at the time. Its steel case preserves the historical diameter of 38.30 mm, the unique curved horns with lateral bevel, and the pear-shaped crown, typical of the first-generation military models delivered to the French Air Force and Naval Air Force. The Type 20 Only Watch 2019 is faithful not only visually to the watch that it is inspired from, but also in its movement: the Valjoux 235 13 lignes, which is derived directly from the Valjoux 222 14 lignes used in the fifties. The movement blank of this manually wound, column-wheel chronograph was restored back to working order, so as to ensure the Type 20 Only Watch 2019 is endowed with the same proportions and functions. This movement is, of course, fitted with the flyback function, without which it could never be a true Type 20 pilot chronograph.
Hublot Special Edition Timepiece For Morocco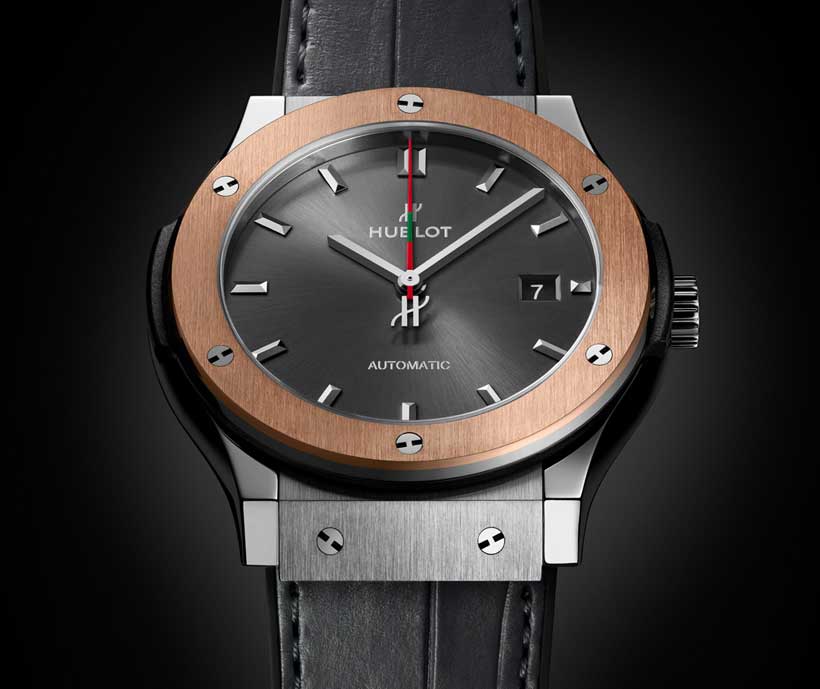 The Hublot boutique in Casablanca has been redesigned in line with the brand's new architectural concept inspired by the Art of Fusion, combining luxury with modernity, innovation with tradition, and now invites its customers to a more welcoming space. To mark this occasion, Ricardo Guadalupe, CEO of Hublot, and David Tedeschi, Regional Director for Latin America & the Caribbean and the Middle East & Africa, joined Kamal Sefrioui, Chairman and CEO of Mystère, partners of the brand in Morocco, in welcoming customers, watch collectors and members of the press at the boutique. An exclusive timepiece, the Classic Fusion 42 mm "Morocco" Special Edition, has been created on this occasion in honour of Morocco.

We are delighted to have a Hublot boutique in Casablanca. This new space perfectly reflects our brand codes. We are confident that our customers in Morocco will be enchanted by this limited edition timepiece.– Ricardo Guadalupe CEO of HUBLOT

Morocco has a rich history and culture; we wanted to pay tribute to the country with this special edition. We look forward to seeing the watch on the wrists of Hublot fans who have greatly supported the brand in the country.– David Tedeschi Regional Director for Latin America & the Caribbean and the Middle East & Africa

The boutique, located on Aïn Harrouda Avenue, was inaugurated during an official ceremony on June 18; guests had the opportunity to discover the boutique's exceptional new interior, created through a fusion of materials including glass, marble, metal, wood and leather. Large Pop Art paintings inspired by iconic models from the watch Manufacture give a nod to the world of art.

The Classic Fusion 42mm Special Edition "Morocco" is inspired by the Moroccan national flag. This watch, with its titanium case and 18K King Gold bezel, has a sport-luxe look while remaining classic. The timepiece is dotted with subtle references in the colours of the Moroccan flag; the dial has a red and green seconds hand, and the case back crystal features a tracing of the flag's iconic green pentagram on a red background.

This limited edition of 25 pieces has been created to mark this occasion and will be available to customers of Hublot and Mystère in Morocco.
Saluting science with a space pioneer
Created in 2011 to help the public understand and appreciate science, Starmus Festival has included performances and presentations from astronauts, cosmonauts, Nobel Prize winners and prominent figures from science, culture, the arts and music.
A worthy goal OMEGA supports, by proudly sponsoring the Stephen Hawking Medal, one of the world's most celebrated science communication awards.
This year, the four winners were Elon Musk, Brian Eno, the makers of the documentary Apollo 11 – and the man who knows the story of the first lunar landing better than anyone – NASA legend Buzz Aldrin, who received the Lifetime Achievement Award.
In addition to the medal, each recipient is gifted a Speedmaster Moonwatch "First OMEGA in Space", complete with a unique caseback design.
Attendees of Starmus also enjoyed the company of another Apollo legend: CAPCOM of Apollo 11, LM Pilot of Apollo 16, and OMEGA ambassador – Charlie Duke.