IEA Technology Collaboration Programme holds its third universal meeting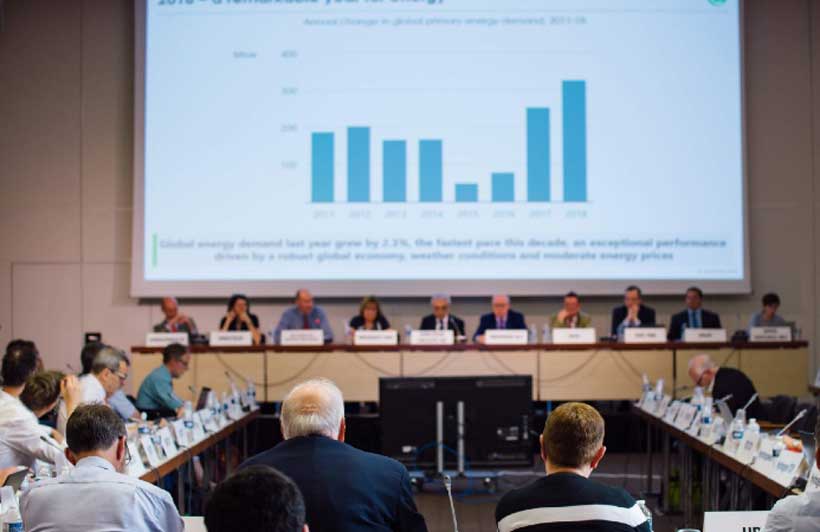 Leading energy experts from the public and private sector gathered in Paris on 18 and 19 June for the third universal meeting under the International Energy Agency's Technology Collaboration Programme (TCP).
Innovation is an essential underpinning of energy sector transitions worldwide. Given the growing complexity and interconnection of energy systems, cooperation and networking can increase effectiveness and maximise the impact of innovation efforts.
"2019 is a key year for innovation at the IEA," said Dr Fatih Birol, the IEA's Executive Director. "A more integrated and holistic approach to energy technology innovation is required to reach a sustainable energy future, which means even more partnerships among those in this room."
For more than 40 years, the vast amount of research and technology analysis carried out under the TCP network has provided a vital contribution to advancing clean energy technologies worldwide. The TCP currently has some 6,000 participants representing 300 government and industry entities from 54 countries, demonstrating the reach of the TCP's global innovation network. This body of knowledge supports high-level debates and real-world actions.
The first day of this week's event was jointly hosted by the IEA Committee on Energy Research and Technology and the IEA Standing Group on Long-Term Co-operation. It brought together policy and decision makers to share experiences on disruptive innovation, technology trends, and partnerships between governments, the private sector and other energy stakeholders.
The meeting provided an opportunity for innovators and strategic thinkers to discuss key trends, which will help to inform future IEA activities related to energy technology, research and innovation. That includes the preparations for the 2019 IEA Ministerial and the 2020 edition of Energy Technology Perspectives, one of the IEA's major publications.
At the meeting, the IEA unveiled new tools and online resources available under its energy innovation web portal, including a study mapping international partnerships relevant to energy technology innovation in order to identify synergies and foster strategic engagement across initiatives. The IEA Secretariat also outlined plans for a major effort to modernise the TCP legal mechanism, further explore how the IEA can make better use of TCP work and improve communication across the TCP network.
Brazilian stakeholders of UNIDO-GEF project trained on biogas
The United Nations Industrial Development Organization (UNIDO), the Ministry of Science, Technology, Innovations and Communications (MCTIC), and the International Center of Renewable Energy (CIBiogás) trained members and partners of the Steering Committee of its GEF Biogas project on the biogas value chain in Brazil – a renewable source of energy produced from the decomposition of organic waste generated by various enterprises, such as farms and restaurants.
"The potential use of biogas arises from the need to pursue sustainability in agribusiness; at the same time, it represents an opportunity for local economic development", said UNIDO Project Management Specialist Bruno Neves. "Organic waste generated by the Brazilian agricultural production can result in economic, social and environmental gains as the benefits of biogas production can both be internalized by producers and be made available in the form of thermal energy, fuel and electricity".
Representatives from the Ministry of Agriculture, Livestock and Supply (MAPA); the Ministry of Environment (MMA); the Ministry of Mines and Energy (MME); the Ministry of Planning, Development and Management (MP); the Brazilian Micro and Small Business Support Service (SEBRAE); the Energy Research Company (EPE); the Brazilian Cooperation Agency (ABC); the National Agency of Petroleum, Natural Gas and Biofuels (ANP); Itaipu Binacional and the German cooperation agency (GIZ) participated in the training.
"The main objective of the training was to raise the awareness of ministries and important institutional agents about the need to make rules around renewable energy generation more flexible", said CIBiogas CEO Rodrigo Regis. "Today, Brazil is very dependent on diesel and we have a growing demand for energy, which biogas can partly supply in a decentralized way, and can develop a new economy for the country, thereby generating jobs, income, development and progress".
The training included a visit to the Itaipu hydroelectric dam and to a demonstration unit supported by CIBiogas: with a breeding of five thousand pigs, the farm is capable of generating 770 cubic meters of biogas per day, resulting in savings of over US$1,000 per month in energy costs.
"The development of biogas is one of MCTIC's strategic priorities", said Rafael Menezes, Coordinator of Innovation at the Ministry's Secretariat for Entrepreneurship and Innovation. "The Brazilian potential for biogas and biomethane production is underexplored; we have to create public policies and a favorable environment so that we can increasingly tap into this potential".
The GEF Biogas project "Biogas Applications in Brazilian Agroindustry" foresees local and federal actions to stimulate the sustainable integration of biogas in the national production chain. It is financed by the Global Environment Facility (GEF) and aims to expand the production of renewable energy and strengthen national technology supply chains in the sector.
IRENA and UN Climate Change Join Forces to Accelerate Renewables as Climate Solution
The International Renewable Energy Agency (IRENA) and UN Climate Change (UNFCCC) are jointly ramping up efforts to fight climate change by promoting the widespread adoption and sustainable use of renewable energy. The new strategic partnership builds on a long history of cooperation that aims to ensure a low-carbon climate-resilient world in line with the Sustainable Development Goals and the Paris Agreement.
In a Memorandum of Understanding signed today in Bonn between the heads of IRENA and UN Climate Change, the two organisations have agreed to step up the exchange of knowledge on energy transition, collaborate more closely at expert meetings, increase capacity building to promote renewables and undertake joint outreach activities.
Patricia Espinosa, Executive Secretary of the UN Framework Convention on Climate Change (UNFCCC) said: "The rapid transition to clean energy is crucial to meet the central goal of the Paris Climate Change Agreement, which is to hold the global average temperature rise to as close as possible to 1.5 degrees Celsius.
Time is running out – we are already seeing worsening climate change impacts around the world –including unprecedented heatwaves – and we need to grasp all opportunities to rapidly deploy clean, renewable energy at scale to prevent the worst climate scenarios form becoming a reality."
Francesco La Camera, Director-General of the International Renewable Energy Agency (IRENA) added: "Falling technology costs have made solar, wind and other renewables the competitive backbone of energy decarbonisation and, together with energy efficiency, the most effective climate action tool available.
Renewable energy delivers jobs, delivers on sustainable development and will deliver a viable climate solution. The renewables-based energy transition provides a clear opportunity to increase ambition in the reviewing process of the national climate commitments under the Paris Agreement. IRENA will fully support countries in realising this opportunity on the way to COP25 in Chile this year and to COP26 in 2020."
UN Climate Change and IRENA are already working together to promote renewable energy, notably at expert meetings and through publications.
At a practical level, the organisations have jointly provided capacity building on renewable energy through training sessions, for example to several African countries.
IRENA is also one of the biggest supporters of the UNFCCC's Global Climate Action work, designed to mobilise climate-related activities of cities, regions, businesses and investors.
The new agreement is designed to build on this work, and to expand regional activities in the field of clean technology.
African Development Bank helps power wind of change in Kenya
Africa's largest wind farm, a €620 million energy masterpiece boosting 365 turbines in northern Kenya, will help the East African nation stay on track to reach its target of 100% green energy by 2030.
Known as the Lake Turkana Wind Power, the 40,000 acre wind farm will generate around 310 megawatts of power to the national grid, enough to light up over 300,000 households.
The winds sweeping the area start in the Indian Ocean and are channeled through the "Turkana corridor" created by Ethiopian and Kenyan highlands. They blow consistently at 11 miles per hour, making this an ideal area for situating wind turbines.
The wind farm will increase the country's electricity supply by 13%. At its launch earlier this month, President Uhuru Kenyatta said, "We again raise the bar for the continent …Kenya is without doubt on course to be a global leader in renewable energy."
The African Development Bank served as lead arranger for €436 million in senior credit facilities towards the project cost of €623 million euros. The Bank also provided a partial risk guarantee from the African Development Fund of €20 million for the part of the project devoted to the transmission lines.
Since 2016, the Bank has invested around $4.5bn of its own resources in the energy sector.
African Development Bank President Akinwumi Adesina is in little doubt about the significance of the Bank's funding. "African economic development is all about political will. We have little time and much to do for the continental transformation needed to light up and power Africa by 2025. Projects like the Lake Turkana Wind Power allow us to leap forward towards our key objectives. The Bank is very proud to be associated with this crucial addition to African infrastructure and clean energy generation".
The continent has copious, even limitless, supplies of sun, water, and wind, as well as significant amounts of natural gas and other valuable natural resources and raw materials. Acccordingly, its New Deal is investing $12 billion over the next five years and leveraging up to $55 billion to achieve universal access to energy by 2025.
"This is a milestone that we are proud to celebrate. Kids can't learn much in the dark. School books have to be put down when the sun sets. Life-saving vaccines can't be preserved. Nurses and mid-wives have to deliver babies using lanterns or torches", said Wale Shonibare, the Bank's acting Vice–President for power, energy, climate change, and green growth.
"Turkana's launch proves that we are determined to continue to work relentlessly to close Africa's energy gap. Our efforts will be felt in hundreds of thousands of Kenyan households and beyond", Shonibare added.
The site is Kenya's largest renewable energy project and its biggest single private sector investment. The plant is expected to reduce power shortages by 12.5% and cut the cost of electricity in Kenya by up to 10%. It is proof of Kenya's commitment to pursue clean sources of energy and provides a major boost to the country's international commitments to lower greenhouse gas emissions.