Globalisation: How the EU's trade policy helps to promote human rights
Globalisation and international trade can affect human rights, so the EU's trade policy include tools to protect them. Find out how.
International trade and globalisation have great potential to create jobs in the EU and beyond. Yet, growing global competition can endanger human rights by for example leading to worker exploitation. As human rights are a priority of its foreign policy, the EU uses its trade policy to promote and protect human rights in non-EU countries through preferential trade deals, as well as unilateral trade restrictions.
Preferential trade access
One of the EU's main tools to protect human rights and labour rights in non-EU countries is the Generalised System of Preferences (GPS). This scheme grants 90 developing countries preferential trade access to the EU market. However, this depends on them respecting human rights. Access can be withdrawn when systematic violations occur.
The EU's strategy is to encourage gradual progress through dialogue and monitoring. Sanctions are used only in extreme cases. Suspension of GSP preferences has occurred three times: with Myanmar in 1997, Belarus in 2007 and Sri Lanka in 2010.
While the scheme has led beneficiary countries to make legislative and institutional changes to promote human rights, implementation has been slower in a number of countries.
Trade restrictions
The EU can also impose unilateral trade restrictions or set due diligence obligations for importers to ensure that money from trade with the EU is not being used to fund conflict and human rights violations in these countries.
The EU also has strict rules to prevent the use of European goods and technologies for unethical intentions elsewhere, for example medical substances that could be used in executions..
Imports of items whose production is related to human rights violations are also restricted, including conflict minerals and objects that can be used for torture.
Import ban on conflict minerals
The EU has taken steps to ban the import of conflict related minerals.
In 2002, after recognising the impact international trade in diamonds has on human rights, the EU adopted rules that ban all imports of rough diamonds without a certificate of origin. Similarly, minerals, used in the production of, for example high-tech devices, often stem from countries afflicted by conflict. The revenue gained from minerals exported to the EU often sustained armed revolts.
To prevent the international trade in minerals from funding conflict and human rights violations, MEPs adopted in 2017 rules obliging EU importers of tin, tungsten, tantalum and gold to carry out due diligence checks on their suppliers. The regulation will be fully in force from 2021.
Export ban on torture goods
EU rules ban any trade in goods and services that may contribute to torture or execution.
Since 2004, an export control system is in place, which checks and prohibits goods that may be used to treat people badly. Authorisation is necessary for items that have legitimate purposes but that can also be used for human rights violations, such as medicinal substances.
The rules also include a ban on the marketing and transit of equipment used for cruel, inhumane and degrading treatment that have no other practical use than execution or torture, such as electric chairs or automatic drug injection systems.
Export control for trade in items that can be used to violate human rights
The EU has rules to ensure that products and technologies originally produced for civilian use in Europe cannot be used to violate human rights. Dual-use items are goods, software, or technology that, besides their original purpose, can be abused. Examples of other uses include developing weaponry, committing terrorist attacks, spying on people, or infiltrating computer systems, hacking computers, or intercepting mobile phones.
An update of the rules is being discussed featuring stricter export controls, brokering, transit and transfer of dual-use items and taking into account technological developments. Export controls are facilitated by a common EU list of dual-use items.
EU rules to prevent worker exploitation
In 2017, Parliament adopted a resolution calling for EU rules obliging textile and clothing suppliers to respect workers' rights. It proposed a due diligence obligations system, meaning investigation into the standards of human rights before entering a trade agreement. Non-EU countries would have to comply with EU norms to produce sustainable and ethical textiles. Parliament also wants the EU and member states to promote International Labour Organisation standards on wages and working hours with partner countries in the garment sector.
Child and forced labour
A 2016 Parliament resolution calls for ways to trace evidence of forced and child labour. Measures include labelling child-labour-free products, giving trade preferences to countries that meet certain labour standards and prohibiting the import of products made by child labour.
The implementation of an effective traceability mechanism would steer towards a complete ban on such products. The resolution also calls for the combating of forced and child labour to be included in the trade and sustainable development chapters of EU agreements to promote human rights through international trade.
Fresh evidence of war crimes committed by all sides in Syrian conflict, probe finds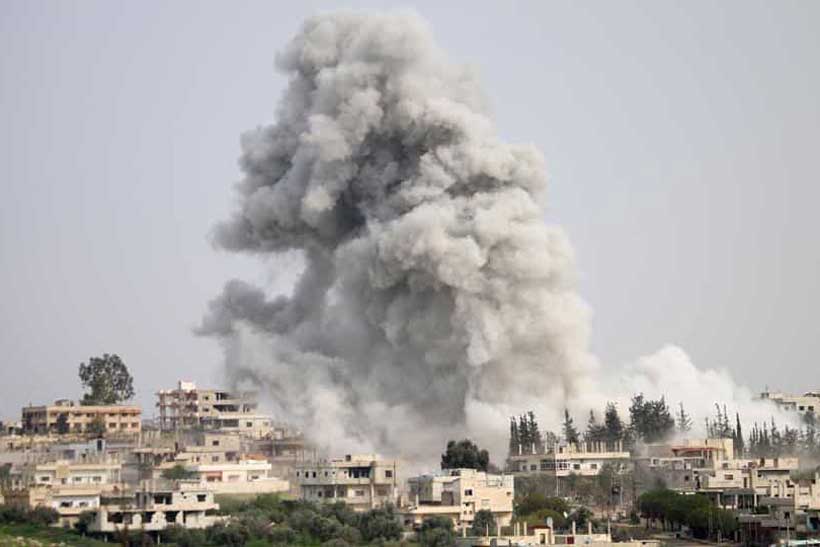 In its latest report, the Commission of Inquiry on Syria highlighted the military campaign launched late last year in Idlib Governorate by pro-Government forces, to retake the last remaining areas under armed groups' control.
'Spreading terror'
The Commissioners also maintained that UN-designated terrorist group Hayat Tahrir al-Sham (HTS) indiscriminately shelled densely populated civilian areas, "spreading terror" in Government-held areas.
"It is completely abhorrent that, after more than nine years, civilians continue to be indiscriminately attacked, or even targeted, while going about their daily lives", said Commission Chair Paulo Pinheiro.
Bombarded while fleeing
"Children were shelled at school, parents were shelled at the market, patients were shelled at the hospital…entire families were bombarded even while fleeing", he continued. "What is clear from the military campaign is that pro-government forces and UN-designated terrorists flagrantly violated the laws of war and the rights of Syrian civilians."
Alongside the Russian air force, Syrian Government troops "carried out air and ground attacks which decimated civilian infrastructure, depopulated towns and villages", killing hundreds of women, men and children, said the commissioners, who report to the Human Rights Council in Geneva.
International law flouted
Numerous locations protected by international law in the country's northwest were destroyed in aerial and ground attacks, some involving cluster munitions, according to their report.
It details how from November 2019 to June this year, 52 attacks by all parties included 17 on hospitals and medical facilities; 14 on schools, 12 on homes and nine on markets.
If proven in court, such acts would amount to the war crimes of launching indiscriminate attacks, and deliberate attacks on protected objects, the investigators maintained.
Mass displacement
Beginning in the second half of December and mid-February, "widespread and indiscriminate" bombardment carried out by pro-government forces on Ma'arrat al-Nu'man and Ariha in Idlib governorate, as well as Atarib and Darat Azza in western Aleppo, led to mass displacement, according to the report.
Civilians had no choice but to flee, the Commissioners said, adding that this may amount to the crimes against humanity of forcible transfer, murder and other inhumane acts.
Detained, tortured, executed
When people fled, HTS terrorists pillaged their homes, the investigators continued, and "as battles waged, they detained, tortured, and executed civilians expressing dissenting opinions, including journalists".
Female media workers were doubly victimized, as the terrorist group continued to discriminate against women and girls, including by denying their freedom of movement.
"Women, men and children that we interviewed faced the ghastly choice of being bombarded or fleeing deeper into HTS-controlled areas where there are rampant abuses of human rights and extremely limited humanitarian assistance", said Commissioner Karen Koning AbuZayd. "The acts by HTS members amount to war crimes."
In an appeal for the nearly one million highly vulnerable civilians displaced by the conflict in Idlib governorate who now face added threat of COVID-19, Commissioner Hanny Megally urged all parties to the conflict to cease attacks on civilians and civilian objects.
"Now more than ever, civilians need sustained and unfettered access to humanitarian assistance which must neither be politicised by Member States nor instrumentalised by parties to the conflict. Pandemics know no borders, neither should life-saving aid," Mr. Megally said, while also urging Member States to pursue accountability for crimes outlined in the report.
The Commission's report is scheduled to be presented on 14 July to the Human Rights Council during its current 44th session.
Exploring migration causes: Why people migrate
People migrate for many reasons , ranging from security, demography and human rights to poverty and climate change. Find out more.
The number of people residing in an EU country with the citizenship of a non-member country on 1 January 2019 was 21.8 million, representing 4.9% of the EU-27's population. A further 13.3 million people living in one of the EU27- countries on 1 January 2019 were citizens of another EU country.
Push and pull factors
Push factors are the reasons people leave a country. Pull factors are the reason they move to a particular country. There are three major push and pull factors.
Socio-political factors
Persecution because of one's ethnicity, religion, race, politics or culture can push people to leave their country. A major factor is war, conflict, government persecution or there being a significant risk of them. Those fleeing armed conflict, human rights violations or persecution are more likely to be humanitarian refugees. This will affect where they settle as some countries have more liberal approaches to humanitarian migrants than others. In the first instance, these individuals are likely to move to the nearest safe country that accepts asylum seekers.
In recent years, people have been fleeing to Europe in large numbers from conflict, terror and persecution at home. Of the 295,800 asylum, seekers granted protection status in the EU in 2019, over a quarter came from war-torn Syria, with Afghanistan and Iraq in second and third place respectively.
Demographic and economic factors
Demographic change determines how people move and migrate. A growing or shrinking, aging or youthful population has an impact on economic growth and employment opportunities in the countries of origin or migration policies inthe destination countries.
Demographic and economic migration is related to labour standards, unemployment and the overall health of a country's' economy. Pull factors include higher wages, better employment opportunities, a higher standard of living and educational opportunities. If economic conditions are not favourable and appear to be at risk of declining further, a greater number of individuals will probably migrate to countries with a better outlook.
According to the UN International Labour Organization, migrant workers – defined as people who migrate with a view to being employed – stood at roughly 164 million worldwide in 2017 and represented nearly two thirds of international migrants. Almost 70% were found in high-income countries, 18.6% in upper middle-income countries, 10.1% in lower middle-income countries and 3.4% in low-income countries.
Environmental factors
The environment has always been a driver of migration, as people flee natural disasters, such as floods, hurricanes and earthquakes. However, climate change is expected to exacerbate extreme weather events, meaning more people could be on the move.
According to the International Organization for Migration, "Environmental migrants are those who for reason of sudden or progressive changes in the environment that adversely affect their lives or living conditions, are obliged to leave their habitual homes, either temporarily or permanently, and who move either within their country or abroad."
It is hard to estimate how many environmental migrants there are globally due to factors such as population growth, poverty, governance, human security and conflict, which have an impact. Estimates vary from 25 million to one billion by the year 2050.
New EU migration pact
Managing migration effectively to deal with asylum seekers and protect external borders has been an EU priority for many years. The European Commission is set to propose a new pact on migration and asylum this year. The Parliament has been advaocating an overhaul of EU asylum rules to ensure greater solidarity and fairer sharing of responsibility among EU countries.
Parliament's civil liberties committee is currently working on a report on new avenues for legal labour migration. MEPs underline the need for legal paths to reduce irregular migration and fill labour market gaps and for a harmonised EU policy. The committee is also calling for the Common European Asylum System to be complemented by a European Union Resettlement Framework and humanitarian corridors.
Impacts of COVID-19 disproportionately affect poor and vulnerable
Addressing poverty eradication on Tuesday in front of the General Assembly, UN chief António Guterres warned that the impacts of the COVID-19 pandemic are falling "disproportionately on the most vulnerable: people living in poverty, the working poor, women and children, persons with disabilities, and other marginalized groups".
The virtual high-level UN meeting was billed as the first in a series of policy dialogues on ending poverty, and also served as the official inauguration of the Alliance for Poverty Eradication, an initiative of the President of the General Assembly, Tijjani Muhammad-Bande.
In his remarks, Mr. Guterres noted that the pandemic has "laid bare" challenges –such as structural inequalities, inadequate healthcare, and the lack of universal social protection – and the heavy price societies are paying as a result.
'People-centred' recovery
Ending poverty sits at the heart of the UN's 2030 Agenda for Sustainable Development, and is the first of the Sustainable Development Goals (SDGs). Despite this, poverty and hunger, as the UN chief reminded his audience, are on the rise, following decades of progress.
Economic recovery plans should prioritize at-risk workers, such as those in the informal sector; protect micro, small and medium enterprises, including those owned by women; and involve an expansion of universal social protection, said Mr. Guterres. The Secretary-General has also proposed a rescue and recovery package equivalent to more than 10 per cent of the global economy's overall value.
The UN chief called for improved international cooperation; more support for developing countries – by providing financial assistance, and relieving or postponing foreign debt – and for economies to be steered towards inclusive and green growth.
'A blot on humanity's conscience'
Addressing the meeting, Mr. Muhammad-Bande described poverty as a "blot on humanity's conscience", which is the underlying trigger of conflict and civil strife, and "the most formidable obstacle" realizing the SDGs. Research, he said, has shown that due to the sharp decline in economic activity resulting from the pandemic, more than 850 million people now risk falling into poverty.
The Alliance for Poverty Eradication, he continued, is designed to address the poverty question from all possible angles, and serve as a forum for networking, information-sharing, and bridge-building.
Mr. Muhammad-Bande pointed out that the Alliance would be the first UN group to promote ending poverty, and will provide a major opportunity to confront the challenge, which he described as "enduring, complex and multi-sided".