Armenia's position blurred the progress for the Nagorno-Karabakh conflict and leads to an escalation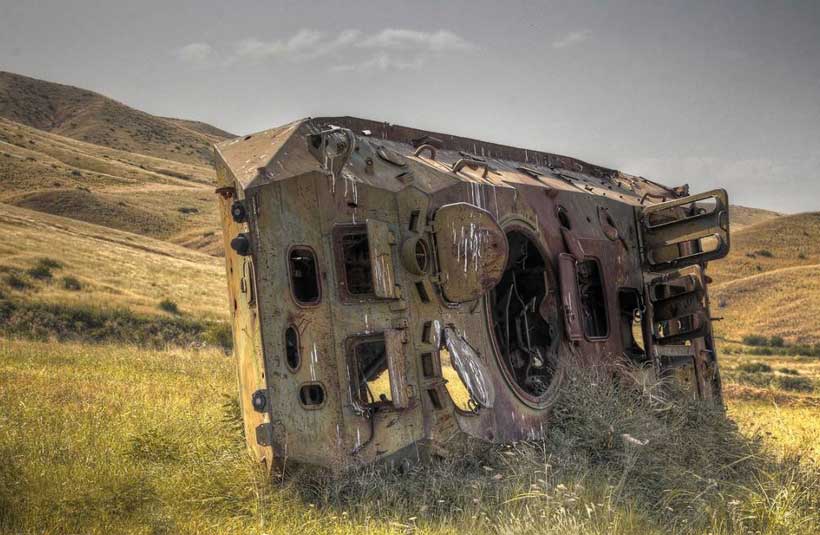 The conflict between two South Caucasus countries – Armenia and Azerbaijan over the Nagorno-Karabakh became as one of the bloodiest and long-lasting conflicts contributing to instability in the region. After a ceasefire agreement signed in 1994 halting the armed skirmishes in the Nagorno-Karabakh conflict zone, Armenia and Azerbaijan pursued, albeit a fragile, diplomatic negotiations to reach a peaceful end to this bloody conflict.
However, peace talks between Armenia and Azerbaijan mediated by the OSCE Minsk Group co-chairing countries (namely the US, France and Russia) have been lasting for decades without any tangible results to achieve total peace. The current status-quo in the conflict zone was mainly favored by Armenian leadership until today in order to continue illegal activities in the occupied territories and seek for legitimacy for its occupation policy. However, four-day April 2016 fights demonstrated once again that status quo in the Nagorno-Karabakh conflict zone is very indeed dangerous.
All these developments clearly show that the status quo in the conflict zone should be changed as soon as possible, because such situation cannot be kept "frozen" any more. Any tangible result on the conflict resolution requires, first of all, Armenia to take finally result-oriented actions in order to achieve peace and prosperity in the region.
Following the government change in Armenia in 2018 with the fall of the government of Serzh Sargsyan composed of so-called "Karabakh clan" and take-over of ruling by Nikol Pashinyan (as a new Prime Minister) through mass protests against corruption and cronyism in Armenia, there was hope that the new government in Yerevan would change the situation and choose peace instead of sticking to the previous government's policy of occupation.
The first high-level meeting (since the velvet revolution in Armenia) between Azerbaijan and Armenian foreign ministers took place on 11 July 2018 in Brussels with the mediation of the OSCE Minsk Group Co-Chairs. Actually, in the first meeting the Ministers discussed the certain parameters for re-engaging in substantive negotiations and vowed to take confidence-building measures. These meetings were conducted regularly until and after the first official meeting of head of states of Azerbaijan and Armenia in Vienna in 2019.
The first official meeting between Azerbaijan's President Ilham Aliyev and Armenia's Prime Minister Nikol Pashinyan was held on 29 March 2019 in Vienna. In an interview to the Russian TASS news agency President Ilham Aliyev noted "we have discussed the issues related to strengthening trust measures during contacts between people and the negotiating process should be supported by humanitarian measures". President Aliyev also emphasized that "it is of huge importance that the format of talks remained unchanged and only Armenia and Azerbaijan discuss their problems as it was many years before".
Prime Minister Pashinyan also regarded "the meeting as positive", but he ruled out "that there has been a breakthrough in the negotiation process, or an evolution".
Unfortunately, despite all aforementioned talks and positive thoughts, Pashinyan changed his position and started to support the previous Armenian policies on the conflict. Later, he even said that he will not engage in any discussions of "land for peace". Pashinyan also demands that the format of negotiations should be expanded from the current bilateral format to include officials from the separatist regime (so-called "Nagorno-Karabakh Republic") established in the occupied territories of Azerbaijan. It is very obvious that Pashinyan's that proposal aims to maneuver in the negotiations or to preserve the status-quo in the conflict zone. Whereas, it seems unacceptable for Azerbaijan when Azerbaijani population of Nagorno-Karabakh region, which were forced to leave their homes and became refugees, are not considered in this regard.
The process clearly illustrates that new Armenian government is not ready for compromise to reach a peace with Azerbaijan. Instead of constructive engagement, they opted for sticking to hate speech. For instance, during the UEFA Europa League Final in Baku (29 May 2019) Arsenal's player Henrikh Mkhitaryan (of Armenian origin) refused to visit Baku despite all high security guarantee promised by Azerbaijani government. His choice was regarded as being part of a "dirty" political game instead of playing football. Nikol Pashinyan even hailed his position in his twitter feed. Whereas, until now, many Armenian athletes participated at the Baku 2015 European Games, and many others at the international events hosted by Azerbaijan, and there were no threats and incidents for them.
In general, sportsmen may have a very positive role in conflict and hate situations. For instance, according to researchers from Stanford University, Liverpool's Egyptian football striker Mo Salah effect is having an impact beyond the stadium walls, who found a drop in hate crimes around Liverpool since Salah signed with the club in June 2017. Mo Salah often celebrates goals by dropping to his knees and touching his forehead to the grass in the sujood (an Islamic prayer position), while Liverpool fans have a chant that goes: "If he scores another few, then I'll be Muslim, too". Henrikh Mkhitaryan with arrival to Baku could also use this opportunity to convey a peace message to other Armenians.
The short-term environment of peace was deteriorated by another provocation by Armenia against Azerbaijan. On 30 May 2019, during the OSCE Minsk Group co-chairs' visit to Azerbaijan, Azerbaijani officer was killed by an Armenian sniper shot. On 9 June 2019 another Azerbaijani soldier was killed by the Armenian side, and Armenian Defense Minister awarded that who executed the Azerbaijani servicemen. These military incidents were followed by proportional casualties in Armenians' side as well. Moreover, on June 12, 2019, Azerbaijan's trainer plane has been detected and targeted by Armenian anti-aircraft missile system at the frontline (on Fizuli direction), but no incident was registered.
All aforementioned facts confirm that Armenian new government sticks to old mechanism, and all attempts to change the format of negotiations to present de-facto Nagorno-Karabakh as an independent party are just a maneuver to maintain the status-quo in the conflict. It is necessary to consider that, the conflict hitherto causes violence and human suffering for both nations, and without tangible results, further civil and military causalities will be from both sides. Both Armenian and Azerbaijan people suffered enough from this bloody conflict, and it is very time to achieve a peace in the region. As the Armenian journalist, social activist Susan Jaghinyan emphasized – "Sargsyan and Kocharyan destroy[ed] the people, if they continue[d] their rule, the Armenian people [would] not exist in the future". After Velvet Revolution, Armenian people managed to change a regime, and now Armenian new government has all chances to prepare its population for peace and benefit from the regional economic cooperation. As soon as the Nagorno-Karabakh conflict resolves, the Armenian people will be able to benefit from the opportunities of the current regional economic cooperation of Azerbaijan with other partners.
Geopolitics of Dual Citizenship: Case of Georgia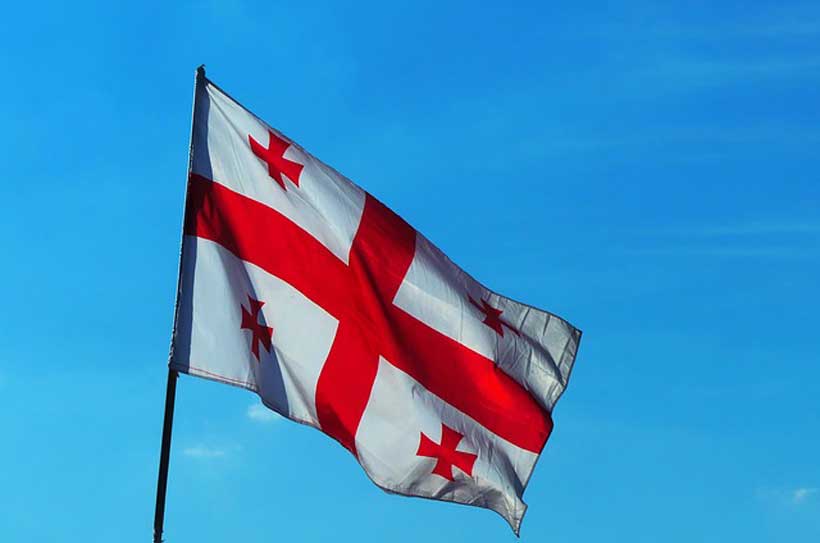 Authors: Prof. Dr. Tedo Dundua, Dr. Emil Avdaliani
Dual citizenship emerges as a geopolitical concept. Small states seeking political and military security could attain guarantees through the spread of dual citizenship. Below are examples from Roman history with a separate case made for modern Georgia.
Dual citizenship seems to be a way small European nations should feel safe within a framework of the European integration, whereas a responsibility for a personal security lays upon an allied country too. A research of historical background must be involved thoroughly, Georgia being an object for this case. If a foreign citizenship was a traditional honorary degree passed from the European principal domains towards the provinces, the countries being tied up formally, it should not be abandoned at all, and put under a scrupulous legislative elaboration.
"Serapita, daughter of Zevakh the lesser pitiax (duke), and wife of Iodmangan, son of Publicios Agrippa the pitiax, victorious epitropos (commander-in-chief and the only minister) of the Great King of the Iberians Xepharnug, died young, aged 21, and she was extremely beautiful" (Г. В. Церетели. Армазская билингва. Двуязычная надпись, найденная при археологических раскопках в Мцхета-Армази. Тбилиси. 1941, pp. 23-24).
This Greek text was carvedon tombstone from Mtskheta (East Georgia), the Iberian capital. It is prolonged by the Aramaic version (Г. В. Церетели. Армазская билингва. Двуязычная надпись, най­денная при археологических раскопках в Мцхета-Армази, pp. 22-23). Epitropos corresponds to the Aramaic trbṣ, which occurs to be used also towards Agrippa, now trbṣ of the king Pharsmanes (Г. В. Церетели. Армазская билингва. Двуязычная надпись, най­денная при археологических раскопках в Мцхета-Армази, p. 32). Agrippa seems to be a very big man, and because of his Roman nomen Publicius – also a Roman citizen.
In the old times civitas sine suffragio gave to Rome a direct control of her allies' troops without destroying local (i.e. Italian) res publica. "Latin Rights" were regarded as something intermediary between peregrine status and Roman citizenship. Inside his own community the Latin was subject of the local laws, and a free man. The allies fought on the Roman side, but her own army consisted of the Roman and the Latin forces. The rests are simply socii (A. N. Shervin-White. The Roman Citizenship. Oxford. At the Cla­redon Press. 1939. Second Edition. Oxford. 1973, pp. 46, 73, 96, 98, 109).
From the 2nd c. B.C. Rome was beginning to govern Italy. Magistrates who had supreme power over the Latin military forces, were also the civil heads of the Roman state. The local authorities performed the demands of the central government (A. N. Shervin-White. The Roman Citizenship, p. 105).
After SocialWar it was as communities and not as individuals that the Italian allies were incorporated in the Roman commonwealth, they became self-governing municipias. Each new citizen had a double existence, but these two lives were bound together by the most intimate of bonds. New municipias are the old tribes (A. N. Shervin-White. The Roman Citizenship, pp. 150, 153).
Then the enfranchisement of Gallis Cisalpins followed. From 42 B.C. onwards in Roman usage Italia came to mean the whole territory of the peninsula from the straits of Messina to the Alpine foothills (A. N. Shervin-White. The Roman Citizenship, p. 159).
Under Caesar and Augustus comes the first large-scale extension of the Roman citizenship in the provincial areas. This extension is based upon the firm foundation of a genuine Italian immigration. Besidethis stands the extensive grants of Ius Latii in the more Romanized areas of Spain and Gaul. The method is as follows – inserting a preparatory period of Latin status before the elevation of purely foreign communities to the full citizenship. The condition of a grant of Latin rights appears to have been the possession of a certain degree of Latin culture (A. N. Shervin-White. The Roman Citizenship, pp. 225, 233).
But then Caracalla gave the franchise to all free inhabitants of the Empire (A. N. Shervin-White. The Roman Citizenship, pp. 280, 287).
As to personal grants, Domitii, or Fabii, or Pompeii in the Western provinces are thought to drive their citizenship from grants made to their forebearers by Domitius Ahenobarbus, Fabius Maximus, or Pompeius Magnus, the generals (A. N. Shervin-White. The Roman Citizenship, p. 295).
Beyond the Roman rule, Caesar was the first to make a king Roman citizen (D. Braund. Rome and the Friendly King. A Character of the Client Kingship. Beckenham, Kent, Fyshwick, Australia. 1984, p. 45). This practice was maintained. For Britain tria nomina was as follows – Ti. Claudius Cogidubus, with Claudius or Nero being the benefactors; for Thrace – C. Iulius Rhometalcus, it is probable that he inherited his citizenship from a predecessor upon whom Caesar or Augustus had conferred it; for Pontus – M. Antonius Polemo, Antonius being a benefactor; for Judea – M. or C. Iulius Agrippa (D. Braund. Rome and the Friendly King. A Character of the Client Kingship, pp. 39, 41-42, 44).
Iberian case of Publicius Agrippa is very interesting. He was Pharsmanesminister and commander-in-chief. And Pharsmanes dealt with Hadrian. Roman general C. Quinctius Certus Publicius Marcellus is thought to be a benefactor, legatus divi Hadriani provinciarum Syriae et Germaniae superioris (Prosopographia Imperii Romani Saec. I. II. III. Pars VI. Consilio et Avctoritate Academiae Scientiarum Berolinensis et Brandenburgensis. Iteratis Curvis ediderunt Leiva Petersen, Klaus Wachtel. Adivvantibus M. Heil, K. P. Johne, L. Vidman. Berolini. Novi Eborau. MCMXCVIII, pp. 433-434, №№1038, 1042).
Hadrian sent his best generals against the Jews of Bar-Kokhba. Two inscriptions found in Ancyra in Galatia attest a senatorial legate of the legio IV Scythica in Syria, acting at the same time as the governor of Syria. He is Publicius Marcellus, who left his province because of the Jewish rebellion. Publicius Marcellus and part of the Syrian army participated in the war in Judaea. Another inscription from Aquileia informs that C. Quinctius Certus Publicius Marcellus was not only the consul, augur and legatus divi Hadriani provinciae Syriae et Germaniae superioris, but also that he received triumphal rewards, or ornamenta triumphalia. (W. Eck. The Bar Kokhba Revolt. The Roman Point of View. The Journal of Roman Studies. v. LXXXIX. 1999. Leeds, pp. 83, 85).
The revolt was dangerous, and a transfer of the legions from the different places to Judaea – an emergency measure. This state of emergency is reflected also in a striking measure: a transfer of the soldiers from classis Misenensis to the legio X Fretensis in Judaea. Since the possession of Roman citizenship was a prerequisite for enrolment in the legions (but not for service in other units of the Roman army, such as the two Italian fleets, the classis Ravennas and classis Misenensis), this meant that these marines were given civitas Romana on joining X Legion. The sources attest even conscription to fill the gaps not only in the legions serving in Judaea, which lost many soldiers, but also in other legions from where the units of the experienced soldiers were taken to strengthen garrisons of Judaea. Great losses were also incurred by the auxiliary forces in Judaea (W. Eck. The Bar Kokhba Revolt. The Roman Point of View, pp. 79-80). They were also to be filled up.
What conclusions are we to draw from all this?
Some of the Iberian units rushed towards South to help Romans with Agrippa from the Iberian royal clan in a command. And he was given civitas Romana, Marcellus being a benefactor.
Thus, citizenship of Publicius Agrippa, Iberian commander-in-chief, derived from a grant of C. Publicius Marcellus, Hadrian's governor of Syria. Moreover, Agrippa was not the only Georgian to be a Roman citizen.
A silver cup of the 2nd-3rd cc. records a name of the Iberian king Flavius Dades. Apparently a Roman citizen, he inherited his citizenship from a predecessor upon whom either Vespasian or Domitian had conferred it (Очерки Истории Грузии. т. I, p. 415; David Braund. Rome and the Friendly King. A Character of the Client Kingship, p. 43). Roman names like Aurelius are still vital in the 4th c. (Очерки Истории Грузии. т. I., p. 19).
Much of the Romans' long hegemony was spent in carrying through the major reform programs which were to set the pattern for most aspects of life in Europe for centuries to come. The Romans had a reputation for integration. Indeed, they installed Roman citizenship over the kings dwelling at the frontiers, especially the Eastern one. In the twilightof her greatness, showing every sign of disintegration, losing Gaul, Spain and Britain, the Empire still used this system, which proved to be comfortable while military campaigns in the East continued. So, the Georgian kings, sometimes possessing Roman citizenship, were,in effect, guarding the European borders (T. Dundua. Georgia within the European Integration. Tbilisi. 2016, pp. 74-81).
Dual Citizenship as a Tool for National Security
Historically, most countries tried to discourage dual citizenship by requiring newcomers to renounce their country of origin citizenship in order to naturalize, and origin countries took away citizenship if emigrants became naturalized citizens of other states. Nowadays possessing citizenship in more than one country has become common.
There is a number of benefits dual citizens can receive: social service systems, voting and ability to run for office in either country. It also involves financial benefits as holders of dual citizenship are usually also allowed to work in either country.Having a citizen's passport eliminates the need for long-stay visas and questioning about the purpose of your trip.Another benefit of dual citizenship is the ability to own property in either country as some countries restrict land ownership to citizens only.
Beyond that dual citizenship also has clear geopolitical ramifications. In this way smaller states can be defended by a bigger state. Georgia, since the break up of the Soviet Union, has been pursuing a pro-Western policy. This includes NATO and EU membership efforts. However, this policy brought troubles as Georgia experienced separatist wars in Abkhazia and Tskhinvali Region helped by the Kremlin and an outright Russian military invasion in 2008. NATO/EU membership pursuit is thus damaged for the moment and Georgia is vulnerable militarily and security-wise.
One of the possibilities for Georgia to correct this geopolitical dilemma would have been a dual citizenship for Georgians. As in the Roman times when the Empire was dominant and the bestowal of citizenship was not only a sign of friendship, but also a political connection (vow of protection), so could, for example, the extension of the US citizenship onto Georgia provides the latter with some more concrete security umbrella. Israel is a good case to discuss as the country has, by some estimates some up to 1 million citizens holding US citizenship.
The countries use the dual citizenship for their geopolitical interests. Take Russia which has been encouraging since the 1990s the distribution of Russian passports to separatist regions along its borders. As a result, the majority living in Abkhazia, Tskhinvali Region, Ukraine's Donbas, or in Transnistria are Russian citizens which put them under Moscow's protection. To counter this, a dual US-Georgian citizenship for Georgians could work. This would have to involve direct security obligations from the US side: enlarging security and military cooperation with Georgian government etc. This will not be easy as the security obligations through the dual citizenship strategy for Georgia would potentially put the US in direct collision course with the Russians.
Nevertheless, the dual citizenship is an emerging concept in the world politics, which can be used by larger states to protect smaller ones which are vulnerable militarily. As the case of the Roman Empire showed, the concept was present in Ancient period, covering the territory of Georgia. As argued above, it can be re-used in modern times too to provide security to Georgia.
Author's note: first published in Georgia Today
Is Azerbaijan a "middle power"?
"Middle powers" have been on the forefront of many international initiatives that demand coordination of resources and promotion of values. Traditionally, middle powers are named so because they are neither great, nor small. Scholars in the field, however, see "middle powers" beyond their mere geographic meaning and rightly so portray their importance not only in terms of their physical criteria. In an attempt to classify, some scholars like Marijke Breuning divide states into great/superpowers, middle powers, regional powers and small powers, with "middle powers" defined as the "states that can wield a measure of influence, albeit not through the projection of military might".
It is stated that "middle powers" are usually affluent states that employ their resources to foster peace and lessen global economic inequality" and are norm entrepreneurs that "advocate for the adoption of certain international standards and work diplomatically to persuade the representatives of other states to also adopt these norms".Carsten Holbrad in his identical work defined "middle powers" as "… moderating and pacifying influences in the society of states, reducing tension and limiting conflict among the great powers; or as principal supporters of international organizations, evincing a particularly high sense of responsibility.
Such countries play a role in the area of international development cooperation and the decision-makers of such countries advocate for more developmental aid and sustainable development. As examples to such states are said to be Canada, the member of the G8 and who has self-proclaimed itself as a middle power, to portray its role in international environment; Norway, who for instance facilitated negotiations between the representatives of Israel and Palestine in the run up to Oslo Accords in 1993. Netherlands and Sweden also claim to as norm entrepreneurs, for the work they do that fall into this category, especially in the field of mediation and good offices, and environmental issues. There is no consensus on the eligibility criteria, however, and often advanced countries of the world with purposeful activism on international affairs make their names to the list.
Another interesting element in this categorization is the distinction that some authors drive between the concepts of "middle power" and small states. It is underscored that the latter is not so easily defined, covers diverse group of states and is not solely confined to geographic size,as it is a "relative concept". In this context, small states are described "as those that have a rather limited capacity to exert influence on other states" and rarely resort to force in international relations.
In this work I would like to argue that despite its relatively small geographic size, Azerbaijan, a country in the South Caucasus, is also assertively making its name as a "middle power". The country has come a long way to become a regional leader with all the energy and infrastructure projects that it is implementing together with its international partners, such as Baku-Tbilisi-Ceyhan and Baku-Tbilisi-Erzurum oil and gas pipelines and Southern Gas Corridor (SGC) megaproject, expected to be completed in 2020.
However, those projects are not merely profit-oriented, they also aim to contribute to energy security and stability of wider neighborhood and regions, including in Europe. Security means stability. Stability and profits facilitate sustainable development. However, merely energy and infrastructure projects aside, Azerbaijan's rising international profile in the recent years and its role as norm entrepreneur should be closely examined as the country, I would like to argue, has earned the title of "middle power" by virtue of its initiatives and emphasis on certain values that unite societies, alongside serving as a bridge between often competing geopolitical spaces.
The country has long made the promotion of tolerance and multiculturalism as one of its central slogans in international affairs and there is a specifically established International Center on Multiculturalism in Azerbaijan that implements initiatives and state's vision in this area. Azerbaijan declared 2016 as the year of multiculturalism. It is multiethnic and multi-confessional state where national minorities and freedom of religious belief is respected. Tolerance is therefore idiosyncratic to Azerbaijani society.
On another note, Azerbaijan's emphasis on multilateralism is no less important. Its belief in the power of international institutions and increasing weight in international affairs has elevated it to the non-permanent member status of the UN Security Council in 2012-2013. One of the hallmark initiatives promoted by Azerbaijan was the conduct of the high-level open debate on "Strengthening partnership synergy between the United Nations and the Organization of Islamic Cooperation (OIC)", during its second-term presidency over the Council in October 2013, which was the first ever high-level debate in the Council on this very topic.
Besides, Azerbaijan's faith in multilateralism is also manifested in the very recent initiatives it took to bring together countries of diverse as well as similar faith, identities and interests. In fact, it was also Azerbaijan, who initiated the creation of what now became the driving force behind the international efforts to stabilize the global oil market, – the OPEC+. As a matter of fact, the establishment of the united format of OPEC and non-OPEC countries amid the fluctuating oil prices in order to tackle the challenges in the global oil market stems from the idea by President Ilham Aliyev, which he proposed during World Economic Forum held in Davos, in January, 2016. He said that "it would be nice if the main OPEC and non-OPEC countries could come together and agree with each other". Azerbaijan's appeal to the concerned oil producing countries found a widespread support among the relevant oil producing states, and so it happened. The OPEC+ format has since been acting on the forefront of all the developments associated with the global oil market. Azerbaijan's emphasis on international cooperation, and importance it attaches to the role of international organizations paid well in this case for the common objectives of the oil-producing states as well as attaining a balance in the global oil market.
Its above initiatives testify to the fact that Azerbaijan has acted as a "middle power", norm entrepreneur that both "advocated for the adoption of certain international standards and work diplomatically to persuade the representatives of other states to also adopt these norms", as well as worked towards "… moderating and pacifying influences in the society of states,…; or as principal supporters of international organizations, showcasing a particularly high sense of responsibility.
Moreover, the country has acquired a valuable chance to assert itself as a "middle power" and norm entrepreneur also through the chairmanship in the Non-Aligned Movement (NAM) – the second largest entity after the UN with 120 members – for the period of 2019-2022, as well as of the Turkic Council, GUAM and TRACECA in 2020. The 7th Summit of the Turkic-Speaking States and the 18th Summit of the NAM under Azerbaijani chairmanship were held in October, 2019, while the 2nd Summit of World Religious Leaders was held in Baku in November, 2019. Possession of the central role in these organizations and once again focusing on the issues of religious tolerance and inter-faith dialogue gave Azerbaijan another opportunity to act as a norm entrepreneur and as a "middle power" that once again stand for multiculturalism, tolerance, inter-faith dialogue, multilateralism and global partnership by making its voice heard through such versatile institutions.  
Azerbaijan's initiatives with Turkic Council and NAM also continued in the COVID-19 induced realities. The online special meetings of the two organizations were convened in April and May, 2020, respectively, that focused specifically on the global efforts to deal with the consequences of pandemics and sought to unite with more specific actions in order to alleviate the negative effects of the COVID-19 on the member states of the two organizations. Focus on unity, multilateralism, international cooperation and commitment to common objectives was the crux of those meetings. It was repeatedly underscored that it is only through the effective multilateralism and consistent adherence to the common values that unite all affected states, will they be able to overcome these challenges. Azerbaijan also acted as a norm entrepreneur and "middle power" because it repeatedly stood for sustainable development, having allocated about 10 million US dollars to the World Health Organization (WHO) to support its efforts in the midst of the COVID-19, especially with the idea to help needy population in Africa, Asia and Latin America. Moreover, as noted above, the large-scale energy projects that Azerbaijan implements together with its international partners contribute to the energy security and sustainable development of its immediate neighborhood, as well as larger European continent.
Another distinctive feature of the "middle power" as defined in Holbrad's above work is "…reducing tension and limiting conflict among the great powers…". Azerbaijan has hosted meetings between Russia and its western partners several times in a row. The first such a meeting took place in April, 2018 between Valery Gerasimov, the head of Russia's General Staff, and NATO Supreme Allied Commander Curtis Scaparrotti, who met in Azerbaijan to discuss the situation in Syria, while the second one happened in December of the same year.
This practice continued in 2019 as well with a meeting between the Chief of the General Staff of the Armed Forces of the Russian Federation Army General Valery Gerasimov and NATO Supreme Allied Commander in Europe General Tod Wolters that took place in July in Baku, where the parties discussed issues on "European and global security, ways to prevent incidents between Russia and NATO and the prospects for resuming dialogue between military experts". They also discussed topics related to the fight against terrorism and maritime piracy, alongside also focusing on situations in Afghanistan and Syria. In November, 2019, a meeting was held in Baku between Chief of the General Staff of the Russian Armed Forces Valery Gerasimov with Chairman of the NATO Military Committee, Air Chief Marshal Sir Stuart Peach. In February, 2020, another meeting of Valery Gerasimov and NATO's Supreme Commander of Allied Forces in Europe Tod Wolters took place in Baku.
The choice of Baku for such meetings between Russia and NATO officials is not coincidental as Baku is increasingly proving itself as a geographic venue capable of accommodating diverse and often competing interests between different geopolitical spaces, thus once again hewing to the very definitions attested above to the concept of the "middle power".
In conclusion, there might be different outlooks in the scholarly literature as to what actually constitutes "middle power". The ones that are chosen for this work have given some description of the concept, sufficient to be utilized as analytical frameworks. In an attempt to argue whether Azerbaijan fits into the very concept of the "middle power", the work highlighted many initiatives and policies implemented by the country during the recent years, that have encapsulated on the values of cooperation, multilateralism, multiculturalism, inter-faith dialogue, sustainable development and a bridge for dialogue.
Objectively, our world would have been a better place had all the above values and initiatives been instilled into the very fabric of our societies and foreign policy choices. Widespread acceptance of these values and norms could in fact bring in more dialogue, understanding and peace to the anarchic nature of international system. Norm entrepreneurs – "middle powers" are therefore valuable for the premium they place on those or other types of value systems that build, unite, improve and consolidate our collective home. Seems like Azerbaijan is on the right track, and its ambition to qualify for norm entrepreneur and "middle power" should be taken at face value.
World transformation amid COVID-19: Will Georgia change political-military vector of its development?
The world is changing day by day. Today it is obvious to everyone that the world elite has to cope with a considerable number of challenges. The countries of South Caucasus region are also involved in the ongoing global transformations. As time goes by, rational citizens of Georgia, Armenia and Azerbaijan are becoming more and more aware of the need to establish an open and honest dialogue between the countries.
Of course, in the near future Armenia and Azerbaijan is unlikely to become allied partners. The potential for enhancing interaction between Azerbaijan and Georgia is much higher, especially when official Baku intends to contribute to the consolidation of the international community.
"We can defeat COVID-19 only by mutual support and joint efforts, avoidance of self-seclusion," said the President of Azerbaijan Ilham Aliyev, opening the Non-Aligned Movement Summit (NAM). This Movement unites 120 developing world states on the principles of non-participation in military blocs. It is the second largest international institution after the United Nations.
Georgia is not included in this number and, accordingly, remains aloof from the rapidly developing Non-Aligned Movement. Since the world struggle with COVID-19 pandemic requires the abandonment of all political borders, ideologies, ideas in the interests of universal values. This movement in the near future promises to become one of the most effective platforms for the exchange of views, global solidarity and cooperation. Considering the powerful resource potential of the continents – Asia, Africa, Latin America, – the Non-Aligned Movement gets a historic chance to transform to a prototype of an influential international association.
So, the role of President of Azerbaijan Ilham Aliyev in the global arena continues to grow, Azerbaijan becomes moderator of inter-regional and interstate relations, projects and initiatives.
Meanwhile, the Georgian government lives in past and hopes to join NATO. Representatives from the Department of Defense and the Defense Forces participate in videoconferences between representatives of the Alliance's military committee. The NATO command post is under construction in a suburb of Tbilisi. Over 2% of Georgian GDP goes to defense. Whenever the US or NATO seek support, the government readily responds to the call.
For 16 years, the contingent of Georgian troops has been in Afghanistan, the last rotation is made in early February 2020. At the same time 870 troops are serving at the base of Bagram, in Kabul and Mazar-e-Sharif. NATO is expected to continue to reduce the mission in Afghanistan after concluding peace agreements between the US and the Taliban.
Unlike NATO, the key principle of the Non-Aligned Movement is the recognition of the unconditional equality of all countries of the world and the inadmissibility of interference in their internal affairs. Here they know that the global population is able to withstand global threats only by joint efforts and do not want to waste time wasting on "sabre-rattling".
So far, the Georgian government is not morally ready to admit that this principle is future and it is rapidly becoming the present. The NATO military bloc strategy is becoming obsolete every day. The steps for its development lag behind the changing geopolitical, economic and environmental conditions.
Georgia continues to be dependent on financial assistance from the US and EU countries. Such an international donation as "cheese in a mousetrap", that is difficult to quit. Unlike the decisive and enterprising President of Azerbaijan Ilham Aliyev, the Georgian leadership, unfortunately, is in no hurry to take measures and is only working on an anti-crisis plan. There is also no information on the joint actions of Tbilisi and Baku to overcome the coronacrisis. Borders are closed. Video conferences are not held in this format. And therefore, unfortunately, the story of deep transformation does not yet reach Georgia.