A Vision of Sustainable Middle Eastern Design at Four Seasons Hotel Abu Dhabi
Discover a vision of modern Middle Eastern Design at Four Seasons Hotel Abu Dhabi at Al Maryah Island. Developed in conjunction with Mubadala and the Abu Dhabi Urban Planning Council, estidama (the Arabic word for sustainability) was viewed as a key priority—based upon the vision of Sheikh Zayed bin Sultan Al Nahyan—in order to create responsible development in the UAE's capital by the year 2030.
Situated on Al Maryah Island, the city's new business and lifestyle destination, Four Seasons Hotel Abu Dhabi, gives you a connection to the city and its culture through its central location, as well as its spectacular design.
Director of Engineering George Chapides stresses that intelligent architectural design can also reflect the culture of the place it is in:
"Four Seasons strives to achieve unique interiors that reflect the local context and market, and in harmony with the architecture of the building. Our striking façade is firmly rooted in traditional Islamic and Middle Eastern architecture. The window lattices found on the building are not only inspired by textiles found in the UAE's souks but they are also firmly rooted in cultural design elements that have a functional purpose."
The use of the mashrabiya adorning the building is based on an ancient architectural technique in the region. This design principle has been adapted in the modern context on notable Abu Dhabi developments such as the Al Bahr Towers and Masdar City. This element serves three purposes:
It shields the building from the sun's intense rays. During the summer season, temperatures within the region can reach in excess of 44 Celsius (110 Fahrenheit), which greatly increases energy consumption to cool the building, which features floor-to-ceiling windows throughout.
It cools the spaces behind them, creating natural ventilation while reducing the sun's radiation.
It beautifies the spaces around them through the diffusion of light. This architectural element is most prominent in our stunning lobby in the morning hours. This makes going to a big business meeting in the surrounding Abu Dhabi Global Market (ADGM) or even simply enjoying a coffee in Al Meylas an utter joy.
Protea Hotel Fire & Ice! by Marriott opens in Durban
Protea Hotel Fire & Ice! by Marriott Durban uMhlanga Ridge officially opened this month, making it the first Fire & Ice! by Marriott hotel in KwaZulu-Natal and the fourth in South Africa. A highly anticipated addition to the brand's fast-growing portfolio, it joins Fire & Ice! by Marriott hotels in Melrose Arch (Johannesburg), Cape Town and Menlyn (Pretoria).
A short drive from King Shaka International Airport, Protea Hotel Fire & Ice! by Marriott Durban uMhlanga Ridge is nestled along the picturesque KwaZulu-Natal coastline in the sought-after seaside town of uMhlanga, just north of Durban. In close proximity to the breathtakingly beautiful uMhlanga Rocks Beach, the Gateway Theatre Mall and the Moses Mabhida Stadium, it provides easy access to the region's resplendent natural beauty, rich cultural heritage as well as its burgeoning energy and vibe.
Featuring the hallmarks of the Fire & Ice! by Marriott brand such as comedy and DJ nights, bold décor, and associates who go the extra mile, it is set to transform the hotel scene in uMhlanga and emerge as the new coolest hotspot. A Durban-inspired menu, a retro VW combi, DJ booth, and design elements linked to a beach and surf theme, lend the hotel its own unique flavour and twist.
"Durban is a dynamic, cosmopolitan city with a need for a hotel brand that matches its spirit. We are thrilled to introduce Fire & Ice! by Marriott brand with its trend-setting aesthetic fused with local influence to the thriving town of uMhlanga. Protea Hotel Fire & Ice! by Marriott Durban uMhlanga Ridge will provide the quirky, modern vibe that guests and locals in this area are looking for. The property reflects our agility and adaptability to identify and transform a property to suit an evolving destination," said Volker Heiden, Area Vice-President for Marriott International.
Previously a Protea Hotel by Marriott, Protea Hotel Fire & Ice! by Marriott Durban uMhlanga Ridge has been rebranded after a complete transformation
"This entailed heavy-duty renovations, an aesthetic metamorphosis, and a complete change in operations. Fire & Ice! by Marriott hotels dare to be different − they are progressive and fun, and while each hotel is individual in its personality, it is this edge that unites them under the brand. We had to balance that in creating this beautifully sassy hotel," said the designer of Protea Hotel Fire & Ice! by Marriott Durban uMhlanga Ridge, Peter de Klerk.
Guests are welcomed into a refreshed lobby that brings to life the vibe of the Fire & Ice! by Marriott brand, with mixed seating, a DJ booth and a TV wall. The new reception area features three pods and a dedicated guest relations desk. The outdoor deck features a retractable awning, three exterior pods for relaxing and dining, and a swimming pool. The VW combi completes the Fire & Ice! by Marriott atmosphere.
205 completely renovated chic and stylish guest rooms offer both comfort and thoughtful amenities including complimentary Wi-Fi. Guests can enjoy a sumptuous buffet breakfast at the Breakfast Room on the first floor and choose indoor seating, one of the two private dining rooms or the outdoor deck. Whether you're swinging by for a crafted cocktail or looking for an indulgent delicious meal, the stylish restaurant, which features sophisticated neutral décor and delicious global cuisine prepared in an open kitchen offers the ideal venue with both indoor and a scenic outdoor patio seating option. The new menu reflects a strong African focus rooted in KwaZulu-Natal's culinary specialties. Guests can expect a fresh take on the likes of bunny chow and curry, with a Fire & Ice! twist and elegance as well the brand's signature (egg-ceptional) Fire & Ice! By Marriott breakfast options.
No Fire & Ice! by Marriott hotel would be complete without a strong link to music. Protea Hotel Fire & Ice! by Marriott Durban uMhlanga Ridge will host Friday DJ nights, featuring top local and national DJs. The hotel will also share the brand's renowned sense of humour, with regular comedy nights playing host to South Africa's top comedians.
"We have put considerable thought into making this property utterly unique, while still retaining the high standard of guest experience and professional and efficient service for which Fire & Ice! by Marriott hotels are known. This hotel will do more than just provide a room or a place to eat. We're a lifestyle hotel that curates experiences and we look forward to welcoming guests and visitors and showcase this new-age take on hospitality," said Thuthukile Moloto, General Manager of Protea Hotel Fire & Ice! by Marriott Durban uMhlanga Ridge.
Unveiling Twenty Grosvenor Square: Four Seasons Private Residences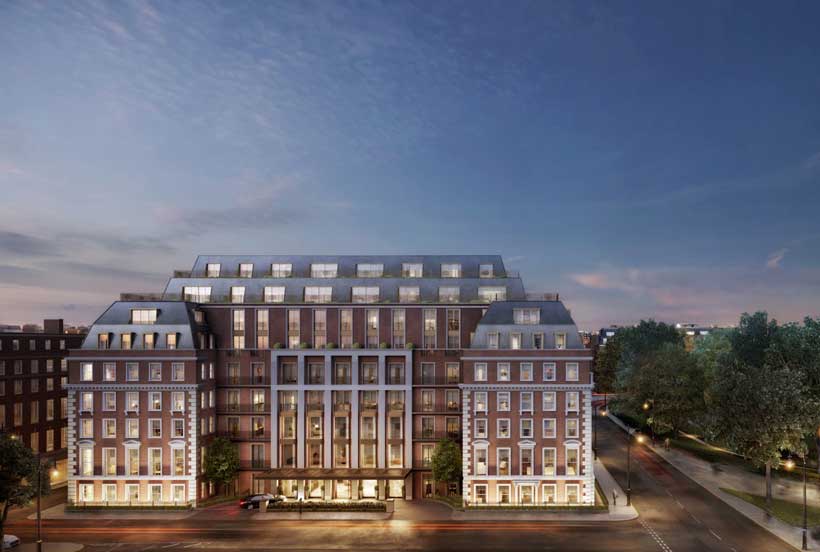 Finchatton, the renowned property development and design firm, in partnership with Four Seasons Hotels and Resorts, the world's leading luxury hospitality company, today unveil the first look at Twenty Grosvenor Square, A Four Seasons Residence, the very first standalone Private Residences from Four Seasons.
Located on one of London's finest squares in the heart of Mayfair, the landmark address of historical significance offers 37 residences, masterfully designed by Finchatton, in collaboration with award winning architects Squire & Partners, with high-touch, legendary service and an incredible complement of amenities provided by Four Seasons. The residences – a combination of three, four and five bedroom apartments – are inspired by the building's historic past and include exquisite design features such as elegant classical drawing rooms, soaring ceilings, media rooms, family and professional kitchens, and separate access for staff.
The 250,000 square feet (23,225 square metres) prestigious development also includes a private wine cellar; a spa with a 80 foot (25 metre) swimming pool; a treatment suite with steam room and sauna; vitality pool; a state-of-the-art fitness centre; crèche; games room; a cinema; business suite; garden library and landscaped courtyard garden.
The Lifestyle Experience at Twenty Grosvenor Square
Setting new standards in luxury London real estate, Twenty Grosvenor Square is the world's first standalone Four Seasons Private Residences. Along with the highly personalised services and amenities one would expect at a luxury hotel or resort, Four Seasons also acts as the property managers of the residences once open, one of the only branded residential companies to do so.
Twenty Grosvenor Square combines the best of hotel services and private ownership, with the assurance that each home is being cared for to the highest standards of quality by Four Seasons. Together, Finchatton and Four Seasons are offering a product that is far beyond anything seen on London's residential market to date.
"Twenty Grosvenor Square marks an exciting milestone for our brand, debuting Four Seasons first ever standalone property in a top luxury market, within one of the best addresses in London, and in a building with a remarkable history," says Paul White, President, Residential, Four Seasons Hotels and Resorts. "With our partners at Finchatton, the building has been exquisitely restored and, together with Four Seasons dedicated service and property management, residents will be immersed in the world of Four Seasons with an exclusive lifestyle experience."
Andrew Dunn and Alex Michelin, Co-founders, Finchatton remarked, "Our vision for Twenty Grosvenor Square was to deliver a lifestyle that transcends any other residential scheme in London. Passionate about craftsmanship, architecture and great design, we wanted to deliver a building with exceptional amenities and the highest level of service in the very heart of London's most desirable postcode."
About Twenty Grosvenor Square, A Four Seasons Residence
Residents of Twenty Grosvenor Square, A Four Seasons Residence have access to a concierge, security, catering and in-residence dining, housekeeping, a world-class spa, fitness and wellness facilities and the option of membership to Mayfair's most sought-after members' clubs including Annabel's and Harry's Bar, as well as Wentworth golf and country club.
Residents also benefit from a designated Four Seasons Director of Residences. Acting exclusively for the residents of Twenty Grosvenor Square, the Director of Residences' enviable little black book of contacts, from the world's leading personal trainers and internationally renowned nutritionists to top executive chefs, will enhance the day-to-day life of residents at Twenty Grosvenor Square.
Twenty Grosvenor Square's Historic Roots
Reclaiming its title as the most coveted address in London, Twenty Grosvenor Square has a rich and storied past. Once the Headquarters of the US Naval Forces in Europe, and from where General Dwight Eisenhower orchestrated the D-Day landings during the Second World War, the square itself has been home to royalty, prime ministers, actors, musicians and artists and featured in literary masterpieces from Austen, Dickens and Wilde.
Masterful architectural detailing, both inside and out from award-winning architectural practice Squire & Partners, acknowledges the history and character of the building. Twenty Grosvenor Square has been lovingly created behind the retained historical façade of Grosvenor Square – which has been extended with a contemporary stepped mansard – a new façade on North Audley Street drawing from the rich history and context of the area.
Henry Squire, Partner, Squire & Partners says, "Timeless architecture is understanding that a building is part of an evolutionary process that connects the past and future in the present. For Twenty Grosvenor Square, the past and future are connected with the creation of a new façade intertwined with a retained façade, through contemporary use of traditional materials, reinterpreting classical proportions and details in a modern way and using current day technologies to re-imagine ancient craft."
Benefitting from Finchatton's nearly 20 years of experience of designing and building some of the world's most exceptional homes, the vision for Twenty Grosvenor Square is best described as sophisticated, timeless elegance with an emphasis on traditional craftsmanship and exquisite finishes.
Jiin Kim-Inoue, Design Director at Finchatton, and the Finchatton team have carefully choreographed a perfect sequence of spaces, from the grand entrance lobby and extensive amenity areas through to each square foot of every individual residence. Vast windows flood the rooms with natural light, while voluminous proportions and meticulously considered layouts create spaces that are grand and yet utterly warm and welcoming.
With an emphasis on traditional craftsmanship and exquisite finishes Twenty Grosvenor Square sees unrivalled excellence in choice of materials and interior furnishings. From Italian book-matched marble and Tai Ping silk rugs to Loro Piana cashmere wall panels and De Gournay hand-painted silk wallpaper, the Finchatton design team has travelled the world to source materials and meet suppliers. Further works have also been commissioned from the likes of cutting-edge Czech manufacturer LASVIT and British leather-etching artist Mark Evans.
At Twenty Grosvenor Square, A Four Seasons Residence, Finchatton has again reinforced its reputation as London's leading property design firm with a profound understanding of how people want to live, while Four Seasons solidifies its position as a leader in luxury lifestyle and branded residential offerings.
Marriott Bonvoy Brings Once-In-A-Lifetime Manchester United Experiences to Asia Pacific
Members of Marriott International's travel program, Marriott Bonvoy can enjoy an exclusive series of experiences during Manchester United's pre-season tour in Perth, Singapore and Shanghai. As part of the multi-year marketing partnership between Marriott International and Manchester United, over 130 million Marriott Bonvoy members can look forward to once-in-a-lifetime exclusive experiences with Manchester United players and legends – including the chance to travel on the team's exclusive charter plane.
"With Marriott Bonvoy Moments, we are committed to offering differentiated and unique experiences that fuel the passions of our members. Our partnership with Manchester United drives our members' passion for sports by providing VIP access to the games and opportunities to be closer to their sporting idols," highlighted Alan Tsui, Vice President, Digital, Loyalty and Portfolio Marketing, Marriott International Asia Pacific. "Together with Marriott Tours & Activities, we offer approximately 120,000 experiences in 1,000 destinations available for purchase or by redeeming points, giving members more ways to redeem their points for travel, sports, music, and culinary experiences they are most passionate about."
Unveiled earlier this year, the partnership between Marriott International and Manchester United allows Marriott Bonvoy members to look forward to creating unforgettable moments and receiving unmatched member benefits – including Manchester United experiences during the team's visit to Perth, Singapore and Shanghai from today till 25 July 2019 through Marriott Bonvoy Moments. Marriott Bonvoy Moments gives members exclusive and VIP access to concerts, culinary experiences, premier sporting events and more — starting at only 1,000 points. Members may redeem their points for either fixed-price experiences or auction-style experiences.
Marriott Bonvoy Moments with Manchester United in Asia Pacific
With the Manchester United partnership, Marriott Bonvoy members will have the opportunity to partake in local experiences with Manchester United players and legends, which includes:
Manchester United's Pre-Season Tour kick off in Perth, Australia – Marriott Bonvoy members can get closer to the action with access to exclusive experience with Manchester United Legends Bryan Robson and Denis Irwin and acclaimed chef Guy Grossi at Garum. During the matches against Perth Glory and Leeds United, members will enjoy a VIP hospitality experience within the VIP Sports Bar at Optus Stadium.
Manchester United Pre-Season Tour Match vs. Inter Milan in Singapore – Marriott Bonvoy members can enjoy a VIP hospitality experience in the Manchester United suite at Singapore National Stadium. Members will also have access to an exclusive experience with Manchester United Legend, Bryan Robson. In addition to a meet and greet, members can enjoy a local Mooncake making workshop with Robson and Executive Chef Bryan Wong from Wan Hao Chinese Restaurant.
Manchester United's Pre-Season Tour in Shanghai – Already sold out, the ultimate fan experience will see two Marriott Bonvoy members experience the Manchester United Pre-Season Tour in Asia like a first team player by joining the team on their exclusive charter plane as they travel from Singapore to Shanghai. Additionally, they will have access to a Manchester United training session, have their pictures taken pitch side with a Club Legend and enjoy hospitality to the match against Tottenham Hotspur F.C. Other experiences available in Shanghai include training at the Manchester United Soccer School for children and adults with Dwight Yorke; as well as VIP hospitality at the match against Tottenham Hotspur F.C, which are still available to bid on.
Marriott Bonvoy is poised to elevate the experience for members with their favourite Manchester United players and legends.