Effectiveness of Nuclear Deterrence of India and Pakistan in Pulwama incident
The recent 'Pulwama crisis were triggered by a suicide attack byAdil Ahmed Dar a 19 years old young Kashmiri from the Indian Occupied Kashmir (IoK). He was highly distraught from the brutalities committed on him and on other Kashmiris of IoK by the Indian security forces. On 14 Feb 2019, a convoy of vehicles transporting Indian security forces from Jammu to Srinagar was attacked by a suicide bomber driving a vehicle rigged with explosives, killing at least 40 Central Reserve Police Force Reserve (CRPF) personnel. Jaish-e-Mohammad (JeM) claimed responsibility. It is generally believed that it is not possible to bring such a massive amount of explosives by infiltrating the borders. India alleged that Intelligences agencies of Pakistan had control over the perpetrators of the attack but Pakistan had strongly denied these accusations, reiterating that JeM is banned in Pakistan. Moreover, Pakistan is itself sufferer of terrorism how can it support this heinous crime elsewhere.
United States and Western countries offered support to India by condemning the Pulwama attack and asking Pakistan to deny safe havens to terrorists. However, US president called on both sides to exercise restraint. In the opinion of the author there is no sufficient evidence to interpret that US was in favor of military action by India. Moreover, Indian elections were scheduled from 11 April to 19 May 2019, therefore it was not in the favor of India to go for a major conflict. There were no other indicators that India has started deploying its military might on our eastern borders and activated important forward air bases and moved her naval units from her Eastern and Southern fleets to Western fleet. India in 2001 subsequent to terrorist attack on the Indian parliament on 13 December, in which 14 people were killed including terrorists, deployed her armed forces on war footing on our borders. In response Pakistan did the same. The armed forces of both the countries remained deployed ready for war for about one year (2001-2) but hostiles did not break out mainly because of possession of weapons of mass destruction by both states.
In another incident, on 18 September 2016, a terrorist attack at an Indian army camp near Uri by militants left 19 Indian soldiers dead. Government of Narendra Modi promised retaliation at a time and place of its choosing. On 29 September, Indian government announced that it had undertaken 'surgical strikes' across the Line of Control (LoC) and destroyed a number of terrorist launch pads and also killed a number of militants who were present and intended to be infiltrated into India. Details about casualties and targets remained sketchy. Pakistan strongly denied that any 'surgical strike' had taken place. It is considered that Indian government had shifted from a policy of 'strategic restraint' which she exercised after the 26 November 2008 terrorist attack in Mumbai to militarily response in the form of surgical strike in 2016.
After 14 Feb Pulwama incident the tension between the two countries started intensifying. India used this opportunity to malign Pakistan as a supporter of terrorist activities which was vehemently denied by Pakistan at every forum.
This occurrence provided an opportunity to BJP government to prove, her 'nationalist' credentials at the political level to please Hindu community and denounce Pakistan as a supporter of terrorist outfits. Politically, there was extraordinary support among India's influential strategic community for exercising a military option that could test deterrence stability and escalation dominance between the two nuclear weapons states.
Indian Air Force carried air strike at Balakot (Khaibar Pakhtoon Khawa)in side Pakistan territory on 26 Feb19 under the garb of destroying terrorist camp. However there was no physical damage to any building nor any human casualty. Beyond visual range precision weapons were used. The intruder managed to escape unhurt. This was first air strike by Indian Air Force across the international borders of Pakistan after 1971 war. Pakistan decided to respond at the time and place of its choosing. The next morning( 27 Feb 19), Pakistan's Ministry of Foreign Affairs announced that Pakistan Air Force has conducted six airstrikes at non-military targets in IoK. The aircraft were able to lock onto the target with great accuracy but they were ordered to drop their bombs in open field in order to avoid any human loss and collateral damages. Two Indian aircraft were also shot down in the dog fight. One pilot fell in the territory of Azad Jammu and Kashmir who was apprehended and later handed over to Indians after two days. This gesture of Pakistan of handing over of pilot was widely appreciated by the world and acted as a source of de- escalation of tension.
In another incident Pakistan Navy surveillance aircraft detected an Indian German built Scorpion submarine in the international waters about 98 nautical miles south of Gwadar on 5 March. She was tracked till left the area. It was a conventional submarine equipped with medium range cruise missiles (750 Km) which can be used against ships and land targets. With this background it is evident that both nuclear powers avoided any major military action. Some intellectual view this episode as a punch in nuclear deterrence which occurred on 26 Feb and was plugged the next day by Pakistan. The critical analysis reveal that nuclear deterrence prevailed because the tension did not escalate to meaningful and major military action.
The Indian action of 26 Feb maybe termed as "New Normal" which was first conceived and then employed by the US and Israel in their foreign policy or geopolitics, especially after 9/11. Under the garb of fighting terrorism, Americans and Israelis justified the breach of sovereignty of other states, such as Iraq, Lebanon, Palestine and Syria. Using their superior military and technological power, Washington and Tel Aviv turned the abnormal act of breaching the sovereignty of these states into their New Normal. However Indian New Normal has not been successful because of swift, timely, accurate and befitting response given by Pakistan the next day. Response of Pakistan Air force on 27 Feb and detection of Indian submarine on 5 March by Pakistan Navy has abundantly highlighted the importance of modern conventional war machines equipped with state of the art weapons, equipment and professional training. Principal outcome of this event is that Pakistan needs to emphasize on quality rather quantity of its conventional weapons and equipment. Keeping in view prevalent unhealthy economic conditions of the country arms race with India may be avoided. It is pertinent to mention that at the time of Cuban missile crisis of 1962 former USSR had 300 nuclear warheads as compared to USA which had 3000. Even then because of huge destruction envisaged, the war between the two nuclear states did not break out.
The case of the INF Treaty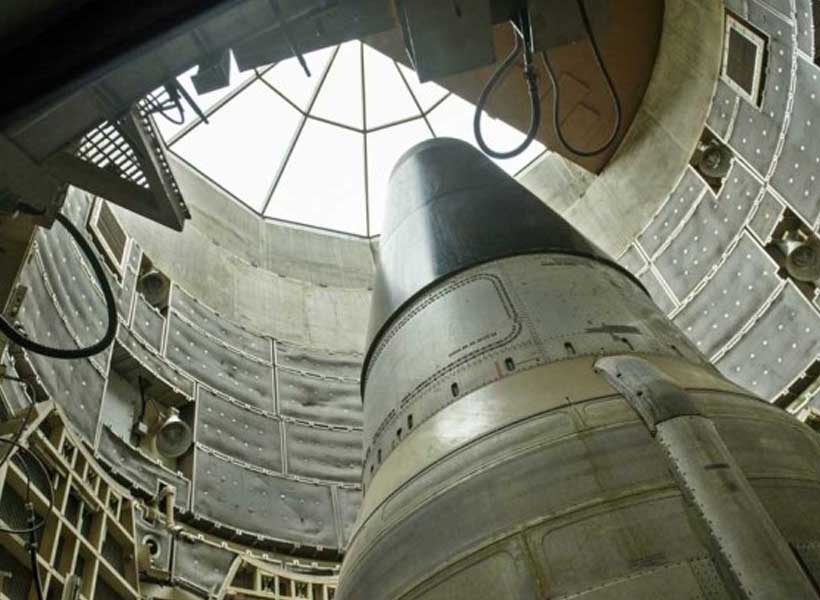 On February 1, 2019, President Trump suspended US compliance with the obligations of the Intermediate-Range Nuclear Forces (INF) Treaty.
The INF Treaty had been signed in 1987 by the USA and the USSR, to which the Russian Federation succeeded.
As official documents state, the motivation for suspending US compliance with the Treaty is based on the fact that "Russia has repeatedly violated the Treaty with impunity".
The text of the INF Treaty had been drafted after over seven years of negotiations.
The "second" Cold War to which the 1987 INF Treaty wanted to put a limit regarded political and military events of great relevance: the war in Afghanistan for Russia; the action of the Polish trade union Solidarnosc and, on the other hand, also President Reagan's doctrine on the global Communist danger.
The first step was taken by the USA, which in no way wanted the relocation of the SS-20 missiles to the Warsaw Pact countries and to the Middle East.
With their 5,000 km range, the SS-20 missiles were bound to completely change the defense doctrine of NATO's European sector.
As maintained by Michel Tatu in his book, La bataille deseuro missiles, it was the end of the great Soviet influence operation started in 1968.
This was also at the origin of the explicit INF prohibition – until to date – of using the intercontinental missiles with a range between 500 and 5,500 kilometers.
However, why has President Trump currently taken such a clear-cut reaction? Certainly, the US President has accused precisely Russia of having broken the INF treaty. The reason, however, is simple, namely the Novator 9M729 system.
This missile system has the same range between 500 and 5500 kilometers, which is the whole range of the INF Treaty.
It was test fired for the first time in 2015. It has a maximum tangency rate of 6,000 kilometers. The tangency rate is the point beyond which an aircraft no longer has propulsive balance.
The warload is 500 kilograms and its speed is 900 kilometers. The 9M729 is currently deployed in the Trans-Bajkal area, east of Lake Baikal, in St. Petersburg's region, in Southern Russia, in Syria and in the Kaliningrad exclave.
The danger is obvious, as well as the strategic importance of the new Russian medium-range missile system.
The USA has responded with the normal procedures of the INF Treaty. Russia, however, has recently carried out a demonstration of the 9M729 system precisely for NATO, in which the US, British, French and German representatives were voluntarily absent.
Here, however, the mechanism becomes strictly political: while the USA is moving away from the INF Treaty, in early 2019 Russia stated that it would feel free to build all the non-INF missile systems it deems useful.
Apart from the 100 models of 9M729 already built and positioned, Russia wants to play its new supremacy in the sector of hypersonic weapons, in strategic correlation with China and South-East Asia.
There are also the special weapons, such as Poseidon – a drone carrying a nuclear warhead under the sea that is later blown up near the coast, thus generating a radioactive tsunami – or the Oniks system, a naval-use missile with an operating speed of 2.5 Mach and a very high degree of interoperability.
Hence, the USA has still the ability and capacity for technological reorganization, with the projects already completed and those still in progress, but Europe remains exposed.
Caught between two fires, the EU will remain alone, i.e. between President Trump's US substantial coldness in repeating the old formula of European defense, in which the USA deals with the missile and cybersecurity side, and the EU countries of conventional programming and planning.
In any case, however, the new weapons and even the end of the INF Treaty enable the Russian Federation to expand its own attack options – which may also be unpredictable – while the US response options are consequently more limited.
However, how does the EU respond? There have been many negotiations before the termination of the INF Treaty – which will occur in August 2019 – but now the die has been cast.
Hence, what could be the solutions to this new break in the old bipolar Cold War system?
As a first move, we could think about an extension of the New START Treaty, signed in 2010 by President Obama and his Russian counterpart, Medvedev.
Through an expansion of the New START Treaty, we could think about a US full intelligence coverage of the new Russian defense technologies.
An opportunity that would hardly be repeated under other conditions.
The New START Treaty could favour two very important operations, both in terms of political climate and of do ut des: the protocol relating to a Treaty for a Nuclear-Weapon-Free Zone in Central Asia, and above all the Protocols I and II for the establishment of a Nuclear-Weapon-Free Zone in Africa.
Another option could be a Russia seeking the clash in Europe, considering the significant surplus of nuclear and conventional weapons compared to NATO and the United States.
Obviously, however, Russia will wait for the right moment, which will be decided by the coordination of strategic positions also in the other regions: the Asian, South-East Asian, Arctic and Indian ones, up to the Latin American system.
Moreover, we also need to consider the large and increasingly wider Chinese missile arsenal, 90% of which is already outside the scope of the INF Treaty.
With a view to using its large missile arsenal, China's first goal could be to remove the threat of the US Navy from its coasts and, above all, from the disputed areas of the South China Sea.
The other goal will be to later avoid US missile presence in Japan, of course, and in the waterways ranging from the Indian Ocean to Southeast Asia.
Furthermore, Russia could use its temporary missile advantage to divide NATO between the pro-Trump Eastern Europe and the EU West, which is less interested in the clash with Russia.
Another problem is the coupling between the new Russian medium-range missile system and the over 2,650 Chinese missiles.
This can certainly happen, but without having Europe as a goal, which may possibly be targeted by the missile forces present in the Maghreb region.
There may be a Russia-China conflict for the Arctic in the future, albeit in at least ten years.
All this will happen only if there is no new treaty for intermediate weapons, which – as already seen – has diverging interests, but also strategic at outs.
For example, removing tension opens up increasing opportunities for agreement.
In this case, considering the type of medium-range missile weapons, with a new INF Treaty it would be a matter of substantially freeing the oceans, especially the Pacific one.
Furthermore, given the cost of missile upgrade – for which 8 billion US dollars would be needed for US missiles only -we could imagine that a new treaty would create new and huge economic resources, which would be very useful for both the USA and the Russian Federation.
Turkey: As S-400s arrive, passions burn on
On July 12, the first shipment of the Russian S-400 air defense missile systems arrived at Mürted Air Base near the Turkish capital Ankara. Washington has been extremely opposed to Ankara's decision to acquire the S-400s ever since Russia and Turkey signed an agreement on the procurement of the advanced missile system in September 2017. Washington has suspended Ankara's participation in the program for the production and supply of F-35 fighters, and the US Senate warned that if Ankara went ahead with the deal it would come under sanctions in keeping with the Countering America's Adversaries Through Sanctions Act (CAATSA).
NATO has reiterated its concern about the arrival of the S-400 systems to Turkey, arguing that this could affect the interoperability of the Alliance's armed forces and that all defense systems of NATO member countries must be interconnected (and, apparently, be bought from the US).
Turkey, meanwhile, continues to resist US pressure: President Recep Tayyip Erdogan hails the S-400 deal as "the most important in our history"; Defense Minister Hulusi Akar insists that the purchase of the Russian missile systems is an objective necessity, and Foreign Ministry spokesman Hami Aksoy urges Washington to avoid steps that could harm bilateral relations.
Turkey underscores the symbolic, if not demonstrative, nature of the deal with Russia, with Ali Turan, deputy head of the parliamentary faction of the ruling Justice and Development Party, describing the start of S-400 deliveries as the result of the steadfastness and fortitude of the country and its leadership.
"Turkey is a strong country, which makes decisions based on its interests, and occupies its place in the world thanks to its army, nation, leader and development dynamics."
The "Eurasian" Fatherland Party normally supports the government when it comes to foreign policy issues. In a written statement, the party's leader Doğu Perinçek noted that "Turkey has showed once again that it will not bow to Atlanticism. True to [Kemal] Ataturk's covenants, Turkey regards itself as a Eurasian country, and the S-400s are a means of upholding this process. They signify the birth of a new world where Turkey should occupy a leading position."
The majority of Turkish media outlets demonstrate wholehearted and at times highly emotional support for the country's military-technical cooperation with Russia. In an interview with A Haber TV, a Sabah newspaper correspondent Okan Müderrisoglu thus commented on the start of the S-400 shipments to Turkey: "Today's concrete step marks the beginning of a new period in both political and strategic aspects. Turkey is giving up its lopsided orientation (in foreign policy) and emphasizes the priority of its own national interests."
His opinion was echoed by the prominent political analyst Ceyhun Bozkurt, who wrote: "Turkey now has an alternative that allows us to challenge the United States. And this alternative is Russia."
Most of the posts in Turkish social media are in the same vein.
That being said, many in Turkey – about a third of the population, according to various opinion polls – are still opposed to the purchase of the S-400 systems.
Among them is Kemal Kılıçdaroğlu, the leader of the country's main opposition Republican People's Party (CHP), who believes that Turkey should buy the Russian air defense systems only if it really needs them. His deputy, Veli Ağbaba, believes that the S-400 delivery is a reflection of the inconsistent nature of Ankara's foreign policy. The CHP's political opponents did not miss the chance to lash out against their rival though, with the press secretary of the ruling Justice and Development Party, Omer Celik, saying that the CHP's position runs counter to Turkey's national interests, and that the opposition leaders simply spread around the views of the United States.
At the same time, the political opponents of the Turkish government are more interested in having sanctions promised by the US Senate actually imposed on Ankara, than in the S-400 deal itself. An article recently published by the well-informed Washington Post columnist Josh Rogin, where he confirmed, quoting his sources, that the US is not bluffing when it threatens to slap sanctions on Turkey, caused a big stir in the Turkish media.
Few people in Turkey really have any doubts about the prospect, however – they just wonder how severe these US sanctions are going to be. According to the respected journalist Murat Yetkin, the country is bracing up for "hard times" both at home and abroad, above all in the economic sphere. Similar fears are expressed by Ümit Kıvanç from the opposition Gazete Duvar: "Sooner or later sanctions will come, our already damaged economy will weaken even more and the economic pressure on our people will grow. Our position within NATO and on the international scene will change and, as a result, the country will face new problems."
Still, the course of events have prompted the US expert on the Middle East Nick Heras to say in an interview with Agence France Presse that he was not sure that Turkey will always remain in the US camp. And this prospect is clearly haunting many US leaders who seem to have finally realized that the Turkish people, with their sense of national patriotism, will not bend under pressure. On the other hand, people in the East are used to making deals, and Washington will certainly try hard to keep Turkey as an ally. Ankara has had ample opportunity to appreciate the benefits of maneuvering between various centers of power. So, despite all the tough mutual rhetoric, voices of reconciliation are already being heard coming from both sides.
According to information leaked to the US media, the White House initially postponed and then canceled what could have been a sharply-worded statement by the Pentagon concerning the start of S-400 deliveries to Turkey. Senator Lindsay Graham, a close ally of Trump, visited Turkey and suggested that if Ankara mothballs the S-400s and buys US-made Patriots, it will be able to avoid sanctions – a thinly veiled truce offer.
Turkish Defense Minister Hulusi Akar keeps saying that his department continues to consider the acquisition of US air defense systems. In a telltale statement made during the recent G20 summit in Osaka, President Erdogan said that "technologically, one S-400 is worth three Patriots. We might still consider proposed supply conditions though. If the conditions are equal to the S-400 (deal), we would buy Patriots."
It looks like the Russian-Turkish deal on the supply of the S-400 air defense system will only bring closer together the members of the "Astana troika," as Turkey may need Russian and Iranian experience to offset US sanctions. Moreover, Bloomberg, citing its sources in the US government, has already described US sanctions on Ankara as imminent. In the meantime, Washington fired a warning shot across Turkey's bows by lifting the embargo on arms supplies to the Republic of Cyprus.
Simultaneously, Western media reports describe the first shipment of the Triumph S-400 air defense systems to Ankara and their assembly in Turkey by Russian experts as a serious headway in relations between the two countries, not only in the military sphere, but also in the political one, and that such systems may also appear elsewhere in the region.
From our partner International Affairs
Military Modernization of ASEAN States: The New Agenda
The discourse about the international security and defense affairs have always been impregnated with the dynamics of security dilemma. Even today, when complex interdependence has connected states in multiple ways, the global politics still tends to favor Machiavellian norms. Therefore, it is forcefully propagated that the security of the state depends upon the strength of their armament. Apparently, it sounds perfectly reasonable, to have the recent generations of arms in abundant quantity to deter the 'enemy. But what if a state has no enemy? Or at least does not have any immediate enemy in the general sense of the term. Should such a state focus its resources to build a mighty defense sector and take part in an arms race? The answer that might pop in our minds is No. Unfortunately, this is true in the case of South East Asian states. In the last few years, the ASEAN states' military spending has nearly doubled. Most notably, Thailand and Indonesia's military budget has been snowballing at the rate of 10% on a year by year basis. It is interesting to note that Vietnam arms import has spiked 700% over a decade, making it one of the top 10 purchaser of arms. Other ASEAN states have been increasingly importing fighter jets, frigates, helicopters, submarines and the like.
The emerging situation in the region could be analyzed from these three different perspectives. Firstly, South East Asian states have increased their military spending as a consequences of US withdrawal from the region and mounting concerns about China's growing regional as well as global influence. As ASEAN states generally enjoy cordial relations among themselves and the spirit of regionalism is very much prevalent in both their bi and multi-lateral relations. Besides, these states have, by and large, remained peaceful in world affairs. Therefore, considering this first perspective has its own problems, it might be true to some extent, that the recent surge in spend spending is aimed at countering China, with which they share friendly ties, or filling some security void. Secondly, some experts argue that south East Asian states' military spending is according to their GDP rate, and has remained stable over the period. Therefore, this 'surge' is normal. Lastly, according to some scholars, we need to look at what these states are actually buying to understand the whole situation. These scholars argue that, these states have been spending the money on 'modernizing' their armament that have, otherwise, been hardly functional for years. So, for this standpoint, this surge in military spending is nothing more than normal efforts to modernize state weaponry.
Nonetheless, this is where the actual problem lies. Why should states seek to modernize their weaponry when there is no such apparent reason and when this weaponry has been "barely functional for years"? Armaments, like other machineries, need constant maintenance, supervision and regulation. And all of this requires a lot of resources. Even if a state's military spending is in accordance with its GDP, armament or its modernization, whether qualitatively or quantitatively, must not be 'justified'. Since cold war, international politics has seen many disarmament efforts, be it conventions on chemical or biological weapons, denuclearization zones, Arms trade treaty or Nuclear Non-proliferation treaty. It is a high time that instead of making it customary to have some modern armament, states must come together to break this norm. Particularly, South East Asian states, that have no deeply embedded antagonism, neither within the region nor outside it, could have reversed the norm of owing "modern military weaponry", that would most likely again remain 'barely functional for years' on end.
Moreover, as previously mentioned, what these states have been importing is telling. However, how this modernization in armament has been reoriented is equally important, as many of the regions military strategies are shifting their focus away from countering insurgency to external defense and conventional warfare. While domestic factors do play a key role here. For instance, Thailand doubled its military spending after the military coups of 2006 and 2014. And Myanmar has justified its arms buildup on the pretext of having to deal with various insurgent groups within the state. Though particularly in Myanmar's case, instead of spending heavily on military and committing gross atrocities against its very own Rohingya community, it should have provided shelter to them.
Although various studies refute that there is any instrumental link between armament and warfare. But given that, when such efforts are aimed at strengthening capabilities for external warfare, it is likely that it might spike some mutual distrust at some point in the future. But it's not simply the matter of the conflict that 'might emerge', the problem here is, an undaunted prevalence of spending on weapons at international level that has quietly legitimized, justified and warranted the buying and selling of lethal weapons. So much so that, such a state of affair is usually vindicated and rationalized into a 'broader context' of necessities of owning vast weaponry to secure stability. Sadly, such broader context is rarely 'broad enough' to include human rights and humanitarian perspectives in the contours of world politics.
The South East Asian States are engulfed in an unending arms race for their survival. To sum up, the discourse on international security and defense that focuses so much on arms buildup needs to be realigned with the new realities of the time. South East Asian states should come up as a norm changer by diverting their resources from extensive defense spending to the human resource development. Progress and development in economy, society, science and technology will pay off in much better ways than investment of precious resources in arms race.